This post may contain affiliate links, meaning if you book or buy something through one of these links, I may earn a small commission (at no extra cost to you!). Please see my disclosure.
There are several moments in life that have left me speechless and truly in awe of this world. It made me forgot about all the negative moments and how truly wonderful things can be and why this planet and the animals who call it home with us deserve our protection and unstoppable passion to fight for them. Most of those moments include wildlife – seeing baby sea turtles hatch, seeing a humpback whale for the first time, diving with sharks, and kayaking with manatees.
If you're wondering where to see manatees in Florida, you're in luck. Not only can you go kayaking with manatees in Silver Springs, but you also have a high probability of seeing wild monkeys, alligators, and plenty of birds.
My Experience Kayaking with Manatees
I've always enjoyed kayaking, but I'd never considered myself an expert. I've been a handful of times – sea kayaking in Dubrovnik, river kayaking in Tennessee, lake kayaking, and now kayaking with manatees in Florida is added to the list.
When my friends, Jenn and Ed, recommended we take this day trip while I was in town for a few days, I was 100% down. I didn't really know what to expect – it seems like that's pretty normal for me.
I was anxious about kayaking with experienced kayakers, but I soon got into a natural rhythm. Despite knowing we had six miles of river to paddle, I soon began thinking we weren't going to see any wildlife. However, it didn't take long before we started seeing the sought after sea cows.
It seemed like once we saw one, it opened up a flood gate. I wish I had kept count but we so several manatees. We even saw what we believe was a pregnant female and a mother and calf at one point.
---
Wher to See Manatees in Florida Silver Springs State Park
Silver Springs State Park is located in Ocala, Florida which is central Florida. And, who says Florida is only beaches and Disney World?
The park is one of the largest artesian springs in the world and quickly became known for the glass bottom boat tours – a guided boat where you can see through the bottom of the boat. Silver Springs feeds into the Silver River and is the gateway to the Ocala National Forest.
Silver Springs was actually Florida's first tourist attraction and until 2013, Silver Springs was a commercial attraction located alongside the park.
Head to Silver Springs in the cooler months to go kayaking with manatees. Silver Springs State Park in Florida is a gorgeous, large artisan spring and a truly unique and remarkable destination. The views alone are beautiful and worth the paddle, but when you add in the high chance of kayaking near manatees and wild monkeys, well you couldn't keep me away.
---
What are Manatees?
Manatees are rather large, fully aquatic marine mammals. They are mostly herbivorous animals and are often affectionately known as "sea cows" for their large size and gentle demeanor. There are three living species of manatees – the Amazonian manatee, the West Indian manatee, and the West African manatee. Manatees grow up to 13 feet long and can weigh as much as 1,300 pounds.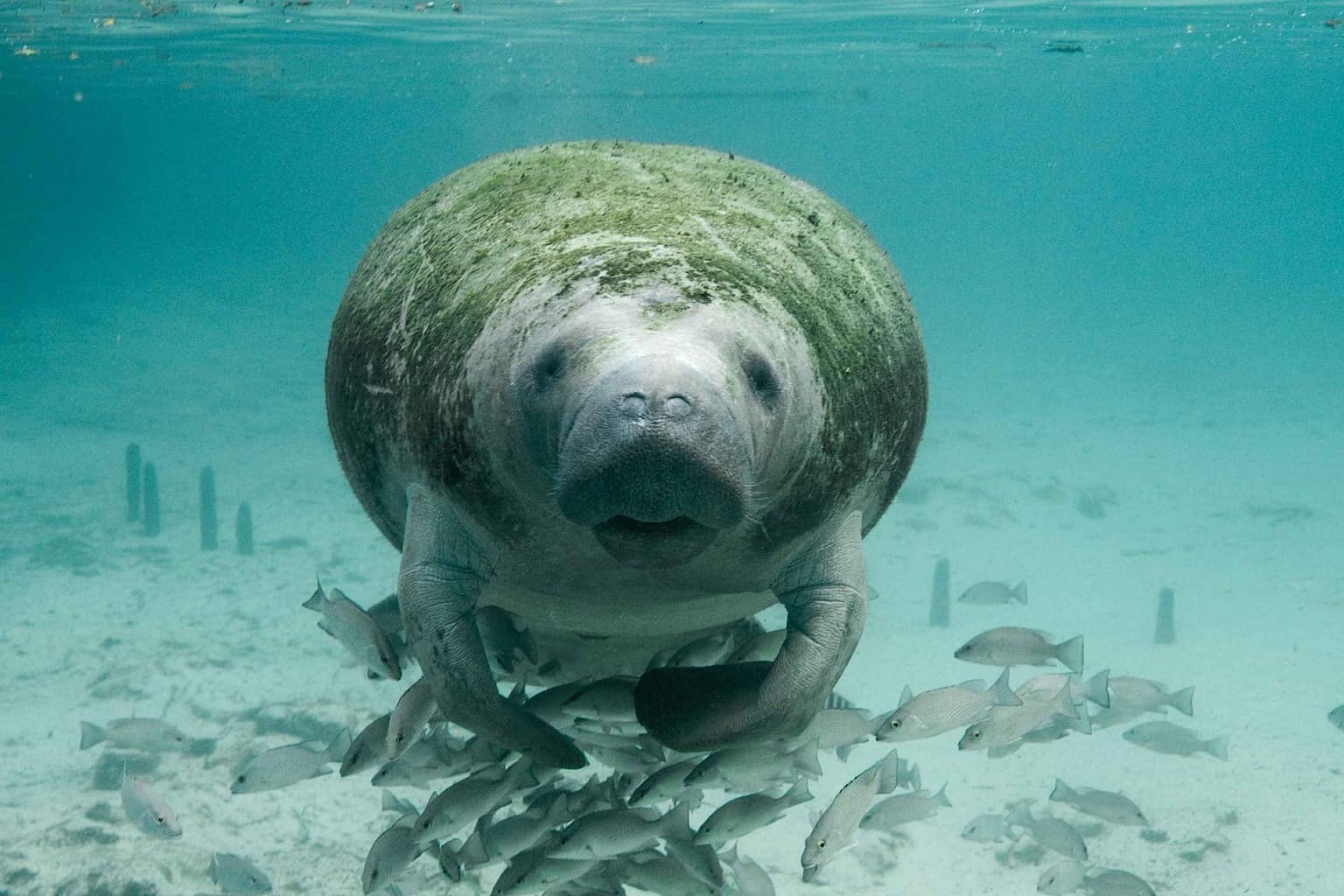 ---
Where to See Manatees
Manatees are most often found in shallow, slow-moving rivers, canals, coastal areas, and saltwater bays. They eat lots of seagrass so they're often found where there are seagrass beds and freshwater vegetation. The reason why you really only see manatees in the cooler months is that they are a migratory species.
In the United States, they congregate in Florida int he winter – mostly in the springs. In the summer months, they can be found as far west as Texas and as north as Massachusetts.
---
Are Manatees Endangered?
The West Indian Manatees (the ones found in the United States) have no natural predators – yay! And, it is believed that they can live 60 years or more. There are natural causes, but a large number of their deaths are due to human-related causes because we ruin everything.
Many of these fatalities occur due to watercraft collisions. After seeing them up close and seeing all of the scars, I can totally believe this. Other causes include being crushed or drowned in canal locks, ingestion of fish hooks, litter, and monofilament line, and entanglement in crab trap lines. Loss of habitat is the most serious threat facing manatees in the United States.
The most recent survey (beginning of 2019) believes there to be a minimum of 5,733 manatees.
The West Indiana manatees in the United States are protected under federal law by the Marine Mammal Protection Act of 1972 and the Endangered Species Act of 1973. These laws make it illegal to harass, hunt, capture, or kill any marine mammal. They are also protected by the Florida Manatee Sanctuary Act of 1978
---
Ethical Guidelines for Kayaking with Manatees
All wild animals should be respected (I'm looking at you Yellowstone visitors!) and manatees are no different. Just because they're gentle and slow-moving doesn't mean they want you all up in their business. It certainly doesn't mean you should do what you want.
If you're kayaking with manatees, taking a boat tour, or even swimming with manatees, please use respectful and cautious behavior.
Keep your distance and limit your viewing time. If a manatee responds to your presence, you are too close. Move away to a distance that does not change the animal's natural behavior.
Use caution when paddling near seagrass beds, sanctuaries, or refuge area boundaries as manatees will be entering or exiting these areas.
Avoid approaching or surrounding any manatees you come upon. If you find yourself too close on accident, back away until you're at a reasonable distance.
Manatees should not come in contact with your vessel.
Wear polarized sunglasses so you can see the manatees underwater.
Speak quietly and avoid making loud noises.
Do NOT offer food or water to manatees (or any other wildlife).
Avoid paddling over resting manatees. Manatees surface to breath and this could startle them. They're also large and strong enough to tip over your vessel.
Calves and juvenile manatees are very curious and can often be playful. Avoid the major temptation to touch them.
Taking pictures is okay, but do not in any way touch the manatees for your pictures.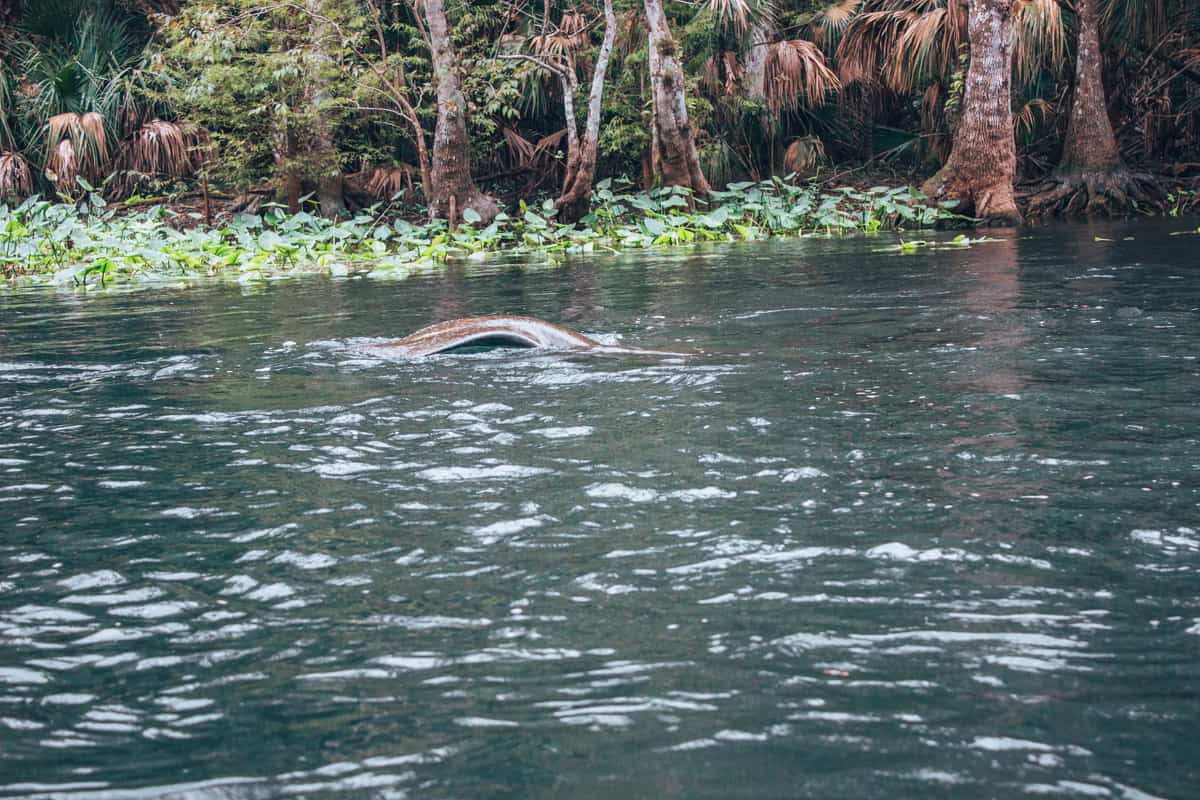 ---
Wild Monkeys at Silver Springs State Park
Manatees aren't the only animal to see at Silver Springs State Park and they aren't even the most unique. There are actually other places to kayak and even swim with manatees in Florida. But, where else in Florida can you kayak with manatees and wild monkeys?
Why are there wild monkeys in Silver Springs?
Good question! Colonel Toohey brought the rhesus macaques monkeys to the island in the 1930s for his "jungle" tour operation. He didn't realize they were good swimmers and the monkeys have thrived ever since. Now? There are hundreds of wild monkeys!
While I'm not a fan of how they got there, they are there now and thriving. Officials really aren't a fan and there has been some speculation that they'll be removed due to being a health hazard but only time will tell.
This was such an incredible highlight of this trip. We knew there was a possibility of seeing monkeys and, at first, we didn't think it was going to happen. However, once they showed up, they really showed up. We saw so many monkeys and so many age ranges.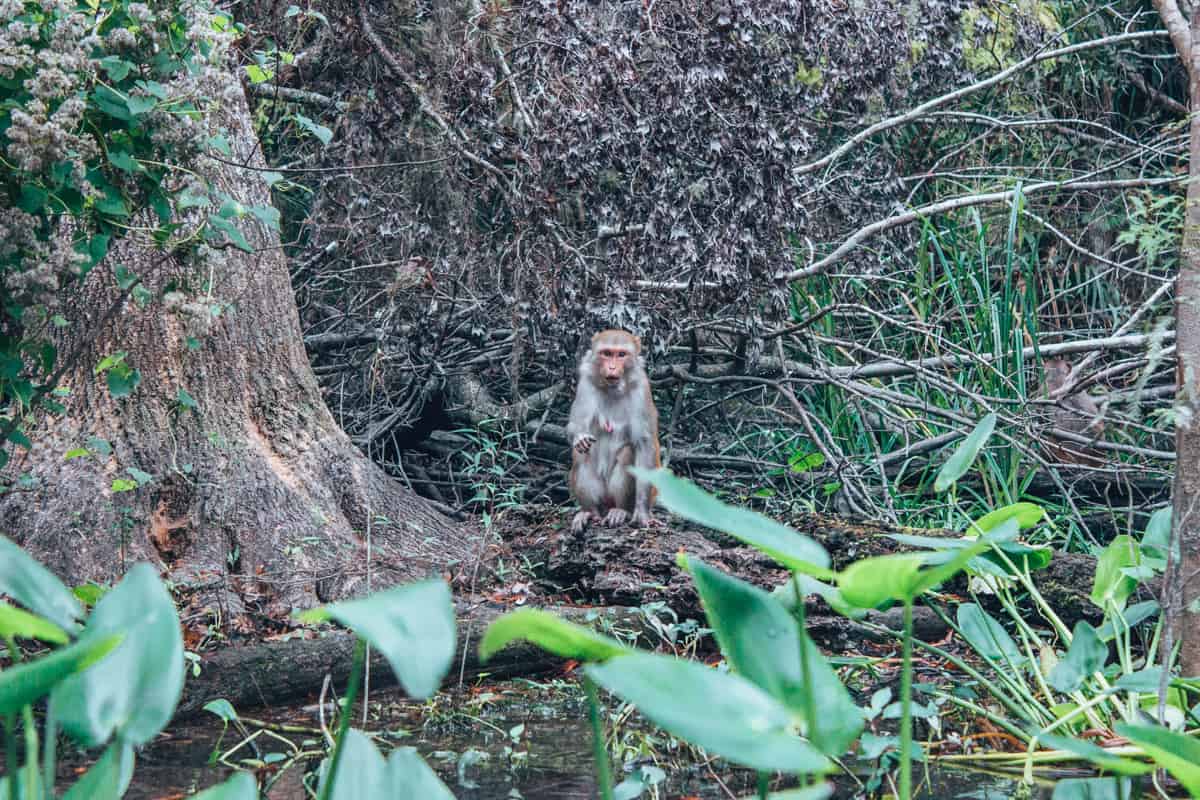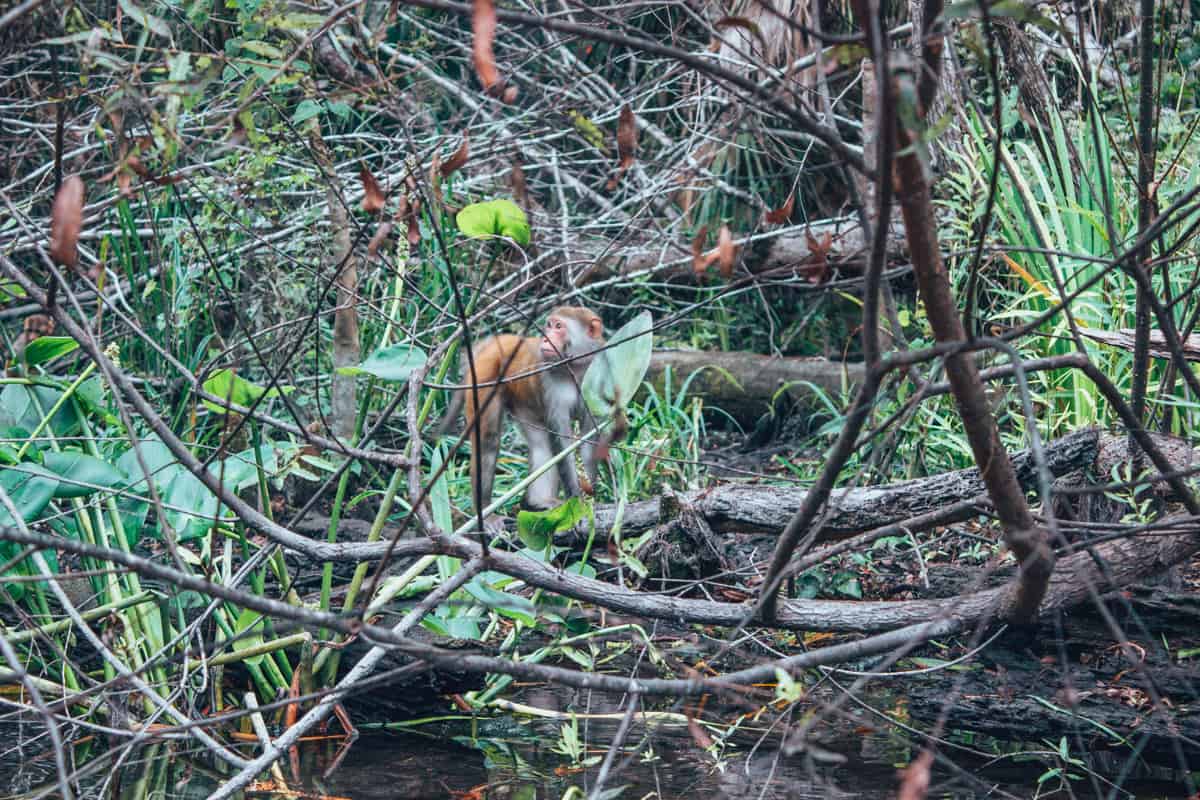 ---
Ethical Guidelines for Interacting with the Wild Monkeys
Keep your distance! I would suggest not getting your kayak or canoe too close to shore. They will get curious and they can be very mischevious.
Do NOT offer food or water.
Do NOT touch or harass them.
---
Other Animals in Silver Springs State Park
We were fortunate enough to see an alligator, a snake, several tortoises sunbathing on logs, and tons of different species of birds throughout our paddle.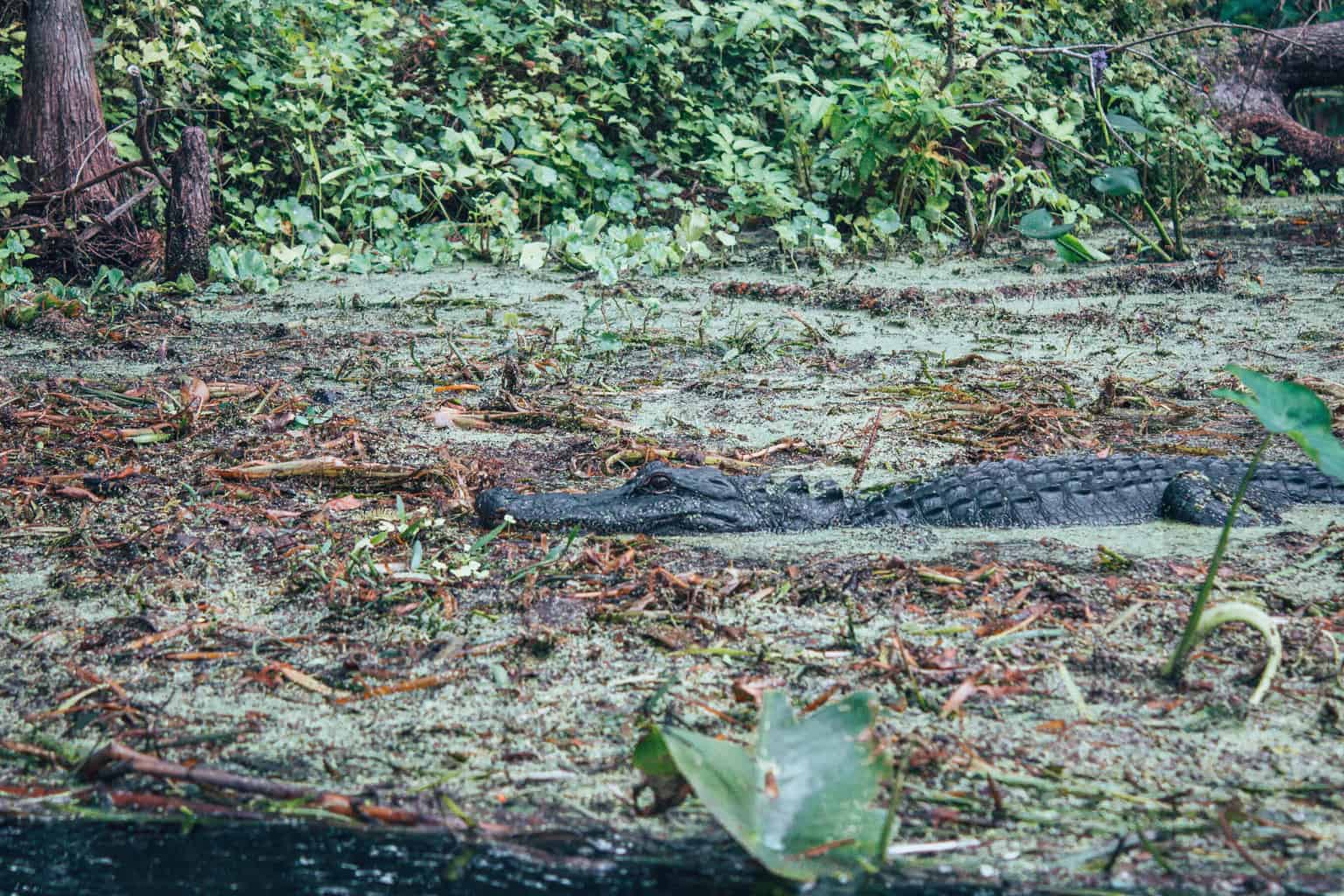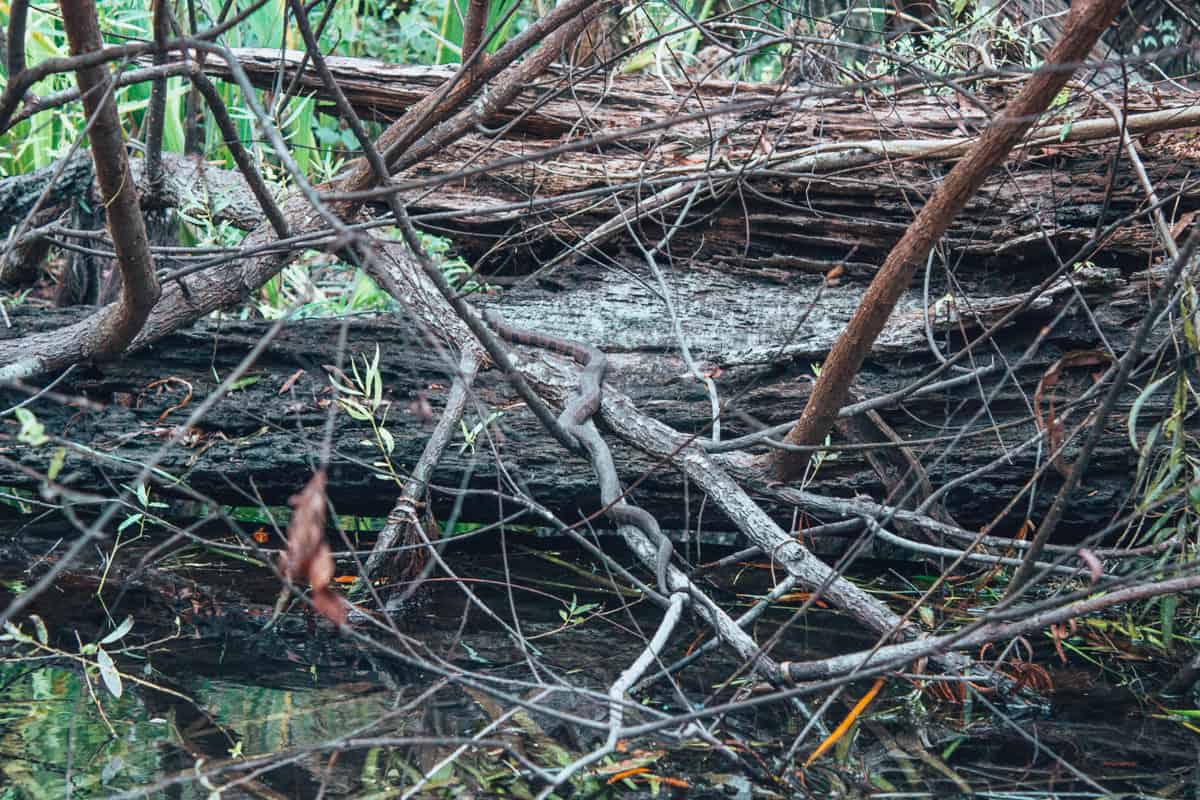 ---
How to Kayak in Silver Springs
There are, of course, a few things to know before kayaking Silver Springs whether you have your own kayak or not.
Experience level – beginner
Trip duration – 3 to 5 hours (depends how many times you stop to take pictures and view manatees)
Trip length – 6 miles
Cost

Silver Springs State Park Fee – $2/person
Private Boat Launch Cost – $4/boat

Restrooms – porta-potties located at Silver Springs State Park Put In, restrooms located at Ray Wayside Park Take Out, and at mile 2.0 there is a boat launch where you can get out, use the restroom, have a picnic and just stretch your legs.
---
Kayak Rental in Silver Springs State Park
There are different companies you can rent kayaks from and they will also shuttle you back to your vehicle at the starting point. We went with Silver River Kayak Rentals.
Single Kayak Rental – $35
Tandem Kayak Rental – $50
Shuttle Only – $10/person
---
Where to Put In and Take Out Kayak
Put In – Silver Springs State Park – 5656 E Silver Springs Blvd, Silver Springs, FL 34488
Take Out – Ray Wayside Park – 9560 NE 28th Ln, Silver Springs, FL 34488
Unload your kayak, or have the rental company unload their kayaks, right next to the kayak launch at Silver Springs State Park. All you have to do now is hop in and paddle away! You'll be seeing manatees in no time!
---
How Can You Help Manatees?
Are you convinced that manatees are amazing and deserve to be protected? There are a number of ways you can get involved with helping manatees and their sustainability.
Join the Save the Manatee Club
Practice Ethical Guidelines when You See a Manatee
Spread the Word on How to Interact with Manatees
---
↓↓↓ PIN FOR LATER ↓↓↓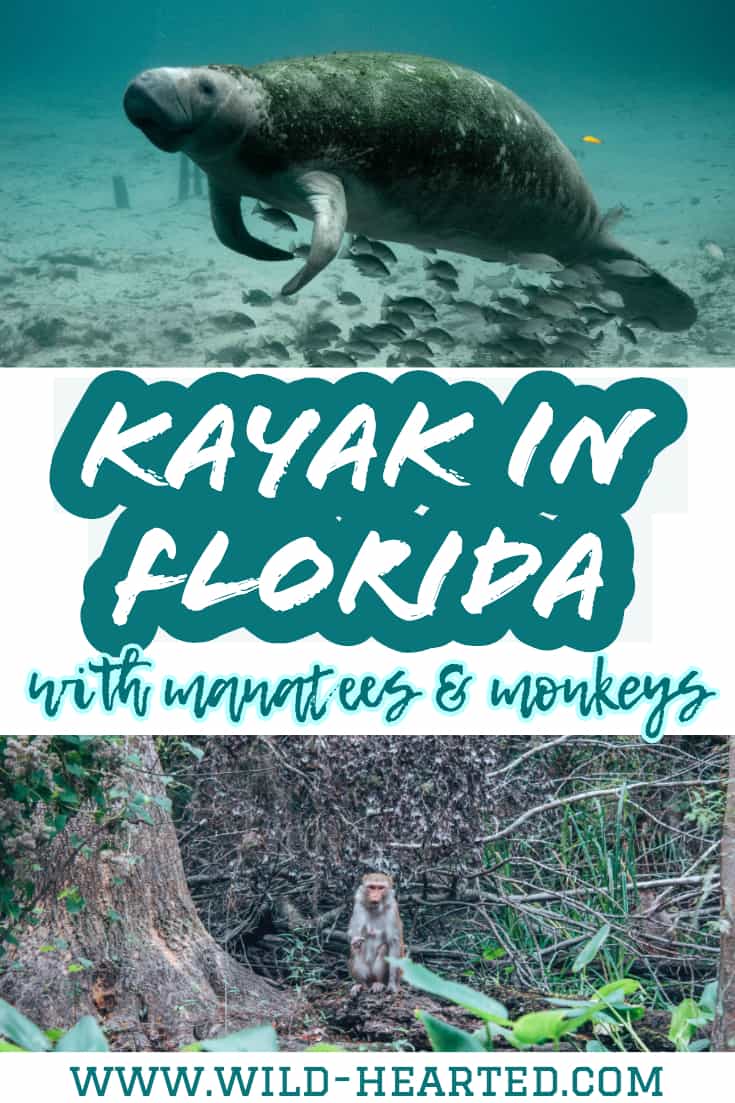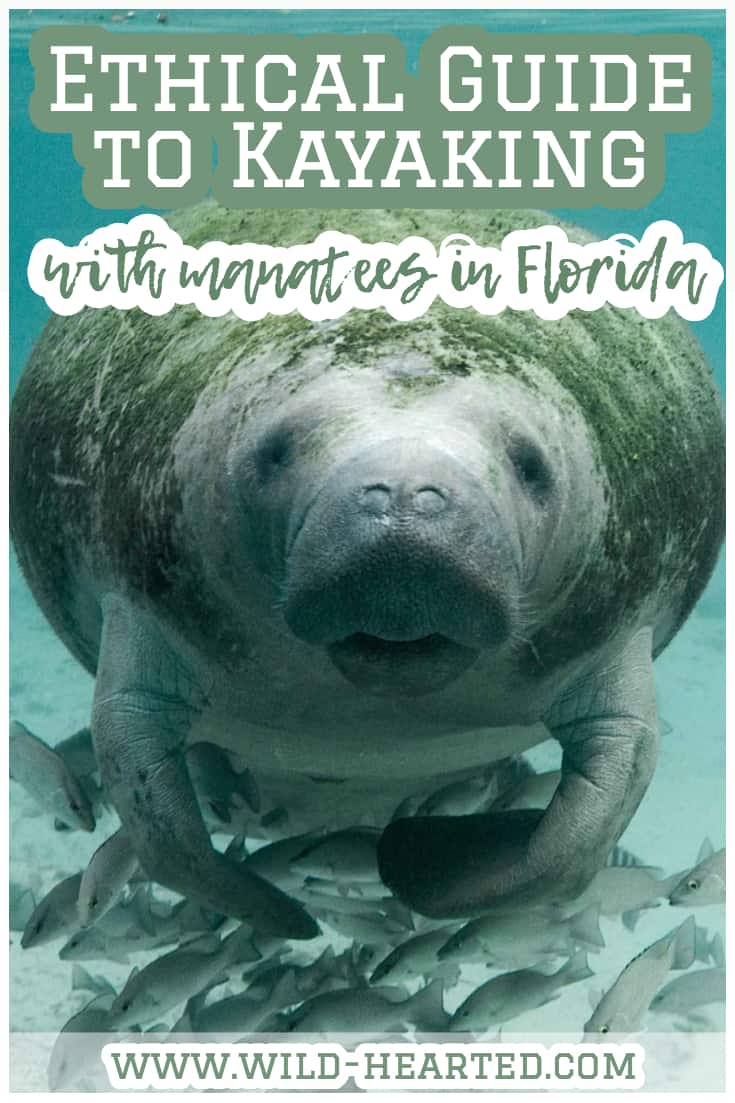 Latest posts by Ashley Hubbard
(see all)