This post may contain affiliate links, meaning if you book or buy something through one of these links, I may earn a small commission (at no extra cost to you!). Please see my disclosure.
I may be landlocked here in Nashville, but I've made a real effort to get in diving as much as possible (for me) this year. Since getting my scuba certification in Costa Rica in April, I've managed to go diving three more times – all in Florida. Luckily, Florida is pretty accessible to me and there's one of the best scuba diving locations there and one of the best diving spots in the country – Blue Heron Bridge. Blue Heron Bridge scuba diving is something every scuba diver needs to check out at some point. It's not only incredibly accessible but the biodiversity is insane.
It was only earlier this year that marine conservation laws went into effect at Blue Heron Bridge. In October 2018, a diver noticed men carrying bags and bags of fish and found out they were being taken for an aquarium. This obviously wasn't okay and so action was taken. Less than a year later, and it is now prohibited to collect and possess marine life fishery species within the park and surrounding waters. People can, unfortunately, still hook-and-line fish and go lobstering.
There is obviously more that needs to be done, in my opinion. However, this is definitely a huge step and I hope that it has increased the marine life in the area.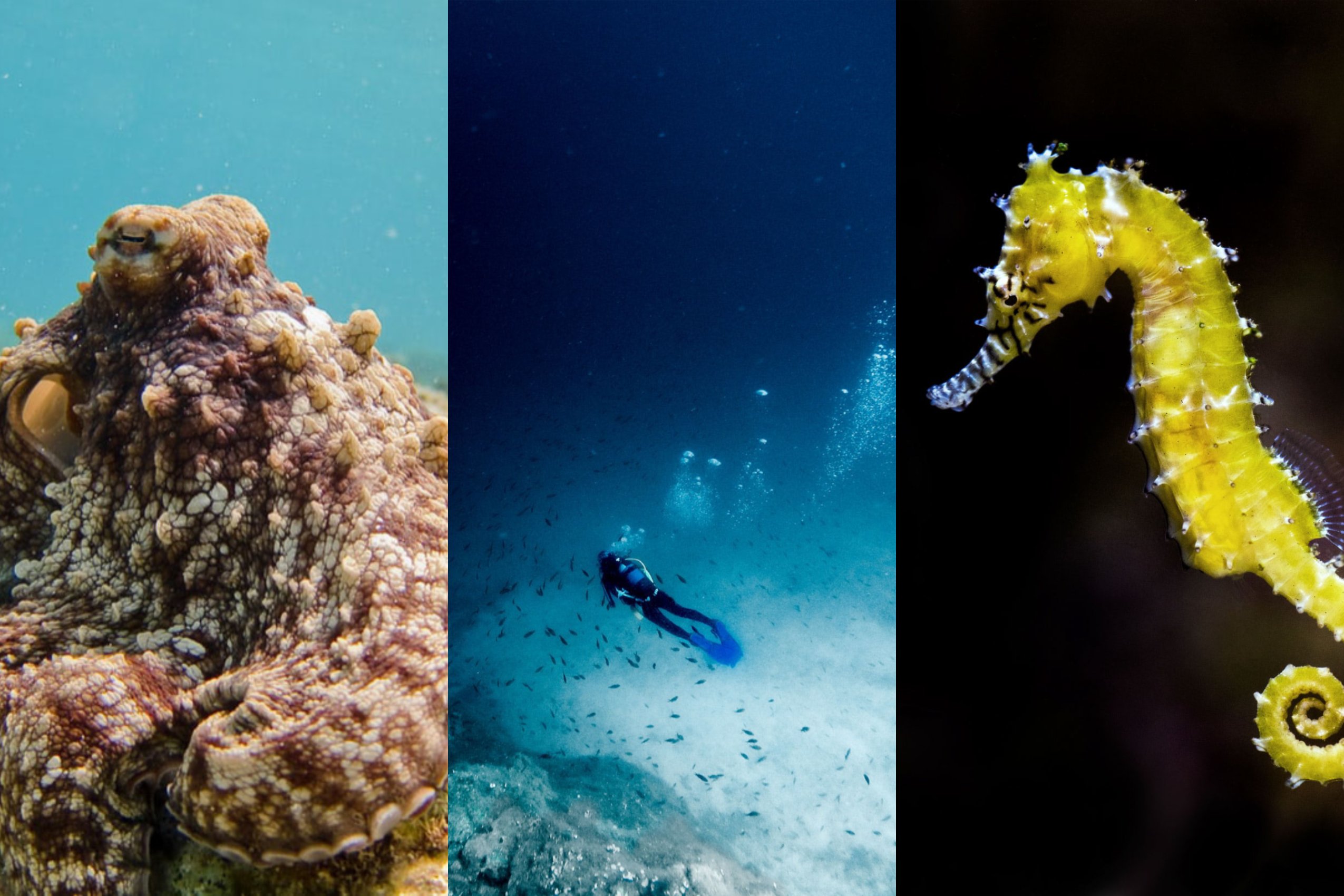 Blue Heron Bridge Scuba Diving – My Experience
I was incredibly pumped to do this dive after hearing how great it was from my friends, Jenn and Ed. I also knew it would be a great dive for me to do as a beginner. I'm lucky enough to have such great friends who have done their best to take me on diving experiences since my certification. All three of my dives since Costa Rica have been with Jenn and Ed in Florida. I'm sad that they'll be moving to Alabama (but also happy because they'll be closer) but I'm sure there are still many diving adventures for us in the future.
I will admit, I didn't have to do much thinking and planning for this dive as they'd already done it several times. It probably would have been a good time to test out navigational skills (of which I have zilch) but I did work on my buoyancy. Staying neutrally buoyant in shallow water is not the easiest thing in the world.
After driving up from the Keys, we stopped at Pura Vida Divers to rent our gear. I had my own mask (yay!) but had to rent everything else. Pura Vida was fantastic. They were very friendly, not intimidating (which is big for me), went over all the gear and made sure you checked it before leaving, and the price was very reasonable. I paid less than $60 for everything – BCD, regulator, fins, weights, and tank. I'm making a goal in 2020 to do research on the best wetsuits, regulators, and so on to buy my own gear.
After loading up our gear in the car, we drove less than a mile to Phil Foster Park – the location of Blue Heron Bridge. We found a pretty close parking spot and noticed a lot of scuba divers already there getting ready. You can definitely tell when the high slack tide is and how popular this spot is. I was immediately intimidated that there were so many people. I was thinking it was going to be miserable with so many people. However, I soon found out, once we were in the water, we never bumped into anyone else surprisingly.
We found an empty picnic table to get all of the gear ready and put on. Scuba diving as given me a lesson in patience that I desperately needed. I can tend to rush through steps, but I also want to be safe so getting my gear ready has taught me to slow down and take my time. Additionally, once you get out of the water, you want to rinse everything off so the salt water doesn't sit on there. Jenn was nice enough to lend me her wetsuit. The water was warm enough not to wear one but when you're on a longer dive like this, you can definitely get cool or even cold.
I let Jenn and Ed take the lead on direction and just followed along. You have a short swim on either side of the bridge. After entering the water, we swam straight out and then turned right and swam till we were parallel to the edge of the bridge pilings and then turned right to swim towards the bridge.
The swim there was cool, but I wasn't sure what all the hype was about. But, then we found the bridge pilings (the huge pole-like structures) and it was like a switch was flipped. Immediately I was enamored. There was marine life EVERYWHERE. There were so many creatures in and around the bridge pilings. Schools of so many different colorful fish.
I kind of wanted to cry at all the amazing things I saw. I'm not entirely sure that I can pick a favorite dive thus far but I think this one will always be special to me and I can't wait to do it again.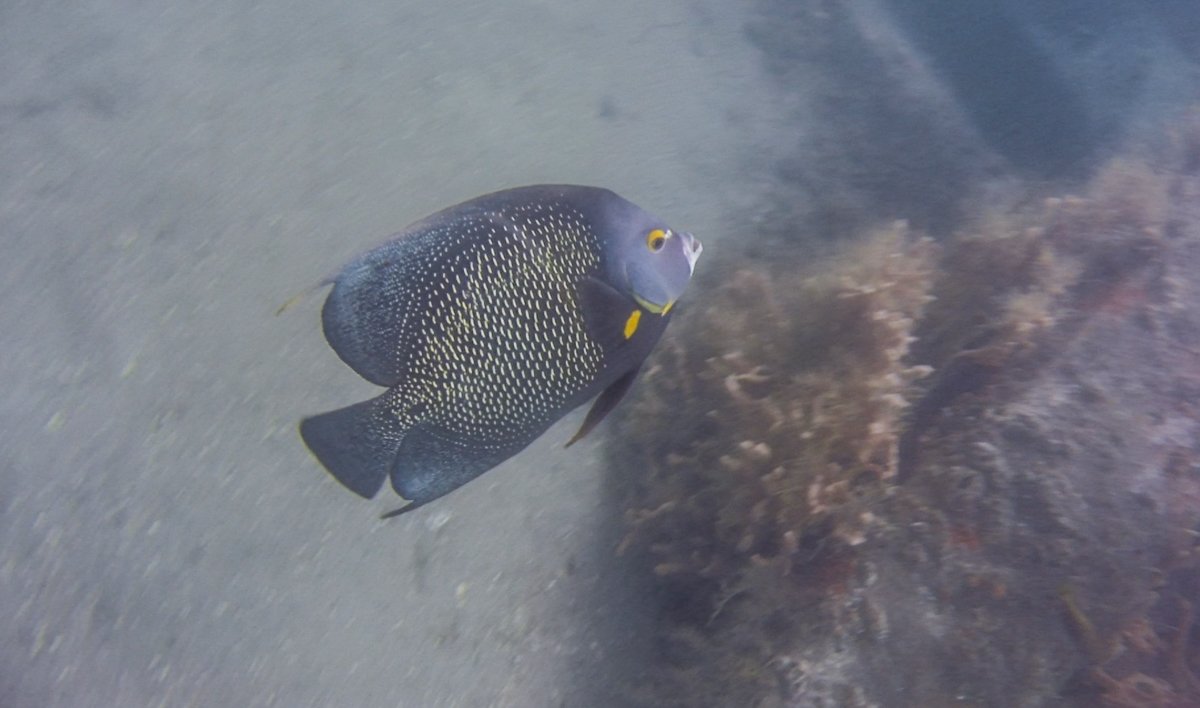 ---
Species You Could See While Blue Heron Bridge Scuba Diving
The reason why Blue Heron Bridge is revered as one of the best dives in the country is due to the amazing biodiversity. It is possible to see over 100 species on one single dive. I can't possibly name every single species but below are some that you have a high probability of seeing and are regularly spotted.
Spotted Eagle Ray
While I didn't see any spotted eagle rays while diving Blue Heron Bridge, they do seem to be a regular sight there. They are often seen alone. Despite not seeing one here, I saw several while diving in Costa Rica – including a fever (group) of stingrays!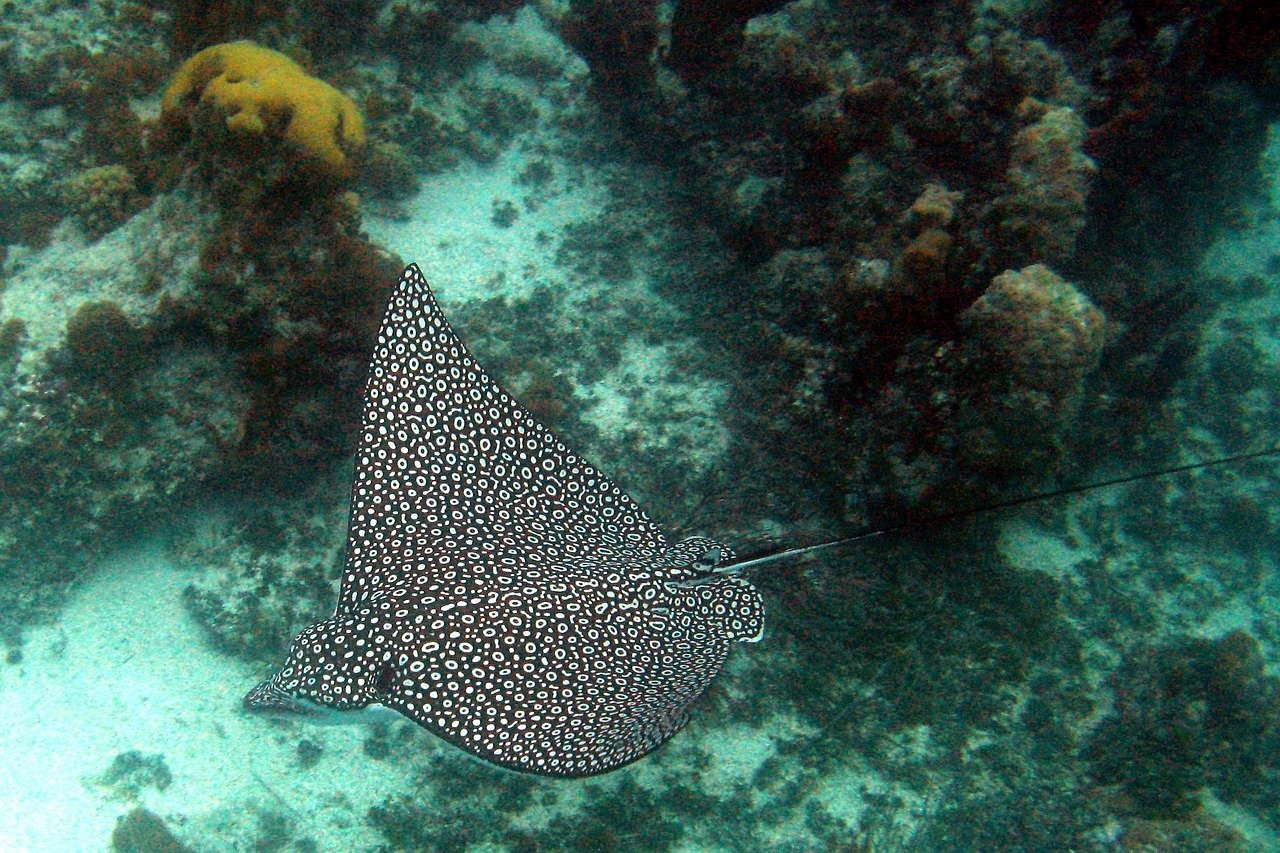 Manatee
Manatees are a regular sight at the Blue Heron Bridge as well. I've seen them while kayaking in Florida, but not here. It's an experience you will absolutely never forget.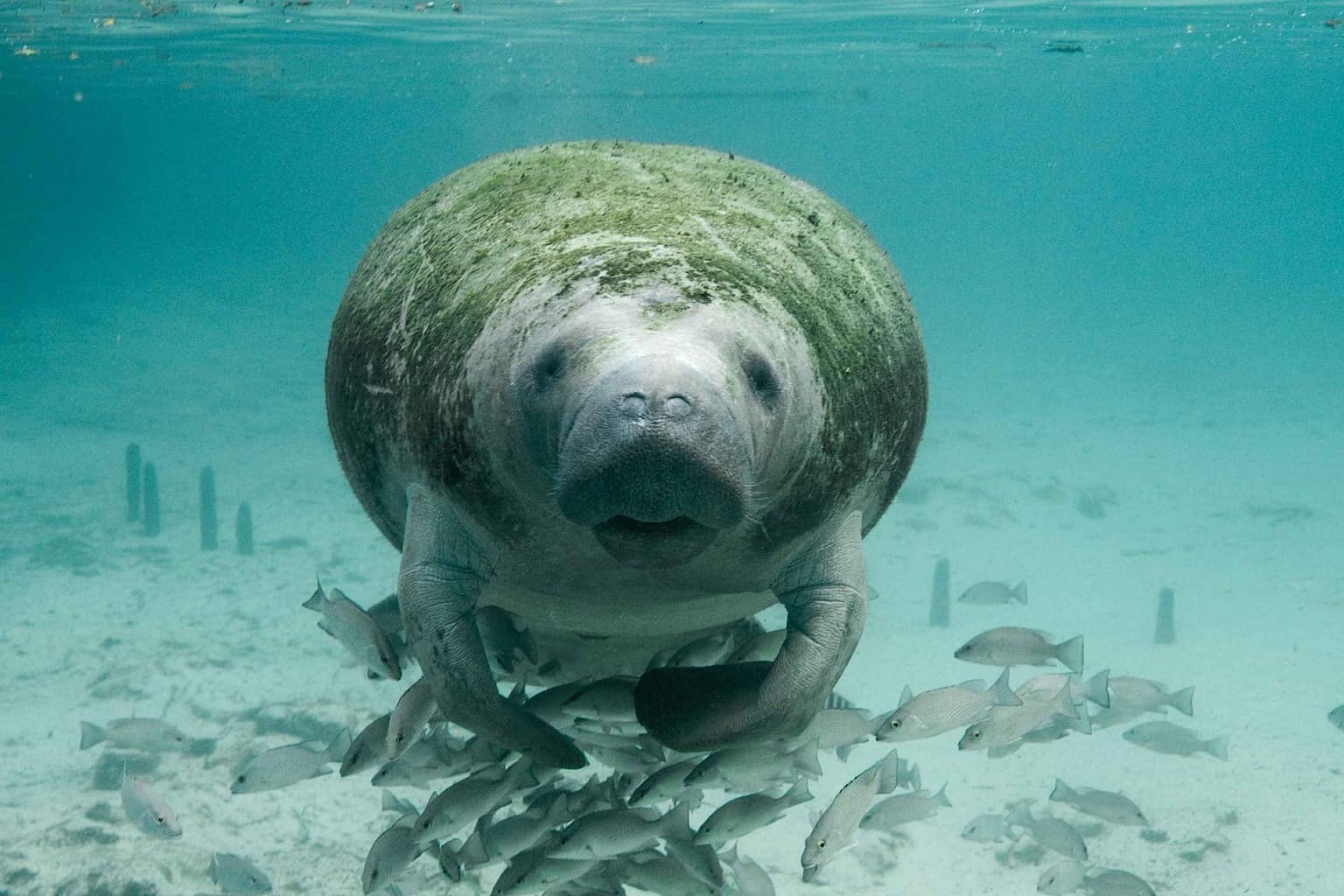 Octopus
The number one thing I wanted to see while diving Blue Heron Bridge was an octopus. I love them and have a fascination and I've been hoping to see one on every single dive. Since they're known to be at Blue Heron Bridge, I was on the lookout but sadly didn't see one. Even though I know they're there, they can be difficult to spot.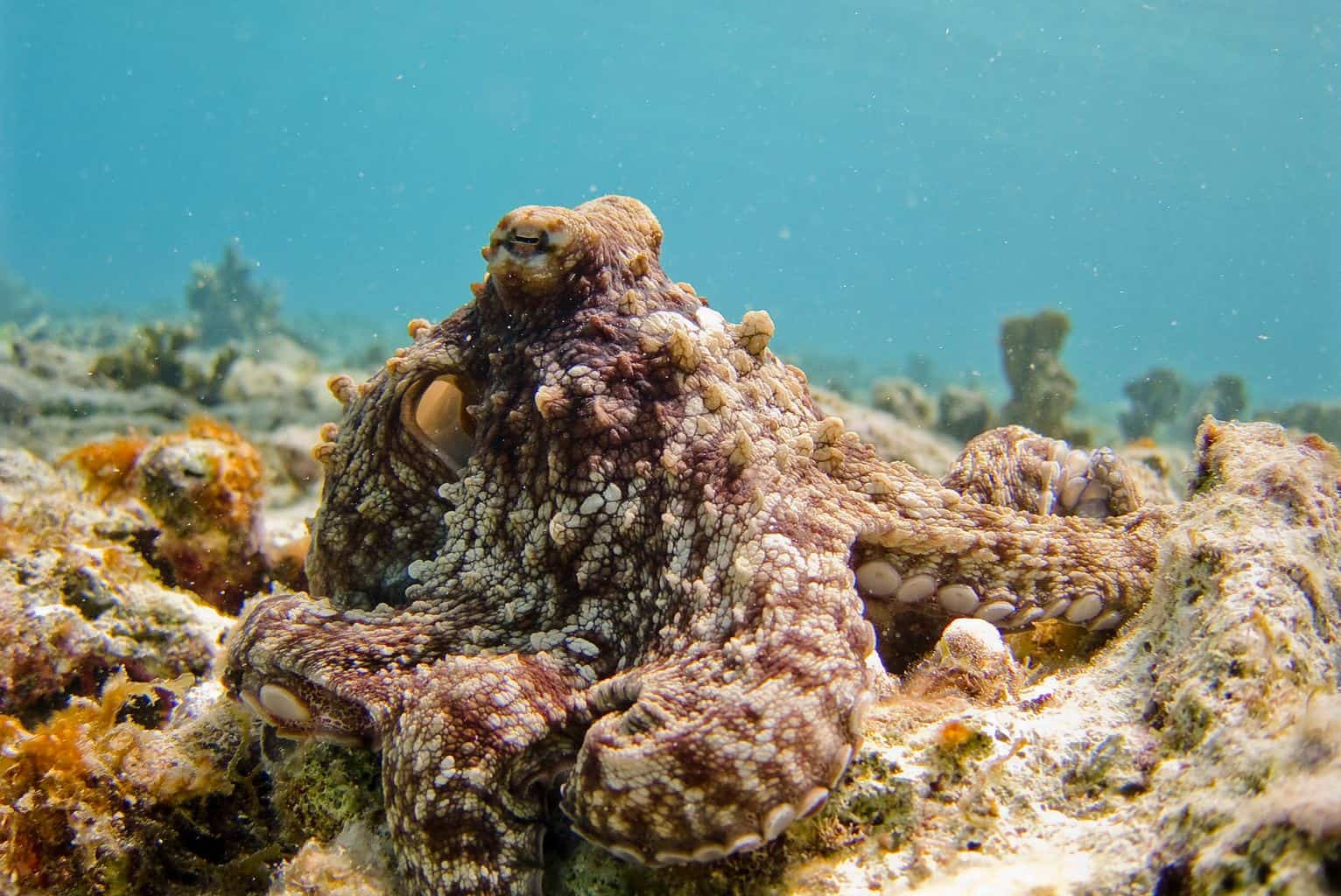 Scrawled File Fish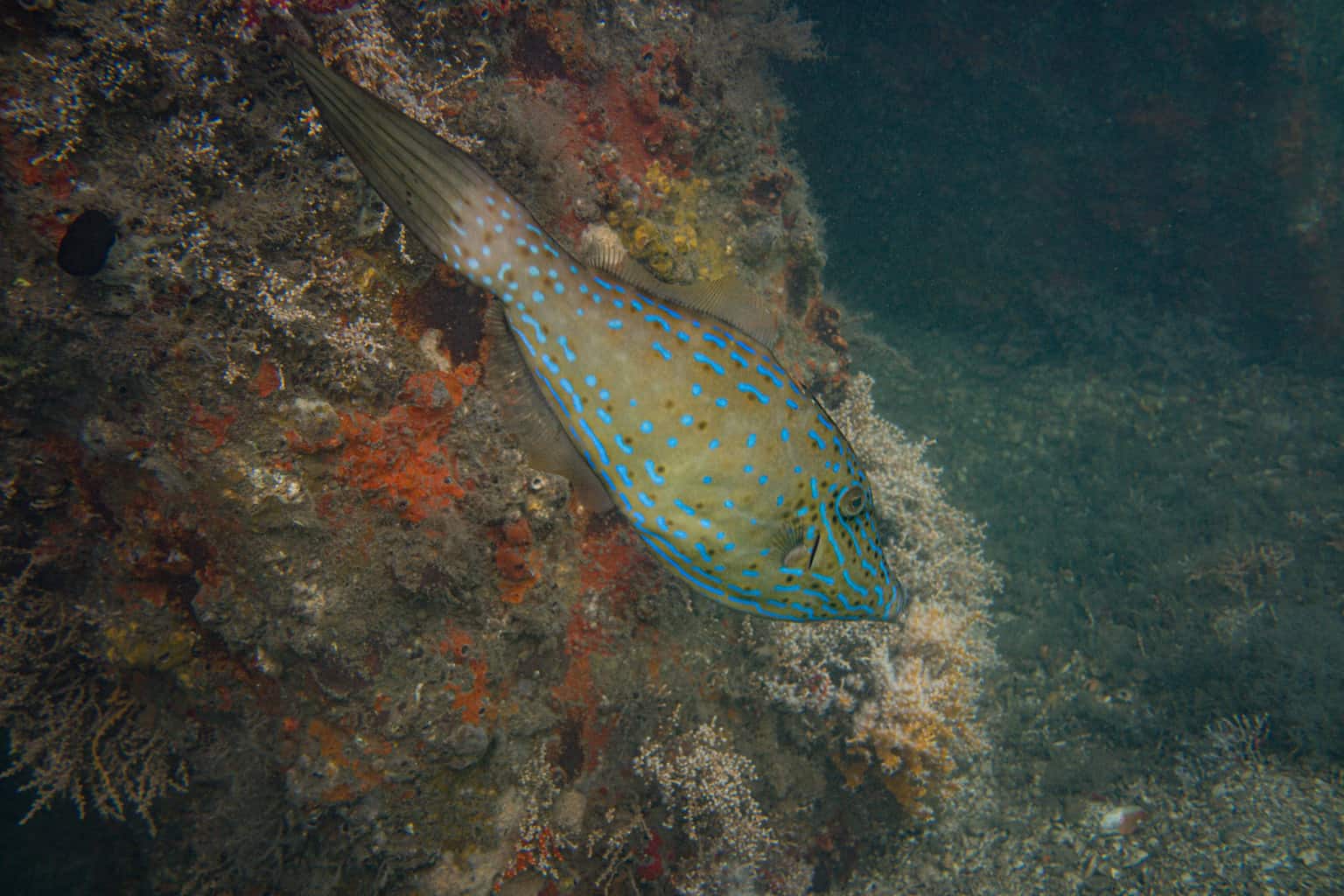 Seahorse
Apparently, this is a great spot to spot seahorses. I didn't see one but I think they're mostly seen on the snorkeling trail which I didn't get a chance to do.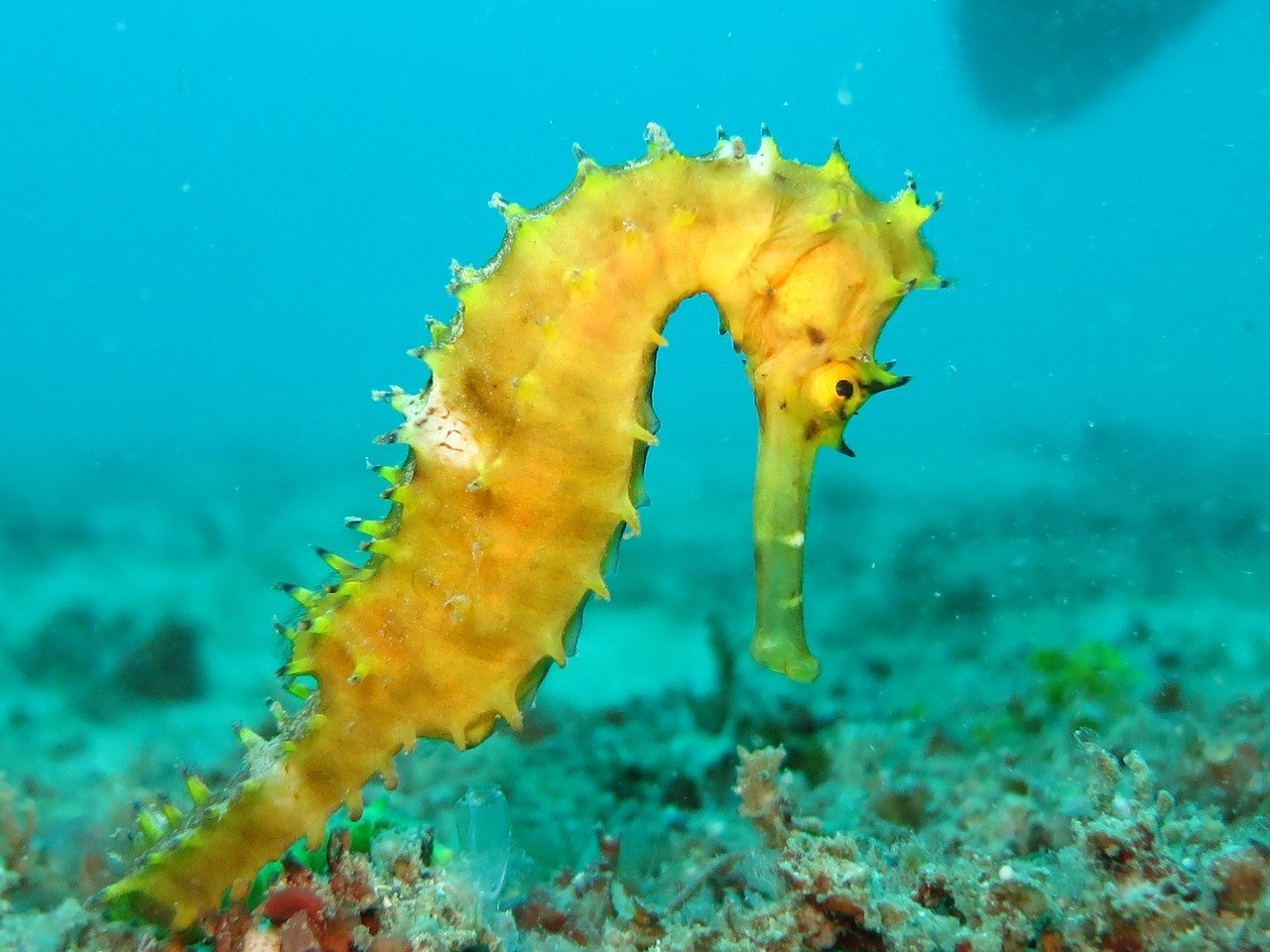 StoneFish (or Rockfish)
The masters of disguise and yet we still saw several! Of course, I had to be practically put on top of them to see them but still. They're also the most venomous fish in the ocean.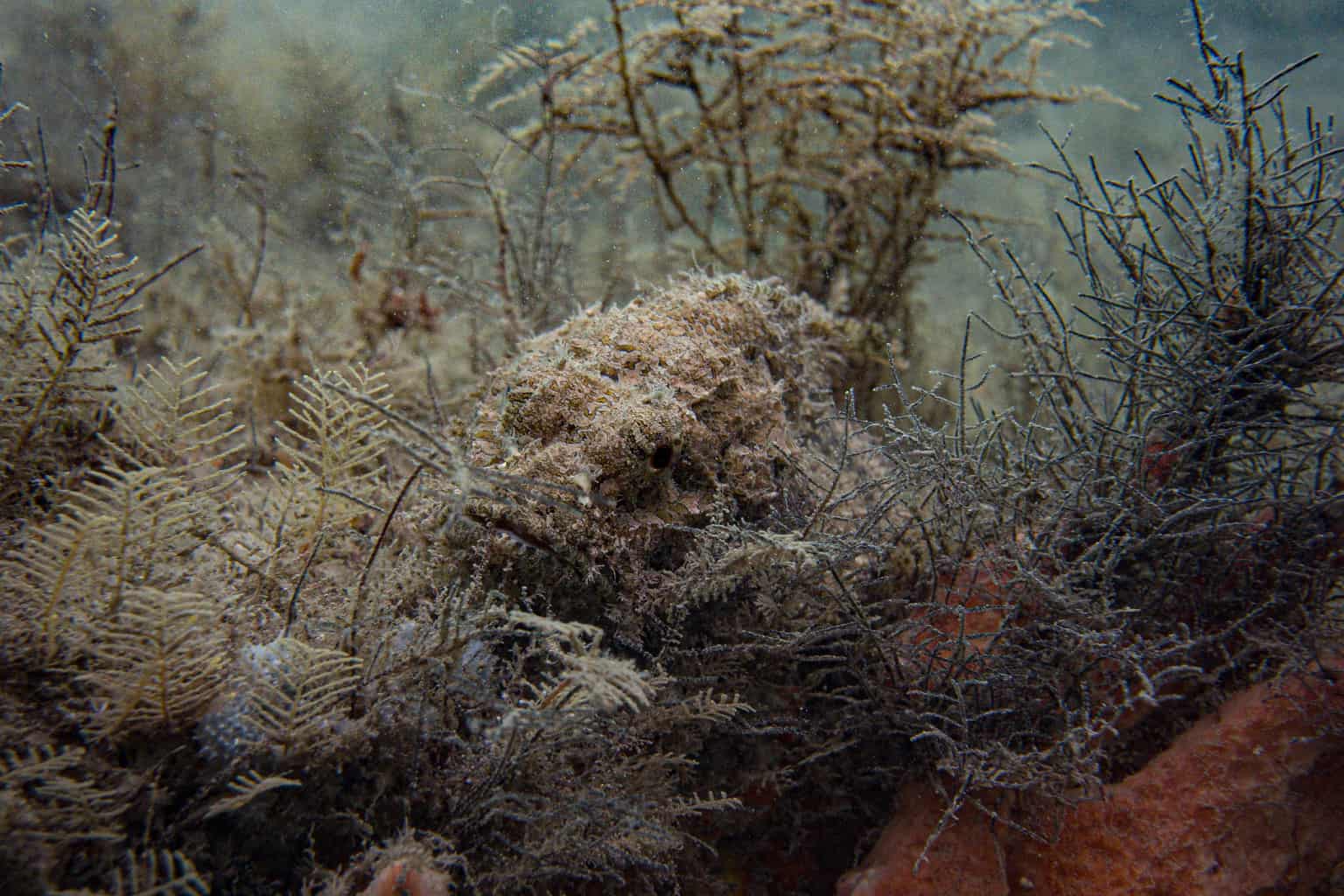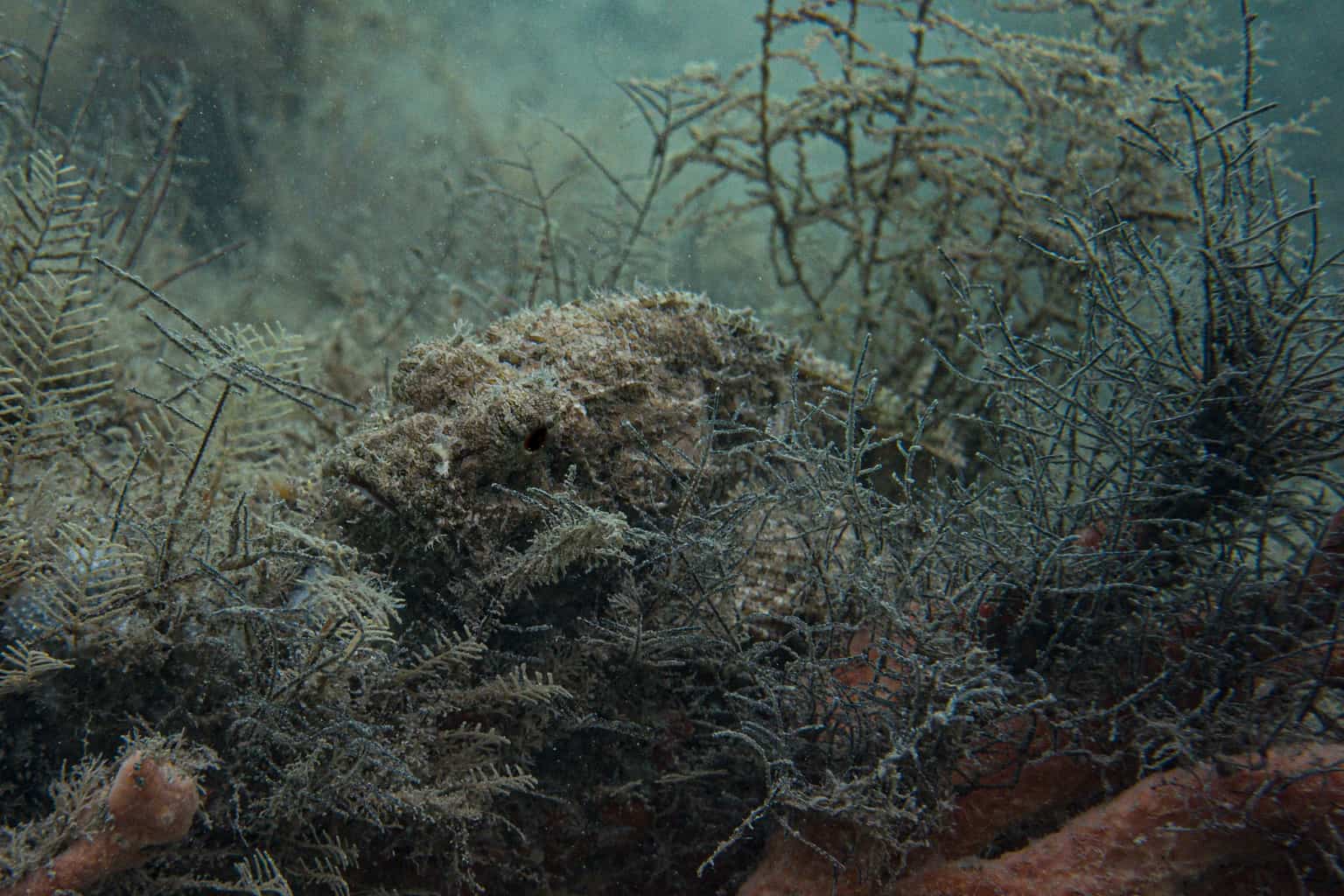 Frogfish
Frogfish are wild looking too and come in all different colors.
Nudibranch
I saw a ton of nudibranch in Costa Rica and I fell in love with the idea of finding macro (small) species. They can be difficult to spot but never disappoint. They are extremely colorful sea slugs basically. They come in all different colors and patterns.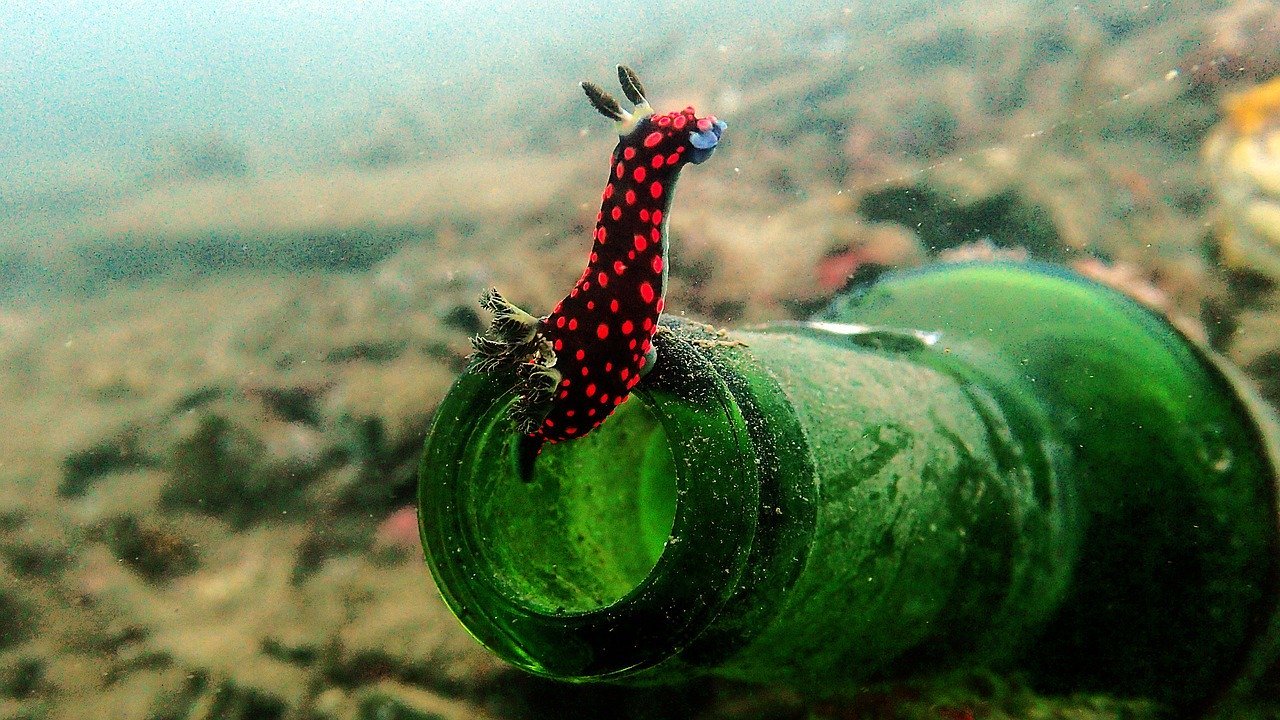 Blenny
Blennies are small and they look like they have little fish mohawks and now that Jenn has told me about them, it's my mission to see one.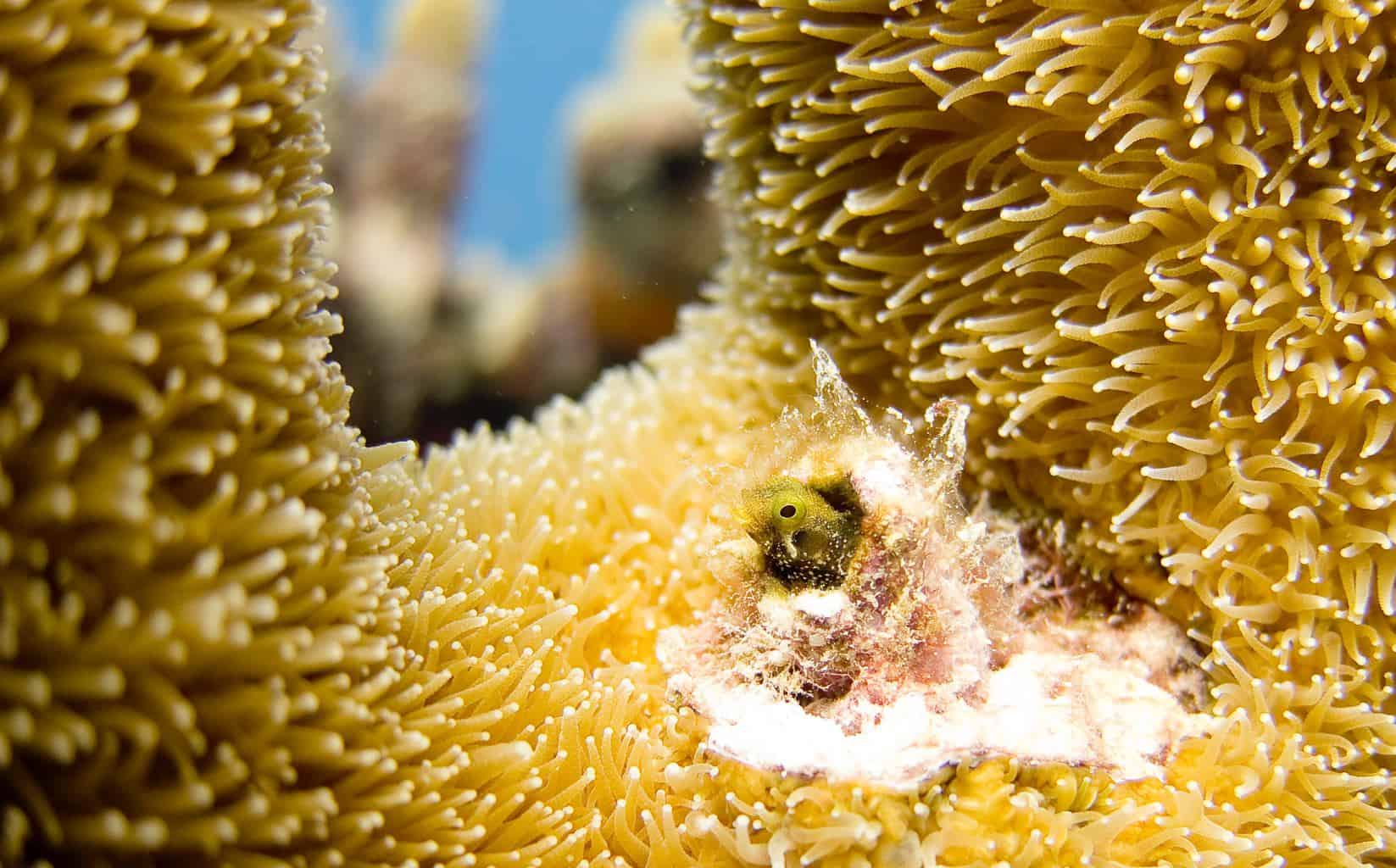 Angelfish
I was really fascinated by these huge and beautiful angelfish. There were a bunch of them and they were the size of my head.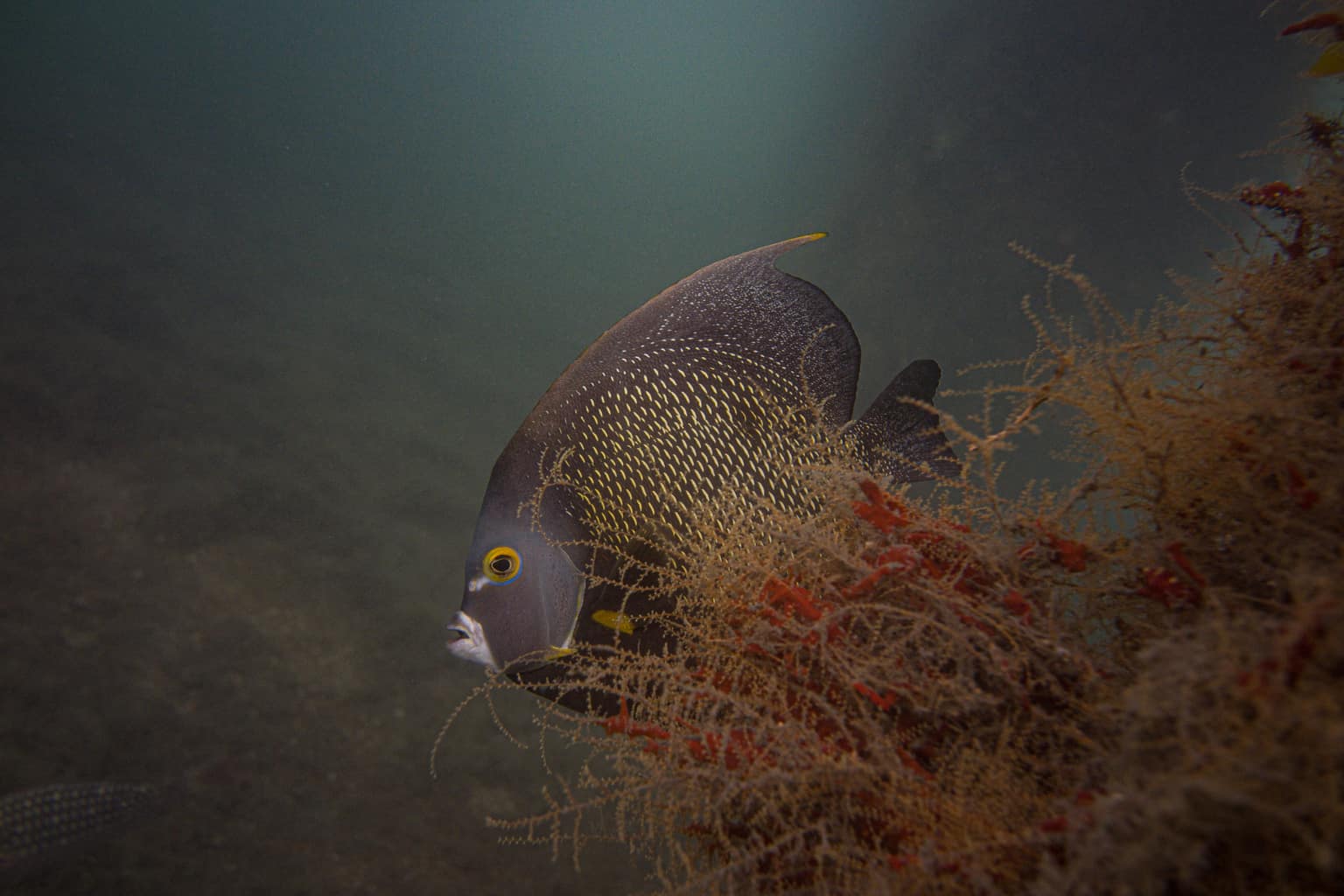 Moray Eel
We were at the end of our dive when I spotted this huge green moray eel and I. WAS. SO. EXCITED. I actually had seen a few already but this was by far the closest and most visible one I had seen. Such a fascinating animal.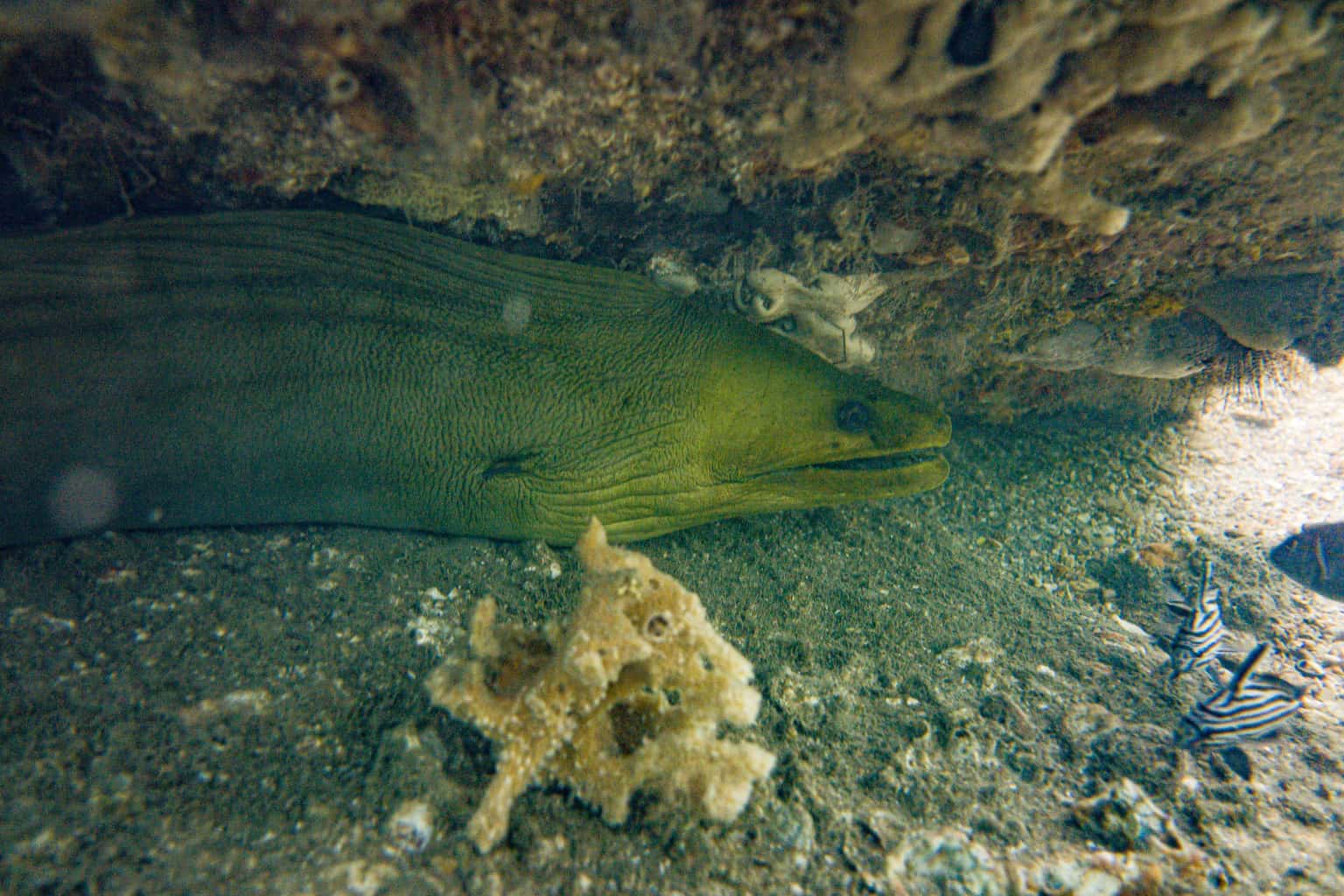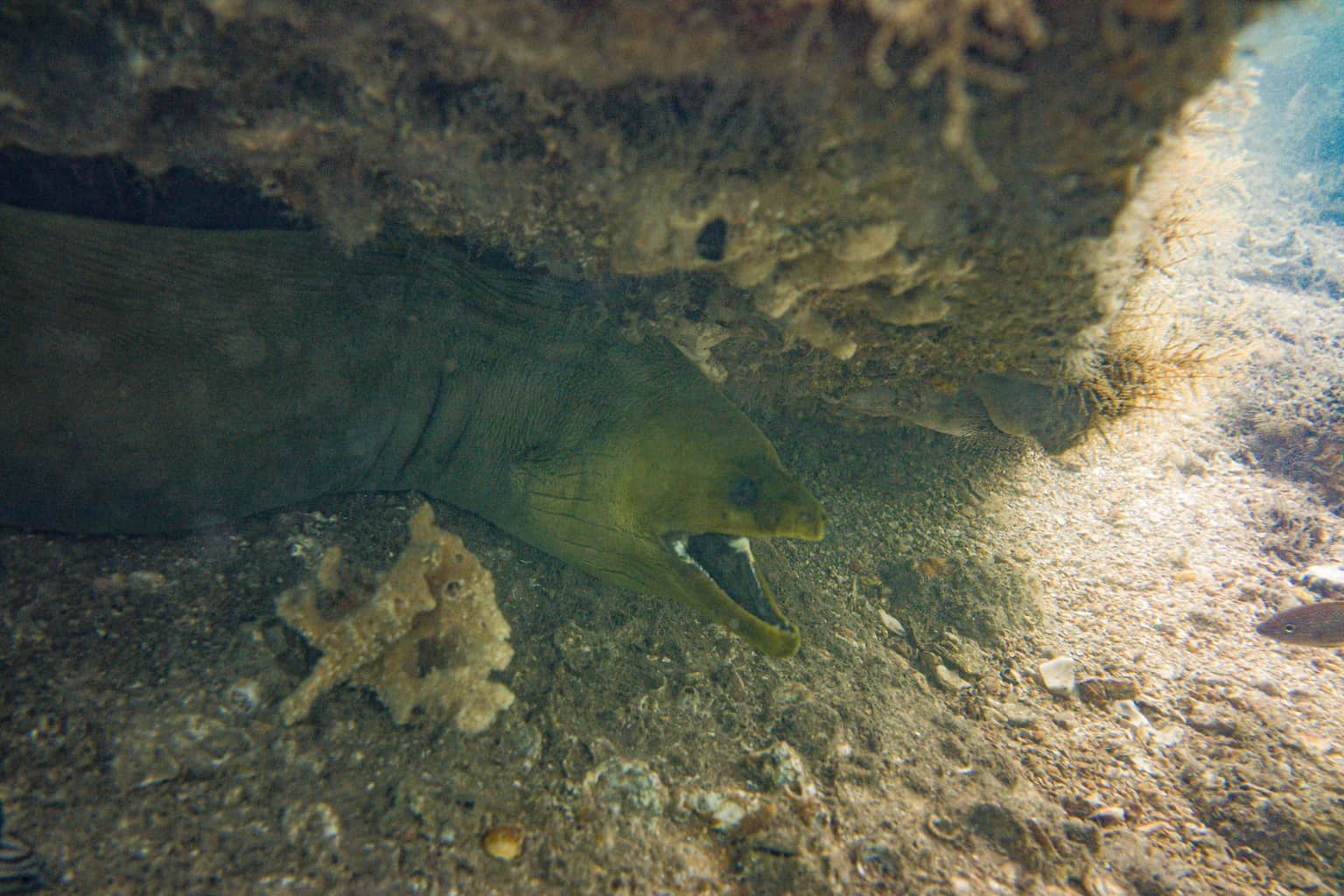 Stargazer
This is the wildest fish ever. We saw this guy hidden in the sand and none of us knew what it what it was. After getting back in the car after the dive, I started searching the blue heron bridge hashtag on Instagram and saw someone else post a picture of one and that's how I found out it's called a Stargazer. Then Jenn started googling the name and we found out some insane facts about this fish. Like the fact it's highly venomous, can electrocute you, and not to mention – it looks terrifying.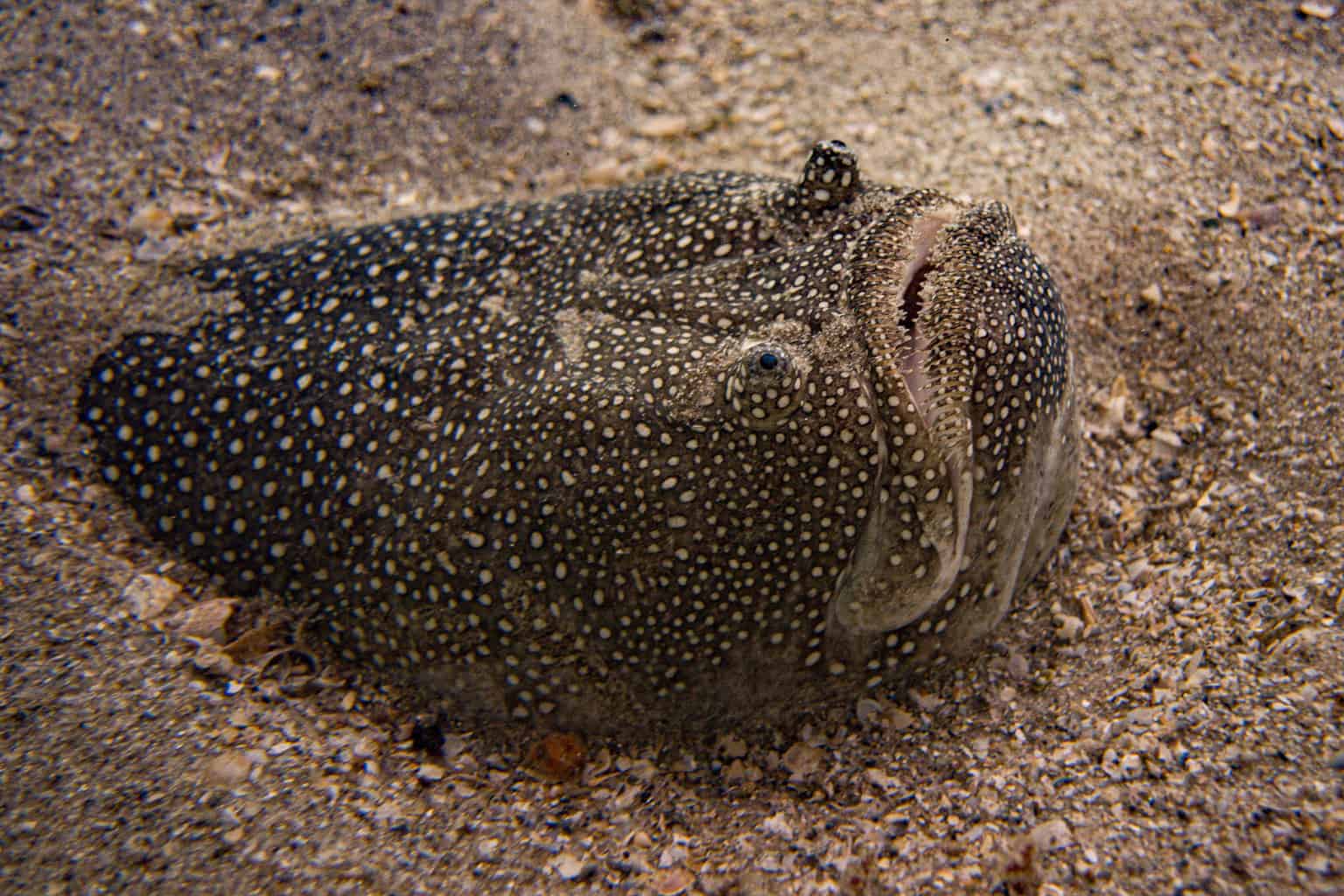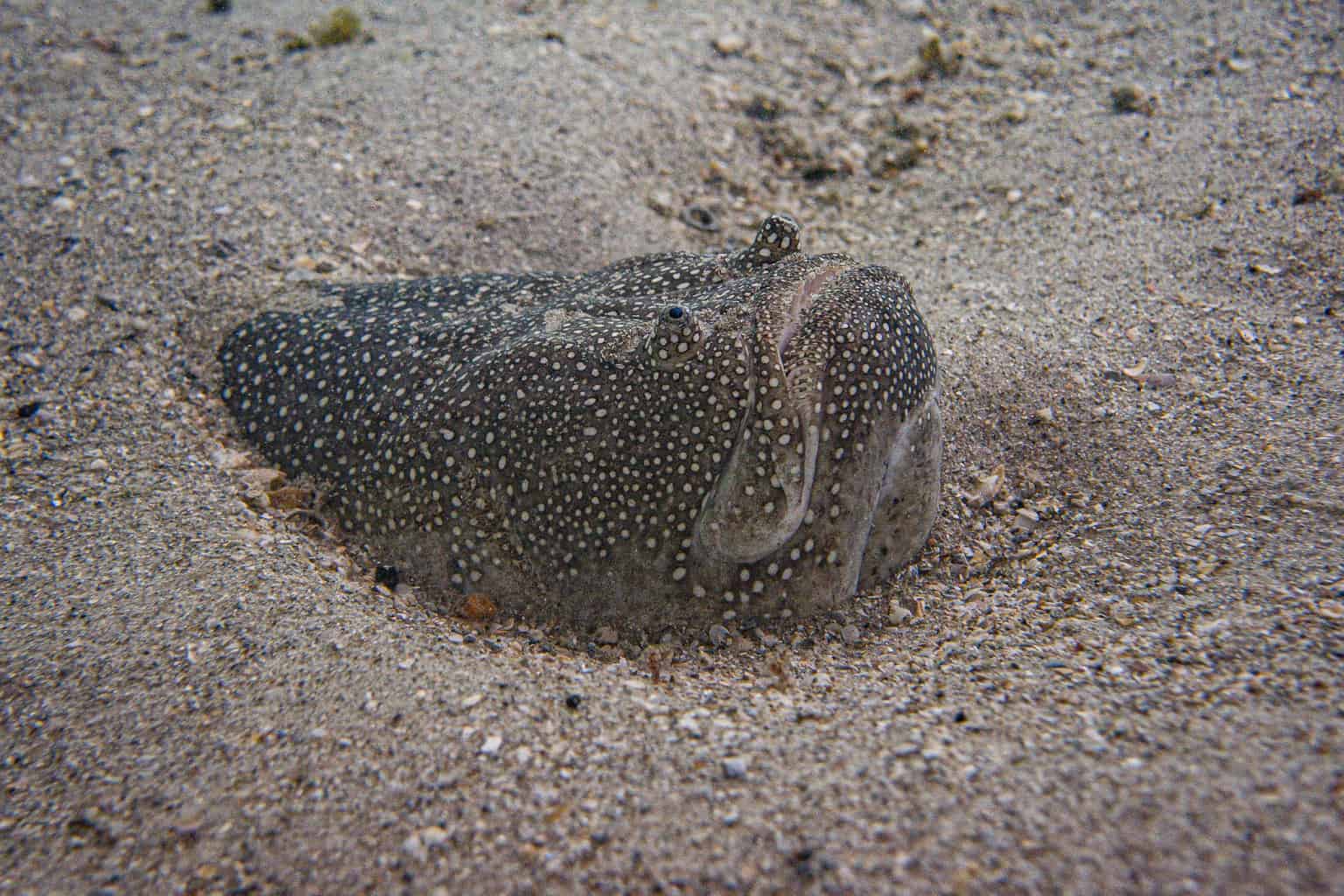 Starfish
I've seen starfish but mostly dead in stores (which is terrible) but I've never seen starfish the size of my head and they were everywhere at Blue Heron Bridge.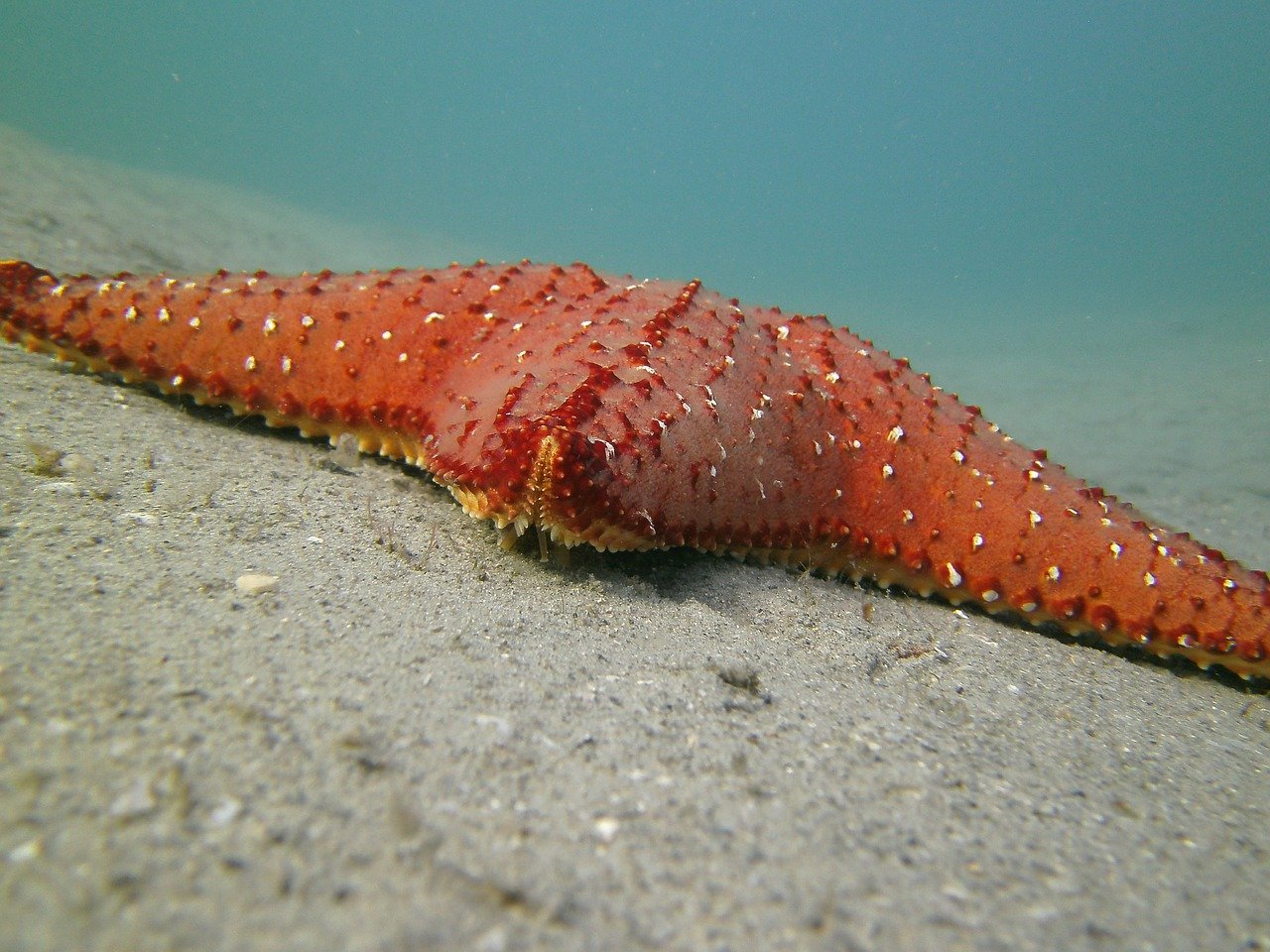 Spotted Eel
We spotted this spotted eel (see what I did there) hidden in like a pipe of some sort. He poked his head out long enough for Jenn to take some photos and me to get some video. How generous of him.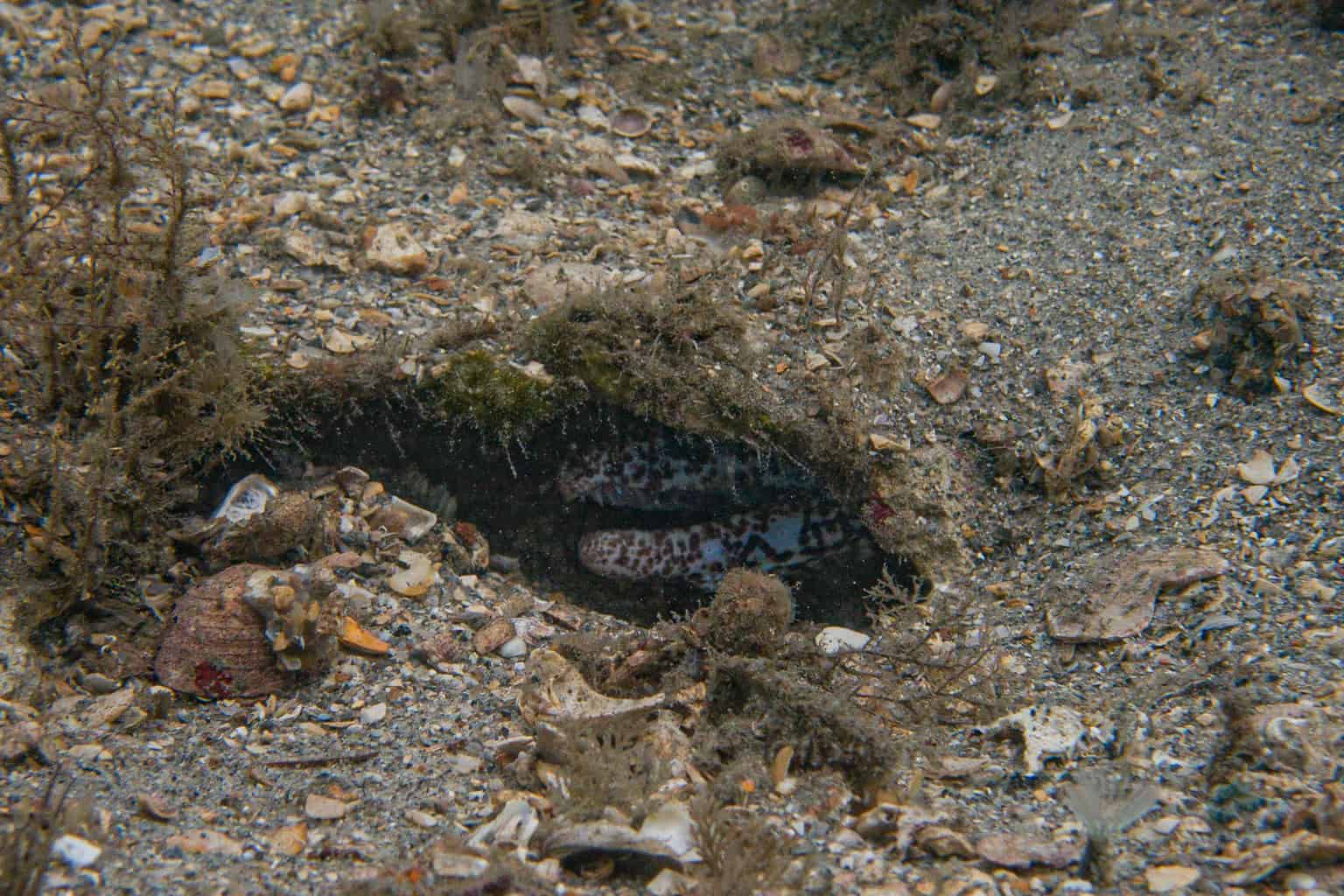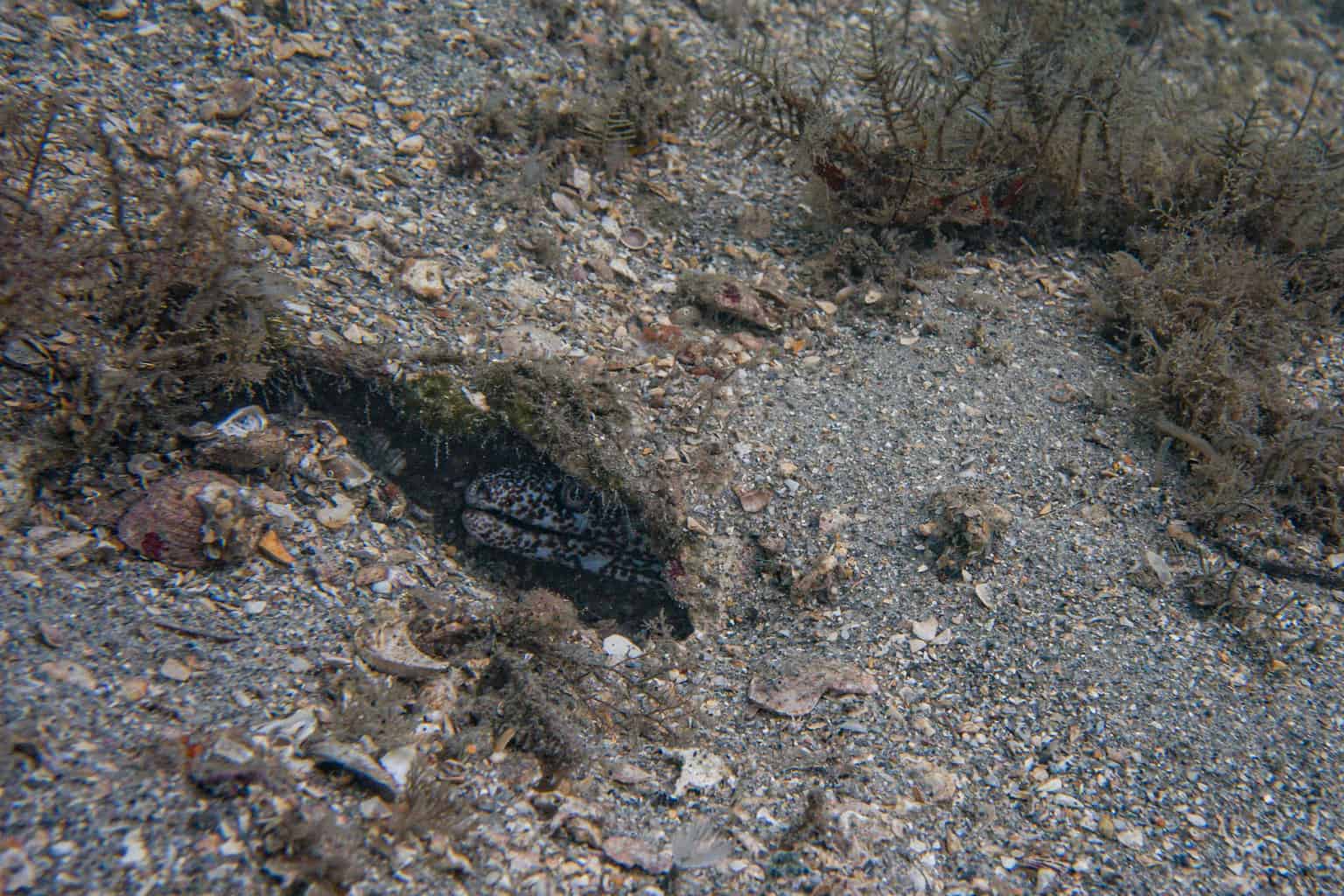 Sea Turtle
I don't know that it's extremely common but sea turtles have frequented Blue Heron Bridge. If you definitely want to do something good for sea turtle rescue in Florida, head to Ft Lauderdale and see baby sea turtles hatch ethically.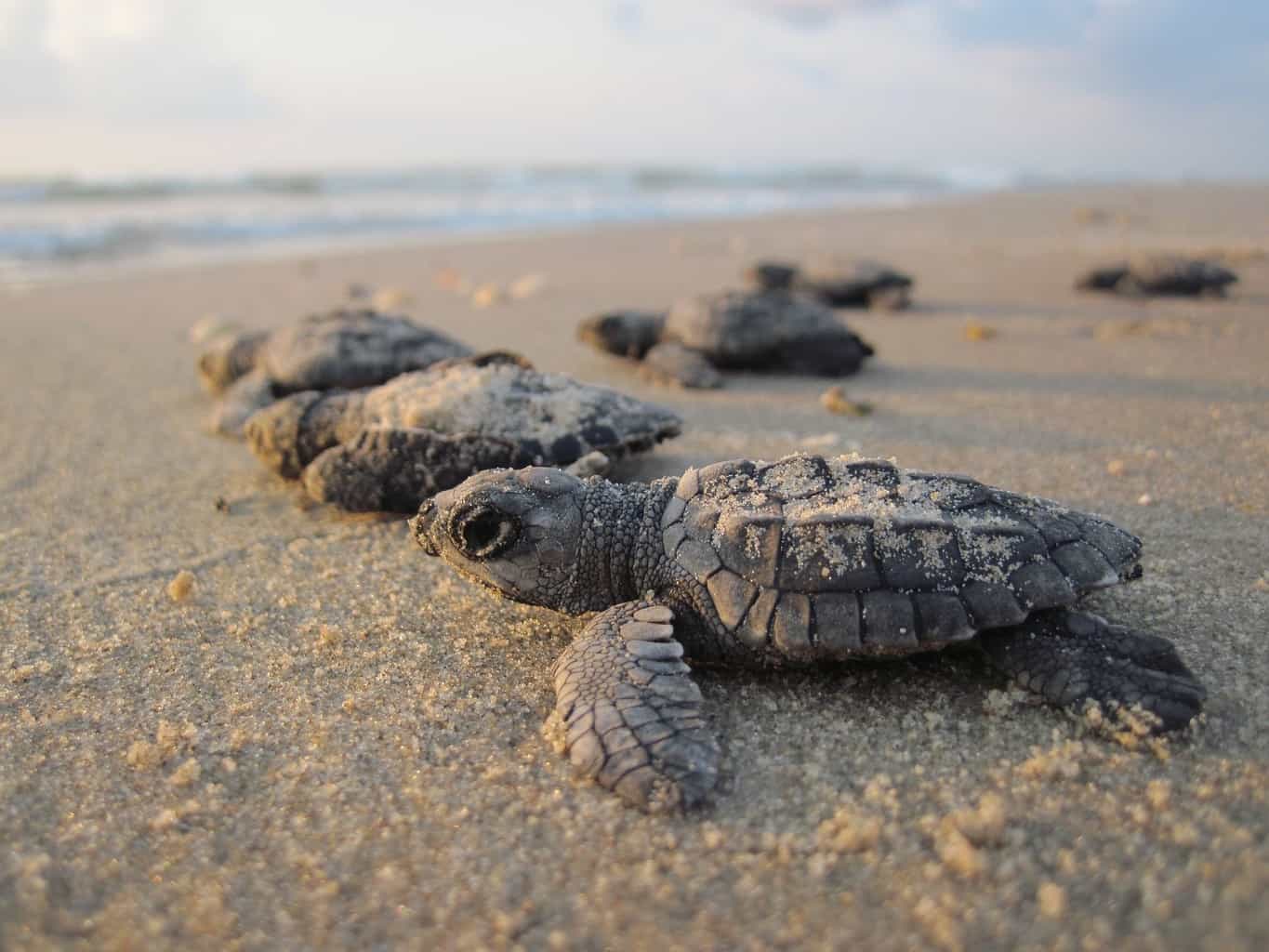 Lobster
Lobsters may not be exciting to everyone but quite honestly – I get excited by everything I see. But, these guys were cracking us up. They were on top of this rock piling and while we were busy shooting and filming, they came down off the rock and around the corner like a little lobster gang like either greeting us or saying "hey what are you doing here?"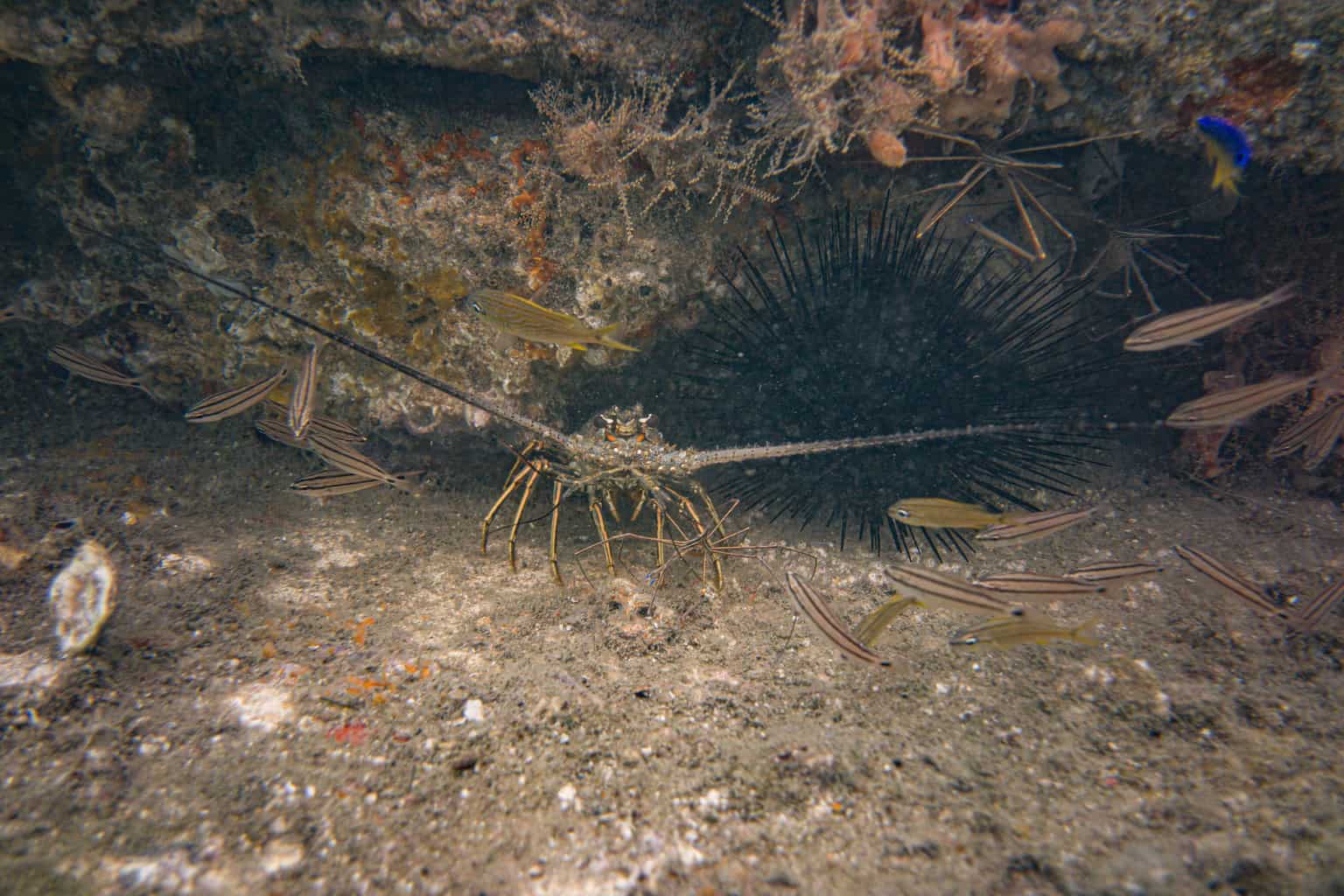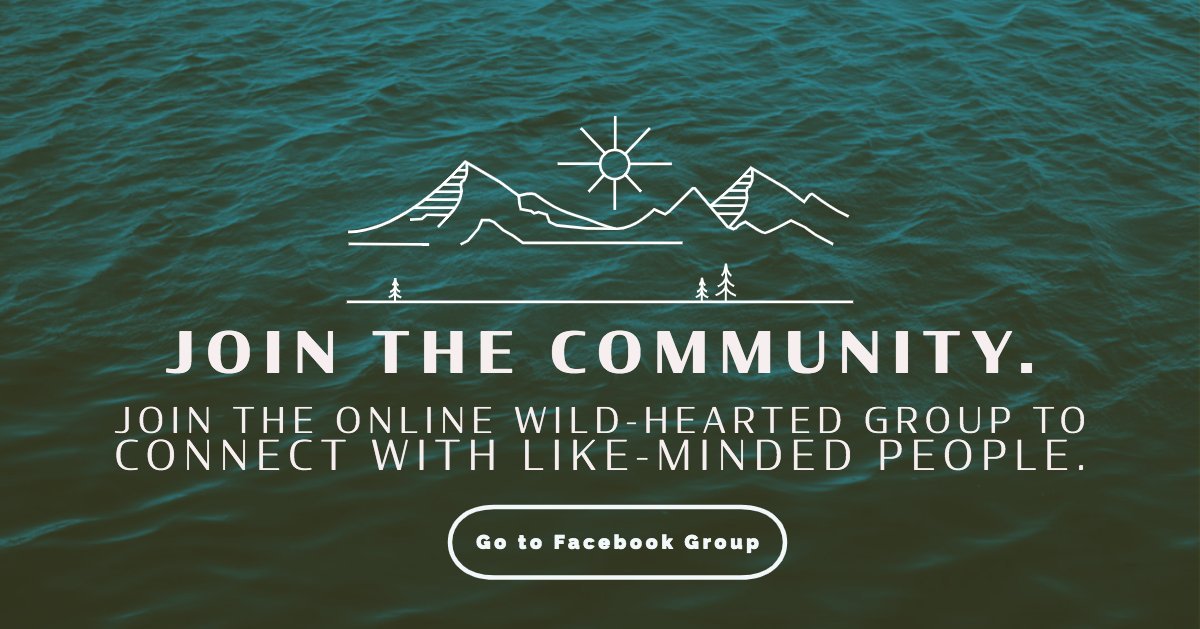 Bearded Fireworm
We saw so many of these tiny little guys and they actually seem to move quite fast. They are also venomous – is everything in the ocean venomous?!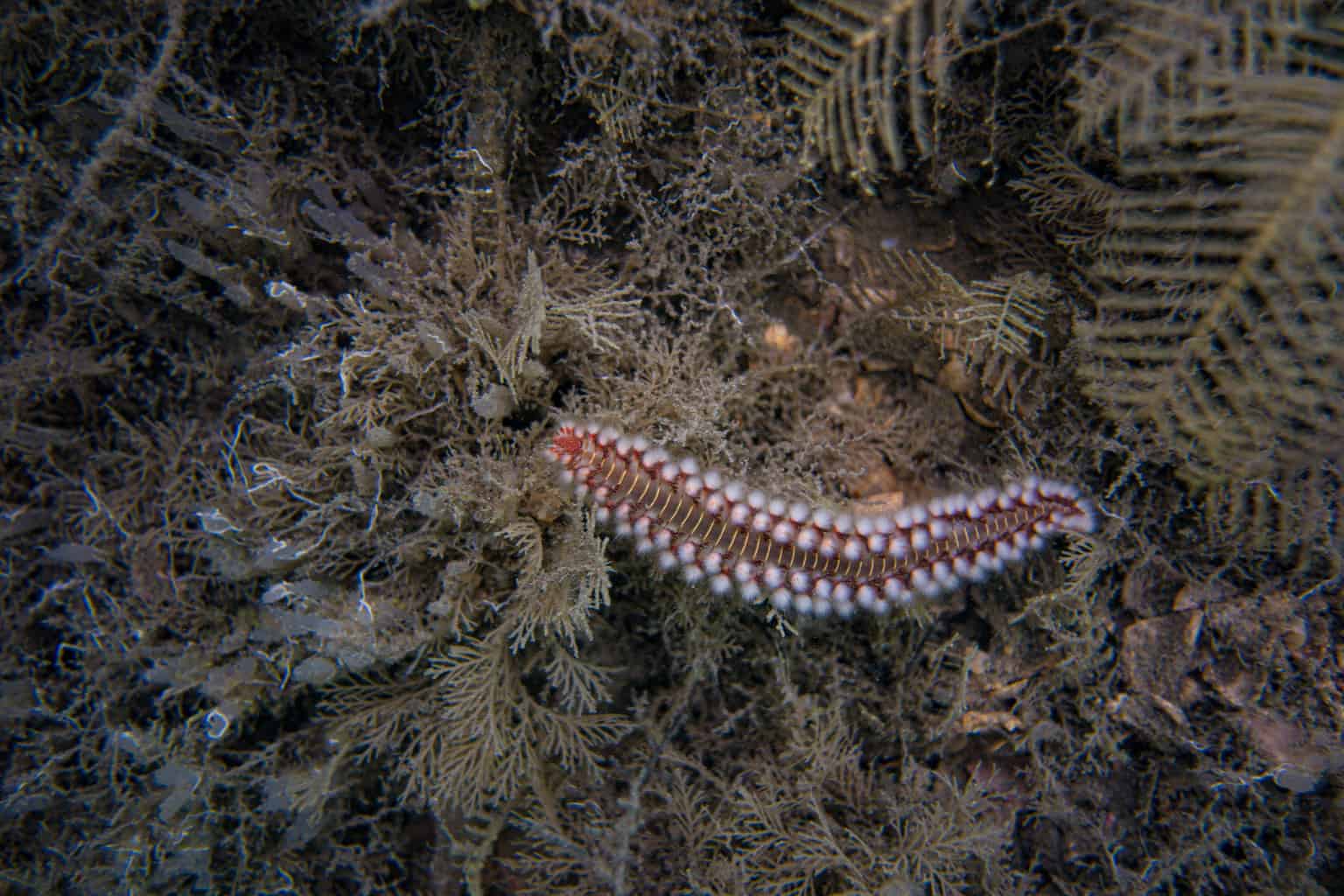 Round Stingray
I saw a lot of these in Costa Rica as well so it was cool to see one again closer to home.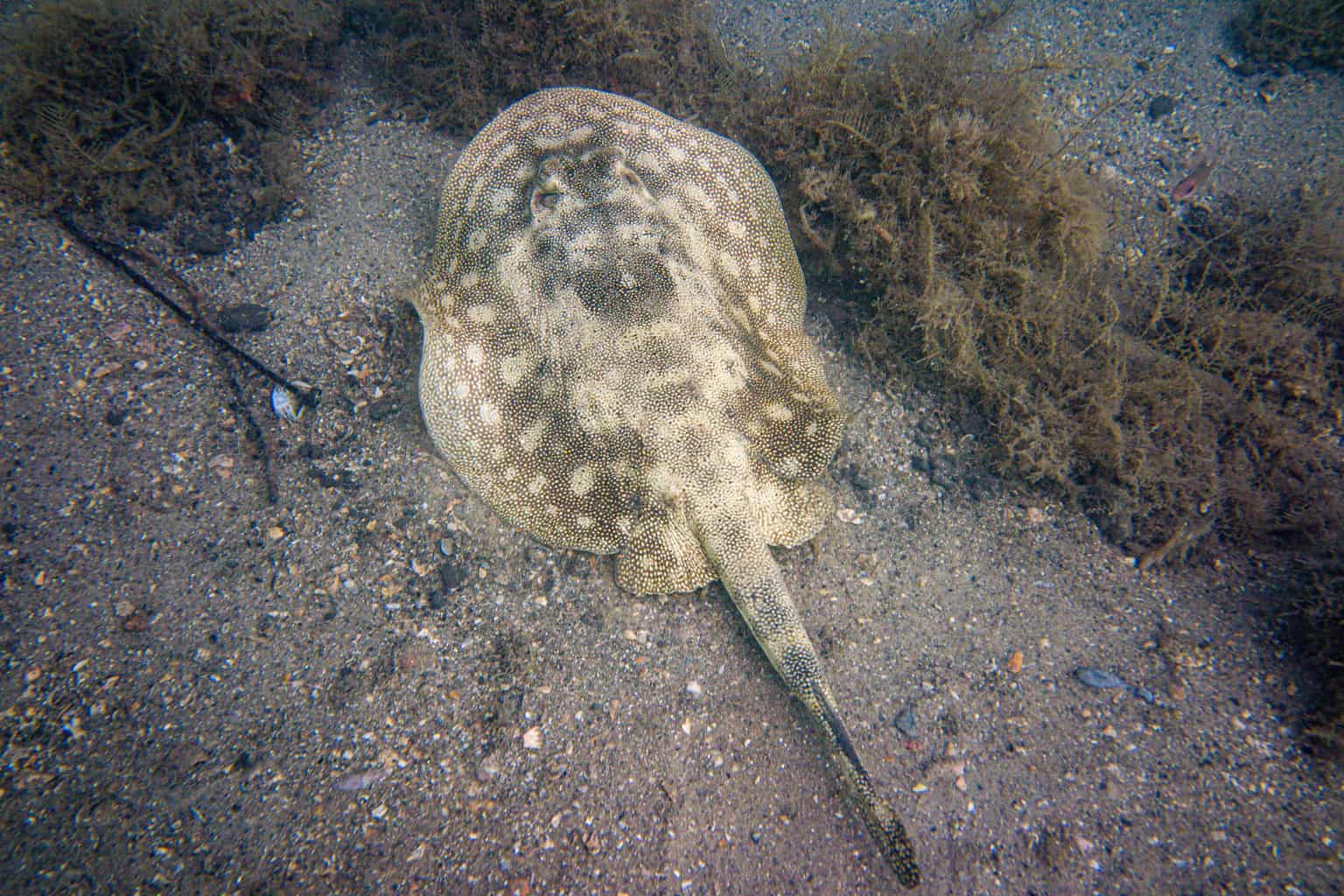 Sea Urchin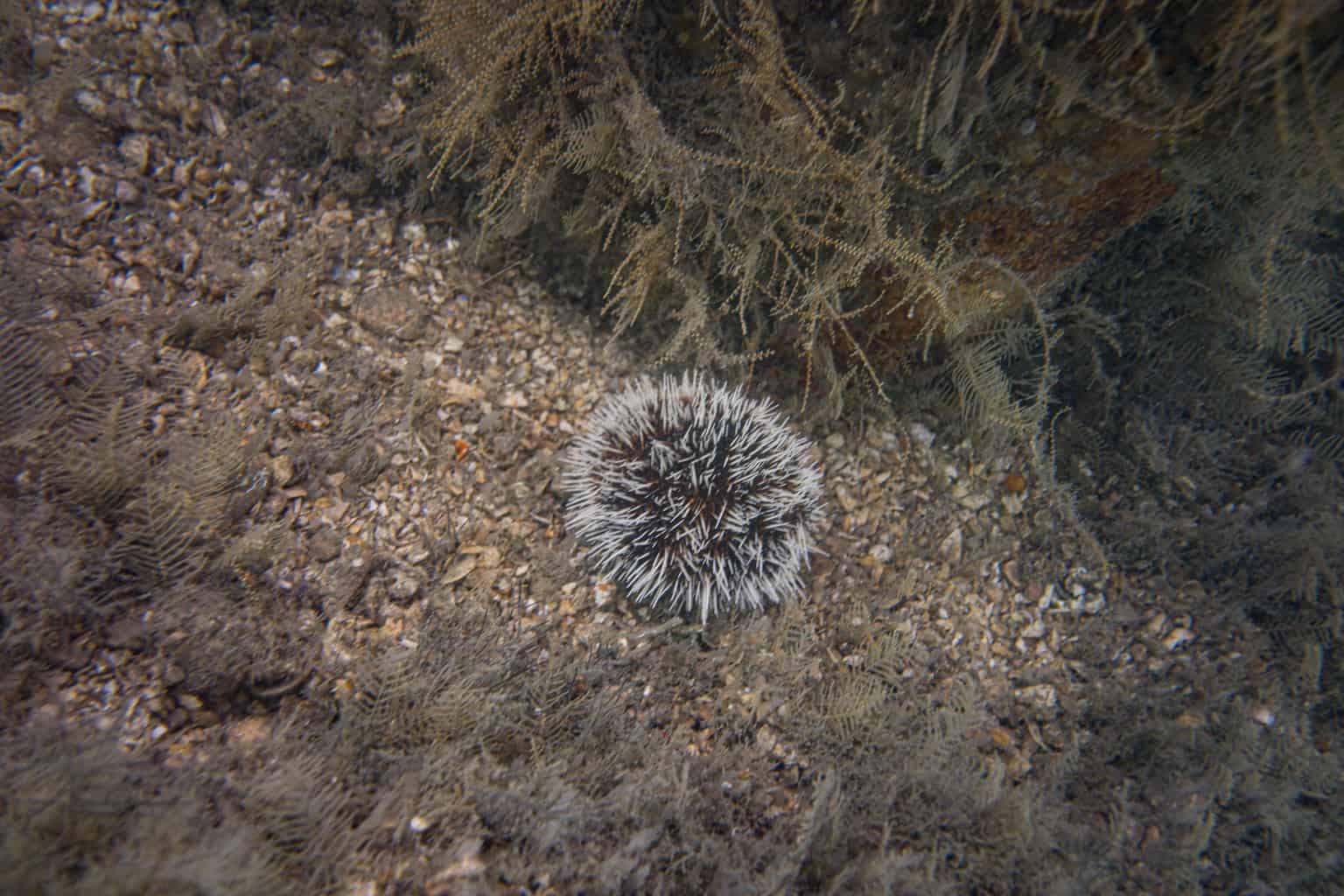 ---
Blue Heron Bridge Tide – When to Dive
In order to take advantage of what makes Blue Heron Bridge scuba diving so amazing, you need to dive during the high slack tide. High slack tide refers to the period of time at the end of each rising and falling tide and usually lasts 2.5-3 hours. There is no current during high slack tide making visibility perfect and currents that are not too strong. In order to find out the blue heron bridge tide times, use this table.
It is recommended to dive Blue Heron Bridge no earlier than 1 hour before high tide and no later than 1 hour after high tide.
---
Blue Heron Bridge Scuba Map
Where you dive will depend on what you really want to see or focus on. You can dive for a while here because it's shallow, but you still will want some sort of plan. Near the East Bridge, you'll expect to see arrow crabs, angelfish, batfish, barracuda, and sea horses. On the North side of the East Bridge is a sunken sailboat. Near the West Bridge, you'll expect to see sea horses, frogfish, spotted eels, moray eels, starfish, nudibranch, spotted eagle ray, and manatees.
There is also an 800-foot long snorkel trail that runs parallel to the beach on the inside of the boat exclusion zone. It is comprised of concrete and rock formations, three hammerhead shark statues, several shopping carts, and brick structures. You can expect to see frogfish, sea horses, octopuses, and more here.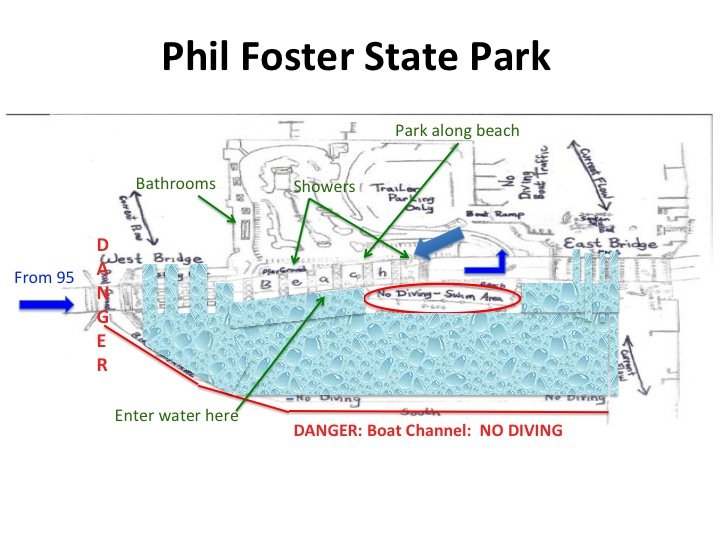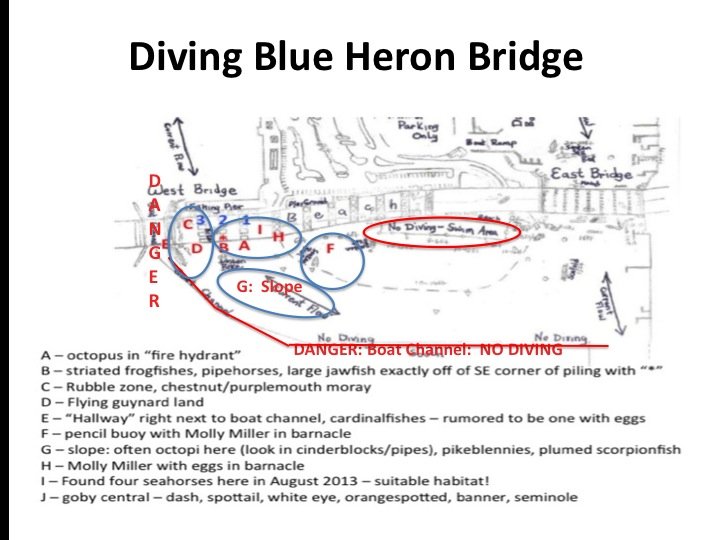 ---
Blue Heron Bridge Scuba Diving – Important Things to Know
There are very important things to know before diving at Blue Heron Bridge.
Must have a Diver Down flag per diving team. See flag here.
You'll likely need extra weight due to shallow dive. I had 2 extra pounds than normal (plus I was wearing a wetsuit).
Pay attention to blue heron bridge tide times.
Stay out of boat channels.
Watch out for fishing lines from fishers on the bridge.
Swim out of the swimming area before descending.
Check out Blue Heron Bridge Dive Club on Facebook for up to date sightings and conditions.
Please do not touch or harass any marine life. It's exciting to see all these beautiful animals and I get it, but take nothing but photos!
---
Snorkeling Blue Heron Bridge
In case you're not a diver or you just want to snorkel, snorkeling Blue Heron bridge is definitely possible and popular. In fact, there is an 800-foot long snorkeling trail (which you can also dive). Check out the map above for details on where that is.
---
Blue Heron Bridge Dive Shop
There are a few Blue Heron Bridge dive shops in the area. I can only attest to Pura Vida Divers.
---
Blue Heron Bridge Scuba – Where to Stay
↓↓↓ PIN FOR LATER ↓↓↓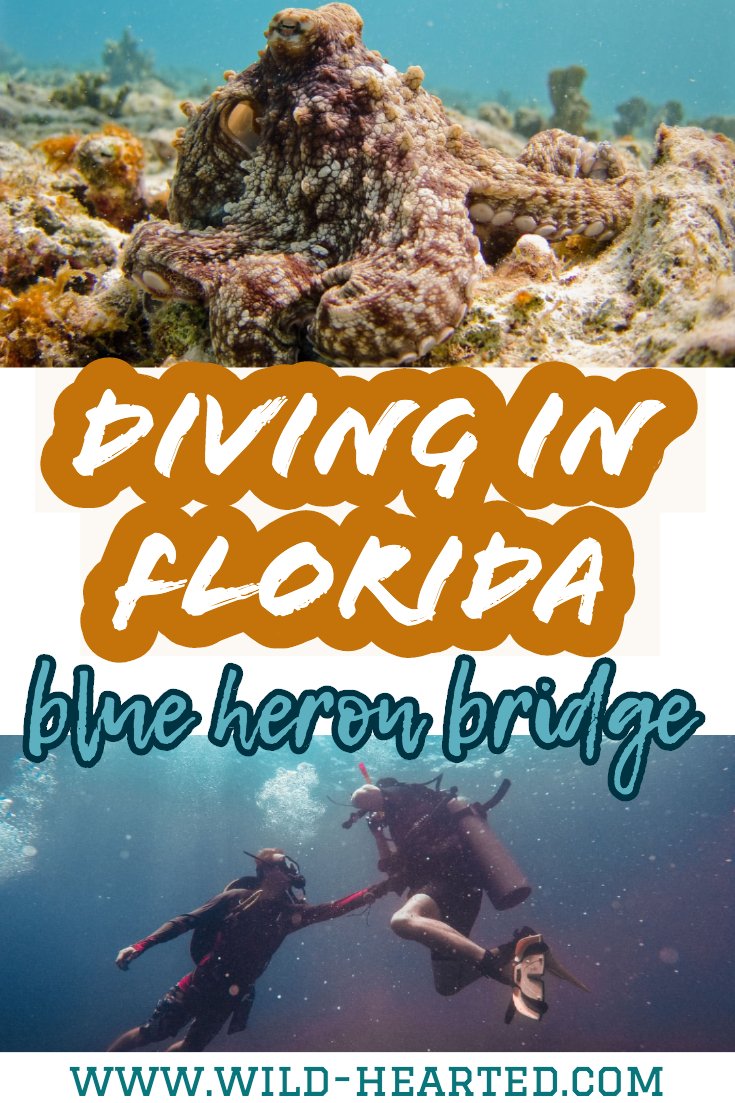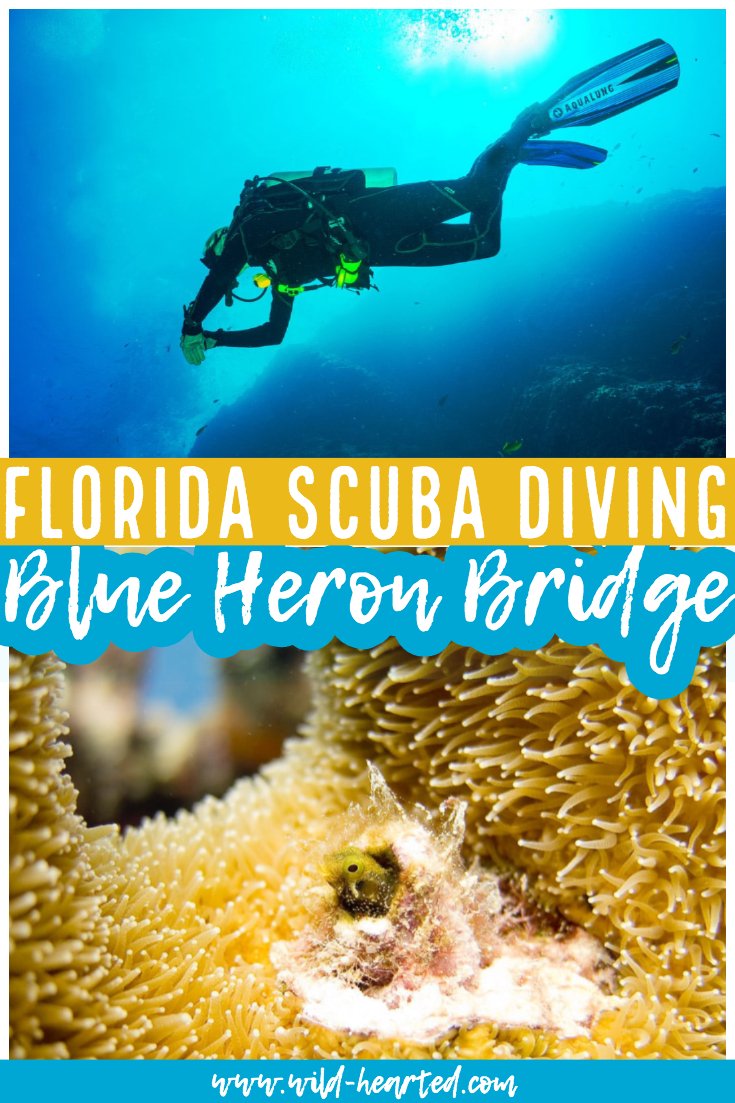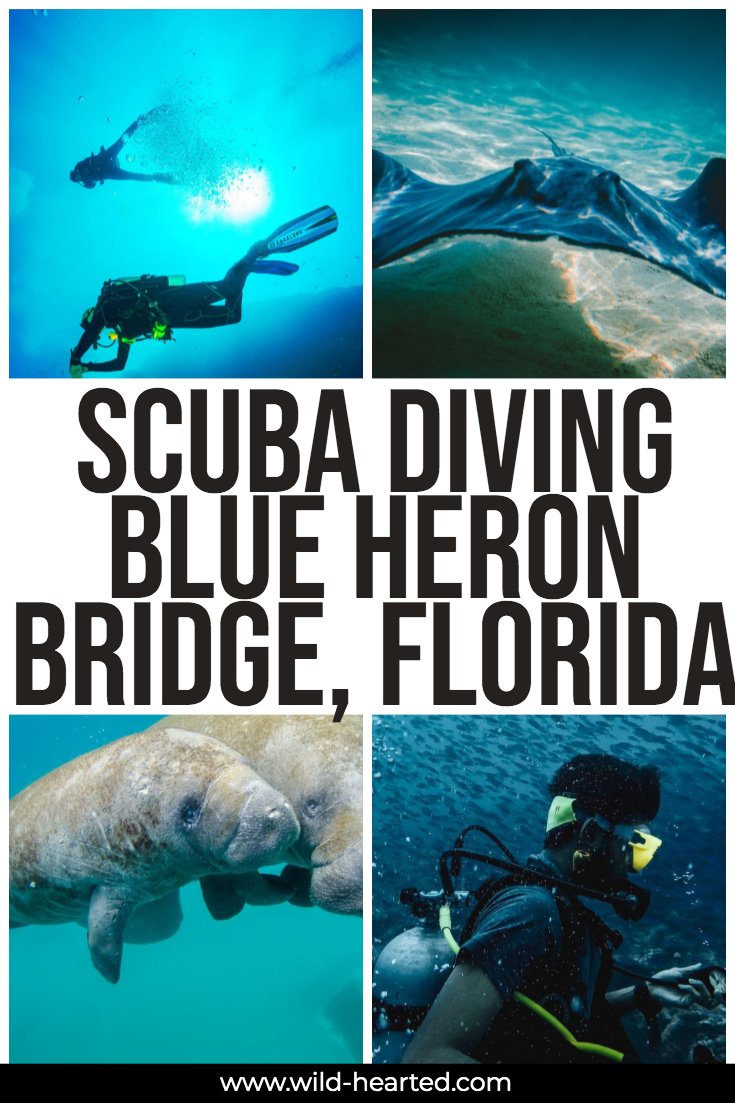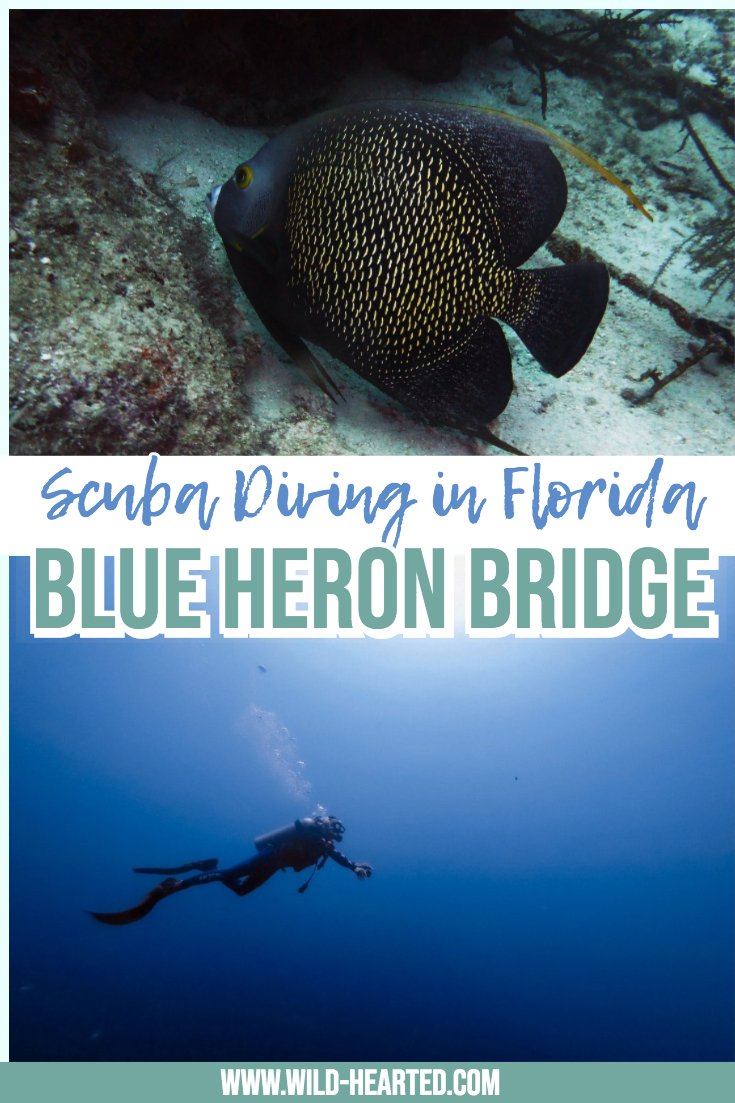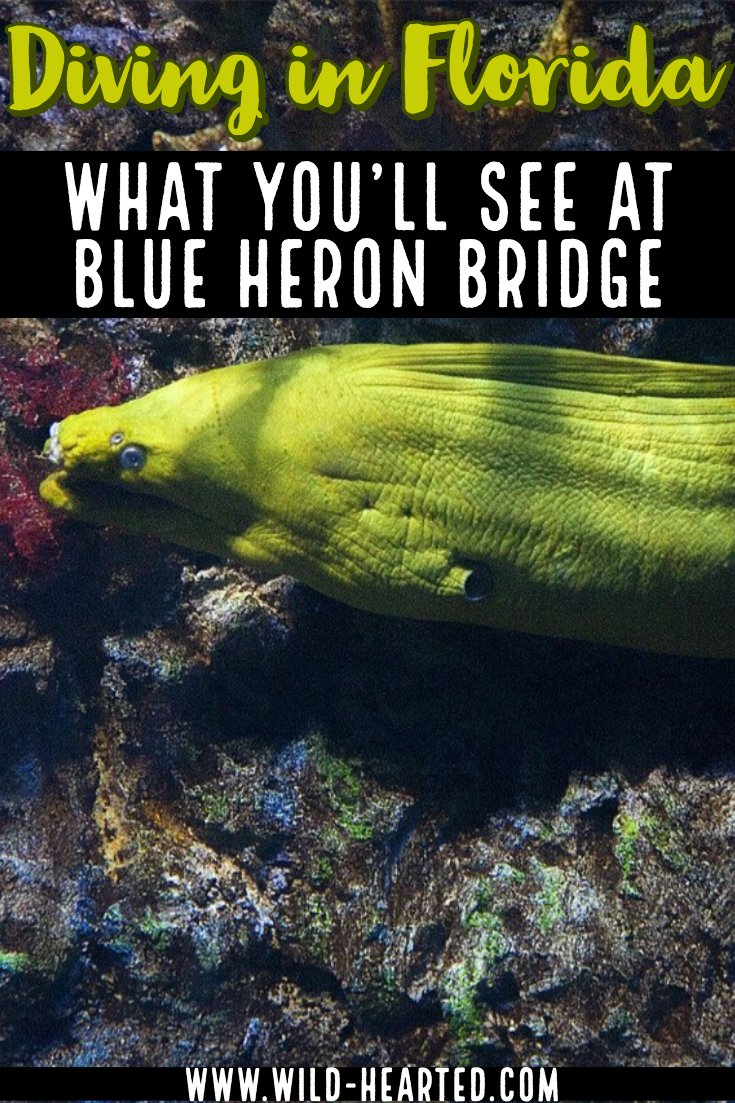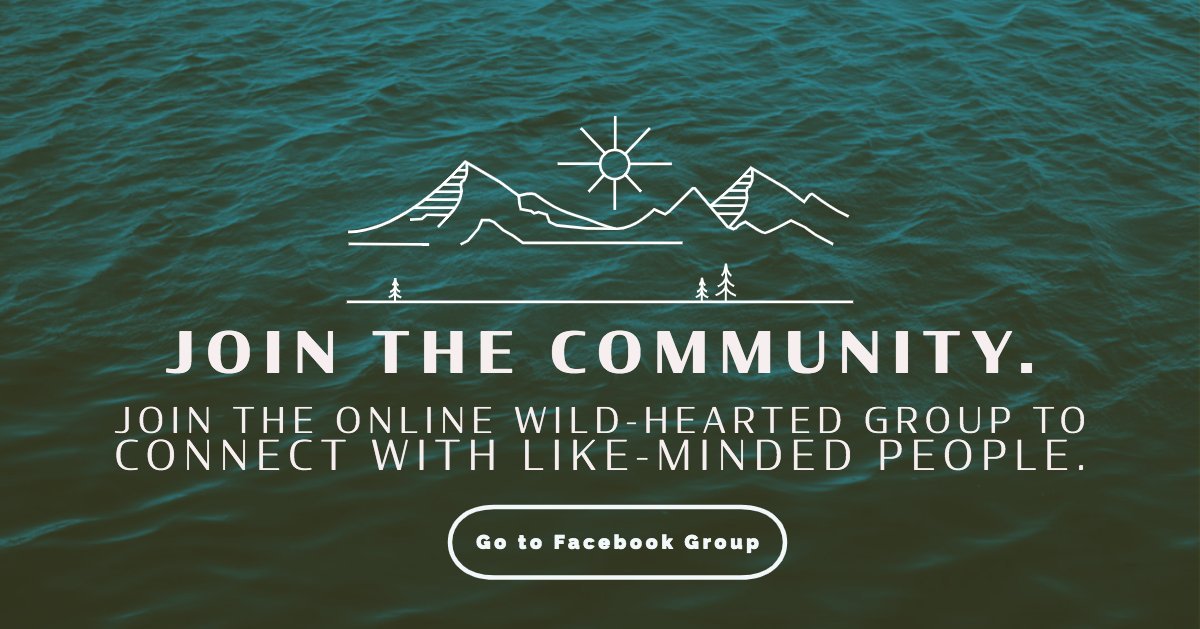 Latest posts by Ashley Hubbard
(see all)