This post may contain affiliate links, meaning if you book or buy something through one of these links, I may earn a small commission (at no extra cost to you!). Please see my disclosure.
Editor's Note: I fully encourage everyone to limit travel as much as possible during the COVID-19 pandemic. However, if you do choose to travel, I hope that you'll do so safely. Please consider visiting outdoor or less-populated destinations, traveling by car, traveling in small numbers, and respecting everyone around you.
Several years ago, I lived in Washington state – just outside of Seattle. I miss it dearly and I've said before that if I were to move outside of Tennessee again that the PNW would be a top choice for sure. The neverending outdoor activities and the gorgeous views don't hold much competition there. One of the best spots in the PNW is Olympic National Park. This is a stunning park full of lakes, waterfalls, rainforests, beaches, mountains, and wildlife. And, of course, hiking. So, here is the best hiking in Olympic National Park.
There are a whopping 611 miles of trails in Olympic National Park so clearly, everyone is going to have different opinions on what they believe are the best ones. And, that's okay! But, I will tell you that these are some of the best hikes in Olympic National Park that you shouldn't miss.
This post was written in collaboration with Hotels.com. All opinions are, of course, my own.
Where is Olympic National Park?
Olympic National Park is just west of Seattle, Washington, and is located on the Olympic Peninsula in the Pacific Northwest. The park is comprised of four regions – the coastal, the alpine region, the western rainforest, and the dry eastern region. This park is incredibly unique with its glacier-capped Olympic Mountains, old-growth rainforests, and rugged, wild coastline. It has an adventure just about any type of adventurer.
The closest city to Olympic National Park is Port Angeles which is located on the northern side of the peninsula. This is also one of my favorite day trips from Seattle.
Where to Stay Near Olympic National Park
There are plenty of great areas and accommodation nearby in Port Angeles. Also note that Olympic National Park is large, very large. If you're planning to only visit the coastal region, you should stay closer to the coast. There are several towns sprinkled throughout the area that have accommodation.
Olympic Lodge is a 3-star hotel located in Port Angeles and is one of the more popular choices for lodging in Port Angeles and Olympic National Park.
Another option for Portland Angeles is the Red Lion Hotel. Located on the beach along the Strait of Juan de Fuca, this hotel is only a three-minute walk from the ferry terminal and two miles from the Olympic National Park Visitor Center.
For something along the coastline, Ocean Crest Resort is a good option. Set on a bluff overlooking the Pacific Ocean, this family-run resort is in the town of Moclips. Additionally, it's only one mile from Pacific Beach State Park.
Best Hiking in Olympic National Park
Pets are allowed on the following trails only:
Peabody Creek Trail (Olympic National Park Visitor Center in Port Angeles)
Rialto Beach parking lot to Ellen Creek (1/2 mile)
The beaches between the Hoh and Quinault Reservations (Kalaloch area)
Madison Falls Trail (Elwha)
Spruce Railroad Trail (North shore of Lake Crescent)
July Creek Loop Trail (North shore of Lake Quinault)
Second Beach
Distance – 4 miles round trip
Difficulty – easy
Second Beach is a great, easy hike. It's perfect for relaxing on the beach or even a great spot for beach camping. You'll hike through the rain forest before it opens up to the gorgeous quintessential Pacific Northwest beach view.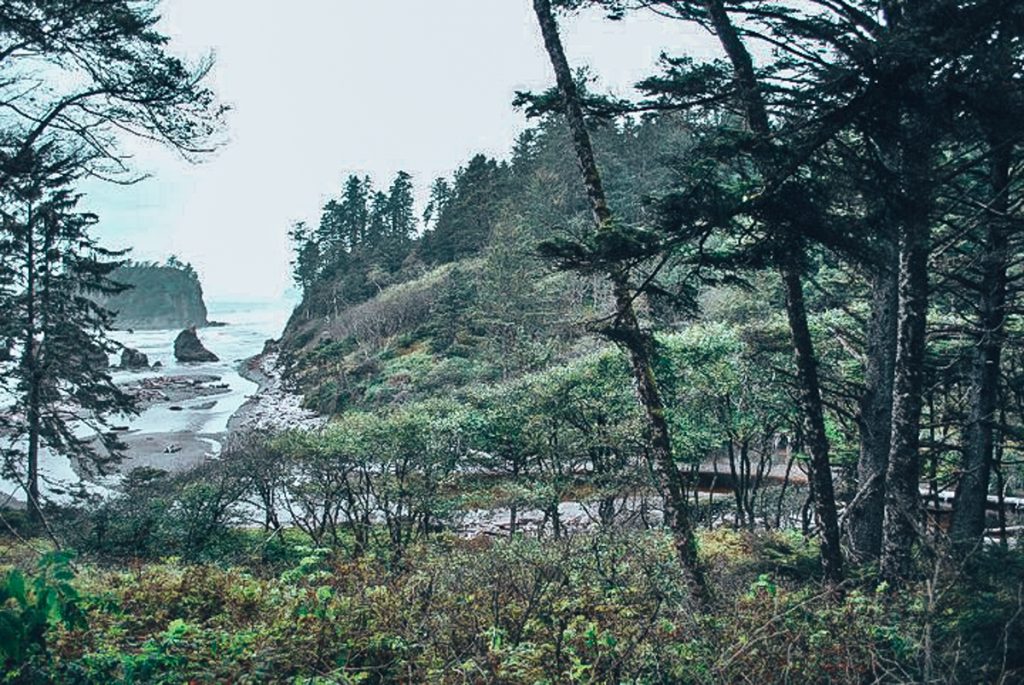 PJ Lake
Distance – 1.8 miles round trip
Difficulty – intermediate
This hike won't take too long but does have a decent 1000 ft elevation gain. However, the gorgeous scenery and emerald lake are worth it and definitely make this some of the best hiking in Olympic National Park.
The trail is well-traveled, but very quiet especially compared to surrounding areas. It is lined with wildflowers and berries in the summer and leads to the secluded Lake PJ.
Klahhane Ridge Trail and Sunrise Point
Distance – 5 miles round trip
Difficulty – intermediate
The hike to Sunrise Point is steep but short and doable. And, naturally, a great hike at sunrise. The Klahhane Ridge Trail is for more experienced hikers. There's a great chance of seeing goats, deer, marmots, and other wildlife along this trail.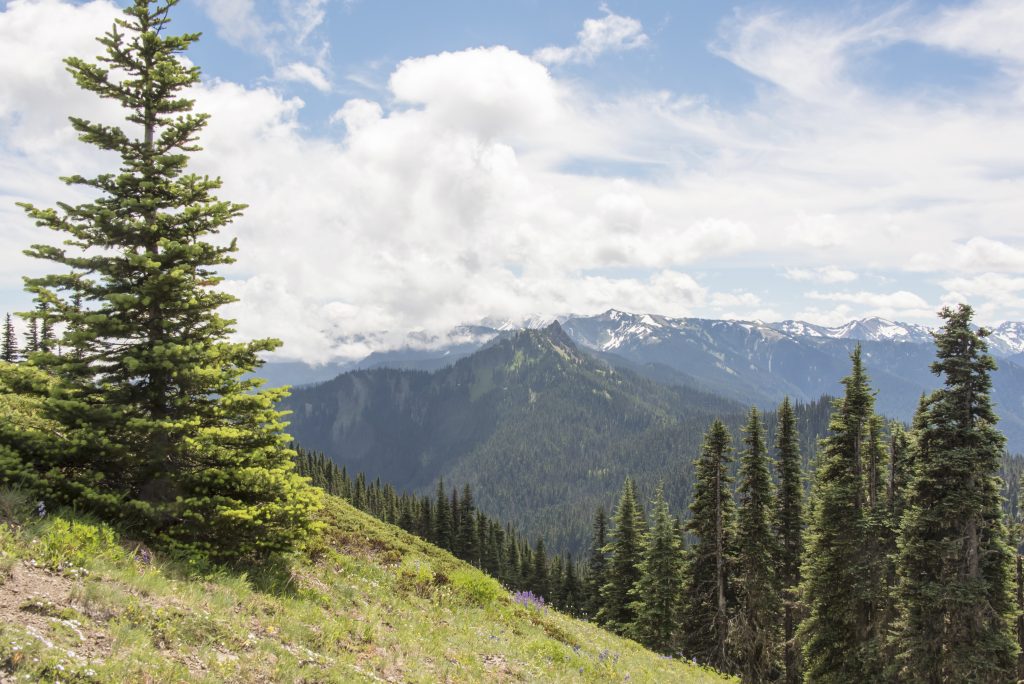 Mount Ellinor
Distance – Either 3.2 miles or 6.2 miles round trip
Difficulty – hard
There are two ways to access Mount Ellinor. The Lower Trailhead is a 6.2-mile round trip (out and back) and starts out with a moderate elevation grade. Meanwhile, the Upper Trailhead is a 3.2-mile round trip (out and back) and is very steep and switchbacks the entire way. The latter option requires a Northwest Forest Pass.
So, while one is clearly longer, it may even itself out depending on the person and their experience and how often they hike. Make sure to weigh your options before heading out.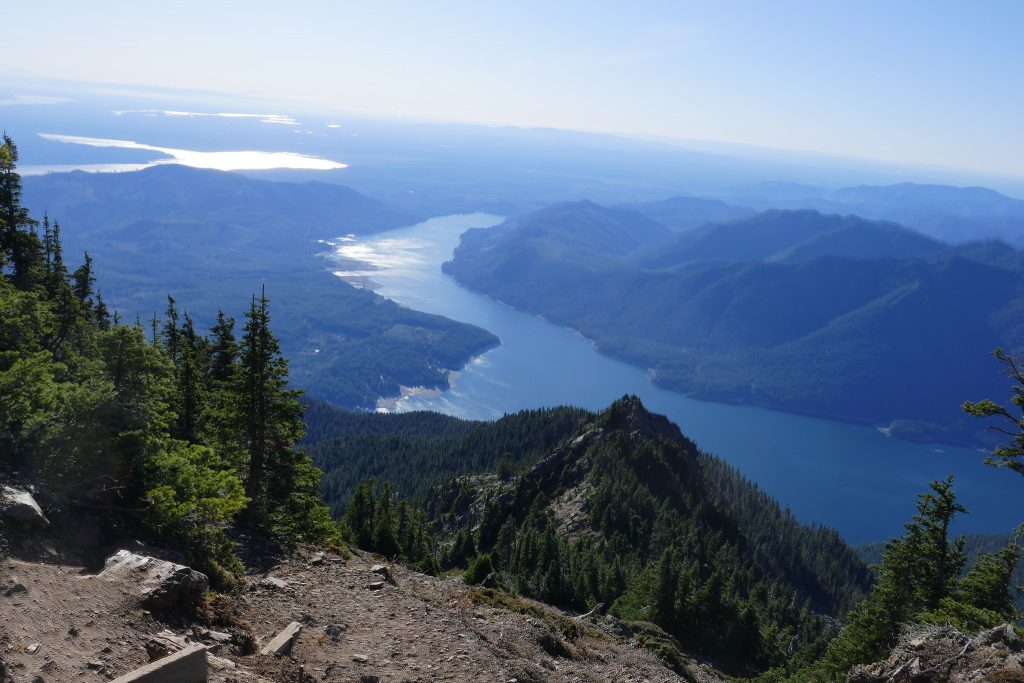 Enchanted Valley – East Fork Quinault River Trail
Distance – 26 miles round trip
Difficulty – hard
If you want a bit longer hike (multi-day unless you're Superman) then the East Fork Quinault River Trail, or Enchanted Valley, is absolutely perfect and shouldn't be missed. The trail is accessed from Graves Creek Campground and takes hikers deep into the rain forest following a wild river and ultimately leading to the Enchanted Valley – some of the best hiking in Olympic National Park for sure.
A historic and retired mountain chalet is located near the riverbank in Enchanted Valley and obviously adds dreamy vibes to this already dream-like view. Wildlife is commonly seen on this trail especially black bears.
Hurricane Hill
Distance – 3.2 miles round trip
Difficulty – easy toward intermediate
Hurricane Hill is a hike work checking out for its breathtaking view comprised of both mountains and ocean. On really clear days, you can see Vancouver Island. The trail has wide-open views the entire way up to the top of Hurricane Hill.
This trail is daily easy with a slight elevation gain but is definitely family-friendly and the wide path makes it easy to maneuver around other hikers. If you're not up for a hike, the Hurricane Ridge Visitor Center is still a great spot to see an amazing view.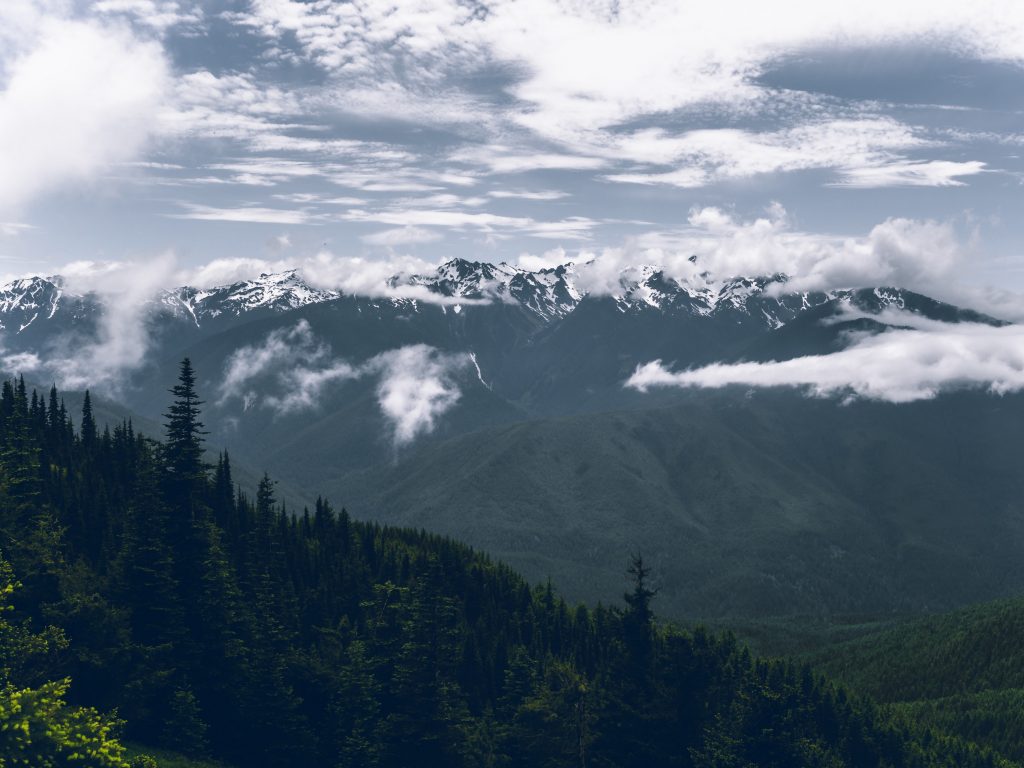 Sol Duc Falls Trail
Distance – 1.6 miles round trip
Difficulty – easy
This is a fantastic trail for beginner hikers, families, or just as an easy hike. If you're already doing the High Divide Trail, you'll pass by the falls on that trail.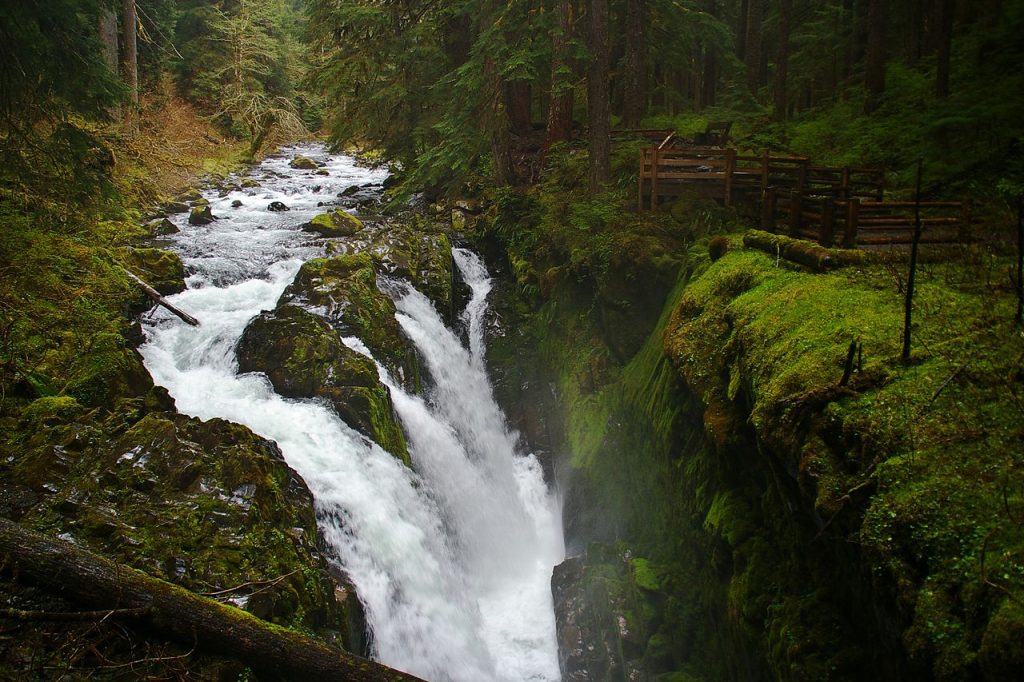 High Divide (Seven Lakes Basin Loop)
Distance – 19 miles round trip (loop)
Difficulty – hard
While day hiking is definitely possible on this one, it will be tough so consider this as an overnight backpacking trip for 1-2 nights. If day hiking, be prepared but pack light to keep it easier on yourself.
This loop trail is located near Forks, Washington (northeast corner of the park) and features a beautiful lake.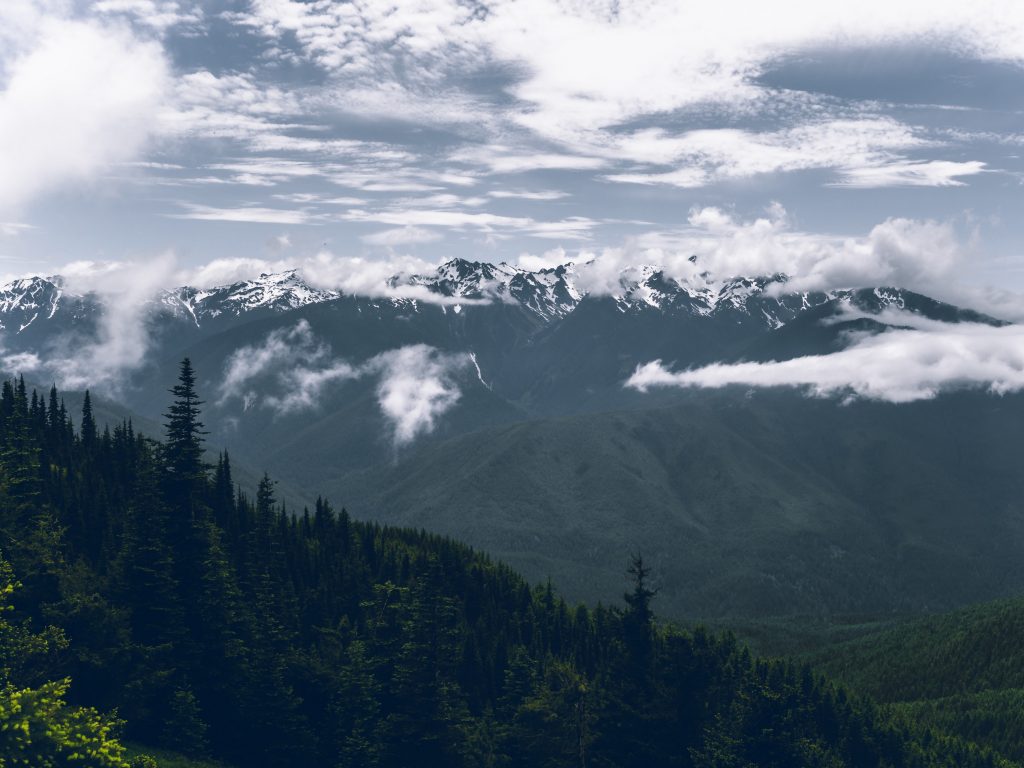 Mount Storm King
Distance – 4 miles round trip
Difficulty – hard
This trail is difficult due to its elevation gain that is pretty steep at one point. However, as with most hiking, the views are what make it all worth it in the end. It's a great hike and challenge that isn't extremely long. The trail to the summit starts near the Storm King Ranger Station and initially you'll be following the trail to Marymere Falls, but will branch off to the north after a short distance. The first 1.9 miles are maintained, but the remaining distance involves scrambling on loose rock.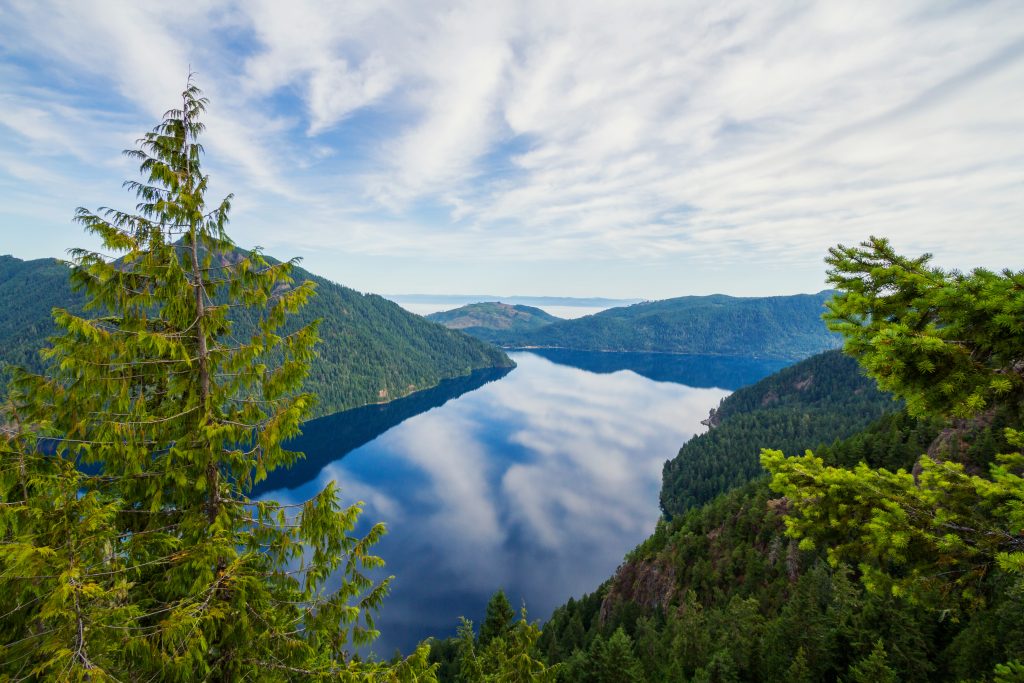 Marymere Falls
Distance – 1.8 miles round trip
Difficulty – easy
Since I mentioned Marymere Falls above, if you're already hiking to Mount Stork King, it's fairly easy to tack on this hike as well. The hike to Marymere Falls is easy and probably should be done before Mount Storm King if you're planning to do both.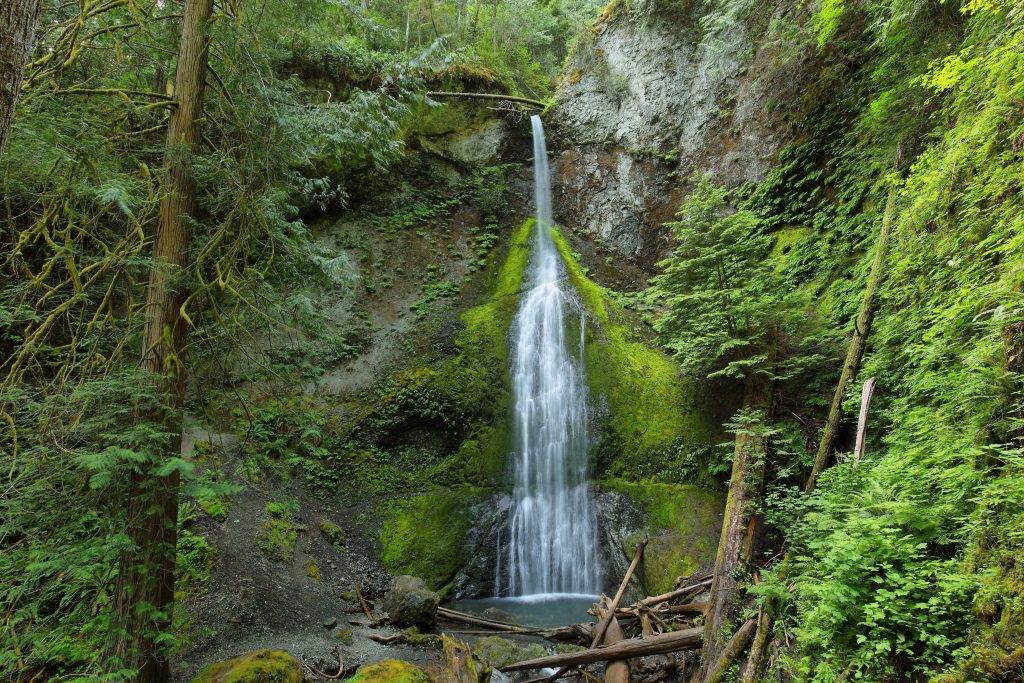 Rialto Beach to Hole in the Wall
Distance – 4 miles round trip
Difficulty – easy
Want to see that rugged coastline that the PNW is so well known for? This hike in Olympic National Park is the spot to do it. Rialto Beach is one of the most popular coastal areas within the park and is lined with massive driftwood.

This trail includes wildlife, rocky shoreline, sea stacks, and so many picturesque locations. Just over 1.5 miles up the beach is where the Hole in the Wall rock feature is located. This trail is easy with no elevation gain making it great for beginners and families. Make sure to check out the tide charts before you head out there or you'll be disappointed when you can't reach the hole in the wall area during low tide.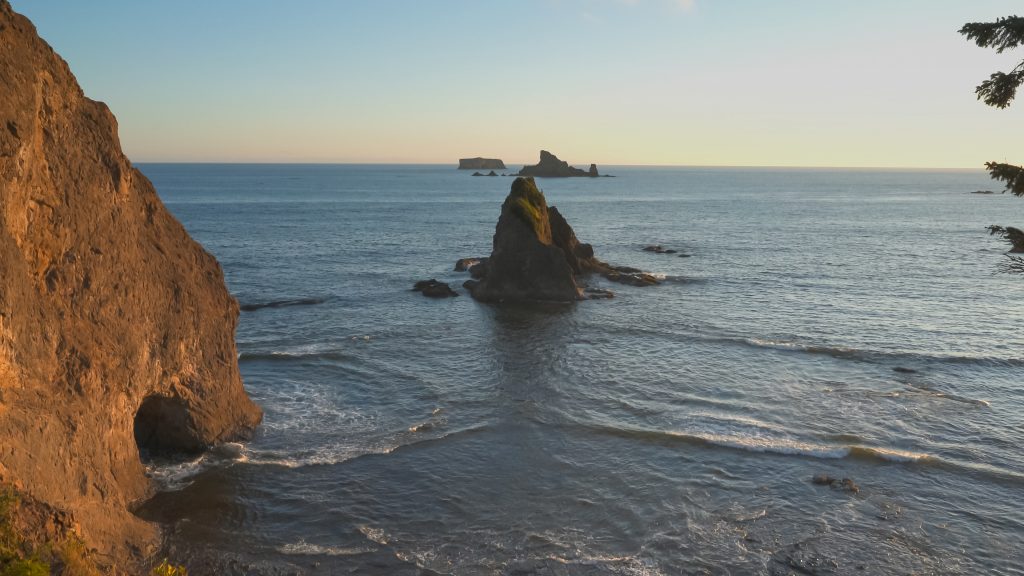 Latest posts by Ashley Hubbard
(see all)