This post may contain affiliate links, meaning if you book or buy something through one of these links, I may earn a small commission (at no extra cost to you!). Please see my disclosure.
Asheville is known for its uniqueness and these Airbnb Asheville options are no exception. There's everything from thrilling treehouses to cozy cottages to romantic glamping.
There's an Asheville rental ready for you, no matter your preference or budget.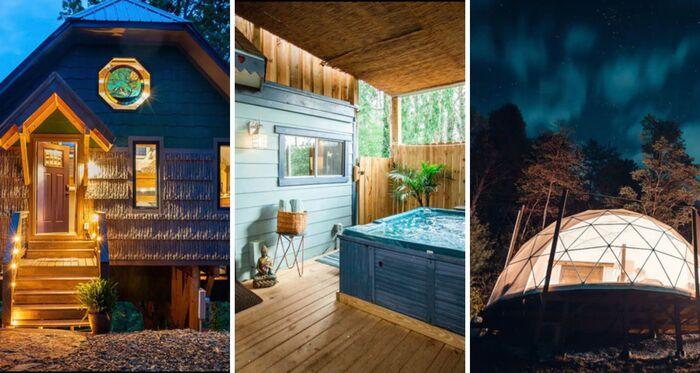 Like many places, Asheville has an issue with companies and investors buying and renting houses. We've done our best only to choose and recommend private-owned places.
Airbnb Asheville – 11 Eclectic Rentals
1. West Asheville Studio
This newly-renovated private studio is just a 10-minute drive from downtown Asheville. The space includes a hot tub, sauna, and large deck.
You'll also find a king-size bed, a sitting area, a nice kitchenette, and more.
Sleeps: 2
Rating: 4.93/5
Cost: $191/night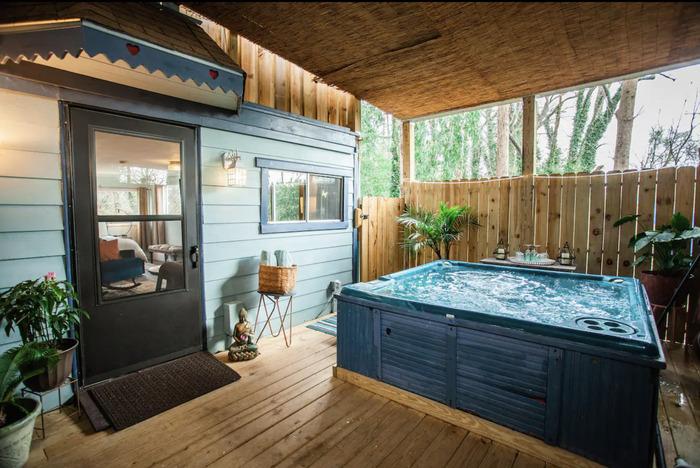 2. Pet-Friendly Guesthouse
This 400-square-foot cottage comes with a Roku TV, WiFi, and a simple continental breakfast. You'll also find everything you need in the kitchen to cook meals.
Sleeps: 2
Rating: 4.95/5
Cost: $116/night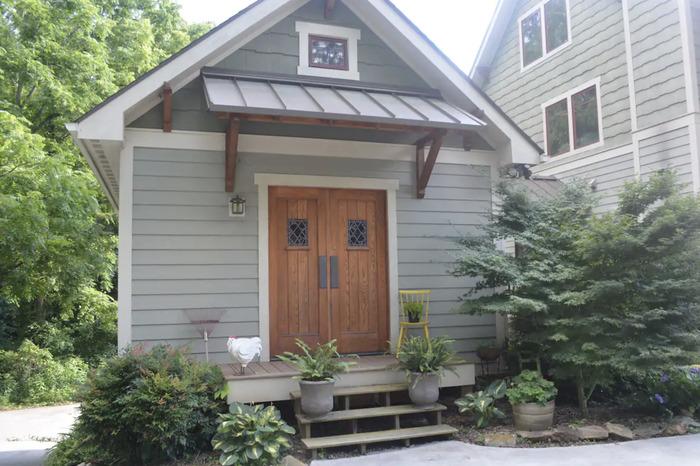 3. Brookeside Cozy Cottage
This cozy cottage sits near the Blue Ridge Parkway and Biltmore Estate. It's a one-bedroom with a living room, fully-equipped kitchen, and a bathroom.
It's located just minutes from downtown Asheville, but provides seclusion and privacy.
Sleeps: 4
Rating: 4.98/5
Cost: $77/night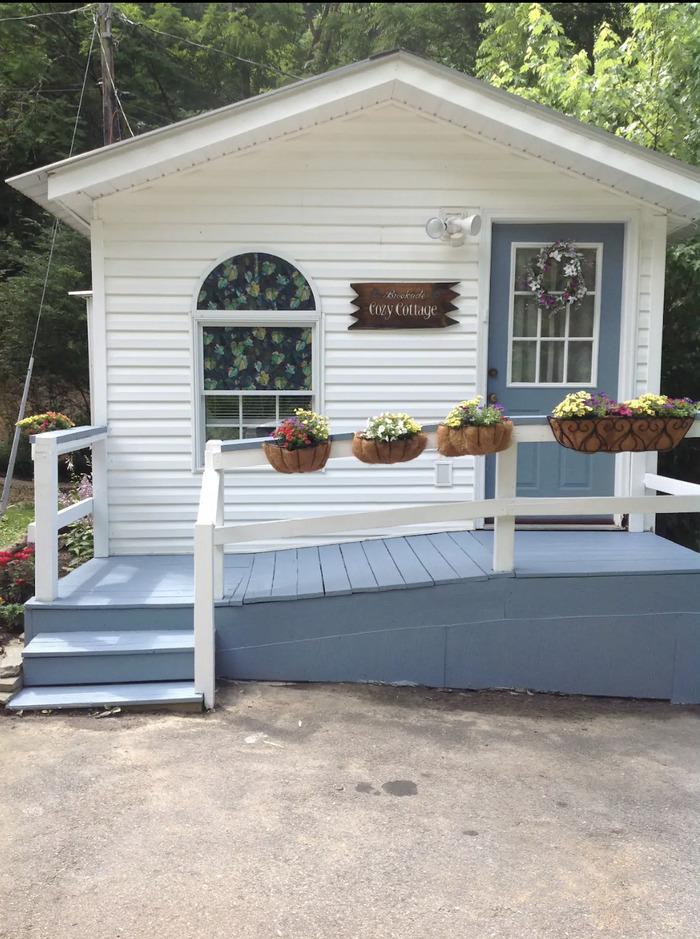 4. The Treehouses of Serenity
"The Aerie" is located just 10 minutes north of downtown Asheville. Take in the beautiful views of the Blue Ridge Mountains.
This three-level treehouse comes with a queen bed, a kitchen, and a bath. The living room comes equipped with a fold-out couch, a Smart TV, and board games.
Sleeps: 4
Rating: 4.99/5
Cost: $313/night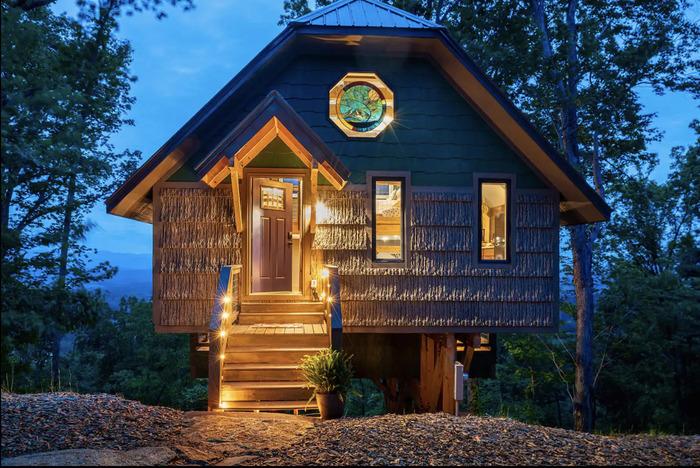 5. Round Retreat by the River
This newly constructed unique house sits on top of a hill with stunning views. It offers close access to kayaking, rafting, hiking, paddling, downtown Asheville, and more.
Along with three beds, the rental also comes with a full kitchen, bathroom, and a fire pit.
Sleeps: 6
Rating: 4.94/5
Cost: $152/night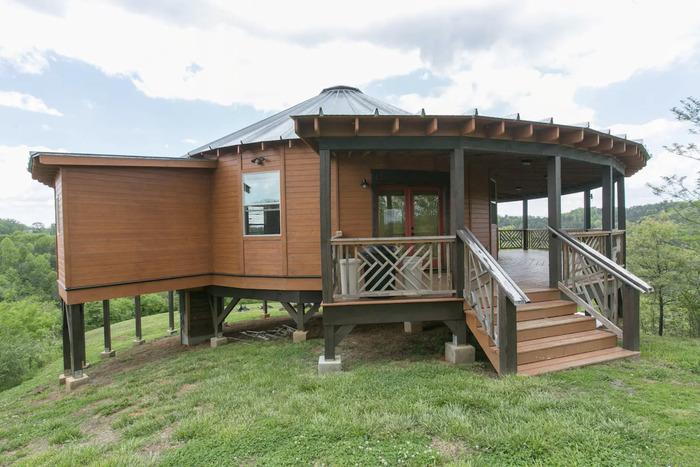 6. The Nook
The Nook is the perfect artist retreat or romantic getaway for couples. This tiny home includes a breakfast alcove, a tea loft, an entertainment area, and a cozy sleeping spot.
There is also an outdoor bathhouse (except for during the winter). There is a refrigerator, but no freezer or oven.
Sleeps: 2
Rating: 4.99/5
Cost: $176/night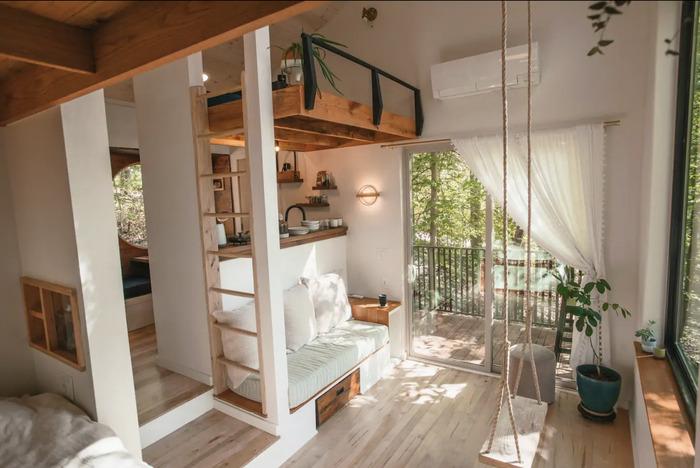 7. Secluded Yurt
With this unique property provides privacy and seclusion, but is only 15-20 minutes from downtown. The yurt is located on the side of a mountain and offers stunning views year-round.
You'll have a full kitchen, living room space, bedroom, and bathroom. There's also another bed in the loft.
Sleeps: 4
Rating: 4.98/5
Cost: $146/night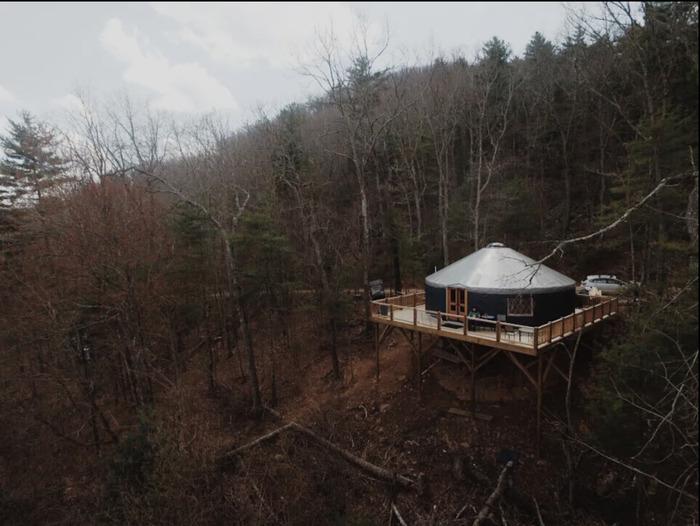 8. Underground Home
Ever wanted to stay in a "hobbit house?" Now's your chance!
This tiny earthen home has a living area, kitchen, bedroom, and bathroom. You can also enjoy cedar hot tub, fire pit, wood stove, and more.
Sleeps: 3
Rating: 4.93/5
Cost: $159/night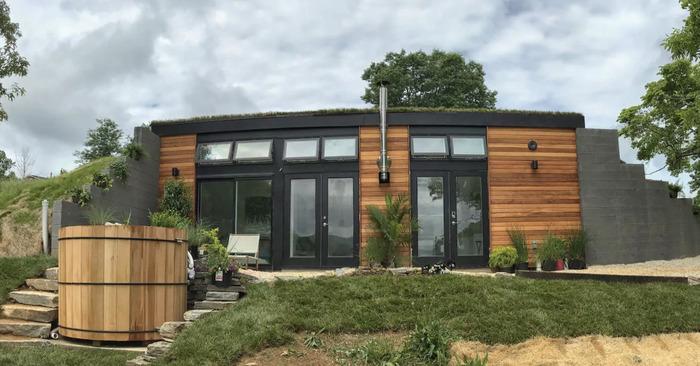 9. Luxury Glamping Dome
Enjoy nature without sacrificing comfort at this glamping dome. Enjoy the hot tub or roast smores at the firepit, and sleep under the stars.
The property comes equipped with a kitchenette, bathroom, living area, patio furniture, grill, camping chairs, and fire pit.
Sleeps: 2
Rating: 4.97/5
Cost: $223/night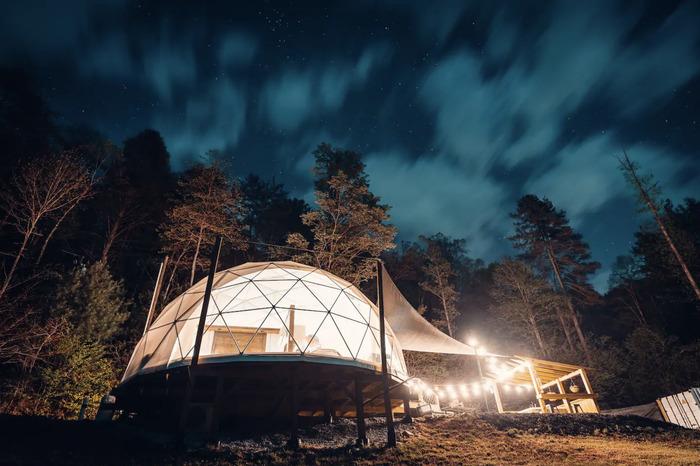 11. Cozy Tiny House
Nestled in the trees, you'll find this cozy home. It comes with a queen size bed, a small kitchenette, bathroom, a beautiful deck, and more.
Sleeps: 2
Rating: 4.99/5
Cost: $90/night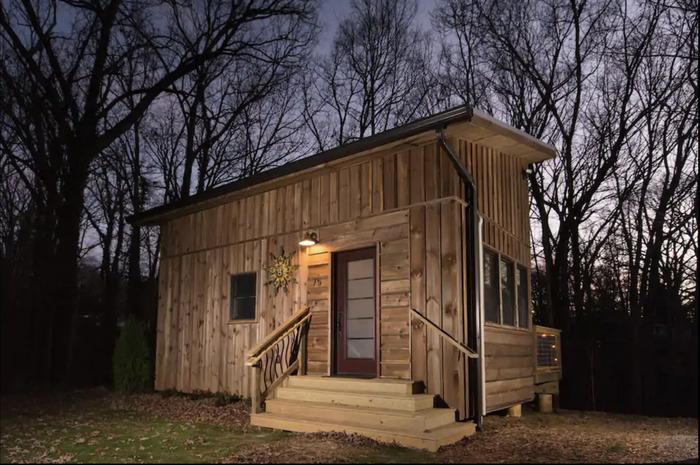 Latest posts by Ashley Hubbard
(see all)