This post may contain affiliate links, meaning if you book or buy something through one of these links, I may earn a small commission (at no extra cost to you!). Please see my disclosure.
I went from knowing I was visiting Nepal to seeing 12-15 rhinos, during a Chitwan jungle safari, in just a one week span. I'm feeling like that is pretty good on the spontaneity scale. My knowledge of Nepal was minimal. Here is what I knew beforehand:
The location. I'm happy to say I could easily point out this tiny nation sandwiched between India and China on a map.
They claim the tallest mountain the world. That's Mt. Everest for all you fine people that don't know.
Doctor Strange visits there to get his act together.
And, that's it, guys. That's about all I knew.
Terrible, I know. I did know I definitely wanted to visit sometime for sure but I didn't expect it to be so soon. When I found out I got the amazing opportunity to do so thanks to the Himalayan Travel Mart, Impact Travel Alliance, and the Nepal Tourism Board, I jumped on it.
Okay, back to the things I didn't know about Nepal. Rhinos. I also didn't realize how cool rhinos are until I saw one with my own two eyes. In the wild – that's key information. And, then I repeated that action a dozen or so more times over two days. And, that was that. I'm a complete Nepal devotee without even seeing Everest.
So, now that I've informed you that there are rhinos in Nepal, you want to see them too, right? I'm about to show you how.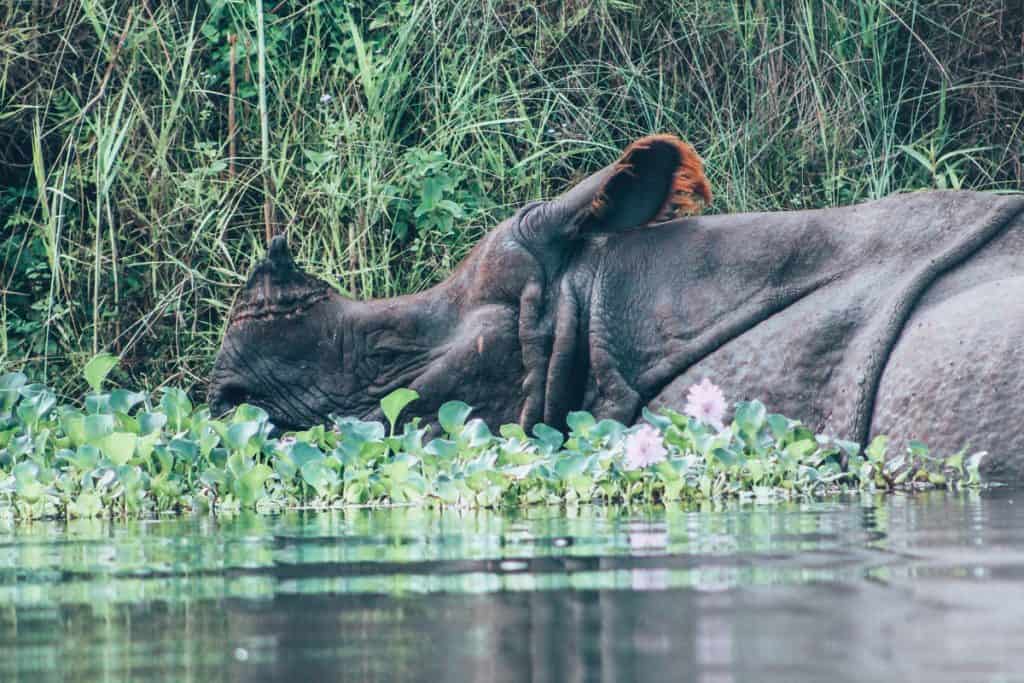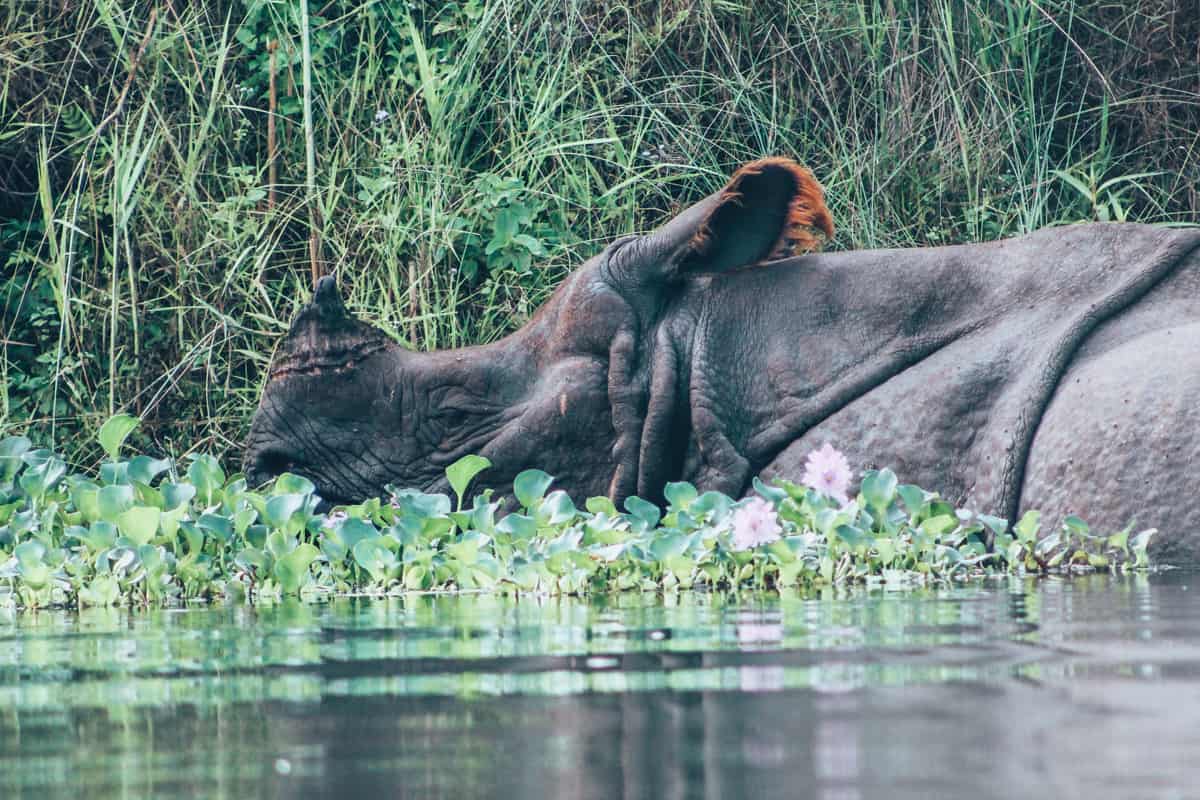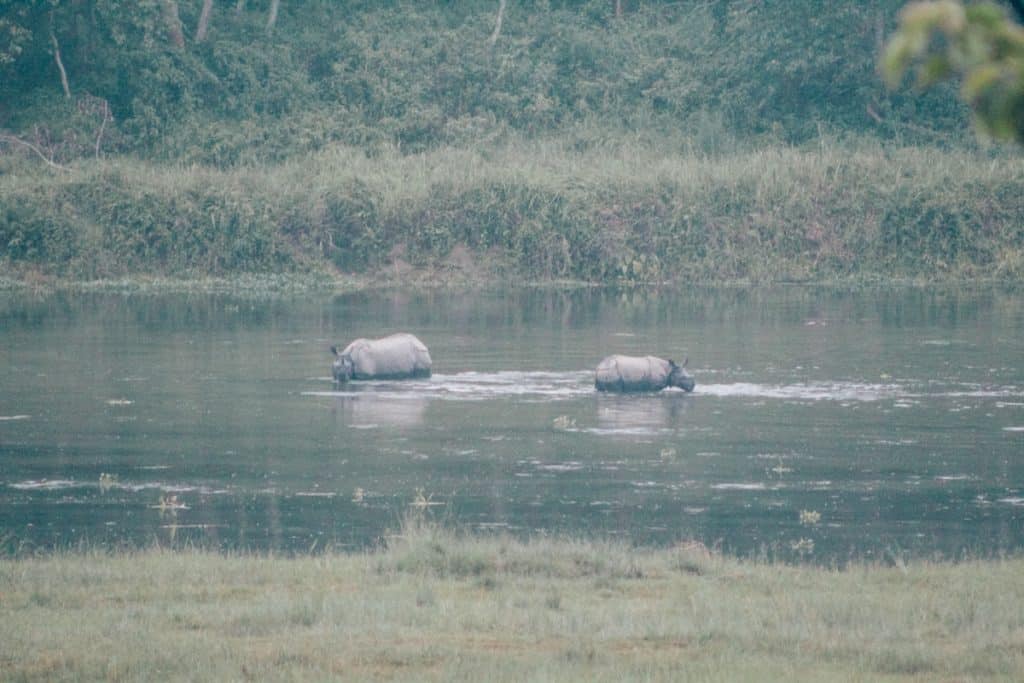 ---
What is Chitwan National Park?
Chitwan National Park was the very first national park in Nepal and was formed in 1973. Unfortunately, before it was a national park, Chitwan was prime hunting grounds due to the rampant numbers of one-horned rhinoceros and Bengal tigers.
In 1984, Chitwan National Park became a UNESCO World Heritage Site.
Chitwan National Park is protected by the Nepali Army. Approximately 800 men and women are stationed at the park at any given time.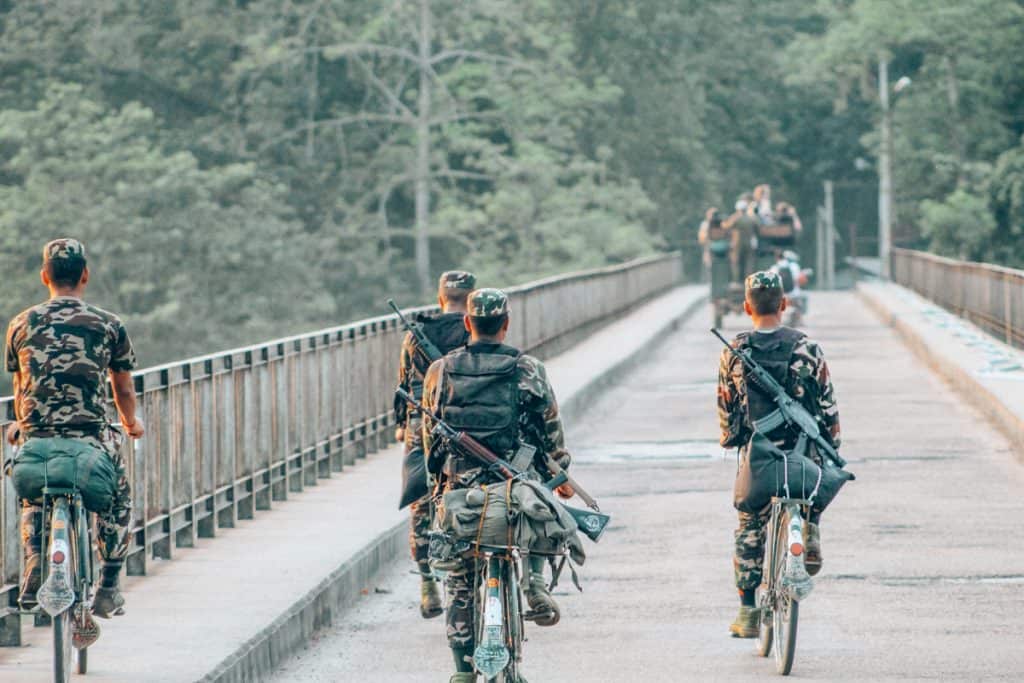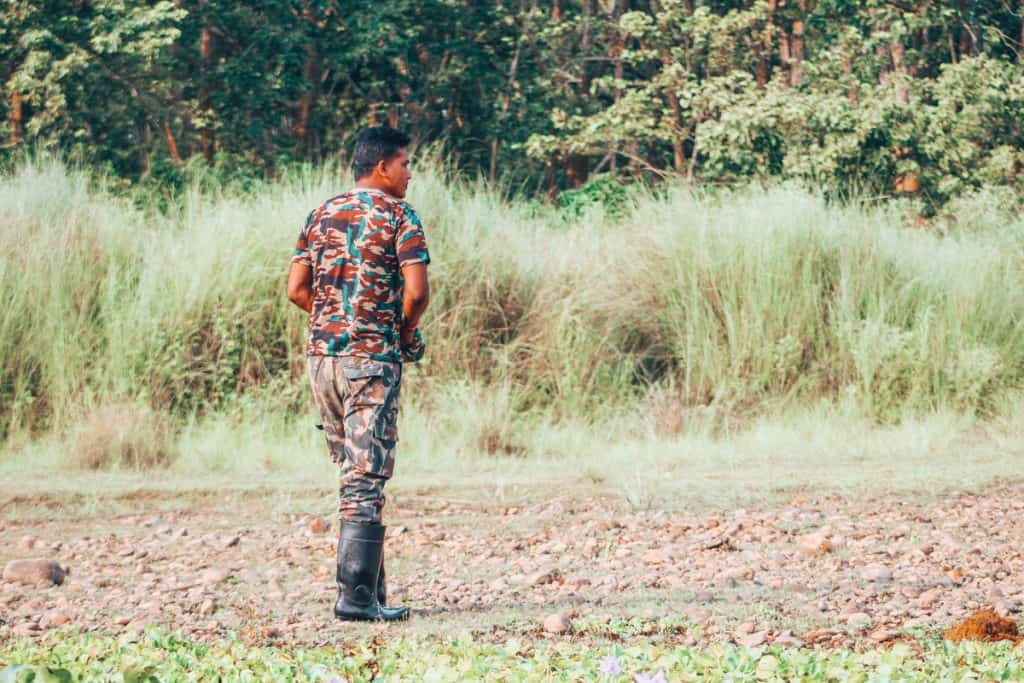 ---
Tips before Taking Part in a Chitwan Jungle Safari
Travel safari insurance is an absolute must anywhere but definitely in a jungle in the middle of nowhere.
What to pack? Don't forget long pants and close-toed shoes for the jungle walks, a scarf or bandana for the dust, rain jacket or umbrella, a Nepal plug adapter, bug repellent, and sunscreen.
---
Where is Chitwan National Park?
Chitwan National Park is the central southern region of Nepal and sits right on top of the border of India. The park consists of 973 square kilometers (roughly 360 square miles) and in 1996, 760 square kilometers surrounding the park were made an official buffer zone.
---
How to Get to Chitwan National Park?
Chitwan is part of the 'Golden Triangle' of Nepal which consists of Kathmandu, Pokhara, and Chitwan.
You can get to Chitwan by air via the Bharatpur Airport – only 20-30 minutes away. The flight to Kathmandu only takes 20-25 minutes.
You can also take a bus from Kathmandu or Pokhara which takes roughly 4-6 hours from either location. I use timeframes here rather loosely.
Looking for an adventure in Pokhara too? The Poon Hill trek is perfect for adventurers and outdoor lovers.
Buses from Kathmandu leave at 7 am (promptly) at Sorhakutte. Tickets cost 600-800 rupees ($8-12).
Buses from Pokhara leave at 7:30 am (promptly) at the main bus station in Pokhara. Tickets cost 600-800 rupees ($8-12).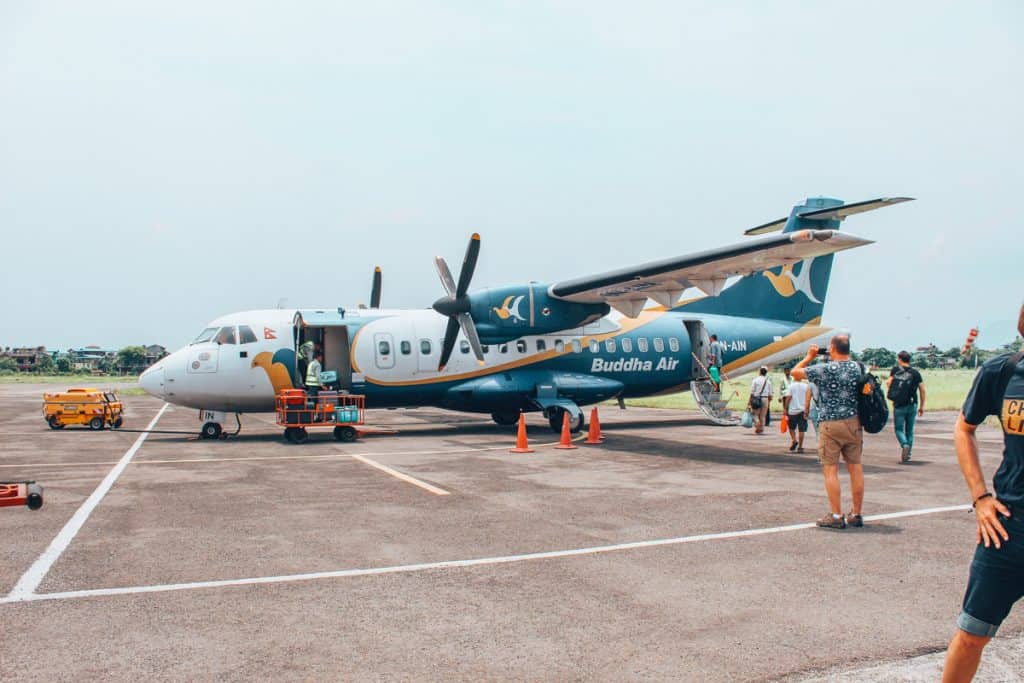 ---
Where to Stay Near Chitwan National Park?
There are no lodges inside the actual national park and if someone tells you otherwise, I'm fairly certain they're lying. However, there are many options just outside the park and they all arrange the same activities!
I stayed at Safari Narayani Hotel and I was very pleased with every aspect of the place aside from their elephant activities offered as I've already mentioned. I, and several others in my group, expressed our displeasure and notified them that we would not be taking part and those things were taken off the table and they happily organized other activities that were amazing.
Aside from this, Safari Narayani was delightful. The staff was friendly and attentive, the rooms were very nice especially for being in the middle of a jungle, the views were gorgeous, and the vegan food options were accommodating. Every morning, I got up at sunrise and came to sit near the main building. This looked out on the river and the "buffer zone." Every morning I was greeted by rhinos right in front of the lodge.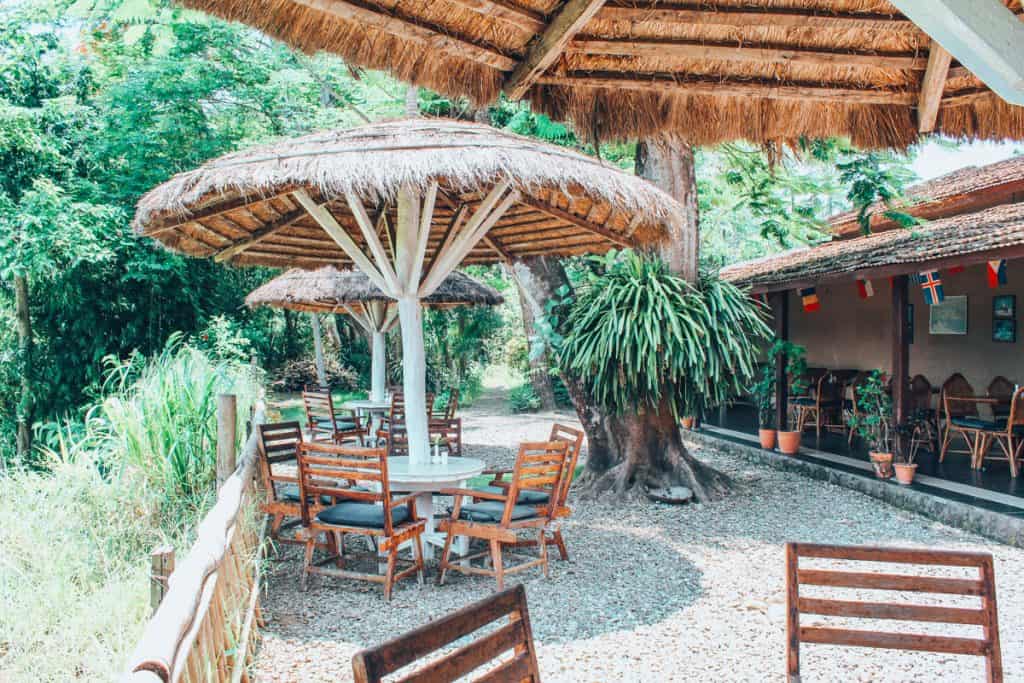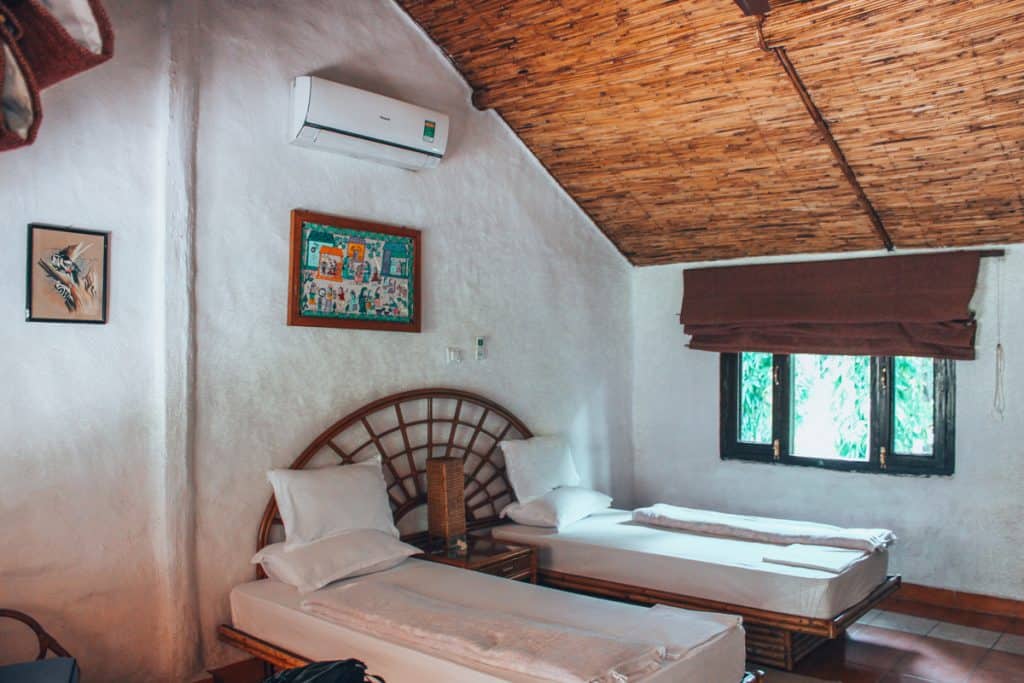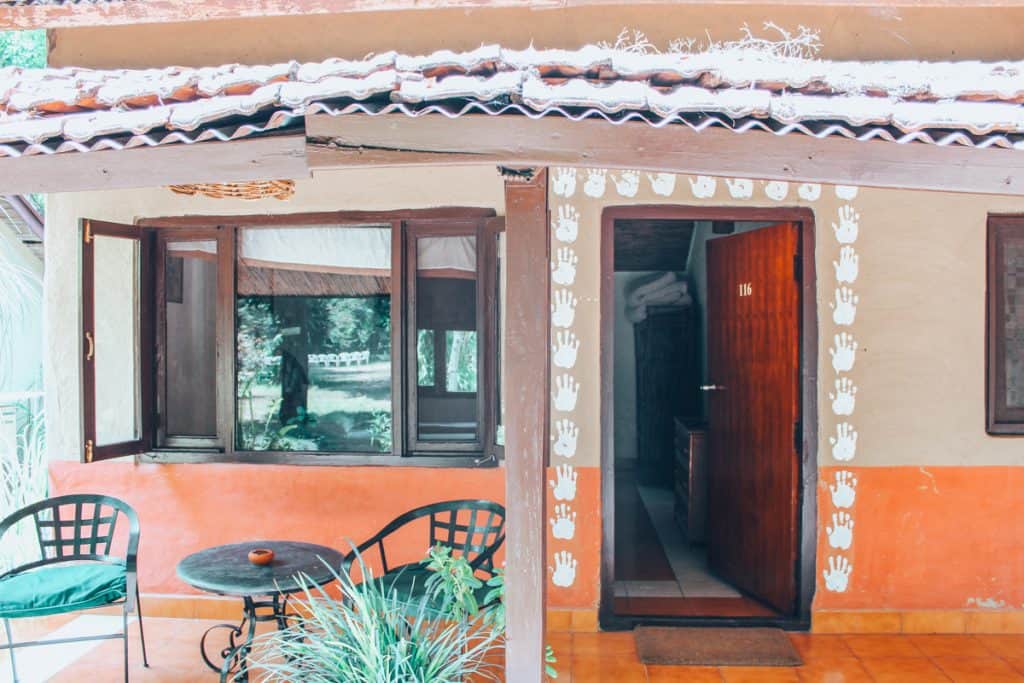 Interested in Staying at Safari Narayani Hotel?
Read Tripadvisor reviews and book your accommodation here.
On a return trip, I would try out Tiger Tops for their sustainability initiatives and their positive direction in elephant tourism.
Interested in Staying at Tiger Tops?
Read Tripadvisor reviews and book your accommodation here.
If you're not staying at a lodge, then you're likely staying in the neighboring town of Sauraha. Sauraha is actually where the buses arrive and depart from and there are many accommodations, restaurants, and more here.
Accommodation in Sauraha?
Read Tripadvisor reviews, book accommodation, or find hostels.
---
Chitwan Jungle Safari
Arguably, the best thing to do in Chitwan National Park is a jungle safari. Traditionally, that has been done in two forms at Chitwan- by elephant and by jeep. I'm going to highlight the jeep safari and why you absolutely should not participate in an elephant safari.
My jeep safari was arranged by the lodge I was staying at and it seems this is how most places operate the jeep safaris – arranged directly through your accommodation. Our jeep picked us up at 2 pm at the lodge where we made the 30 minute bumpy and dusty drive through town to the entrance of Chitwan National Park. We arrived back at the lodge around 6:30 pm so you're looking at roughly 3-4 hours of actual safari time in the park. The typical cost of a jeep safari is $180 (12500 rupees) per day, per jeep.
I was pretty committed to the possibility of seeing tigers so I would have probably ridden around all day but for most people, I'd say this time frame is plenty if not a little more than needed. Most everyone on my safari seemed to be ready to head back around the 2-3 hour mark.
A Chitwan jungle safari is not an African safari after all. There is a high chance that you will go and see nothing or maybe just birds and deer. However, there is a pretty good chance of seeing rhinos and crocodiles. Monkeys are also possible, maybe even probable.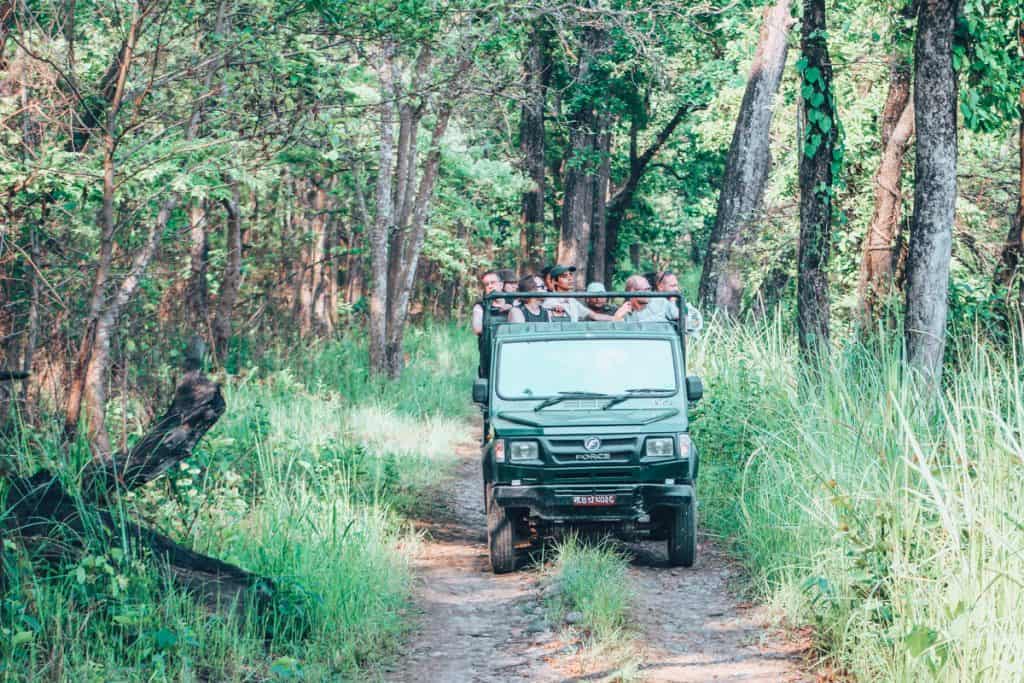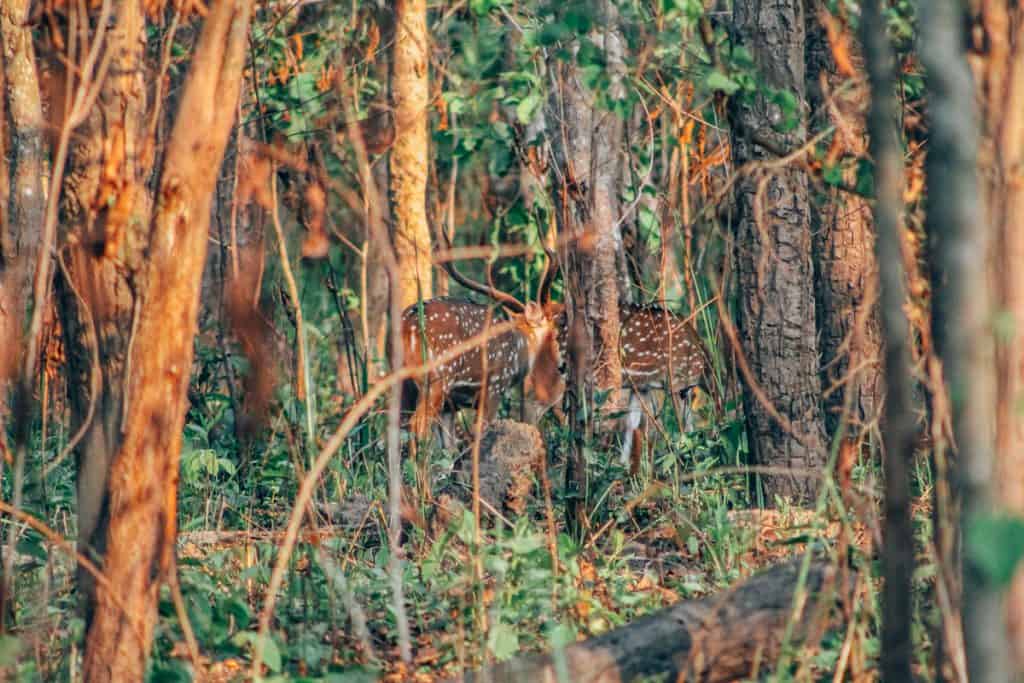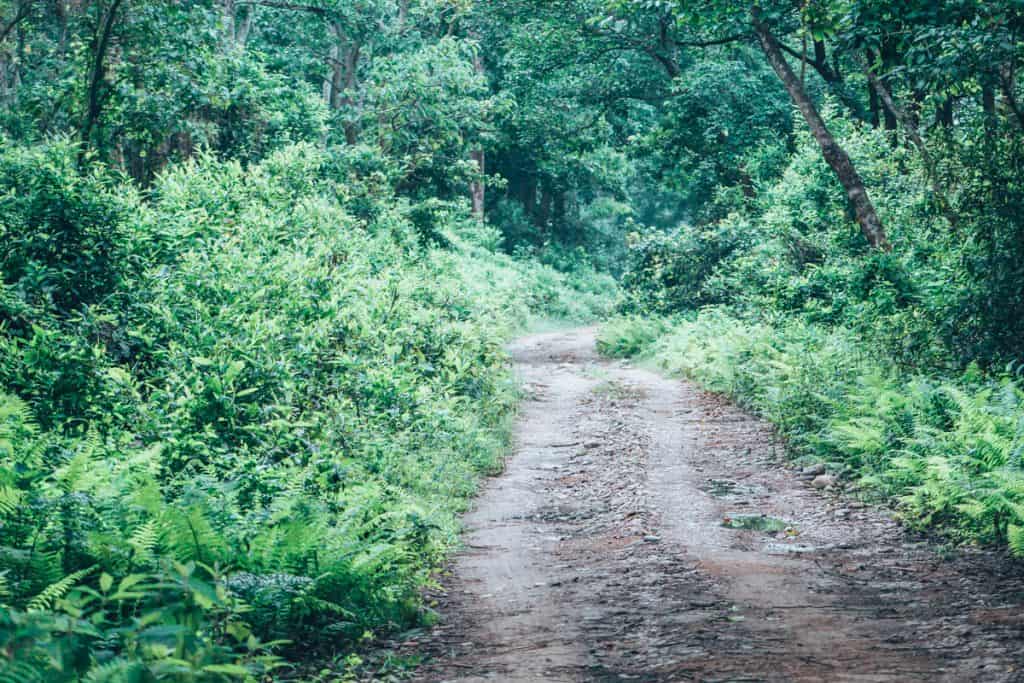 Elephant Safari and Why You Should Skip It
It's no secret that elephant riding has been at the forefront of ethical animal tourism campaigns in recent years. I think many people are well aware of the cruelty behind elephant riding and why it should be avoided. However, it is clear that people are still paying for them. My guide in Nepal told me that elephant riding is down 50% in Nepal in the past three years. I'm not sure how true this is but I do know that it is still happening and it's more than I expected.
Since doing research, I've learned that many travelers boycott Chitwan due to this but I don't think that's the answer either.
Money is always the answer. Voting with dollars is always the answer. This is no different than how I behave with my eating habits. Do I support the all-vegan establishments as much as possible or the all-vegan brands? Yes, of course. But, do I still buy vegan food at non-vegan establishments or the vegan version of a product from an otherwise non-vegan brand? Yes. Because it shows the brand, the company, the tour operator, whomever – it shows them what you're willing to spend your hard-earned money on.
So, don't boycott Chitwan. Nepal relies heavily on tourism dollars and Chitwan is no different. Don't punish the people for wanting to make a living. They provide what the tourists will pay for. Go there but show them you'd rather spend your money on a jungle walk, a canoe ride, or a jeep safari.
Another point to be brought up here is that it has been claimed that the elephant riding is aiding the amazing conservation at Chitwan. Chitwan really is leading the way in conservation. Rhino numbers are increasing where most places in the rest of the world they're decreasing. Tiger numbers are also increasing I was told. I can't stand behind the belief that elephant riding is the cause of this. Elephant riding may just be the method of tourism but tourism itself is the thing that is driving money here. Money is what helps run the park and keep it protected. As long as tourists are paying, there will be money and thus conservation dollars. Elephant riding doesn't need to be a part of that. Here is a thorough account of elephant tourism – the good and the bad – in Chitwan and how it has helped the conservation efforts.
There is no clear cut answer here but I think there is definitely a better answer.
Tiger Tops is not where I stayed during my trip but I'm loving what they're doing in terms of revolutionizing the elephant industry in Chitwan National Park. During the tourism decrease following Nepal's 2015 devastating earthquake, Tiger Tops took it upon themselves to change how they do elephant tourism. Instead of chaining the elephants, they are now free to roam in an enclosure. Instead of riding them, guests can walk alongside them in the jungle. The mahouts are no longer allowed to use bullhooks or sticks. For more information on that story, read the full article here. This is a prime example of how elephant owners can change their methods and still make money.
For more information on how elephants are trained, a method called "crushing", please see the description here.
---
Things to Do in Chitwan National Park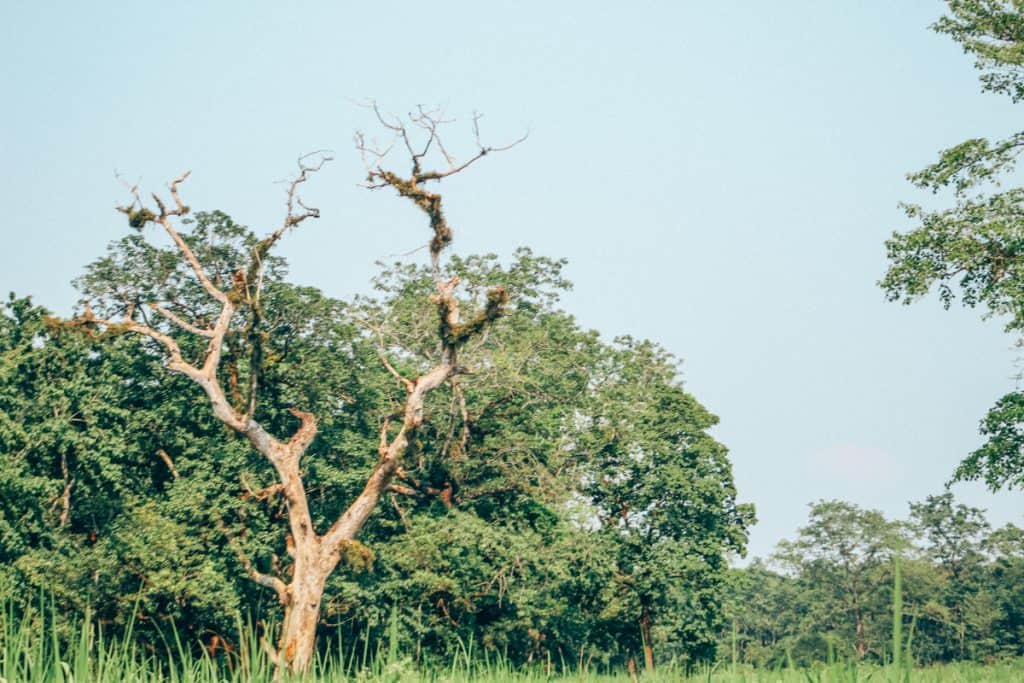 The Chitwan jungle safari may be the first preference for most people but there are several other activities in the park that are worthwhile.
Dugout Canoe Ride
The morning after our arrival, we had an early wake-up call. I was already up at 5 am stalking the river for tigers – yes, seriously. At 7 am, we were all gathered to walk down to the river for our transportation that morning – a dugout canoe. Trying to get into a canoe is probably the most frightening thing I did the whole trip. I'm no first-timer. I've been canoeing all my life but I don't know that I'll ever succeed at gracefully entering a canoe.
Once on board, we lazily made our way down the river via our not-so-lazy canoe guides who guided the canoes along with long sticks. We were able to enjoy the peacefulness and serenity of the early morning river life – local villagers gathering the tall grass in front of the river, several types of birds perching along the riversides, and one rather close rhino chilling in the riverbank.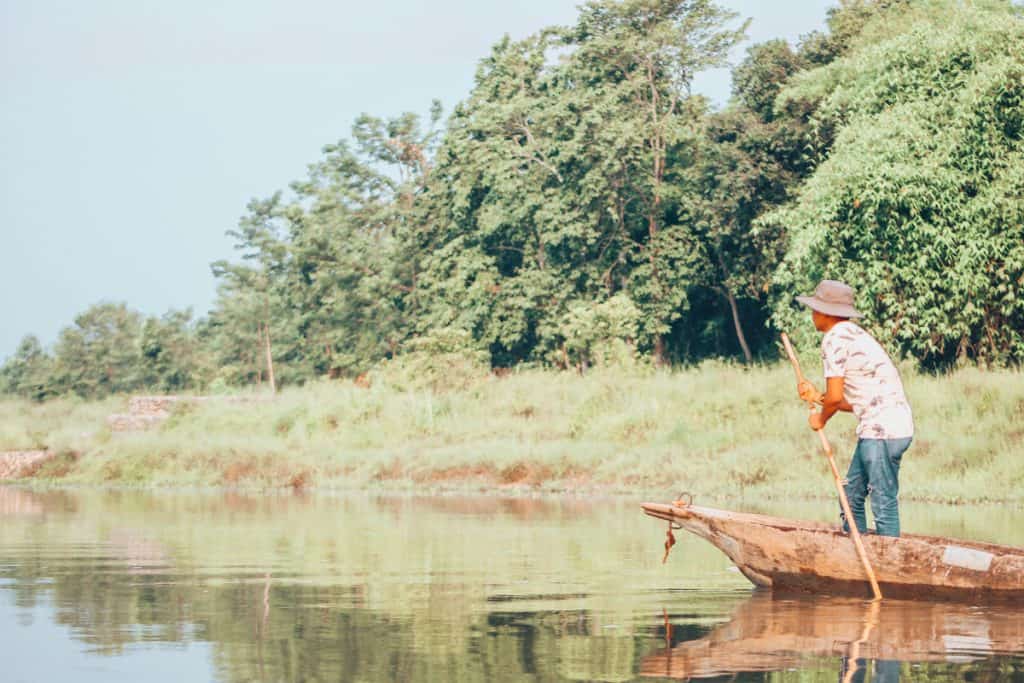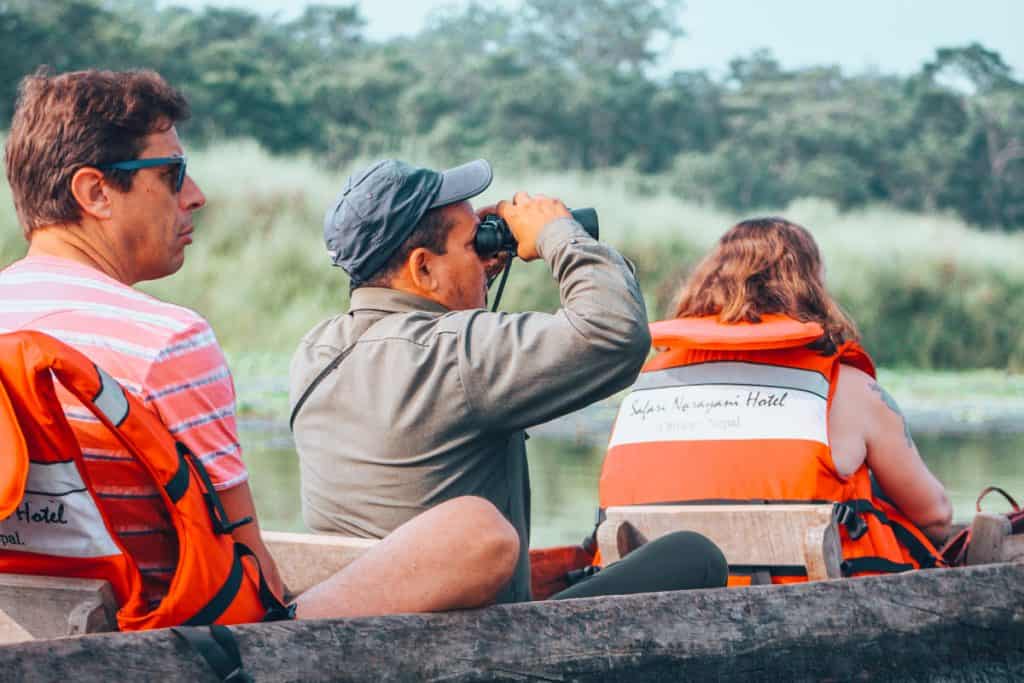 Jungle Walk
Our canoe ride literally dropped us off in the middle of the jungle. Only 1.5 hours walk with tigers, rhinos, crocodiles, and bears stood between us and the lodge. Easy peasy.
The jungle walk did indeed last 1.5 hours and, honestly, I think I enjoyed this more than the jeep safari. For one – you felt a bit more vulnerable which I can appreciate. This is a literal jungle and there is no protection between you and a lot of things that could kill you.
During the jungle walk, we were asked to be quiet which was awesome as I was able to just walk through the jungle and absorb everything. We saw rhino footprints, tiger markings on trees, and bones from a deer. While no rhinos were seen on the walk, we did see monkeys, crocodiles, and lots of birds.
I stayed towards the back of the group and near the end, I heard something make a pretty distinct noise. I whipped my head around to ask the guide what it was and he said it was a sloth bear. These guys may look harmless, but apparently, they're quite aggressive and more dangerous than any other animal there. I never saw it and while I was disappointed – maybe that was a good thing?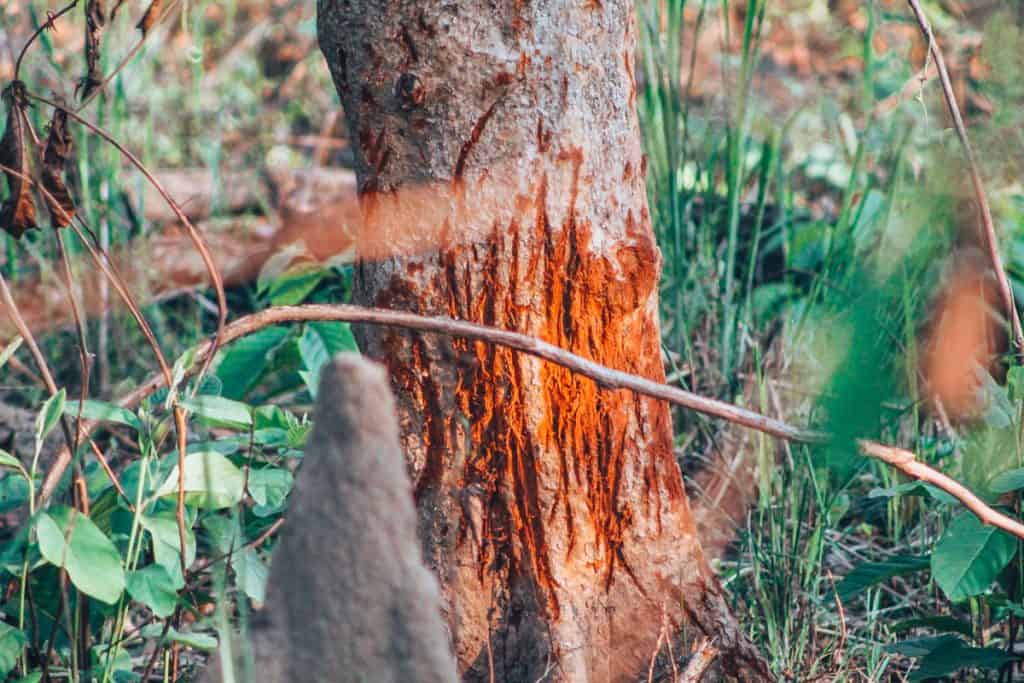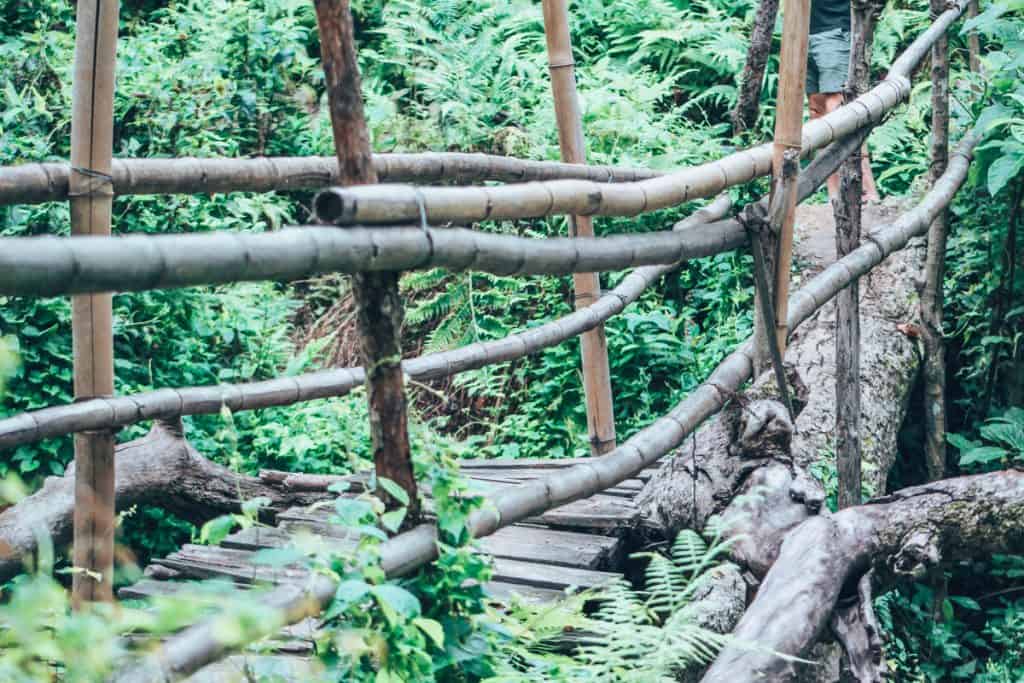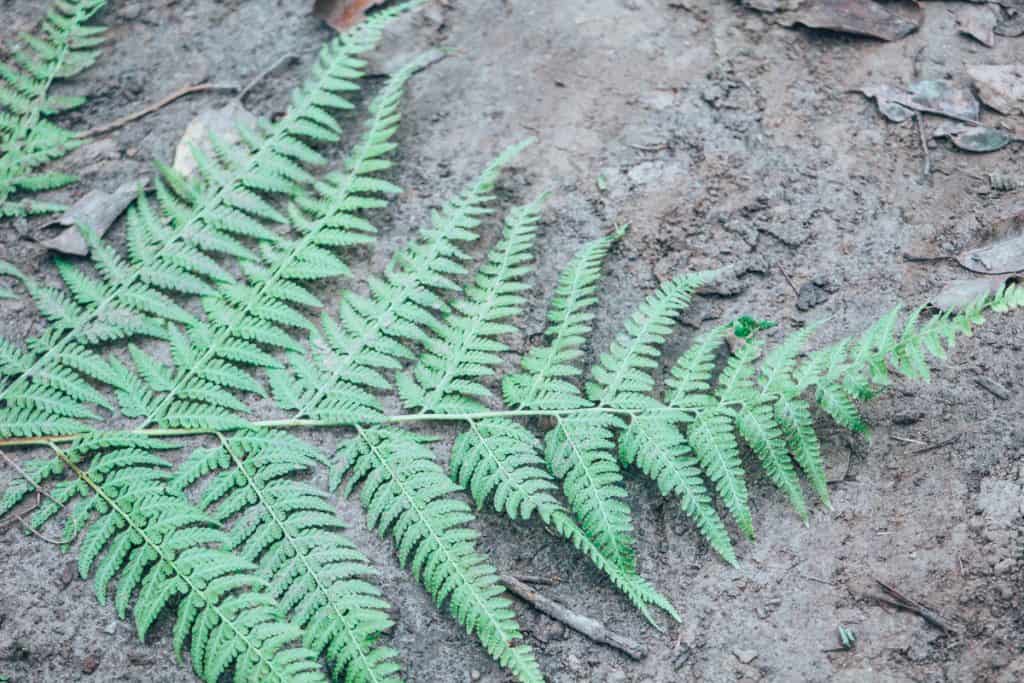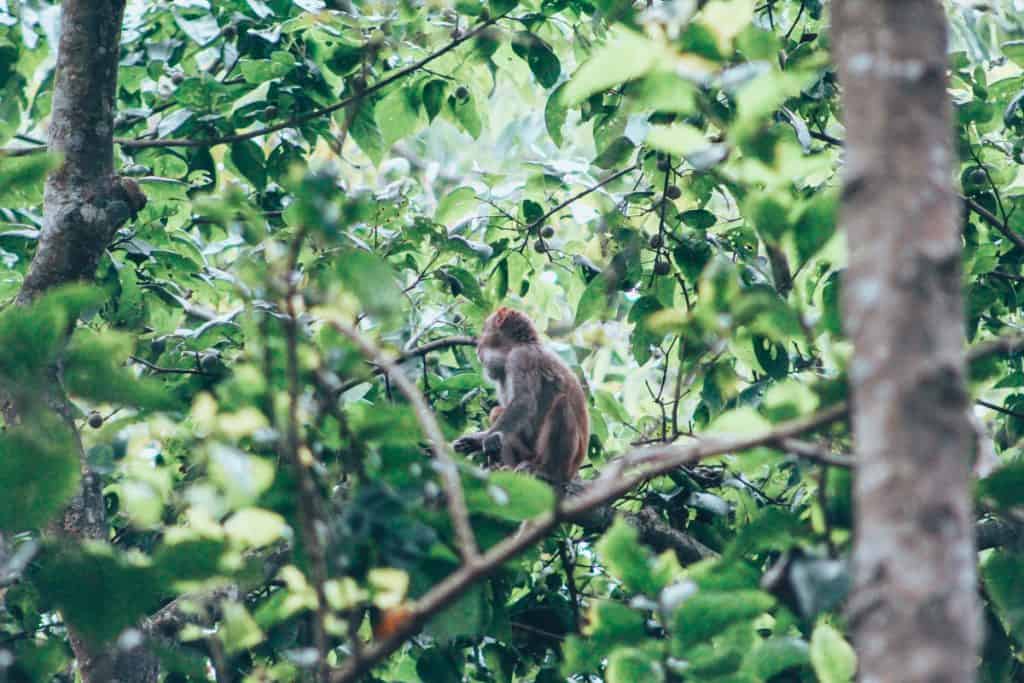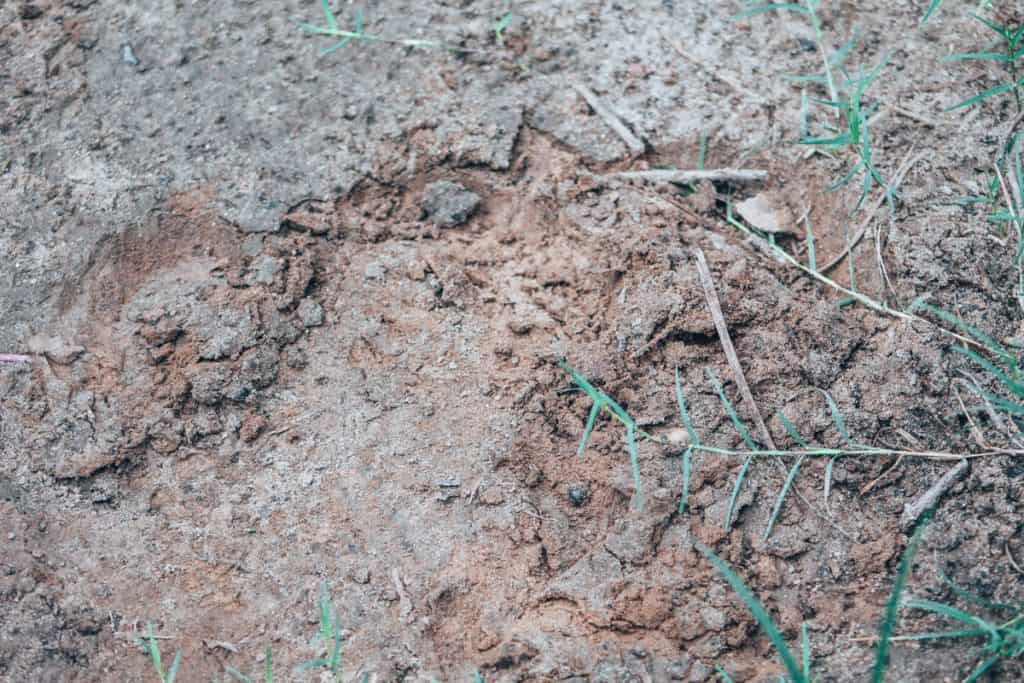 How to book a jungle walk in Chitwan National Park
Jungle treks in Chitwan can be anywhere from a couple of hours to several days. I sincerely want to go back one day and do the multi-day treks. Prices for jungle treks range from 1400 rupees to 2500 rupees per day ($20-$35 a day). The Longest Way Home shares a lot of valuable information on booking jungle treks in Chitwan National Park.
---
---
Chitwan Jungle Safari – Is a Visit to Chitwan National Park Worth It?
I've never been on an African safari and I'm sure nothing compares to it, but even if I had, I'd like to think that I'd find the Chitwan jungle safari and other park activities to be absolutely worth a visit. I will no longer think of Nepal as just mountains and insane Kathmandu city life. Now when I think of Nepal, I can think of the grass as tall as me, the rhinos who greeted me at sunrise, and the invisible but ever-present tigers.
All in all – I was able to see monkeys, a monitor lizard, at least a dozen rhinos, several species of deer, two species of crocodiles, and countless species of birds in just a day and a half.
If you're headed to Nepal don't hesitate to add on time in Chitwan National Park. I don't think you'll regret it.
---
PLANNING A TRIP TO NEPAL?
↓↓↓ PIN FOR LATER ↓↓↓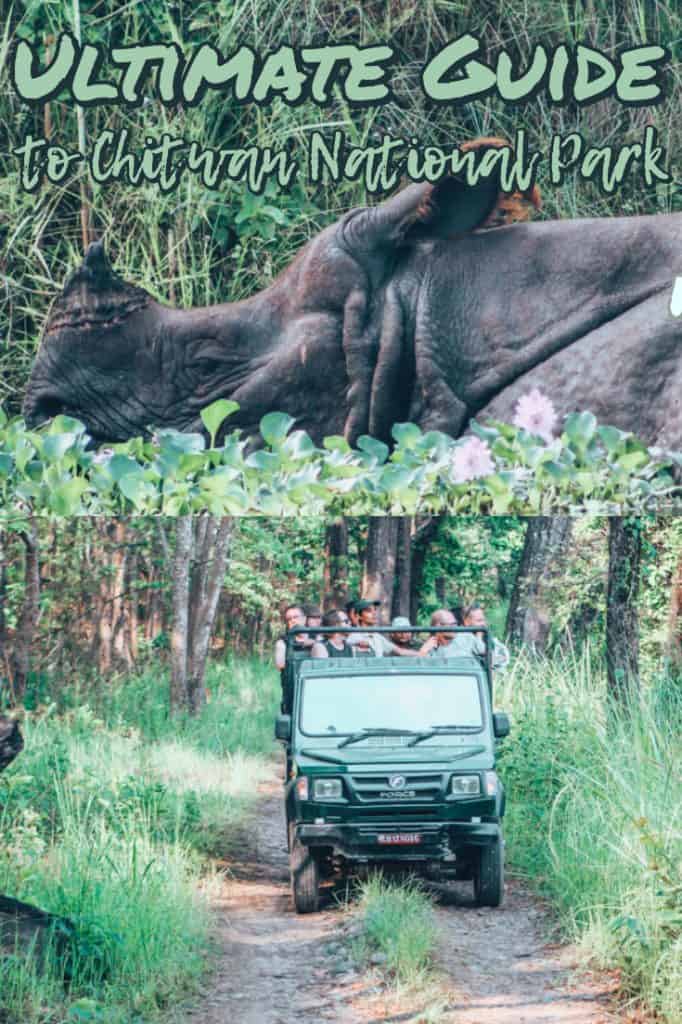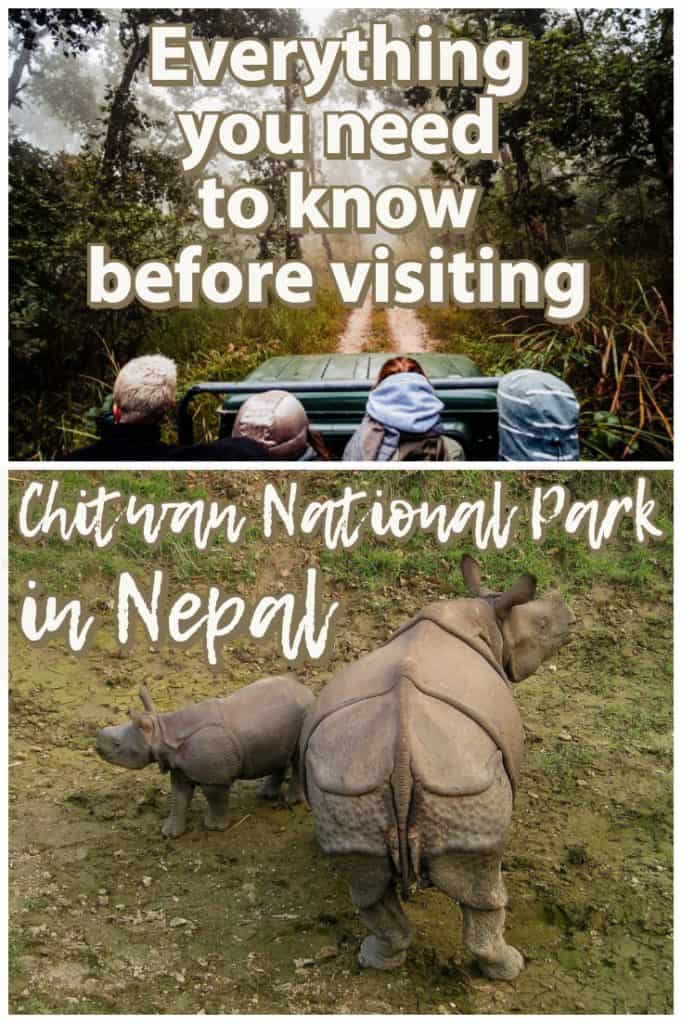 ***This trip was possible in collaboration with the Himalayan Travel Mart, Impact Travel Alliance, and the Nepal Tourism Board. All of my flights, accommodation, activities, and food were covered by HTM and Nepal Tourism Board. Despite who may have footed the bill, all the opinions here are my own and I would never recommend something I didn't fully believe in and try myself.***
Latest posts by Ashley Hubbard
(see all)