This post may contain affiliate links, meaning if you book or buy something through one of these links, I may earn a small commission (at no extra cost to you!). Please see my disclosure.
When I found out my friend, Kim of Veg Jaunts & Journeys was going to start a day tour in Asheville, I knew I had to make the trip over! Not only is Asheville one of my favorite mountain towns (and possibly one of my favorite places ever) but the vegan food scene is incredible here.
Interested in my vegan guide for Asheville? Check it out!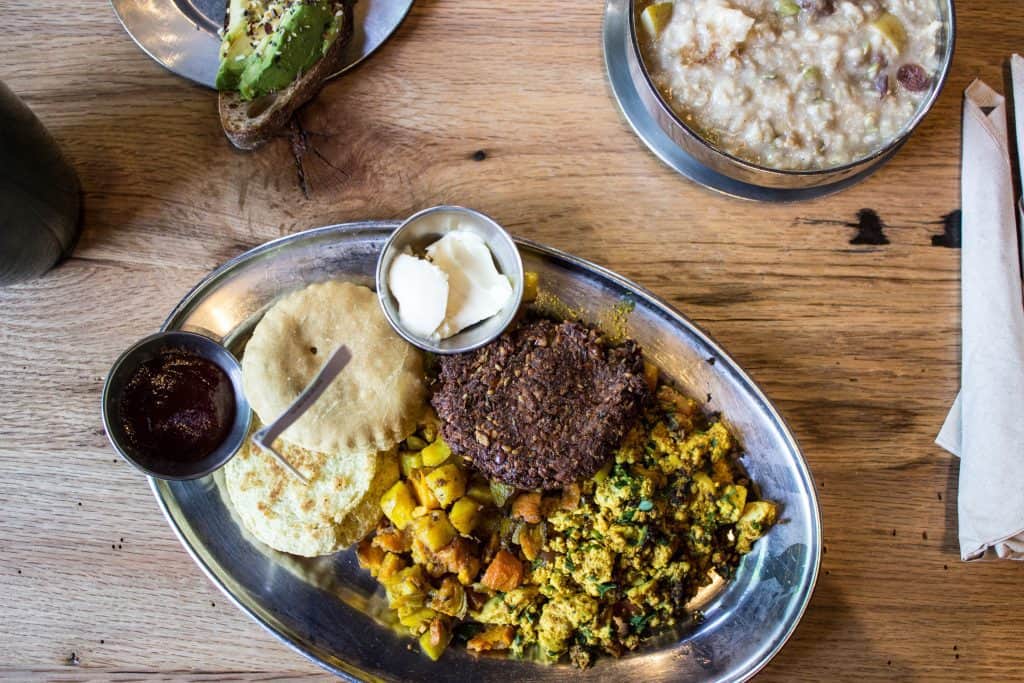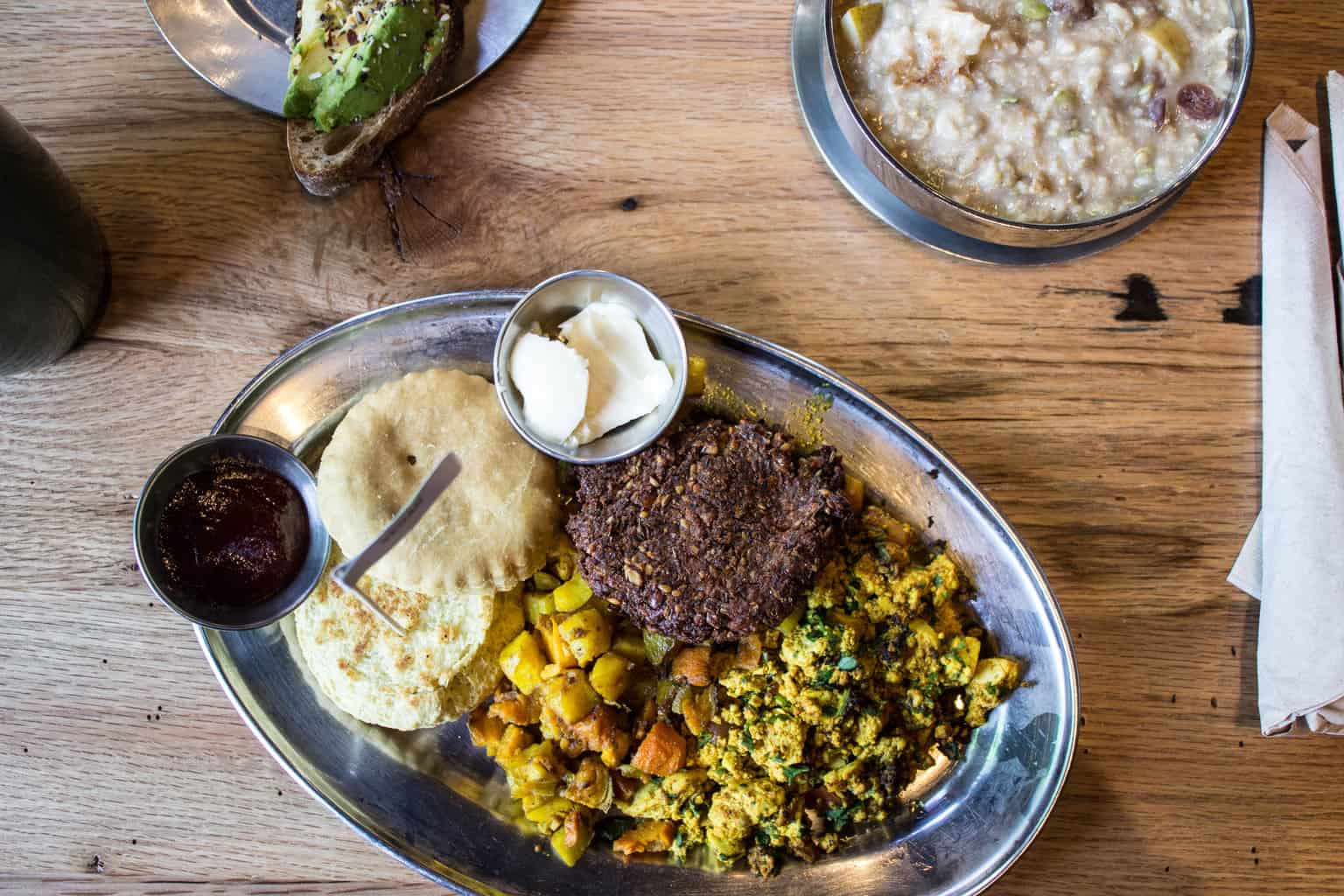 My best friend Ali and I decided to make a little three day weekend out of the trip. She picked me up on Thursday afternoon and we road tripped it over to Asheville arriving at Hotel Indigo pretty late. We stayed at Hotel Indigo for the three nights we were in town and absolutely loved it. I would highly recommend!
Read my full review for Hotel Indigo Asheville.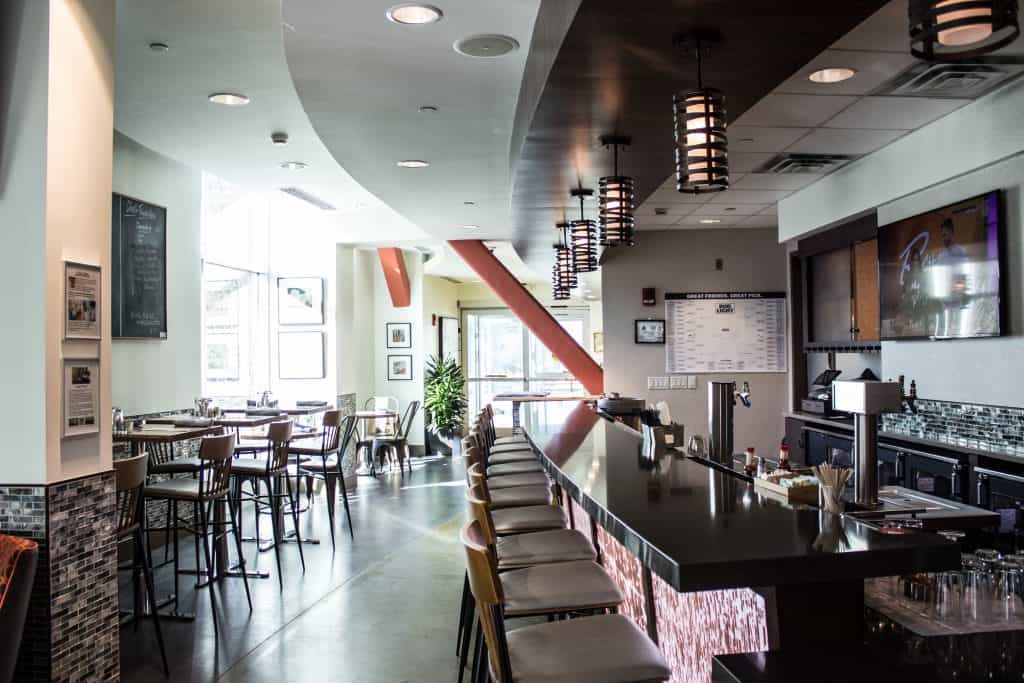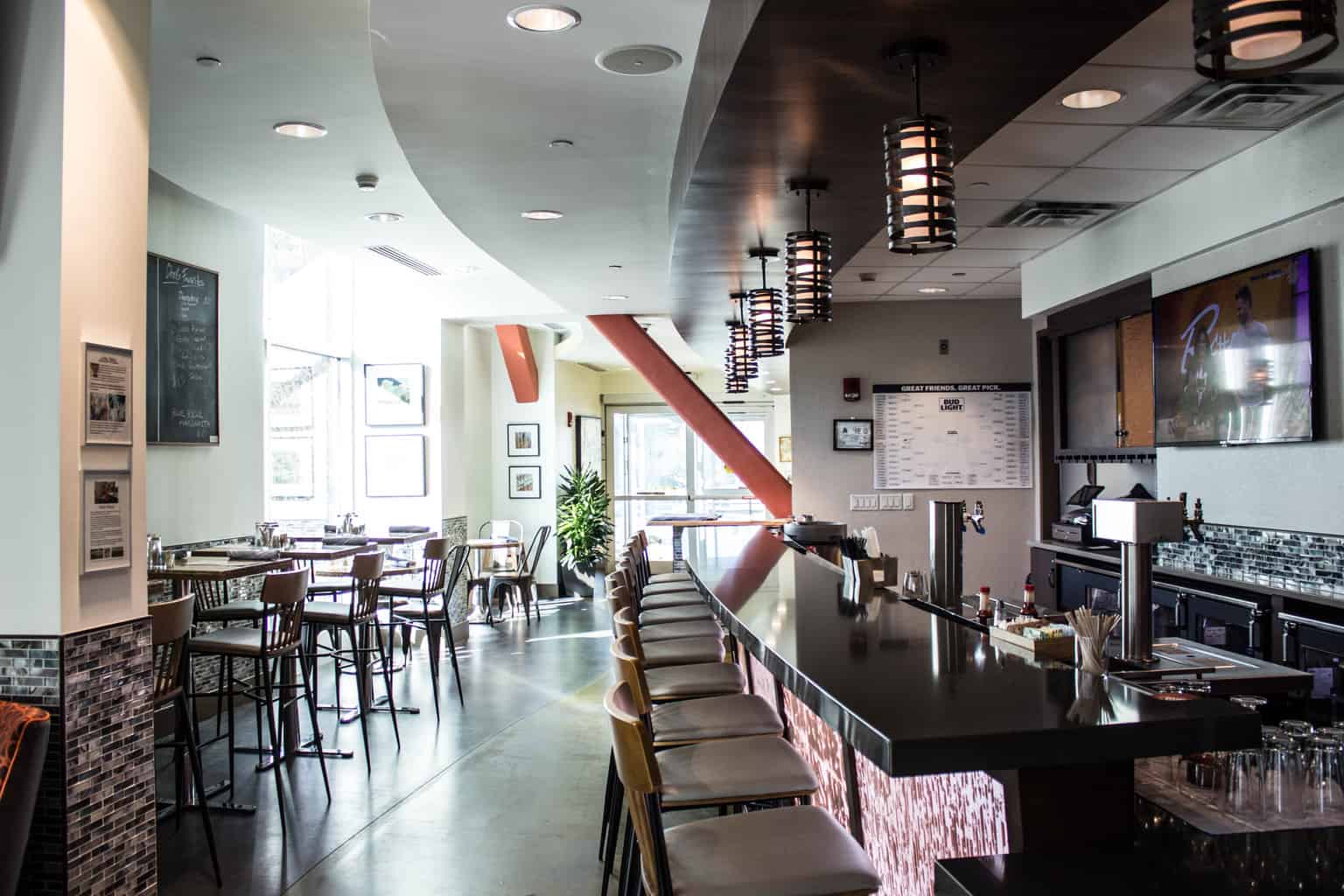 ---
First things first – you'll meet in a convenient central location. We met in the lobby of a hotel downtown which we were able to walk to from our own hotel! Easy peasy 🙂
Vortex Doughnuts
Kim met us here with our transportation for the day and vegan donuts! While we didn't actually go to the location of these donuts, we were able to experience all of their deliciousness on the ride over to our first stop. She brought an assortment to choose from but I grabbed their signature "vortex" one – it was basically cinnamon sugar with a chocolate drizzle on top.
I definitely can't wait to go to their shop next time and try more flavors – I've been told they have quite a few vegan flavors on a daily basis.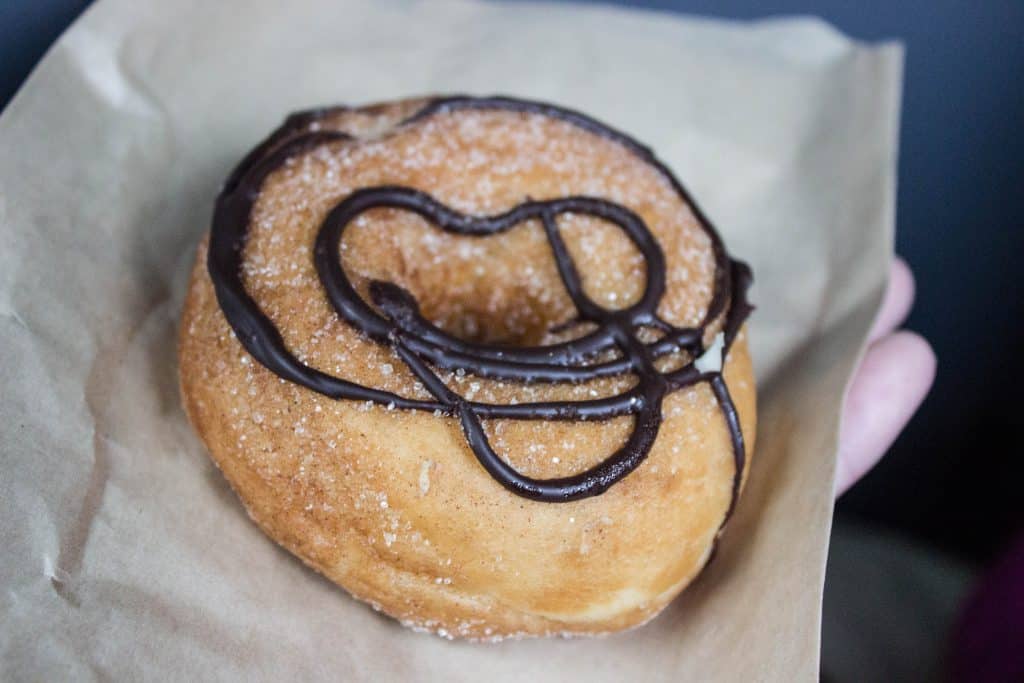 ---
Ultra Coffeebar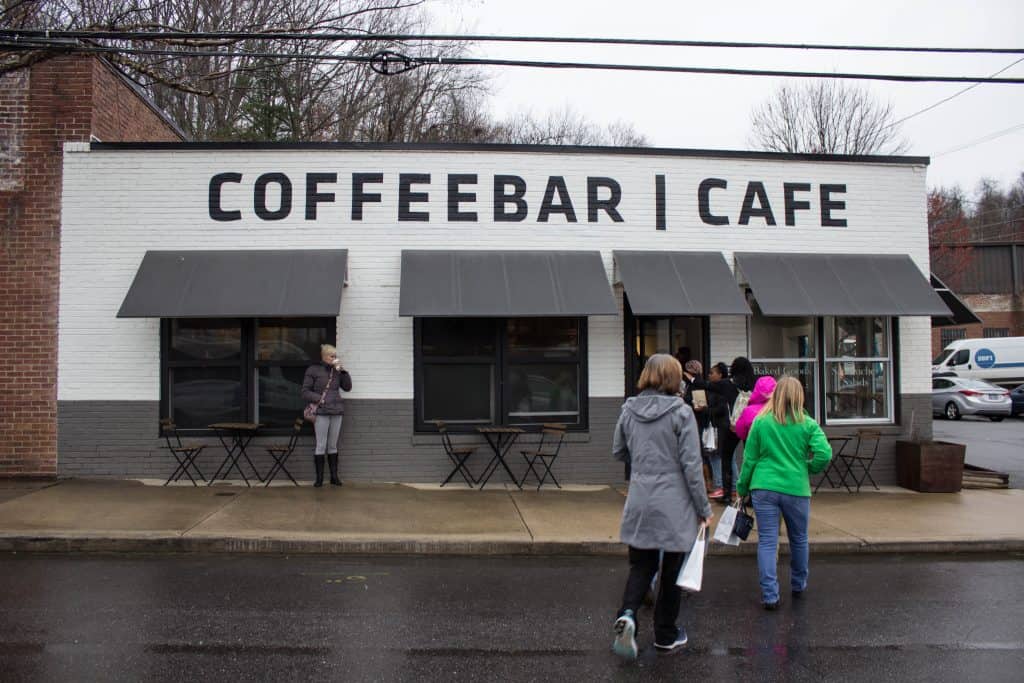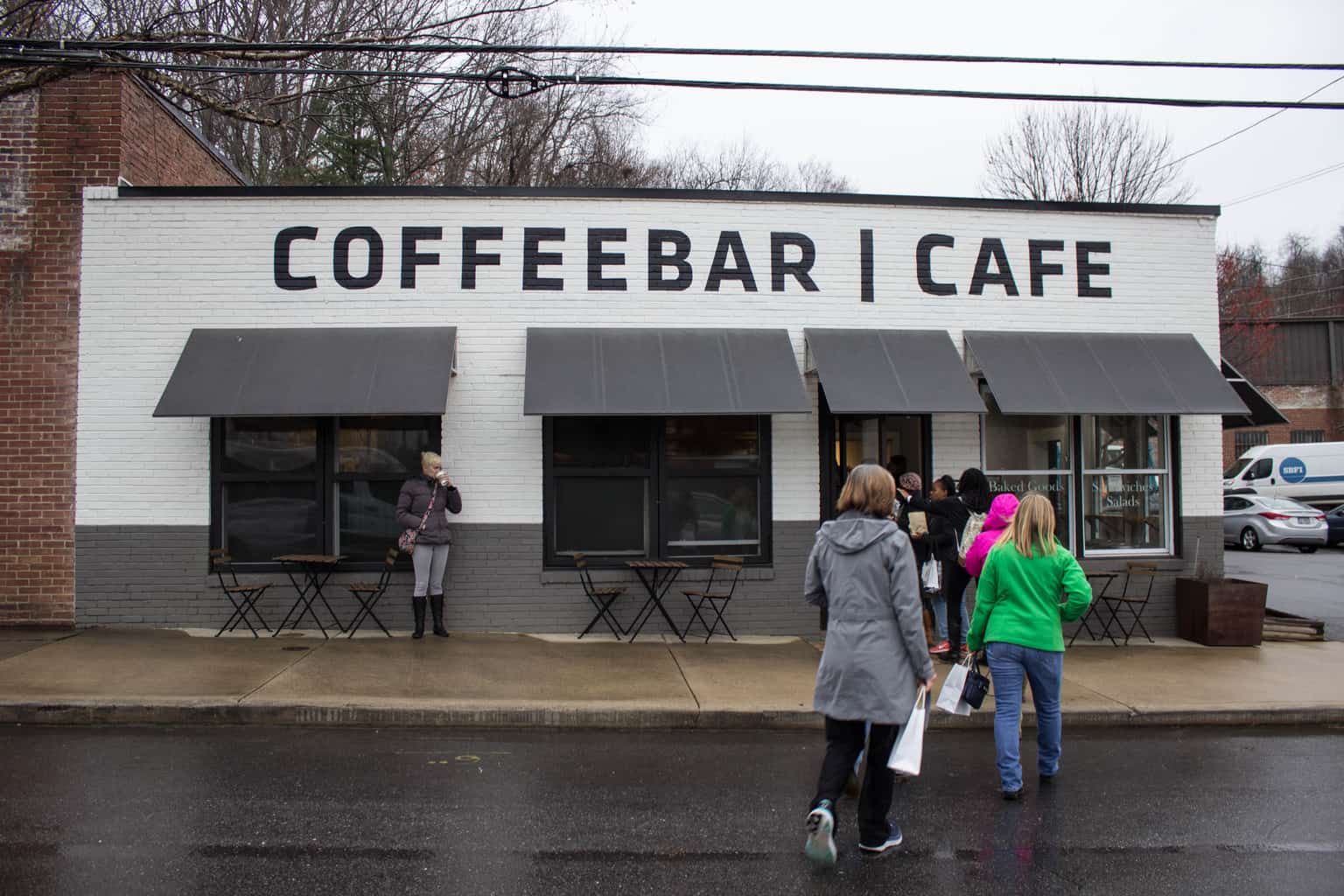 Our first stop was to Ultra Coffeebar near the River Arts district. I was a little hesitant about trying this sandwich, I won't lie. I'm a pretty adventurous eater but I'm also really weird about certain foods and one thing is condiments. The sandwich that was on the menu for the tour is the Viva La Vegan! The name is pretty great and it consisted of tofu "egg", cream cheese and tempeh on a bagel. Pretty simple but it was drowning in cream cheese which is normally where I'd be like "….nah, I'm good."
However, this ended up being one of the absolute best things I ate in Asheville and I've dreamt of this sandwich on a regular basis since.
We also had plenty of time here to get to know everyone in the group – there was a few of us from Nashville, Greenville (South Carolina) and Atlanta – a great mixture of women!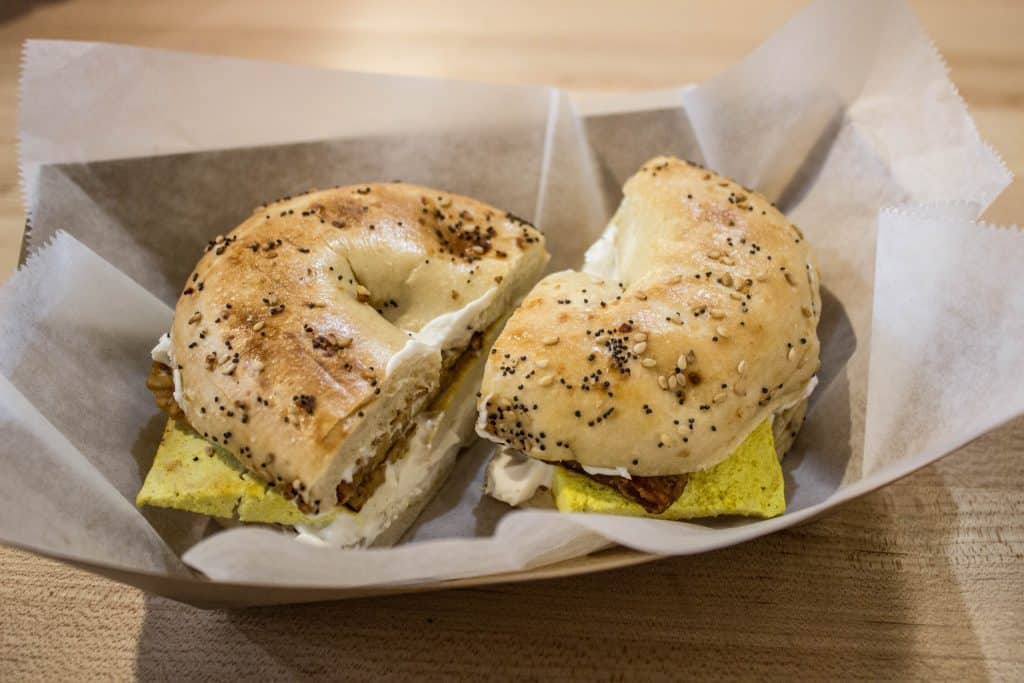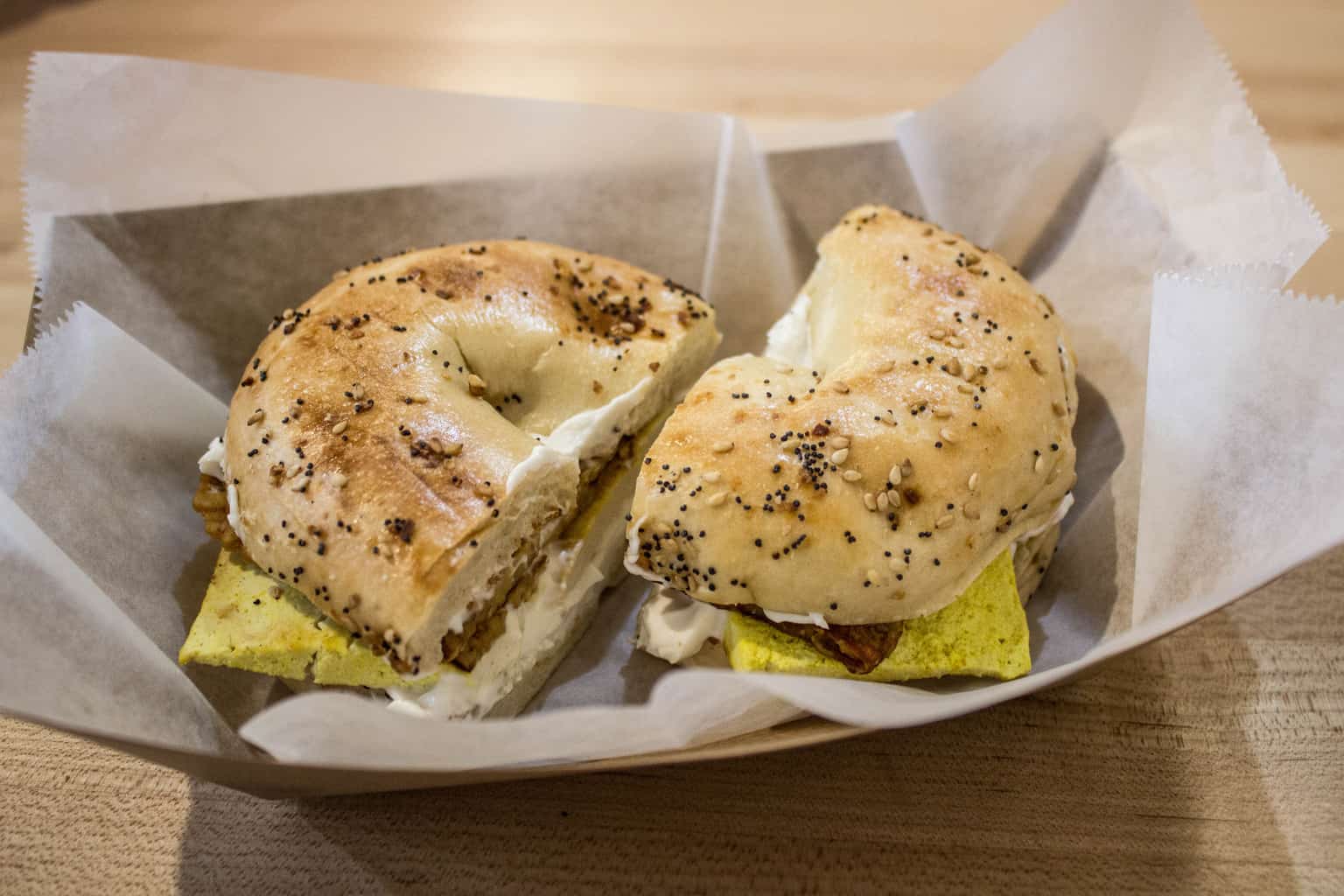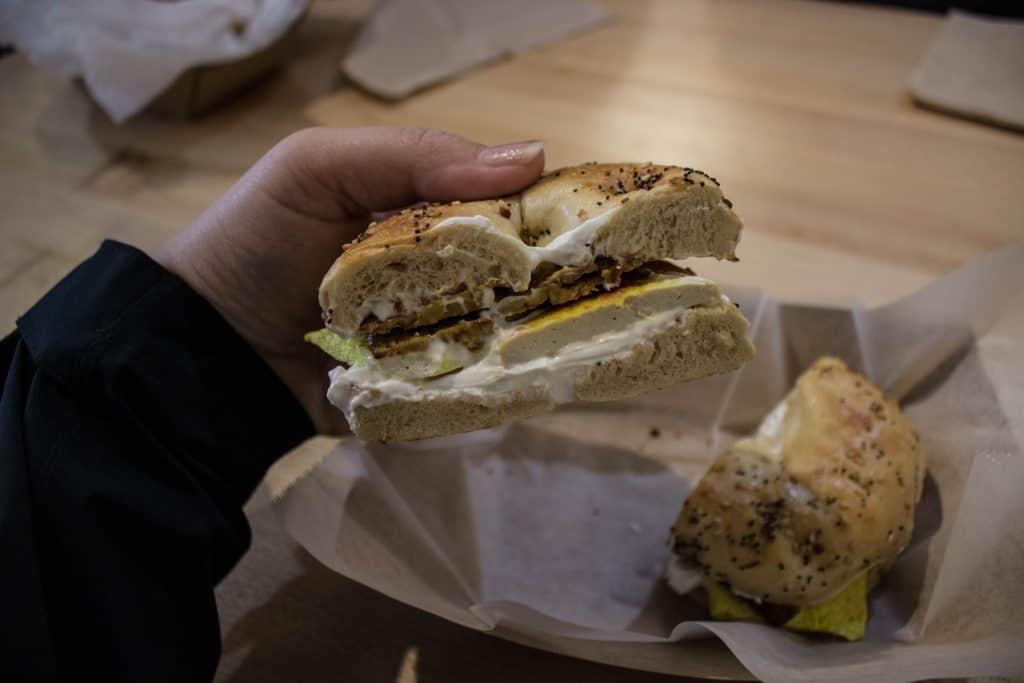 ---
Firestorm Book Co-Op
Our next stop took us to one of the most unique little bookstores I've ever been in. Asheville has so many adorable independent bookstores and this is now one of my favorites!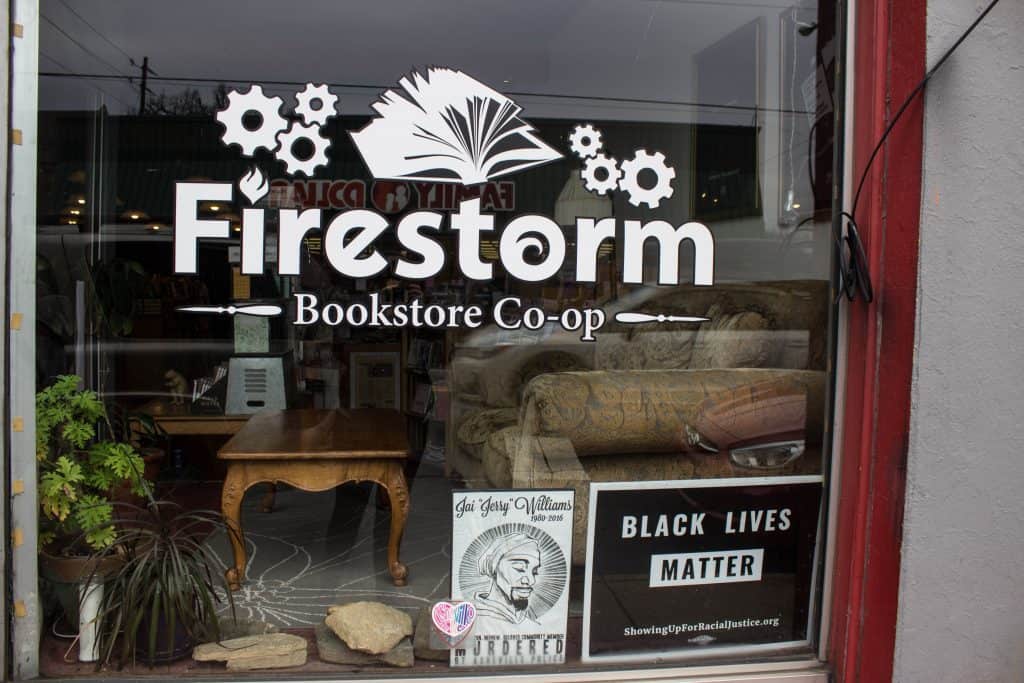 Firestorm offers up a wide range of books for such a small store and has some titles that I would never have known existed before visiting here. They have an entire vegan section and an entire animal rights/liberation section not to mention every other social, environmental and human rights issue.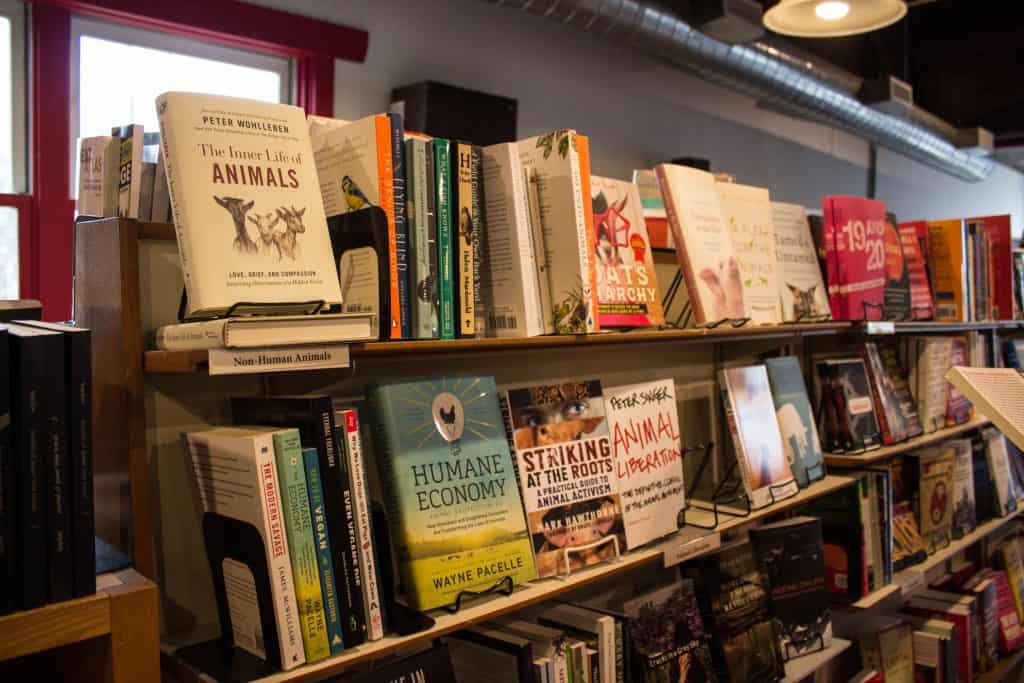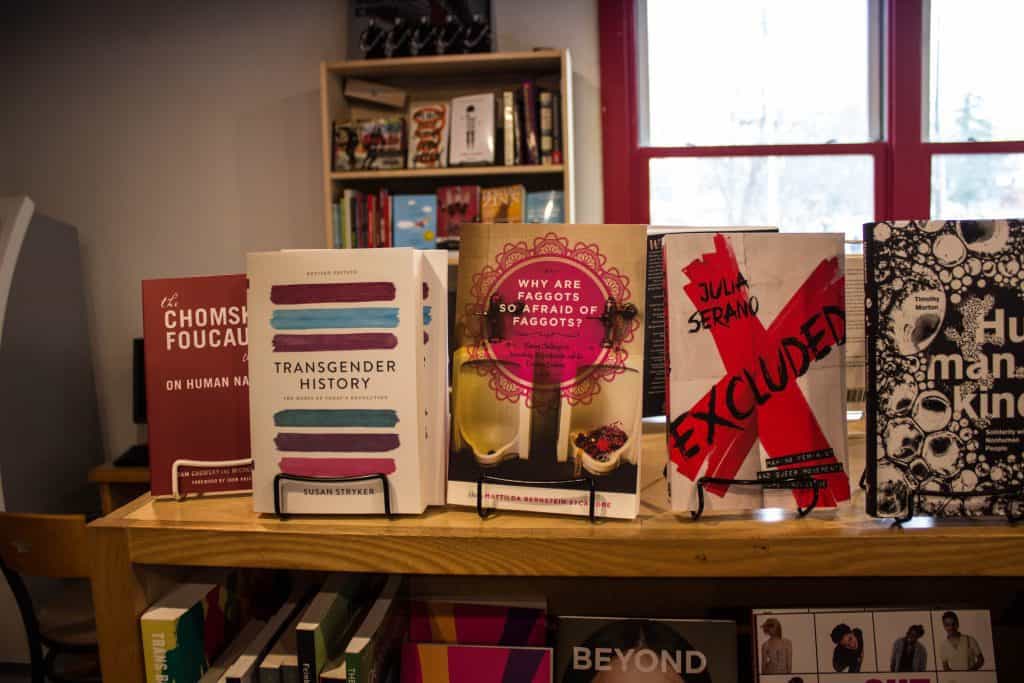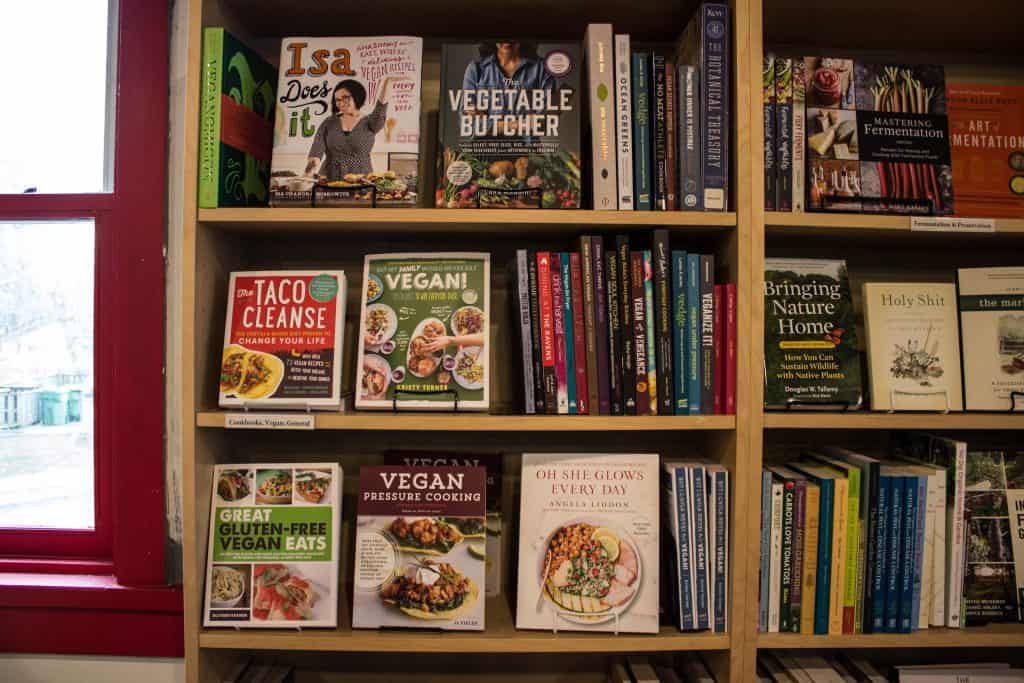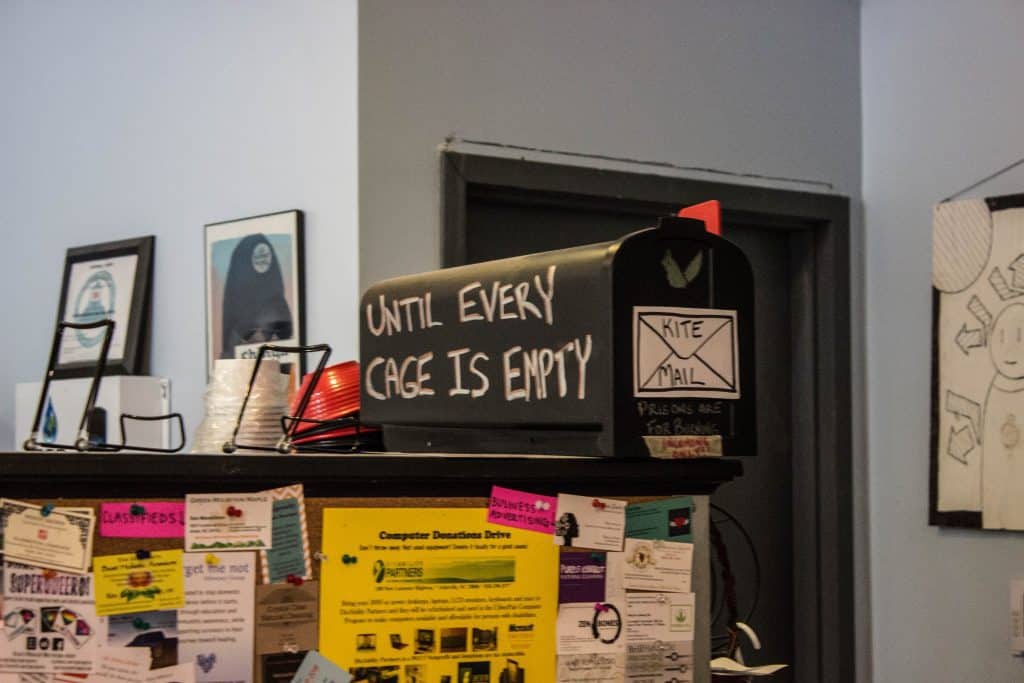 ---
West Village Market
Our next stop was to this small, local grocery store and deli where we were able to find all sorts of vegan specialty items that you can't find elsewhere! They had alllll the flavors of Violife cheese (which is seriously the best, y'all), tons of speciality brands that are actually made in Asheville and much, much more. They have a deli in the back that has vegan food ready to order and a baked goods case that is primarily all vegan.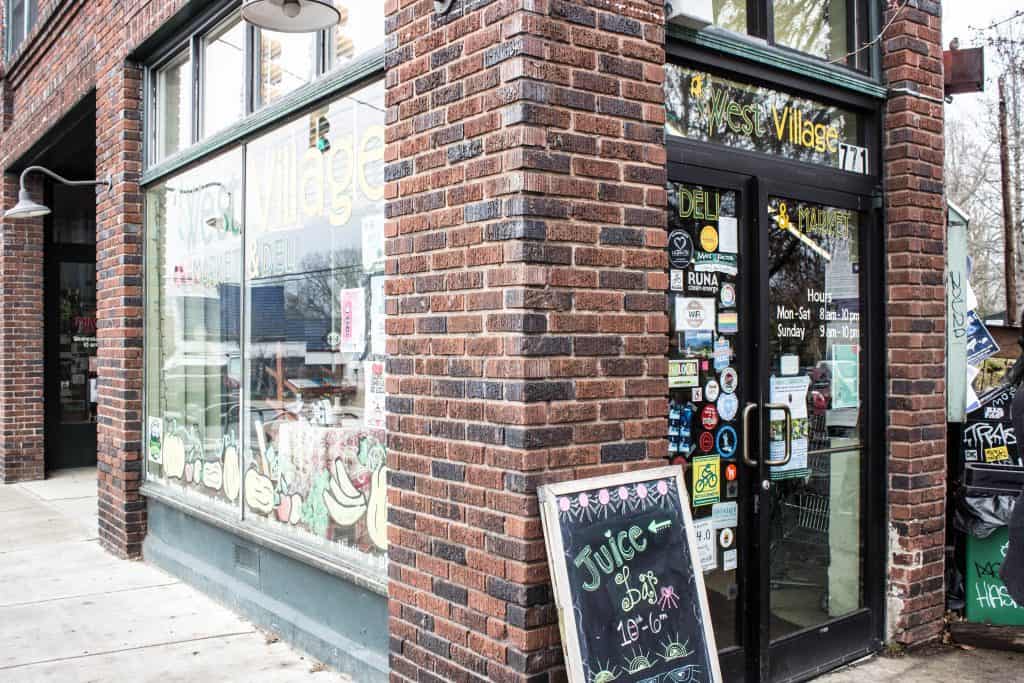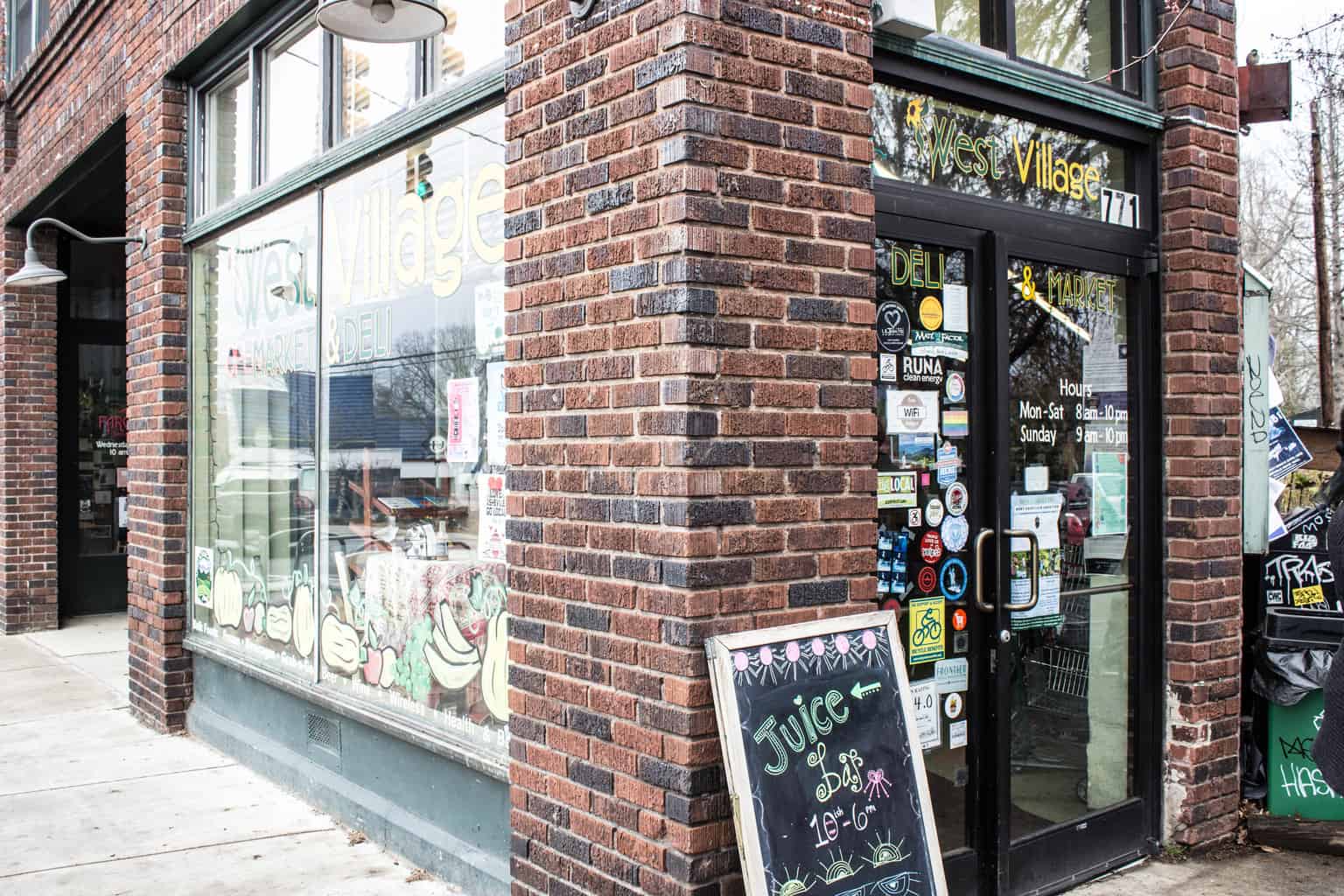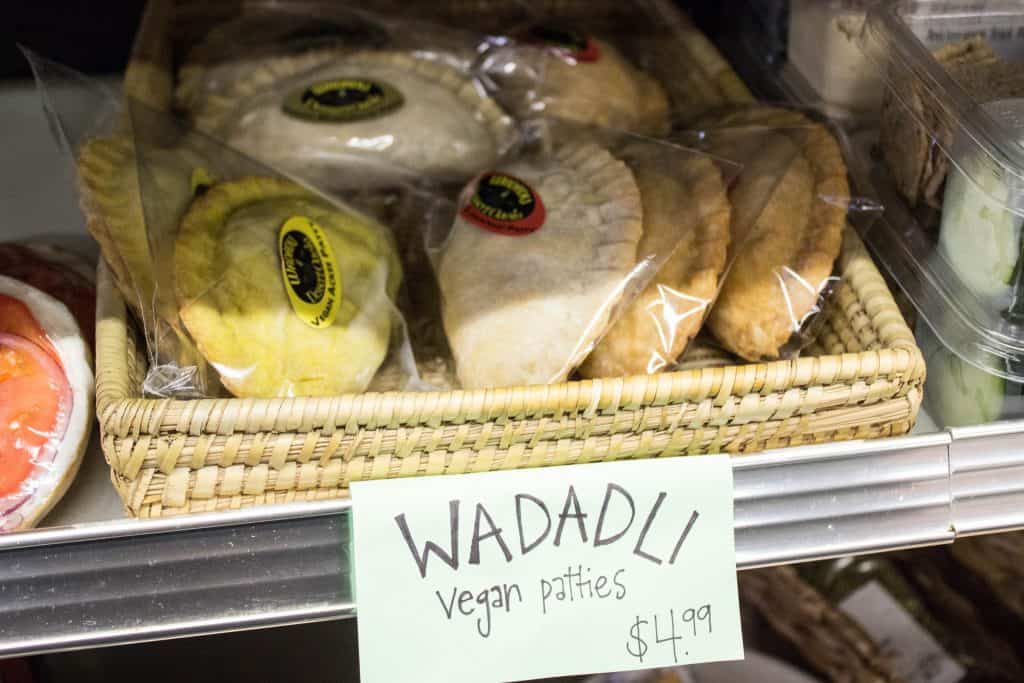 ---
Animal Haven of Asheville
One of the many things I loved about this tour is that it wasn't just about the food. I love food and I would have been fine with just a food tour but the extra additions like the bookstore and this animal sanctuary really made it that much more special.
Animal Haven is located practically in the city – it's so close making it great for a visit next time you're in town.
We were able to spend a good hour with the animals here which was amazing! There were plenty of chickens, ducks, pigs, goats, geese, rabbits, cats, and sheep to make friends with! You can also meet Elsa, the blind calf! She was born without eyeballs and the sanctuary was able to save her from being put down.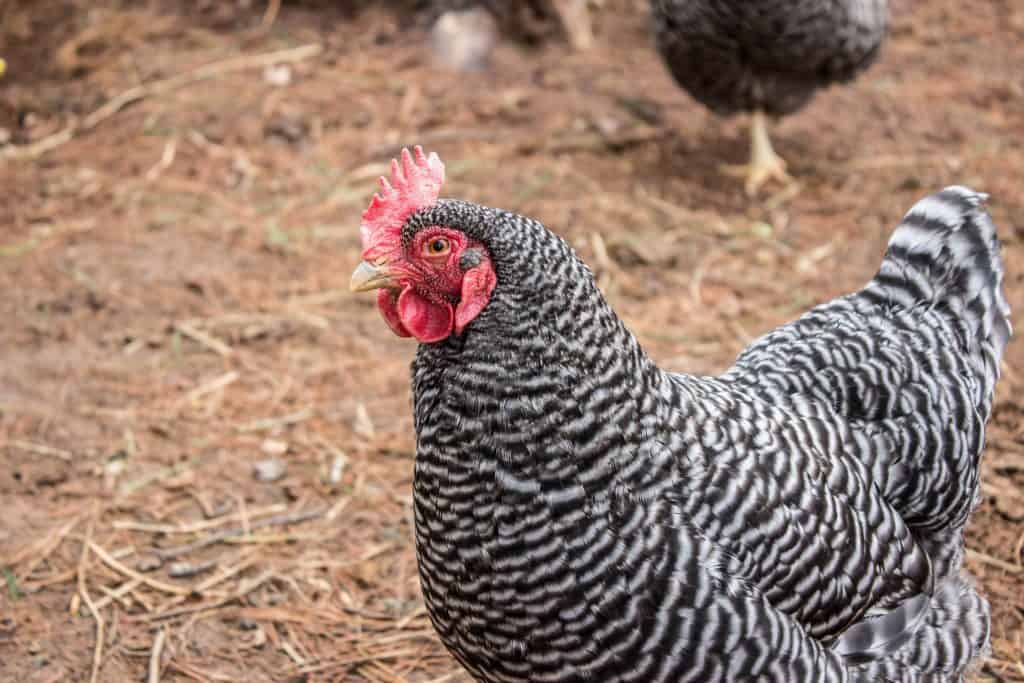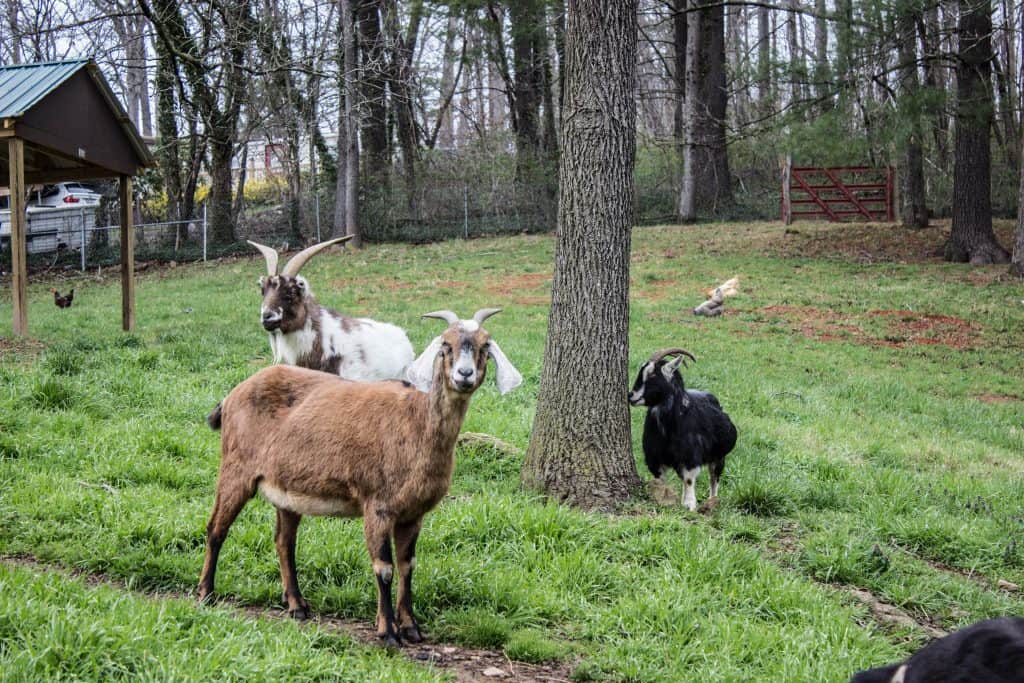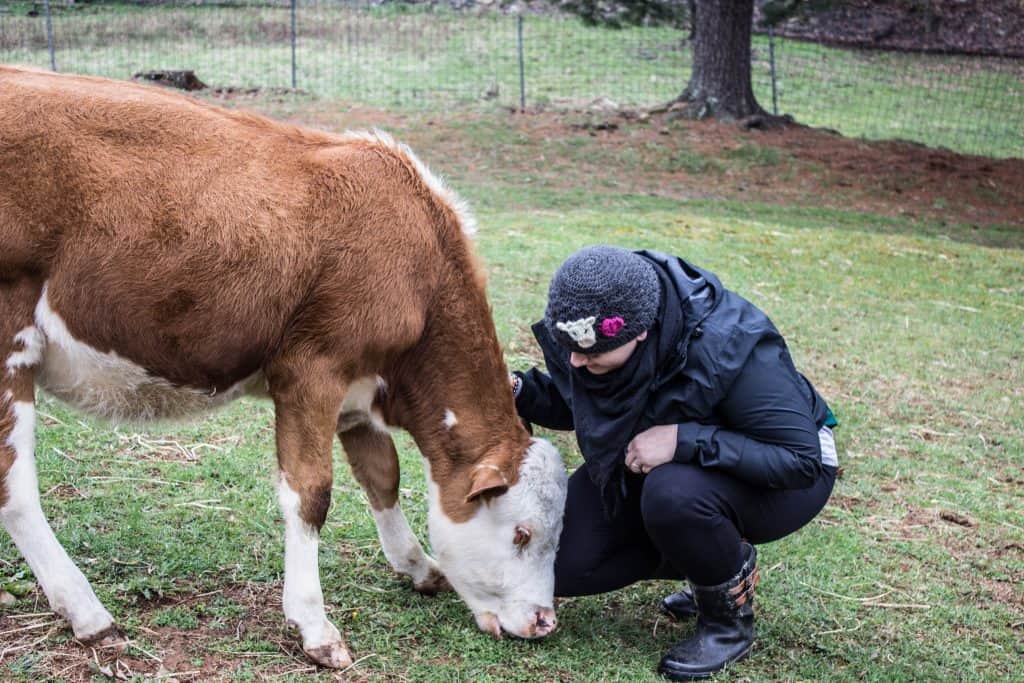 ---
Rosetta's Kitchen & Kombucha Bar
Rosetta's Kitchen is an all-vegetarian restaurant (mostly vegan) and kombucha bar. They focus on local and seasonal food and foster a close relationship with musicians, artists, and community groups. They also offer meals on a sliding scale so everyone can eat no matter their financial status!
This was our next stop and our main meal of the day!
I wouldn't normally order a rueben – I don't love kraut and it was just not something I ate before but this sandwich was so good! I also tried several types of tofu, curry and a kombucha flight and everything was amazing!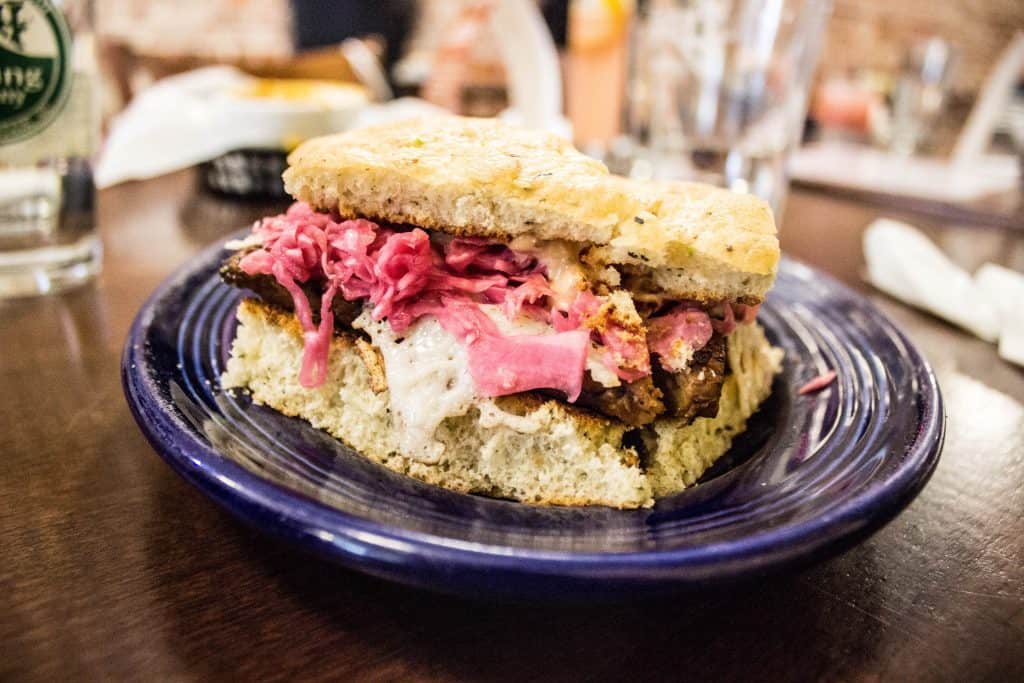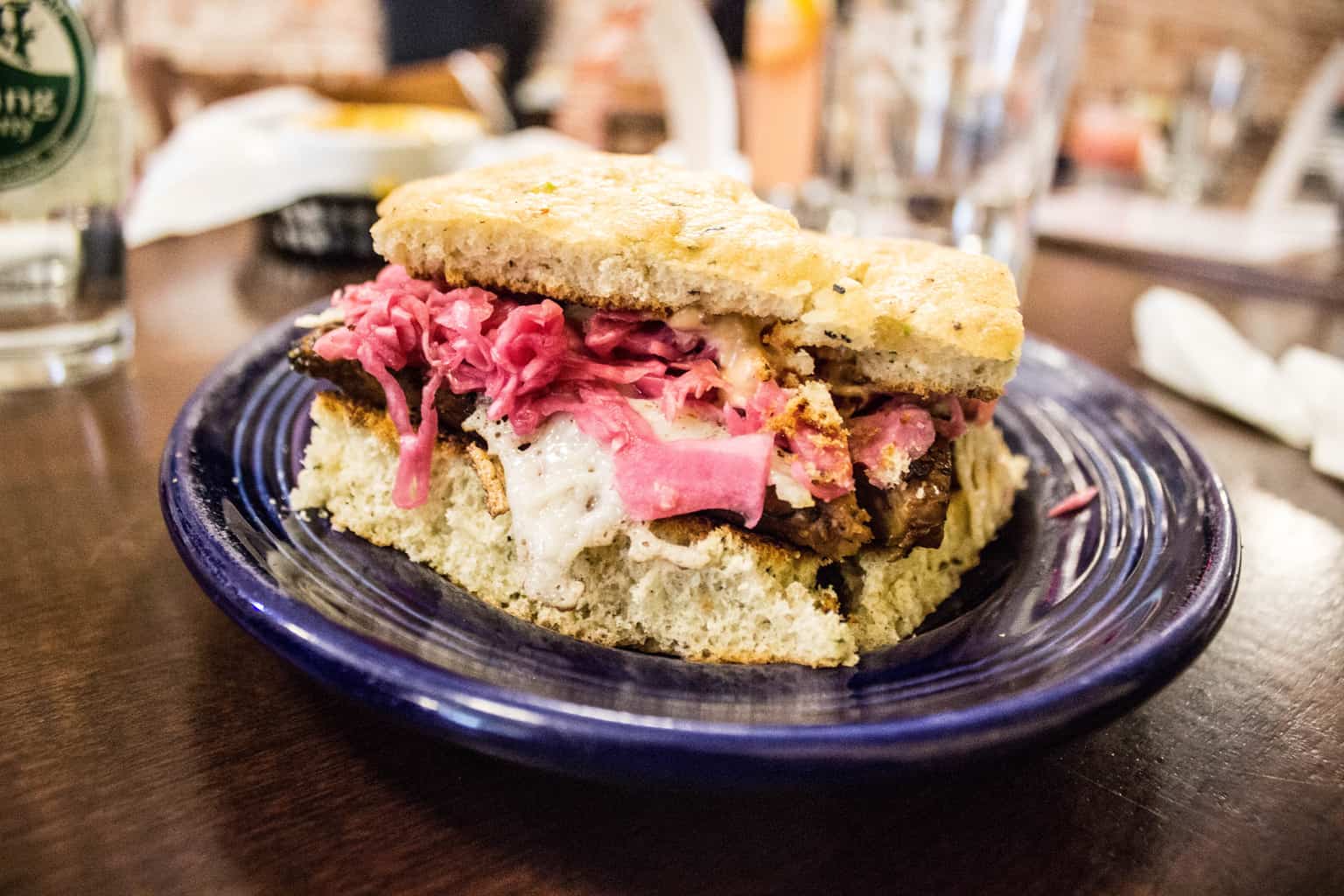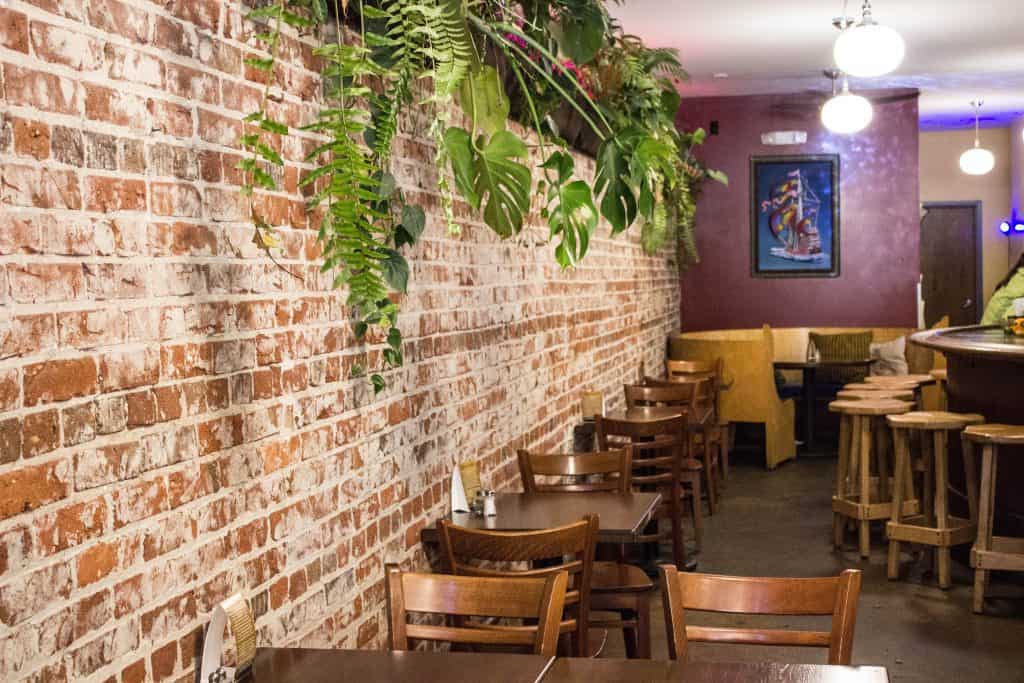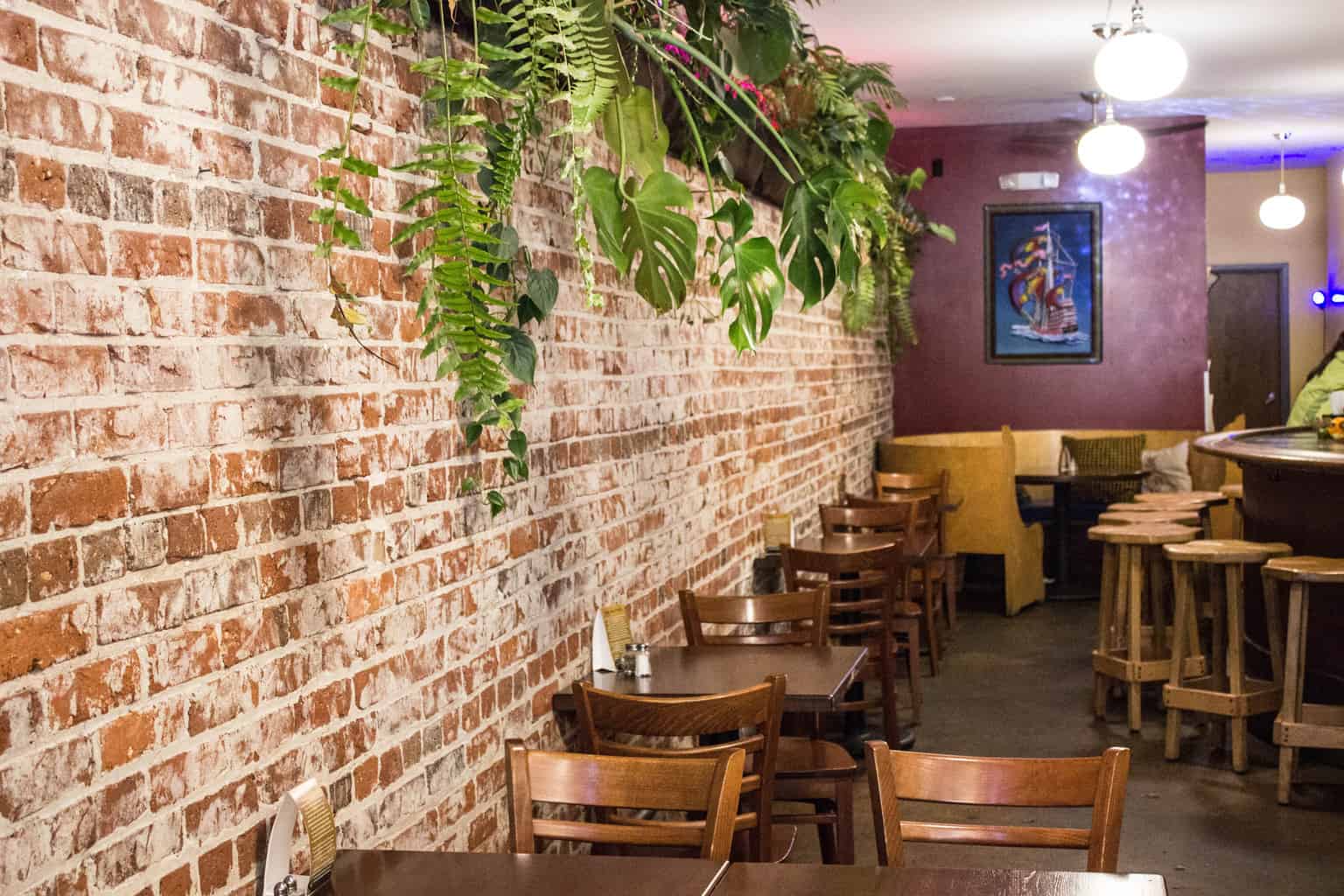 Also, found one of my favorite signs here – and there were a lot of great ones!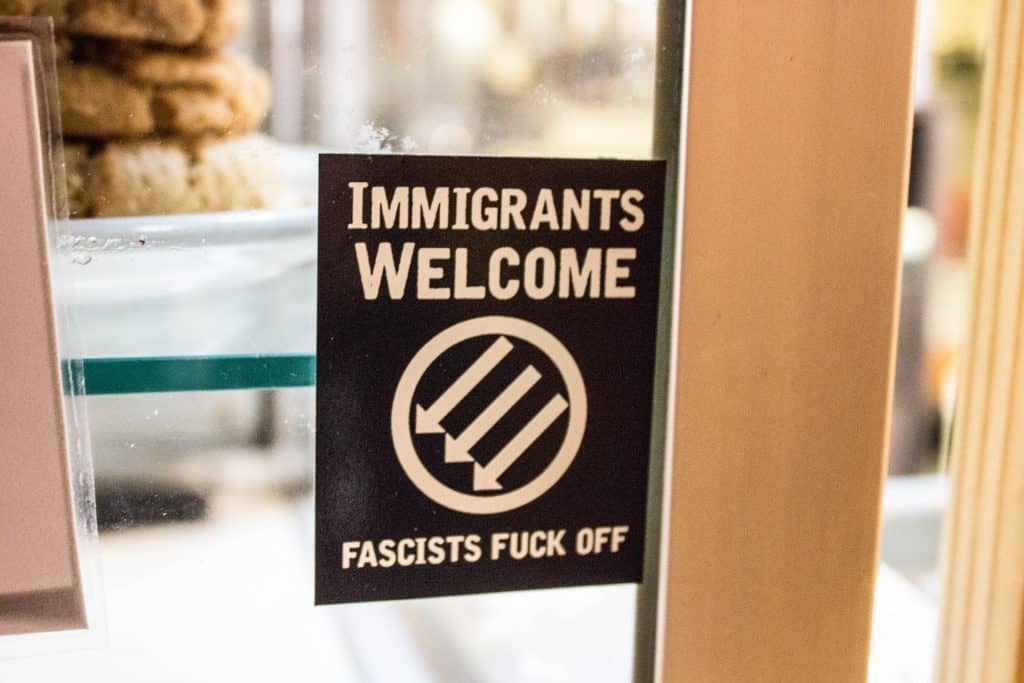 ---
Sunshine Sammies
Our last official stop of the tour was to Sunshine Sammies where we enjoyed a delicious vegan ice cream sandwich. The chocolate ice cream/gelato and cookies were combined to make a magical creation.
They had a couple different cookie options and you could choose to have them without or without the ice cream in the middle! This was a great dessert to follow an amazing day.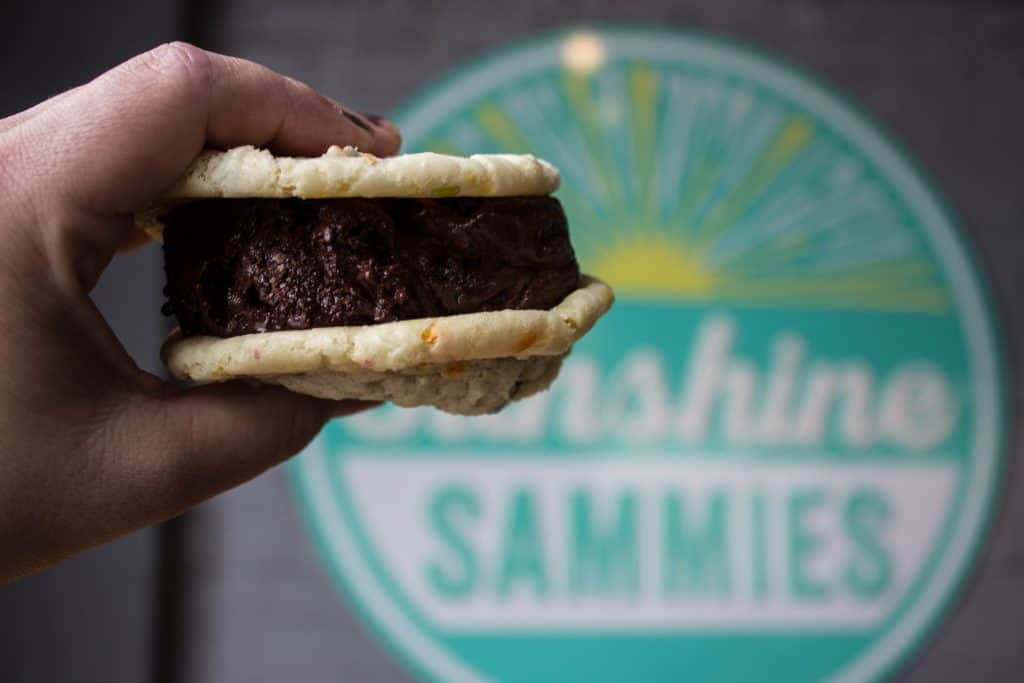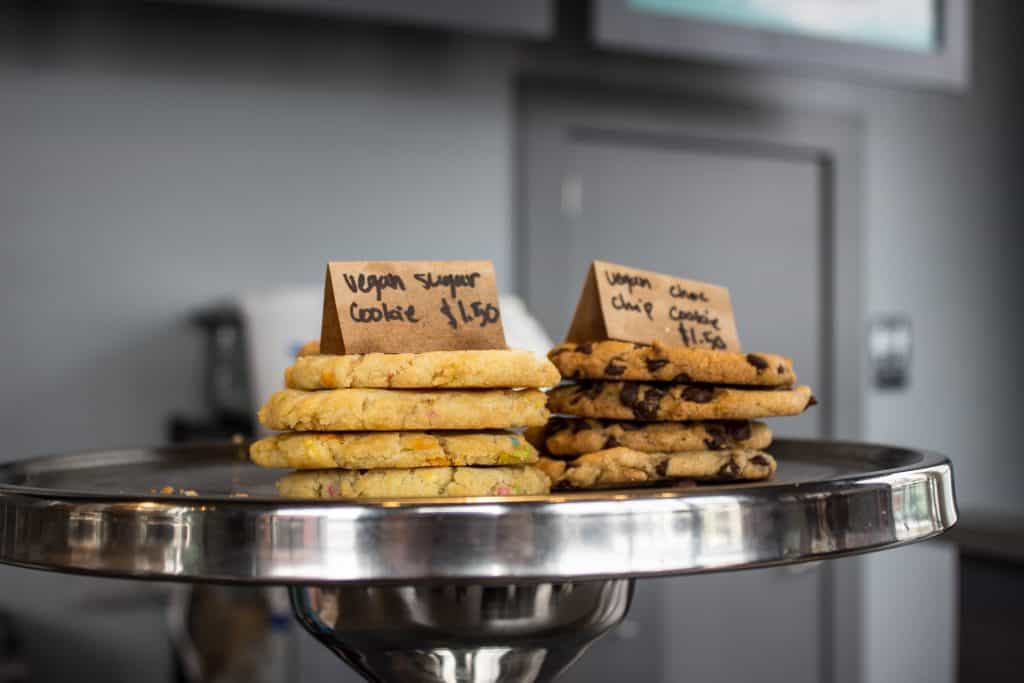 ---
Block Off Biltmore
Not many cities can you go to and find an all-vegan bar. Block Off Biltmore is absolutely amazing. It's an all-vegan, eco-friendly, social justice and solidarity bar and event space. It's basically the most welcoming place ever.
After we finished the official tour, we headed over to Block Off Biltmore since they were open for a special occasion and Kim had so more time to spare. We were greeted by the owner-operator who told us all about the amazing work she does and, believe it or not, we even ate something here. They had a cake leftover from the event.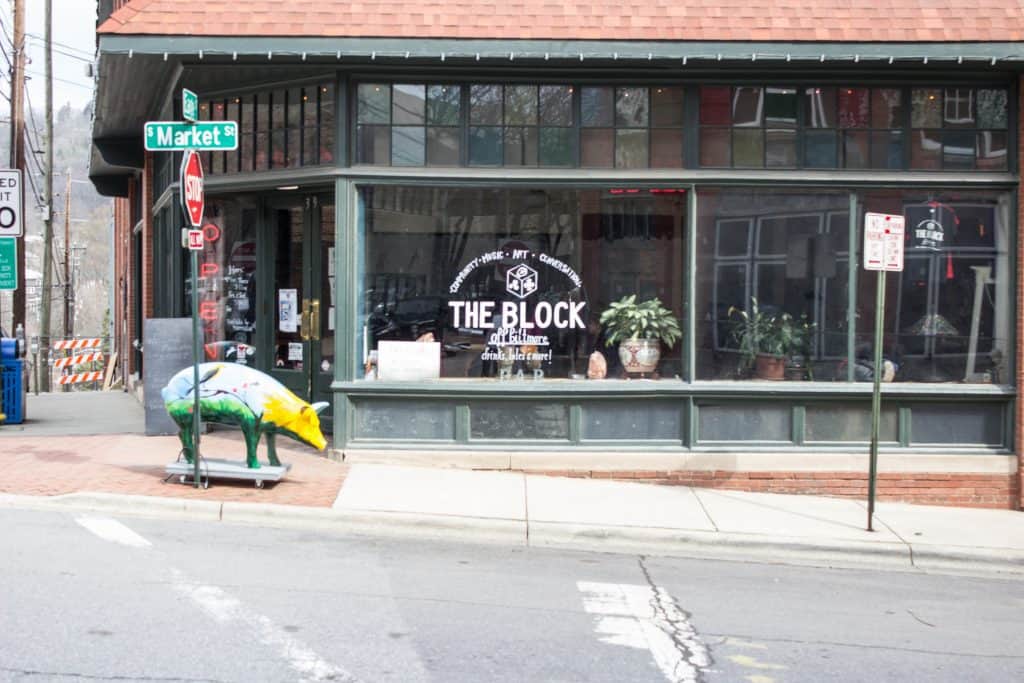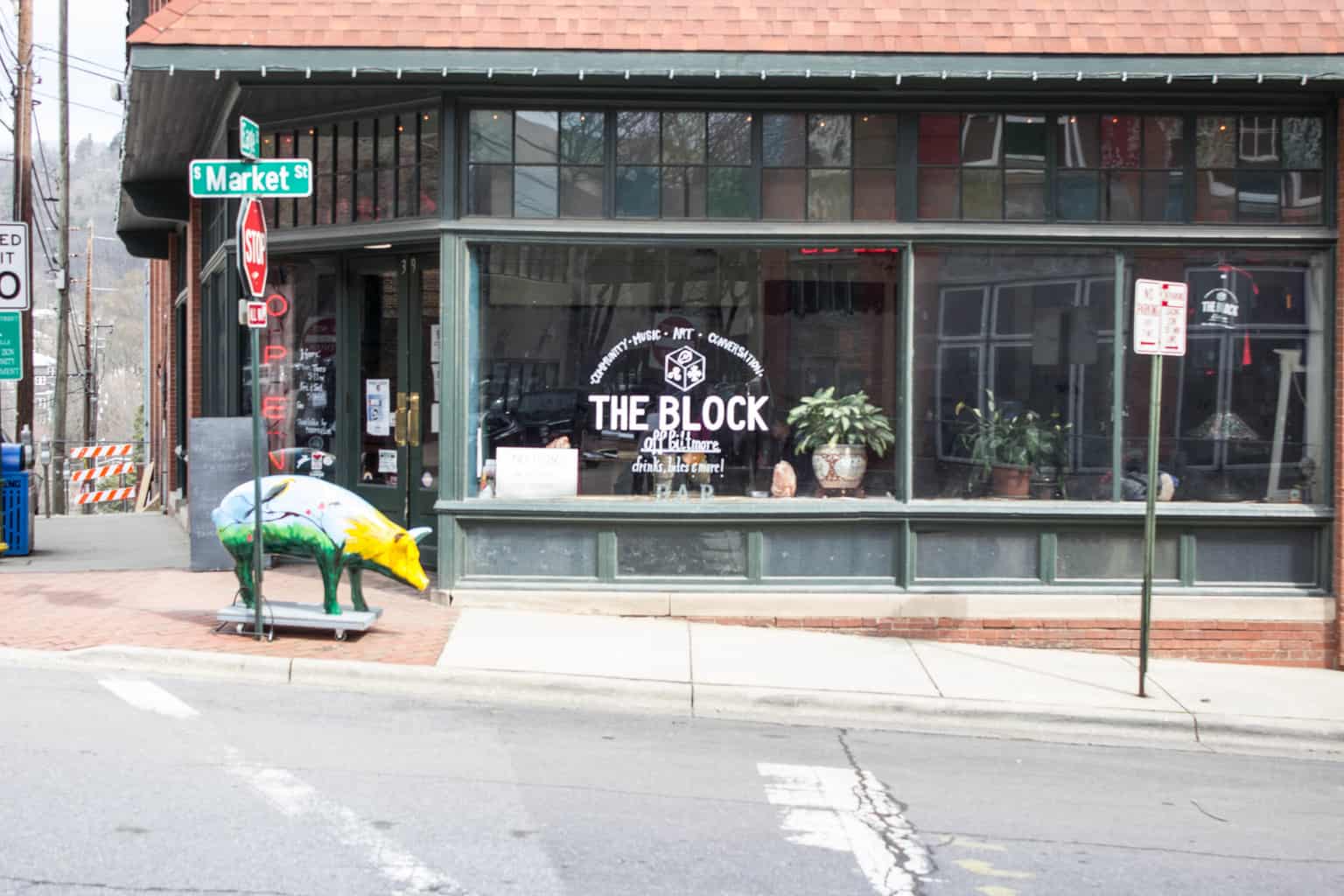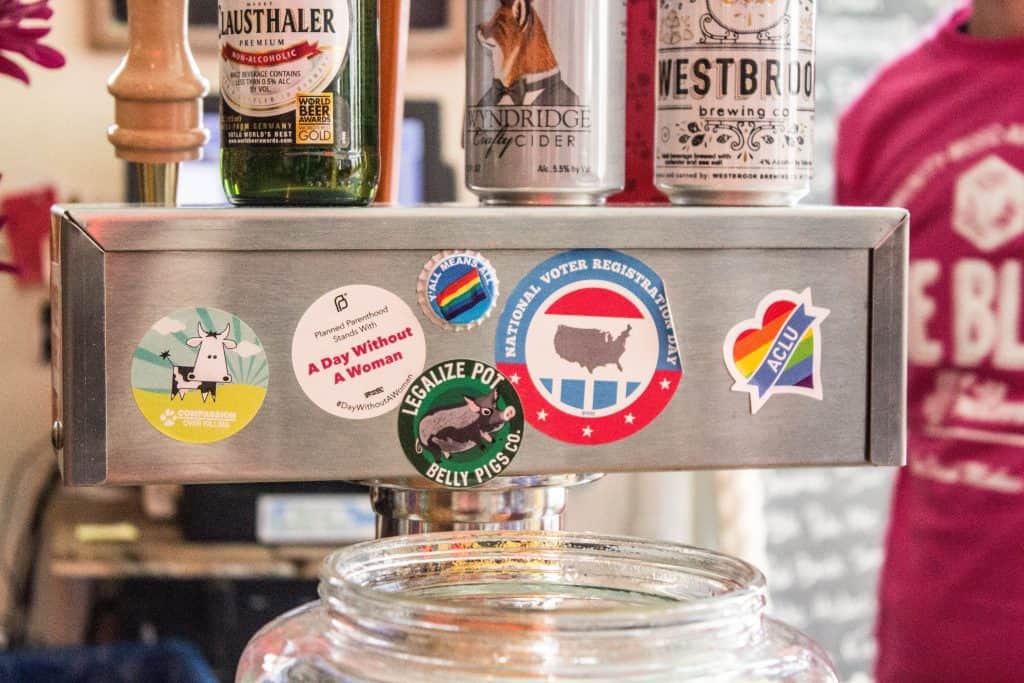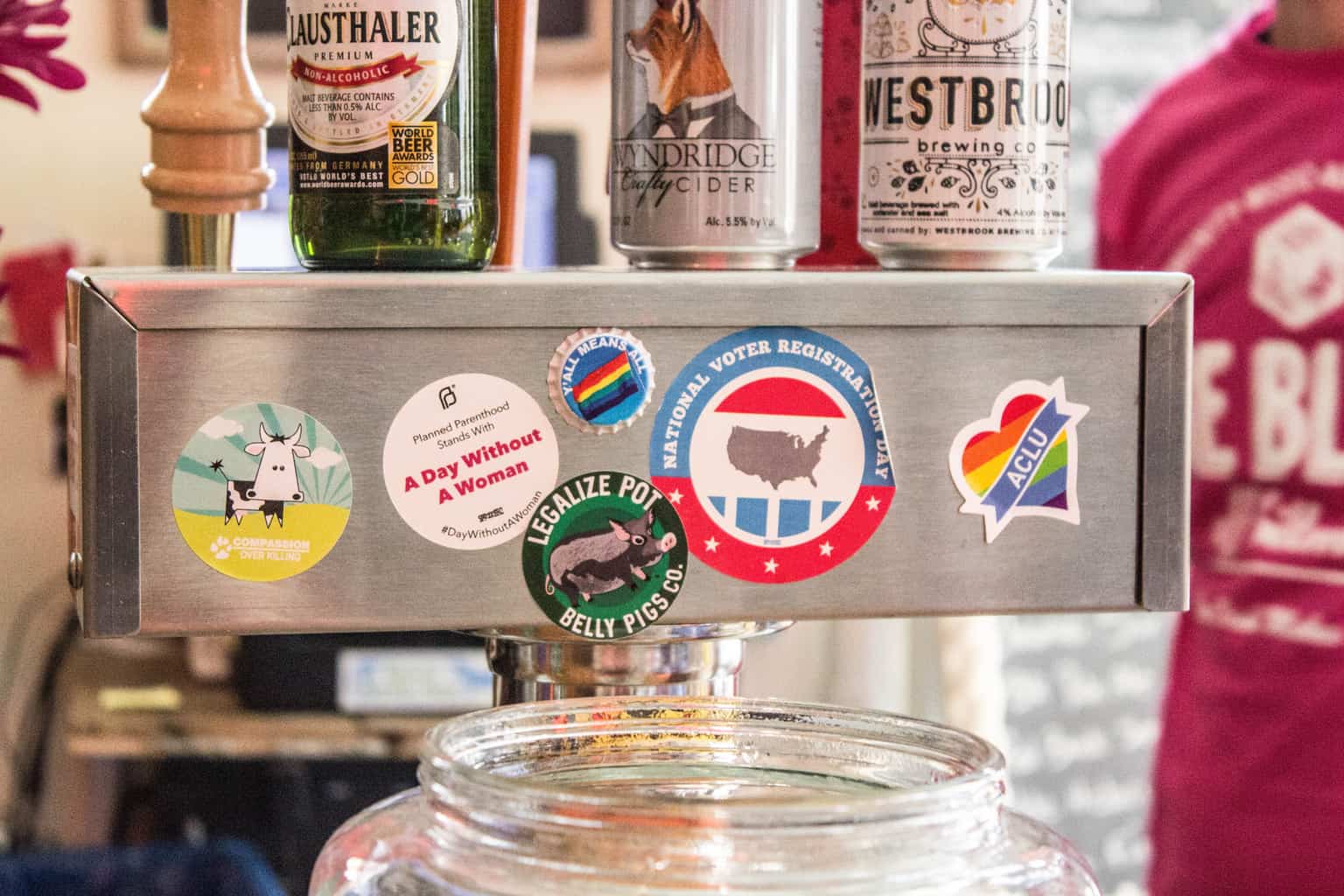 ---
Final Thoughts
I'm not just raving about this tour because it's a vegan tour or because I've promised a glowing review (I paid for the tour myself!). I'm excited to tell you about it because it was amazing and Kim has only been doing this day tour a few times before my visit! Very impressive. The tour setup couldn't have been planned any better. There was the perfect combination of savory and sweet foods, non-food stops, time with animals, and group size!
All of the locations were in close proximity as well – maybe 30-45 minutes total walking time and we had transportation for the spots that were a little further away.
The tour group size was perfect as well. I was able to talk and get to know each person comfortably and without feeling like I didn't have time to talk to someone.
The price is very fair as well! Check out the Asheville Day Tour and all of the other tours Kim offers – looks like she has some amazing trips planned in the future!
**The spots visited could possibly be different on each tour**
ESSENTIAL INFO
Website // Veg Jaunts & Journeys
Cost // $115
Length // Approximately 4-5 hours
---
What to Pack for Asheville
Raincoat
Travel Umbrella
Pacsafe Cross Body Purse (I love my Pacsafe products and would highly recommend using them when traveling)
Comfortable Shoes (my feet tend to hurt pretty easily and these are the best shoes I've had in a while for walking a lot)
Have you ever been on a vegan food tour? Where was it and what did you think? Tell me in the comments below ↓↓↓
Looking for hotels in Asheville Read accommodation reviews here or book here.
Want to know where I stayed? Here's my review of Hotel Indigo.
What else have I written? You can find more Asheville posts here and vegan posts here.
Like this post? Have Questions? Hit me up on Facebook | Twitter | Instagram | Pinterest | Email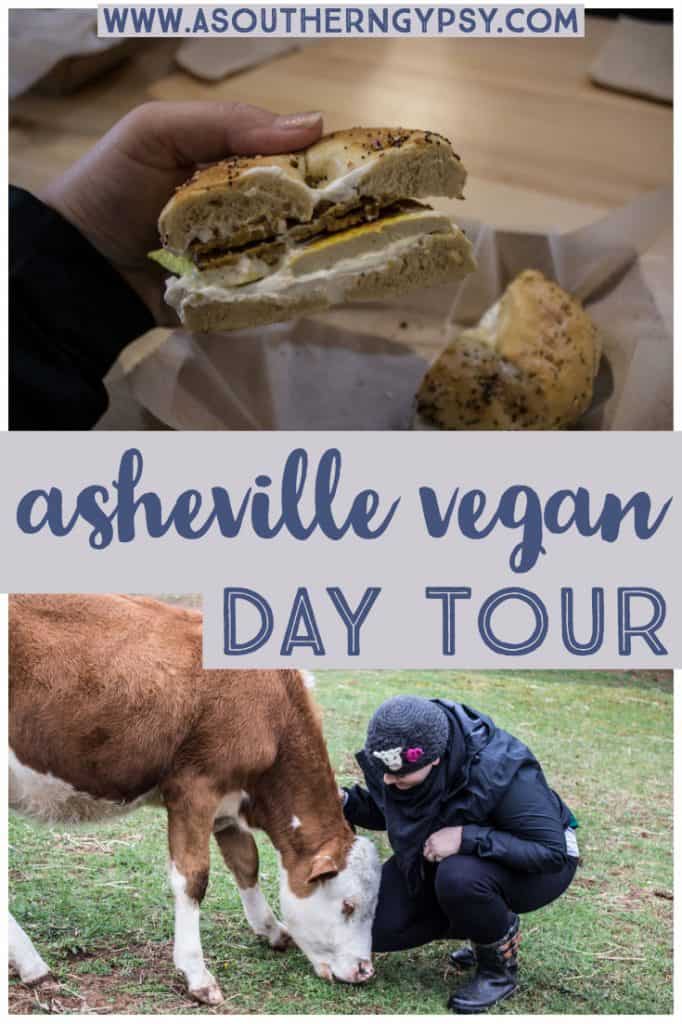 Also, some of the above are affiliate links and I will earn a very small percentage of the sale if you purchase through them at no extra cost to you. Thanks for supporting A Southern Gypsy!
Latest posts by Ashley Hubbard
(see all)