This post may contain affiliate links, meaning if you book or buy something through one of these links, I may earn a small commission (at no extra cost to you!). Please see my disclosure.
I've always been an empathetic person striving to find a way to make a difference, but it has taken me a long time to figure out my way of doing that. Changing habits and normalcies is difficult for anyone, naturally. If it wasn't, I think a lot of people would change their harmful behavior. And, perhaps it's that they just don't know how certain things harm others, the environment, animals, and society. On the other hand, I think the world has been shifting somewhat. We're carrying our reusable bags and our reusable water bottles, we've got our metal straws on our person, we're shopping at farmers' markets. But, do those habits extend when we travel or do we just do what's easy?
Kathmandu is the capital city of Nepal and it is overwhelming so I'm here to show you that responsible travel in Kathmandu is completely possible and honestly quite simple when you know what to look for. For basic info on Kathmandu, here are some Kathmandu travel tips to get your trip started stress free!
You've fallen in love with the people of Nepal, so let's support them financially and socially, right?
---
Ethical Shopping
Everyone wants something amazing to take back home to remember their time in a new place. Trust me when I say, you're going to want a piece of Nepal to take back home with you.
As with any other major city, the options for souvenirs and shopping in Kathmandu is absolutely endless. I'm a very budget traveler (except maybe when it comes to the eating, oops!) but I also want to use my dollars wisely. It can be tempting to buy a pair of elephant pants for $3. I get it. I've done it.
Fast fashion is a big problem though and those cheap pants will fall apart and you will have contributed to this big problem with really no long-lasting asset for you.
I was surprised to find that Kathmandu has plenty of local organizations that make ethical shopping easy and accessible.
Local Women's Handicrafts
Local Women is a fair-trade textile and handicraft organization in Kathmandu focusing on empowering and educating marginalized women using sustainable methods. All of the products are ethically produced, provide fair wages and working conditions for the women.
Beni Handicrafts
Beni Handicrafts collects wrappers off the street along with other rubbish and turns them into beautiful and functional products by women forced to move into the city from the outlying hills.
Ekadesma
Ekadesma designs, makes, and sells their products made entirely from natural fibers and weaved by local disadvantaged women.
View this post on Instagram
HUB
HUB
is an interactive space in the heart of Thamel that houses the concept of conscious living. It does that by bringing together the two privately owned social businesses – kar.ma COFFEE and Social Tours in one open space.
Kar.ma Coffee works with over 650 small coffee farmers across Nepal, and around 32 different artisan groups in Kathmandu valley. It works through the entire supply chain of coffee and beyond. HUB provides the exposure and business front to all of this work – benefiting hundreds of stakeholders.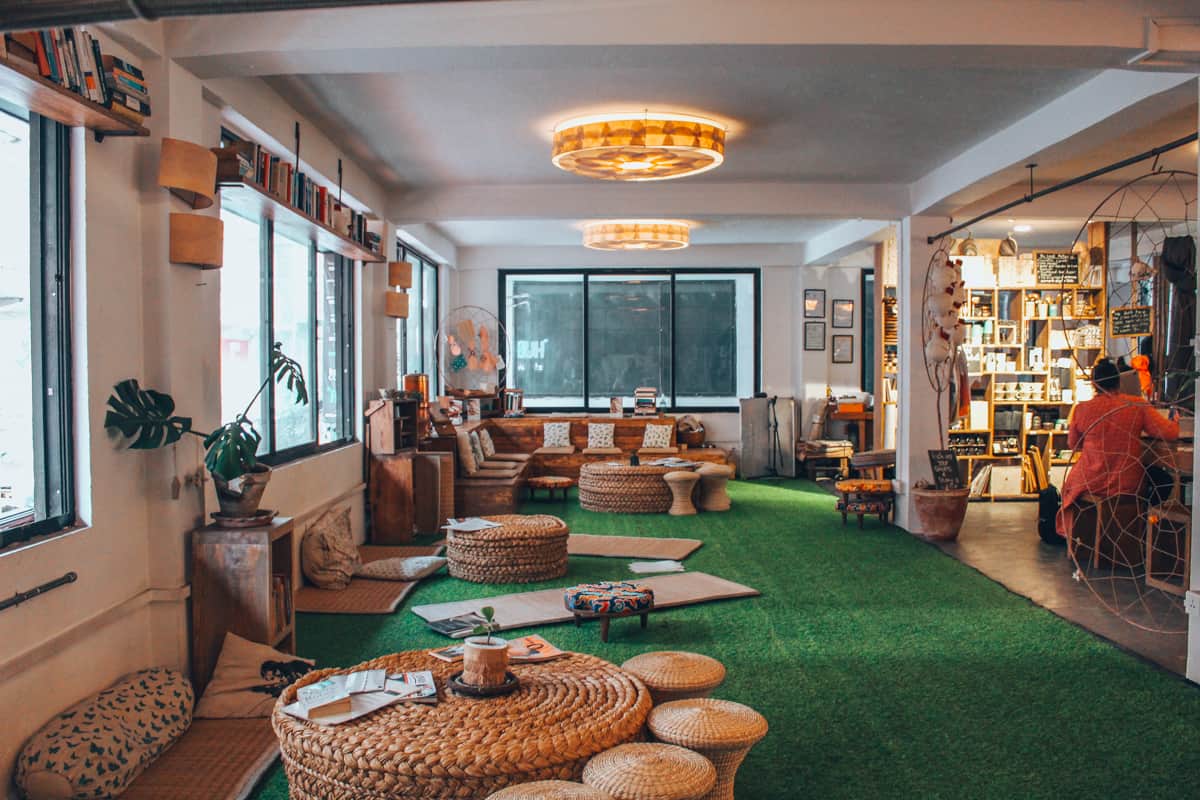 Here is a more in-depth look at ethical shopping in Kathmandu from The Altruistic Traveller.
---
Sustainable Accommodation in Kathmandu
When considering where to stay in Kathmandu, do your research. There are definitely plenty of options ranging drastically. The good thing is the prices are mostly all affordable. While I think we'll start to see more and more of this in the future, there are a few spots that have been paving the way in terms of sustainable accommodation in Kathmandu.
Traditional Comfort
I didn't get to stay in Traditional Comfort myself but I was there several times as a few of my friends were staying there and I have to say -I was quite jealous. The detail is amazing and stunning.
Local craftspeople from Patan and Bungamati have hand crafted every detail in the building, from the dark wood carved beams to the bronze fixtures in the lobby to the decorative tile-work in the bathrooms.
Kantipur Temple House
Kantipur Temple House is located on the edge of Thamel and really embodies sustainable accommodation. The property is run on solar power, there is no television or air conditioning, the food is grown in the garden, there is a "no plastics" rule on the property
---
Best Restaurants in Kathmandu
I've already discovered that there are some great vegan options in Kathmandu which are ethical in their own right but there are still plenty of restaurants do amazing things socially that are worth highlighting.
The Cafe With No Name
This cafe supports Our Sansar – a volunteer-run organization helping street children via clothing, housing, rehabilitation, education, life skills training and more.
Cocina Mitho Chha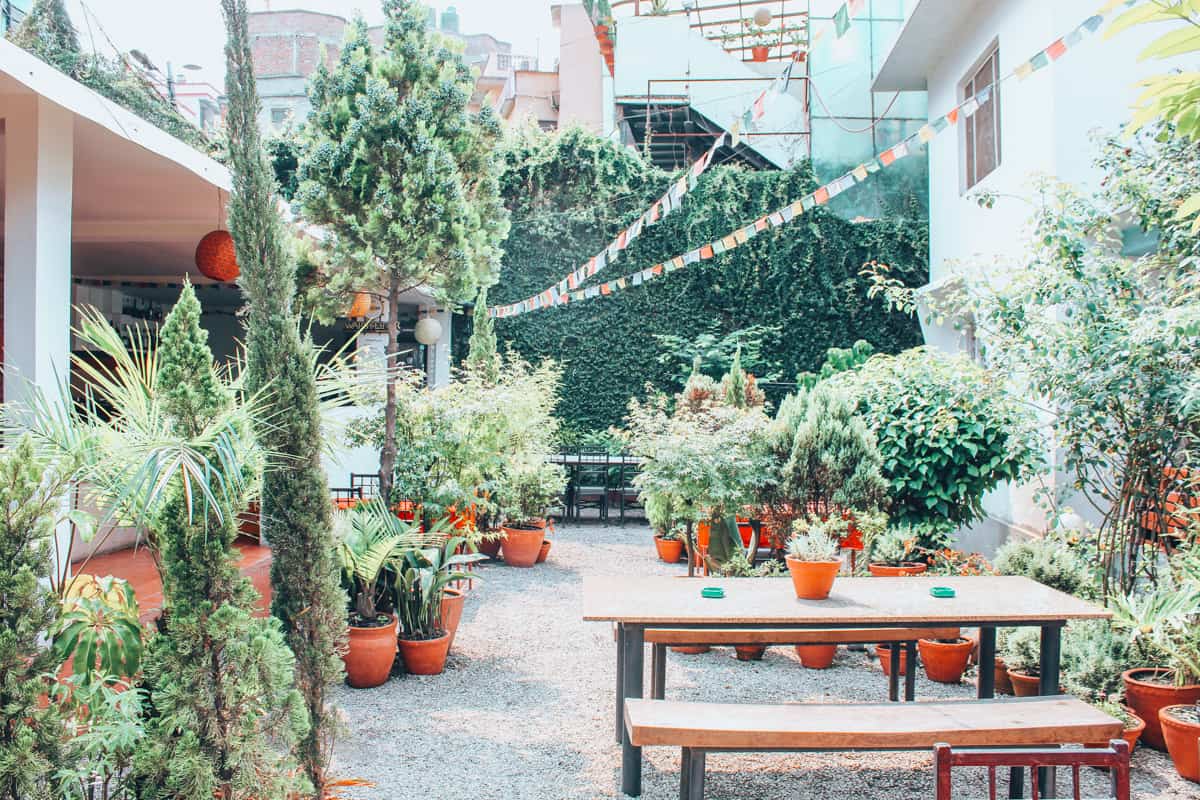 After arriving in Kathmandu after almost two straight days of travel with hardly any sleep and jetlag hitting hard, I was hungry. It was fate that close to my hotel, we found Cocina Mitho Chha.
It was honestly the perfect introduction to Kathmandu and Nepal. Tucked away on a side street it was a beautiful oasis in a congested and in your face city. I had my first momo experience (and I'm now forever hooked), the service was great, and their mission is amazing.
Cocina Mitho Chha is a social enterprise with the purpose of educating the youth in Nepal. They offer children from orphanages, the mountains, and low-income families opportunities for a better future. The funds from the Bed & Breakfast, restaurant, and local Nepali food cooking classes go to fund the running of the school and scholarships. They train the youth in the hospitality sector including hotel management, cooking, bartending, housekeeping, and hospitality English classes.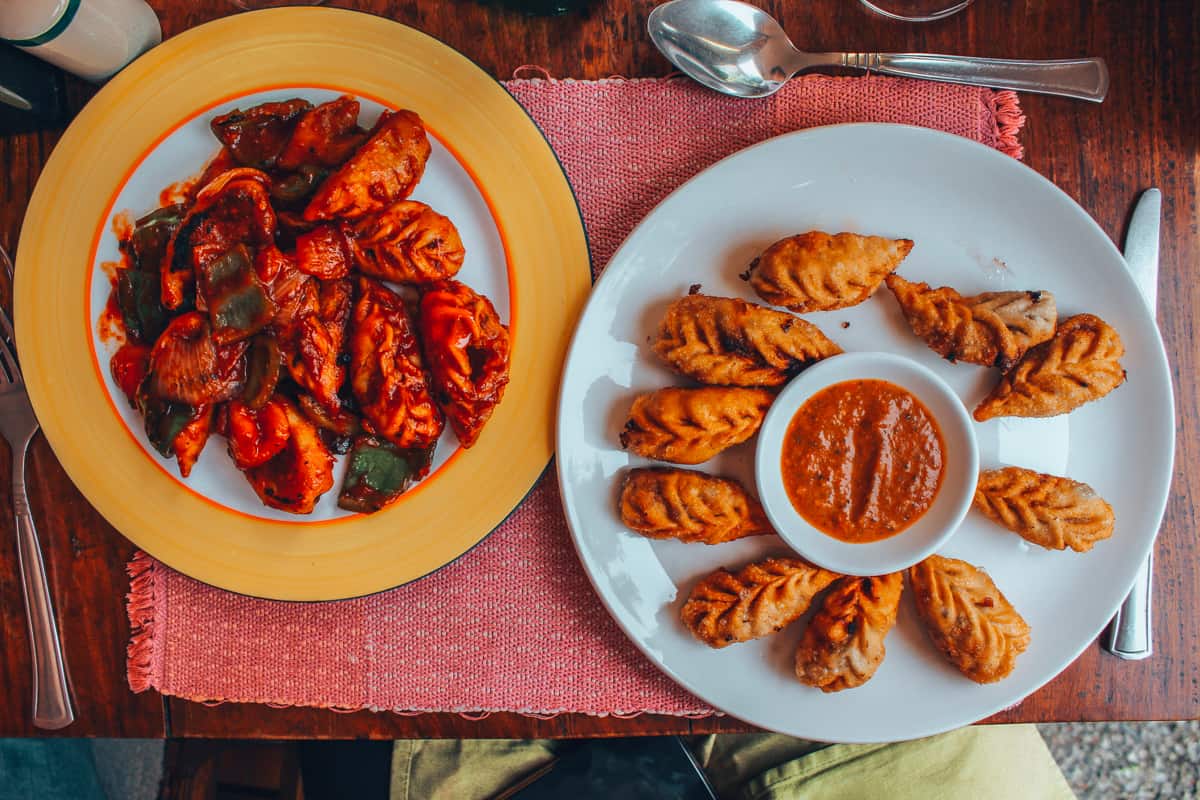 Sarangi
Sarangi is a vegetarian restaurant (with vegan options) and was created to help musicians who used to earn a living by going from village to village and playing. Their art form is dying due to technology but Sarangi was created to make sure it doesn't.
---
[click_to_tweet tweet="Looking to travel to Kathmandu, Nepal? Leave a positive impact with these responsible travel tips! #VisitNepal2020 #thisissustainable" quote="Let others know how they can leave a positive impact in Kathmandu!"]
Responsible Tours and Classes in Kathmandu
Want to explore Kathmandu but not sure where to start? Why not try a Kathmandu city tour through one of these socially responsible companies.
Backstreet Academy Tours
On my last day in Nepal, I woke up at 5 am to get ready and head to Thamel for my 7 am breakfast walking tour that was promised to take me to spots a non-local would never even existed let alone how to actually get to them. The name of this company is perfect because the guides really do take you down the backstreets, the alleys, and tiny doorways you have to duck and suck in to get through. Then, they fed you delicious food.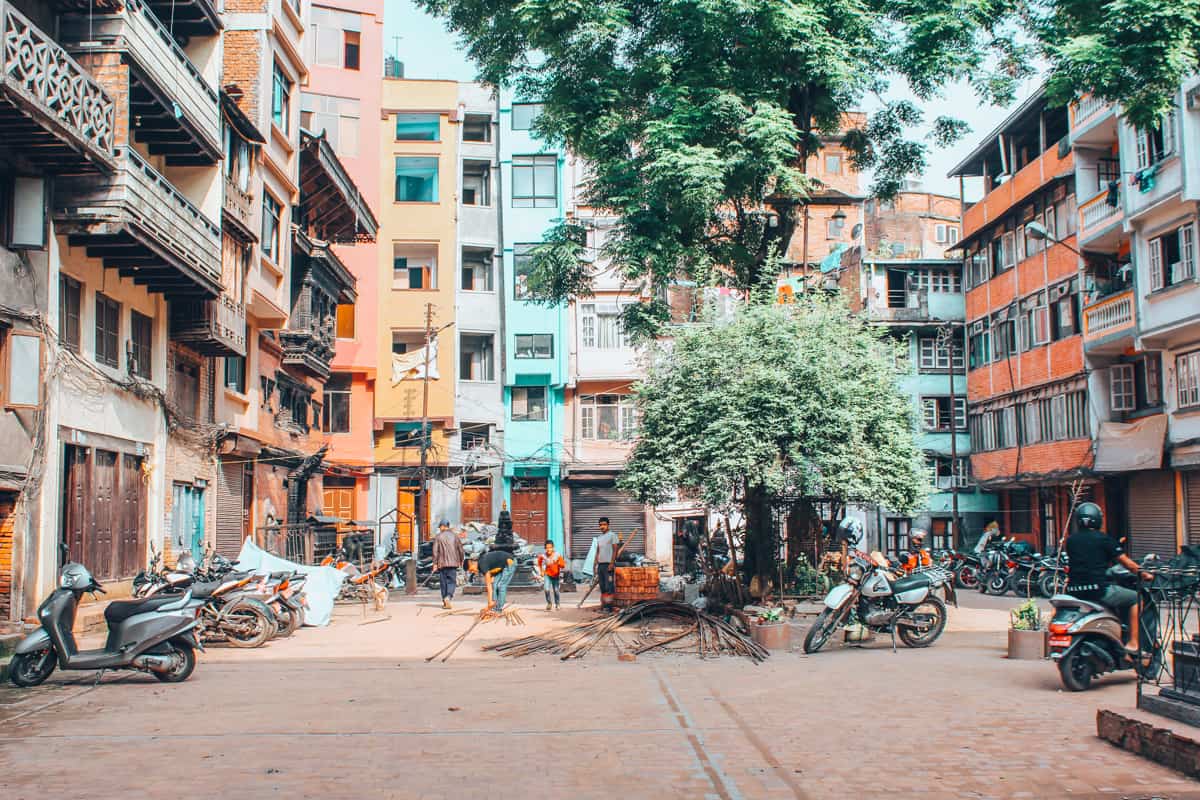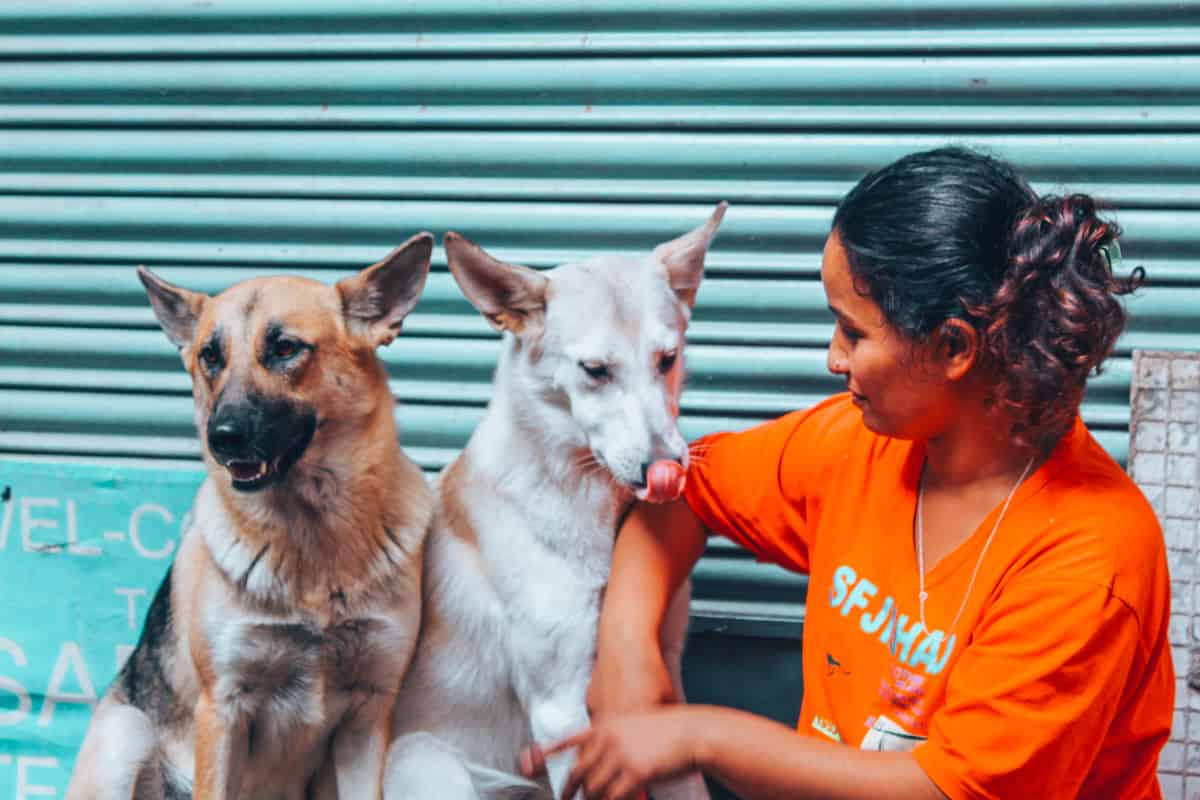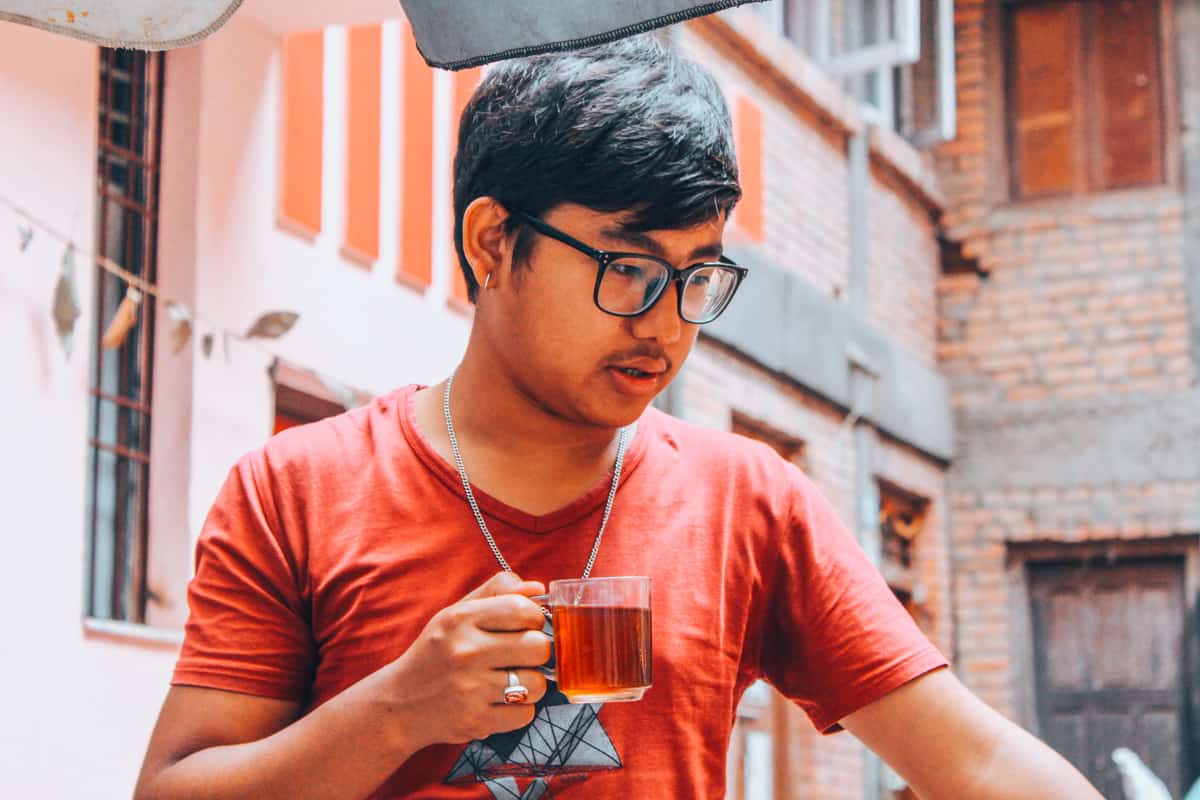 Urban Adventures
I'm a fan of Urban Adventures tours, a branch of Intrepid Travel, as they are focused on responsible tourism. They're a fantastic option for taking a tour in Kathmandu with lots of choices!
Welcome to My Yard Tours
This nonprofit is changing the lives of street-connected and at-risk children, young people and families in some of the worlds most disadvantaged communities so that children and young people can be safe, be inspired, have choices and opportunities and enable positive futures.
You can join several different half-day city walks and get an in-depth guide to Kathmandu from a local while helping at-risk children and their families.
Social Tours
Social Tours has been leading the way in responsible tourism in Kathmandu and all of Nepal. With countless tour and trek options, Social Tours is a great option.
While in Kathmandu, I took a cooking class with several other bloggers. Their cooking class is a "pay what you wish" program which is, in a sense, a social experiment to see what something like this is worth to people.
Two local women lead the three-hour cooking class in which they take you to the local market to pick up ingredients and then demonstrate and teach you how to make the dish yourself. Then, you get to eat your creations!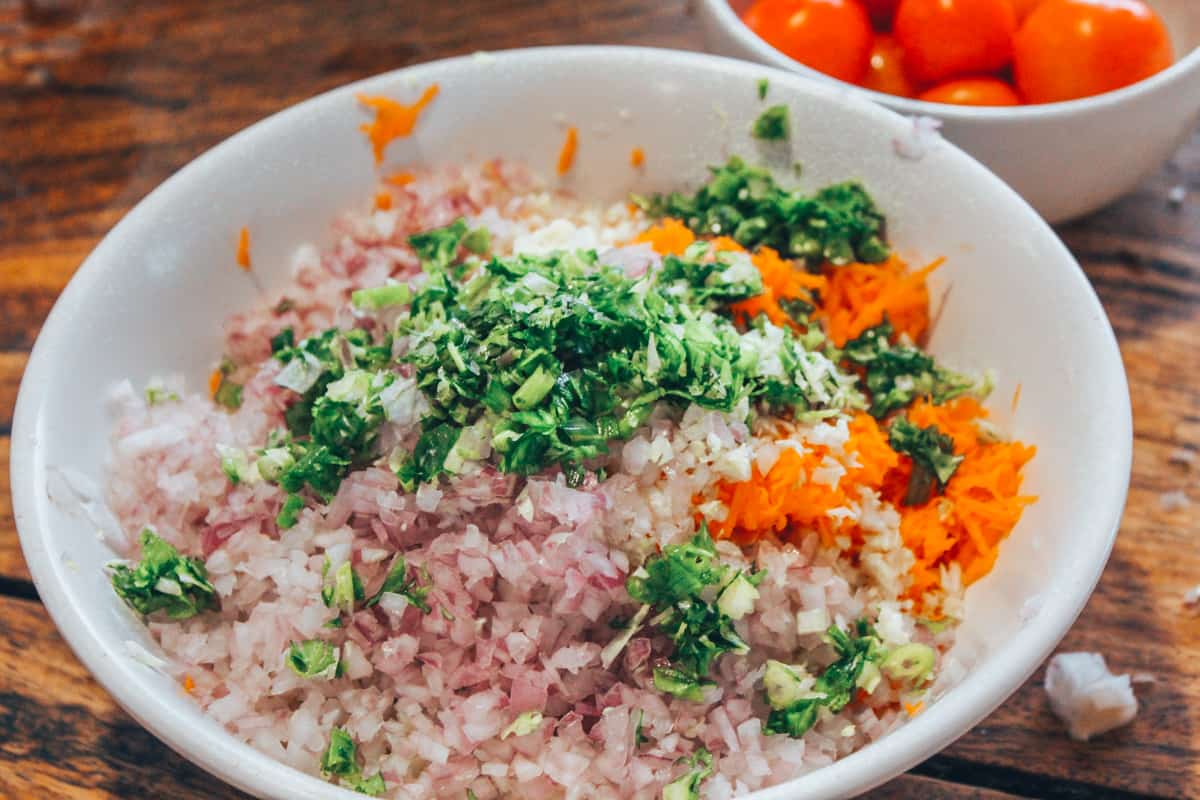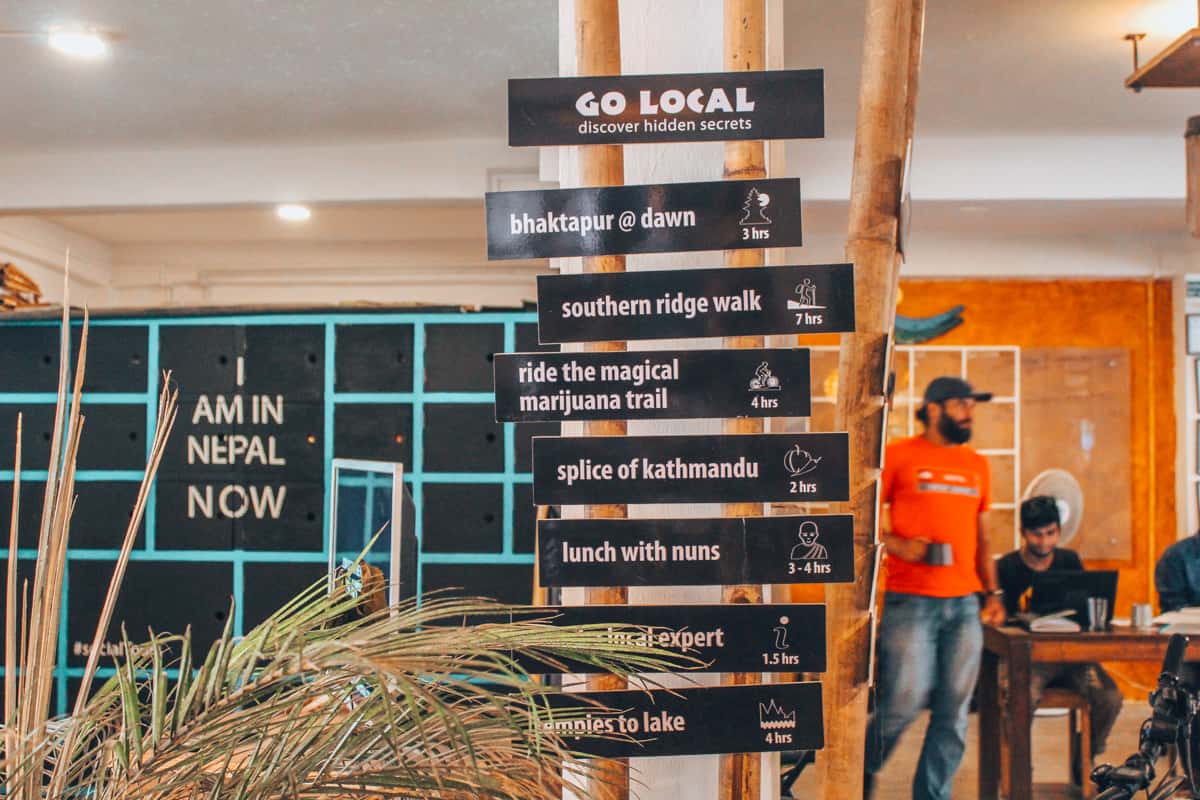 Seven Women
After starting in 2006 when the Founder met seven disabled women working in a tin shed, Seven Women has helped over 5,000 marginalized women by educating, training and employing them. You can participate in a 10-day immersion trip, a 10-day trip with a purpose, or classes in Kathmandu including a cooking class, a language class, and a handicraft workshop.
---
Other Social Enterprises in Kathmandu
There are tons of social enterprises in Kathmandu doing some amazing things. Here are some I'd really like to highlight. For a more in-depth at more social enterprises, check out these wonderful organizations.
Seeing Hands
Seeing Hands is a social enterprise that provides training and employment opportunities in massage therapy for visually impaired people. Seeing Hands has four massage clinics across Nepal with professionally trained blind therapists providing massages to guests.
Circus Kathmandu
In 2010, 13 Nepalese people were rescued from trafficking and turned to contemporary circus. By using the skills they learned through conditions of modern-day slavery, they paved a new path out of stigma and poverty and turned it into a future of artistry, strength, and inspiration.
We work with NGO's as advocates and workshop leaders to facilitate discussion on various social issues within communities. We know our unique form of engagement grabs people's attention and supports thinking about social change in a different, solution-focused way. We work at grassroots level with people who can make change happen – the same people who are most adversely affected by issues such as trafficking, women's health and equality, who stand to gain the most by change – the targeted families and communities themselves.
---
General Responsible Travel Tips
Be prepared. The water in Nepal is not safe to drink. Plastic water bottles are seen littering the streets and rivers everywhere and if you forgot your reusable water bottle, you'll contribute to the problem. A reusable water bottle + filter combo is your easiest option but you could take along a Lifestraw or water purification tablets instead.
Don't give money to beggars. It breaks my heart that I essentially have to act like I don't care at all when a child begs me for money. It wasn't really an issue except for a couple of places but they were relentless. This is a tough decision but the reason behind not giving is because children will often not go to school or will be pulled from school to beg for money. This only attributes to the vicious cycle. There are plenty of ways (see all the above in this post) to assist street children and at-risk youth.
Ask before snapping photos. When taking photos in public, I don't worry about people being in it if the focus isn't on one specific person or a couple of people. However, if you are focusing on one, or a couple, people please make some kind of motion or ask if it is okay to take their photo. It is just extremely rude otherwise – don't treat people like they're in a zoo.
Don't take photos of children. Again if it's just in a public place and children happen to be in my photo, I don't worry about it. But, I have a pretty hard rule about not taking photos of children specifically.
Don't haggle just to haggle. There are certain areas where haggling is normal and expected but don't do it just to be a jerk and get a $2 item for $1.50. That $.50 goes way further for them than for you.
Respect the culture. Use temple etiquette, dress appropriately, learn a bit of the language, and so on.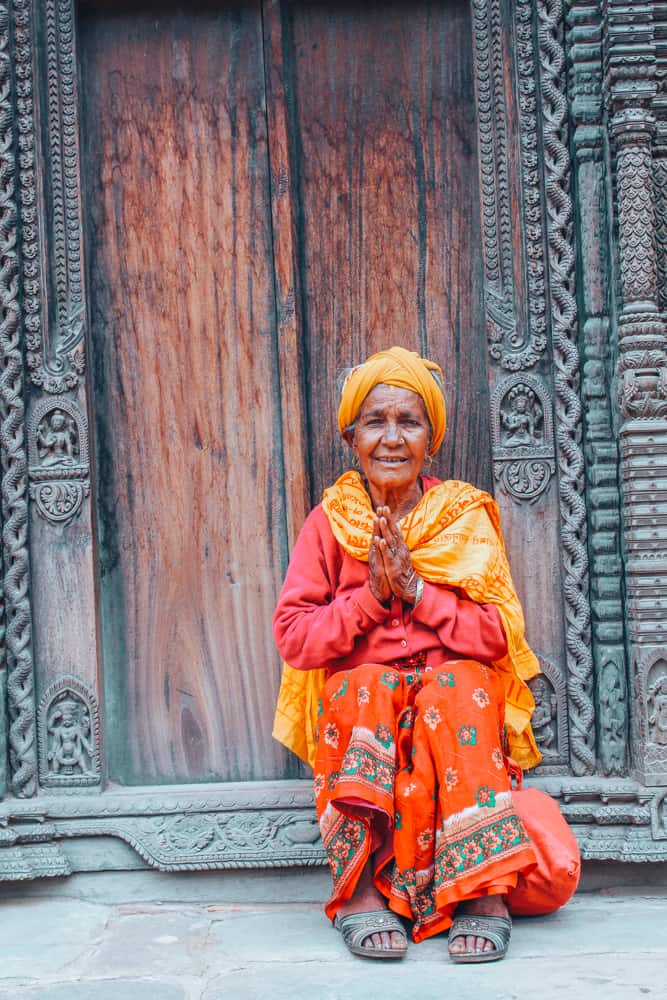 ---
Do you try to travel responsibly? What measures do you take?
↓↓↓ PIN IT ↓↓↓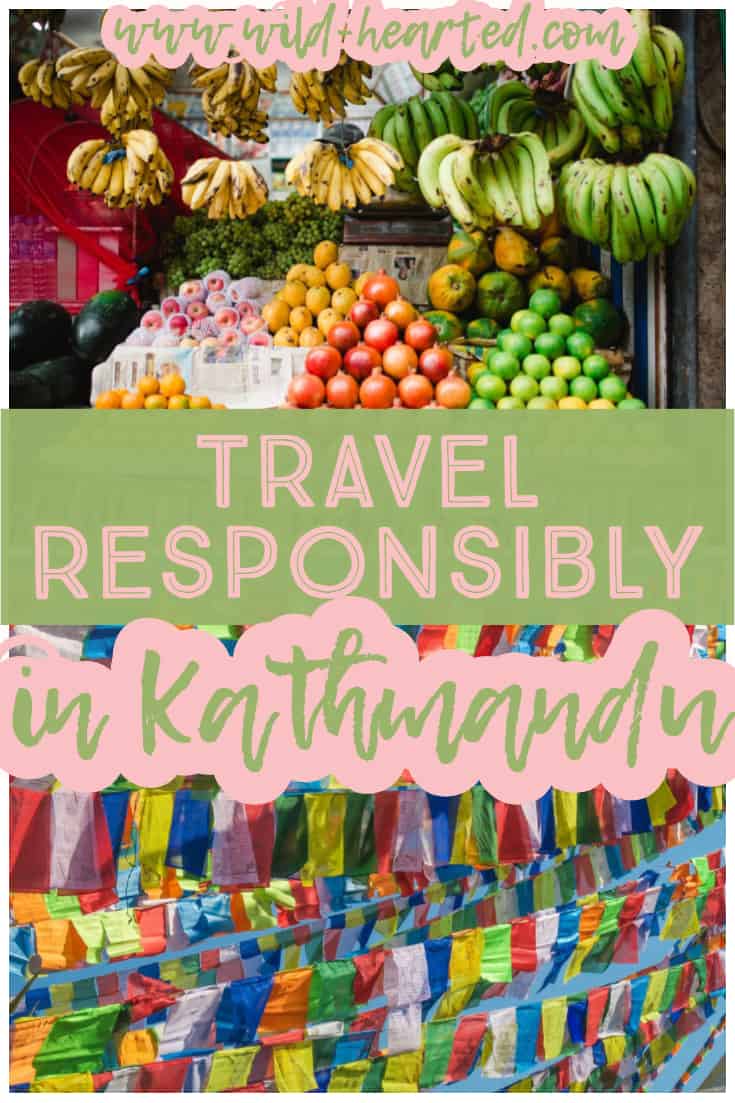 Latest posts by Ashley Hubbard
(see all)