This post may contain affiliate links, meaning if you book or buy something through one of these links, I may earn a small commission (at no extra cost to you!). Please see my disclosure.
Niagara Falls is an incredibly popular destination – with an estimated 30 million people visiting annually. Growing up, I was one of those 30 million more than a few times. Having family in upstate New York meant a visit to the falls at least a handful of times when I was a kid. It even resulted in a recurring nightmare for a while. Long story short – if presented with the opportunity of crossing a rope bridge over the Falls, I'd suggest not doing that.
One thing I never did do was stay at Niagara Falls, though. It was always a day trip. But, if you do get to stay there, you're going to want to wake up on the right side of the bed with these Niagara Falls hotels with a view of the falls.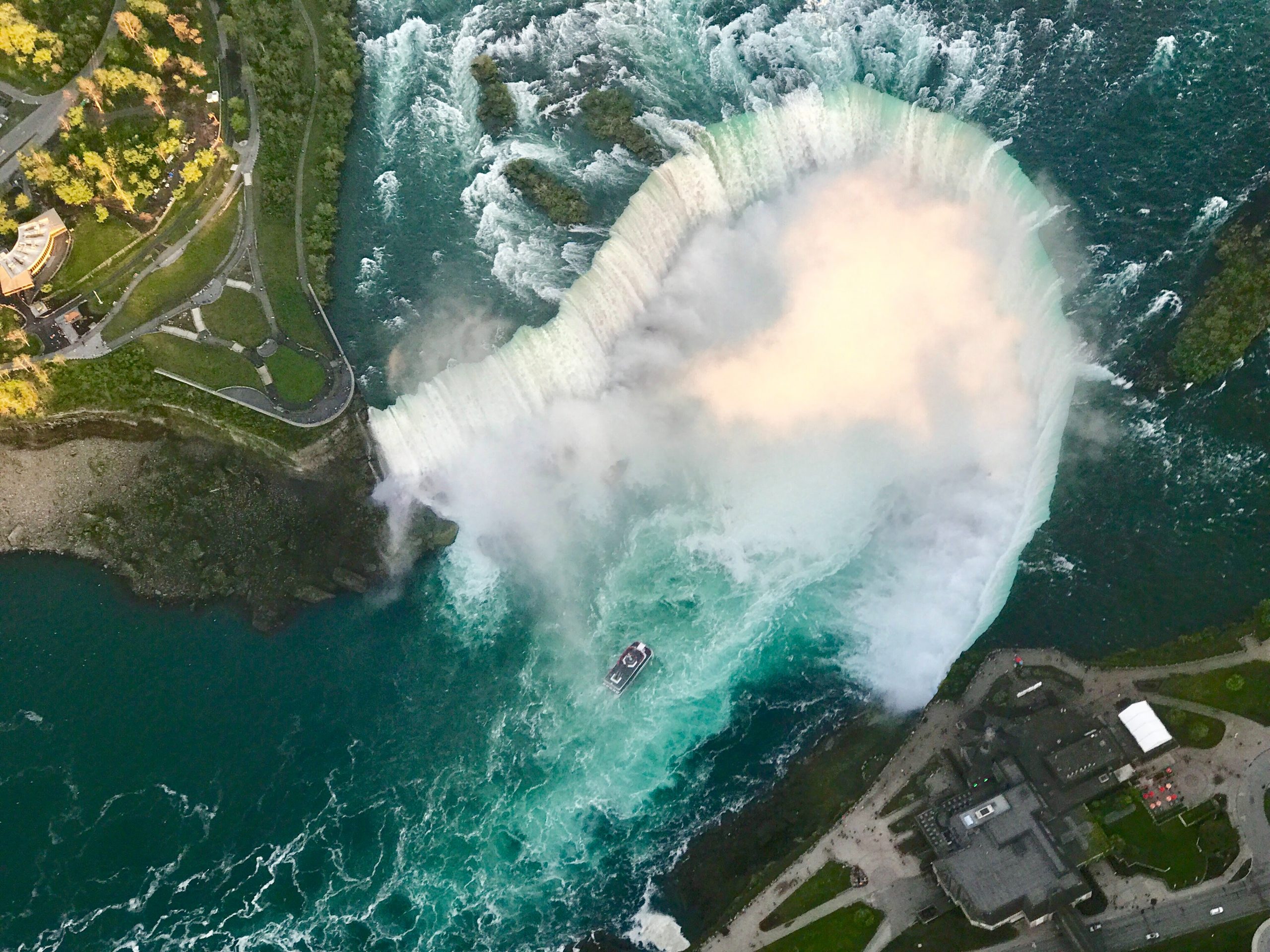 Niagara Falls Hotels with a View of the Falls
Sometimes the view from a hotel doesn't matter very much, but that is definitely not the case for Niagara Falls. So, if you're spending more than one day in Niagara Falls, then you'll want to snag a Niagara Falls hotel with a view of the falls.
There are definitely touristy aspects of Niagara Falls, but if you get away from the hustle and bustle and explore what the whole thing is about – the incredible power of nature and water – then you'll be left in awe. 
Without a doubt, you're likely going to want a view of the falls, right? What this does mean is that you're going to want to stay on the Canadian side for the best view. 
What's better, the American or Canadian side?
The age-old question. Here's my take: If you want to see the falls, the Canadian side. But, if you want to feel the falls, the American side.
So with that being said, I'd stay on the Canadian side but explore both sides so make sure that passport is handy. Plus, Rainbow Bridge (that connects the borders) is worth walking over and you'll need a passport for that!
Looking to be right next door to the casino and have a fantastic view of the falls? The Embassy Suites Fallsview is the perfect fit. Embassy Suites includes a restaurant, an indoor pool, a hot tub, and a gym.
The rooms are equipped with everything you need to have a comfortable stay, including your typical microwave, a refrigerator, and a coffee maker. There's also an on-site Starbucks. But don't forget your reusable coffee cup!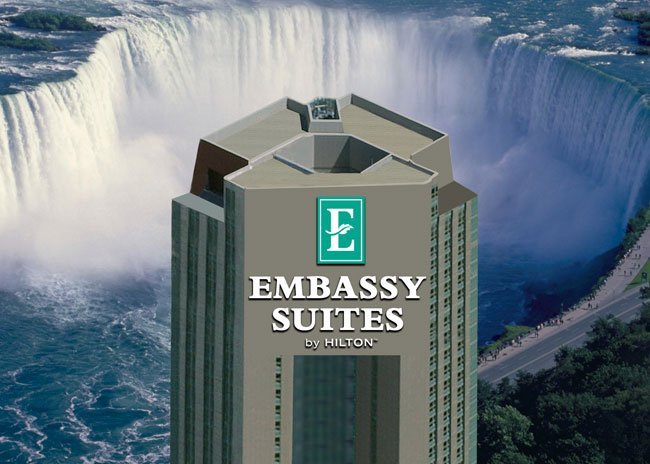 Each room at the Four Points by Sheraton includes a TV with cable, a space to work, and some include a whirlpool spa bath. On-site, you'll find three restaurants, Starbucks, an indoor heated pool, two hot tubs, and a gym.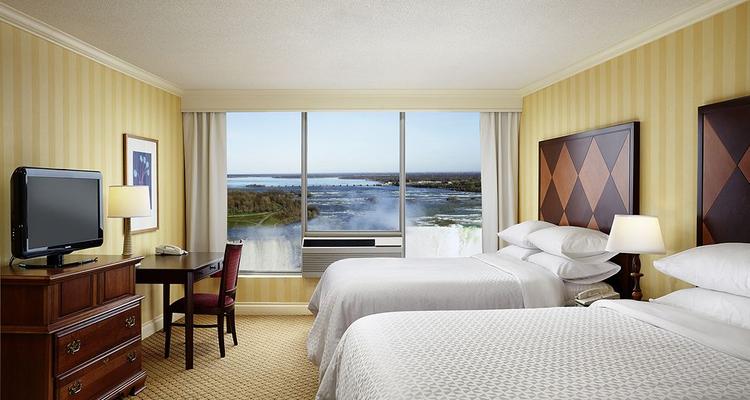 The Hilton Hotel & Suites features an indoor pool, a sauna, a fitness center, and three on-site restaurants connected to the Fallsview Casino. But, you may be stuck in your room with a view of the falls this perfect.
The rooms are spacious and equipped with modern amenities and include a seating area with a work desk. If you're lucky (or just splurge on it), some rooms even feature hot tubs and, of course, views of the falls.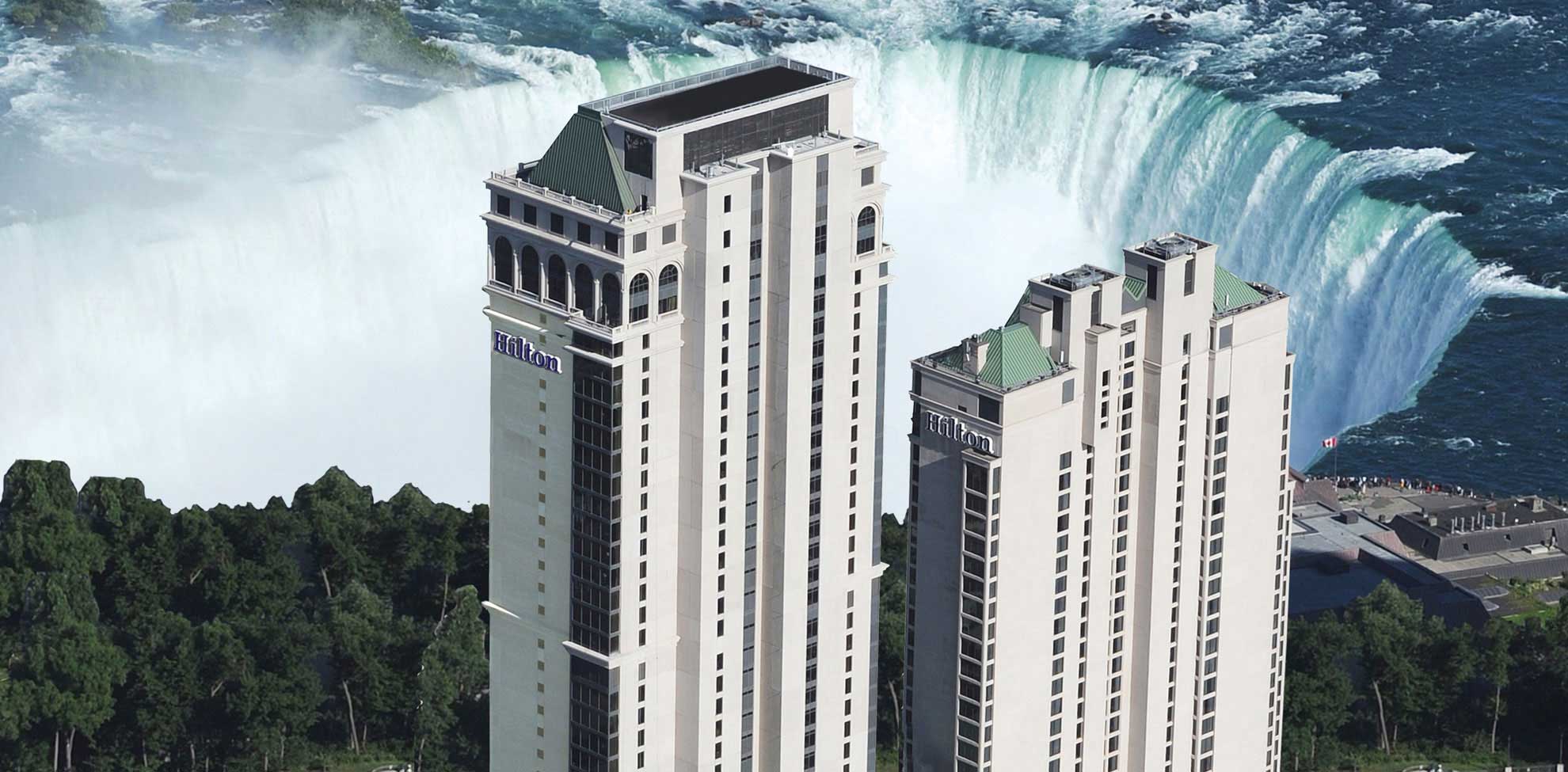 The Niagara Falls Marriott Fallsview Hotel & Spa features typical rooms overlooking the falls (naturally). Also, there are on-site spa services. Some rooms include a hot tub and fireplace, so hello, romantic winter getaway.
The hotel includes an on-site restaurant, Starbucks (do they all have a Starbucks?!), a bar, and an indoor pool.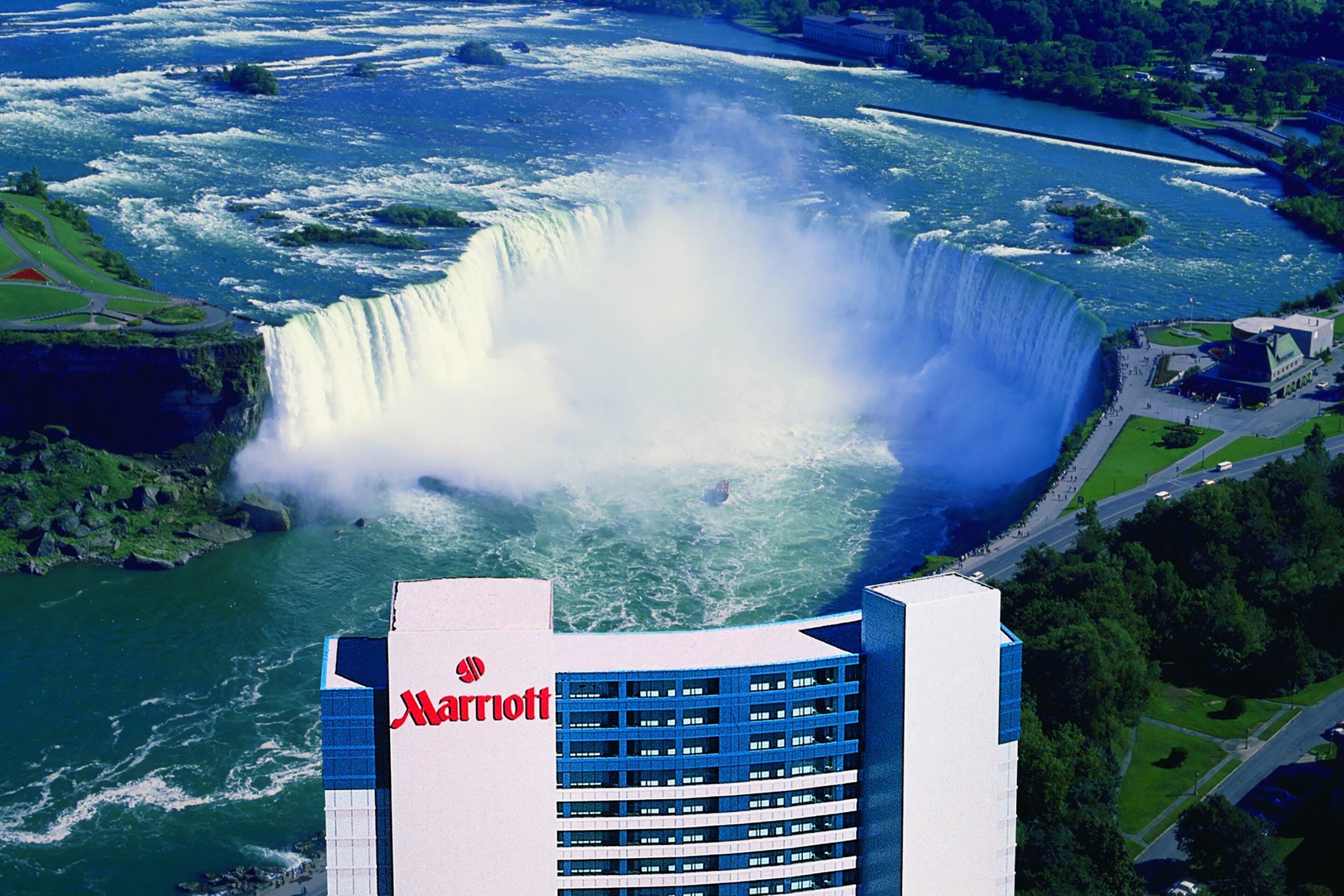 Marriott on the Falls
The Niagara Falls Marriott on the Falls might be a mouth full, but it boasts a terrace and observation deck overlooking the falls. So, I suppose we can get over the tongue-twister.
The modern rooms have large windows which showcase the falls beautifully. In each room, you'll find a TV, and coffee maker, and some even include a fireplace and a hot tub. This is perfect for those winter Niagara Falls trips which should not be discounted. 
You'll also find a restaurant, Starbucks, an indoor pool, a hot tub, and a gym.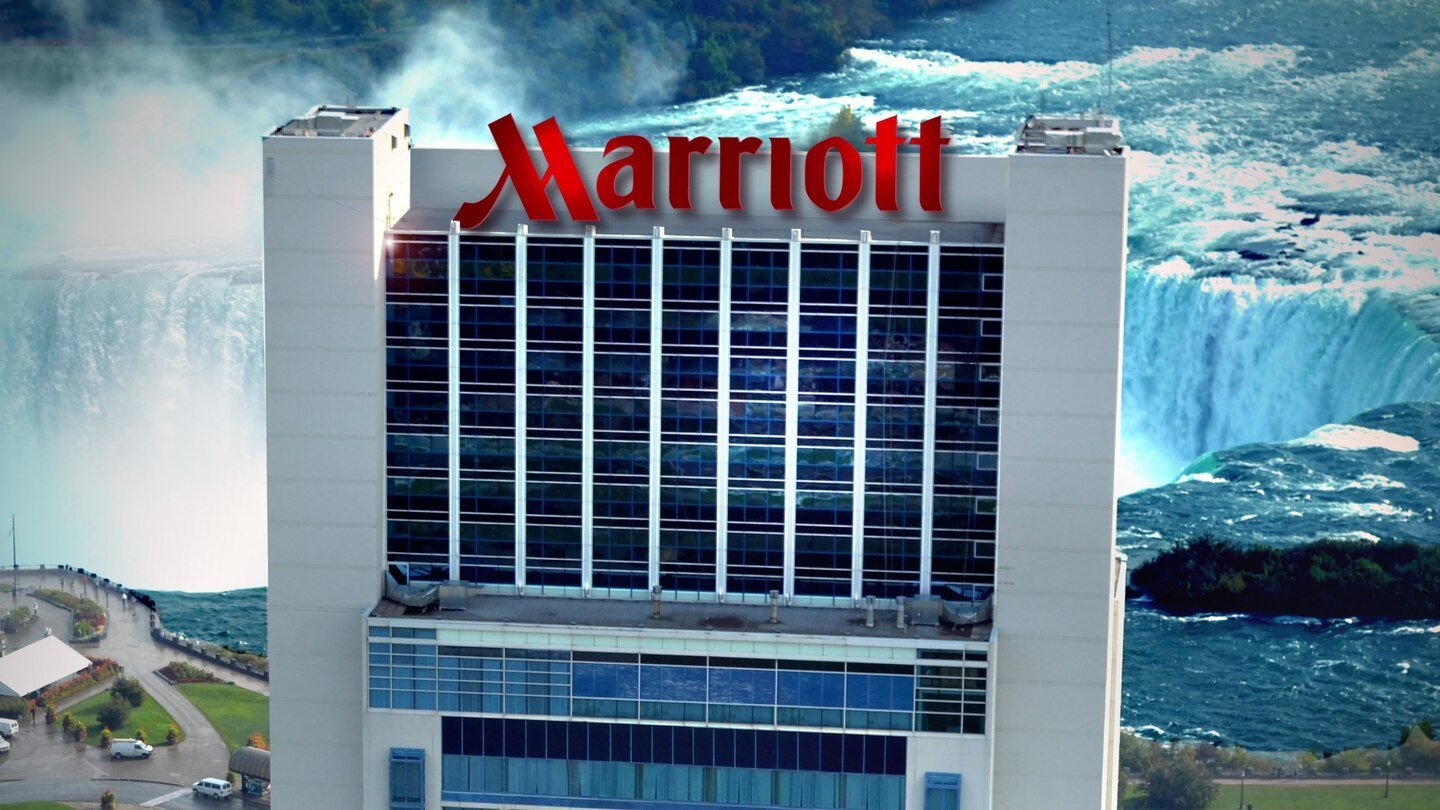 Radisson Hotel & Suites Fallsview overlooks Horseshoe Falls. The rooms are cozy and comfortable. So sit back, relax, and enjoy those spectacular views.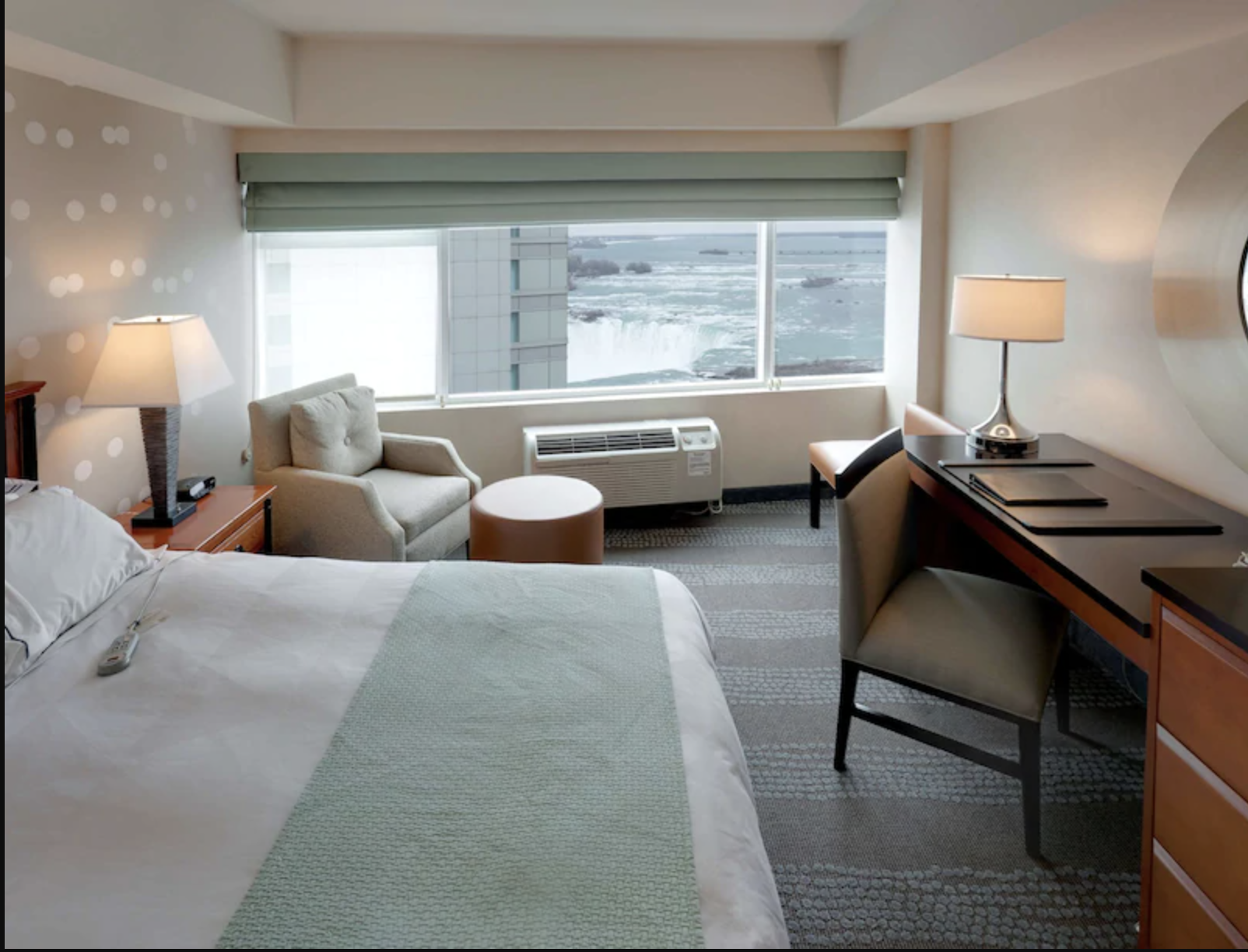 Have you always wanted to stay in a Niagara Falls hotel with a view of the falls while also being connected to a casino and an indoor waterpark? Well, your wish is Sheraton's command.
This particular hotel is connected to Casino Niagara and Fallsview Indoor Waterpark.
Additionally, there's on-site dining, shopping, and a spa. Each room has floor-to-ceiling windows (don't forget to shut those curtains before you go to sleep!) and typical modern amenities.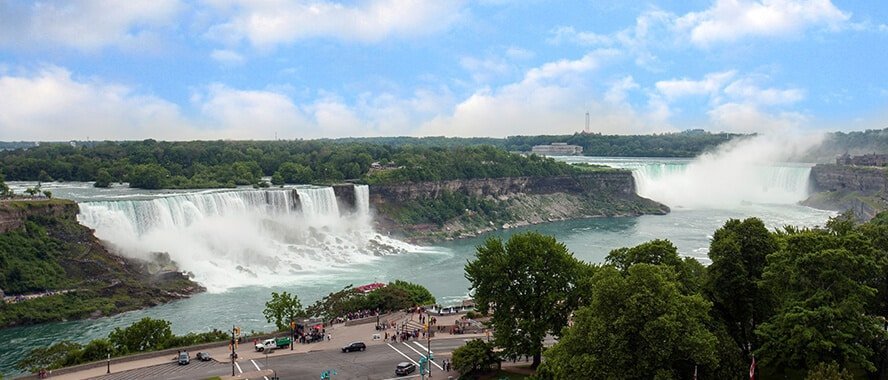 Ever wanted to get married at Niagara Falls? (Hey, you do you) Well, multi-task and stay at The Tower Hotel, where there's an on-site wedding chapel and an IHOP. I mean…..?
Each room boasts wall-to-wall windows and modern amenities.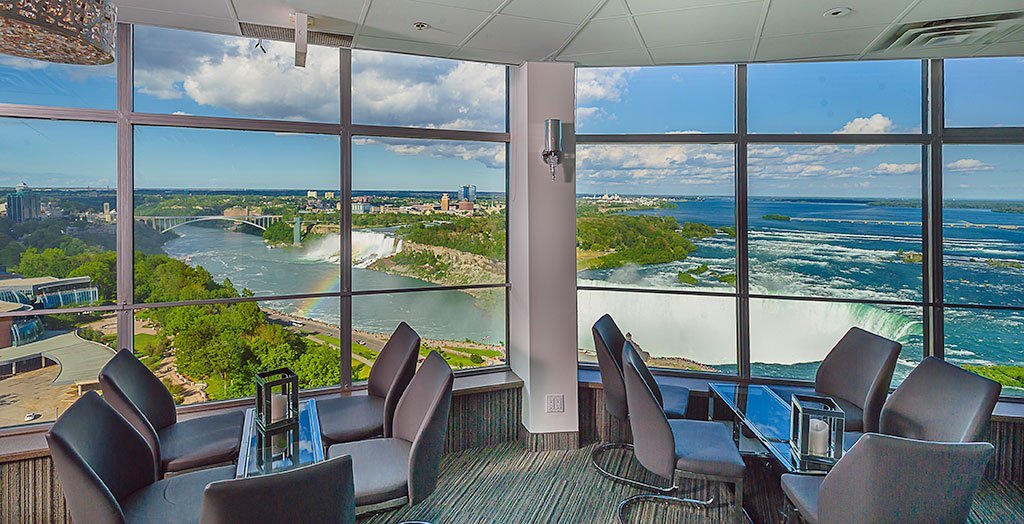 Travel Tips: 
—> Book Your Flight
To find the cheapest flight options, you can use CheapOair and find the most suitable option for you
—> Book your accommodation
Booking.com will help you to book accommodation in advance and check availability on the days of your travels
—> Book your excursions
Wherever you go, try to make the most of your time! Excursions with interesting and professional guides will help you with this – you can choose a location and the best option for yourself on Viator or Getyourguide
Latest posts by Ashley Hubbard
(see all)