This post may contain affiliate links, meaning if you book or buy something through one of these links, I may earn a small commission (at no extra cost to you!). Please see my disclosure.
Heading to Niagara Falls but only have limited time? Whether you're coming from New York or Ontario (or beyond) here is my guide to the best day trip to Niagara Falls. On my trip a few weeks ago, I was set to go to New York City, Watkins Glen, Niagara Falls and Toronto but due to reasons at home, I had to cut the trip in half. So, instead, I flew into Buffalo airport, caught an Uber at 5AM, got to Niagara Falls, NY before sunrise and spent the day there with Lauren before heading to Toronto for the week!
What and Where is Niagara Falls?
Niagara Falls is located on the US & Canada border, specifically bordering New York state and Ontario, Canada. On each side, there is a Niagara Falls, NY or Niagara Falls, Ontario with different activities on each side.
I'm sure if you've heard of Niagara Falls – it's one of the things the US is most known for – at all then you've heard the debate over which side is better? US vs Canada? But, I don't think it's so cut and dry simple. There's a saying that "You can see the falls best from the Canadian side, but you can feel the falls on the US side" or something along those lines. I definitely found this to be true.
Niagara Falls actually consists of three waterfalls – the American Falls & Bridal Veil Falls (located on the US side) and the Horseshoe Falls (located on the Canada side).
My itinerary is based on starting from the New York side but if you're coming from somewhere in Ontario, just make sure you have your passport for the Rainbow Bridge and NY side of things. Crossing the border and coming back is super easy and worth doing to see things from both sides.
Niagara Falls is a great destination to visit for anyone and everyone! There are plenty of things to do in Niagara Falls for couples, for families, and for solo travelers!
---
Once I arrived in Niagara Falls, which was way before everyone else was awake, I walked around a bit on the NY side and it's true. While you don't get this beautiful full-on view of the falls, you stand practically right next to them and the feeling is quite powerful. While I didn't get to explore the park in all its glory, it was still beautiful and quite peaceful before everyone else got there. I would suggest going once it's fully daylight and do some of the activities available here.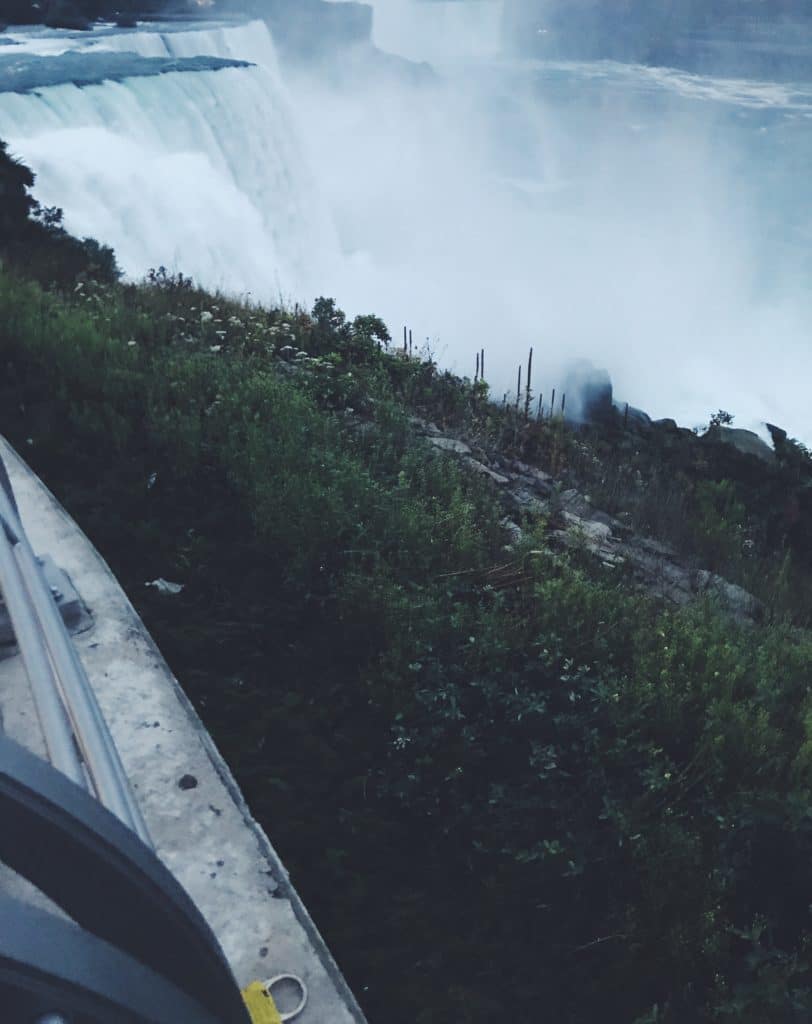 ---
Walk Across the Rainbow Bridge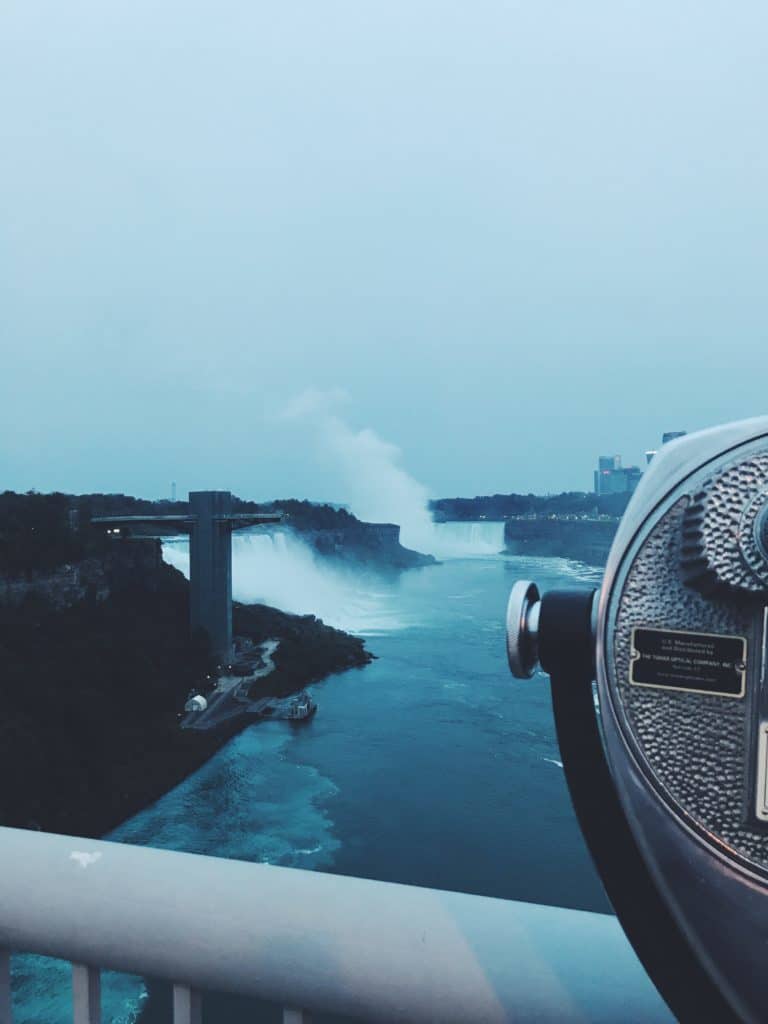 In order to get from one side or the other, you must cross the border. If you're traveling by foot, bike or car (I'm not sure which other way there would be haha), then you can cross at the Rainbow Bridge. So you don't have the issue I did of looking like an idiot, here's a tip. When you're standing on the NY side and looking at the intersection where cars go straight to cross the Rainbow Bridge to go to Canada, do not walk this way. I stood here for quite some time trying to figure out where those on foot went. It didn't make sense to me that they would go where cars did but there also weren't ANY signs. I tried looking it up on my phone and couldn't find a damn thing either. I was really stressing here, it was 6AM, dark, and I did not feel like looking like an idiot walking through the car lanes. Just as I was about to do this though, I decided I would go and walk around the park for a bit and see if I found anyone to ask.
It was only then, after walking to the LEFT of the traffic lanes, did I finally see a sign for foot travelers. Really great spot, guys. Not. So, if you're reading this and have no idea where to go – look directly at the car lanes and walk down the lefthand sidewalk until you see a sign. It will lead you down a pathway (with a parking lot on your left), through some turnstiles and then you are officially on the bridge (hope you didn't forget your passport).
From the Canadian side, it looks much more clear where the foot travelers go but maybe it was also lighter outside. But, just to be clear, it is to the right of the traffic lanes.
Now, that we have all that nonsense out of the way. I would highly recommend walking across the bridge even if that's all you do. It's worth it for the view of the Falls plus you get a really cool photo of being in two places at once!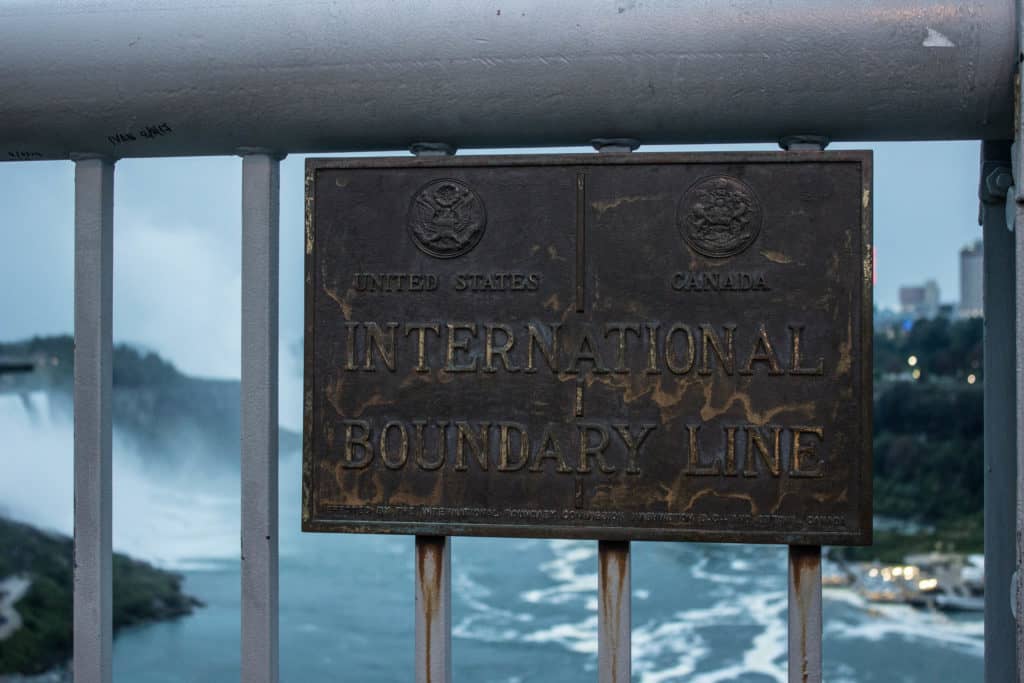 Pro tip // Even if you are JUST walking on the bridge and not actually wanting to go to the other side, you still need your passport.
---
Hornblower Cruise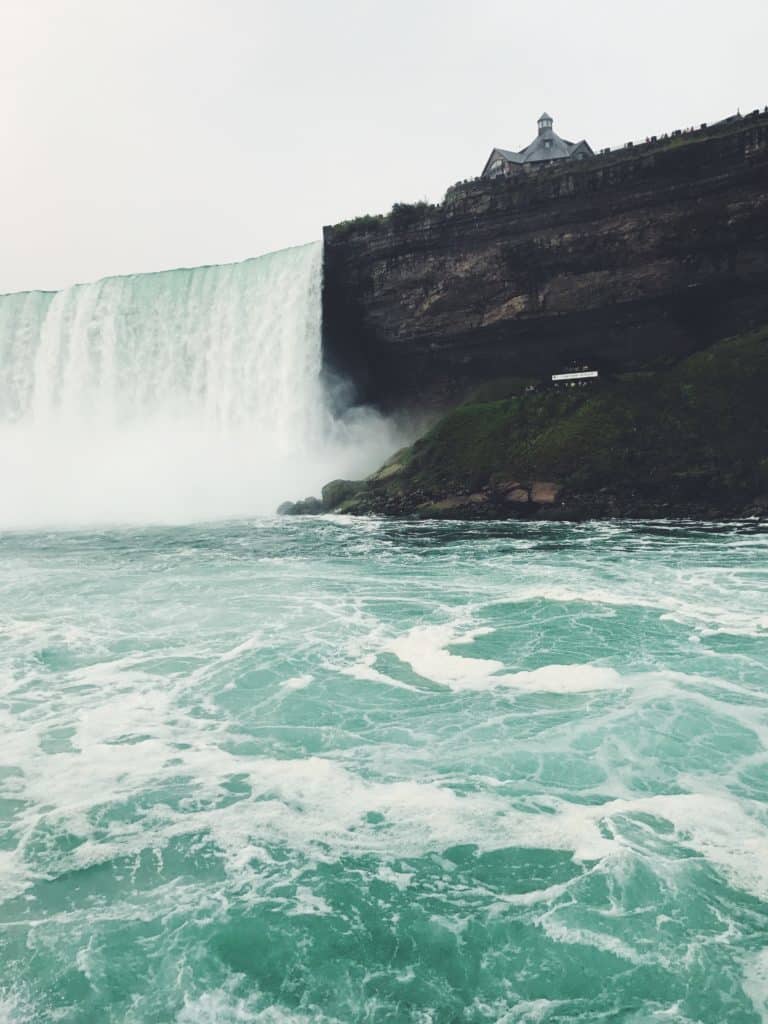 The first thing we did when I met up with Lauren was our cruise with Hornblower Cruises. If you only have time for one thing, this would be my suggestion. It's definitely the best way to feel the full impact and power of Niagara Falls.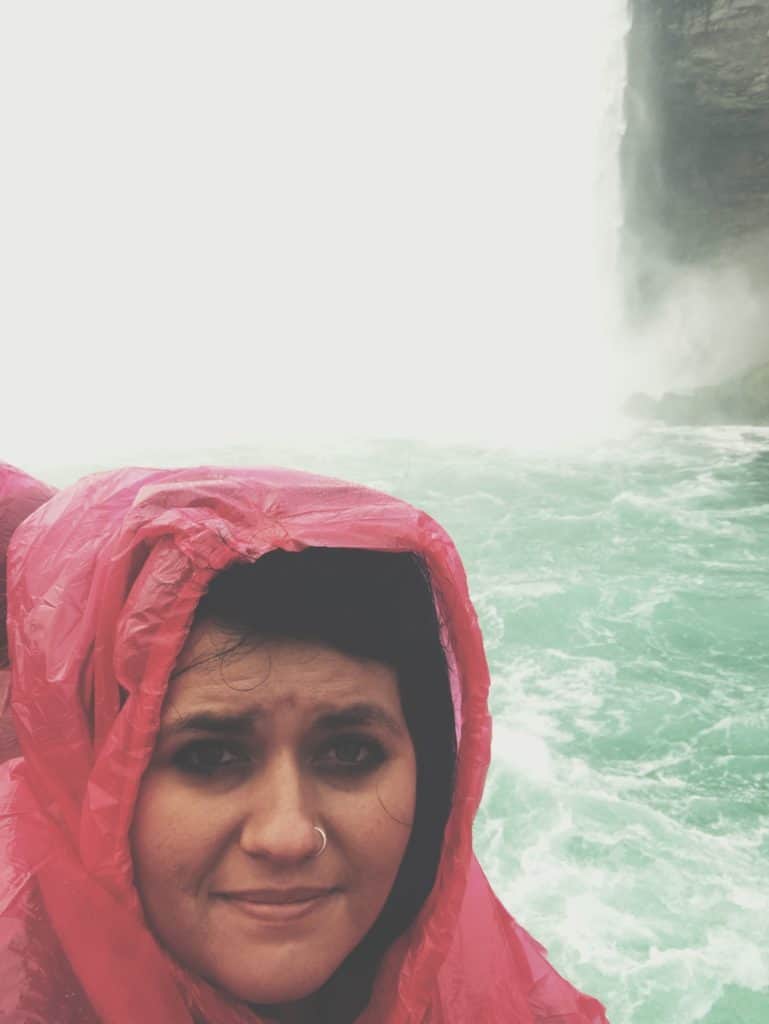 The cruise takes you alongside the American Falls and Bridal Veil Falls and then takes you to the Horseshoe Falls. It does not take you literally under the Falls (I doubt that would feel very good) but it takes you pretty darn close and you'll feel like you're under them.
Pro tip // After continuing past the American Falls, make your way over to the right-hand side of the boat as you'll have a prettier view of the Falls.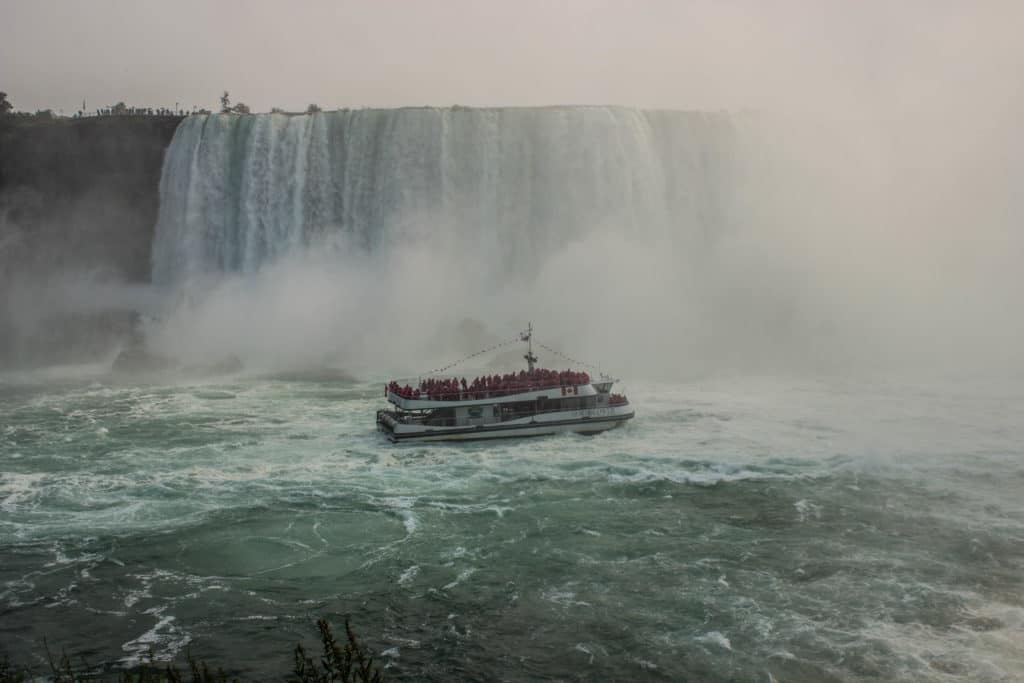 Pro tip // Take a GoPro, a waterproof phone case or a waterproof camera. When you get close to Horseshoe Falls, the mist is so strong you will get soaked and so will whatever you have.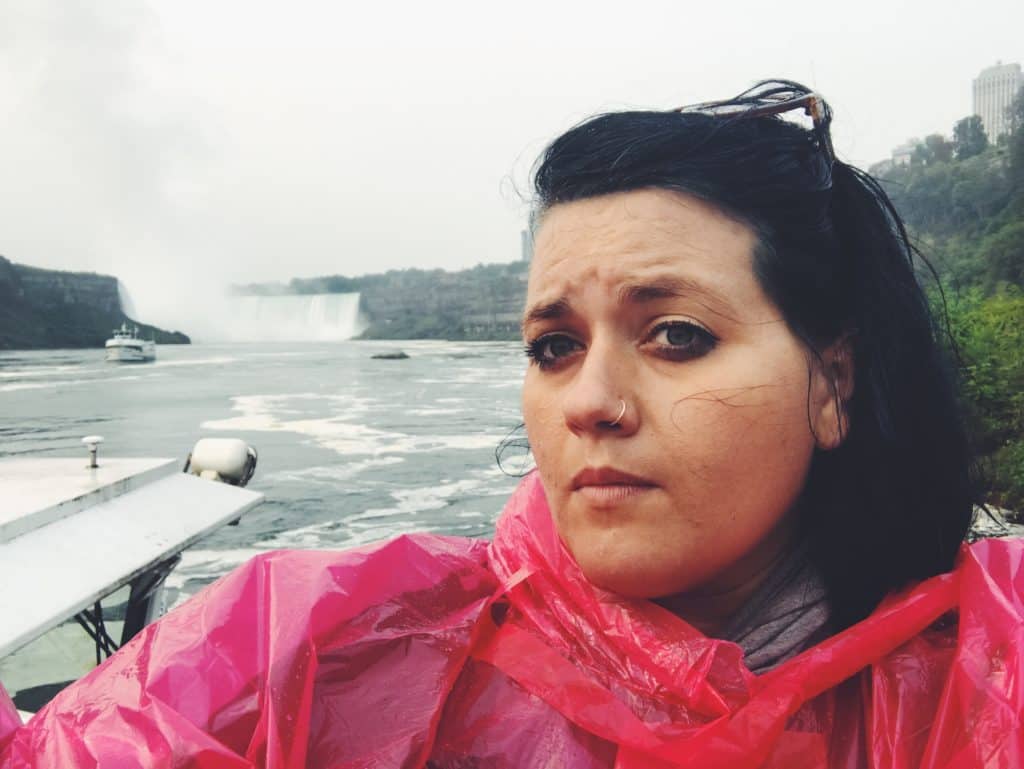 ---
Journey Behind the Falls
The next stop is Journey Behind the Falls which will bring you even more up close and personal to Horseshoe Falls. You take an elevator down and walk through some would-be creepy tunnels if there weren't so many people. Here, you can stand literally behind the Falls about a 1/3 of the way into them. There are two different points you can stand behind the Falls and then there is also an area where you can step aside just next to the Falls.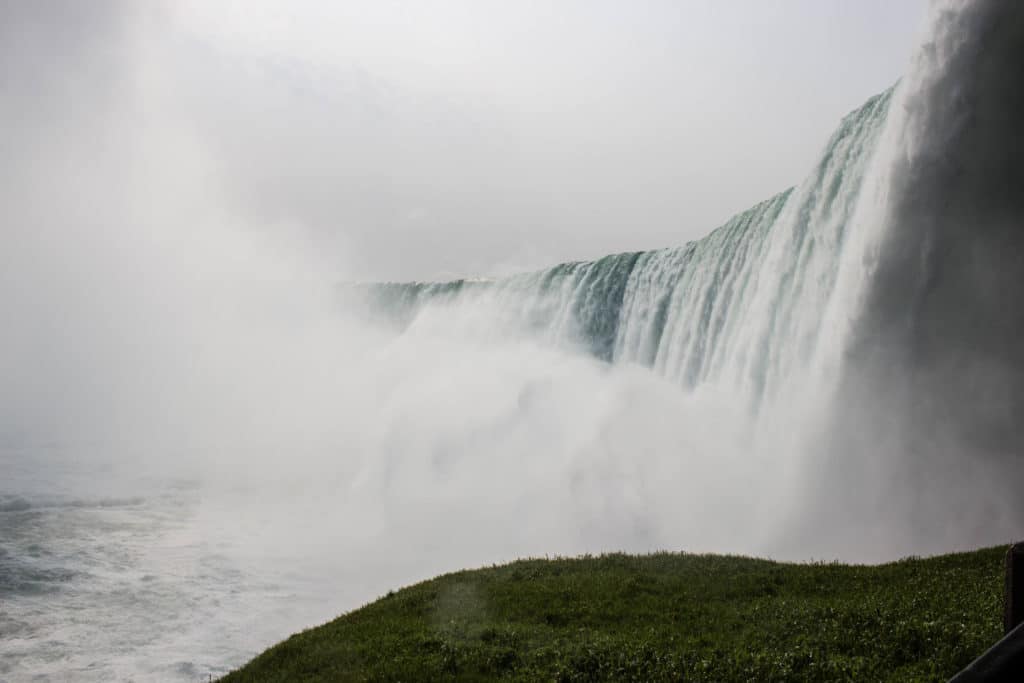 If you thought it was impossible to take pictures without getting wet on the cruise, wait until you stand here next to the Falls. Again, make sure whatever you're shooting with is waterproof!
Isn't this view extremely gorgeous though? It looks like something straight up out of Iceland. Niagara Falls can be a little commercialized in areas. However, when you are this close to the Falls, it is easy to forget about that and feel like you are truly connected to nature.
---
White Water Walk
The next two stops will take you away from the Falls but don't worry, Niagara River is a sight you must see with your own eyes! The White Water Walk is located a couple miles downriver from the Falls and well worth a visit. Here you take another elevator ride and then can walk along a boardwalk with several different viewing points where you can stand right next to Niagara River.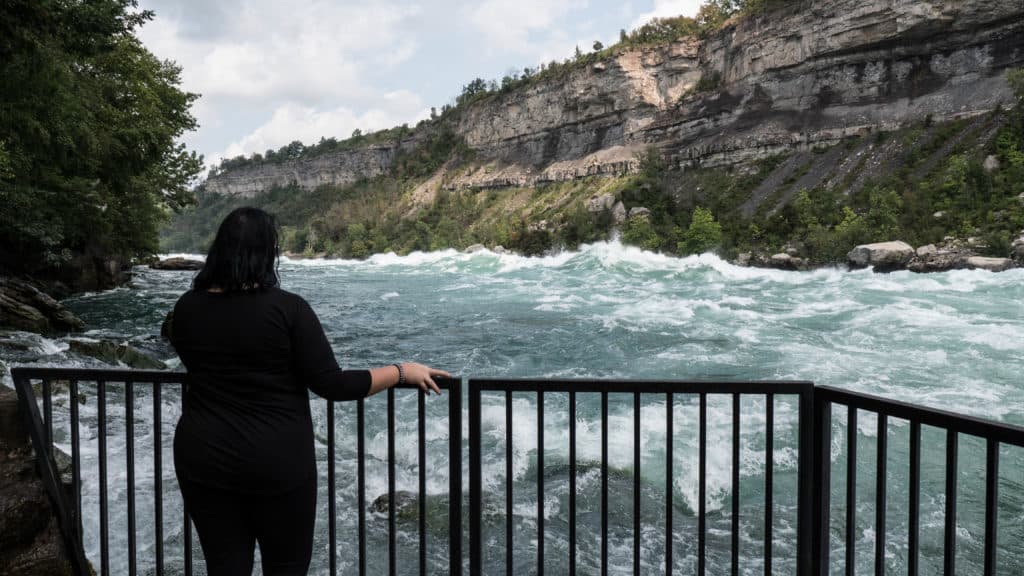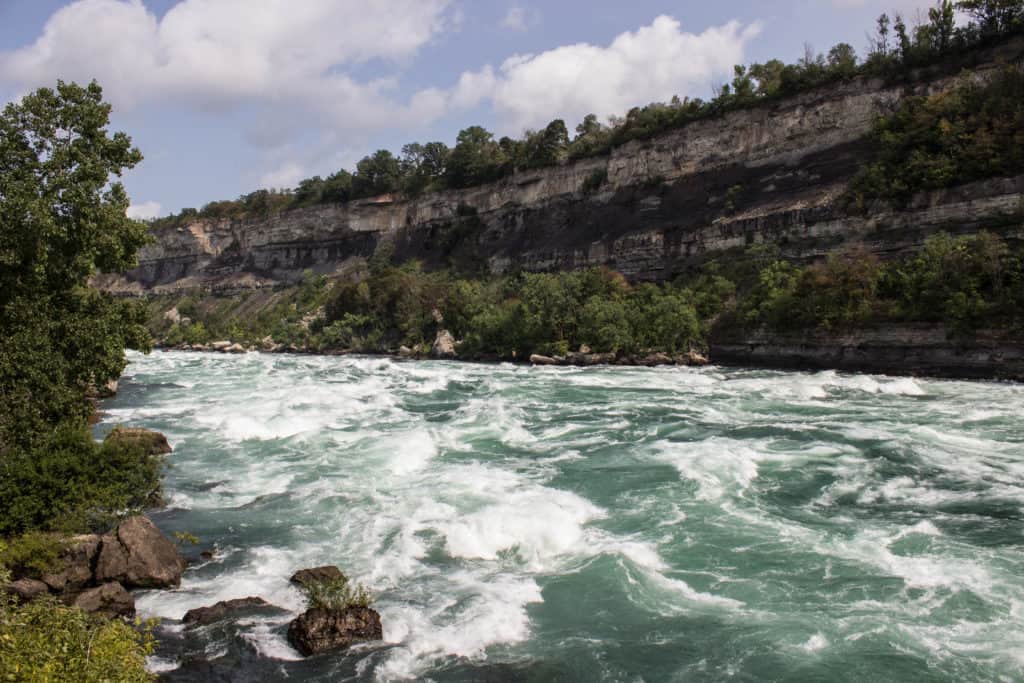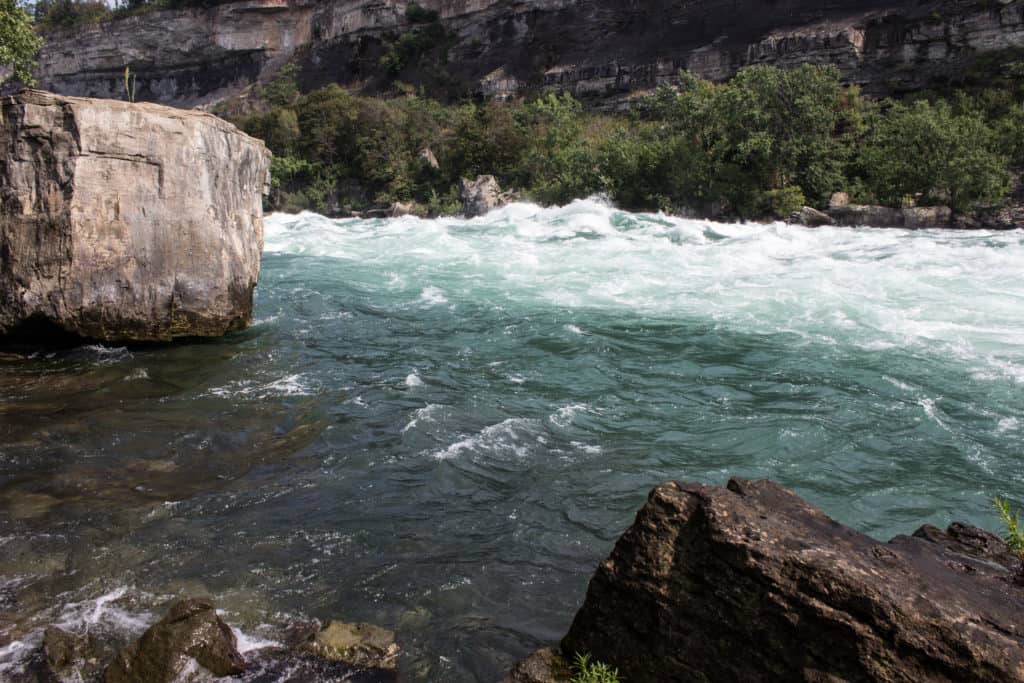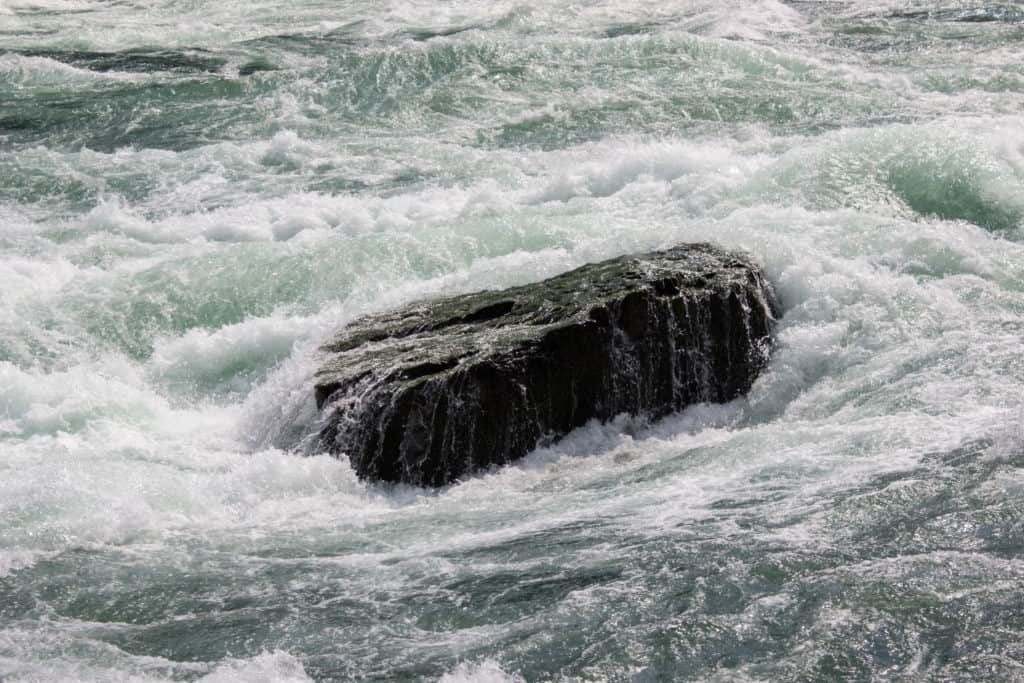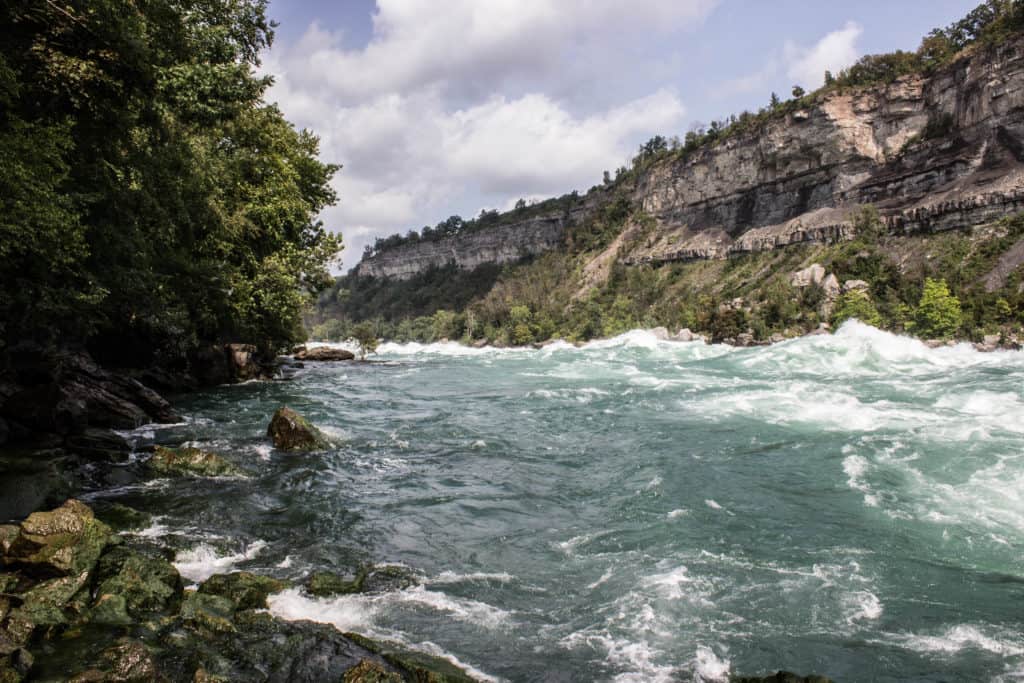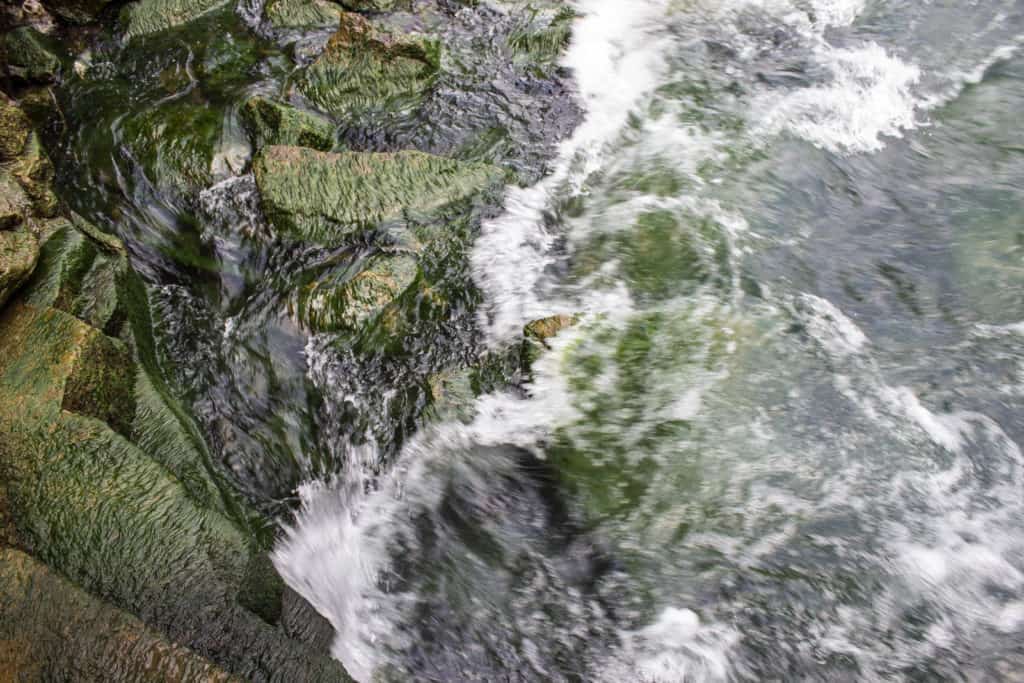 Niagara River has 6-class rapids which are the largest rapids you can find. You can not safely travel on 6-class rapids and I wish the pictures could truly show how huge these rapids were. This was actually one of, if not the most, awe-inspiring spot of our visit.
Pro-tip // wear shoes with good traction and that can get wet. The viewing areas are slippery and wet!
---
Whirlpool Aero Car
The last stop for our day was the Whirlpool Aero Car, located a little further downriver than the White River Walk. Here you will take a cable car that has been in operation since 1916 across the Niagara River.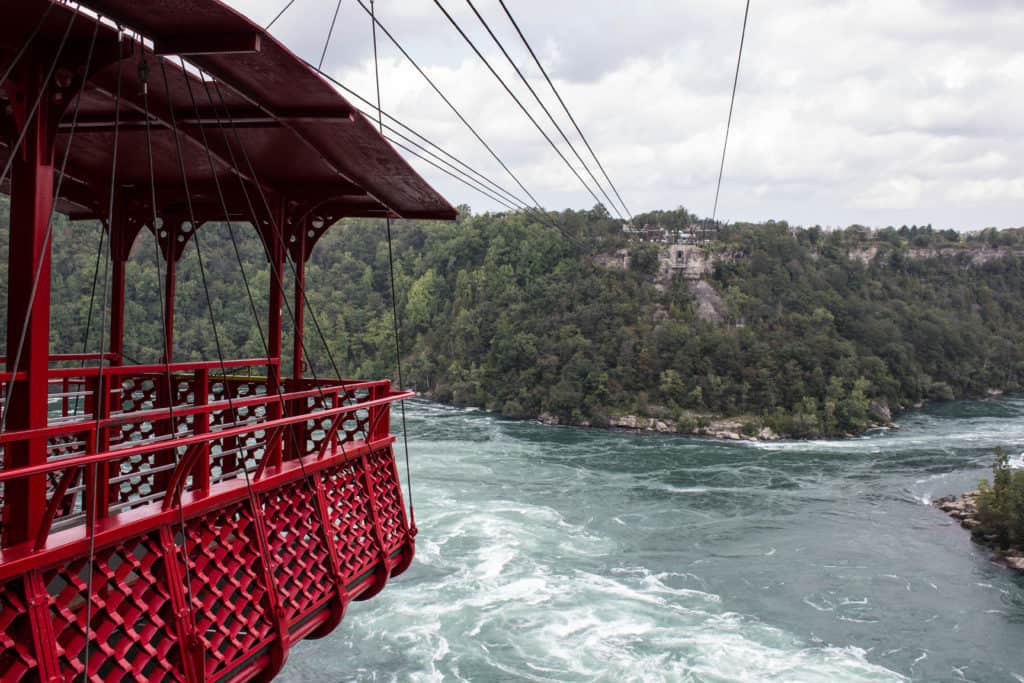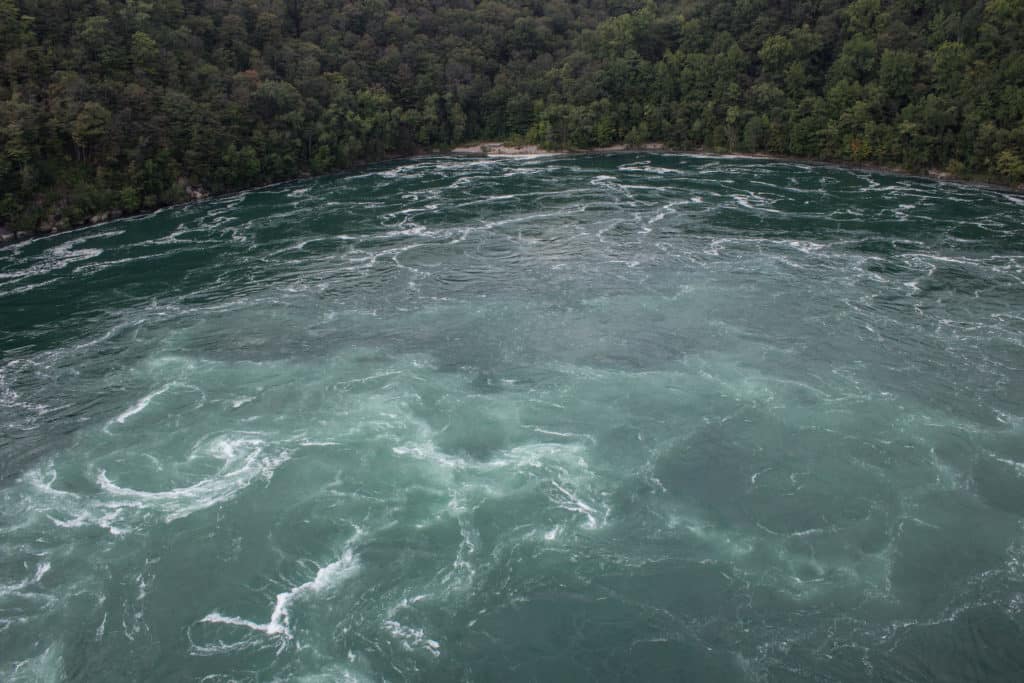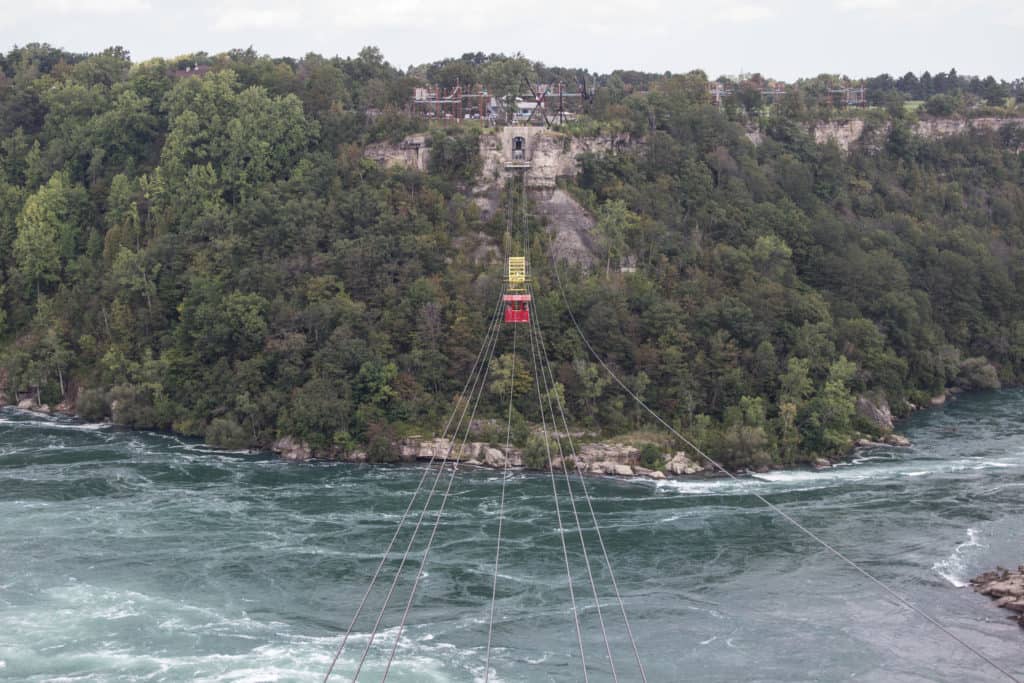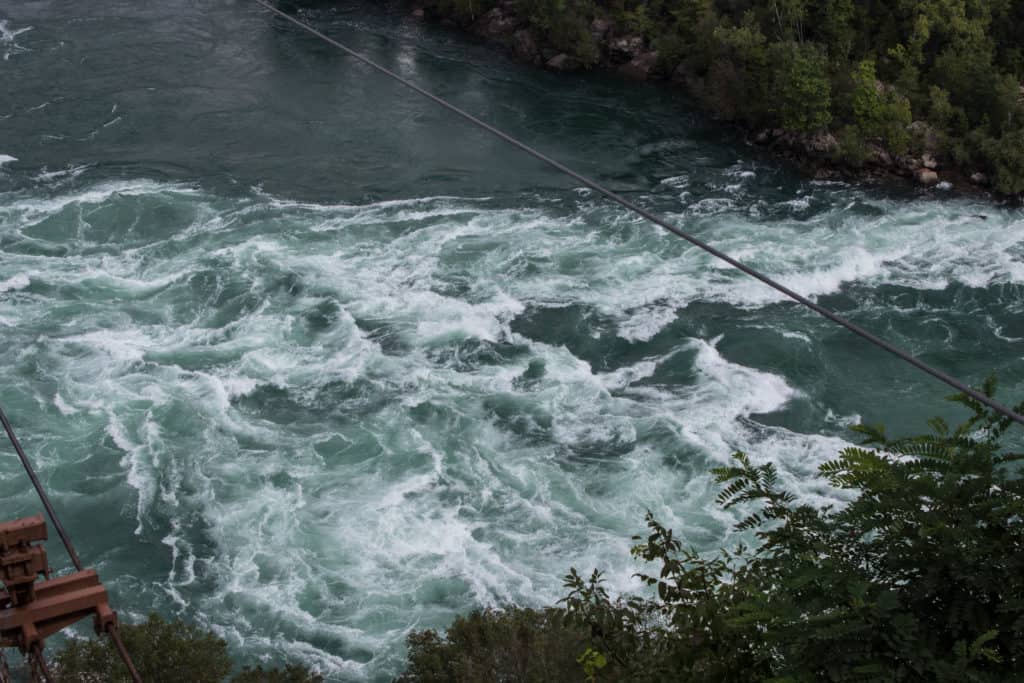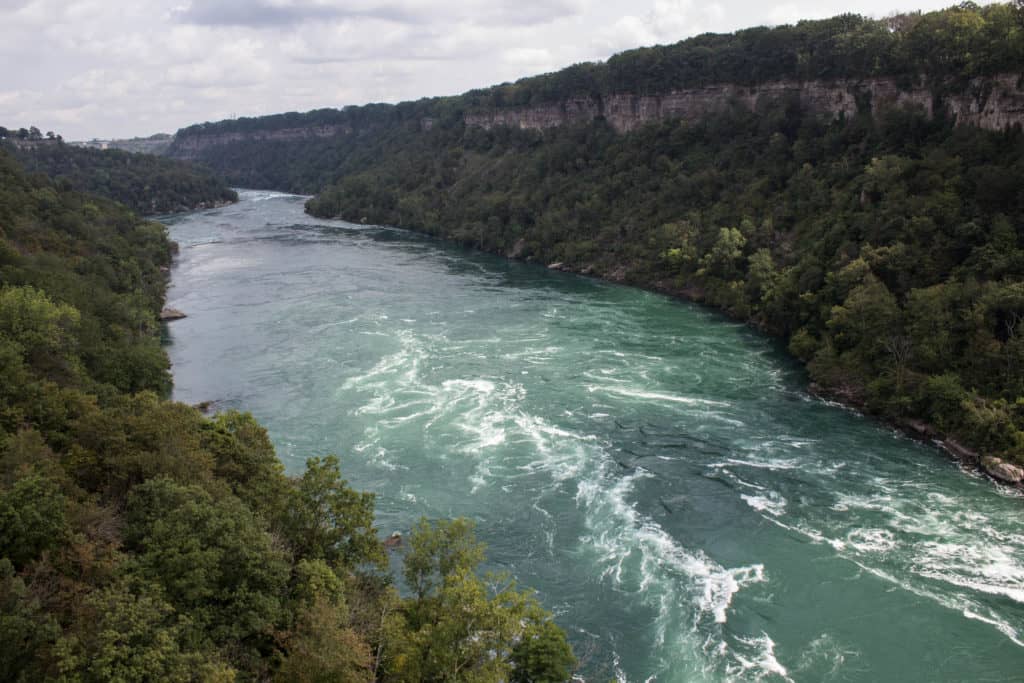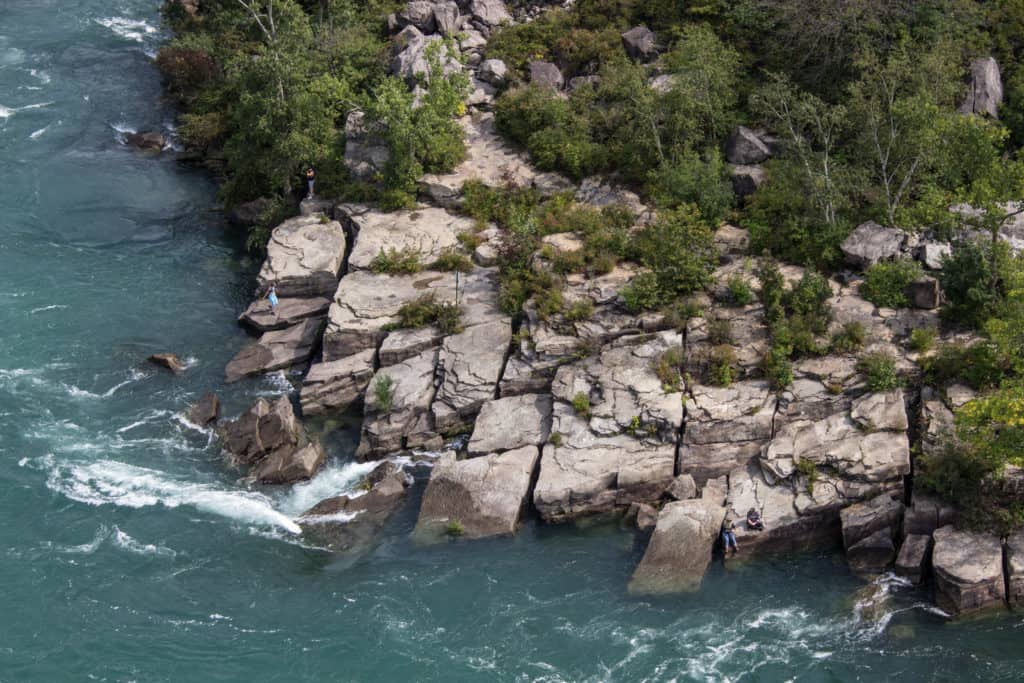 In the picture above, you can spot people on the rocks. Apparently, there is some kind of crazy hike that brings you to this spot. That is something I'm definitely going to do next time! It looks amazing!
Pro tip// Don't worry about where you're standing on the car. The attendant will have you all circle around halfway so that everyone can see both sides.
---
Extra Activities Not Tested By Me
I didn't have time to do everything but there is much more you can do in the Niagara area. Even though I can't personally testify to them, I wanted you to be aware.
Helicopter Ride
Jet Boat
Hornblower Evening Cruise
Zipline
Niagara Glen
---
Sustainability Issues
Once I saw how many plastic ponchos are used, severely concerned with the environmental aspect. I decided to ask about this issue. Luckily, Hornblower Cruises and Niagara Parks have environmental initiatives in place. Hornblower Cruises has a program called 'Respect Our Planet' in which they minimize their carbon footprint by recycling 100% of the plastic ponchos and having them turned into outdoor furniture, plastic bags and water bottles. While not as minimized as I like, it is much more comforting knowing that the ponchos are not just discarded.
There is a similar program in place with Niagara Parks. Therefore, the ponchos from Journey Behind the Falls are also 100% recycled.
You could also re-use your poncho for all the attractions or bring your own!
I can't wait to explore more of Canada's territories including Quebec and New Brunswick.
HAVE YOU EVER BEEN TO NIAGARA FALLS? WHAT'S YOUR FAVORITE ACTIVITY? TELL ME IN THE COMMENTS ↓↓↓
Heading to Niagara Falls? Read reviews on accommodation here or go ahead and book here.
What else have I written? You can find more NY posts here and Canada posts here.
Like this post? Have Questions? Hit me up on Facebook | Twitter | Instagram | Pinterest | Email
↓↓↓ PIN IT ↓↓↓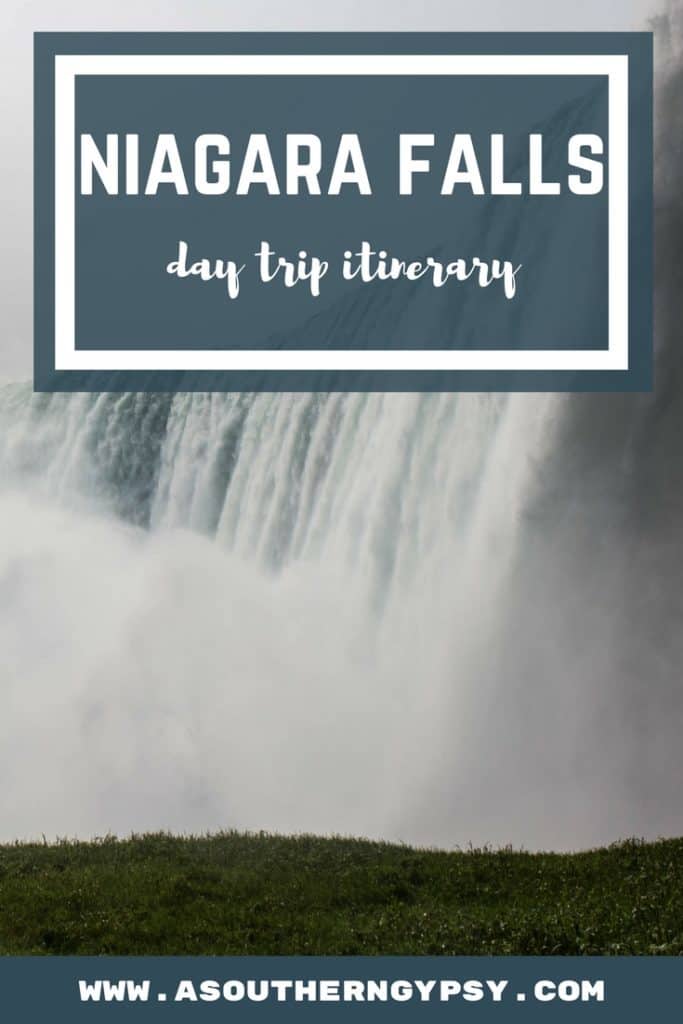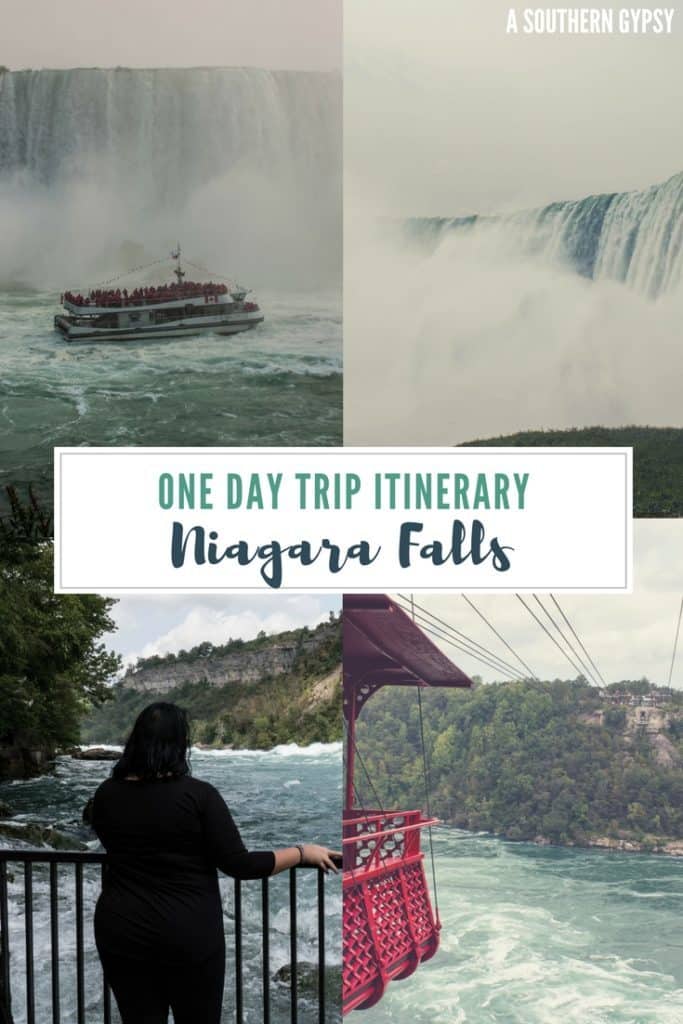 A huge thank you to Niagara Parks and Hornblower Cruises for sponsoring this post and for providing a wonderful, albeit, short tour of Niagara Falls. As always, all opinions are my own and I will never promote something I don't personally use and believe in, regardless of who foots the bill.
Also, some of the above are affiliate links and I will earn a very small percentage of the sale if you purchase through them at no extra cost to you. Thanks for supporting A Southern Gypsy!
Latest posts by Ashley Hubbard
(see all)