This post may contain affiliate links, meaning if you book or buy something through one of these links, I may earn a small commission (at no extra cost to you!). Please see my disclosure.
Are you a passionate scuba diver that thinks the idea of diving all day, every day sounds like the best vacation ever? Me too. That's why I went on a Bahamas liveaboard recently and why you should go on a liveaboard diving trip too.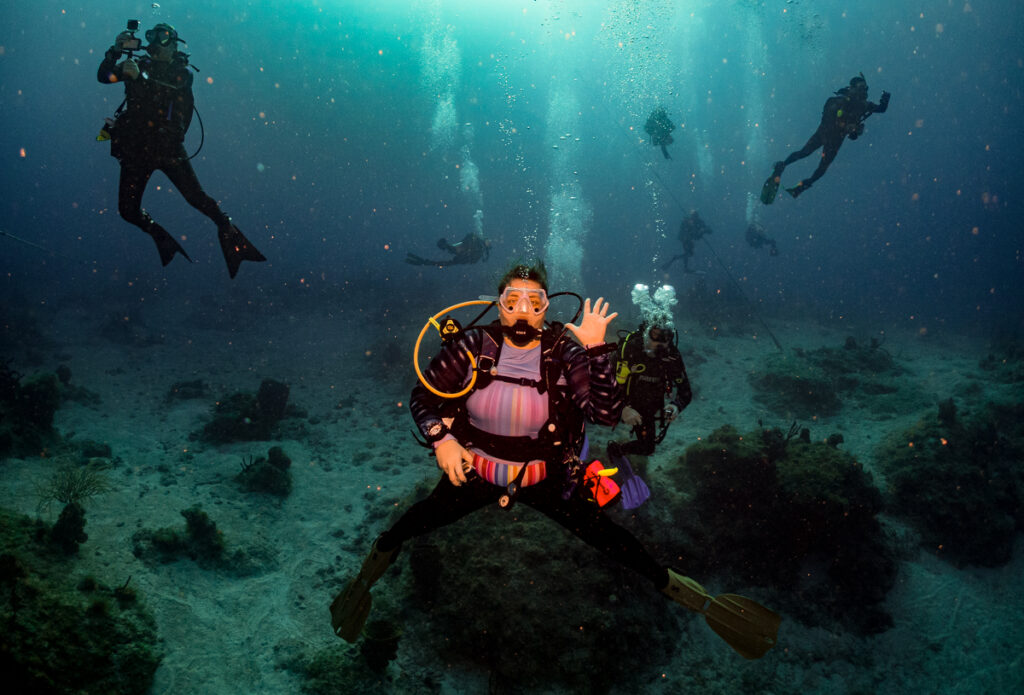 Not only do you get to dive all day, every day, but there are a ton of benefits from deciding to go on a diving liveaboard. From access to remote dive sites to a relaxing, stress-free trip to a cost-effective way to go scuba diving for a week, these are some of the best reasons to go on a liveaboard.
Liveaboard Diving Gives Access to More Remote Diving Sites
There are several reasons why a diver may want to try out a liveaboard, but one of the best ones is access to remote and unique dive sites. Without a liveaboard, some sites would be practically impossible or, at the very least, very costly to get to.
Because of the distance from the mainland, day boat trips are just not able to get out to these remote dive sites and so if you only do day trips, you're likely visiting the more common, more popular sites. There's nothing wrong with this, of course, but it is definitely one of the huge pros of going on a liveaboard.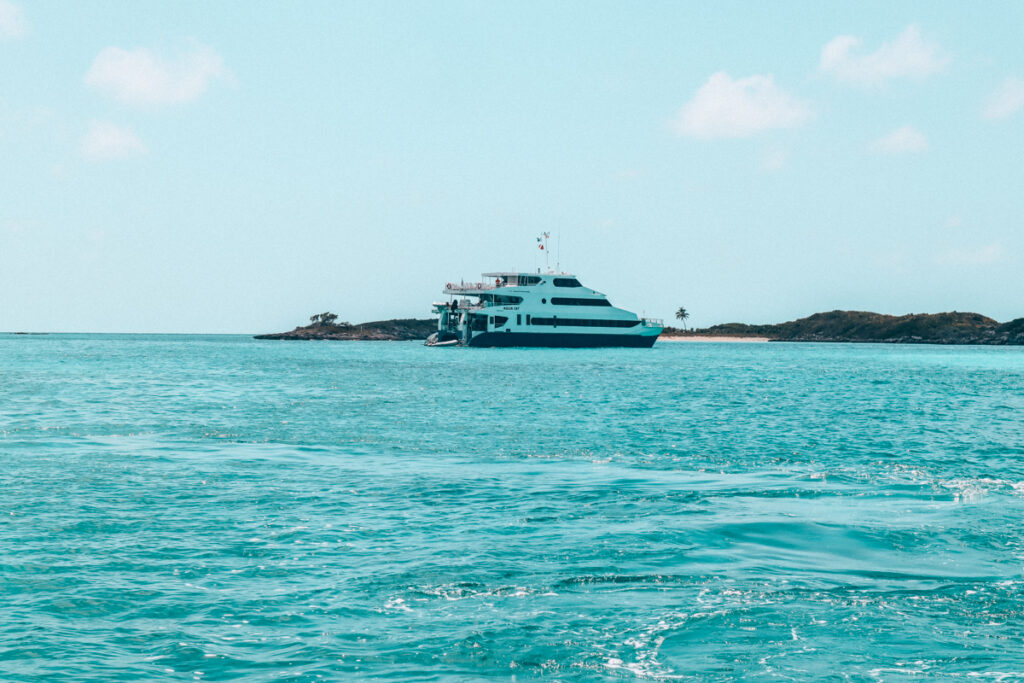 Additionally, you'll likely get to experience a much more diverse area. Instead of just heading to a couple dive sites that are near each other and within a decent distance of the mainland, you can pretty much go where ever the captain takes you and the weather allows.
On my recent trip Bahamas liveaboard, we were able to go up and down the Exumas and also hop over to Eleuthera, giving us a huge appreciation of the diversity in Bahamas diving.
Head over to my friends at Coleman Concierge to see their guide on scuba diving in Nassau, Bahamas.
More Dives in One Day
When you do a day excursion with a diving company, it's usually for two, maybe three, dives. However, almost every diving liveaboard includes four to five dives each full day of the trip. Here's how my Bahamas liveaboard with All Star Liveaboards broke down:
Sunday – 4 day dives + 1 night dive
Monday – 4 day dives + 1 night dive
Tuesday – 4 day dives + 1 night dive
Wednesday – 3 day dives + 1 night dive (excursion to see swimming pigs instead of a 5th dive)
Thursday – 4 day dives
Friday – 2 morning dives (on the way back to Nassau)
You don't have to do every dive, of course, but you can. The best part is that it's completely up to you!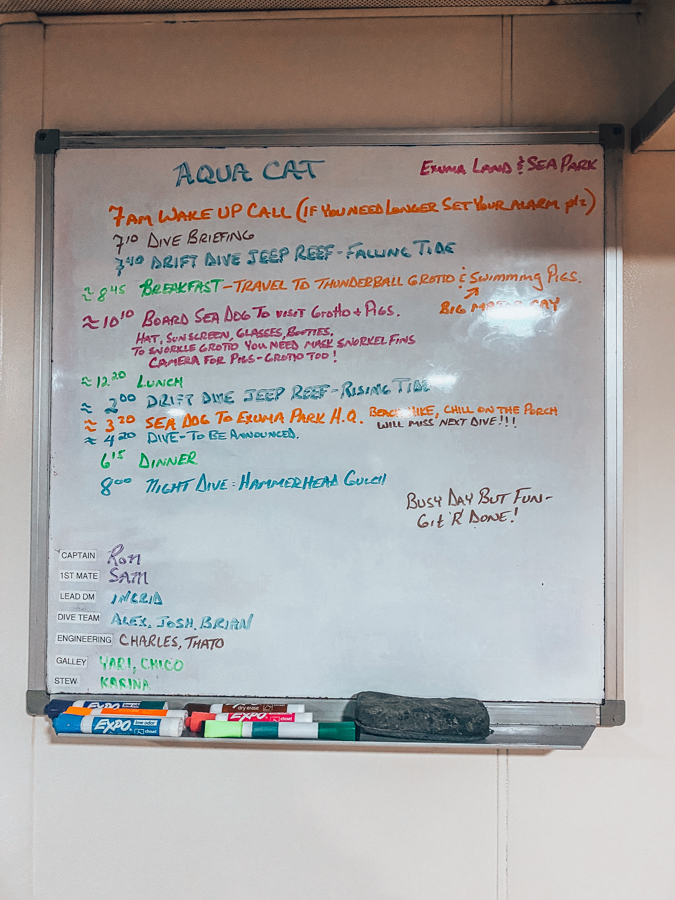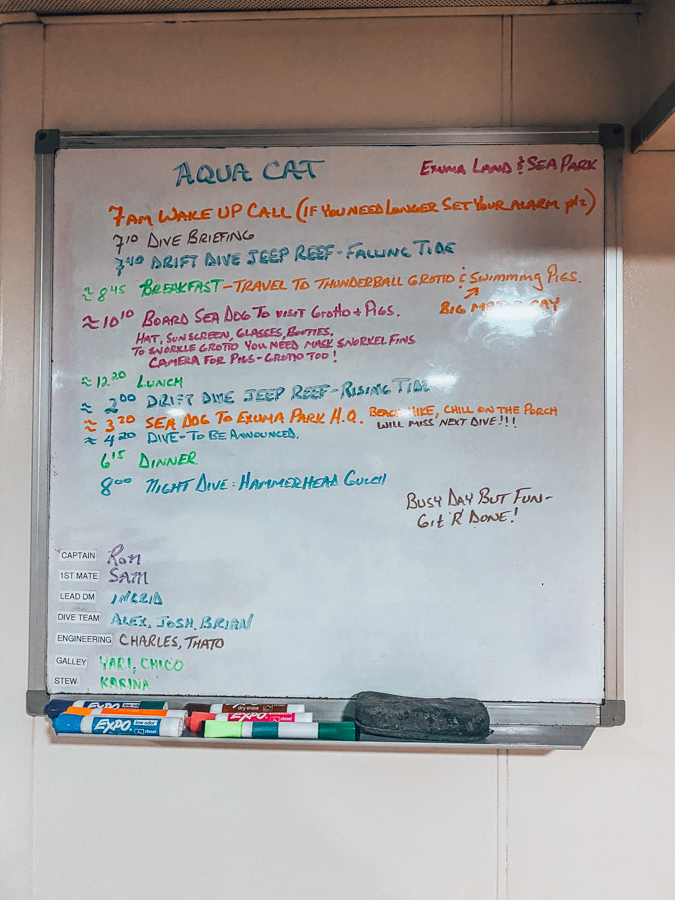 Liveaboard Diving = Cost-Effective Scuba Diving
The price tag of a liveaboard may seem big at first when you're just looking at the total number. However, when you break it down, liveaboards can easily be the most cost-effective to enjoy a dive vacation.
The price generally includes all diving, all meals, accommodation, and excursions. Some even have free alcoholic beverages (the Aqua Cat does!) which is something that can add up if you like to have a few drinks at the end of each day.
Oftentimes, you can find a liveaboard for $1,000 or less for a week depending on where and when you go. But, even for liveaboards that are more than this, the value is fantastic.
Obviously, the more you spend, the more accommodations you'll receive so it's all up to your budget and preference.
See all of All Star Liveaboards' packages on their website.
Liveaboard Diving is the Ultimate Relaxing, Worry-Free Vacation
Being underwater may feel amazing and like there are no worries in the world, but travel itself isn't always worry-free. And, sometimes, you come back from a trip feeling like you need a vacation to recover.
But, a liveaboard – especially on such an amazing boat with an amazing crew in a beautiful place like on the Aqua Cat in the Bahamas – is practically stress-free.
You don't have to think about finding accommodation, where or what to eat, and you don't even have to think about getting from the airport to the boat.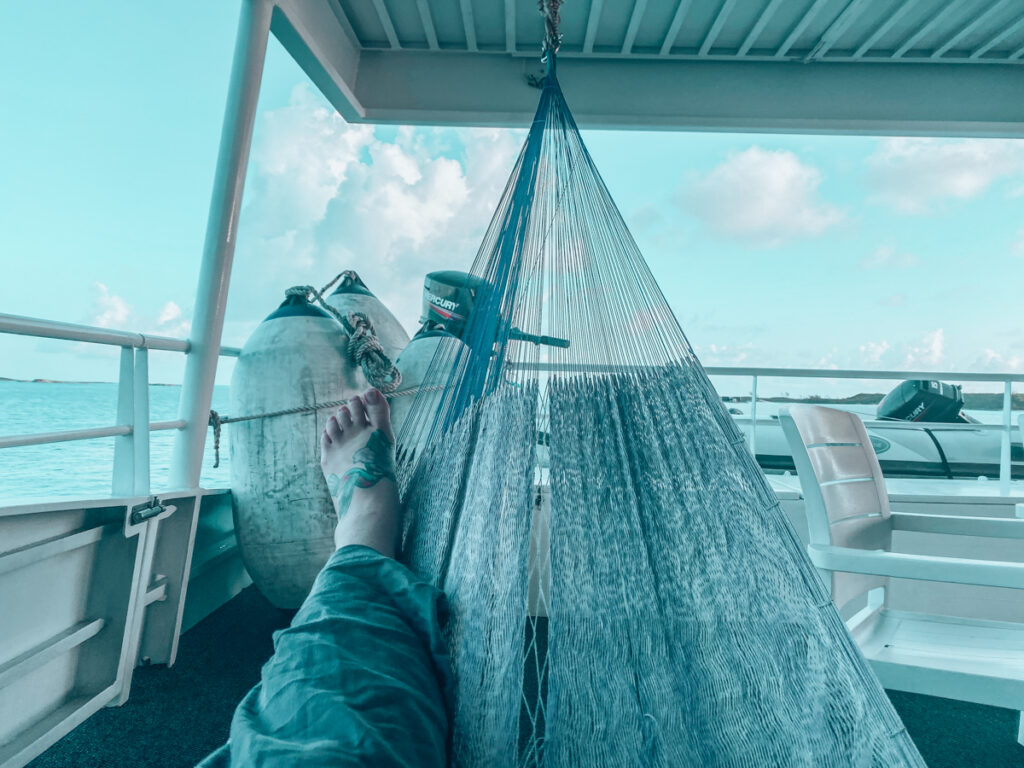 Your dive gear is always ready to go
But, one of the best things you don't have to worry about? Lugging that dive gear anywhere! You don't have to worry about going through the hassle of cleaning, drying, putting away, and carrying it, and then starting all over every single day.
You'll set your own gear up (as you always should for good practice) but then you can kind of "set it and forget it."
On the Aqua Cat, you'll have your own space for the entirety of the trip. Depending on the number of people, your amount of space may vary, but it's at least always two scuba tanks wide. Then, underneath you have your own pull-out bin where basically anything that's not attached to your BCD/tank will go such as your fins, dive computer, etc.
I also kept some miscellaneous non-diving things here like my hairbrush and leave-in conditioner. That way, I could immediately hop in the dive deck shower to rinse off the salt water from my body and hair, lather it with leave-in conditioner and dry off. I also kept ear drops here that I put in after every single dive as a preventive measure.
The area above your tanks is where the compressor lines are so that when you get back on the boat, just unhook your first stage so the crew knows your tank needs a refill of air or nitrox. Then, all you have to do for your next dive is just reattach your first stage and you're ready!
Just roll out of bed, put on your bathing suit, walk to the dive deck, and strap in. You'll be in the water in a matter of minutes!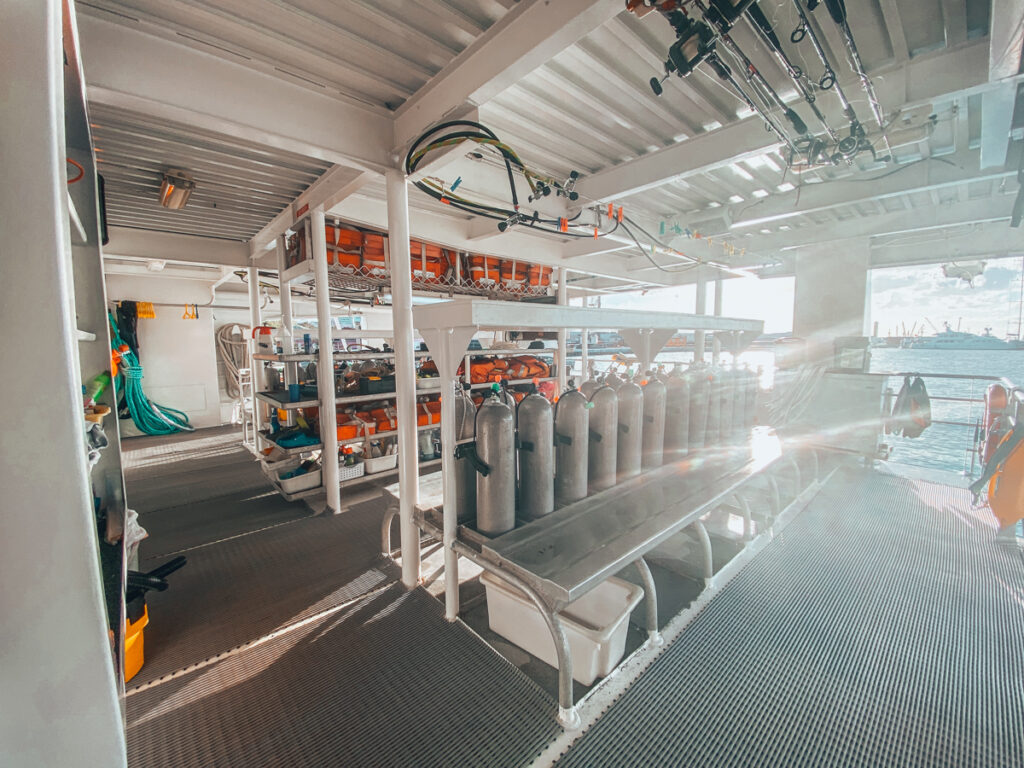 Liveaboard diving is great for solo travelers
Do you love to dive but are traveling alone? It may be a little disconcerting to not have a familiar dive buddy with you every time you go diving. But that's not always possible and no one wants to wait around until you have someone to go diving with, right?
Liveaboards offer a great opportunity to not only meet other divers and possibly make some lifelong friends (and future dive partners!) but also a way to dive without having to worry about having a buddy.
You can always pair up with a new friend or the DM (divemaster) as there is always one on every single dive (on most liveaboards).
Going on a liveaboard diving trip was one of the best decisions I ever made not only for my scuba diving experience and skills, but also just as a wonderful vacation that left me feeling refreshed, pampered, and in awe of the ocean even more than I already am.
A huge thank you to All Star Liveaboards for hosting me on this trip. Flights, port fees, and gratuities were covered by myself. To keep up with them until you get to go on your liveaboard, check out their Instagram, Facebook, Twitter, Pinterest, and Youtube accounts.
Latest posts by Ashley Hubbard
(see all)