This post may contain affiliate links, meaning if you book or buy something through one of these links, I may earn a small commission (at no extra cost to you!). Please see my disclosure.
My First Metal Concert

There are a few things Kaleb has brought into my life that I can truly say I had never experienced before and one of those things is listening to metal. I've never been a metal head. I can appreciate it, I've listened to it, but I've never been overly crazy about it. However, soon after Kaleb and I met, he turned me onto a metal band – a Viking metal band at that – by the name of Amon Amarth. I liked them a lot and listened to them but I've never been super into concerts until I attended Bonnaroo last year. It opened up my eyes on why attending concerts or music festivals is worth the money (that was my main issue before).
Earlier this year, Amon Amarth announced their North America tour (they are from Sweden) and I quickly bought up tickets as a surprise for Kaleb's birthday. The closest they were coming to us was in Atlanta so we made plans for a weekend in Atlanta which turned into only 24 hours.
Being a newly converted metal fan, I had no idea what to expect at my first concert. I wondered what to wear, would I fit in, would it be my scene and so on and so on.
The concert was being held at The Tabernacle in Atlanta – a venue I knew nothing about but that is absolutely amazing. It's an old Baptist church turned music venue.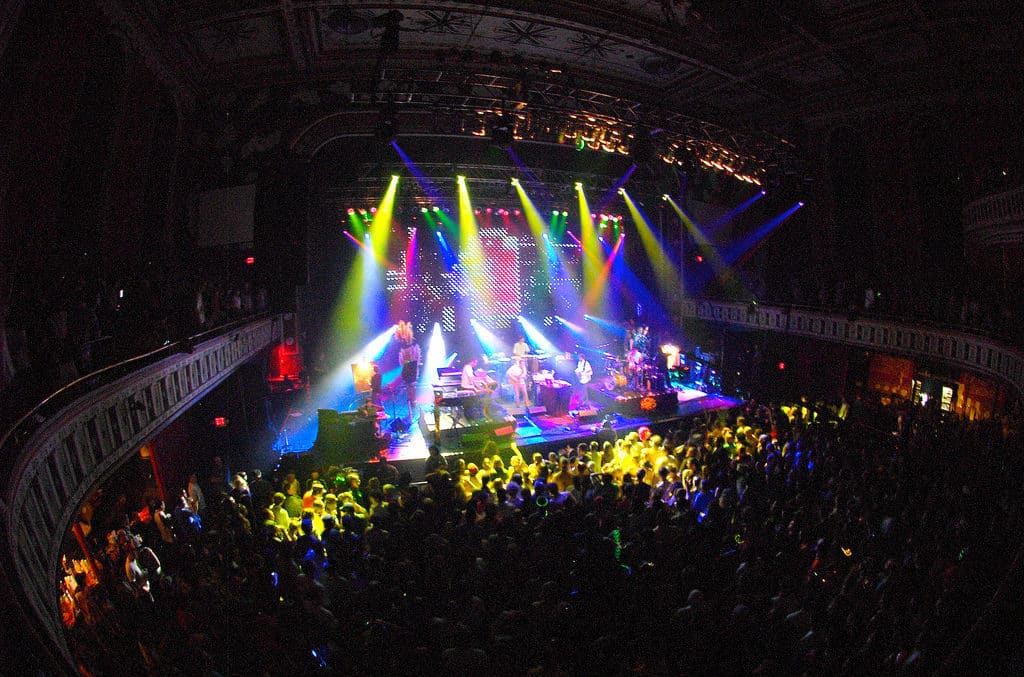 When we first walked up to the Tabernacle, there was a line of people waiting to get inside and I immediately knew I was in the minority here. There were separate lines to get in – one for men and one for women – and for the first time ever, I got to wait less than the men because the ratio was probably 10:1. So, I had my bag searched and went and waited for Kaleb to get through his line, got our tickets scanned and headed up the steps into The Tabernacle.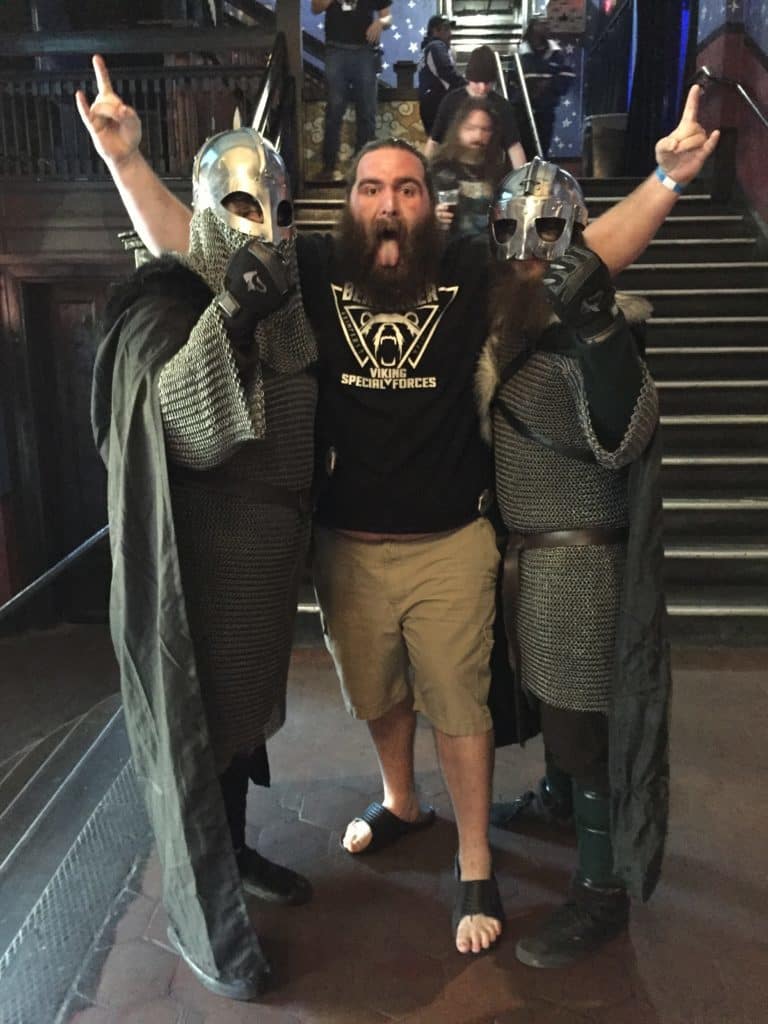 Immediately, we were greeted by two guys dressed in full body battle armor which was pretty amazing and also made me realize just how great of a concert this was going to be. The lead singer of Amon Amarth is also the co-owner of Grimfrost – a company that specializes in Viking specific armor, weaponry, jewelry and so on. I've bought Kaleb a t-shirt (the one he's wearing here!) and beard comb from them for Christmas which was pretty awesome.
The Tabernacle has several levels – when you first walk in, you must walk up a set of stairs to a landing in which you can keep walking straight and down a set of stairs where the concessions and merchandise was set up. Additionally, you can walk up a set of stairs on either the right or left side of the landing and head into the standing room where the stage is or you can keep going up more stairs to the balcony where there are actual seats available. All tickets are general admission so you can literally stand or sit anywhere you'd like.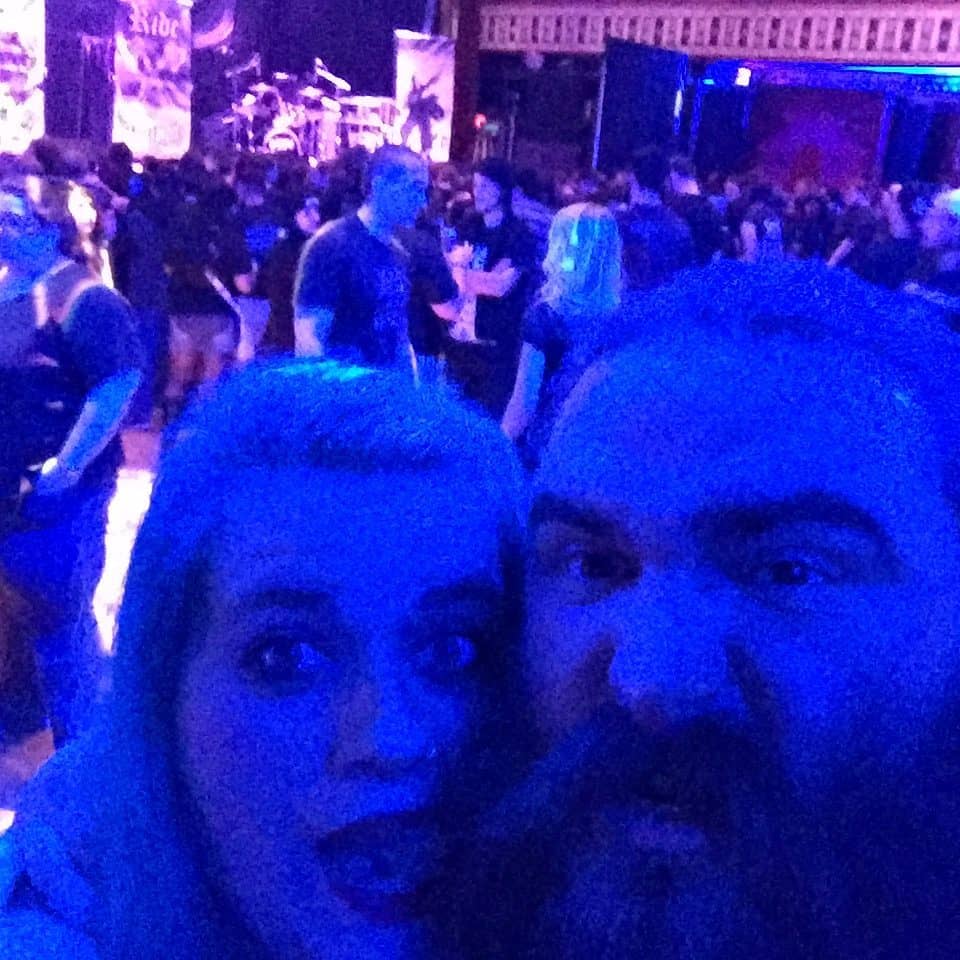 We headed to grab a couple beers and check out the merchandise table where we grabbed a t-shirt for myself, the new album and a patch as a keepsake. Then we headed into the main area. When you imagine The Tabernacle, imagine an old church. There's the main room that would have had pews but is now just a standing room and then up above is the balcony seating. They've replaced pews with actual seats. For medical reasons, we decided to opt out of being part of the "mosh pit." We started the beginning of the concert in the standing area but more towards the back so we didn't get run over but then gradually made our way to the upstairs seating area.
For the next three hours, I road an adrenaline wave. I've never been a part of anything that I could compare a metal concert to – I'm assuming they're all like this. Maybe Amon Amarth just puts on an amazing show. Regardless, I found myself feeling like a regular attendee.
One of my favorite songs that I saw them perform!
Amon Amarth is a Swedish (viking) metal band and are probably the most well known viking metal band out there. They're extremely popular in Sweden and other Scandinavian and European countries but they're touring more and more in the United States. We saw them in Atlanta last year and are going back to see them again in Louisville next month.
Amon Amarth was formed in the mid 90's when Swedish metal was really popular and they became unique by combining heavy metal with Viking mythology to deliver amazing dramatic storytelling music. As the Vikings did, they invaded Europe first with their music and then moved across the ocean and into North America and are now becoming a force of nature here as well.
Jomsviking is the current album and what their tour last and this year is promoting. From their website, "It's a pretty simple story where a young man is in love with a girl but unfortunately she's being married off. He accidentally kills a man when this happens and he has to flee," the frontman explains. "But he swears to have revenge and win her back. He can't let go of the past. He feels that he's been wronged and his life has been destroyed. The story of the Jomsviking is the background – it's the way he finds to go back and claim his revenge. The way the story evolves is not a happy story… it's a tragedy, I guess! But I like sad endings, because they're the ones that affect you the most." Each song on the album details a different part of the one storyline.
I know metal isn't for everyone but you never know what you'll like once you experience it – I definitely never thought I'd regularly be listening to this band or similar bands. Find out if they're coming to a city near you here.
Have you ever attended a metal show? Would you?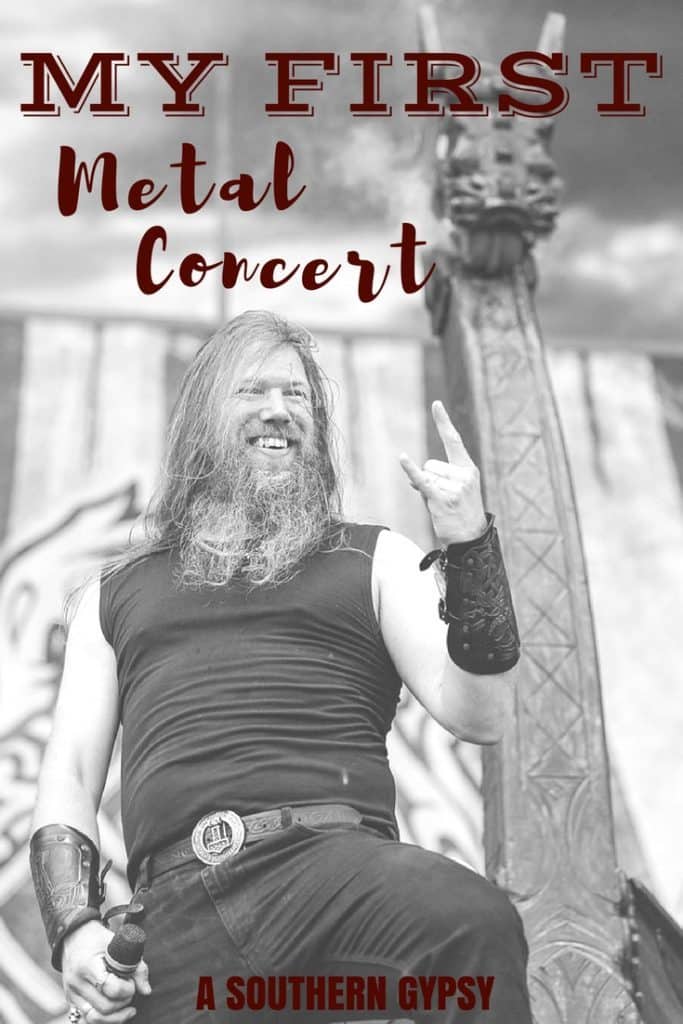 Latest posts by Ashley Hubbard
(see all)