This post may contain affiliate links, meaning if you book or buy something through one of these links, I may earn a small commission (at no extra cost to you!). Please see my disclosure.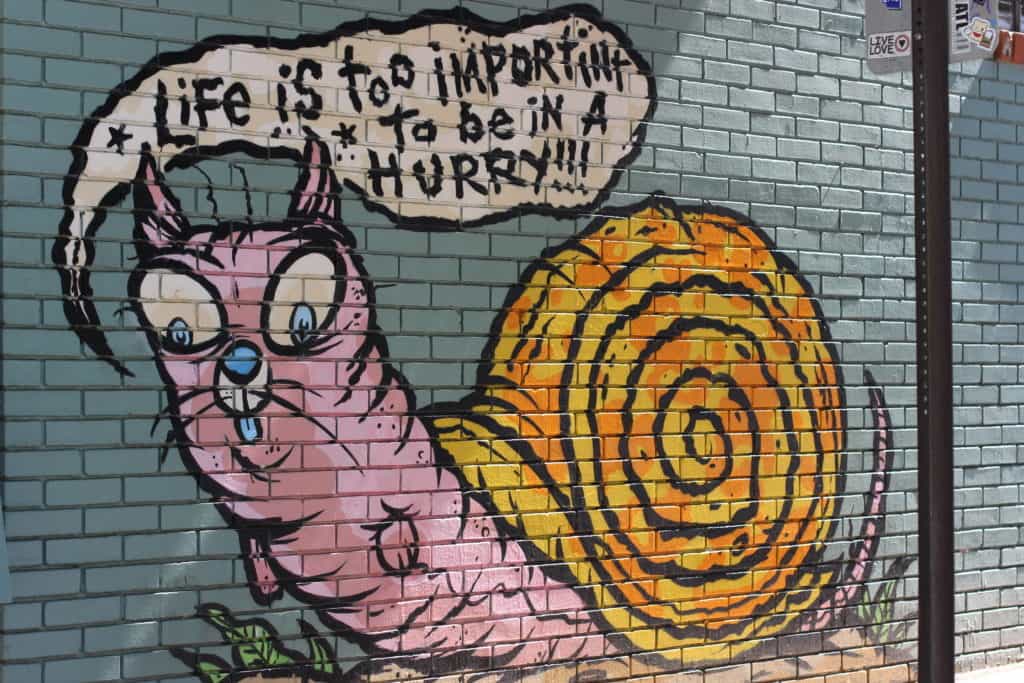 Well, our 48 hour trip turned into 24 basically.  We ended up having to stay in town Saturday for a moving job – life of owning a business!  We left early in the morning Sunday (and extended our trip until Monday) to head down to Atlanta – a 4-hour drive for us from Tennessee.  While it was a hell of a week and we were both exhausted, we were also determined to make the most of our 24 Hours in Atlanta.
Pin for your trip to Atlanta!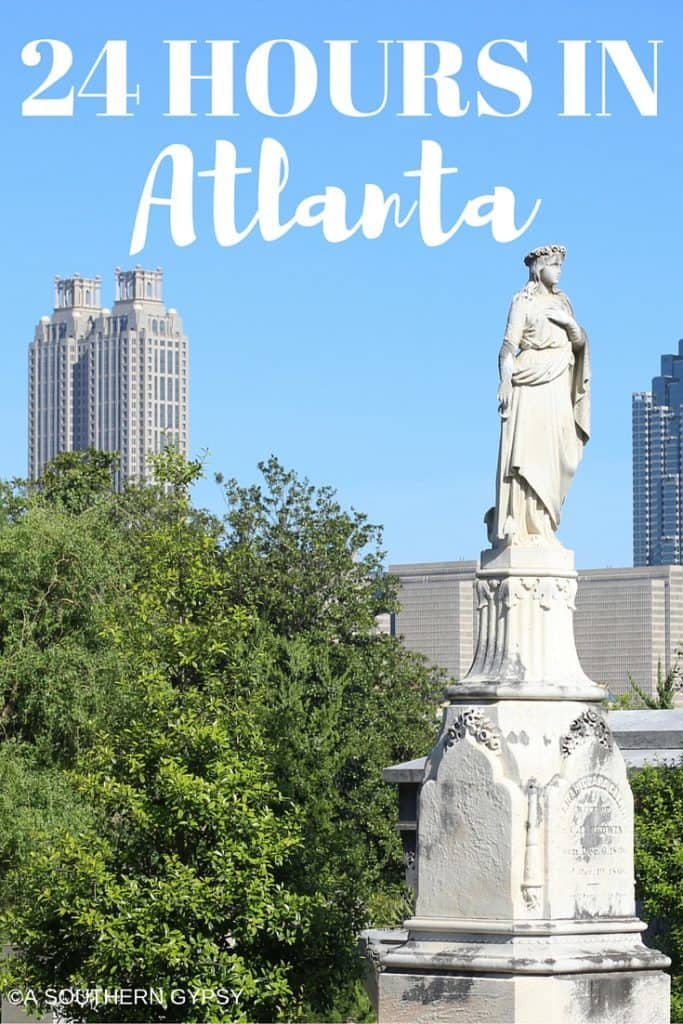 11am – Check into Hotel
11:30am – Head to Atlantic Station to Eat, Shop + Walk Around
Atlantic Station is located in the Midtown neighborhood and is a nice little area to shop, catch a movie, have lunch or dinner and more.  We only came to Atlantic Station because that's where Cirque du Soleil was located but we were glad to find a new area of Atlanta we had never been before.
We grabbed lunch at the Yard House – we were really hungry by the time we got to Atlantic Station and their menu looked good.  I don't typically like eating at chain restaurants when I go to a new place and I didn't realize they were one but the food really was delicious!  Another option, right next door, is The Pig and The Pearl which would be what we would try next time we are in the neighborhood.
1:30pm – Watch Cirque du Soleil's KURIOS at Atlantic Station
Next, we headed down to the Big Top (tent that the event took place in) and made our way into one of the funniest Cirque du Soleil shows I've seen.  Check out what I had to say about KURIOS here.
Not everyone will be traveling at the same time as me. That's What She Had has some alternative suggestions on her Atlanta itinerary.
Just watched the first half of Kurios and as always, Cirque du Soleil did an absolute amazing job. Can't wait to watch the 2nd half! Have you ever seen a Cirque du Soleil show?? #asoutherngypsy #kurios #cirquedusoleil #ATL #atlanta
4:00pm – Sublime Doughnuts
I had two donut places on my list that I wanted to visit while in Atlanta.  Yes, it's that much of a priority for me.  Sublime was really close to Atlantic Station so we went by and I picked up a half dozen to take with us and try.
??? #asoutherngypsy #ATL #atlanta #atlantafood #atlantafoodie #donuts #doughnuts #yum #foodgasm #foodie #foodpic #foodporn

A photo posted by Ashley Hubbard (@asoutherngypsy) on
5:30pm – Poor Calvin's
We never did make it to Poor Calvin's because we were not the least bit hungry by this time.  The only reason I'm leaving something on here that I didn't experience is because I wanted to go here SO BAD.  I heard nothing but amazing things about this place.  The reviews are amazing, everyone I asked said its amazing.  I almost spent the money on it despite not being hungry but we decided not.  Someone eat here for me and let me know how wonderful it was.
7:00pm – See a Concert at The Tabernacle
After changing our clothes and taking a bit of a break instead of eating dinner, we walked a short distance from our hotel to The Tabernacle – possibly one of the coolest music venues I've ever been to where we saw Amon Amarth play – possibly one of the best music performances I've ever seen.  It was a good night!  Look out for my upcoming post on my first experience at a Viking metal concert.
Love music and in Atlanta?! Make sure to see a show at The Tabernacle. It's an extremely unique and intimate venue. We are seeing Amon Amarth tonight – a Viking metal band. #asoutherngypsy #tabernacle #ATL #atlanta #thetabernacle #amonamarth #concert

A photo posted by Ashley Hubbard (@asoutherngypsy) on
8:00am – Eat at Ria's Bluebird Cafe
Ria's Bluebird is located next to the Oakland Cemetery and Grant Park making it a wonderful location.  I headed on over around 8:00 for breakfast.  I kept it simple and just got some pancakes and sliced avocado which were both amazing.  They had some other great menu items I wouldn't mind trying but I was a bit out of it from the night before and just wanted simplicity.
Despite a late night at possibly one of the best shows I've ever seen – I got up early to check out Ria's Bluebird – a cafe directly across from Grant Park and Oakland Cemetery. #asoutherngypsy #ATL #atlanta #atlantafood #atlantafoodie #yum #foodporn

A photo posted by Ashley Hubbard (@asoutherngypsy) on
8:30am – Grab Coffee from Octane Coffee
Octane is both a full coffee shop plus a full bar at night and a very popular place to be – evident by the fact that Anthony Bourdain visited.  While it's a great place to sit, chat with others, work on your laptop or read a book – my suggestion would be to get a coffee to go and head over to Oakland Cemetery.
9:00 am – Walk Around Oakland Cemetery + Grant Park
Oakland Cemetery is one of my favorite cemeteries for sure now.  This place is gorgeous, has it's own visitors center (what!) and has a beautiful view of the skyline.  I could have spent hours walking around and taking photographs.
Legitimately the prettiest cemetery I've been to. #asoutherngypsy #ATL #atlanta #visitatlanta #weekendwanderlust

A photo posted by Ashley Hubbard (@asoutherngypsy) on
10:00am – King of Pops
I first had a popsicle from King of Pops at Bonnaroo last year.  They started in Atlanta so I really wanted another one while we were there.  I got the Thai Iced Tea (one of my favorite things ever) and tasted exactly as it should and I got Kaleb the habanero margarita which was extremely unique and yummy.  We went to their stationary walk-up window location but they go all over the city.
I first had King of Pops at Bonnaroo last year – so I knew I needed to check them out in Atlanta. This is the Thai Iced Tea and holy crap. So good. Also, I leaned they just opened a Nashville location ?????? #asoutherngypsy #DiscoverATL #ATL #atlanta #atlantafood #atlantafoodie #kingofpops #popsicles #foodgasm #food #foodporn #yum #tattoo

A photo posted by Ashley Hubbard (@asoutherngypsy) on
10:30am- Revolution Doughnuts
The second donut shop I wanted to visit was Revolution Doughnuts where I got another half dozen to try.  Yes, that's a dozen donuts and two popsicles, pancakes in 24 hours.  Judge away.
??? #asoutherngypsy #ATL #atlanta #atlantafood #atlantafoodie #donuts #doughnuts #foodporn #yum

A photo posted by Ashley Hubbard (@asoutherngypsy) on
11:00am – Eat at Savage Pizza and Check out Little Five Points
We were then headed to eat lunch at The Vortex in Little Five Points before we headed home but we saw a pizza place right next door that was comic book themed and the nerds in us won.  We each got a calzone and the breadsticks – all of which was super yummy.  I would definitely check out this place if in the neighborhood.  We also had a pineapple habanero beer which was so different but so good.
---
Things we Really Wanted to do but just didn't have time
Clermont Lounge
The Vortex
Skyview Atlanta
Have you spent 24 hours in Atlanta?  What suggestions do you have for our next trip there? ↓↓↓
Looking for hotels in Atlanta? Read accommodation reviews here or book here.
Want a guidebook? Here ya go!
Using a CityPASS is cost-efficient! Check out the Atlanta one here.
What else have I written? You can find more Atlanta posts here and Georgia posts here.
Like this post? Have Questions? Hit me up on Facebook | Twitter | Instagram | Pinterest | Email
 ↓↓↓ PIN IT ↓↓↓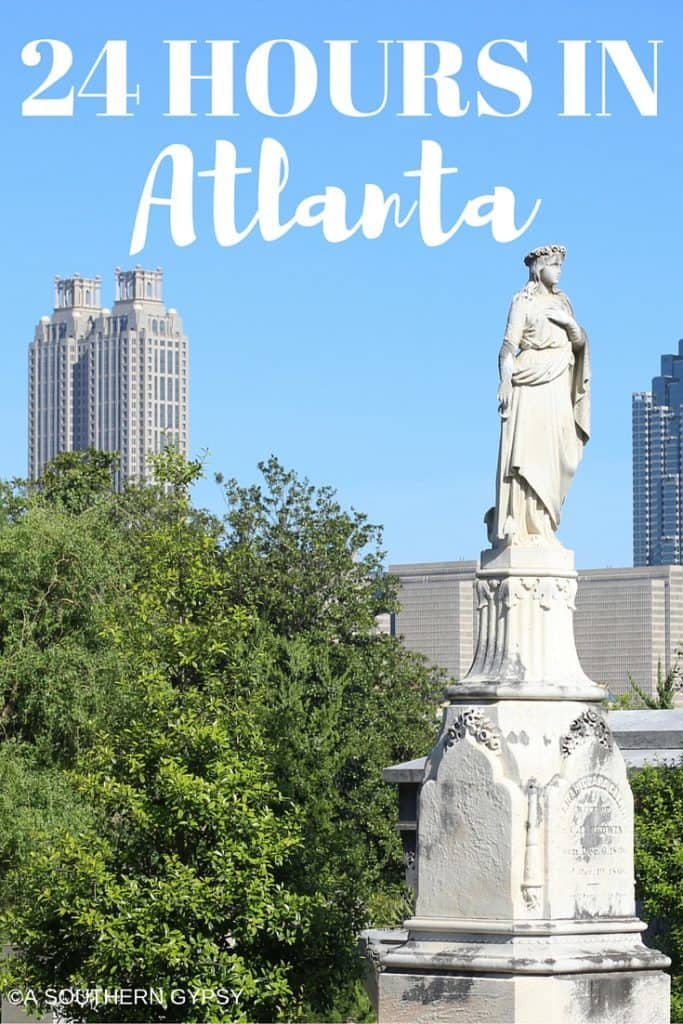 Latest posts by Ashley Hubbard
(see all)