This post may contain affiliate links, meaning if you book or buy something through one of these links, I may earn a small commission (at no extra cost to you!). Please see my disclosure.
When it comes to camping, the USA is a paradise for outdoor enthusiasts. From rugged mountain ranges to lush valleys, and crystal-clear lakes to tropical beaches: there's a scenic match for every preference!
To inspire you about the very best our country has to offer, I have gathered five of the best destinations for family camping in the USA. I'm confident that any of these breathtaking destinations will make you a happy camper, as they tick all the boxes for an adventure of a lifetime!
Keep reading to discover my favorite US-based locations to pitch a tent with your family.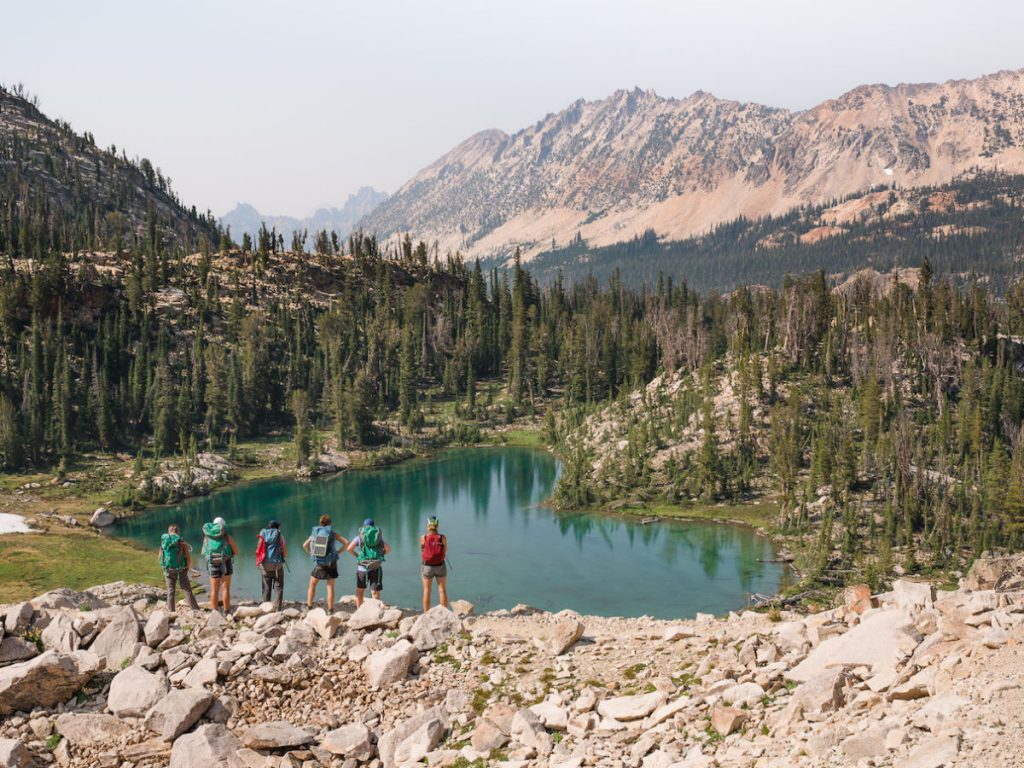 Sawtooth National Forest, Idaho
Sawtooth National Forest in Idaho is a bit of a hidden gem, which makes it the perfect destination for a fun-filled family adventure. Though this destination is quickly gaining in popularity, it is not yet as busy or crowded as other National Parks.
The park features multiple mountain ranges, including the Sawtooths, Boulders, White Clouds, and Smokies, providing stunning scenery in every corner of the park. From rugged granite peaks to lush valleys filled with wildflowers: Sawtooth National Forest has it all.
The park is one big playground for campers with an adventurous spirit and offers plenty of family-proof day activities. For example, you can go hiking along the park's 250 miles of trails, swim in one of its 300 pristine lakes, or explore scenic viewpoints overlooking breathtaking mountain ranges.
If you want to get active, you can take your family kayaking or raft down the Boise, Salmon, or Payette Rivers: guaranteeing a wet and wild adventure!
There are 37 developed campgrounds dotted throughout the park, offering more than 700 tent sites. Whether you want to be close to water (Wood River Valley campground) or up in the mountain ranges (Pioneer Campground, next to the Soldier Mountain Ski Area), there's a perfect tent pitch for every type of camper.
Do note that reservations may be required in peak season.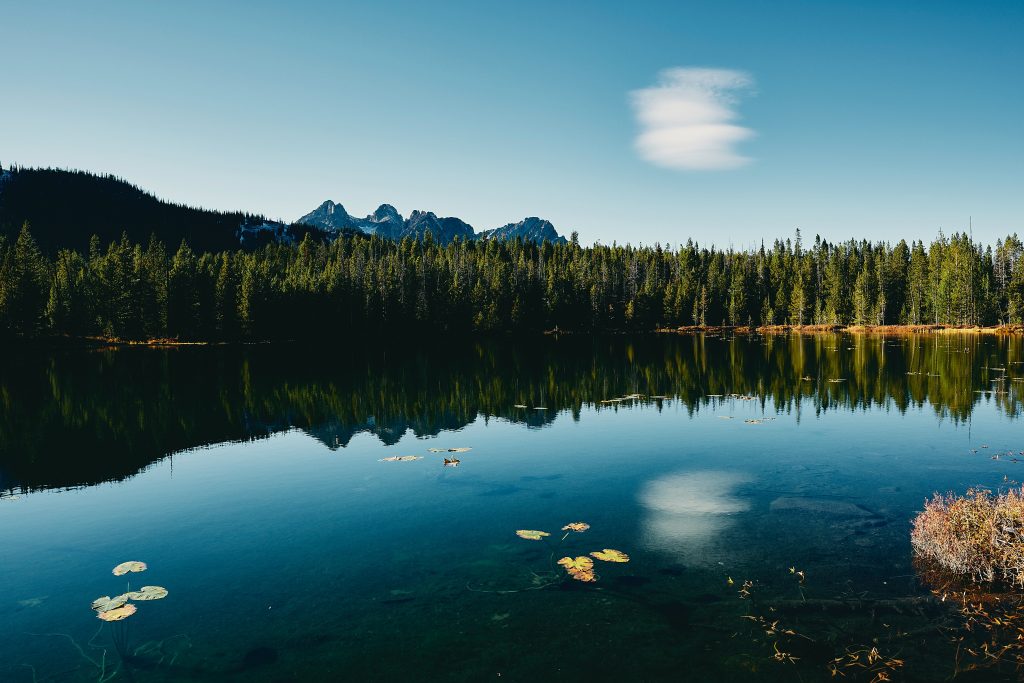 Acadia National Park, Maine
One of our favorite destinations for a family camping trip in the autumn months is Acadia National Park in Maine. This park becomes home to absolutely stunning fall foliage, which transforms it into a vivid canvas of red, orange, and yellow hues. That said, the park is a real treat year-round and is a great destination every season.
Acadia National Park stretches out from Mount Desert Island to the Schoodic Peninsula, offering more than 47,000 acres of lush nature, stunning beaches, and peaks – including Cadillac Mountain, a stunning setting on Mount Desert Island. The park has hundreds of different hiking trails, through all kinds of terrain.
A must-do with kids is a visit to Thunder Hole. This natural inlet, situated on the Mount Desert Island coast, produces a thundering boom when the water hits the rocks, something that will thrill young ones and adults alike. Another great family activity in Acadia National Park is a day of island-hopping to Isle au Haut: a beautiful island off the coast of Stonington. Part of the National Park, Isle au Haut offers plenty of entertainment, including hiking trails, bike paths, kayaking, birdwatching, swimming, and fishing. The stunning island is also home to various traditional art galleries, allowing you to browse for a hand-crafted souvenir before you take the ferry back to the mainland.
Acadia National Park offers plenty of established campgrounds, cabins, and lodgings. There are multiple KOA campsites, ideal for a family holiday, and you can even find some campgrounds on Isle au Haut. Beaches, nature, culture, and wildlife: Acadia offers something amazing for all.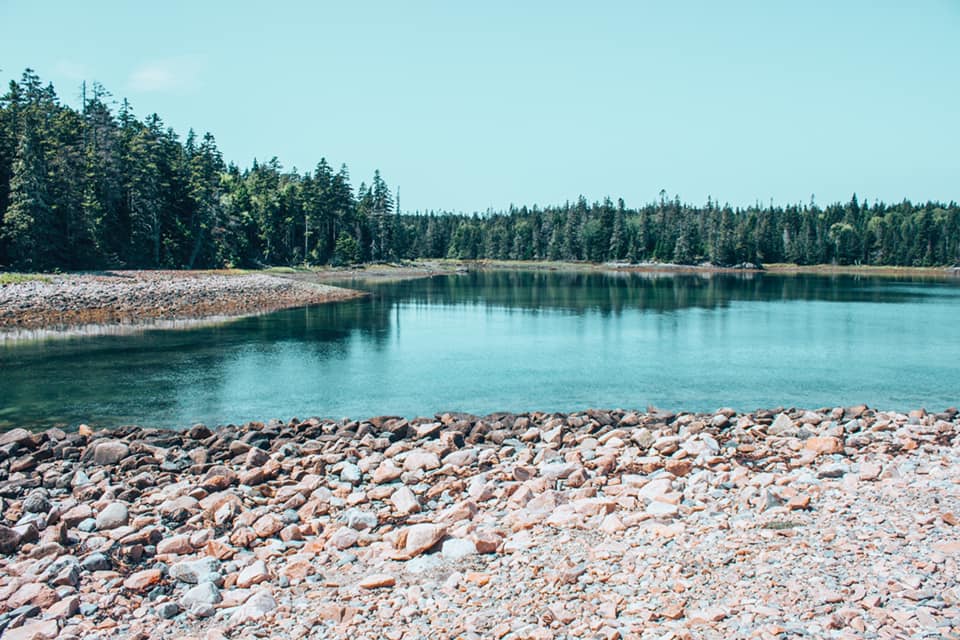 Crater Lake National Park, Oregon
Though one of the smaller National Parks in the country, Crater Lake in Oregon offers spectacular views and scenic surroundings in bucketloads. This breathtaking destination has something magical and enchanting and makes the perfect location for a family camping trip. The park was founded in an explosive way when, 7700 years ago, the volcano Mount Mazama erupted. The eruption caused the collapse of the volcano's peak, resulting in a deep and imposing caldera. Since then, this crater has filled with water, resulting in Crater Lake.
The lake is the deepest in all of the US and has a pristine quality as it's fed by rain and snow. Crater Lake National Park offers a wide range of family-friendly activities. You can explore the park by foot, hiking along the breathtaking rim of the crater, or explore it via the waters. From biking to scavenger hunts: there's plenty of fun to be had.
Furthermore, you can explore the park's best viewpoints via the Scenic Rim Drive. This scenic road is the perfect choice for a short road trip, taking in the park's majestic feel from the comfort of your car.
Do note that as Crater Lake is one of the smaller National Parks, the camping opportunities are a bit more limited. The park is home to 2 developed campgrounds, Mazama Campground, and Lost Creek Campground, totaling 240 tent and RV sites. Both are only open in the summer season and can be reserved in July, August, and September. In June, all sites are allocated on a first-come, first-serve basis.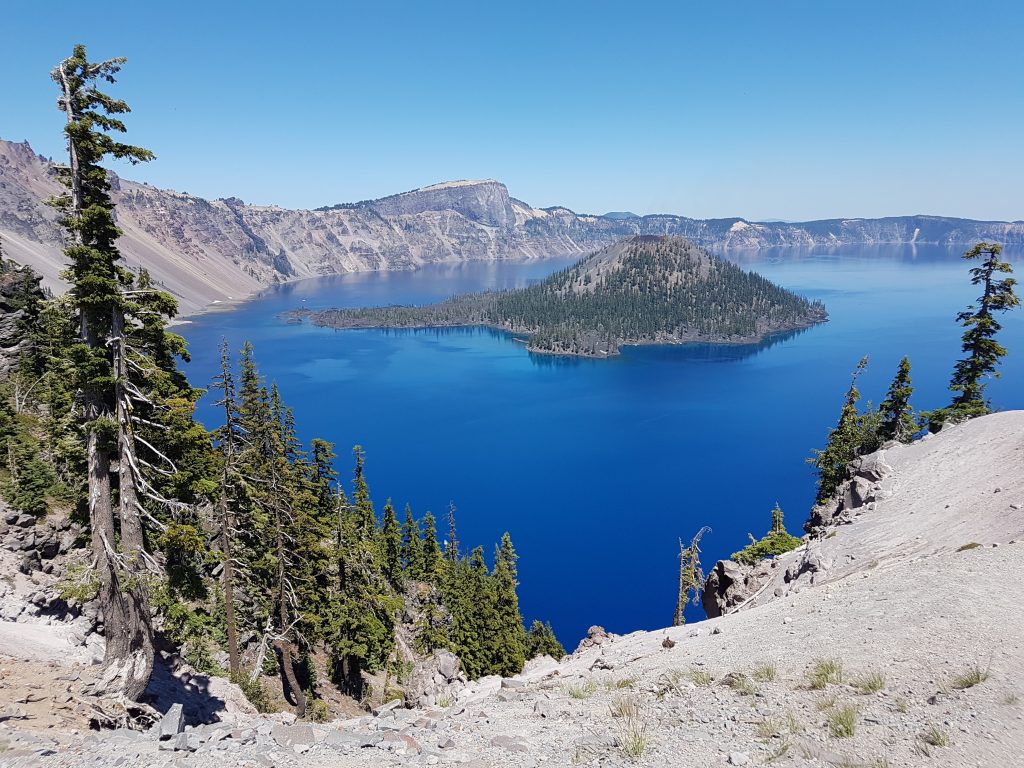 Biscayne National Park, Florida
Want to treat your family to a sunny break? Perhaps Biscayne National Park in Florida is your ideal destination! This breathtaking National Park adds a tropical flair to any camping adventure and is a paradise for all that love water activities.
Biscayne National Park is home to one of the world's longest coral reefs, which you can explore in a variety of exciting ways. The park itself is located just off the coast of Miami and consists of multiple islands. The most popular is Boca Chita Key, a tropical retreat with spectacular beaches and aquamarine waters.
You can explore the vibrant reefs in Biscayne whilst snorkeling, diving, canoeing, kayaking, boating, or stand-up paddleboarding. Do note that in Biscayne National Park, it's all about the ocean, the coral reefs, and the beach – meaning there is not a lot of other nature around. If you want a hiking holiday, this park is not your match. However, if you want a beachfront break and pitch your best pop up canopy for camping in the best sunny spot: Biscayne could be your dream destination!
The park is home to 2 established campgrounds, one located on Elliott Key, the other on Boca Chita Key. The campsite at Boca Chita Key features beautiful waterfront views, a grassy camping area, picnic tables, and grills. Keep in mind that whilst basic toilets are available, there are no showers, sinks, or drinking water. The campground at Elliott Key has restrooms with sinks, cold water showers, picnic tables, and grills. Be aware that the camping pitches at Biscayne National Park cannot be reserved and are allocated on a first-come, first-serve basis. This does mean that to land a coveted spot in this stunning location, you'll need to get there at daybreak. That said, for a slice of tropical paradise, we reckon rising early is a fair trade-off.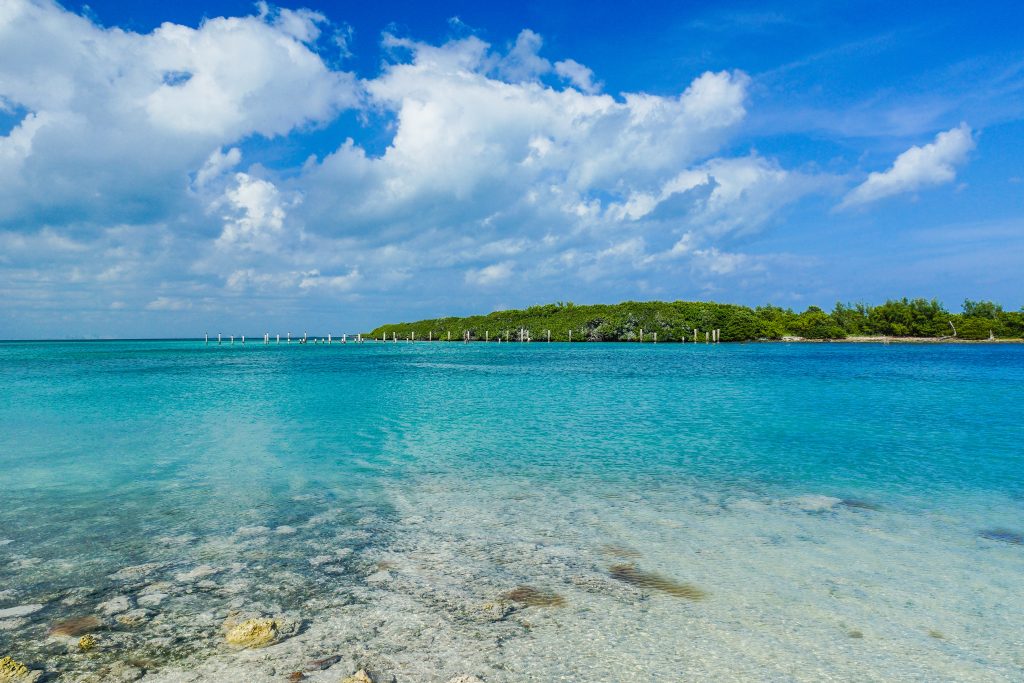 Denali National Park, Alaska
If you want to introduce your kids to rugged nature and adventurous spirit, Denali National Park in Alaska could be the ultimate destination. This park truly allows you to get away from busy, everyday life, and lose yourself in a timeless backdrop of imposing peaks, lush vegetation, and spectacular wildlife.
Granted, Denali may be a bit remote and a tad expensive, but for its breathtaking scenery, it's worth the money and travel time. Denali National Park is home to Mount McKinley, North America's tallest peak, which dominates the spectacular landscape.
Though Denali can be visited year-round, we'd recommend planning your family camping trip in the summertime. The temperatures are pleasant, the campgrounds are open, and you won't need 4 layers of thermal underwear to stay comfy. Plus, around mid-summer, you may even catch a glimpse of Denali's Midnight Sun: when even at midnight the sky is speckled with a golden glow.
Activity-wise, Denali National Park is all about adventure and exploring. The park is home to hundreds of hiking trails, scenic outlooks, and wildlife. The great thing is that Denali has hikes for every experience level, meaning that even with kids, you can find leisurely walks for little legs.
There are 6 established campgrounds in Denali National Park, 5 of which are only open during the summer season. As this park is very popular, you may require reservations for the peak season, so double-check if you need to pre-book your pitch. A tip: if the park's campgrounds are already full, consider venturing slightly outside Denali's border, where you'll find a range of campsites that are also worthy of your consideration!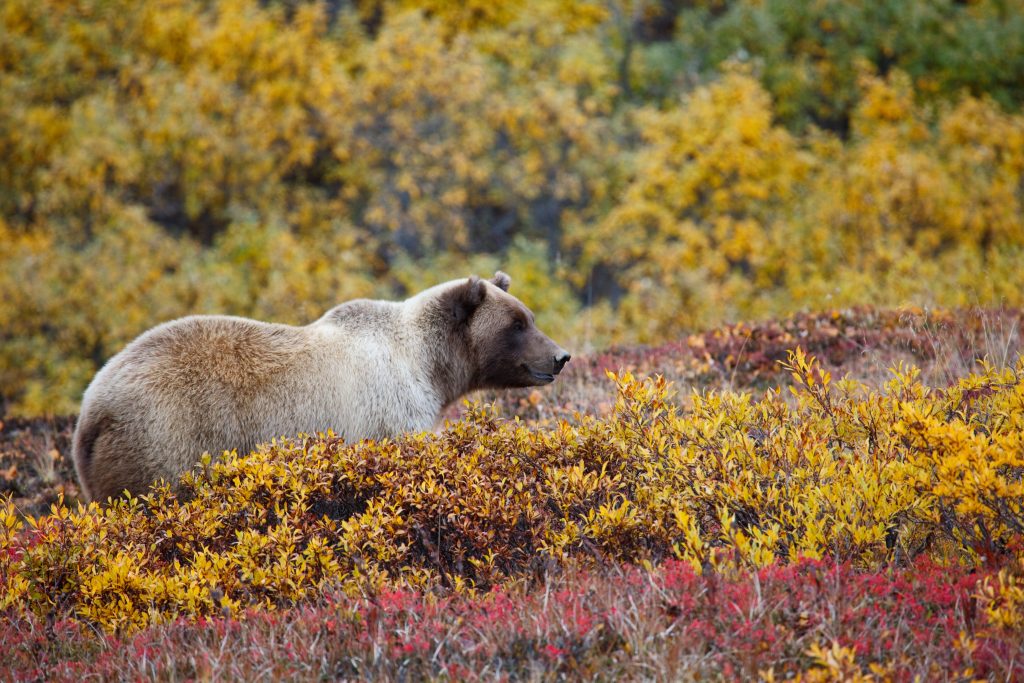 Latest posts by Ashley Hubbard
(see all)