This post may contain affiliate links, meaning if you book or buy something through one of these links, I may earn a small commission (at no extra cost to you!). Please see my disclosure.
There are countless reasons to visit Peru, including trekking to Machu Picchu, flying over the Nazca Lines, taking in the jungle's biodiversity in places like Manú National Park, sandboarding in Huacachina, or exploring Lake Titicaca.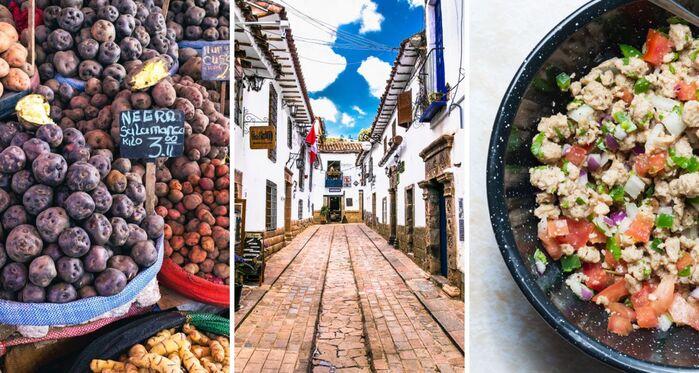 Of course, to fuel all these adventures, you need to eat. If you're a vegan traveling in South America, you may be worried about your meal options since this region is known as a place where meat and seafood feature so prominently in dishes.
Thankfully, Peru is probably one of the top countries in South America for vegans, with veganism only seeming to grow there every year.
Here are some tips for navigating Peru on a vegan diet. 
Peru and Veganism
Many travelers are beginning to realize how much their food choices impact local communities and the planet. Not only does processing animal products for human consumption cause greenhouse gas emissions that lead to climate change, but it also often involves severe cruelty to animals. 
In addition to this, it has been shown that eating products like red meat and dairy can even put you at a greater risk for various illnesses and diseases.
South America's vegan movement is really starting to take off, especially in places like Peru. Lima, which is well known for being one of the world's top foodie destinations, now offers travelers a great selection of restaurants serving up vegan-friendly dishes.  
Many Peruvian cities and tour companies have realized the number of growing vegan travelers. They are now more open to catering to those on specialized diets that forego dairy, egg, seafood, meat, and other animal products. The company I trekked the Inca Trail with was amazing with this!
To better ensure your Peruvian holiday as a vegan traveler is a pleasant one, I thought I'd share some helpful tips, including what vegan meals you should seek, how to find great Peruvian vegan food, tips for ordering from restaurants, and some other helpful advice. 
What To Eat In Peru As A Vegan
Look up any list of "must-eat" foods in Peru, and sadly you will see most dishes won't sit too well with vegans. That's because Peru's national dish is ceviche, which usually contains seafood, the popular lomo saltado which often contains beef, and then there is roasted guinea pig and grilled alpaca.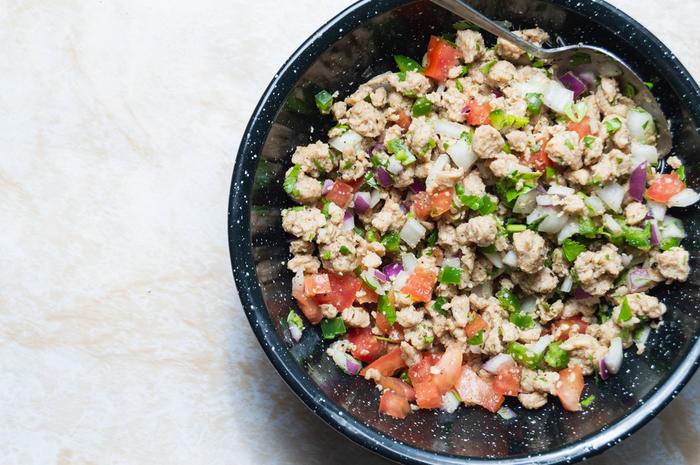 These "essential" Peruvian foods simply won't work for vegans. Thankfully, I'm here to tell you there are countless animal-friendly options available in Peru, so there is no fear of going hungry. 
Whether you plan on heading into the Andes, the jungle, or moving from Cusco to Puno to the lake, many vegan dishes will be available, many of which are traditional recipes.
In fact, many locals in Peruvian villages and small communities simply choose to or cannot afford to eat meat and other animal products and instead rely on a diet that focuses heavily on fruits, potatoes, corn, and grains. 
Lupin beans are also quite popular in vegan Peruvian dishes. A little-known protein-rich variety known as chocho is regarded as a superfood and is used widely throughout Peru in salads, soups, sauces, and even to make vegan burgers and ceviche.
Peru is the land of potatoes, with over 4,000 local varieties to choose from! They include fancy purple potatoes known as papa púrpura, papa amarilla, and papa tarmeña, which can be used to make vegan causa and papa huayro which are popular for making Peruvian fries.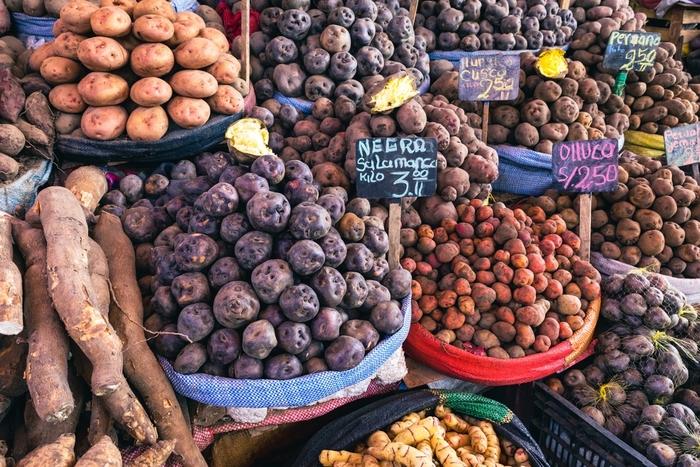 You will find many restaurants in touristy areas like Lima and Cusco that are solely dedicated to serving vegan dishes. They serve up everything from vegan tacos and burgers to banana waffles with chocolate sauce.
Dishes
One local vegan dish to look out for, especially in Arequipa, is Escribano, consisting of mashed potatoes, rocoto peppers, and tomatoes.
Other popular vegan dishes include stuffed bell peppers called rocoto relleno vegetarian, palta jardinera which is stuffed avocados, and vegan ceviche made with lupine beans mixed with cilantro, tomatoes, onions, lime, and cancha. 
Snacks
Be sure to sample some cancha salada which is salty roasted dried corn that takes the place of eating nuts, chips, or bread. Fried plantains in the form of patacones or chifles are another local favorite snack.
You can also accompany various snacks with salsa criolla whose ingredients vary but often include chopped bell peppers, onions, and tomatoes. 
Desserts
Try mazamorra morada, a jelly-like dessert served cold, consisting of purple corn and various fruits. Picarones are another popular deep-fried, doughnut-like Peruvian dessert that is made with butternut squash or sweet potato and sometimes topped with a sweet vegan-free syrup.
Finding Vegan Restaurants In Peru
You should have no trouble finding vegan-friendly restaurants in big cities like Lima or Cusco. In Lima alone, there are nearly 100 restaurants solely dedicated to vegans and vegetarians. In addition, more and more restaurants throughout the country are adding at least a few vegan dishes to their menu to provide for the ever-growing number of vegan travelers.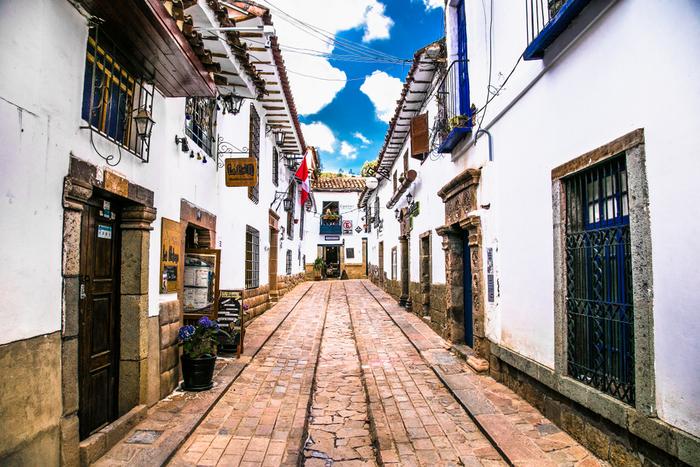 Thanks to the internet, there are many easy ways to find vegan restaurants. There are handy apps like HappyCow, which allows you to locate vegan food options at local restaurants, cafes, and grocery stores in many countries worldwide, including Peru.
There are also active vegan Facebook groups in Peru to connect with and inquire about the best places to eat.
Another great way to ensure vegan meals while in Peru is to book accommodation with cooking facilities and simply cook your own meals. Grocery stores and local markets are always stocked with fresh fruits and vegetables, along with an increasingly greater selection of vegan products.
Tips For Ordering Meals As A Vegan In Peru
While veganism in Peru is rather easy, it can often come at a greater cost than traditional dishes containing meat, seafood, and dairy, making it more challenging for those on a backpacker budget.
One reason for this is that the seasonal price of certain fresh produce has skyrocketed in recent years due to supply issues relating to climate change and severe weather in many cases. Another reason is that vegan-friendly restaurants are often located in larger cities with higher prices. 
One thing that will definitely help you when trying to order vegan meals is to understand a bit of the local language of the destination you are traveling to, which in the case of Peru would be primarily Spanish. 
You can either download a translation app or, better yet, learn some words and phrases that will ensure your meals are truly vegan. For example, some helpful phrases include:
I'm vegan. – Soy vegano if you are female or Soy vegano if you are male.
Without meat, fish, eggs, or dairy, please. – Sin carne, pescado, huevos, o dairy por favor
Note that in most cases, chefs and servers want to accommodate travelers. They may not fully understand what being vegan truly means. Don't be afraid to be specific about what your individual needs are. 
And even if you find yourself at a restaurant or café that doesn't serve dedicated vegan dishes, you can often easily create a vegan meal by omitting or substituting various ingredients, which many chefs will be happy to do.
For example, you can easily substitute mushrooms and fruit for the seafood usually found in ceviche or replace the beef in lomo saltado with various vegetables. Sometimes it may simply be as easy as leaving off the cheese in the case of certain soups or salads to make them vegan.
Peruvian Ayahuasca Retreats
Many vegans travel to Peru to attend an Ayahuasca Retreat. These retreats offer a spiritual, meditative journey that uses a psychoactive brew made of various leaves and vine stalks. Ayahuasca ceremonies and the retreats offered in Peru can be found in and around Cusco and jungle communities. 
These retreats often last several days to weeks, catering to vegan diets and promoting healing of the mind and body. Some people find they can free their minds or recover from past traumas through such a retreat.
One of the requirements, or at least a very strong recommendation, is that you follow a strict vegan diet weeks before your arrival, which is easy if you're a vegan! You should also abstain from cigarettes, alcohol, drugs, and caffeine in order to free your body of toxins.
Ayahuasca ceremonies and retreats are illegal in many countries, including the US, but they are legal in Peru. However, you do need to do careful research when selecting a retreat to select one where you will be supervised by a well-trained and experienced local shaman.
Many retreats also donate a portion of their profits to support various local communities within Peru.
Final Tips For Vegan Travelers In Peru
While you can easily manage a self-guided trip to Peru as a vegan, you can go with a specialized vegan tour company that offers trips to Peru. They will be led by guides with local knowledge to ensure you not only have a memorable experience but also stay true to your vegan diet.
And because trips to Peru often involve various day trips where you may be on long bus or train rides, be sure to take vegan snacks with you since they may not otherwise be available.
And lastly, in recent years, there have been several cities have begun hosting vegan festivals, including Ayacucho, Arequipa, and Huancayo. If you are a vegan traveler, you may wish to plan your travel to attend one of these festivals.
Latest posts by Ashley Hubbard
(see all)