This post may contain affiliate links, meaning if you book or buy something through one of these links, I may earn a small commission (at no extra cost to you!). Please see my disclosure.
I have no reason to lie to you. The idea of doing the classic Inca trail to Machu Picchu hike has always kind of been on my bucket list, but did I ever think it would really happen? I don't know; there are a lot of things on my list.
But when the opportunity came up to do the classic Inca Trail hike – a 4-day, 3-night trek – with Alpaca Expeditions, I knew I had to take it.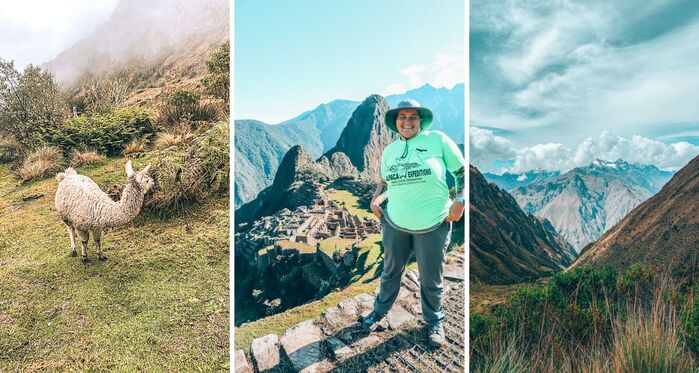 The Inca Trail to Machu Picchu Hike
A huge thank you to Alpaca Expeditions for hosting me on this trip. All opinions, as always, are entirely my own. Gratuities and some daily expenses were covered by myself.
The multi-day hike winds through the Andes and ends at Machu Picchu via the Sun Gate. The Inca Trail was a route of pilgrimage to Machu Picchu used by the Sapo Inca in the 15th century.
Its purpose was one of religious and ceremonial means. Because let's be real – there were much more accessible routes to take if you just wanted to do some trading.
For instance, the Inca people created extensive road networks to make it easier to travel. This system stretched over 25,000 miles all over South America.
There are many Inca Trail treks of varying lengths and alternative treks to Machu Picchu, but the classic one starts at km 82 and ends at Machu Picchu on the fourth day.
But a whole lot happens in those 43 km (26 miles).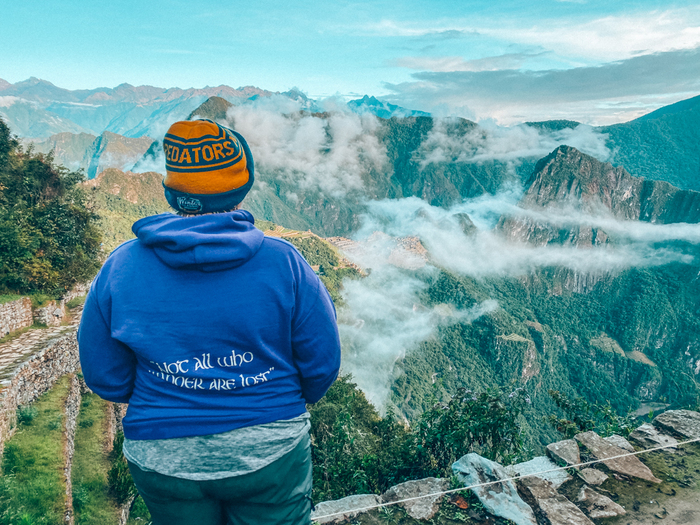 Choosing a Company for Your Machu Picchu Hike
As I mentioned, I was given the opportunity to go with Alpaca Expeditions. But that doesn't mean I didn't do my research before saying yes.
And I'd like to think, had I started the research on my own, I would have ended up with Alpaca anyway. There are several reasons why:
Cost – The prices are super reasonable, especially for what you get. Don't get me wrong; this is a bucket list experience with a bucket list price tag. But I can assure you that there are far more expensive experiences.
What's included on your Inca Trail to Machu Picchu hike:
Hotel pickup and transfer to km 82
Professional English-speaking tour guide
Entrance fees (to Inca Trail National Park and Macchu Picchu)
Porters to carry every. damn. thing. They carry all food, camping equipment, cooking gear, and more. Basically everything except each hiker's day pack.
Food and Chef – Four breakfasts, morning snacks, three lunches, afternoon snacks (or "happy hours"), and three dinners
Water – boiled to refill your water bottles after breakfast and lunch
Tents – two people per tent
Private, portable toilet for only AE's use
Guided tour of Machu Picchu
Transport from Machu Picchu to Aguas Calientes via bus
Transport from Aguas Calientes to Cusco via train then bus
And more!
Available to Rent:
You can bring your own or rent the below from AE.
Sleeping bags – $20
Trekking poles – $15
Treatment of Staff – As is the case with many places where tourism is a massive driver of money, there is a problem with exploiting the locals.
Not in this case. A former porter founded Alpaca Expeditions. Providing excellent service to their clients is essential, but providing a great environment for their staff is equally important.
The staff is all paid fair wages. And while tipping is highly encouraged, one of AE's things is "no one works for tips only." But you'll want to tip them – because they are that mind-blowingly amazing. 
Empowers Locals – As mentioned, AE is locally owned and operated. All of their porters are from the Sacred Valley community. And all staff were Peruvians.
What To Expect, Realistically
I finished the hike, and I'm glad I did, but there were some moments. Even with a fantastic company, this trek is no joke.
I mean, if I can do it, then theoretically, probably anyone can. But I'm also stubborn as hell. And on the flip side, there are a lot of people who have zero challenges during their trek.
Different companies take slightly different approaches to the trail regarding the day-to-day itineraries. How they split up the mileage each day will vary.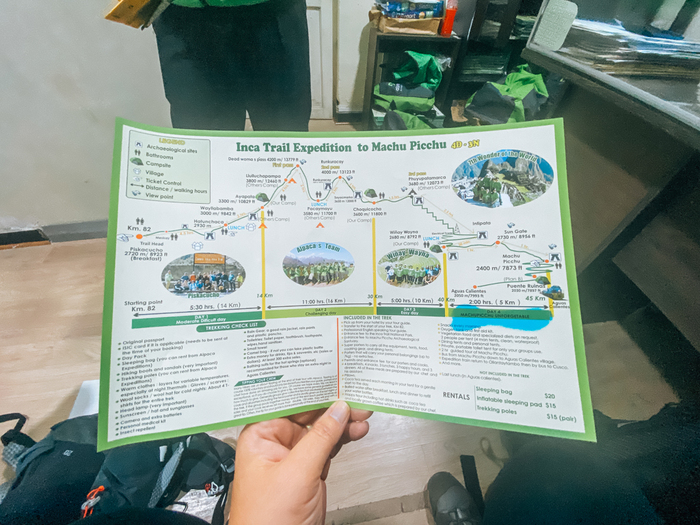 I wouldn't say one way or the other is harder. AE could arguably have one of the more challenging approaches; however, I totally get the thought process behind it.
Some companies start short and increase the hiking distance each day. Alpaca strategizes to optimize campsites, avoid crowds, arrive at the Sun Gate early on the 4th day, and make the last two days "easy."
All of this is to enjoy everything to the fullest. It's not a punishment; promise. 
Before I really get into the nitty-gritty details, here are a few things to disclose:
I hike slowly. I knew this beforehand, but I didn't fully understand how slow.
I have bad knees. One of my knees had its ACL replaced after an unfortunate ski accident. By accident, I mean I went skiing with no preparation. Sensing a trend here.
I am not in the best shape. Once upon a time, I was, and my brain likes to trick me into thinking I still am.
I got my period mid-hike. Yep, that perfect storm kept on brewing.
Altitude sickness. I should have arrived in Cusco 3-4 days ahead of the trek instead of just 48 hours. I didn't feel sick until halfway through the first day.
Then, I started feeling lightheaded, dizzy, nauseous, and extremely fatigued. This led to me barely eating anything for the first two days, which obviously does nothing for that whole needing energy element.
All of this isn't to paint me as a martyr (although I've accepted that I did something amazing despite the circumstances).
Instead, it's just to say; that this shit hit me hard.
Day 1 – Inca Trail to Machu Picchu
Difficulty – Moderate
Distance – 14 km (8.7 miles)
Campsite Altitude – 3300 meters (10829 feet)
Weather – Warm and windy
Day 1 is the "training day" meant to give you a little "taste." Quote marks are essential here.
First, Alpaca picked us up at the hotel in Cusco at 4:45 am. We stopped for breakfast along the way and arrived at km 82 around 8-9 am.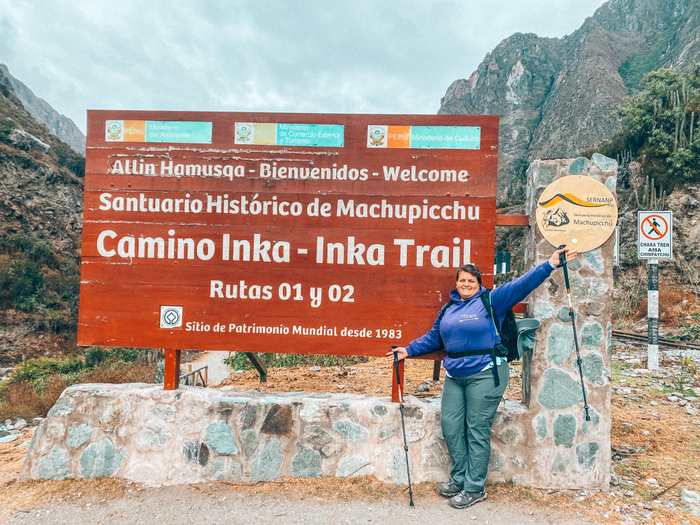 We then hiked for around two hours to the first Inca site, Patallacta, and then another two hours to lunch. After lunch, we walked another 2.5 hours to the first campsite.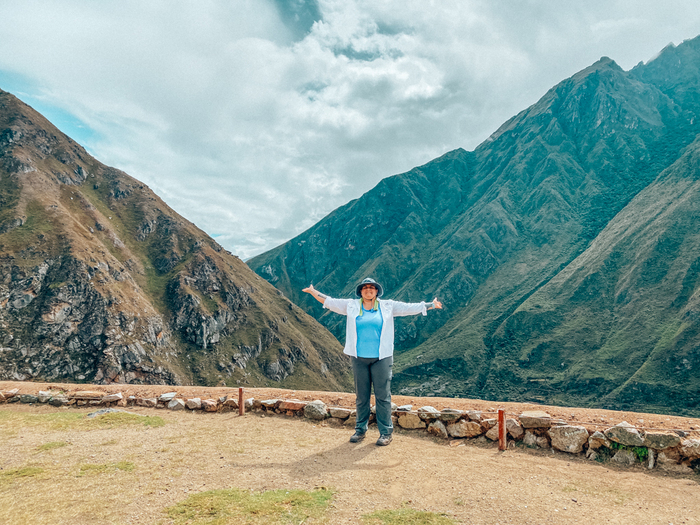 The bulk of the first day is lots of up and down, with a steady uphill ascent the last couple of hours.
When we were a couple of hours away from arriving at our first campsite, I knew I was in trouble. In general, and for the coming three days. 
At this point, I was beginning to feel the start of my altitude sickness. Nausea. Headache. Fatigue. And the one that scared me the most – light-headed and dizzy.
A text to my husband reads: "I honestly don't know what I got myself into. I feel extremely lethargic, and the last 2 hours are uphill basically. I feel like my body is just dead weight."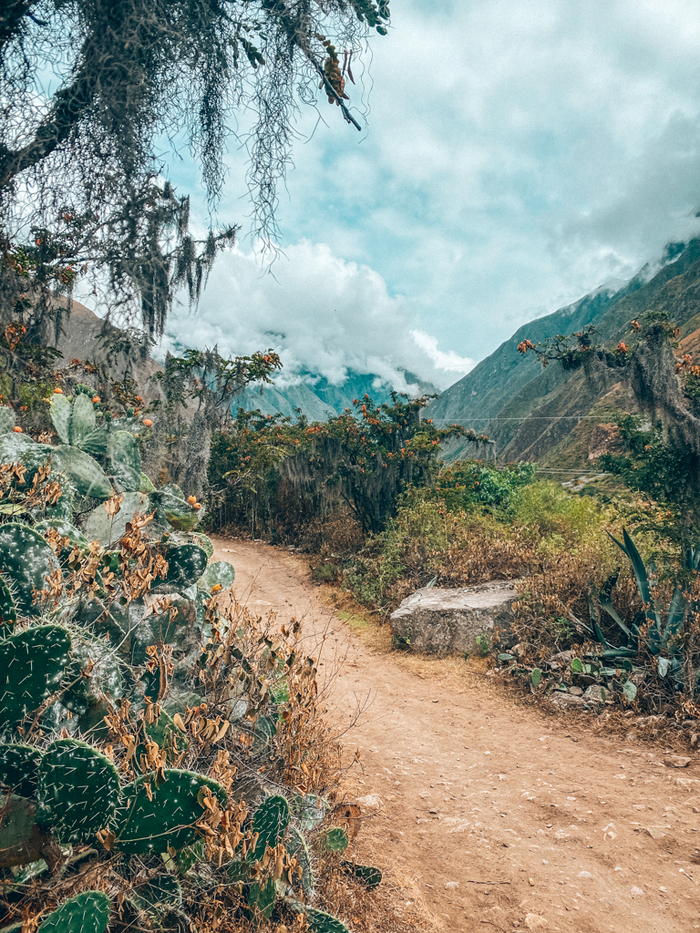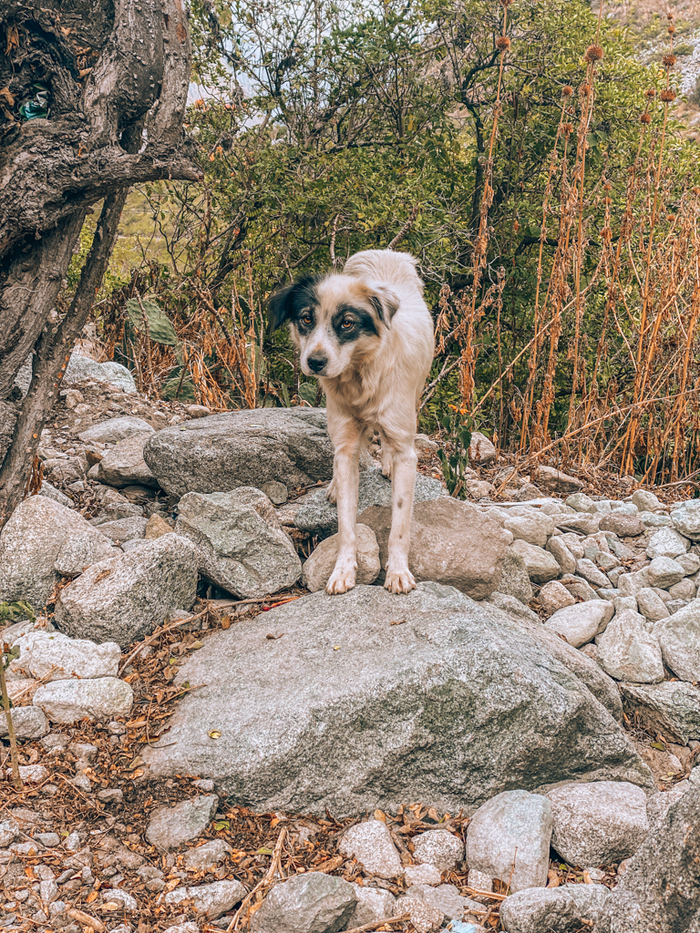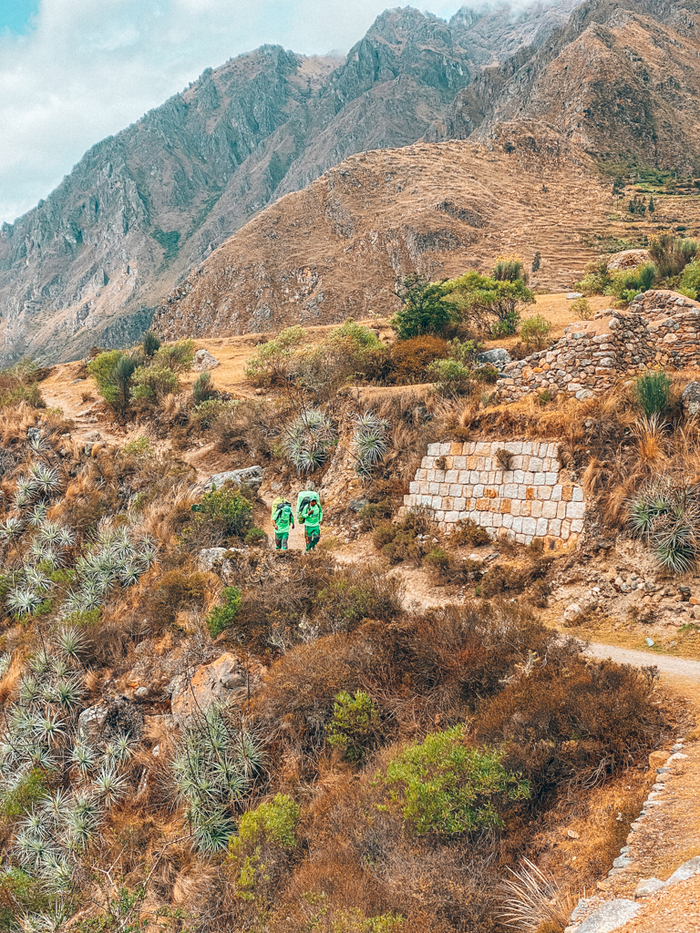 I arrived at camp about 45 minutes later than the rest of my group (except for my guide Javier, who was amazing!), went straight to my tent, and cried—a lot. 
I went through some serious internal crises – Should I stay or should I go? Can I do another day of this, two days, three days? Will I ruin this for the rest of my group if I continue? How the hell do I even get back if I decide to go back?
I stayed in my tent the rest of the night – contemplating, crying, swallowing ibuprofen.
Day 2 – Inca Trail to Machu Picchu
Difficulty – Challenging
Distance – 16 km (9.94 miles)
Campsite Altitude – 3600 meters (11800 feet)
Weather – Chilly, windy, and (possibly) rainy
At some point in the middle of the night, I started leaning heavily towards ending my trek the following day and returning. And I was about 80% sure I was doing just that until I got up.
For some reason, I decided to continue. Whether it was my stubbornness, the idea that hiking back a full day the way I already came sounds just as terrible as continuing, the fact I'd be upset with myself if I didn't continue, the moral support of other hikers and the AE team, or a combination I don't know.
Before I started the trek, this was the day I was most concerned about. For good reason. But, when day one was so challenging, my concerns grew. For good reason.
I left camp about 30-45 minutes before the rest of my group to get a "head start." They eventually caught up to me, but I did feel pretty confident about my pace.
Day two begins with a roughly 4,000-foot uphill climb – literally up stairs – which usually takes around four hours. It took me close to six hours. 
And not regular stairs (not that that would be better), but Inca stairs. By "Inca stairs," I mean tall and skinny, incredibly uneven and steep steps.
Where does this lead you to, you ask? To the aptly named Dead Woman's Pass – the first and highest pass, which sits at 13,779 feet.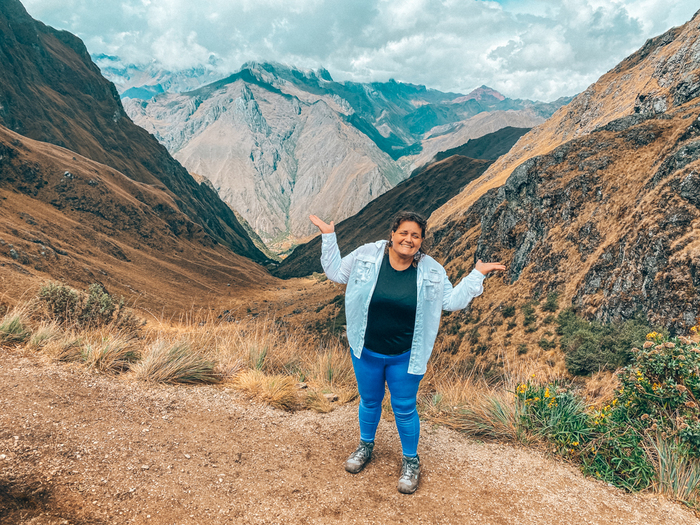 At the top of Dead Woman's Pass will be the last chance to purchase snacks, drinks, etc., from locals that set up trailside stands.
After you've reached the top, it's about two hours straight down to lunch. For reference, this is where most other companies camp for the second day.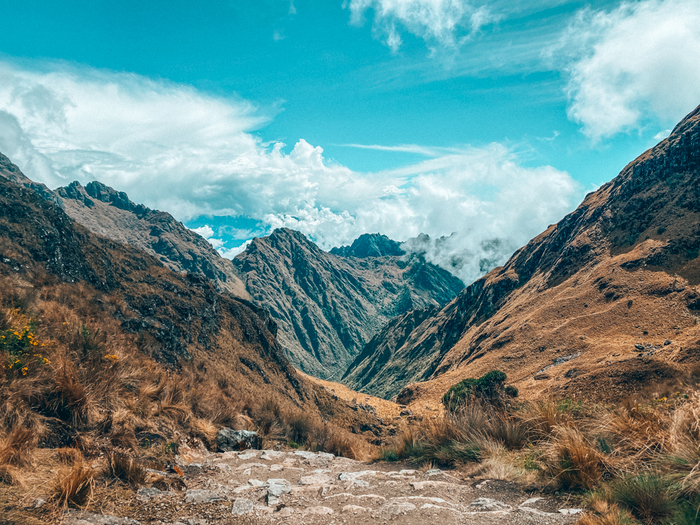 After lunch, it's on to climb the second pass–uphill for about 2-3 hours for an elevation of 13,123 feet. And then another 2-3 hours straight downhill again where you'll arrive at your campsite.
It was quite the journey just to get to lunch, and I seriously didn't know how to go on. Another 5-6 hours, at least half of that uphill? Insane. We just did a full day of hiking already.
It was left up to me whether we would camp at our lunch spot or continue. If we continued, though, we had to make it all the way to the campsite. So, it was 0 more hours or six more hours. Starting at like 2 pm.
I *truly* wanted and almost chose to stay. But then I was like, f*ck it. It's going to be horrible and challenging no matter what I do.
This way, I'll at least have an easy day tomorrow, and the second pass is done with.
We did make it in the dark and with a little bit of rain. I went straight to my tent again and didn't come out until morning.
Day 3 – Inca Trail to Machu Picchu
Difficulty – "Easy"
Distance – 10km (6.2 miles)
Campsite Altitude – 2600 meters
Weather – Warm(er) and humid
"I did the most difficult day of my life yesterday…" – me texting Michael
Day 3 begins with about two hours of "Inca flat," which means not flat at all. At this point, you'll likely (hopefully) be happy you're still here, as the third day is easily (arguably) the most beautiful.
You'll be met with views of the Salkantay peak, panoramic views of the Vilcabamba mountains, and a stunning cloud forest. You'll almost forget that you're making your way up and over the final pass.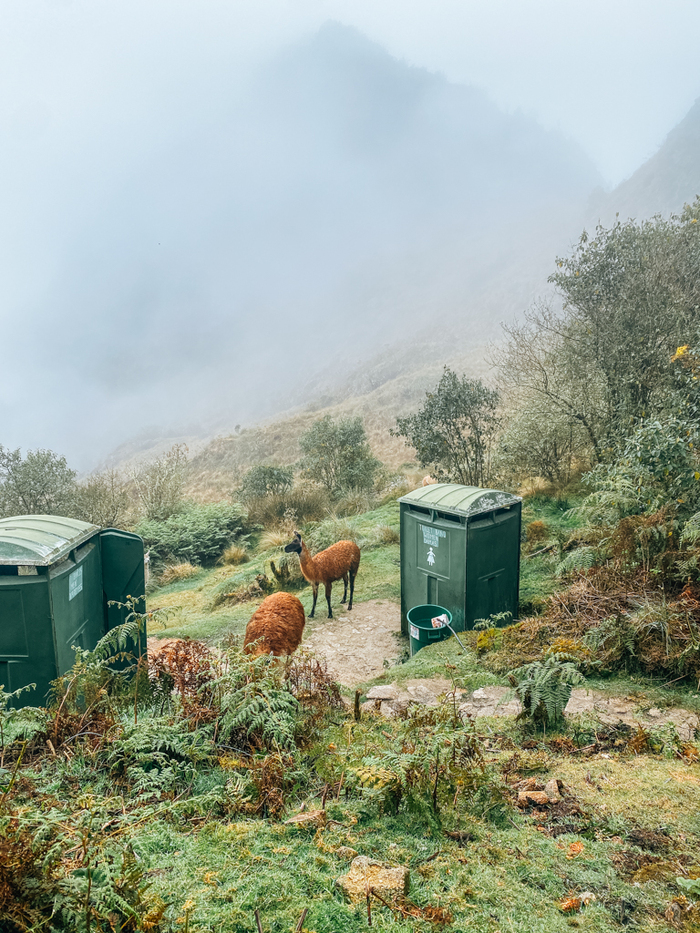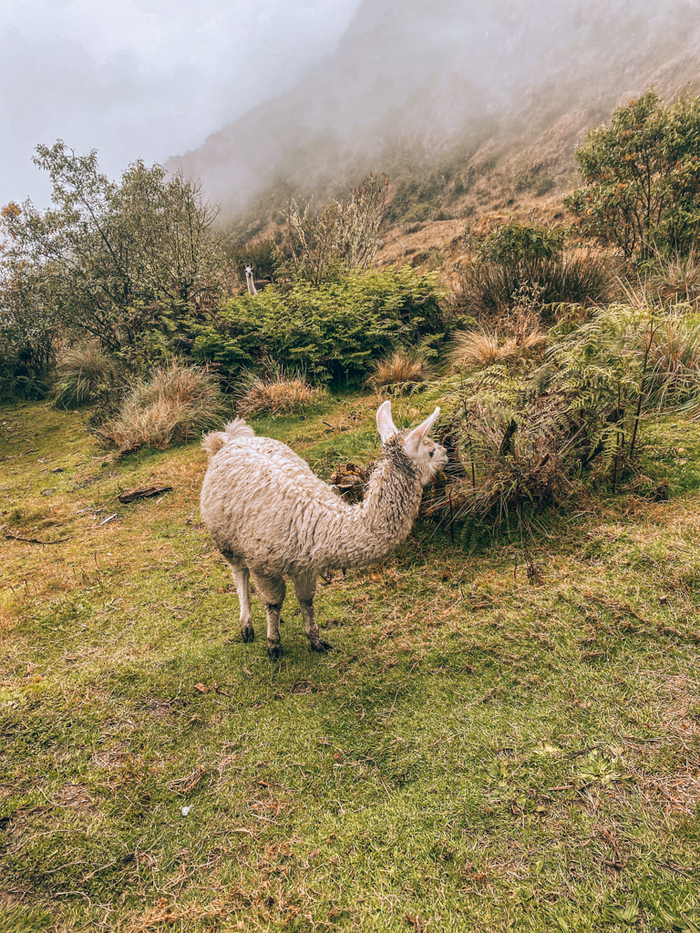 From there, it's a 3-hour journey down "steps" to the final campsite, exploring a couple more Inca ruins along the way.
You'll arrive at your final campsite in the early afternoon, which gives time for extra rest, a cold shower (if you choose), and a fun evening ceremony with everyone.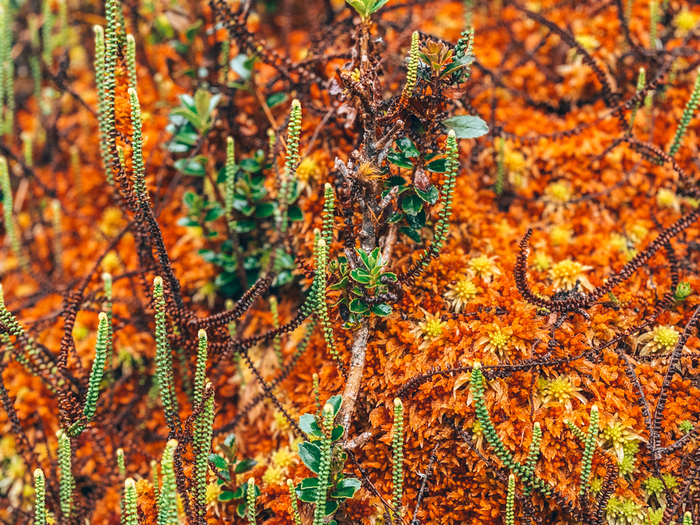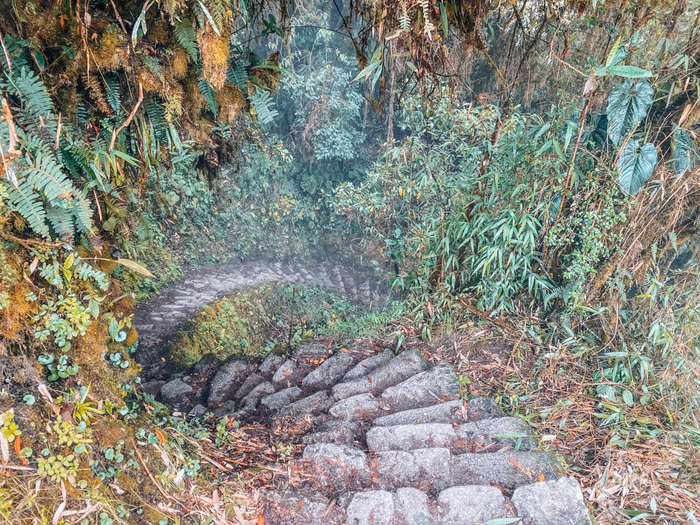 Day three was my favorite day, and not just because it was the shortest day. The beauty was unmeasurable.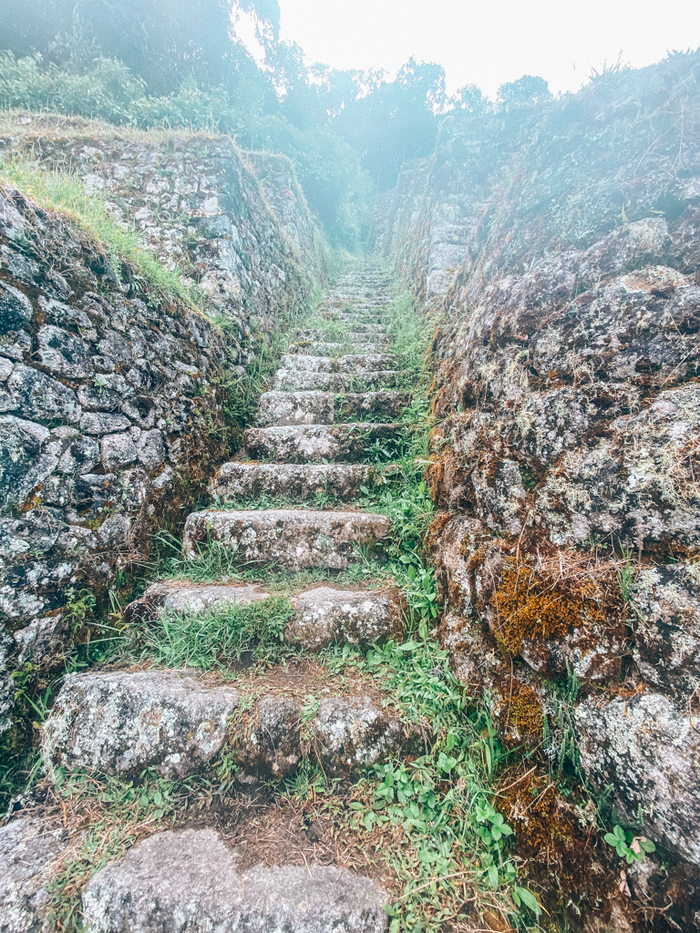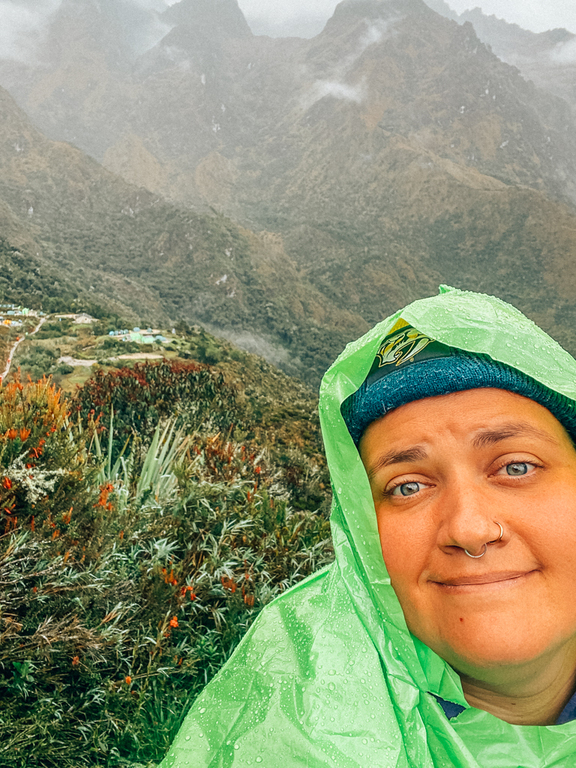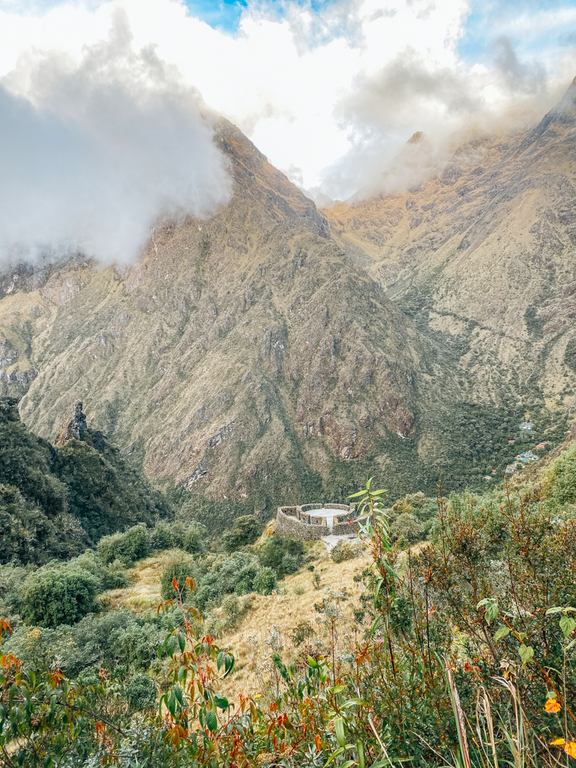 Day 4 – Inca Trail to Machu Picchu
Difficulty – Easy (prospectively)
Distance – 5 km (3.1 miles)
Weather – Hot and humid
The final day begins with a 3:20 am wake-up call. You don't start hiking that early, but it is worth it!
You'll be one of the first groups at the Machu Picchu checkpoint (only 10 minutes away from the AE campsite), which opens at 5:00 am. You just chill here for like an hour until the gates open.
From here, it's a moderately easy two-hour hike with short spurts of up and down and actual flat spots.
The main tricky part is the flight of stairs that are basically vertical. Apparently, they're nicknamed "monkey stairs," and I'm confident that is exactly what I looked like climbing them. Both hands and feet were used.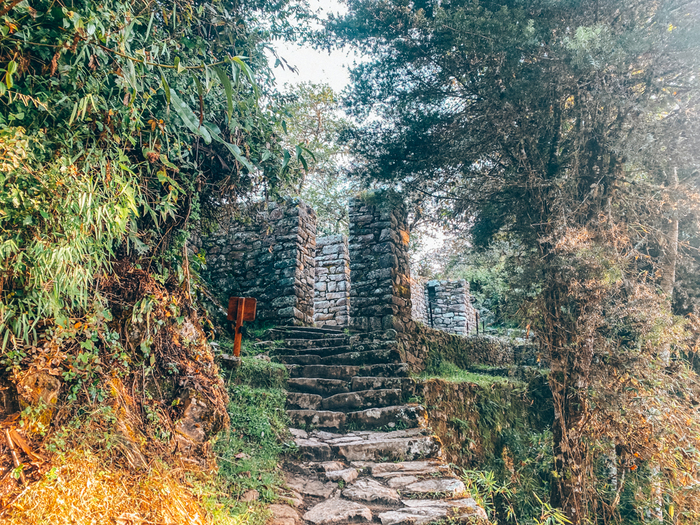 After that, it's just a little further to the Sun Gate. This is an exclusive vantage point that only Inca Trail hikers can experience.
When we first arrived, Machu Picchu was slightly covered in clouds which was laughable at best after the past three days.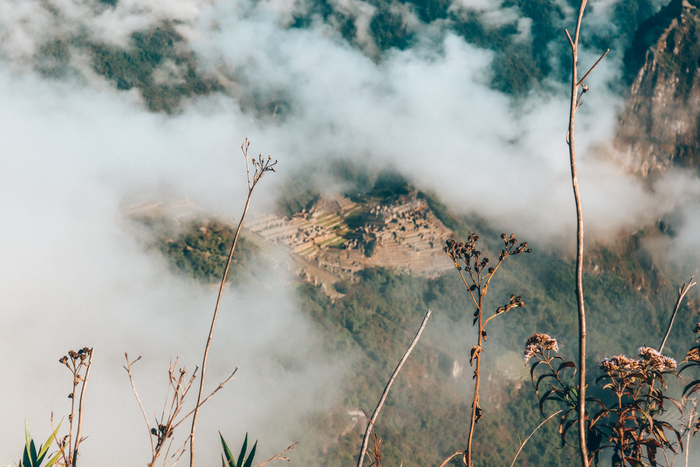 But, she came into view as we stood there. And I almost thought, "Damn, I'd do this again."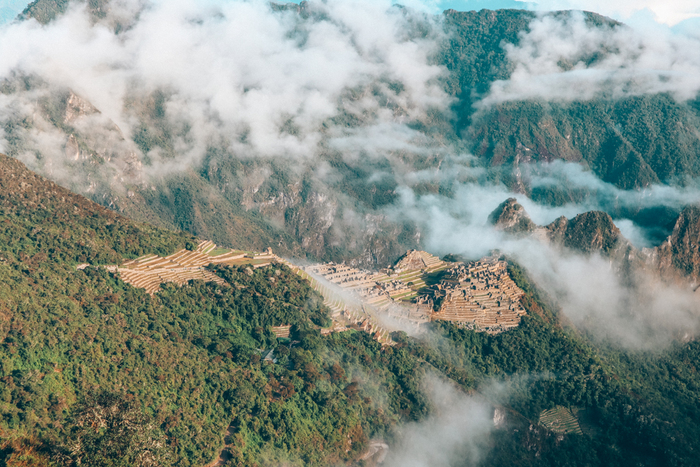 Latest posts by Ashley Hubbard
(see all)