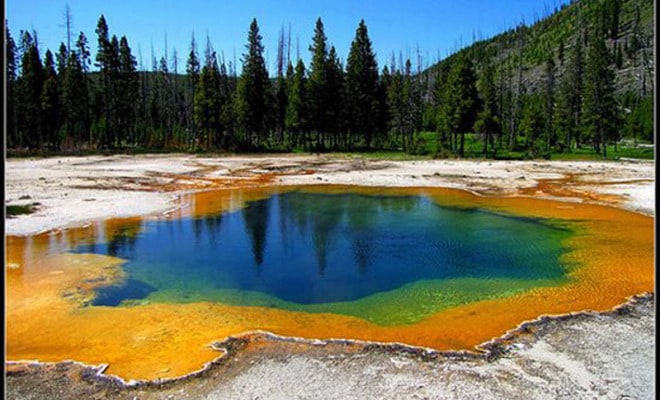 TRAVEL
Top Hiking Destinations in the US : Part Two
By |
This post may contain affiliate links, meaning if you book or buy something through one of these links, I may earn a small commission (at no extra cost to you!). Please see my disclosure.
Top Hiking Destinations in the US : Part Two

While we all like to vacation, hiking is becoming a more popular way to spend time away from home. Whether you take an extended hike and choose to camp along the way, or just opt for a day hike and book accommodations, your trip is sure to be full of majestic views and landmarks. It is a fun and interactive way to enjoy places that you vacation at during the year.  Last week, I covered several destinations that are fantastic for hiking and decided there were too many for just one list.  Below you will find part two of the top hiking destinations in the US.
Yellowstone National Park
Yellowstone has been a mystery in this country since the first explorers discovered it so long ago. This park offers up several hiking trails that meander the vast expanse of over 2,000,000 acres. You can take a walk through the hot springs and mud pots to see famous geysers and multicolored pools of hot sulfuric water that litter the countryside. It is an otherworldly experience as you walk past the bubbling emerald and sapphire colored pools of water. You can trek to Old Faithful and wait for it's daily eruption.  Be sure to visit the Lodge at Old Faithful where they have a large gift shop and great accommodations.
You can also explore some of the Parks natural wildlife that is abundant.  Many of the hiking trails meander through the forested areas and around mountainous regions where you can take in beautiful waterfalls including Yellowstone's own Grand Canyon. With enough hiking trails to keep you busy and intrigued for days Yellowstone offers hiking for the novice or the experienced person.
Grand Canyon
Seated in northern Arizona, this amazing work of nature spans over 277 miles in length and at its maximum width is 18 miles across. If you look over the edge of these cliffs you will see that the canyon is a mile deep! The view and striking visuals of the canyon itself are something that pictures cannot do justice.
Upon arriving you will find there are a multitude of ways to enjoy the area.  Hiking the famous Bright Angel Trail, you are sure not to be a lone wolf. Many people enjoy this track around the South rim of the canyon.  Sightseers and hikers prefer this particularly for the photo opportunities of the views. This is also the side of the canyon that has the most access to amenities and is mainly for people who want to take short hikes.
The North rim offers a very different hike and is a place where experienced hikers and even hard-core survivalist go for camping and some hiking that can be difficult. It's a place you can go if you would like to experience the canyon without much of a crowd. Either way your experience at the Grand Canyon is sure to be breathtaking and one you will not soon forget.
Jackson Hole
The home of the majestic Grand Teton Mountains, Jackson Hole, Wyoming is situated in a large valley and is surrounded by amazing jagged peaks that stretch to the sky. Jackson Hole Valley is a paradise that is surrounded by peaks and a National Forest, making it nature's playground.
With miles of beautiful forest surrounding the area and rolling hills backing up to the mountains you are sure to find a trail that is suitable for your hiking needs.  They span from easy and moderate trails that weave through the forested areas, to more rugged trails that traverse mountainous places. Hiking enthusiasts of all kinds will find a fun and beautiful trail to hike here. When your hiking is over there are a plethora of accommodations for you to choose from.  Soak all of your sore muscles in a hot bath and enjoy a scrumptious dinner before sinking into a plush bed for the night. Also a popular skiing destination, Jackson Hole can be enjoyed year-round.
Hawaii, Big Island
We all know that Hawaii is touted for its amazing beach vacation spots and surfing, but many of us do not know that the Big Island is a hikers dream. Geographically, the abundance and variety of landscape makes this place an excellent spot for a hiker. You can experience beautiful black sand beaches and in a short time be traversing snow-covered mountain peaks. You may also hike through the famous desert (which is an otherworldly experience to find yourself in on an island known for paradise), or meander through beautiful and colorful rain forests that hug the mountainous hills. The biggest attraction on the island for hikers is the spectacular erupting Kilauea Volcano. The island offers a hiking experience that is a step above the rest and will not disappoint
Acadia National Park
Saying that Acadia National Park is picture perfect would be an understatement. There are opportunities for beautiful photographs around every turn and up every trail. You get the advantage of hiking the beautiful rolling mountains in the forest and also experiencing the wildlife such as the harbor seals that sun themselves on the coast. The hiking can be rugged and a bit rocky but is worth every step. There are several hiking trails to explore, as Acadia is over 47,000 acres. Be aware that if you visit in the spring, some of the hiking trails will be shut down to hikers. This is when the protected Peregrine falcon comes to nest on the Jordan Cliffs of the park.
With photo opportunities in abundance, this is a sightseers dream hike. You will leave the park with many pictures that you can enjoy for years to come.