This post may contain affiliate links, meaning if you book or buy something through one of these links, I may earn a small commission (at no extra cost to you!). Please see my disclosure.
I feel like TBEX has been a long time in the making for me.  I've been blogging for about four years now and there have been several instances where I was supposed to attend – Athens, Stockholm, Ft Lauderdale, Cancun to name a few – but the timing just never worked out.  When I found out the North America one was going to be held in Huntsville this year – a mere hour and a half away from me – I knew I had no excuse not to go.  Even then, I went back and forth on whether I should go or not.  Over the past two years, it has become difficult to tear away from home and leave Kaleb to run the business alone plus I didn't really know why Huntsville would be an exciting destination for travel bloggers from all over the world.
I had a lot of questions about TBEX.  I kind of knew some things from blogger friends but it still seemed like insider world that you didn't really understand unless you've attended one.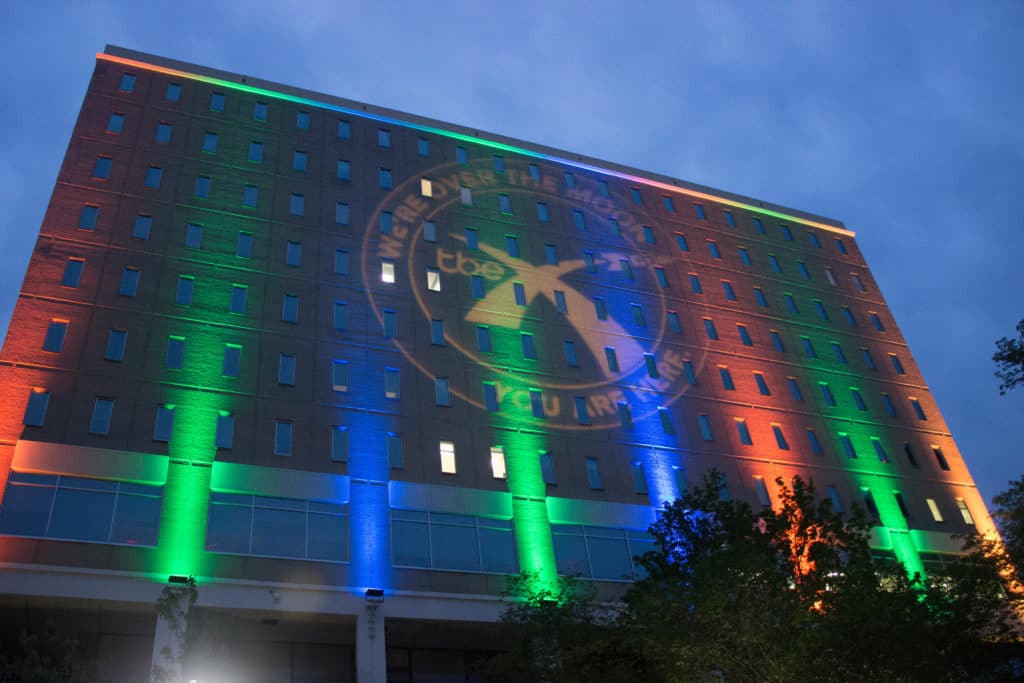 What is TBEX?
TBEX stands for Travel Bloggers Exchange and is a place for travel bloggers and writers to come together with travel industry professionals such as tourism boards, travel PR companies and brands.  Networking with these companies and other bloggers is by far the best thing about TBEX but it also includes great learning sessions, amazing speeches by well known travel professionals, pre and/or post trips and more.  Every year, there is usually three TBEX events all over the world – one in North America (next NA to be announced), one in Europe (next in Killarney, Ireland) and one in an international destination (next in Zimbabwe).
I can't speak for the size of all events or whether certain destinations bring more attendees but I believe there were about 600-700 bloggers/writers in Huntsville not to count the sponsors or speakers so it was a relatively large number of people.
Where Should I Stay?
I think this could slightly change on the destination.  There are generally one or two hotel recommendations by TBEX.  For instance, there was an Embassy Suites attached to the conference center and another hotel just across the street.  These were both recommended and I would say a large majority of attendees stayed at one of these.  I stayed off site a couple miles away because I was on a budget and while I definitely would have liked the convenience of being so close, it was not bad at all staying somewhere else.  There wasn't really any traffic, I had a car and it was easy to navigate.
With that being said, if I didn't have a car (the price of Ubering everywhere would have outweighed staying in a less expensive hotel) or if I wasn't on a budget, I would have chosen to stay on site.  It's also nice to stay where everyone else is staying to because its easier to mingle before or after the conference in the hotel lobby and so on.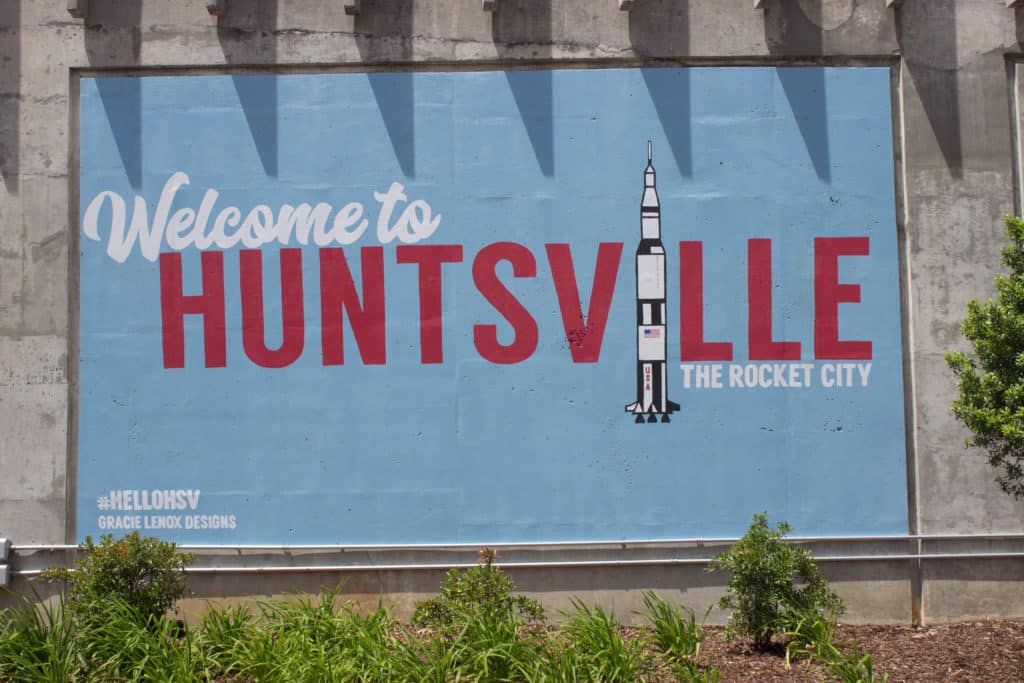 Why Huntsville?
I won't lie.  When I heard it was going to be in Huntsville, Alabama my first thought was "whaaaaaaaat?"  Aside from being super close to me and therefore making it more affordable for me to go, I was not in the least bit excited about it being in Huntsville.  After all, I had previously planned on going to locations like Stockholm and Athens for TBEX and Huntsville just didn't seem like the same.
Here is where I will admit that all my pre-conceived thoughts were COMPLETELY WRONG.
The Huntsville Convention and Visitors Bureau did a wonderfully amazing job of hosting us and living up and going beyond all expectations.  I obviously have nothing to compare it to but it was my understanding by almost everyone I spoke with that this was their favorite TBEX ever mostly due to the part of Huntsville.  We felt welcomed everywhere we went.  The city and the people actually seemed really excited and pleased to have us visiting.  There were TBEX stickers on every door in town and I mean every door.  Everywhere we went, it seemed the locals knew what we were there for and were happy that we were there.  One guy even bought four of us a drink and told us how wonderful it was that we were visiting their city.  It's my impression that some other host cities did not go above and beyond like this.
So, if you're thinking about not attending TBEX because you think you won't like a destination, please don't!  Unless you're spending time before or after the conference, you won't see much of the city on your own anyway!
Pre or Post-Bex Tours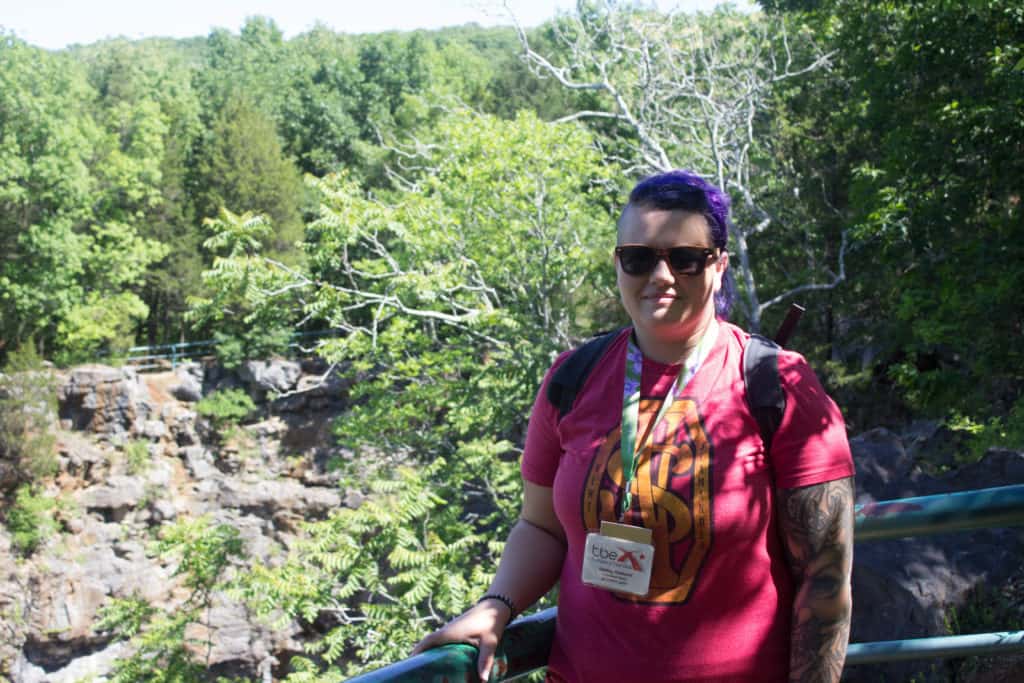 Every attendee has the opportunity to attend a pre or post bex tour.  It's included in the ticket price and there are options for every kind of activity you could want to do.  I didn't see too many that stood out to me but I also don't like group like tours that much and prefer to do my own thing a lot.  However, I and Lauren did sign up for the hike with the Land Trust of North Alabama and I'm so glad we did!  This hike and tour was fabulous!  I really just thought they would be taking us on a hike and making sure we didn't get lost but we had a lady from the Land Trust, a botanist and two avid bird watchers with us so that along the way they could introduce us to the local fauna, birds and history.
After the hike, we were treated to a lunch in the Three Caves "bowl."  These pictures do not in any way do the size of these caves justice.  This place was really wonderful to see and they even do concerts down here.  In fact, one of my absolute favorite bands – Moon Taxi performed there and I can only imagine how magical that must have been.  Look for a more detailed post on my hike and the Land Trust soon.
Additionally, there are FAM trips after the conference.  These are trips that you must apply and be selected for and there are several different options as well.  I did not apply for any because I signed up so late for the conference but definitely keep an eye on those!
The Parties
At Huntsville, and I believe they are all like this, there was a party each evening.  Huntsville went above and beyond for these parties.  I hope I'm not disappointed at future TBEX parties!
The opening party was at AM Booth's Lumberyard which is a re-purposed lumberyard turned into event space.  This place was absolutely amazing!  They do weddings, fundraisers and much more here and I can see why – this place is huge and just oozing with character.  Lauren and I spent a great deal of time chatting with new friends and old friends here, getting free drinks from our bartender friends we met the night before and taking ridiculously sassy photos.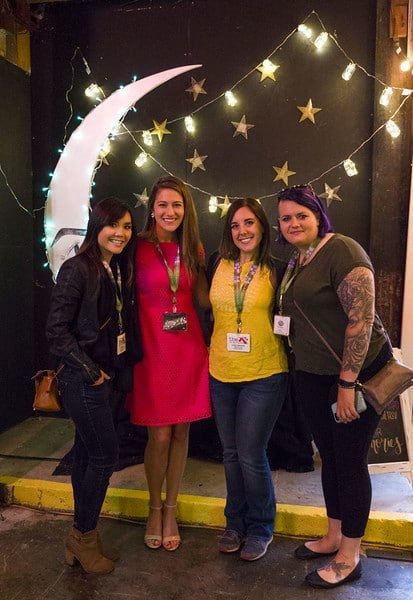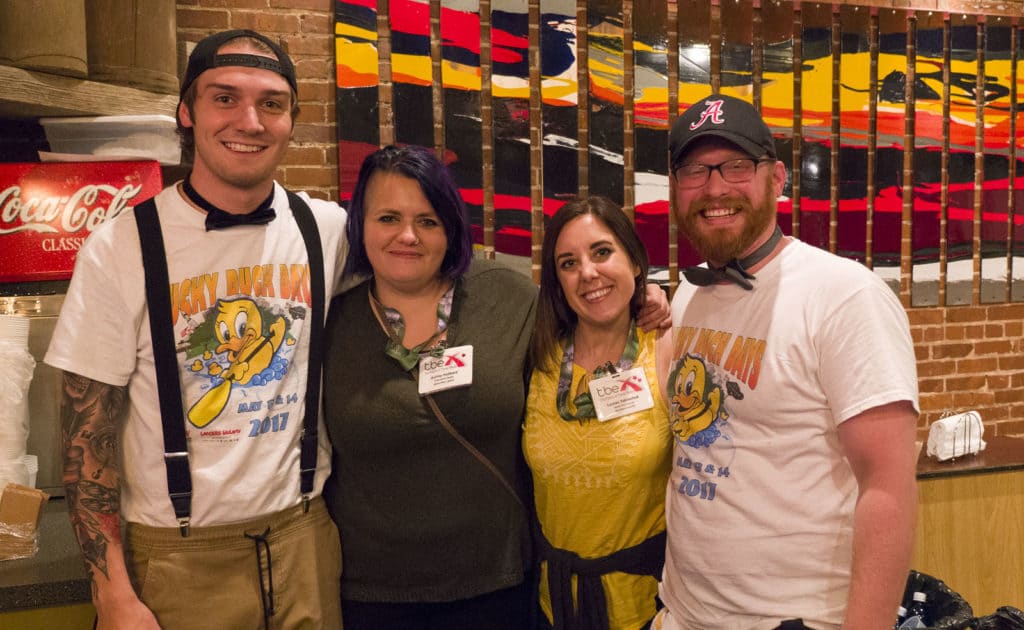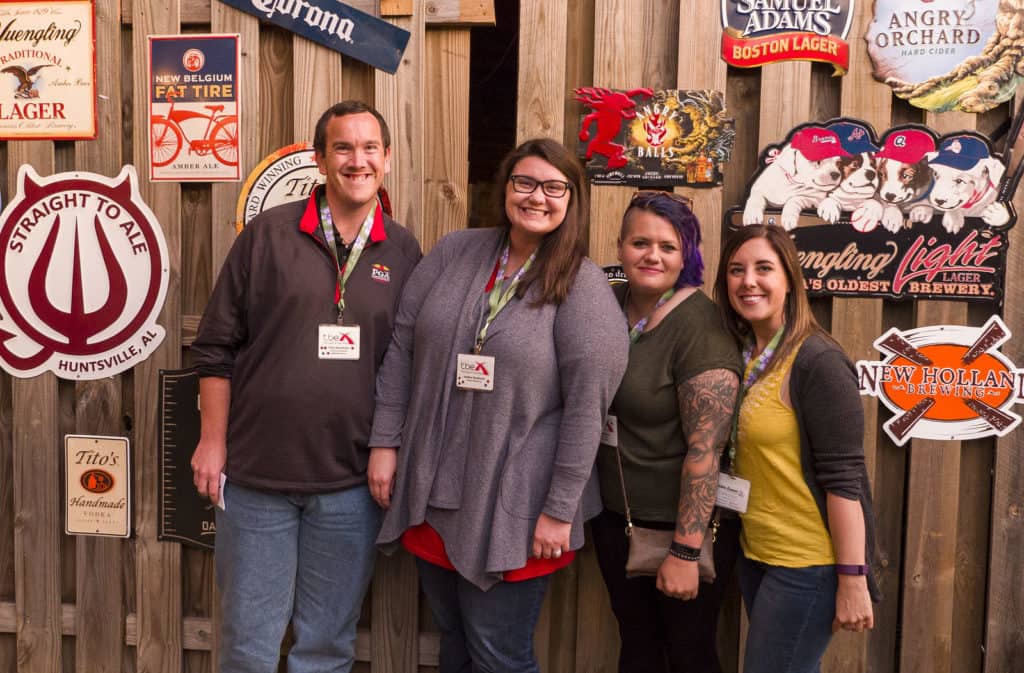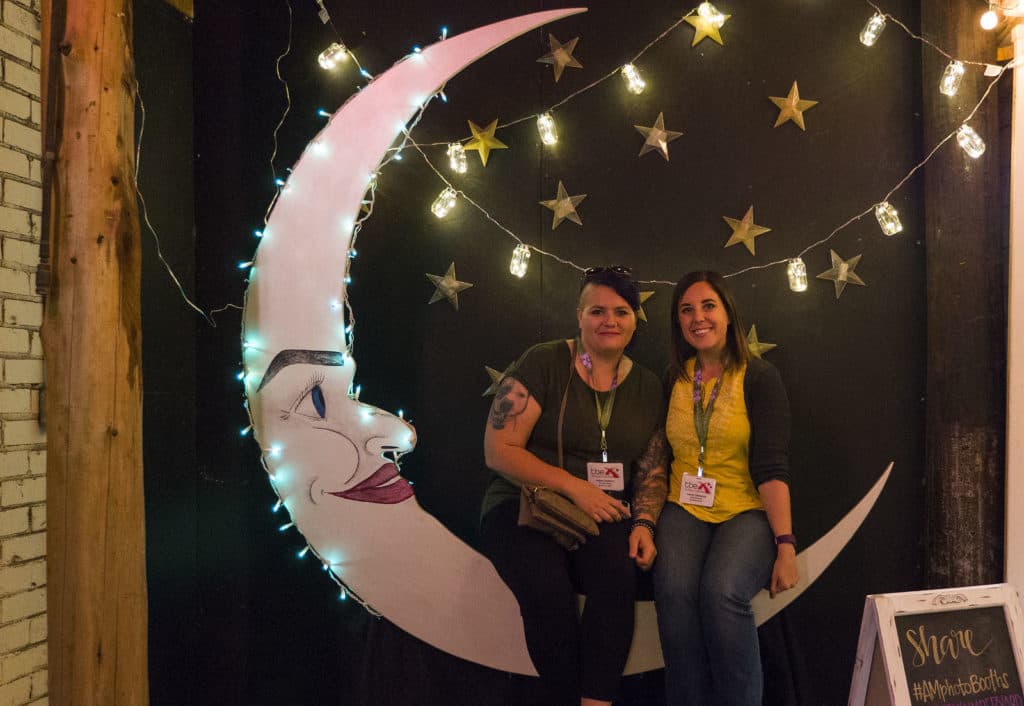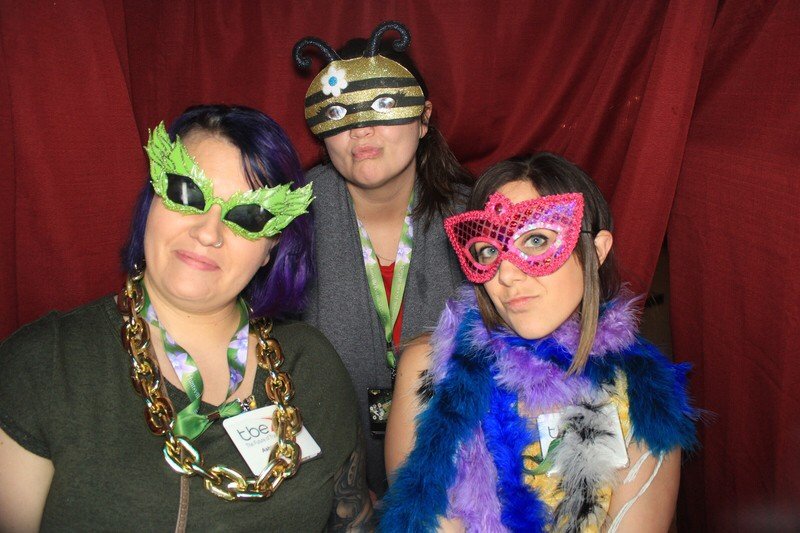 The second night, we partied UNDER a rocket at the US Space & Rocket Center.  After eating under the Saturn 5 while being serenaded by a swing band (I'm making that up – I have no idea what kind of band it was but they were awesome!), we got to tour the facilities, ride some crazy ride and take some more ridiculous photos.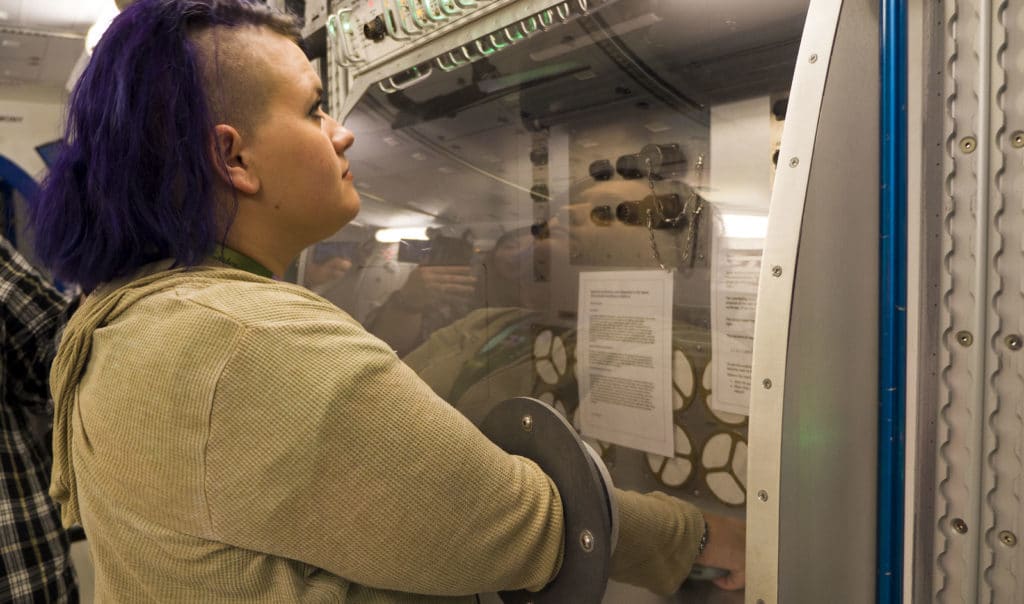 The closing party was equally epic.  It took place at Campus 805 – a repurposed school turned brewery – restaurant – speakeasy – billiard.  We had already ventured over here twice before the party on our own so we already felt like we knew our way around.  A hair salon was offering free 80s makeovers for TBEXers so we immediately took up that offer because…the 80s!  We then proceeded to end the conference in style.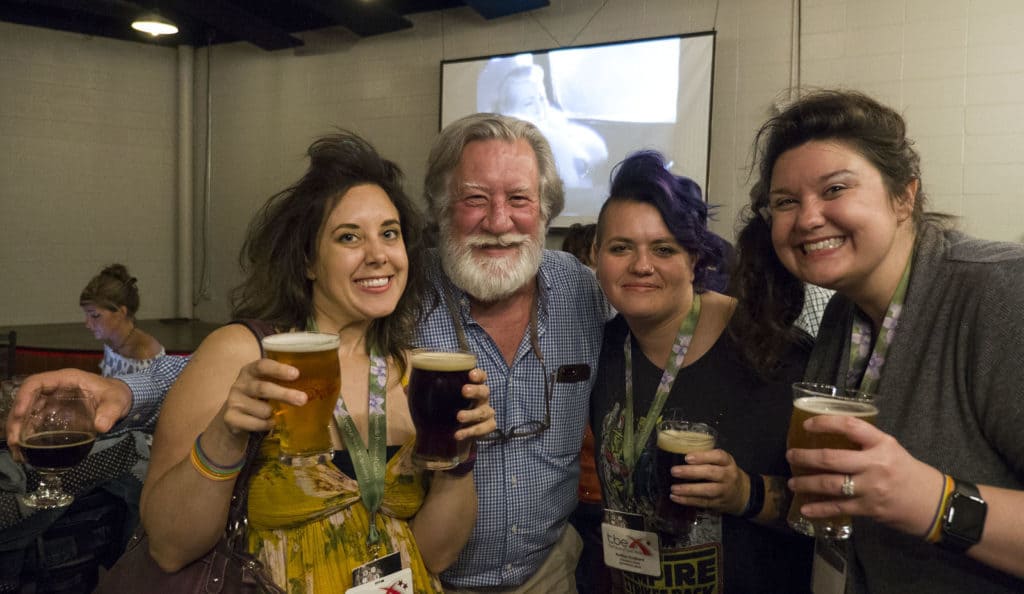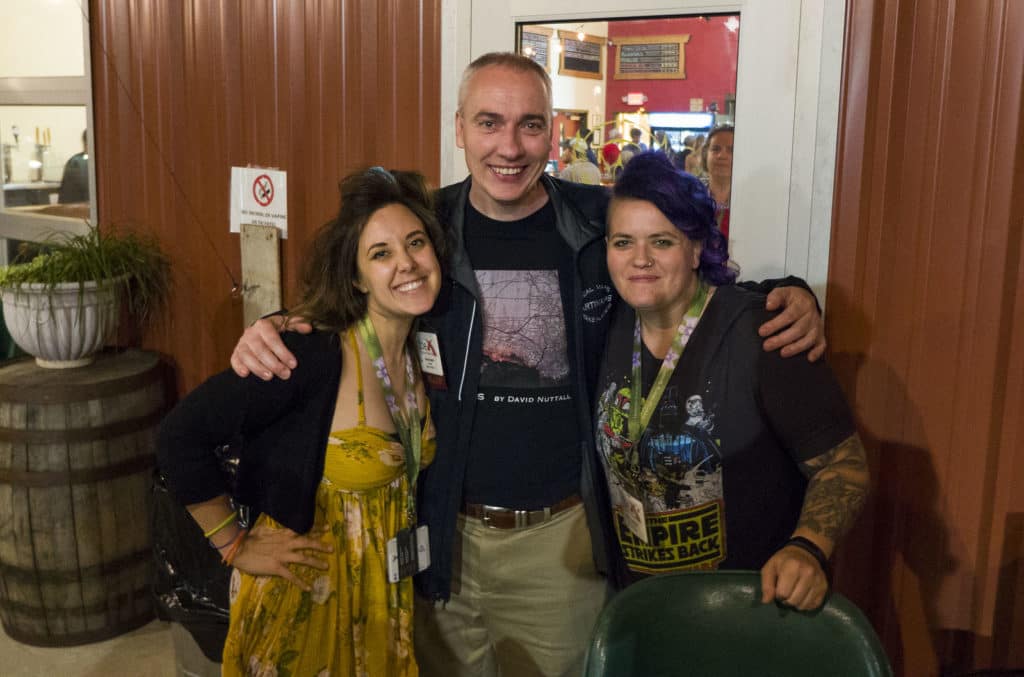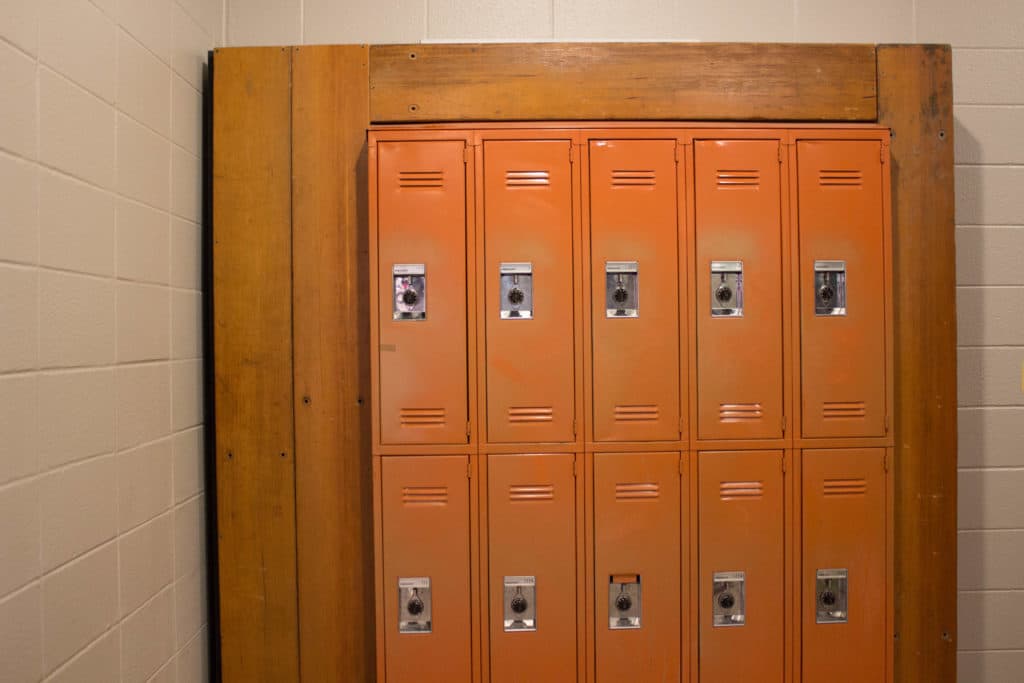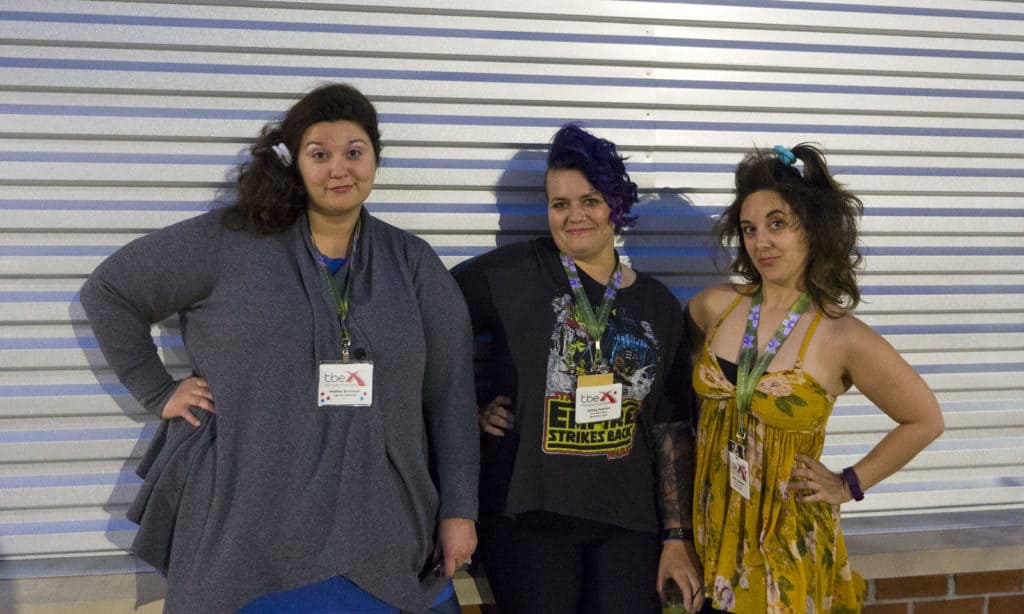 Breakout Sessions
Each day, there are three breakout session times with an option of six sessions at each time.  Basically, if you attend a session at each time slot – you can hear six different speakers.  Make friends and split up your time and then share notes with each other!
One of the few negative things I've heard about TBEX is that the sessions are mostly geared towards beginners.  However, I don't feel that was the case completely.  I wouldn't consider myself a beginner but I definitely learned quite a bit during my sessions.  Some things were a bit elementary but I would say most was not.  Some of the sessions I attended were :
Live Streaming on Social Media (super helpful for me!)
Affiliate Marketing Techniques (really excited about implementing these!)
Pitching to Editors (panel)
If you didn't make it to all the sessions you wanted to, don't worry too much.  Most attendees are willing to share their notes and most speakers provide their slides or notes online afterwards.
Keynote Speakers
Don't skip out on the keynote speakers!  They're incredibly inspiring.  The opening morning, we listened to Bruce Poon Tip of G Adventures inspire us about starting his business, how it has evolved today and how we need to move towards more sustainable travel.  The second morning, we heard the vivacious and entertaining Samantha Brown.  The closing speaker was Bret Love of Green Global Travel who showed us how possible it is to live the dream life of being a travel blogger but also kept it real about how hard it is.
So, is it worth it?!
In short, yes!  The ticket price is only $97 (if you don't procrastinate like me).  The flight and hotel can be a bit pricey but all meals, transportation, the before and after tours and possibly even FAM trips are included in that $97!
My Best Tips for TBEX
Sleep is overrated.  I think we closed down the parties all three nights (missing the last bus on two of them) and while I definitely hated myself, it was so worth it!  Sleep when you get home.
Be prepared for long, exhausting days.  This is the time for all work and all play.  Pace yourself, drink endless amounts of coffee, stay hydrated.
Book your ticket early.  Take advantage of that super low early bird price.  If you end up not being able to go, you can transfer your ticket to another TBEX.
Mingle, mingle, mingle.  I'm an introvert and I still mingled my heart out and I'm so glad I did because I met tons of new friends and friends I've known online for years.
Prepare for the speed networking!  Because I booked my ticket so late, most of the sessions were gone.  I wish I had been able to fill my schedule with sessions.  I didn't get to talk to nearly as many brands as I wanted to.  Next time!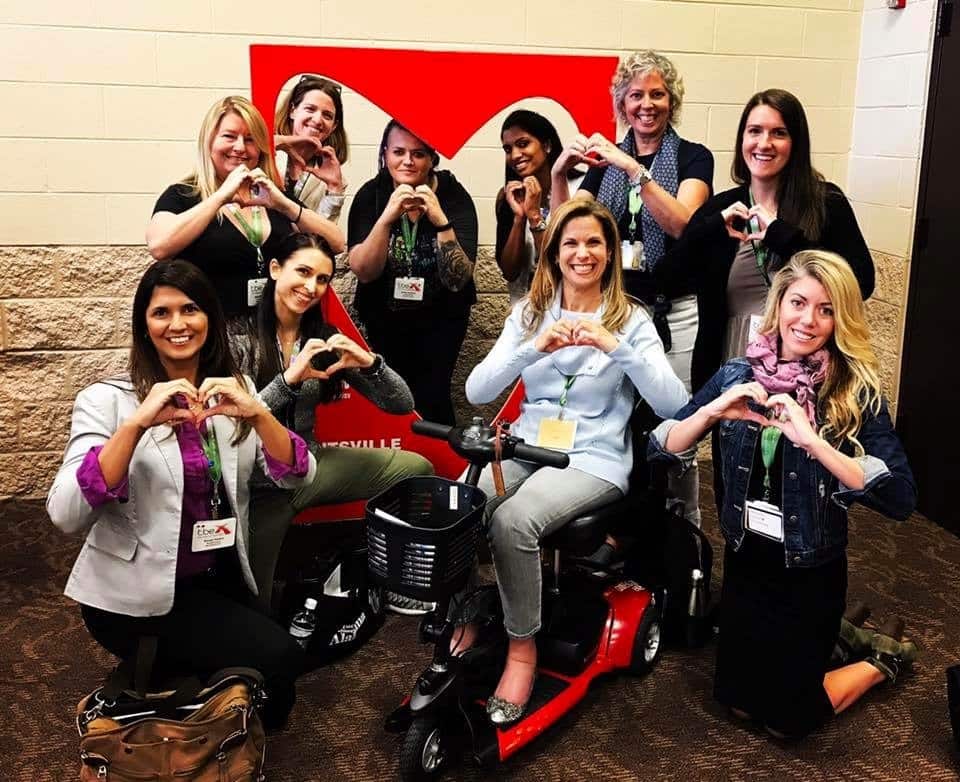 Future TBEX in my future?
Yes!  I was so inspired by TBEX that I came home and booked my ticket for Ireland in October and just recently, purchased my ticket for Zimbabwe in 2018.  I did not have any intention of attending the Ireland one but as soon as Huntsville was over, I knew I had to!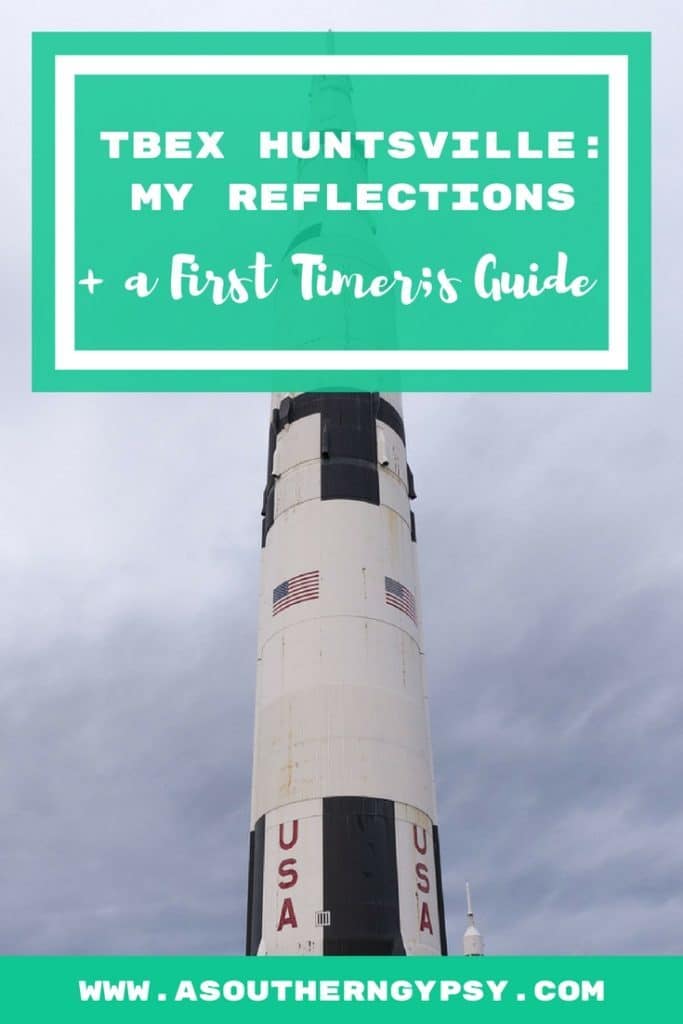 Latest posts by Ashley Hubbard
(see all)