This post may contain affiliate links, meaning if you book or buy something through one of these links, I may earn a small commission (at no extra cost to you!). Please see my disclosure.
Lemp Mansion
Said to be one of the ten most haunted places in America, Lemp Mansion, is a definite must visit on your next trip to St Louis. The mansion has been featured in many magazines and newspapers, attracts ghost hunters from around the country and is known as one of the top ten most haunted places in the country. It features a bed and breakfast, a fine dining restaurant for lunch or dinner, a mystery dinner theater and ghost tours.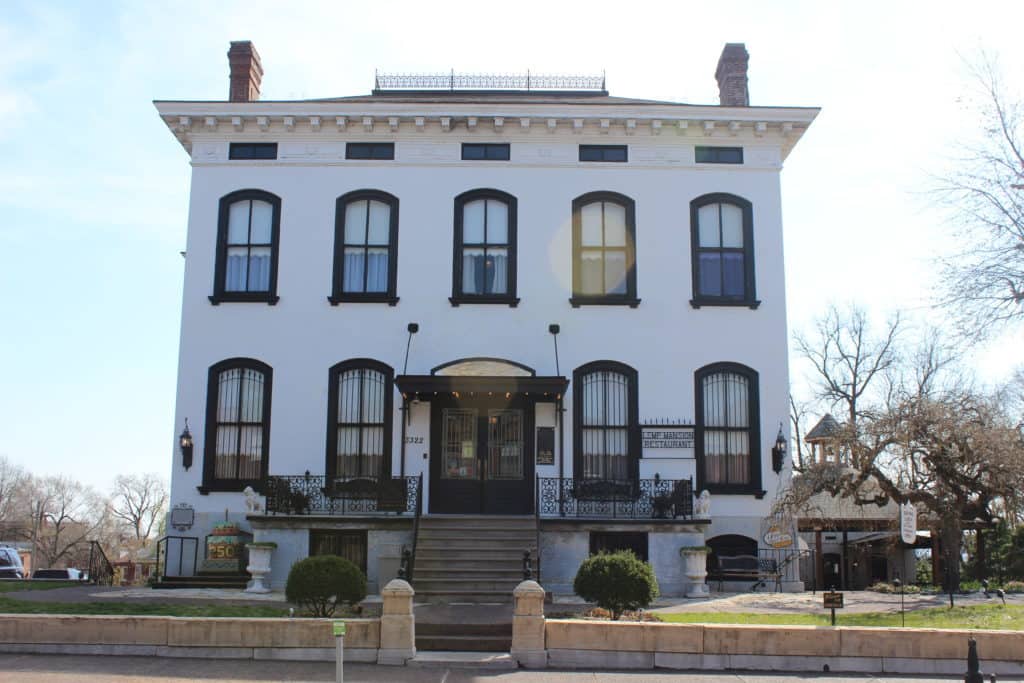 The History and Haunts
The Lemp family history in St Louis goes back to 1838 when Johann Adam Lemp came over from Germany. Johann started a small grocery store selling typical grocery and household items along with his homemade beer. The recipe, which was handed down by his father, became so popular that two years later, the grocery store was a thing of the past and he built a small brewery located around where the Arch stands today. The popularity grew though and before long, Lemp found his brewery to be too small and found a limestone cave, located at the present-day corner of Cherokee and De Menil Place. It had the perfect conditions for the brewing process. The popularity and prosperity continued well into the late 1850s. In 1862, Lemp passed away a millionaire (quite a big deal at that time, I'd say) and his son, William, expanded the brewery in major ways. He purchased a five-block area around the house on Cherokee. The brewery eventually covered five blocks. The Lemp family symbolized wealth and power, controlling the beer market well until prohibition.
In 1868, William's father-in-law built a house a short distance from the brewery and in 1876, William purchased for his own family. A tunnel was built from the basement of the house through the caves to the brewery. The underground cave would eventually house a theatre, swimming pool and bowling alley. By the middle 1890s, the Lemp Brewery had gained a national presence and was the first brewer to establish coast-to-coast distribution of its beer. William also helped Pabst, Anheuser and Busche get started while growing his own brand.
The first of many tragedies occurred in 1901 when Frederick Lemp, William's favorite son, died at the age of 28 from heart failure. William was never the same and was rarely seen in public after his son's death. In 1904, William's closest friend, Frederick Pabst also died which led William uninterested in running the brewery. His health began to decline rapidly and on February 13, 1904, he shot himself in the head.
In November 1904, William Lemp Jr. took over as president of the brewery. With their new found family business and large fortune, he and his wife, Lillian, began to spend the money in great fashion. Lillian and William Lemp Jr were married back in 1899 and gave birth to their son, William Lemp III in 1900. Lillian was commonly known as the "Lavender Lady" due to her fondness of the color. A beautiful and wealthy women herself, William enjoyed showing off his trophy wife but was also a player. He started demanding her to spend her time shopping. He gave her $1000 a day to spend and told her she must spend it or he wouldn't give her anymore. Meanwhile, William was having all sorts of fun holding lavish parties in the caves below, bring in prostitutes and so on. Eventually, as it usually does, these things caught up with him when he had a son with someone other than Lillian. While there is no documentation that this boy existed, there are rumors that he was hidden in the attic his entire life. According to a St Louis historian, Joe Gibbons, the boy did exist, was born with Down's Syndrome and due to being an embarrassment to the family, was housed in the attic. The boy his known today as the "Monkey Face Boy" and continues to haunt the Lemp Mansion. Eventually, William Jr divorced Lillian in 1908 which became quite a major scandal with tales of violence, drunkenness, atheism and cruelty.
Back in 1906, William's brewery trouble began when nine of the largest St Louis breweries combined which created fierce competition for the Lemp Brewery. The fortunes started to decline, William allowed the equipment to deteriorate and by WWI, the brewery was barely hanging on. William's mother also died this year. William built a country home, increasing his stays there and by 1915, was married for a second time. By 1919, the Prohibition happened. With money already not a problem, there was no incentive to keep the brewery running and William eventually closed the plant down without notice. Liquidating the assets of the plant and auctioning the buildings, William, Jr. sold the famous Lemp "Falstaff" logo to brewer Joseph Griesedieck for $25,000 in 1922. The brewery buildings were sold to the International Shoe Co. for $588,000, a fraction of its estimated worth of $7 million in the years before Prohibition.
In March 1920, Elsa Lemp Wright, William's sister, shot herself just like her father did back in 1904 supposedly over her rocky marriage.
At the end of the brewery, William Jr slipped into similar behavior like his father's – increasingly erratic, avoiding public life and ill health. On December 29, 1922, William shot himself in the heart in the same building his father did back in 1904. William's other two brothers, Charles and Edwin, had left the family business long ago. In 1943, tragedy struck again when William Lemp III died of a heart attack at forty two. Charles, William Jr's brother, whom had never been involved in the brewery remodeled the mansion and lived with two servants and William Jr's illegitimate child. As he grew older, he too grew more odd. It was at this time that William's illegitimate child died at the mansion in his 30s. Shortly after his death, Charles became the fourth Lemp family member to commit suicide. He first show his beloved dog and then shot himself in 1949. Edwin was the only one to remain and was known to be a quiet, reclusive man who had walked away from the brewery in 1913. He managed to live until 90 years of age and died of nature causes in 1970. His butler burned all of the Lemp paintings, documents and artifacts according to Edwin's last wishes.
The entire Lemp family line died out with him and a puff of smoke – the family's resting place can be found at the Bellefontaine Cemetery.
Following the death of Charles, the mansion was sold and turned into a boarding house. The building began to deteriorate and the tales began. Residents complained of ghostly knocks and footsteps being heard. Tenants became increasingly hard to find and it continued to decline. In 1975, the mansion was saved by Dick Pointer and the renovation process began towards a restaurant and inn. Workers often spoke of apparitions, strange sounds, vanishing items and tools and feelings of being watched. Since being open, staff members have reported several strange experiences : apparitions, voices and sounds, glasses moving on their own off the bar, doors locking and unlocking, lights and the piano bar playing on its own. The three areas that are said to have the most activity – the stairway, attic and what is referred to as the "Gates of Hell" – used to be the entrance to the caves- in the basement. Strange occurrences are often witnessed on the third floor as well where the "Monkey Face Boy" haunts the mansion. The face of the boy has regularly been seen from the street and toys left purposely by ghost investigators have been moved.
In the downstairs women's bathroom, many women have reported a man peeking over the stall – it is said to be the womanizing William Jr's ghost. In William Lemp's room, guests have reported hearing someone running up the stairs and kicking the door – when William killed himself, Jr was known to have run up the stairs and kicking at the door to get to his father.
The Mansion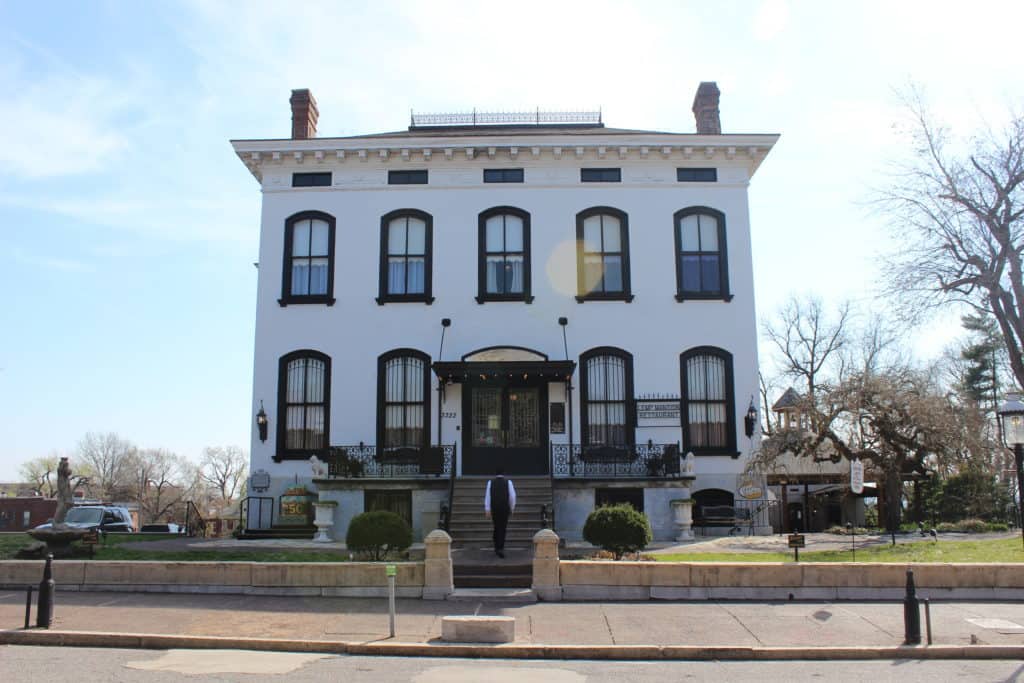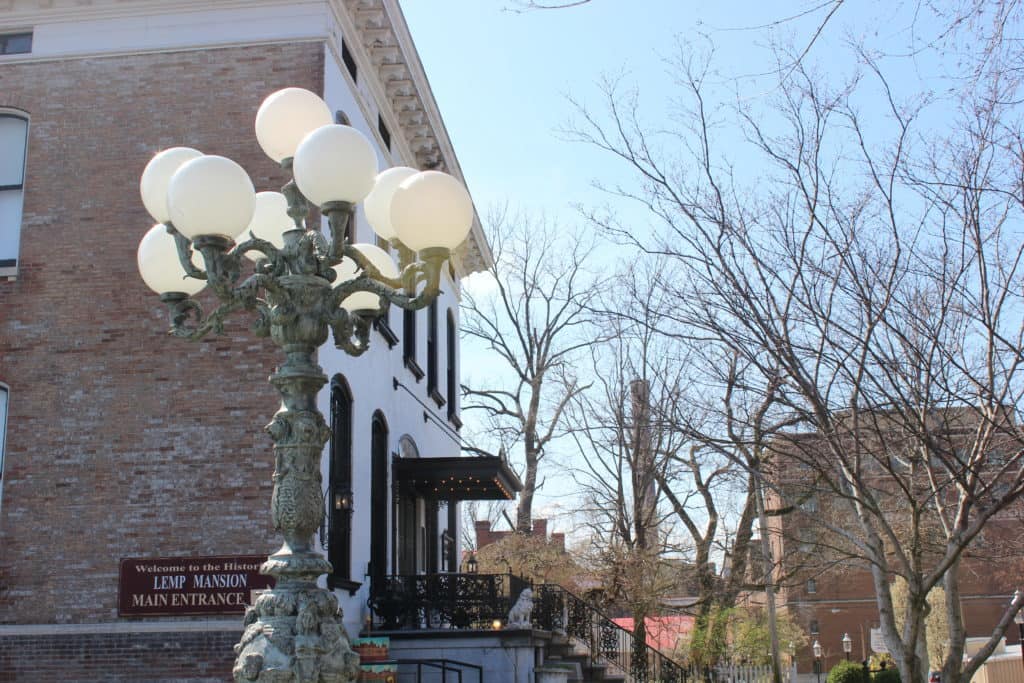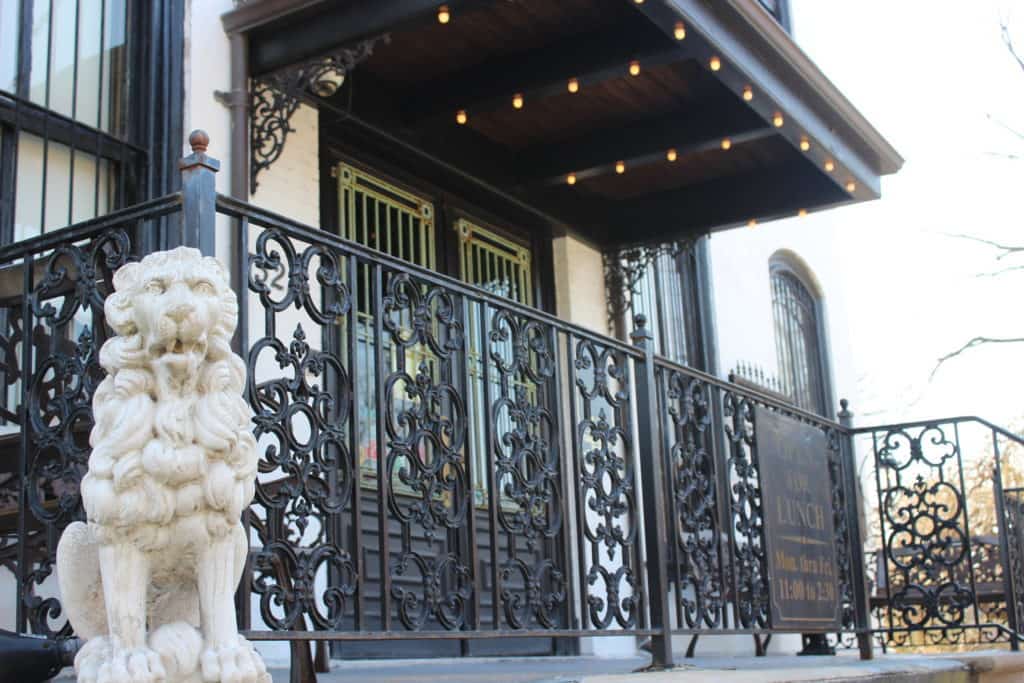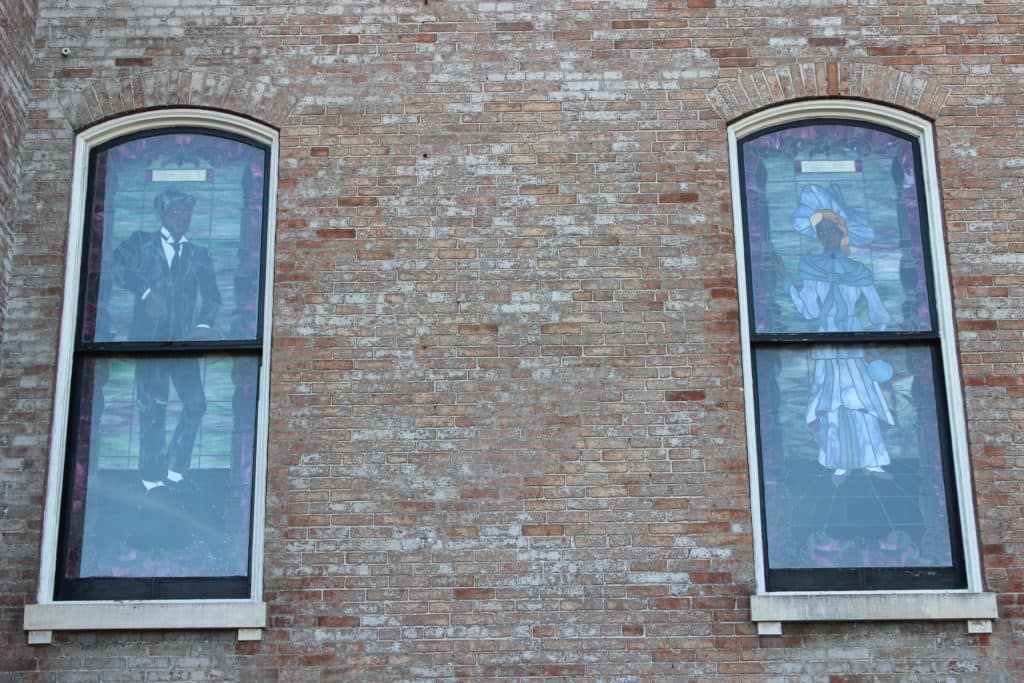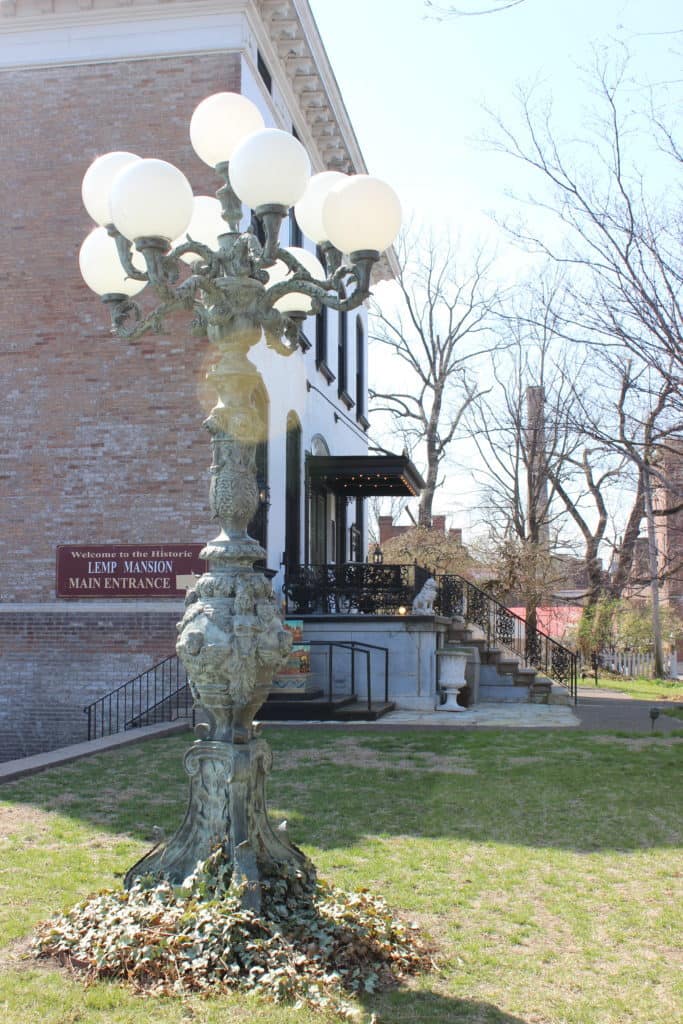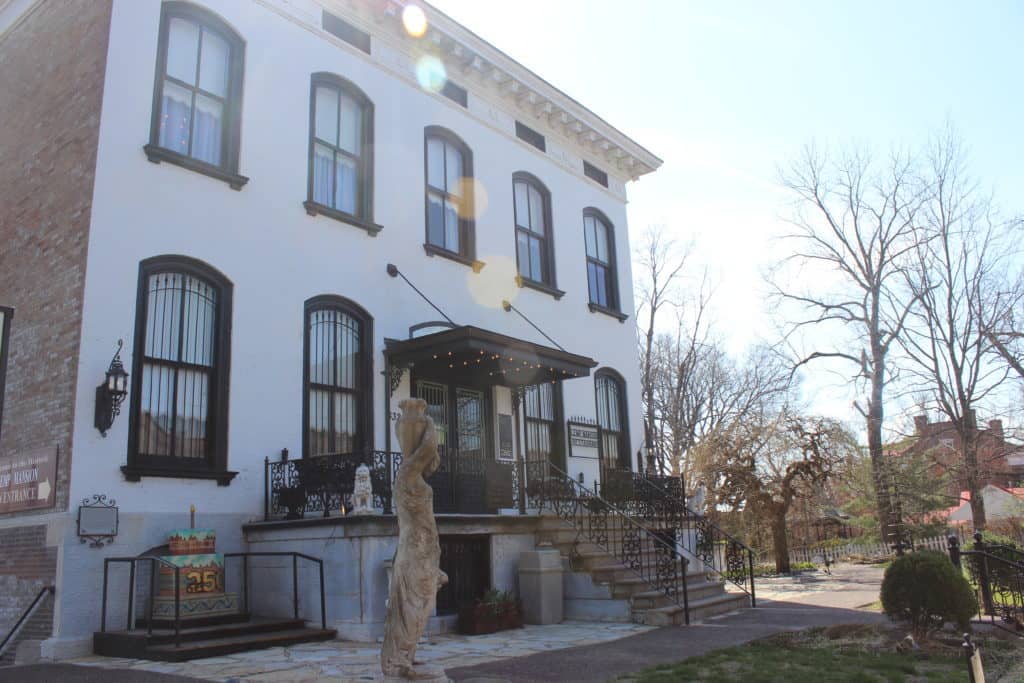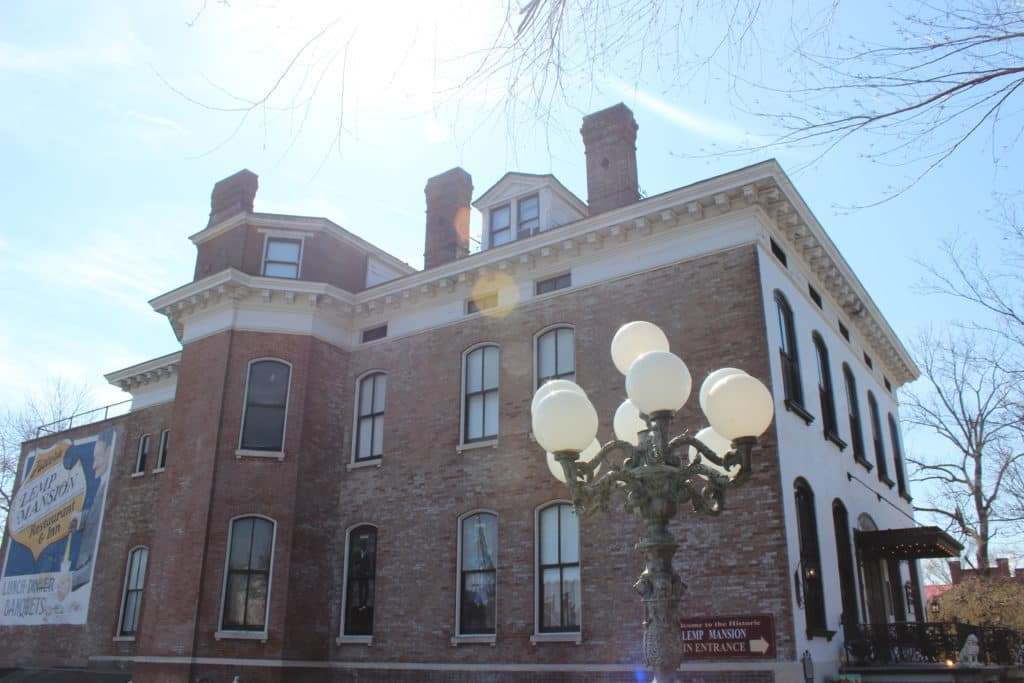 When you first drive up Cherokee Street, there's no mistaking where Lemp Mansion is – it demands a presence. The gorgeous mansion would be something to look at without even going inside but lucky for you and I, you can go inside…for free.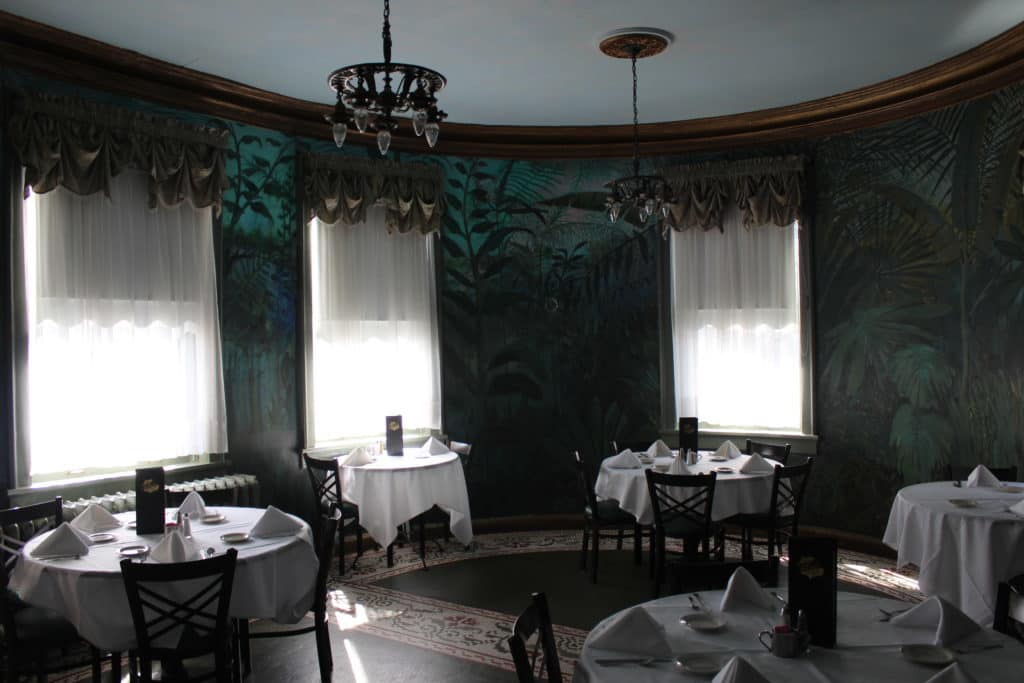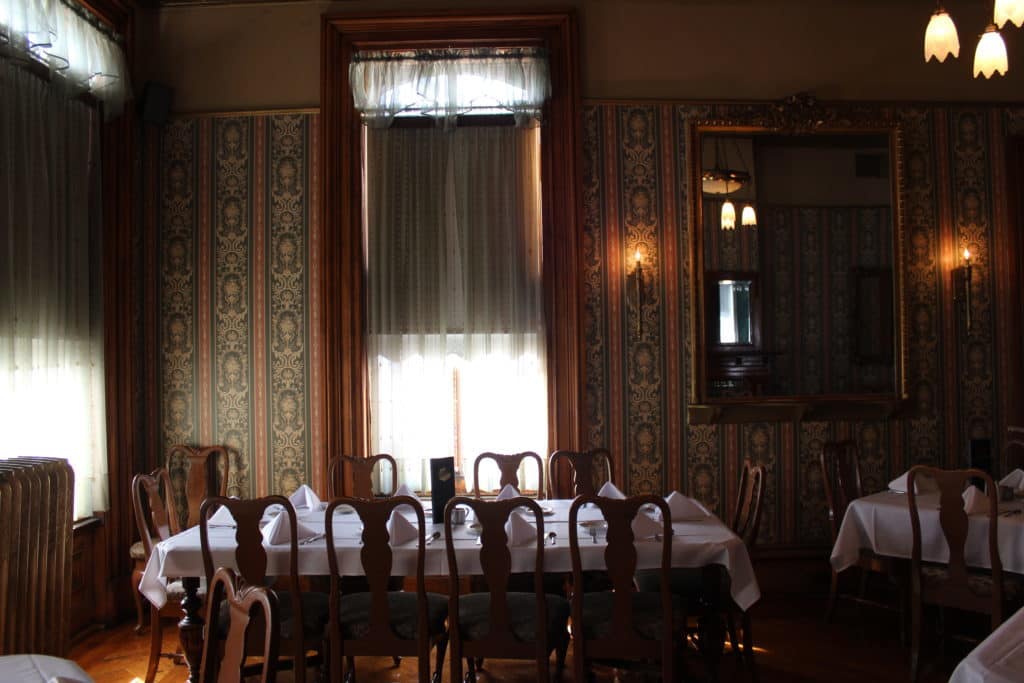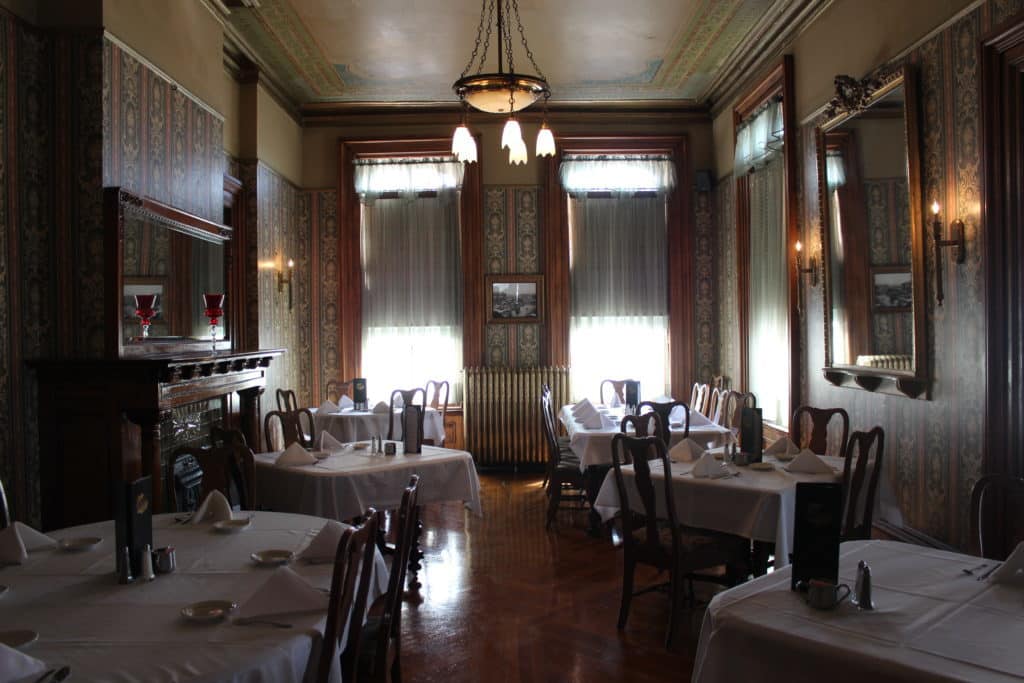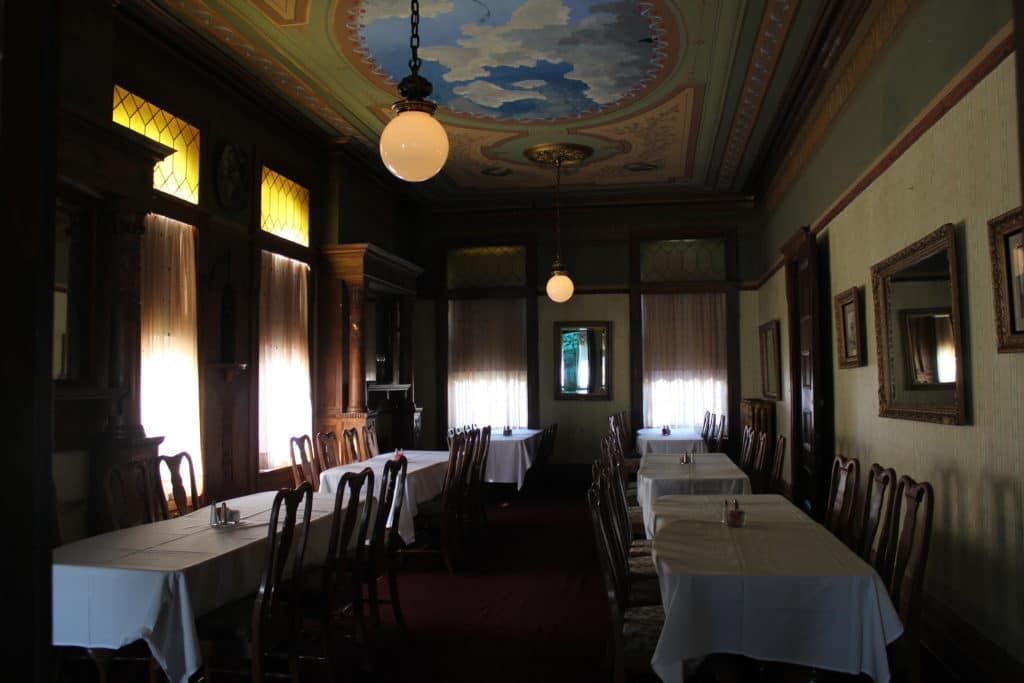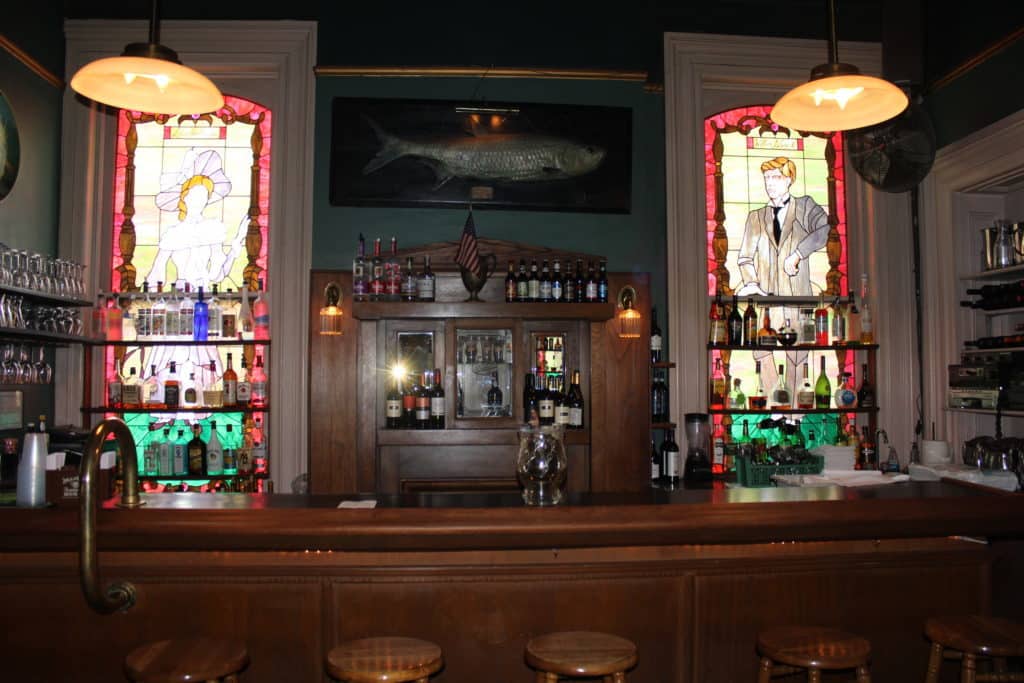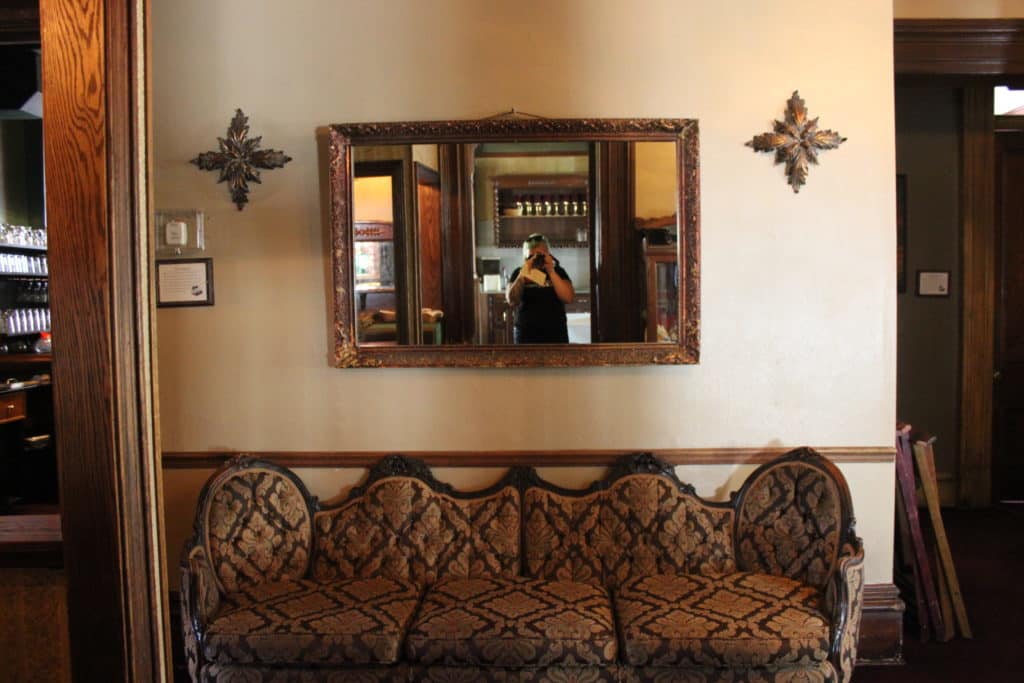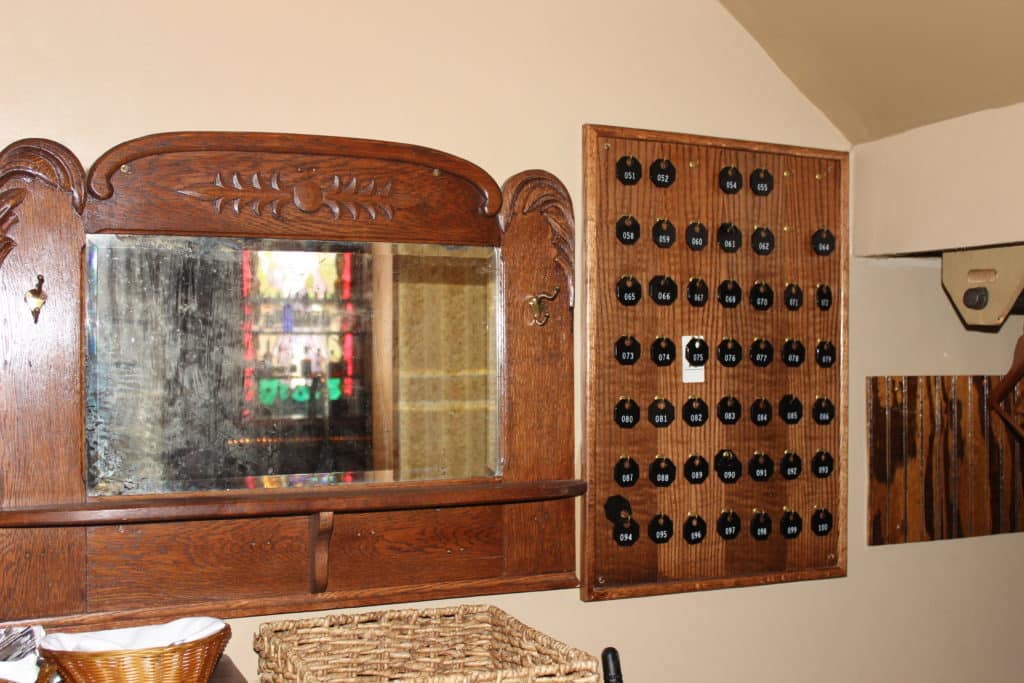 My very favorite room was the bathroom – so cool! Of course, I only got to visit the main level of the house so my tune my change if I got to see the whole thing. Regardless, the bathroom is amazing and highly recommend checking out when you're there.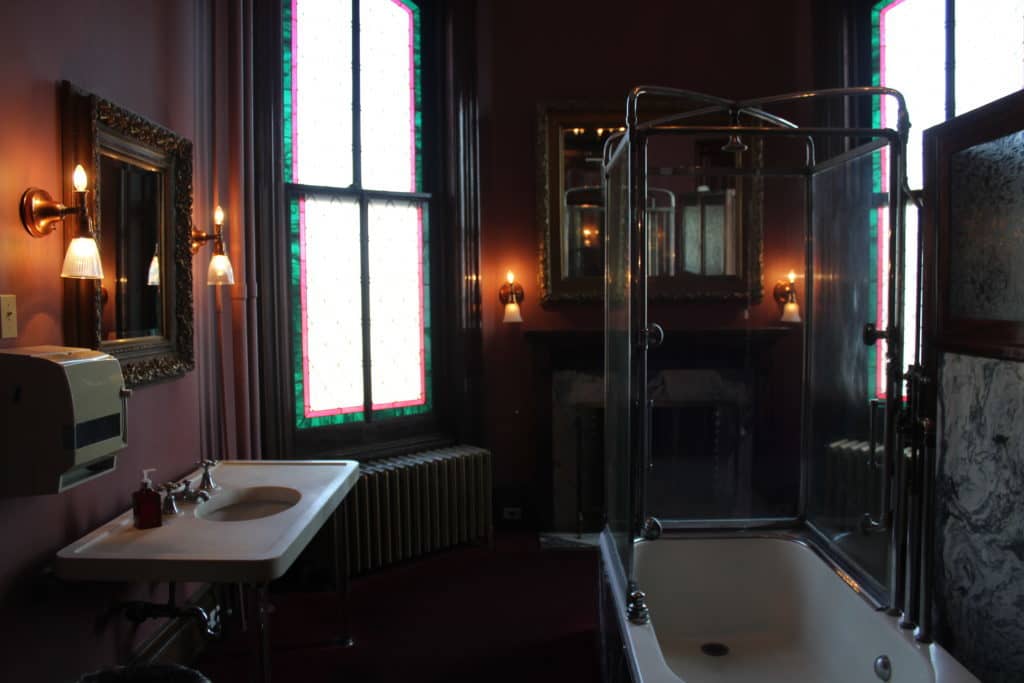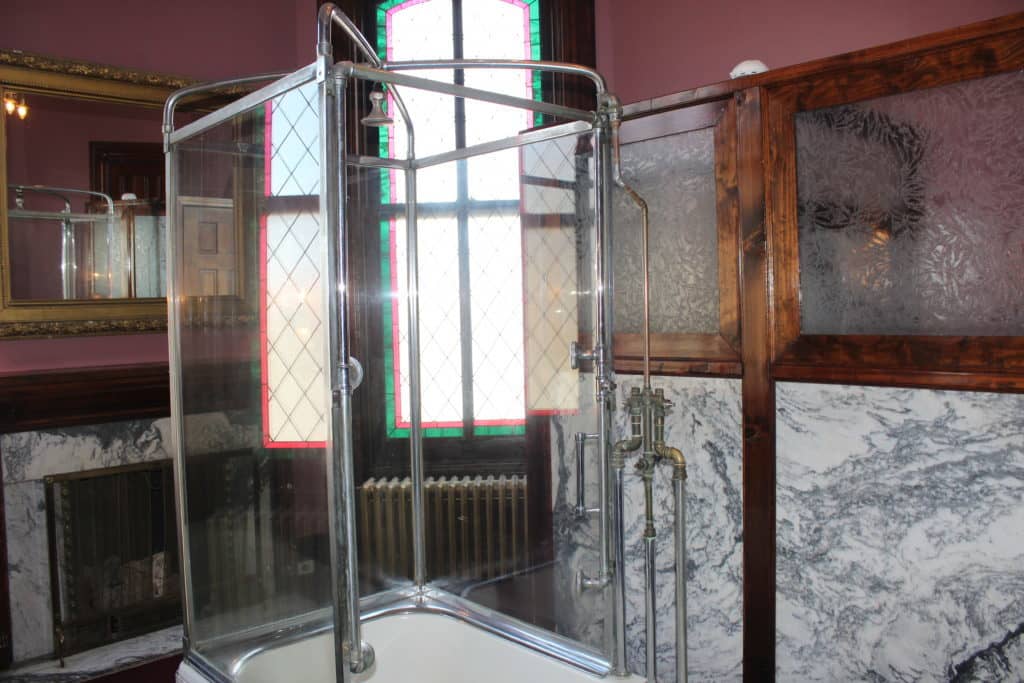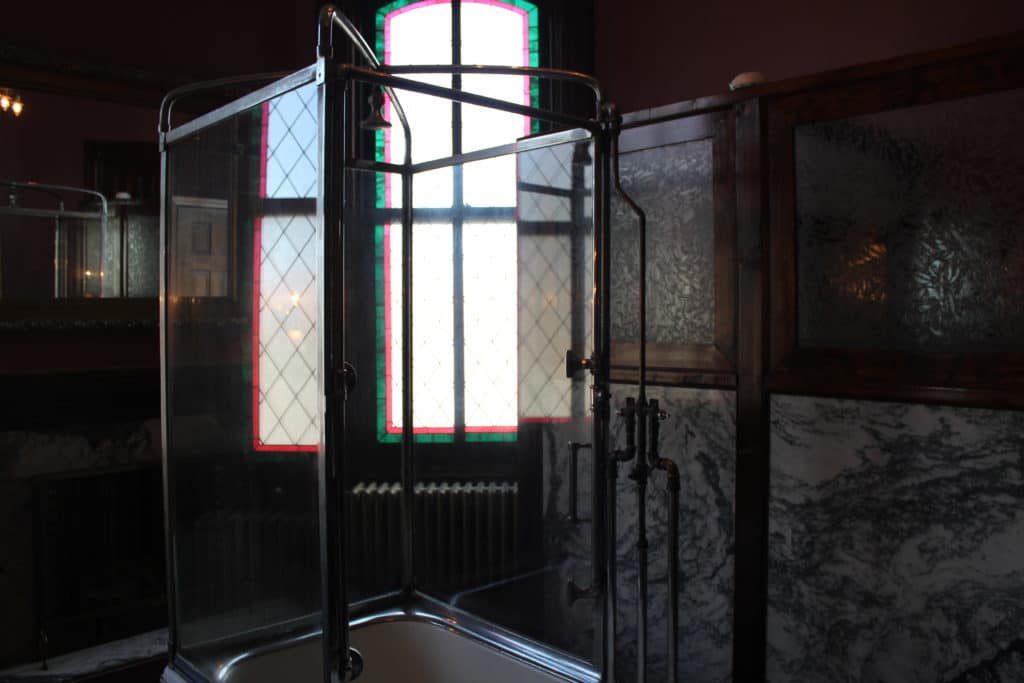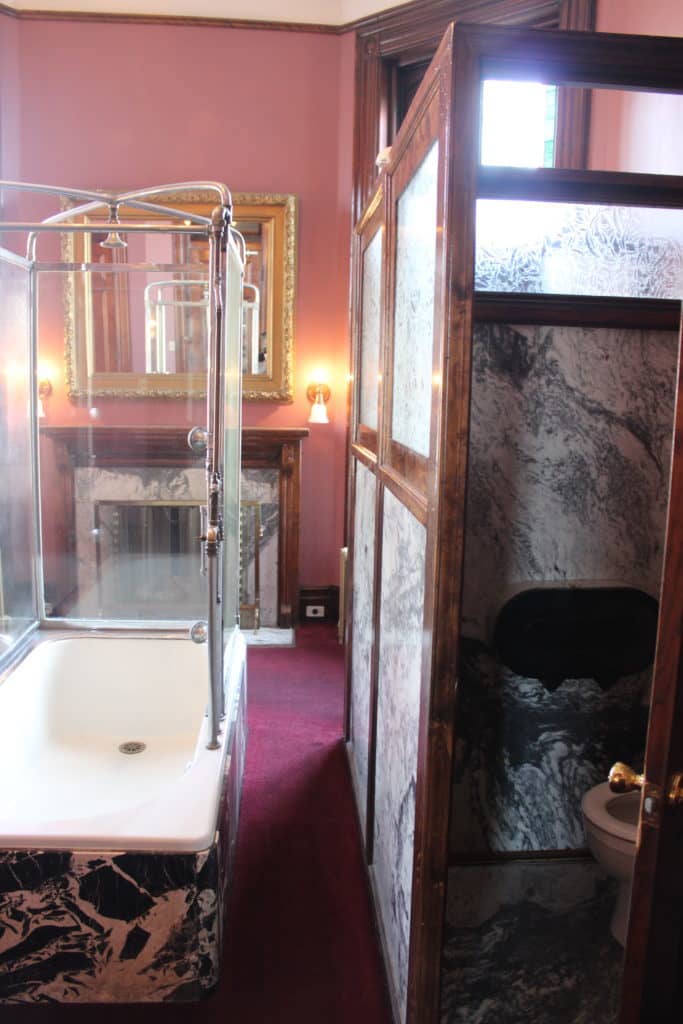 Nothing particularly creepy happened while we there but I really, really love this place! On site, there is the bed and breakfast, a restaurant which serves lunch and dinner, and mystery dinner theater, ghost tours and they also hold events on site! Next time I'm in St Louis, I'm seriously considering staying overnight here.
Overnight Accommodations :
Sunday – Thursday $180-$360 (plus tax)
Friday & Saturday $235-$470 (plus tax)
Holidays $280-$550 (plus tax)
For reservations call: 314-664-8024

Restaurant Info :
WEEKDAY LUNCH: Mon – Fri., 11:00 a.m. – 2:30 p.m.
SEASONAL DINNER HOURS:
SEPT. – DEC.: Tues. – Sat., 5:30 p.m. – 10:00 p.m.
JAN. – AUG.: Thur. – Sat., 5:30 p.m. – 10:00 p.m.
Haunted History Tour :
Most Monday nights year round at 7:00pm, $25.00 per person. Please call 314-644-1814 for reservations and more information
Myster Dinner Theater :
Every Friday and Saturday night at 7:00 p.m.
Pricing:
$52.95 per person*
Gratuity included.
Please call for reservations, (314) 664-8024 or contact us here.
Which haunted places have you ever visited? Would you stay overnight? Do you believe in the supernatural?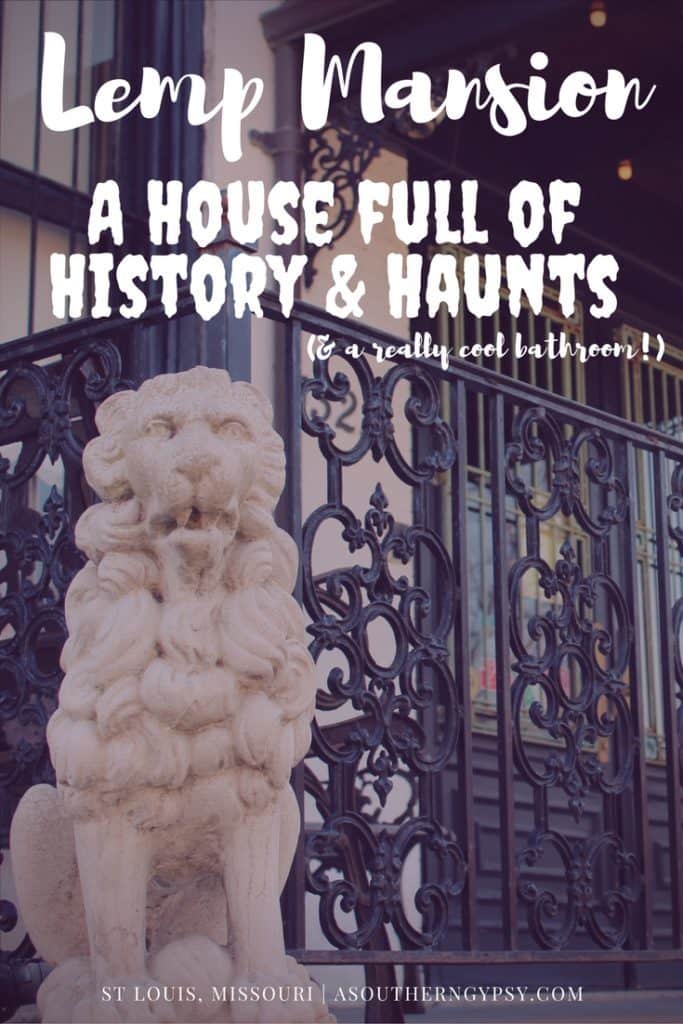 Latest posts by Ashley Hubbard
(see all)