This post may contain affiliate links, meaning if you book or buy something through one of these links, I may earn a small commission (at no extra cost to you!). Please see my disclosure.
The 1st Harry Potter book came out when I was 12 years old, almost the exact age that Harry found out he was a wizard. While I whole-heartedly believe this is a story for all ages, there was something special about literally growing up with Harry.
I knew I had to go to the Wizarding World of Harry Potter when it opened in 2010 and I did. I was not disappointed in the least.
The time at which we went was unfortunate-it had only been open for a few months and it was mid-July. It was hot, it was humid, and there were 15 gazillion people all wanting their very own wand and their own glass of Butterbeer.
No joke, I stood in line for three hours at Ollivanders. Don't get me wrong, I'd do it again. I just highly suggest not going when it's that hot and that busy.
It's been over three years since the Wizarding World opened and I'm not sure if the crowds have died down at all, but now is the time to go because next fall they are opening the expansion which is going to double the existing in size (Cue my uncontrollable excitement).
And, if you're not near Orlando, you can now visit Universal Studios Hollywood, Singapore, and Japan to see Harry Potter!
As we came to the entrance to Hogsmeade, my brother (an equally obsessive fan) and I could hardly contain ourselves: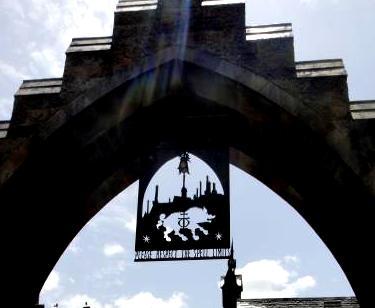 As soon as we entered Hogsmeade, the Hogwarts Express Conductor was there to greet us. Not too sure if he was as fond of Evan as Evan was of him.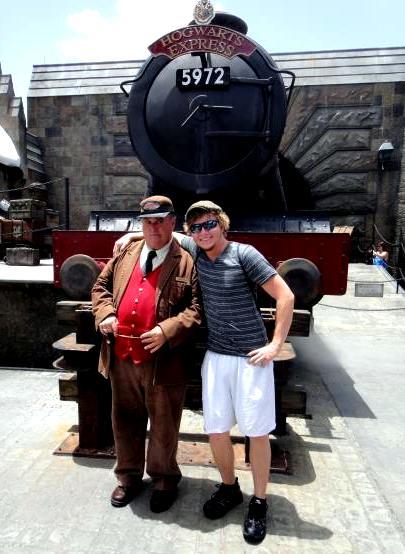 Next, we headed on over to Ollivanders. The lines were long, but we waited the three hours in the direct sunlight and 90+ degrees weather so that we too could experience Ollivander picking a witch or wizard from the tourists. They put on quite a nice little 5 minute show that mirrors Harry's visit to Ollivanders. It would have been nice to be picked, but it's cool. And, yes I did buy a wand at Dervish and Banges-Ginny Weasley's to be exact. Does that mean I get Harry Potter too?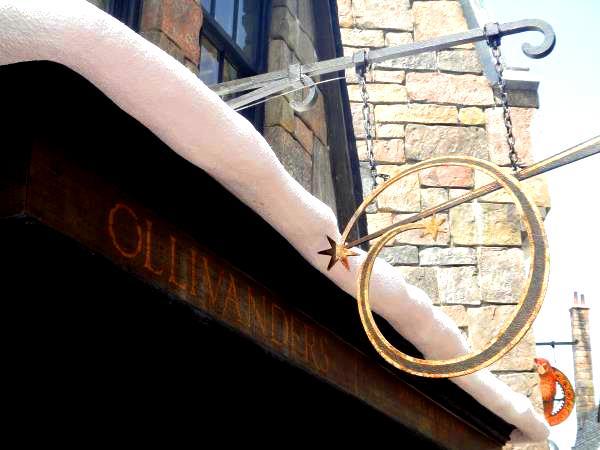 What better way to follow up waiting three hours in line for a five minute presentation and purchasing my magical wand? The answer: Honeydukes! Chocolate Frogs, Every Flavour Beans, Acid Pops, Edible Dark Marks and much more are to be found in here…I didn't think candy could get more magical.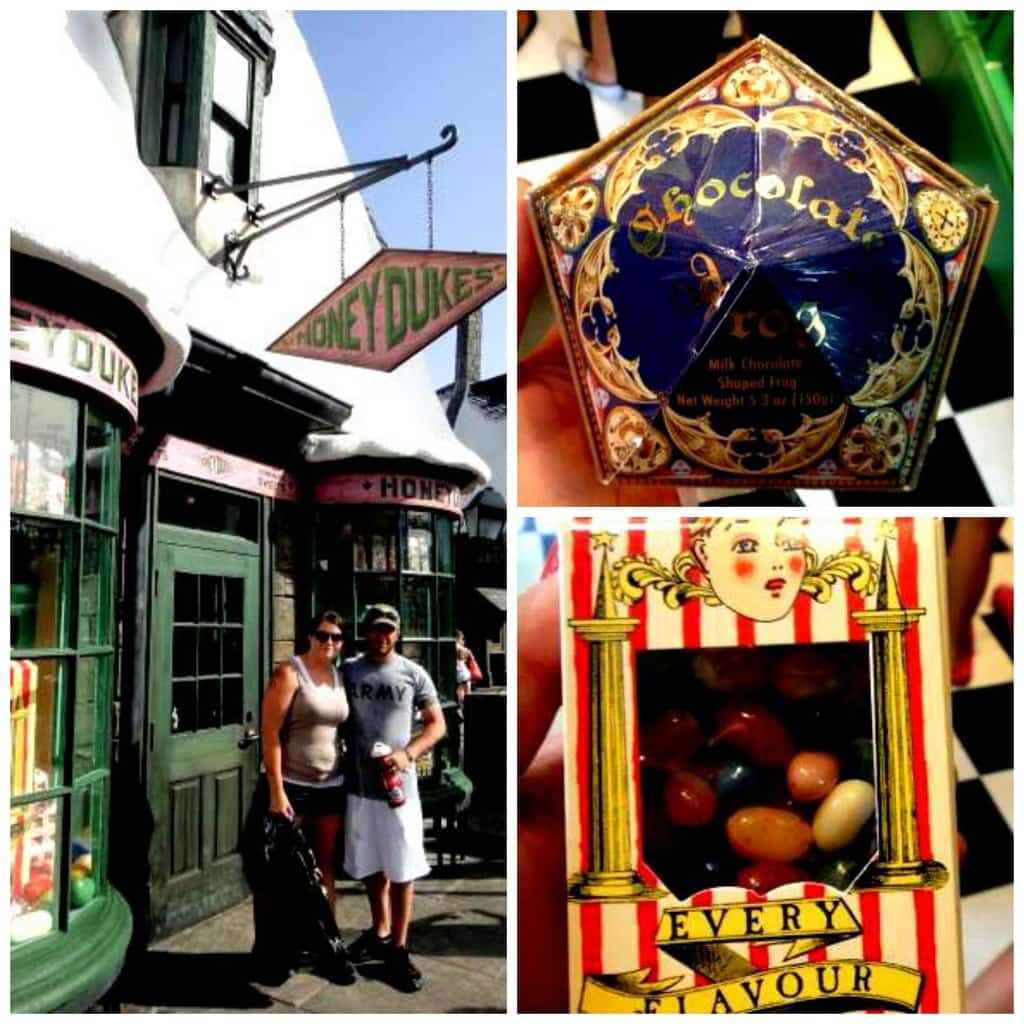 At the present time, there are three rides in the Wizarding World of Harry Potter. The Dragon Challenge is a dueling roller coaster. The Flight of the Hippogriff is a smaller rollercoaster which is fun, but more enjoyable for the less adventurous. The one that takes the cake though is Harry Potter and the Forbidden Journey that you won't even mind waiting in line for. You'll get to go through Dumbledore's office, classrooms and common rooms. You'll get to see the Sorting Hat, talking paintings and house points. And, that's all before the actual ride. This ride is ah-mazing! I've been on faster rides, rides with bigger drops, and so on, but I've never been on another ride that compares to this one.
I regret not being able to eat at Three Broomsticks or even step foot in there because of the crowds. I will be doing that next time! I also didn't get to spend much time in the shops of Hogsmeade and look forward to exploring them more next time as well as riding The Forbidden Journey several times as opposed to just the one.
Overall, I thoroughly enjoyed pretending to be a witch for a day. If you're a Harry Potter fan, you will not be disappointed at all and I would imagine it would still be fun even for those that aren't huge fans. I'm planning on a return trip in February to Disney World and Universal Studios and look forward to taking more photos, being able to explore more freely and getting a look at what's to come with the expansion.
Have you been to The Wizarding World? What was your favorite part?
Latest posts by Ashley Hubbard
(see all)