This post may contain affiliate links, meaning if you book or buy something through one of these links, I may earn a small commission (at no extra cost to you!). Please see my disclosure.
Headed on a Gatlinburg getaway? Here's everything you need to know – where to stay, where to eat, how to get around, parking and more tips!
Gatlinburg is an incredibly popular destination – with 12 million people visiting annually – and being from Nashville, it's a perfect distance for a Gatlinburg getaway weekend. Gatlinburg and Pigeon Forge are unique places and they each have different things to offer.
I've always preferred Gatlinburg over Pigeon Forge as a southern Vegas feel to me with lots of putt-putt golf, go-karts, and more. Gatlinburg has a Bavarian alpine town feel with a lot of activities for families and adults. I personally love getting out and enjoying the outdoors and the gorgeous National Park while I'm on my Gatlinburg getaway. 
Where to Stay in Gatlinburg & Pigeon Forge
There are plenty of great areas and accommodation so deciding where to stay in Gatlinburg and Pigeon Forge can be an easy or difficult decision depending on how you're looking at it. Most folks are inclined to want to either stay downtown or in a cabin up in the mountains. Either option is fantastic and they have their different pros and cons so it all depends on what you want. Staying downtown means more walkability and access to everything whereas staying in a cabin means more privacy and more time in nature.
Gatlinburg Resorts
Westgate Smoky Mountain Resort & Spa
Providing beautiful cabin-style luxury accommodations, Westgate Smoky Mountain Resort offers a convenient location and scenic views. You'll also find fireplaces, fully equipped kitchens, private balconies, and large screen TVs in your rooms. In addition to your in-room amenities, you'll have easy access to hiking trails, three heated outdoor pools, a world-class spa, and a year-round water park.
Holiday Inn Club Vacations Smoky Mountain Resort
This resort is located off Highway 441 and the suites are large and comfortably decorated. You can enjoy either a one or two-bedroom suite that comes with full kitchens, dining space, living rooms with sleeper sofas, and a balcony. The rooms are also equipped with TVs, Wi-Fi, and some have a fireplace. Outside of the rooms, you'll be able to enjoy both indoor and outdoor pools, grills, fire pits, a fitness center, and a kids' club.
Gatlinburg Luxury Cabins
Luxury Gatlinburg Cabins
Explore the great outdoors without giving up the comforts of home plus revel in the fresh crisp mountain air and experience the amazing wildlife of the pristine Tennessee forests. Every luxury cabin rental is large enough for sizeable groups with amenity-filled living space including game rooms, multilevel, romantic fireplaces, and relaxing hot tubs.
Patriot Getaways
Patriot Getaways offers cabins no matter your style or budget but if you're looking Gatlinburg luxury cabins, they definitely have you covered. They have 'luxury' and 'luxury plus' which offer first-class accommodations with a fuller range of amenities, upgraded decor, and a larger space.
Hotels in Gatlinburg TN with indoor Pool
There are lots of hotels in Gatlinburg TN with indoor pool to choose from so if getting in some pool time is important to you, you're definitely in luck!
Black Bear Inn & Suites
The Black Bear Inn & Suites offers beautiful views of the Great Smoky Mountains which you can enjoy from your own private balcony. They're located in downtown Gatlinburg and are very close to the entrance to the most popular national park in the country!
The Appy Lodge
The Appy Lodge is located at the entrance of Gatlinburg and includes free parking, free breakfast, a laundry facility, an indoor and outdoor pool and much more!
Hotels in Gatlinburg on the River
The Greystone Lodge on the River
The Greystone Lodge is family-owned and located in a very convenient location downtown. All of their rooms feature private balconies (most of which overlook the river).
Old Creek Lodge
The Old Creek Lodge is in walking distance to most of downtown Gatlinburg while also being situated on the river making it seem both remote and centrally located.
Bed and Breakfast Gatlinburg TN
Laurel Springs Lodge Bed and Breakfast
If staying in a historic 1930s Smoky Mountain Bed and Breakfast is your type of thing than Laurel Springs Lodge is perfect for you. They're located two blocks off the main parkway, free on-site Parkway, and walking distance to a trolley stop. All rooms have comfortable bedding, Wi-Fi, TVs and DVD players, and more.
Condos in Downtown Gatlinburg
Park Place Condominiums
Homey units with river-view balconies, whirlpool tubs & fireplaces, plus an outdoor pool & a gym.
Baskins Creek Condominiums
Warmly furnished 2- and 3-bedroom condos feature flat-screen TVs, balconies, and living areas with fireplaces. All also have kitchens and whirlpool tubs. Wi-Fi access is available.
Limited covered parking is included. There's a seasonal outdoor pool, a hot tub, and a gym.
Cheap Cabins in Pigeon Forge
Pigeon Forge Cabins
These cheap cabins in Pigeon Forge start at under $100 per night while still offering Wi-Fi, TVs, beautiful views of the mountains, and hot tubs on the deck.
---
Gatlinburg Getaway – Best Restaurants in Gatlinburg TN
If you're looking for the best places to eat in Gatlinburg, you'll definitely have lots of options. Being vegan in Gatlinburg is a little more difficult though. There aren't a lot of independent restaurants in general and the vegan options aren't overflowing. However, there are a few great options for the best food in Gatlinburg.
Ole Red
Ole Red has several vegan options including a "Nacho" Average Vegan Burger which includes the Impossible burger, vegan nacho cheese, avocado, lettuce, tomato, onion, and jalapenos.
Whole Earth Cafe & Grocery
Whole Earth Grocery is a natural foods store and cafe and is probably the healthiest spot in Gatlinburg to be honest. You can find organic foods, seasonal produce as well as CBD oils, vitamins and supplements, natural beauty products and more. The cafe features vegetarian and vegan selections.
Mellow Mushroom
Mellow Mushroom has a pretty impressive vegan selection that includes Follow Your Heart vegan cheese, tofu, tempeh, and more. Just ask them to skip the butter and parmesan brush on the crust. I love getting the buffalo tempeh added to mine. There is a location in Gatlinburg and Pigeon Forge.
Ben & Jerry's Scoop Shop
Ben & Jerry's now has several vegan flavors and they are absolutely delicious. There is a location in Gatlinburg and Pigeon Forge.
The Melting Pot
In case you haven't heard, The Melting Pot has a vegan menu now complete with cheese fondue, chocolate fondue, and other menu items.
---
Gatlinburg Getaway – Things to Do in Gatlinburg
Ole Smoky Moonshine Distillery
I have a little secret to share. If you go to all the moonshine, whiskey, and wine distilleries on the main strip, you can get all the free samples! It's plenty to get you more than a little buzzed. While this is nothing like the real shine, it's still pretty good and there are lots of different flavors.
Sugarlands Distilling Company
Sugarland is another moonshine distillery and I'm not sure which one I prefer more, but they're both worth a visit.
Gatlinburg SkyLift Park
Take the SkyLift up to SkyLift Park where you can enjoy live music, a beautiful view of Gatlinburg and the Smoky Mountains, and walk across the suspension bridge.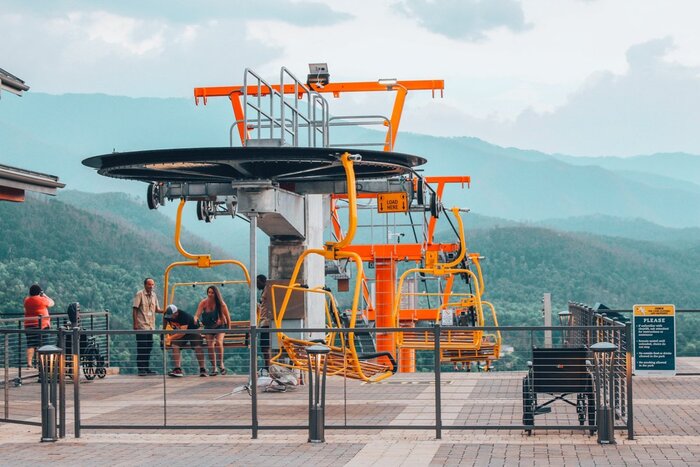 The Country's Longest Pedestrian Suspension Bridge
After the wildfires a couple of years ago, a lot of land surrounding Gatlinburg was ruined. Well, they came back and re-built the SkyLift park and added in the bridge which is now the longest pedestrian suspension bridge in the country.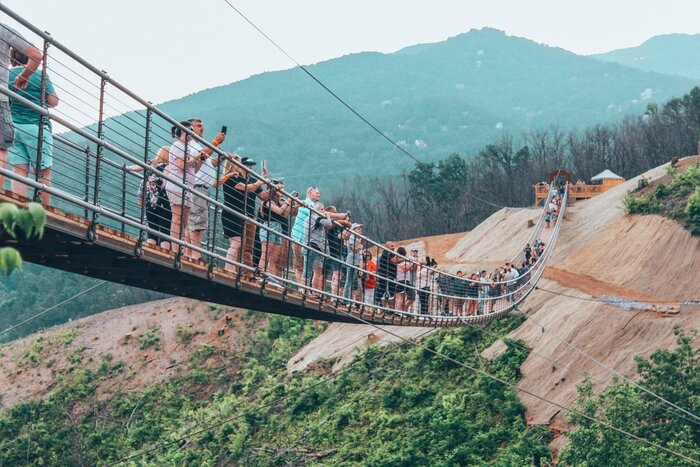 Gatlinburg Pinball Museum
The Gatlinburg Pinball Museum is an interactive museum with over 100 playable pinball machines and other retro arcade games. This is one of the largest collections of pinball machines and retro games in the country including limited edition and rare pinball machines.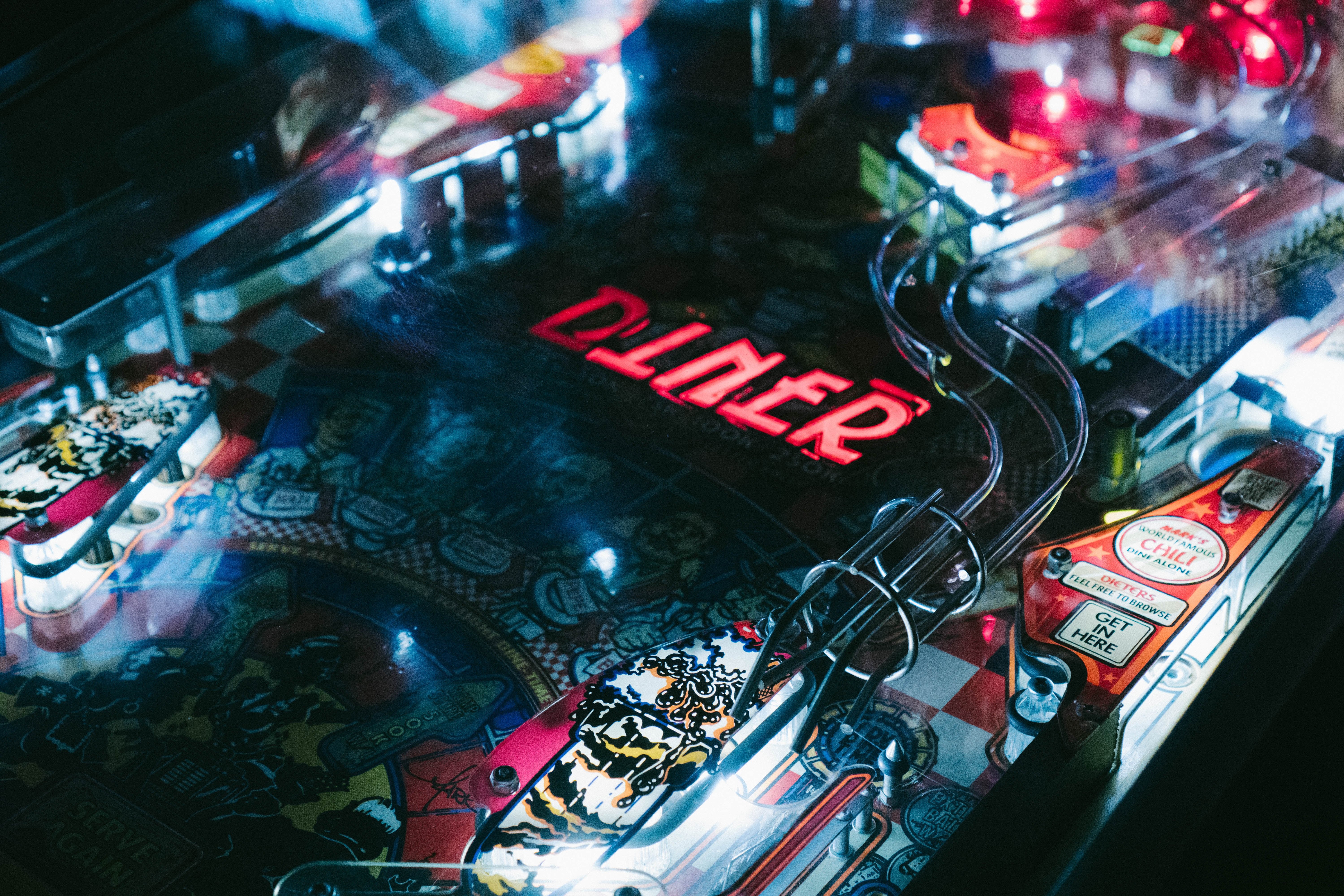 Cades Cove
The Cades Cove Loop consists of 11 miles through the Great Smoky Mountains National Park. You can either enjoy a picturesque drive, get out and stretch your legs on the trails, or get a history lesson as this was a settlement in the early 1800s. There are plenty of historic buildings including churches, log homes, barns, and cemeteries. This is also the best place to see black bears in the wild as well as deer, turkey, and more.
Roaring Fork Motor Trail
The Roaring Fork Motor Trail is a six-mile loop through the Great Smoky Mountains right off the main strip of Gatlinburg. The trail includes spots to stop and take a hike to Rainbow Falls or Grotto Falls. If you're not into hiking, there are plenty of scenic views that can be seen from the comfort of your car.
Mt Leconte
The Alum Cave Trail to Mount LeConte is a 10.5 mile heavily trafficked out and back trail near Gatlinburg. The trail is rated as difficult but is one of the best hikes in Tennessee.
---
Things to Do in Pigeon Forge
While I prefer Gatlinburg over Pigeon Forge, there are still plenty of fun things to do in Pigeon Forge and it's one of the best places to travel with kids especially!
Dollywood
I love amusement parks and I love Dollywood.
Smoky Mountain Alpine Coaster
The Smoky Mountain Alpine Coaster is the longest downhill ride in the United States, with over one mile of track.
---
Bears in Gatlinburg
The thing everyone wants to know – will you see bears in Gatlinburg? The probability is strong for sure. Unfortunately, the bears are attracted to human food and they are less and less afraid of humans. And, unfortunately, people aren't that smart or they don't think about their impact on the bears. If bears continue to get closer to humans and then a human gets hurt, the bears are usually put down. Eventually, there won't be anymore bears for people to see. That would be a real shame.
Ethical tips for bears in Gatlinburg:
Do not ever feed them.
Do not leave your cars unlocked or windows down. No, I'm not joking.
Secure all food when camping or anytime you have food outside.
Properly use bear-proof receptacles.
Do not approach or harass bears.
Do not visit any roadside attractions housing bears. Unfortunately, there are several places to see bears in captivity.
Where to see bears in Gatlinburg:
There is a good chance of seeing a black bear in many places in the Great Smoky Mountains National Park, and even in Gatlinburg. The absolute best place to see black bears in the wild is by visiting Cades Cove.
---
Directions to Gatlinburg Tennessee
Asheville to Gatlinburg
It takes about 1 hour and 45 minutes to get from Asheville to Gatlinburg. Take I-40 W to Exit 447 and follow 32 N and 321 S to Gatlinburg.
Nashville to Gatlinburg
It takes about 3 hours and 45 minutes to get from Nashville to Gatlinburg. Take I-40 E to Exit 407 and follow signs to Gatlinburg.
How Far is Gatlinburg from Memphis
It takes roughly 6 hours and 30 minutes to get from Memphis to Gatlinburg. Take I-40 E to Exit 407 and follow signs to Gatlinburg.
Knoxville to Gatlinburg
It takes about 1 hour and 20 minutes to get from Knoxville to Gatlinburg. There is, unfortunately, no Knoxville to Gatlinburg shuttle but you can take a bus and taxi combination but it can be a bit pricey. By car, take I-40 East to Exit 407 and follow signs to Gatlinburg.
---
Getting Around Gatlinburg
Airports in Gatlinburg TN – Getting to Downtown Gatlinburg
The closest airport to Gatlinburg and Pigeon Forge is the McGhee Tyson Airport which is located 12 miles south of Knoxville. It takes a little over an hour to reach Gatlinburg from the airport. This is a small airport but still services many major airlines.
You can reach Gatlinburg and Pigeon Forge by either renting a car, taking an Uber or Lyft, or a taxi.
Other airports near Gatlinburg include:
Asheville Regional Airport – 2 hours from Gatlinburg
Tri-Cities Regional Airport – 2 hours from Gatlinburg
Chattanooga Metropolitan Airport – 2 hours, 30 minutes from Gatlinburg
Greenville-Spartanburg International Airport – 3 hours from Gatlinburg
Nashville International Airport – 3 hours, 30 minutes from Gatlinburg
Charlotte Douglas International Airport – 3 hours, 30 minutes from Gatlinburg
---
By Car
Whether or not you need a car in Gatlinburg is dependent on a lot of things. What activities you want to do would be an important factor. If you plan on only focusing on downtown Gatlinburg activities and things that are accessible on the trolley (see below), then a car is not really necessary. However, if you're driving anyway, then a car will give you a lot more freedom.
Parking in Gatlinburg
Parking in Gatlinburg isn't usually a problem if you're staying at a hotel. However, if you're staying in a cabin or away from the strip and you need to drive into town, you'll need to park in a paid lot.
Gatlinburg Trolley
There is a pretty good trolley system in Gatlinburg which travels all around the downtown area, makes stops in the Smoky Mountains National Park and goes to Dollywood in Pigeon Forge. Depending on the route/destination, the fees range from $.50-$2.00 one way.
By Foot
Downtown Gatlinburg is extremely walkable and if you're staying downtown and only planning on exploring this area, pretty much everything can be done by foot.
WHERE TO STORE LUGGAGE
If your check-in and check-out times don't sync up with your need to roam the streets and you need a place to store your bags check out LuggageHero, a service that helps you find a safe place to keep your luggage while you're running around!
↓↓↓ PIN FOR LATER ↓↓↓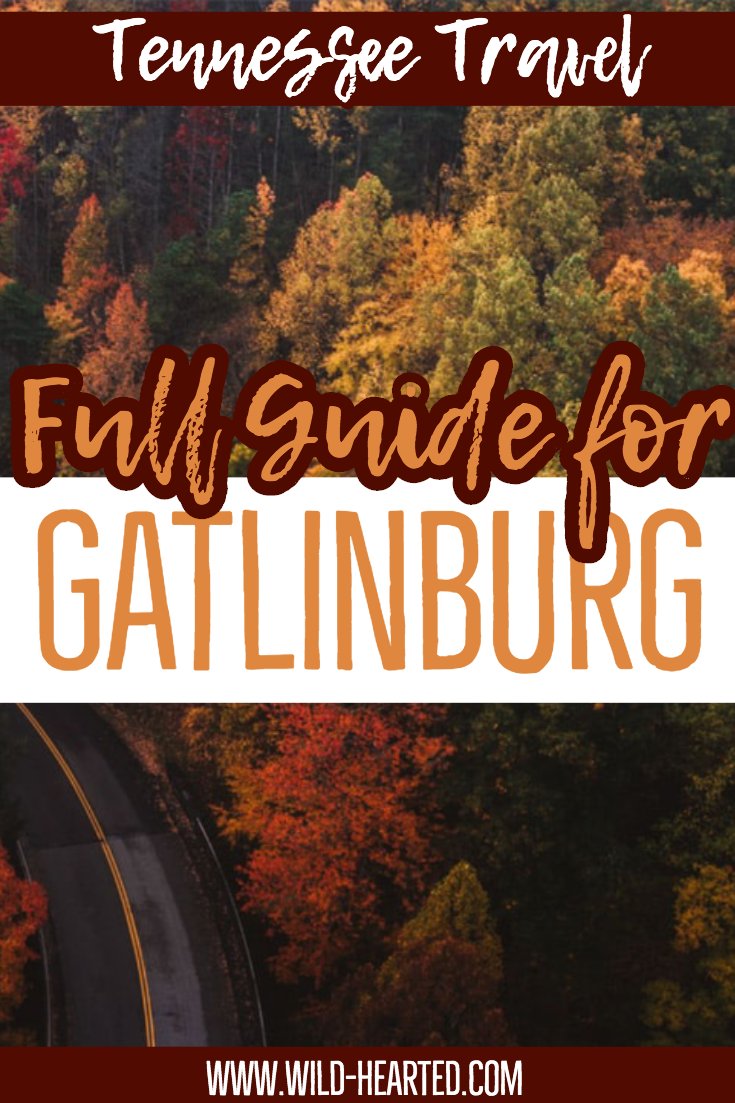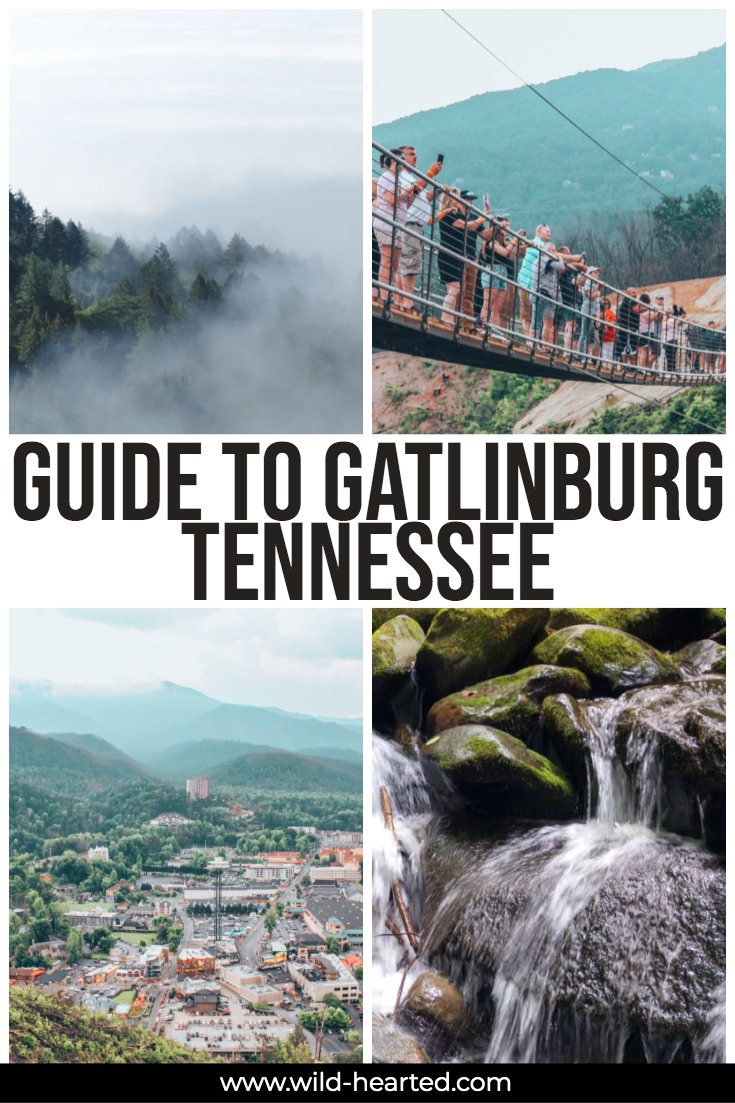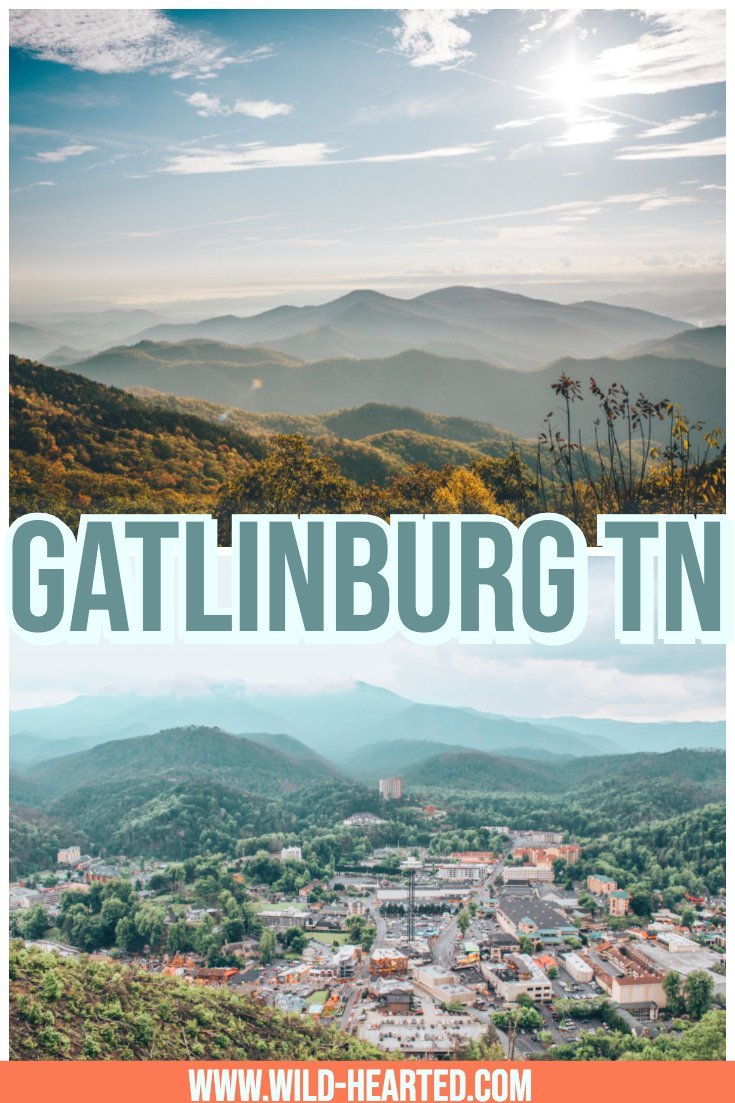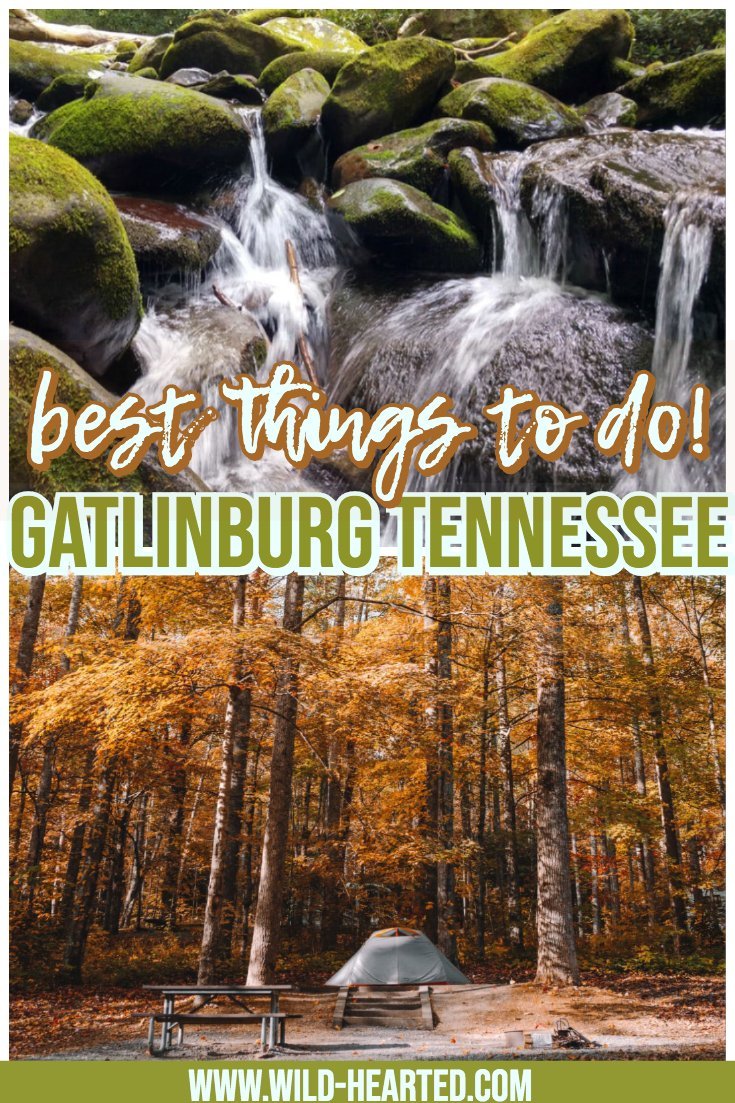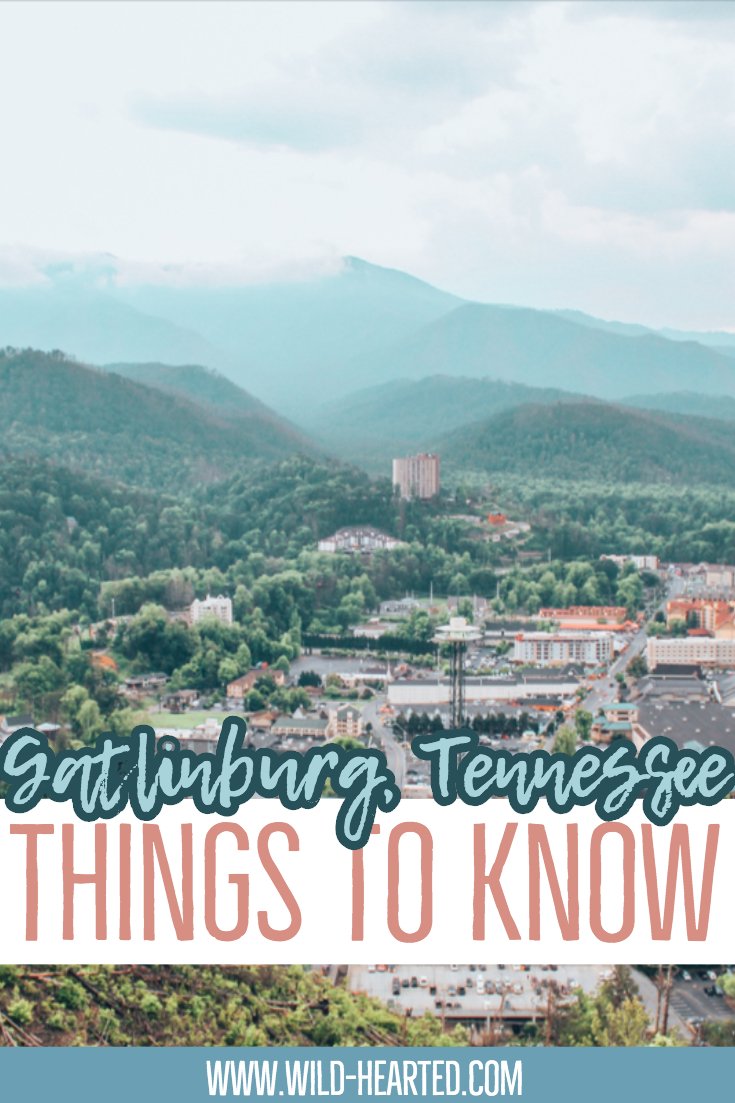 Latest posts by Ashley Hubbard
(see all)