This post may contain affiliate links, meaning if you book or buy something through one of these links, I may earn a small commission (at no extra cost to you!). Please see my disclosure.
Vegan Guide to Jaffna, Sri Lanka
Most travellers have one or two destinations which really stick in their hearts. For us, that's definitely Jaffna in Northern Sri Lanka. A region we knew was steeped in history and fascinating culture but had been through problems in recent times. Jaffna is still trying to break away from its reputation as a war-torn region, the civil war is long past but outsiders don't seem to have forgotten. Guidebooks don't give it a chance and because of that tourists don't give it a chance either. For us, that sounded perfect. An adventure with huge potential yet to be properly explored. After three months in Sri Lanka and nearly one month in the North, we'd fallen in love with our surroundings and the only thing getting us to leave was our visa.
This is a guest post from Josh and Sarah of Veggie Vagabonds who spent three months backpacking Sri Lanka.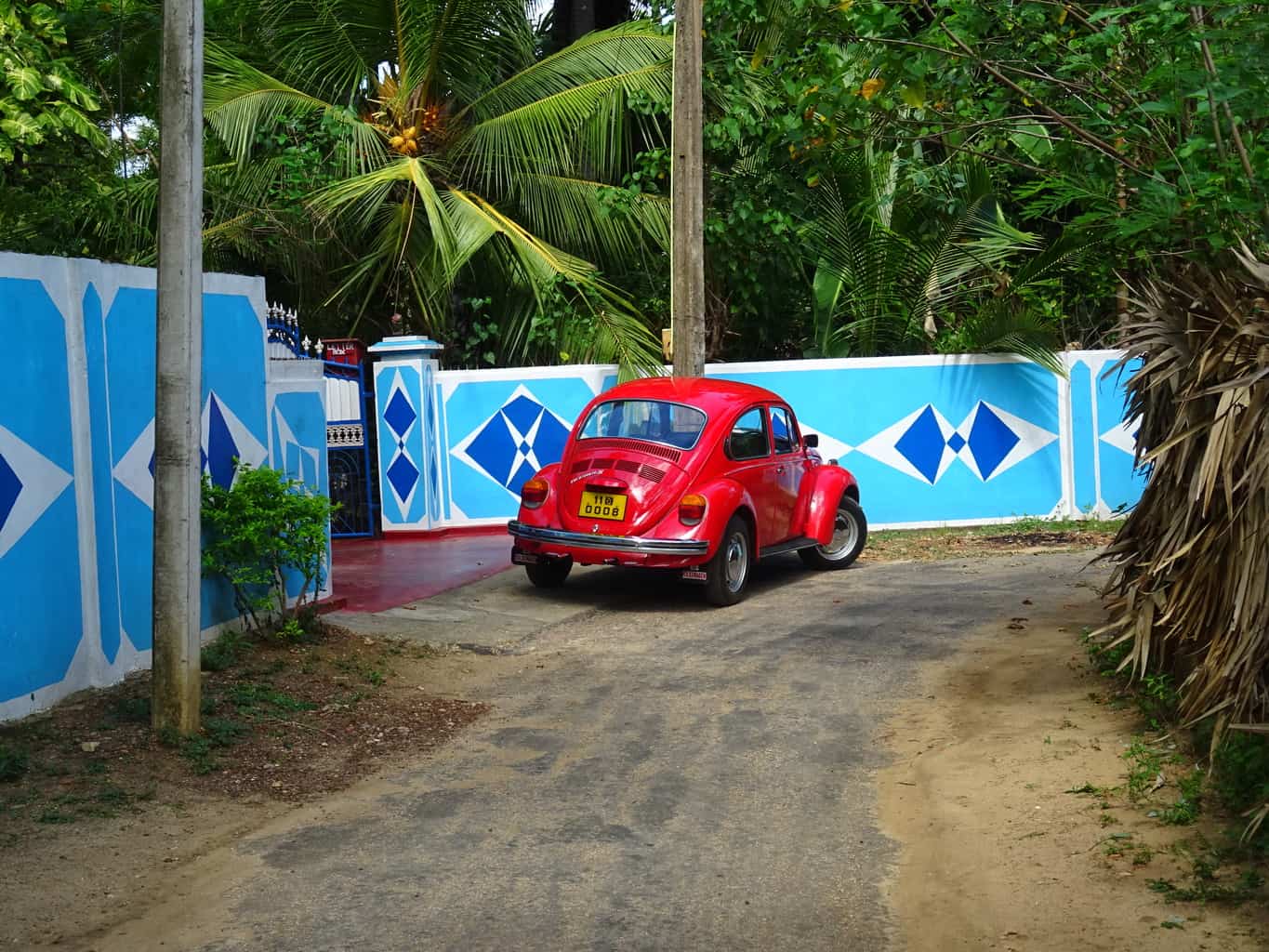 Although tourist infrastructure is all but non-existent in Jaffna, as a traveller you're still welcomed with open arms. People are happy to know you've decided to visit their beautiful land and eager to make conversation and tell tales of the past.
You're surrounded by alluring sights, smells and sounds with a landscape that is beautiful and unexplored. The food is honestly out of this world and the prices are unbelievably low. Really unbelievably low.
Despite all of this, you're unlikely to see another rucksack in sight. If you're looking for party hostels and western comforts then this is not the place to be. If you're looking to extend your trip beyond Jaffna, there are plenty of amazing places to visit in Sri Lanka using this 10-day itinerary!
The civil war ended less than 10 years ago and has definitely left it's mark – though not as you may think. Physically, there are no tell-tale signs but you'll feel the unique culture and atmosphere is noticeably different from the rest of the island. The majority of Sri Lankans are Sinhalese but in Jaffna, there is a mix of Christians, Muslim Moors, and a Tamil majority having descended from Southern India. During the war, the North was cut off from the rest of the country and this led to the culture intensifying and becoming proudly unique. It's all boiled together in a cultural melting pot and for travellers makes it an incredible place to explore and discover. You can still see classic European cars from the 60's being driven around on the roads.
Despite the ethnic diversity, it's the Tamil influence you can feel the most. As Tamils are Hindu, this means two very important things for veggie vagabonds: temples and vegetarian food! Sri Lanka is covered in majestic temples from North to South but it was the Hindu temples in Jaffna which really captured us. From small to grand, old to new, every temple we visited in Jaffna was a humbling opportunity.
Of all the amazing temple experiences we had, the Nallur Kandaswamy temple stole the show. Built in the 13th century by the ruler of the Jaffna Kingdom, it's an absolute marvel to see first-hand. The brightly coloured towers stand tall above the dusty ground and it is kept in pristine condition whilst still having a really rustic feel. The temple is extremely important to Sri Lankan Tamils and visiting during one of the evening pujas was definitely a highlight of our travelling lives. You could really feel the belief and devotion in the crowds of Hindus who had come to pay their respects. We observed respectfully and were once again greeted with smiles, taken into conversations with yoga instructors who welcomed us to practise with them and had families invite us to dinner.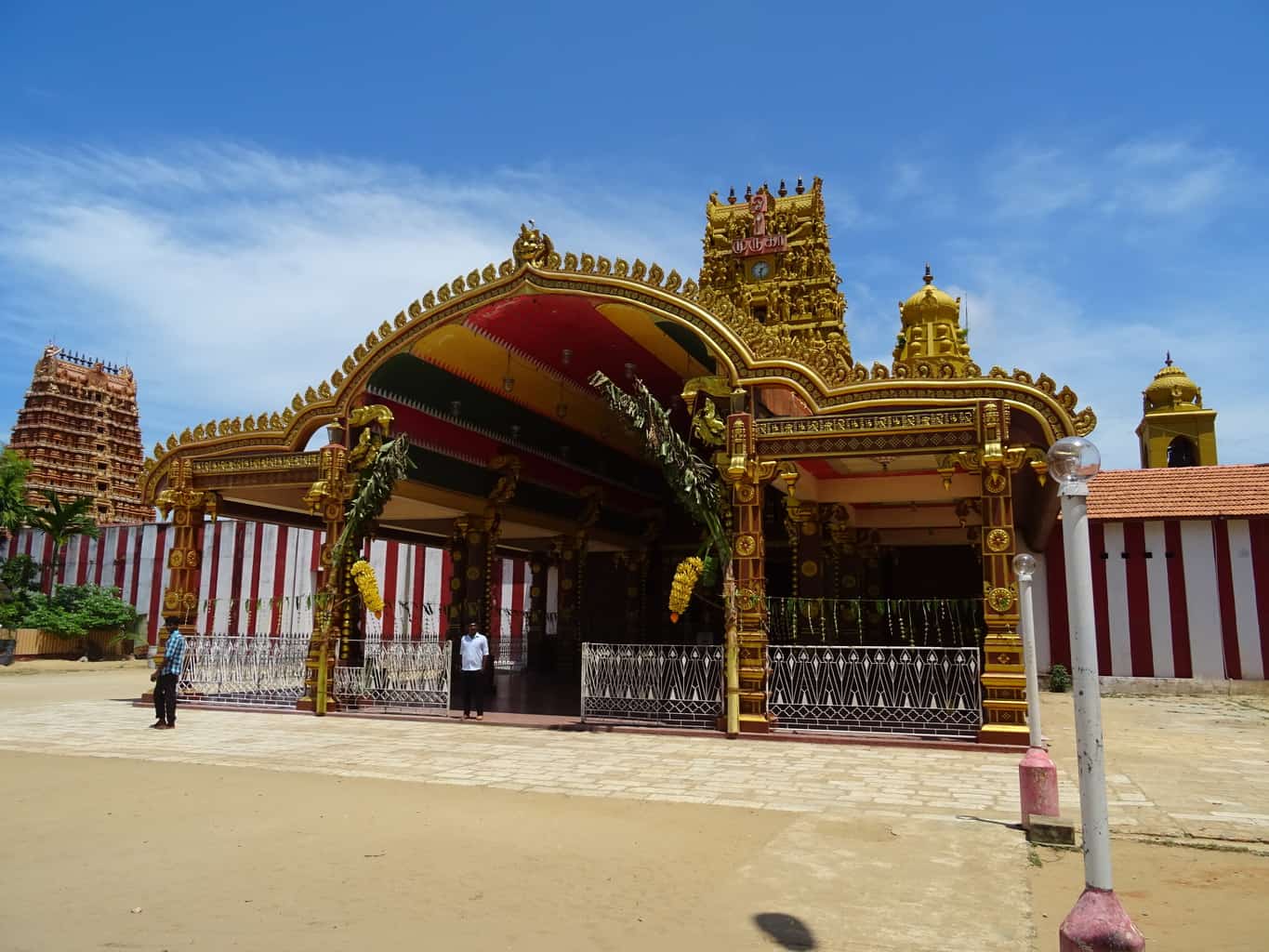 In Jaffna, our time temple hopping was broken up by eating. Our schedule was literally munch, temple, munch, temple, temple, munch… you can see where this is going. Vegetarian food is in an abundance and when you see Hindu temples you know veggie food will be just around the corner. Most Hindus in the region are vegetarian and normally avoid eating eggs too, great news! Even better is that most of the dishes are vegan or can be requested without ghee or cream.
The Tamil food in Jaffna is without a doubt our favourite food in the world. A beautiful mix of Sri Lankan, South Indian and Muslim influenced cuisines all stirred together in one sizzling veggie pot. The food is spicy, fresh and filled with so much flavour. It's also commonly served on a banana leaf and eaten by hand which just adds to the experience.
---
VEGAN TIPS FOR JAFFNA
There's an amazing amount of things to try in Jaffna and a lot of the time you don't know exactly what you're eating. As long as it's vegan we're happy to chow down! To make the most of the food in Jaffna here are some important bits of culinary advice:
1) Don't judge a book by its cover. Some of the best food we had was in some very suspicious looking places.
2) Follow the locals, they're the best guides and they're free. If you see somewhere busy then you know the food is popular and because of all the customers it'll be fresh.
3) Don't be afraid to ask (this is particularly important for vegan travellers). In Jaffna, you'll see a huge number of places labelled as 'vegetarian' outside. Most of the dishes can be done, or, already are vegan but just make sure you ask. Throughout Sri Lanka people are very understanding of dietary recommendations which means you avoid the baffled stares you get in many countries.
4) Eat everything! Really, even if it's something you wouldn't normally like, try it, get out of your comfort zone. In all our time in Sri Lanka, we didn't try a curry or dish we didn't love.
Follow these tips and prepare to be blown away by the food, just make sure you take some stretchy trousers! Actually, the Tamil food in Jaffna is healthier than you think. A lot less oil is used compared to other regional foods and every dish is packed full of fruit, vegetables, herbs, and spices. Food hygiene is also something you're unlikely to have a problem with. One of the many benefits of being a vegan traveller is that there's a much lower risk of picking up stomach problems. For 3 months in Sri Lanka, we ate everything. Literally everything, from everywhere and everyone and came off unscathed!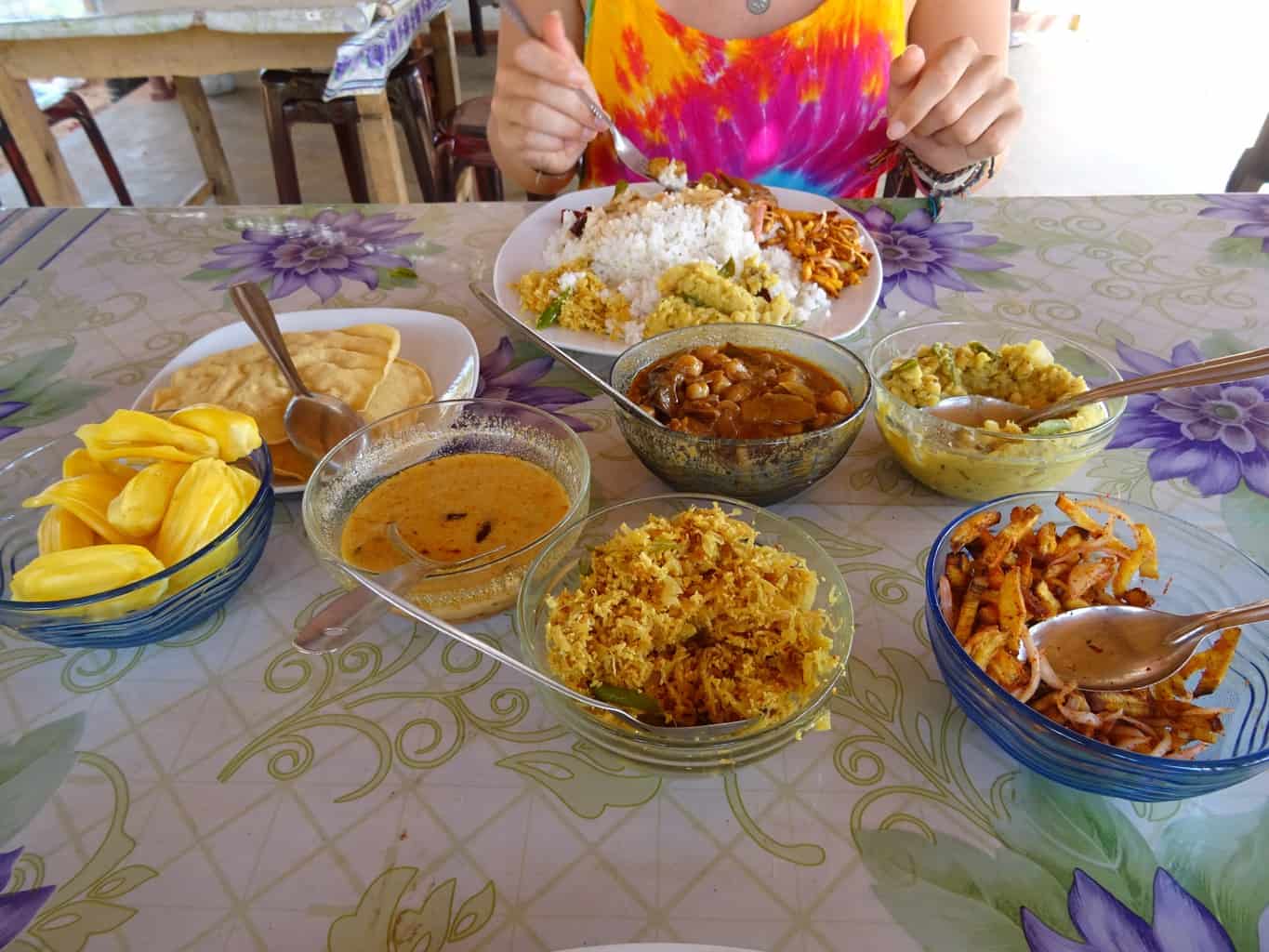 ---
MUST TRY FOODS in SRI LANKA
Now you've got the tips, here's just a small selection of some of the amazing foods you need to try:
Masala Dosa – A long Indian style pancake, stuffed with spiced potatoes and served with a chutney selection
Coconut sambol – a spicy sambol made from grated coconut, garlic, onion, and chilli. Eaten with everything!
String Hoppers – Rice noodles pressed into pancakes, normally served with tadka dhal and coconut roti and eaten from breakfast
Coconut roti – A thick fried bread with grated coconut. Great for mopping up saucy curries!
Tadka dhal – A beautiful curry made from lentils and pulses, the base to many Tamil meals
Roti – A traditional fried bread
Curry pots – On the tables of most Tamil restaurants will be pots of curry, sambol, and chutney and you can help yourself!
Uthapam – A thick, fluffy style pancake eaten with curries and sambols
Jackfruit curry – Made using young jackfruit, this has such a meaty texture on many occasions we had to check we hadn't been served meat!
Dodol and sweet eats – The best way to finish your meal, an amazing selection of sweet desserts and cakes
Pittu – Steamed rice shaped into cylinder shapes and covered with grated coconut. Another breakfast dish eaten with curry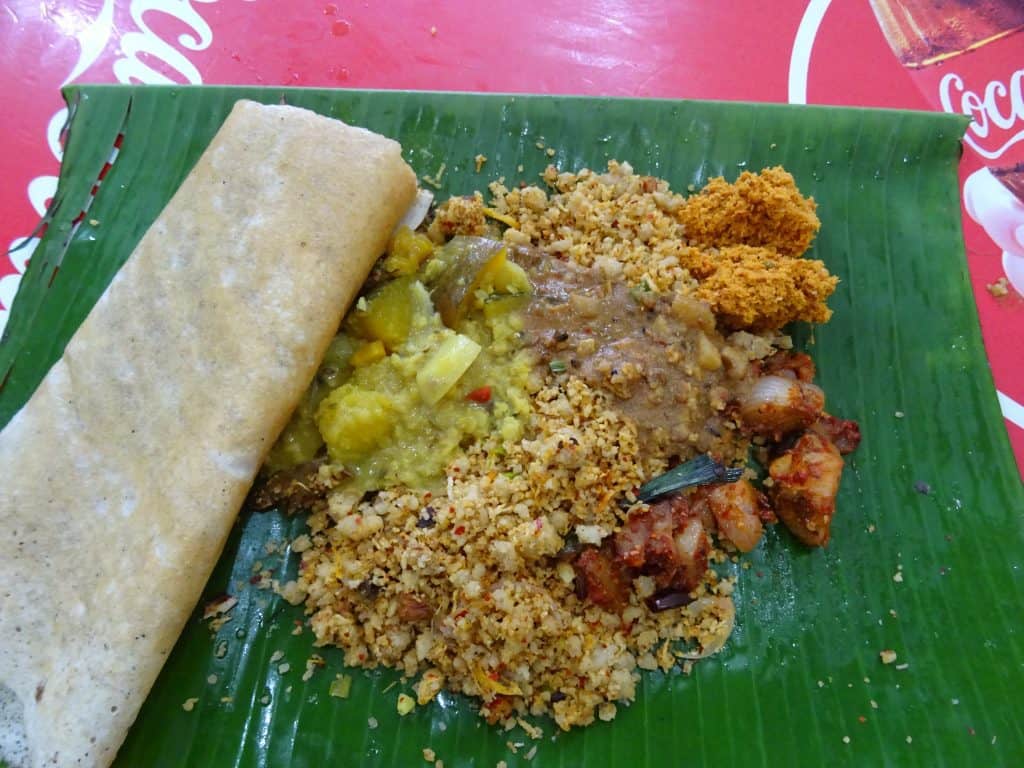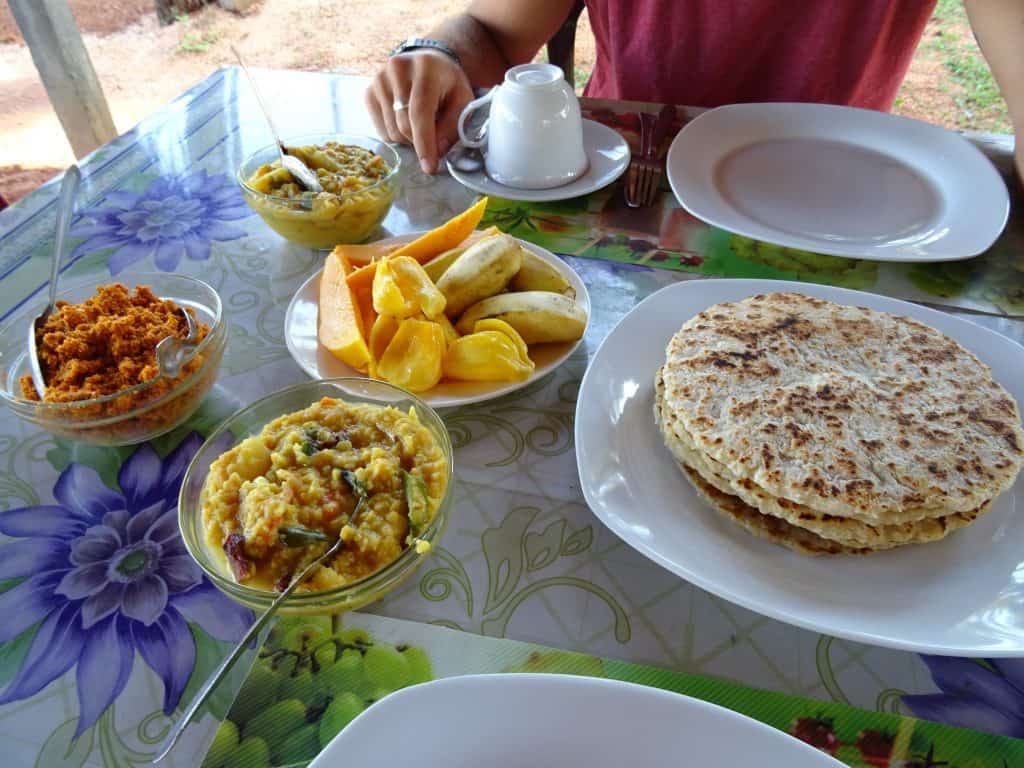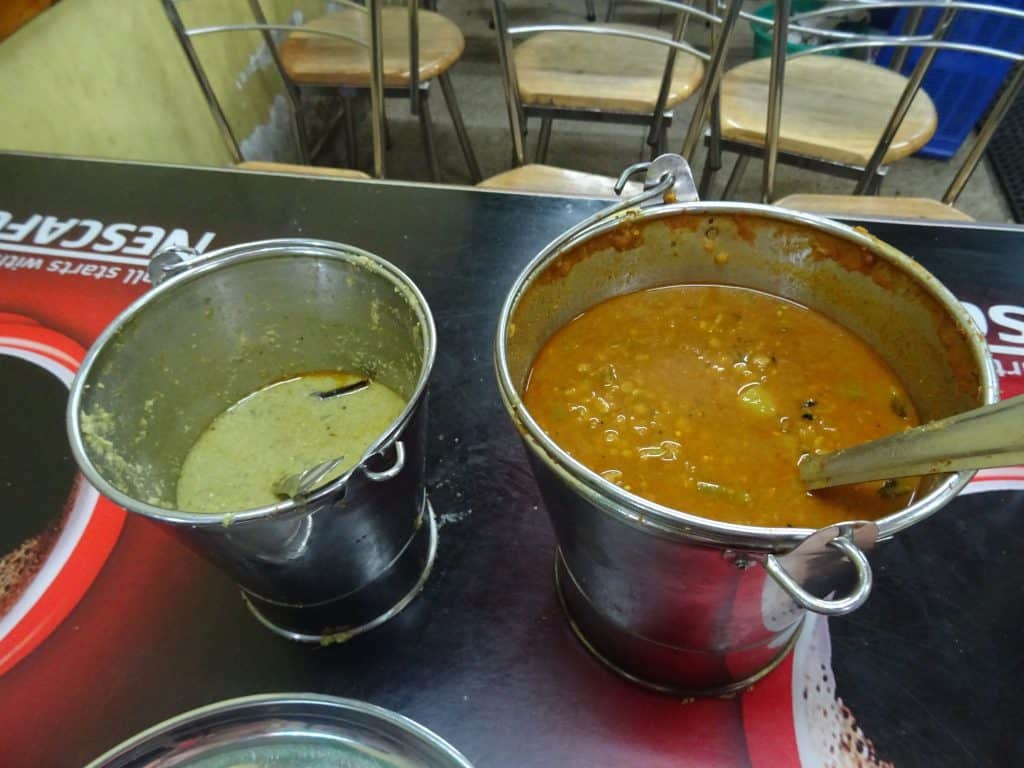 ---
SRI SAIEE BAVAAN RESTAURANT
After spending some time in Jaffna you'll realise that you really are spoilt for choice with food. In our travels, we always try and pick a new spot each day but in Jaffna, Sri Saiee Bavaan kept pulling us back. A small unassuming restaurant not far from the bus terminal. Every day we'd walk past and everyday it was full to the brim with happy local munchers enjoying a lunchtime curry selection or some breads and dosas. This place was really great so check it out if you get the chance and have a Massala Dosa for us!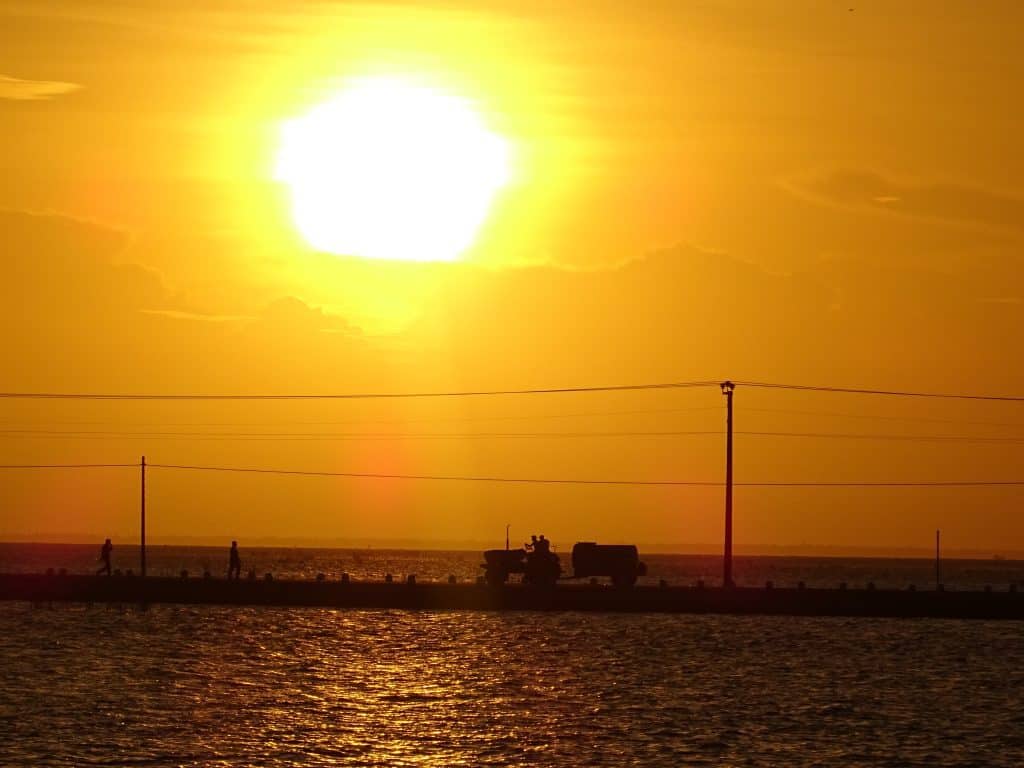 ---
VEGAN SPOTS ON HAPPY COW
Happy Cow is one the best tools for a vegan traveler!
Cosy Vege
Lingan Cream House
Malayan Cafe
Mangos Indian Veg Restaurant
Check out the information on the restaurants above that are listed in Jaffna on Happy Cow!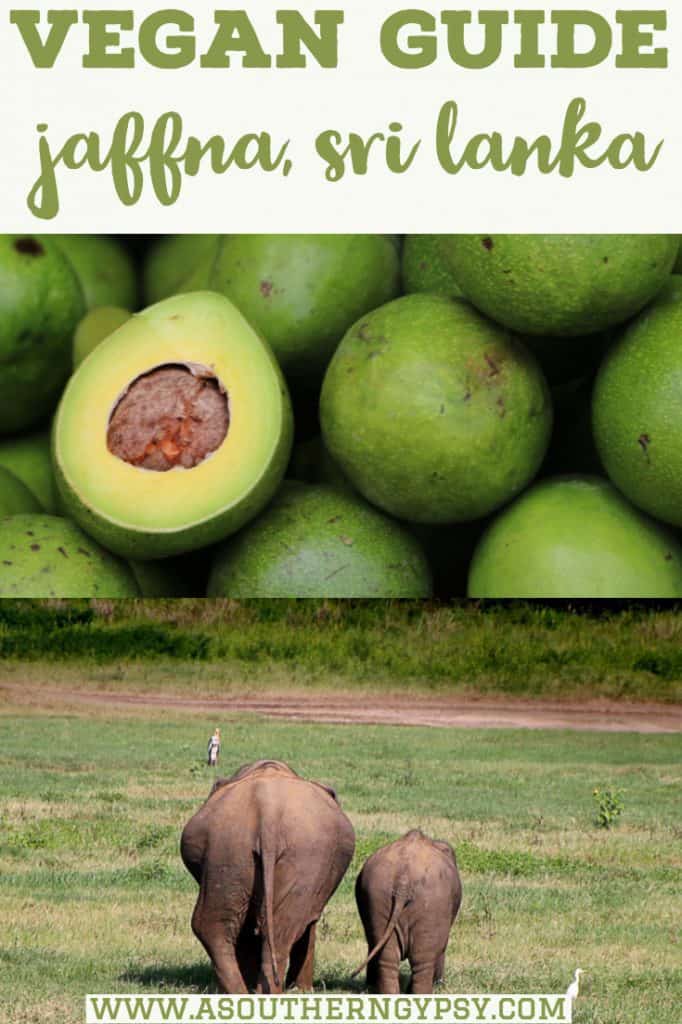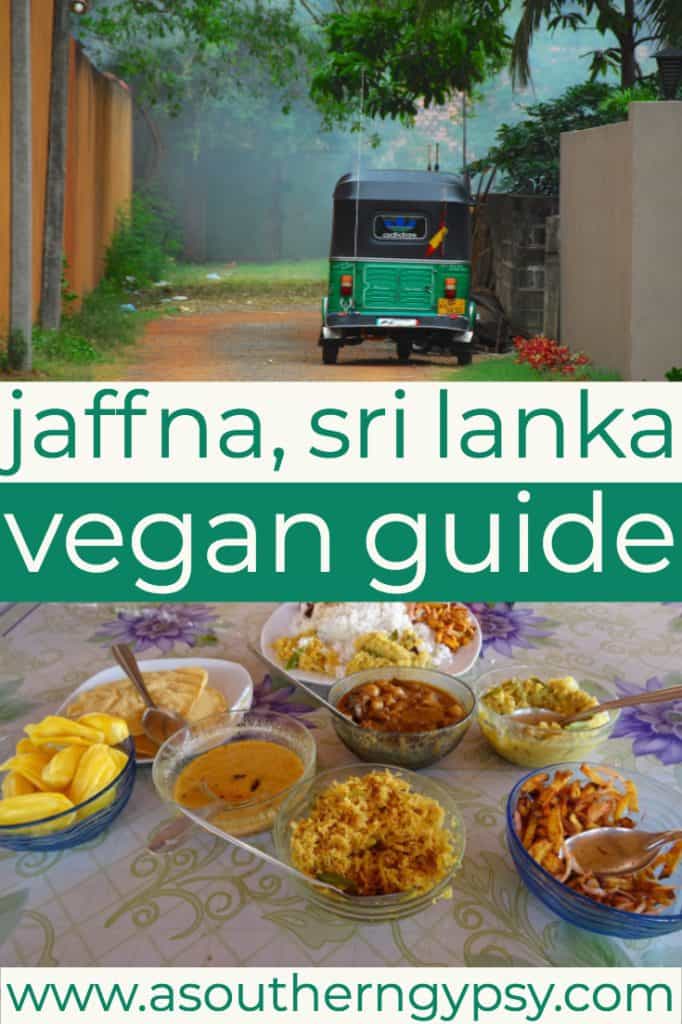 Latest posts by Josh Kian
(see all)