This post may contain affiliate links, meaning if you book or buy something through one of these links, I may earn a small commission (at no extra cost to you!). Please see my disclosure.
Thailand is one of the most popular destinations in the world due to the gorgeous beaches and mountains, the delicious food, ancient ruins and temples, and incredibly friendly people. With all that this southeastern Asia destination has to offer, you may be planning or want to plan a trip sometime soon! Getting a visa for Thailand can seem challenging and complicated or depending on where you're from, it may actually be very complicated.
There are a number of visa options and each one allows you to stay in the country for different amounts of time and allows you to do different things. This Thailand visa guide will help you understand the visa process for Thailand.
Who Needs a Visa When Traveling to Thailand
The answer in most cases is that yes, you do need a visa for Thailand. The exception is if you're from a visa-exempt country which means you can enter Thailand without a visa or if you're eligible to apply for a visa on arrival. Be sure to check whether you need a travel visa to enter Thailand or not before you go.
Most nationalities who do not need a visa can stay for only up to 30 days at a time. (Exceptions are Brazil, Republic of Korea and Peru, which can stay up to 90 days.)
At the time of writing, the US is one of the countries that does not require a visa to enter Thailand as long as you're carrying a tourist passport and in possession of an onward or return ticket.
How to Get a Visa for Thailand
Required Documents to Get a Thailand Visa
Original passport that must be valid for at least six months after the intended date of departure and have at least two blank visa pages.
Visa application form
Itinerary which includes a copy (digital) of round trip tickets or an outbound flight ticket.
Bank statement
Completed declaration form
Passport-size photographs
Photo Size for Thailand Visa
The passport photo size for a Thailand visa is 2"x2". It must have a white background and taken within the last six months.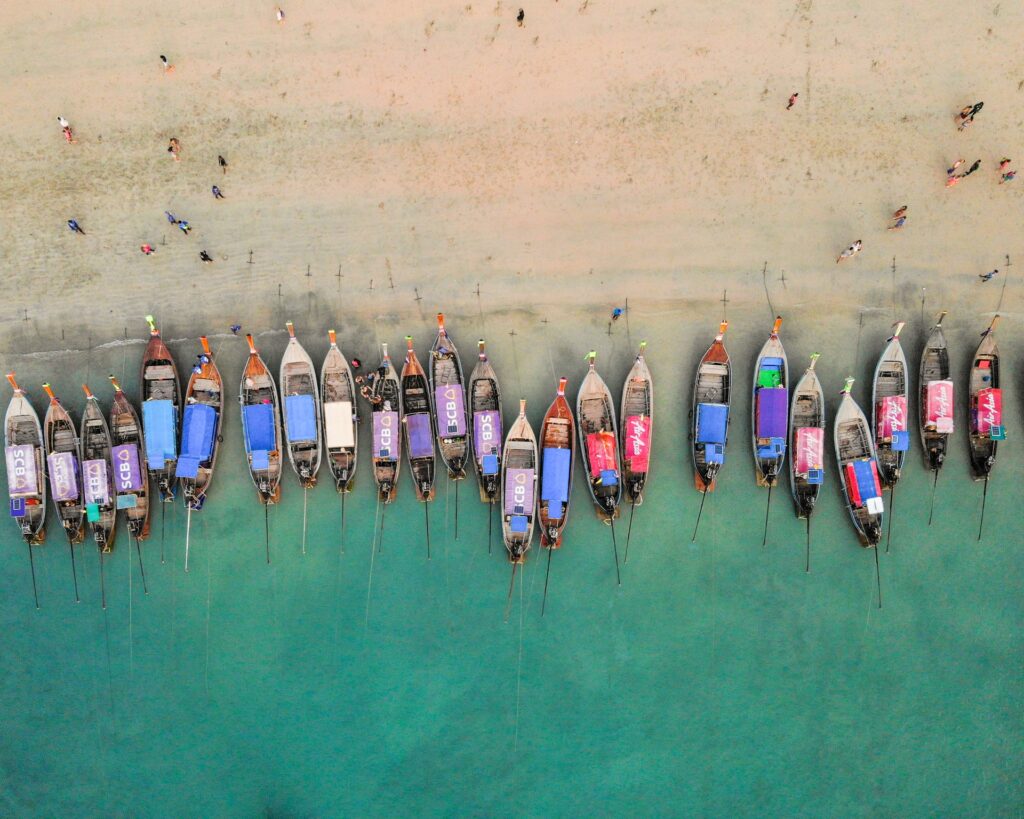 Types of Thailand Visas
Thailand Tourist Visa
This is one of, if not the most, common type of Thailand visa. There are different types of tourist visas which have varying lengths of time allowed.
Thailand Work Visa
All foreigners that are wanting to work in Thailand must obtain a Thai work permit and a Thai work visa. A company, foreign government, or other organization in Thailand must file an application on the behalf of the work visa applicant in order to receive a work permit. A work visa is valid for one year.
The Thailand work visas are technically non-immigrant visas and include NON-B (to work, conduct business by invitation or to work as a teacher), NON-ED (to study or for an internship), and NON-M (to work as a film producer or journalist).
Thailand Retirement Visa
Also a non-immigrant visa, Thailand retirement visas are fairly common. This includes NON-O (to stay in Thailand after retirement), NON-O-A (long-stay retirement up to one year), NON-O-X (long stay retirement up to five years).
Thailand retirement visas are available to foreigners that are 50 years of age or older. They are valid for one year and they may not be employed at all. Applicants must also:
Provide proof of a pension or other regular income from a source outside of Thailand
That income must be no less than the equivalent of 65,000 Baht per month (roughly $2,100 USD) OR
Maintain a Thai bank account with a minimum of 800,000 Baht (approximately $25,700 USD)
Other Thailand Visas
There are a number of other specialty visas but they aren't as common as the above three categories. You can see all the different types of visas here.
How Long Can You Stay in Thailand on a Visa
A tourist visa allows an initial stay of 60 days and generally must be used within 90 days of the date of issue. After arrival, a tourist visa may be extended at the discretion of an immigration officer for an additional 30 days with the total period of stay being no longer than 90 days.
How to Get a Visa Extension in Thailand
You must extend your visa before it expires and you have to visit an immigration office in person to apply for an extension. Each province has one (or more) immigration offices and you can locate the closest one by visiting their official website.
Whether you're visiting Thailand to enjoy the city life of Bangkok or explore Thailand off the beaten track, it'll help ease any travel anxiety to know exactly what you need (or don't need) to travel to Thailand.
Latest posts by Ashley Hubbard
(see all)