This post may contain affiliate links, meaning if you book or buy something through one of these links, I may earn a small commission (at no extra cost to you!). Please see my disclosure.
You want to travel and enjoy traditions, but you haven't had the opportunity. Well, despite the excitement and opportunities of a new adventure, you cannot dismiss that there are possible risks that could derail your vacation.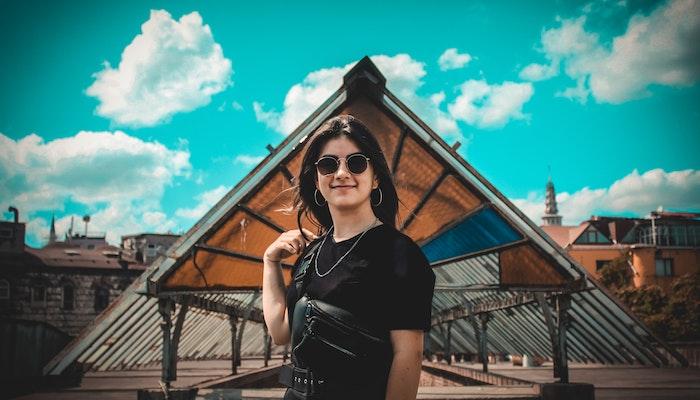 If you're making plans right now for your next voyage and want to know how to travel safely, look no further! From custom fanny packs to attire, here are five simple travel tips to maximize safety while traveling!
1. Keep Your Bag "Strapped"
Most quick snatch-and-run robberies occur because the robber can do it quickly and has time to flee. As a result, anything that slows them down will help prevent it from happening in the first place. An excellent choice is getting a fanny pack that will permanently be attached to you. You can find these bags anywhere and even opt for customized fanny packs.
If you can maintain your bag permanently attached to you at all times and do so in an obvious way, thieves will think it's far too dangerous – and likely leave you alone.
A carabiner clip is a simple and effective method. It doesn't have to be constantly secured with a steel cable and padlock. It needs to be attached to something that makes a snatch-and-run intent tough and tricky. Even a simple headband around your leg or chair will suffice.
2. Be Careful With Your Money
Any reputable source of travel safety data will tell you that carrying large sums of cash is never a bright idea. If you really must withdraw large sums of money at once, leave most of it securely locked up in your resort or hostel and take only what you think you need that day. It is better to set up an account with a foreign credit card provider that allows you to use local ATMs.
While using ATMs, try using only those connected to banks because they are less likely to have been meddled by fraud. Never hold all of your money in a single location. Keep your cash and credit cards in two different areas so you won't be broke when one of your vaults is stolen.
Also, keep valuables hidden. Traveling with few personal belongings is more complicated than it sounds in this technological age. Even though there are some objects you won't want to travel without, limiting your chances of being robbed is critical. Awareness of your assets, locking them up, or purchasing a slash-proof bag are simple ways to prevent theft.
3. Make a List of Emergency Numbers
If a tragedy hits, you may not have time to look up phone numbers for police or paramedics or directions to your country's embassy. You could also be too anxious or panicked to have a clear mind.
Avoid putting yourself in that situation. Instead, make a note of that information ahead of time and devise an "exit strategy" to implement if things go wrong. Put it somewhere on your phone so it's easy to access.
You should also write everything down on a tiny card or sheet of paper, laminate it, and hold it in your handbag or wallet. You can also save it on a small USB key, along with duplicates of your passport and other relevant files.
If something wrong happens while traveling, you'll always have access to your files and know whom to reach and where to go for assistance.
4. Seek Advice From Locals
Talk to a local if you want to know which areas are secure and which are risky. Most residents are amicable and will inform you if you venture into unsafe places. On the other hand, if a random person offers advice, it's better to get a second opinion – just in case they don't really know what they're speaking about and are just trying to trick you or rob you.
Hostel or hotel front desk staff are usually excellent sources of local information. Don't be scared to ask them which parts of town to eschew, how much taxi fares should be, and where to go for a great meal. Ensure someone else knows where you're heading and when you will go.
The best way is to message the entire planned route to a few relatives and double-check that they got it – don't just assume it arrived in their inbox; make sure it did. Then, if possible, check in regularly.
Before you leave, ensure someone knows where you're going, your overall plans, and when you expect to return. Suppose they don't hear from you for a few days after you're supposed to come back. They can alert the appropriate local authorities or the embassy in that case.
5. Be Aware of Your Attire
When it comes to traveling, wearing the wrong clothes screams "foreigner" and makes you a target for scam artists, thieves, and other criminals. The less obvious you might seem to a visitor, the less attention you will receive from the wrong type of people.
Dressing appropriately is a sign of respect. Many Islamic countries have strict dress regulations that are frequently imposed, and other destinations have laws that may catch you off guard – walking in swimwear in the streets of Barcelona, for instance, is prohibited for women and men.
Nevertheless, it's possible to follow the rules while still offending locals with your attire. Ignoring local traditions can come across as arrogant and insensitive.
Latest posts by Ashley Hubbard
(see all)