This post may contain affiliate links, meaning if you book or buy something through one of these links, I may earn a small commission (at no extra cost to you!). Please see my disclosure.
A Message from the Filmmaker
The Invisible Vegan is my first feature-length film documentary project, and its emergence stems not only from my commitment to veganism, but also my investment in the possibilities of film as a medium for raising awareness, inspiring consciousness, and creating collective social experiences.
It is my hope that the film will receive the widest possible audience, and catalyze productive debates about the future of food in African-American culture. I feel tremendously privileged and humbled to be working with a group of talented people whose opinions do not always reflect my own, but nonetheless, sustain the very spirit of dialogue on which this film is premised.
Documentary Synopsis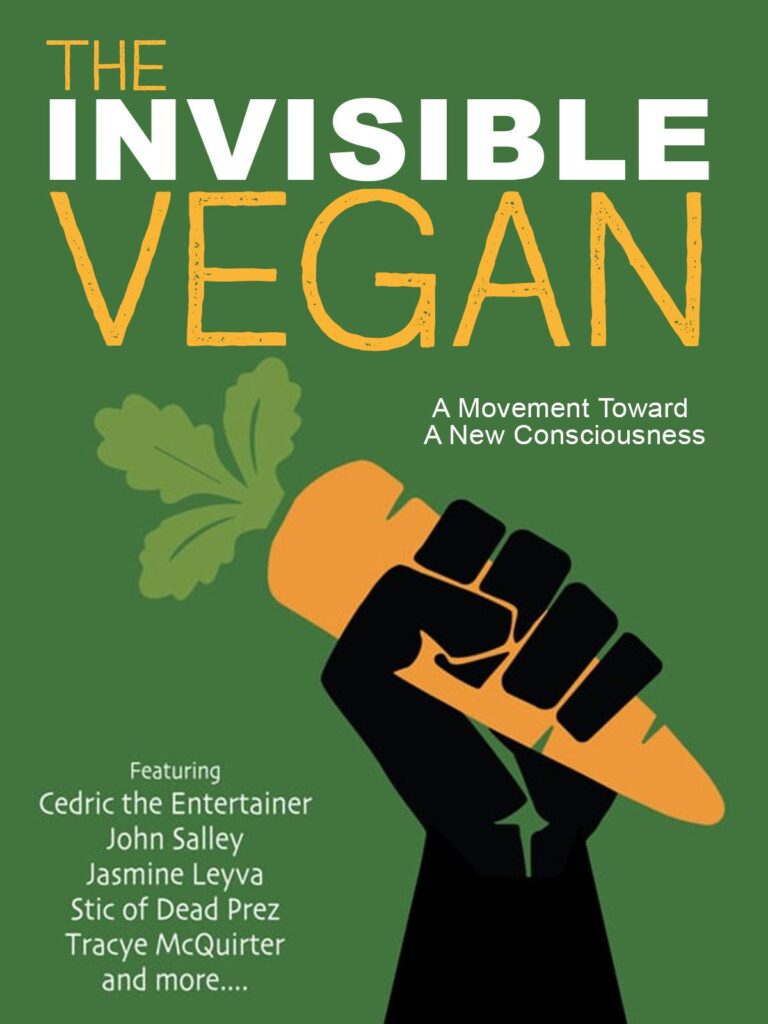 The documentary begins with the personal story of Jasmine Leyva, a 30-year-old black actress and filmmaker currently based in Los Angeles.
Over the past seven years, Leyva has committed herself to veganism, both in lifestyle and research. Taking Leyva's unhealthy childhood growing up in Washington, DC as a point of departure, the film interweaves her narrative with the professional and personal experiences of a prominent group of vegan activists.
The film integrates interviews with popular culture luminaries including Cedric the Entertainer (actor and comedian), John Salley (former NBA player and wellness advocate), and Clayton Gavin (aka Stic of the hip-hop duo Dead Prez).
Details
Length: 90 minutes
Genre: Documentary
Where to watch: The Invisible Vegan is available to watch now on TubiTV and stream on Amazon Prime.
About the Filmmaker
Activist, actress, and documentary filmmaker, Jasmine is passionate about veganism, social justice, and telling her own stories. With a Bachelor of Arts in TV, Film and Media and a Master of Fine Arts in screenwriting, Jasmine is unapologetically an artist. She has worked as an associate producer on an NAACP-winning docuseries entitled Unsung and has written and produced for Being, a docuseries highlighting dynamic entertainers in film and music.
Jasmine ultimately decided to let go of her nine-to-five and focus on her goals with no boss except for her own creativity. She went on to produce her own feature-length documentary, The Invisible Vegan, a film that chronicles her personal experience with plant-based eating.  The film also explains how plant-based eating is directly linked to African roots and how African-American eating habits have been debased by a chain of oppression. 
Jasmine's recently appeared on the Vegan Women Summit, The Sarah Scoop Show, and the Soul On Fire podcast.
Connect with Jasmine on her website, Instagram, YouTube, and LinkedIn.
My thoughts and review of The Invisible Vegan
As a passionate vegan myself, I was enthused to find a documentary that I had not watched yet. The documentary explores Jasmine's own personal journey in general and through her commitment to veganism the past seven-ish years.
However, the documentary is far from just Jasmine's experience. It explores and divulges how a plant-based diet is directly linked to African roots and how, through systemic racism and oppression, these eating habits have been devalued. Using her own experience and research as well as interviews with Black icons and celebrities, Jasmine discusses this intersection of Black culture, food, and plant-based lifestyles.
As someone who knows a good bit about veganism and the benefits of eating a plant-based diet, I didn't learn too much there. And, while I'm well aware of how much of a problem there is with systemic and institutional racism, I had never thought of or been told how this intersects with plant-based eating.
But, she also know it's not as simple as gearing a documentary towards Black people. As with many issues, there remains huge systemic issues such as food deserts and the lack of knowledge, access, and resources. I can't speak from a Black perspective and I won't pretend that I can, but I did enjoy learning more and I love that Jasmine created this documentary.
This angle is genuinely creative and unique. I really enjoyed learning more from Jasmine and the individuals associated with the documentary, both in front of and behind the camera.
The Invisible Vegan is available to watch now on TubiTV and stream on Amazon Prime.
Latest posts by Ashley Hubbard
(see all)