VEGAN
A Super Yummy Look into Epcot's Food + Wine Festival as a Vegan
By |
This post may contain affiliate links, meaning if you book or buy something through one of these links, I may earn a small commission (at no extra cost to you!). Please see my disclosure.
Last Updated on
My favorite way to travel is exploring off the beaten path locations, finding the exciting side to "boring" places, and traveling like the locals. However, there are a few places that get me acting like a damn fool. Like I've never set outside of my backyard before and Disney World is one of them. Admitting that I love Disney World may make me seem like less of a world traveler to some but there's a lot of nostalgia for me there. I grew up going here almost every year and it'll never stop feeling special to me. I was excited to visit again this past month. It has been four years since my last visit making this the first time I've been back since going vegan. So, what's it like eating at Disney as a vegan? Are there places to eat in Epcot as a vegan during the Food + Wine Festival?
The answer is it's totally possible – easy even – and yes there are absolutely places to eat in Epcot as a vegan during the festival or otherwise.
Psst: Looking for more vegan destination guides? Check out a few of our other posts!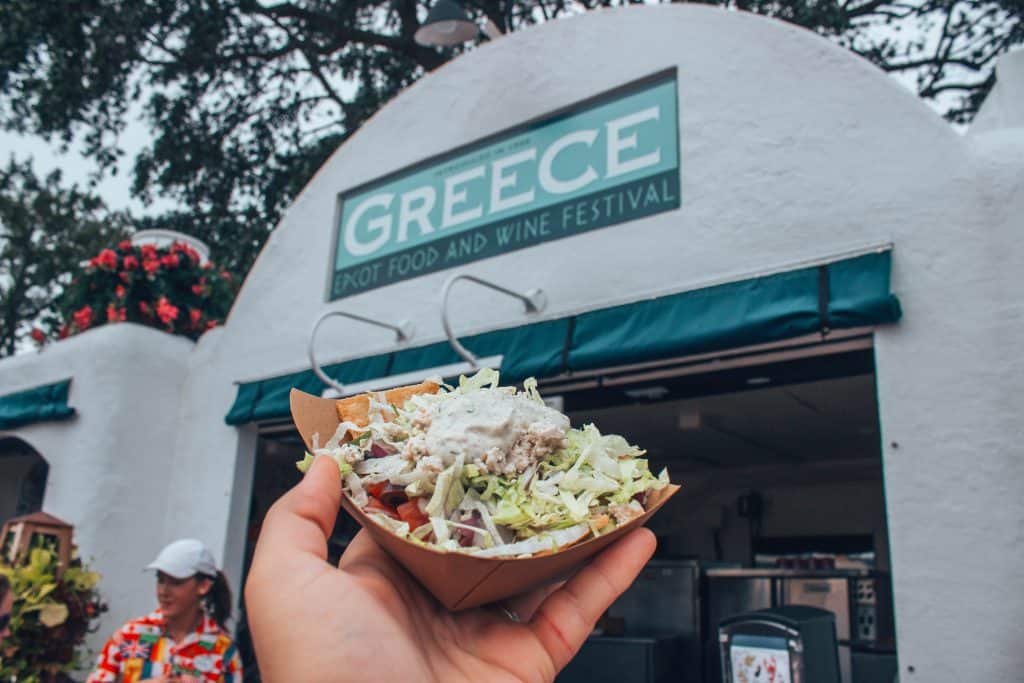 ---
What is the Epcot Food + Wine Festival?
The Epcot International Food + Wine Festival is an annual event typically from September to mid-November. While the Food + Wine Festival is a must-visit at some point, there are plenty of other great times to choose when planning when to visit Disney. Throughout Epcot, you'll find stations themed around different countries and other themes. Given the number of booths and offerings, there are not that many vegan options. However, I tried every choice except one and I thought I was going to burst so there are definitely enough vegan options at the festival to fill you up!
---
Earth Eats
This is the only booth that I didn't try as I have not eaten the Impossible Burger. I've been firmly against eating it as they tested on rats in order to get FDA approval and I love the Beyond Burger so I don't feel like I'm missing out. I do see both sides of the coin though and I know the availability of the Impossible Burger has saved a lot of animals' lives so there may be a day that I change my mind on this. I'd say half my friends eat this burger and half don't and no judgment from me either way.
The slider comes on a sesame bun with wasabi cream and spicy slaw and it is vegan as is! It sounds delicious!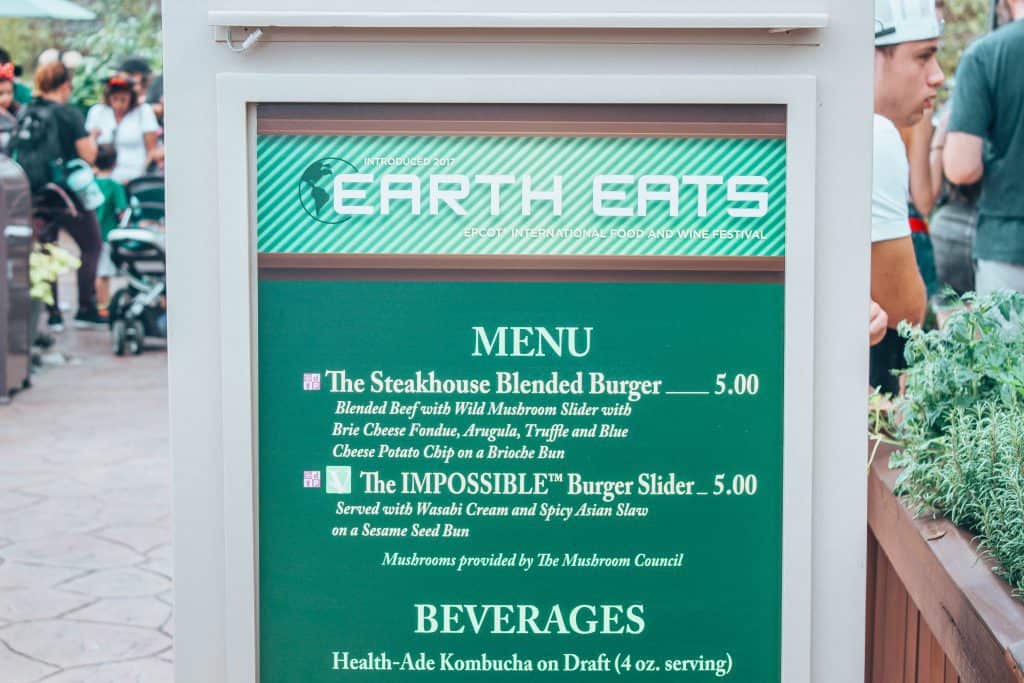 ---
Greece
Vegan nachos! This wasn't my favorite dish as I hate olives and raw onions. I didn't realize it had either or I would have had it left off. However, this does have vegan sausage, vegan feta, and vegan tzatziki sauce. I think that's pretty awesome. If you love Greek food, you'll love these and it's worth a try!
If you're walking around the World Showcase starting with Mexico, the Greece station will be the first vegan option you'll come to!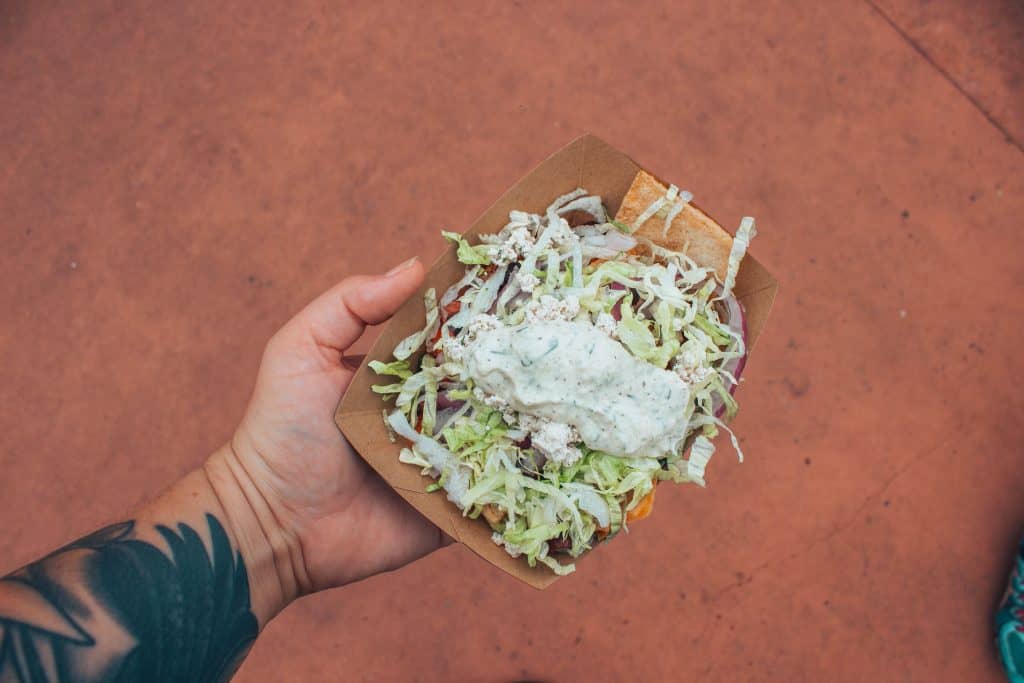 ---
India
The next option is India! Here you'll find a red madras curry served with rice. I found it to be lacking a bit on flavor but it was still delicious and the portion was rather big for the price (speaking Disney prices, at least).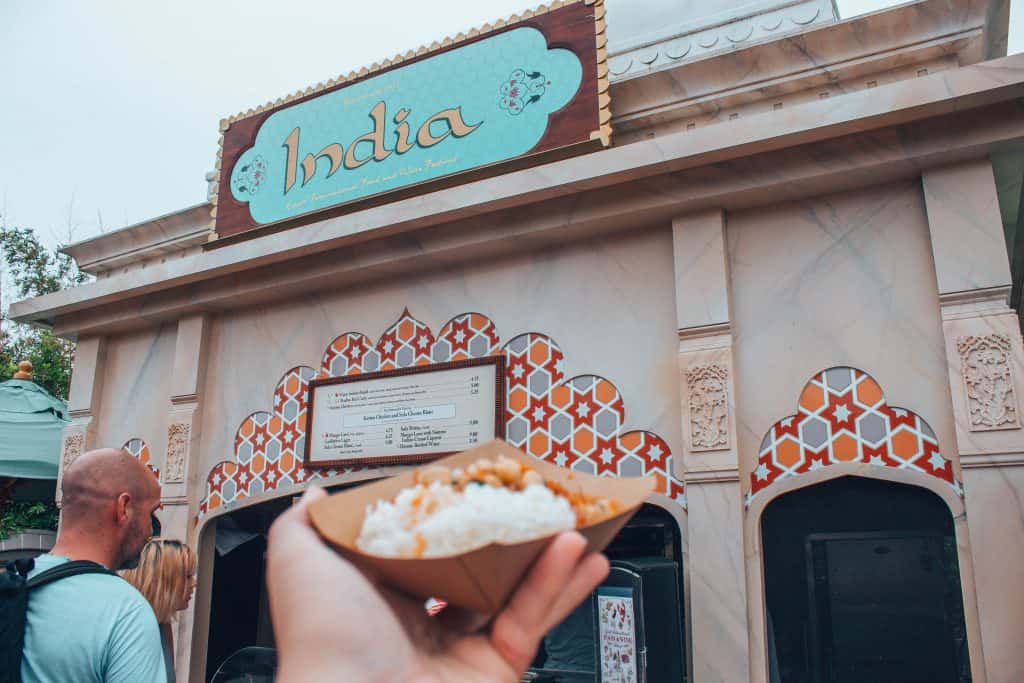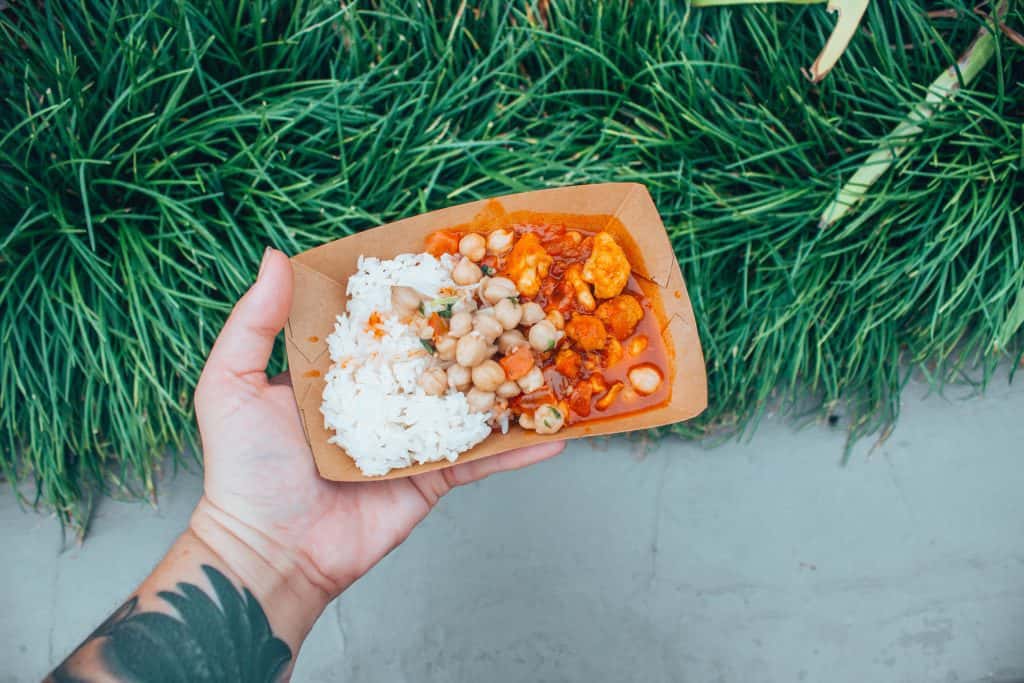 ---
Africa
Next up is Africa. This is ended up being one of my favorites. So rich and flavorful and another portion size that was quite nice! This dish was a Spicy Ethiopian Red Lentil Stew. The stew is topped with quinoa and a vegan yogurt. Yum!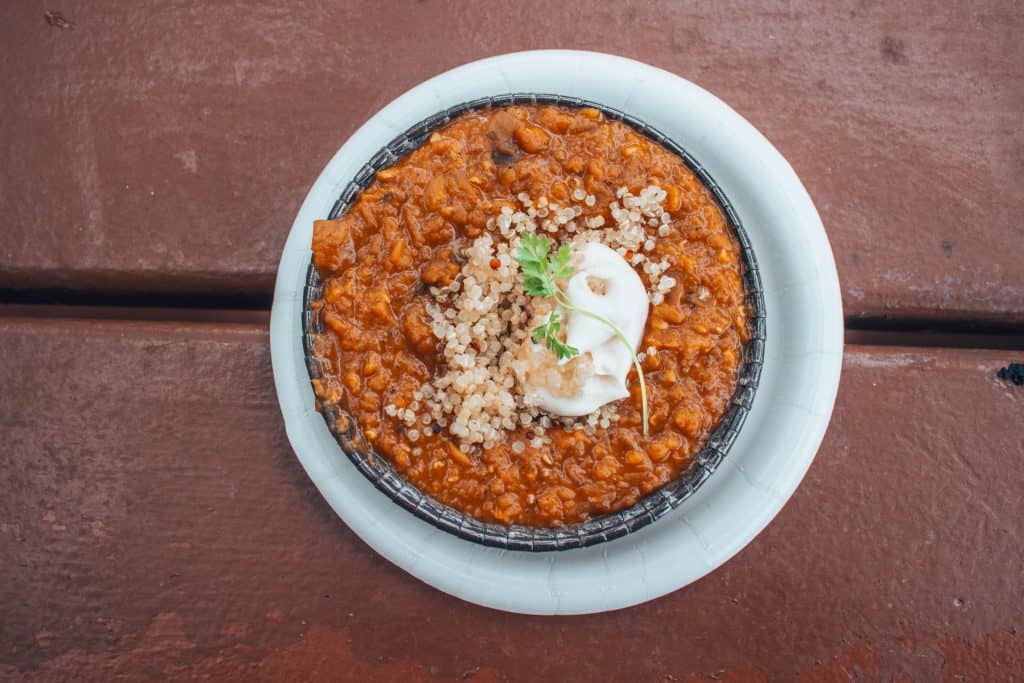 ---
Morocco
I find it kind of weird that they had a station called 'Africa' and then a station called 'Morocco.' Geography alert – Morocco is, in fact, in Africa. I digress though.
These hummus fries were so damn good. Make sure to get them without the tzatziki sauce. These and the stew were my two favorite dishes at the Epcot Food + Wine Festival.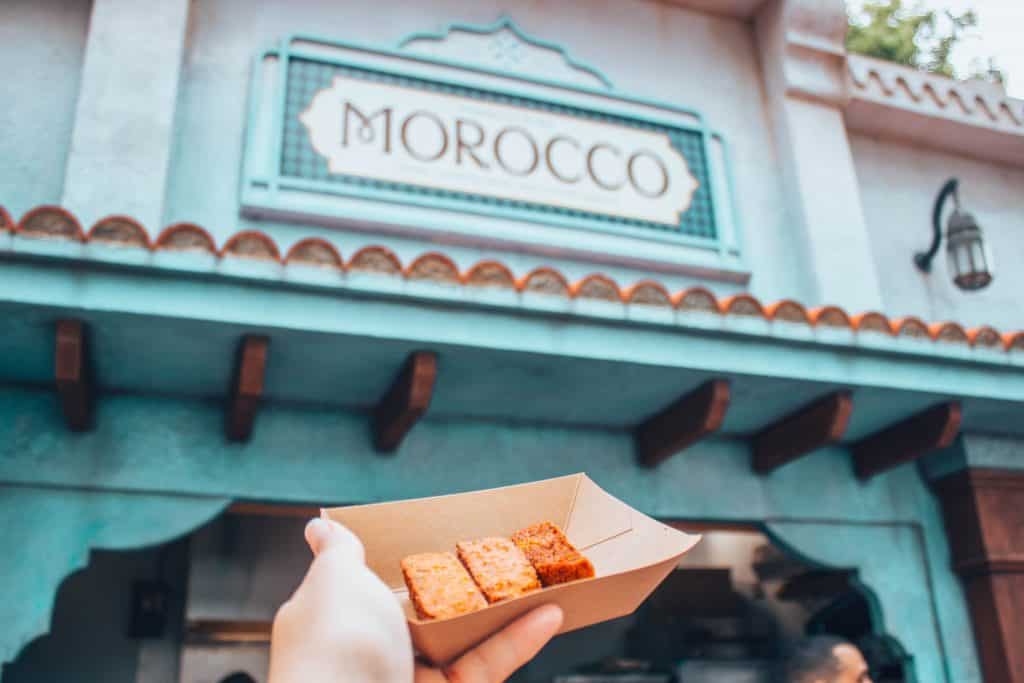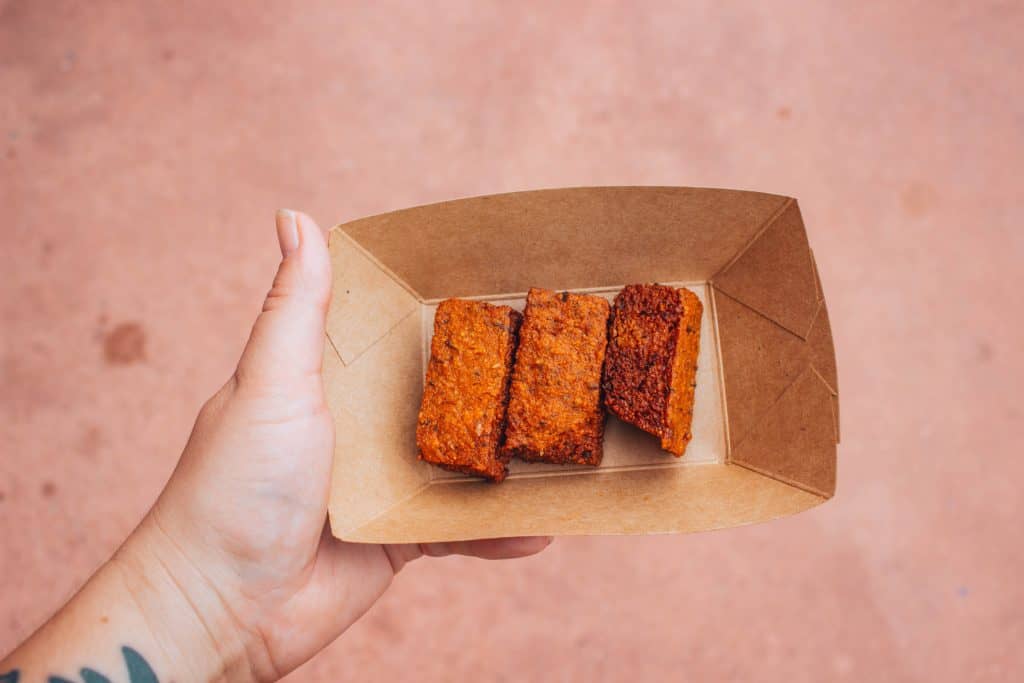 ---
The Almond Orchard
Not a country theme, but a great option nonetheless is the Almond Orchard station.  You can find two vegan options here. The sundae is a banana soft serve topped with berries. Make sure to order without the chocolate almond streusel. They also have a strawberry smoothie which is vegan as is!
The Almond Orchard is at the start of the World Showcase (in between Mexico and Canada) and is sponsored by Almond Breeze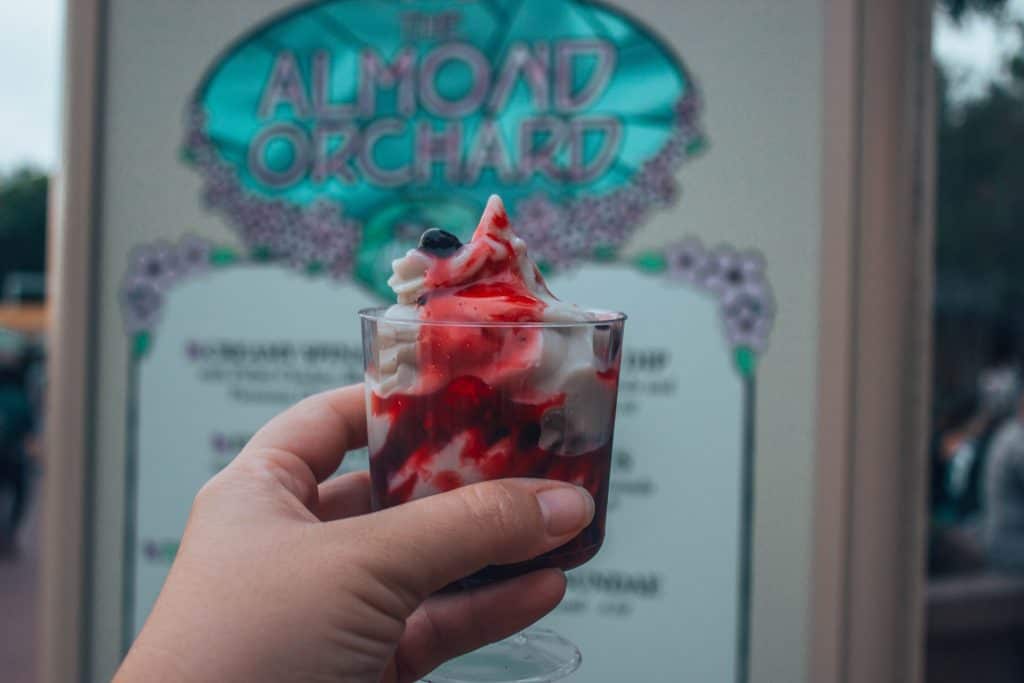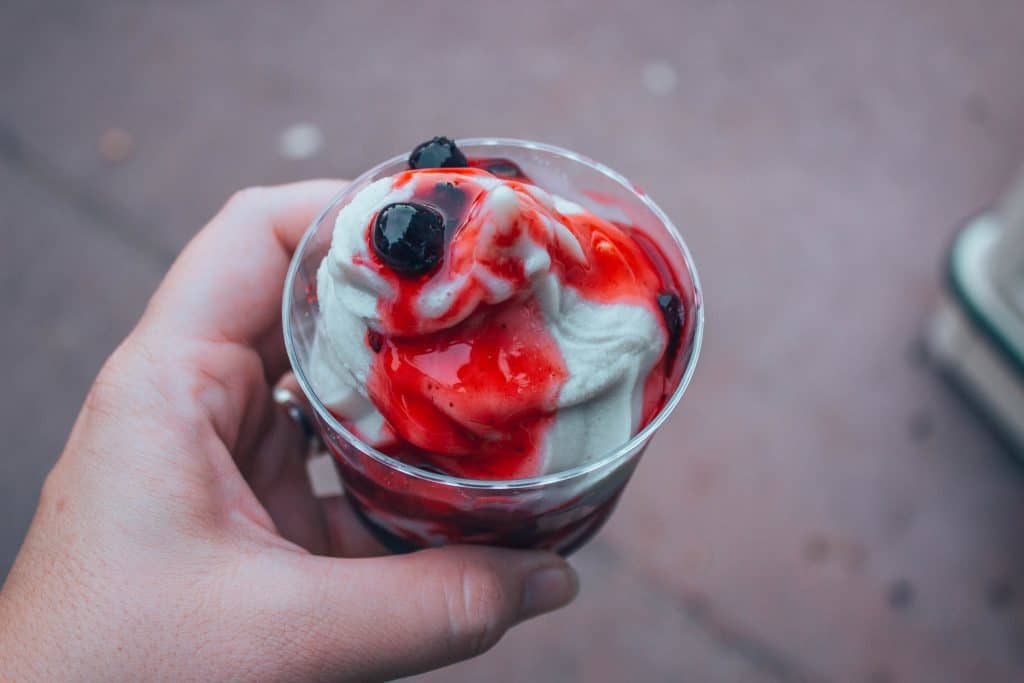 ---
Other Places to Eat in Epcot
I tried to only focus on the festival places to eat in Epcot this time around but I did grab a vegan sorbet from the France Pavilion. All of the fruit sorbets and the waffle cones are vegan. Pictured is a scoop of berry and mango sorbet but they had several other flavors.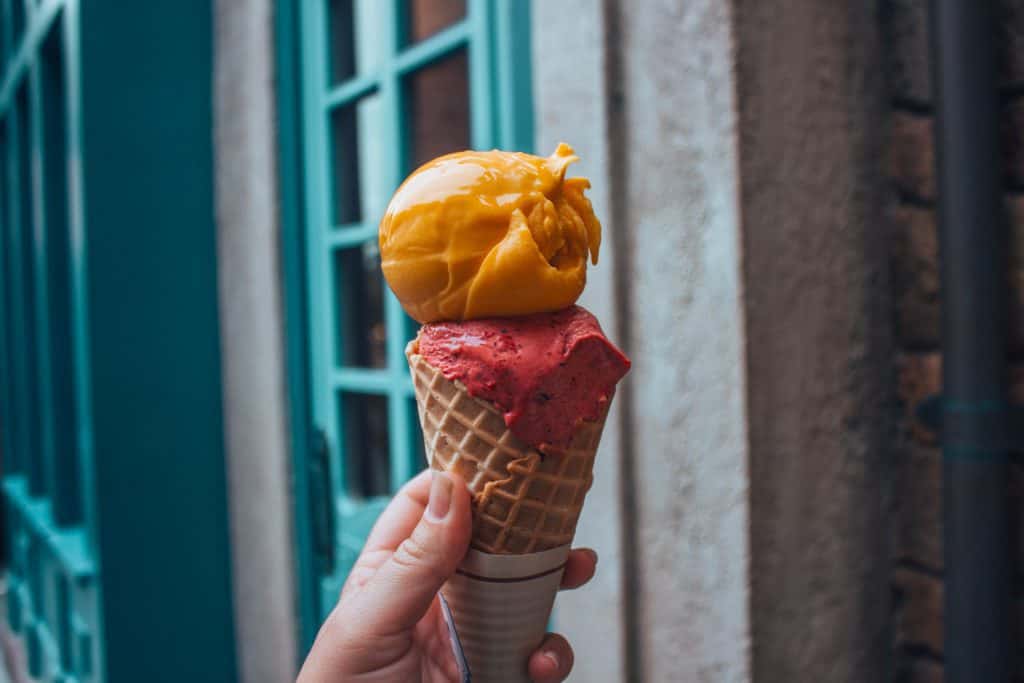 For other vegan places to eat in Epcot, check out this guide by Vegan Disney World.
Overall, I was really pleased with the vegan options at the Food + Wine Festival. While I would, of course, love to see more and more choices, I most definitely did not leave hungry. I'm hoping to head back next year and it will likely be around the same time so I'll be able to see if there are any additions or changes and report back on more places to eat in Epcot!
Psst: Looking for more on Florida? Check out a few of our other posts!
---
What to Pack for Disney World
Pacsafe Cross Body Purse (I love my Pacsafe products and would highly recommend using them when traveling)
Comfortable Shoes (my feet tend to hurt pretty easily and these are the best shoes I've had in a while for walking a lot)
Fanny Pack (don't knock til you try it!)
Have you ever been to Epcot?? Tell me about it in the comments below ↓↓↓
Looking for accommodation in Orlando? Check out reviews here and book here.
What else have I written? You can find more Florida posts here.
Like this post? Have Questions?Hit me up on Facebook | Twitter | Instagram | Pinterest | Email
↓↓↓ PIN FOR LATER ↓↓↓