This post may contain affiliate links, meaning if you book or buy something through one of these links, I may earn a small commission (at no extra cost to you!). Please see my disclosure.
Thank you Village Harvest for sponsoring this post. Every day Village Harvest is planting seeds of change and growing possibilities, one bag of goodness at a time.
When I first went vegan, it wasn't for my health. While eating plant-based foods is the best thing you can do for your health, my main motivation was for the animals. I am a 100% ethical vegan. Due to that, I've also been a junk food vegan for a majority of the past two years. As long as it didn't contain animal products, I would eat it. However, I've recently started taking my health into consideration more and more. Just because the animals are my focus doesn't mean I shouldn't also be reaping the benefits of a plant-based diet. Plant-based foods may be better for you but oreos are still oreos even if they're vegan.
Here's my problem though – I'm either always traveling or if I'm home, I'm always busy. I mean always busy. There's never really an excuse to not eat healthily but I am a master of excuses so there it is. All of this means I've been turning to find the absolutely easiest and affordable options to eat healthy either on the go or on the road. I eat a lot of fruits and vegetables which is obviously a great idea. I also like to eat a lot of whole grains, beans and the like.
One of my favorite go-to meals for busy days is some form of a power bowl as I call them. You don't even need a recipe – you just put whatever sounds good to you together in a bowl and then, eat it, of course. You can bring a completely nutritious and delicious meal to life in 90 seconds.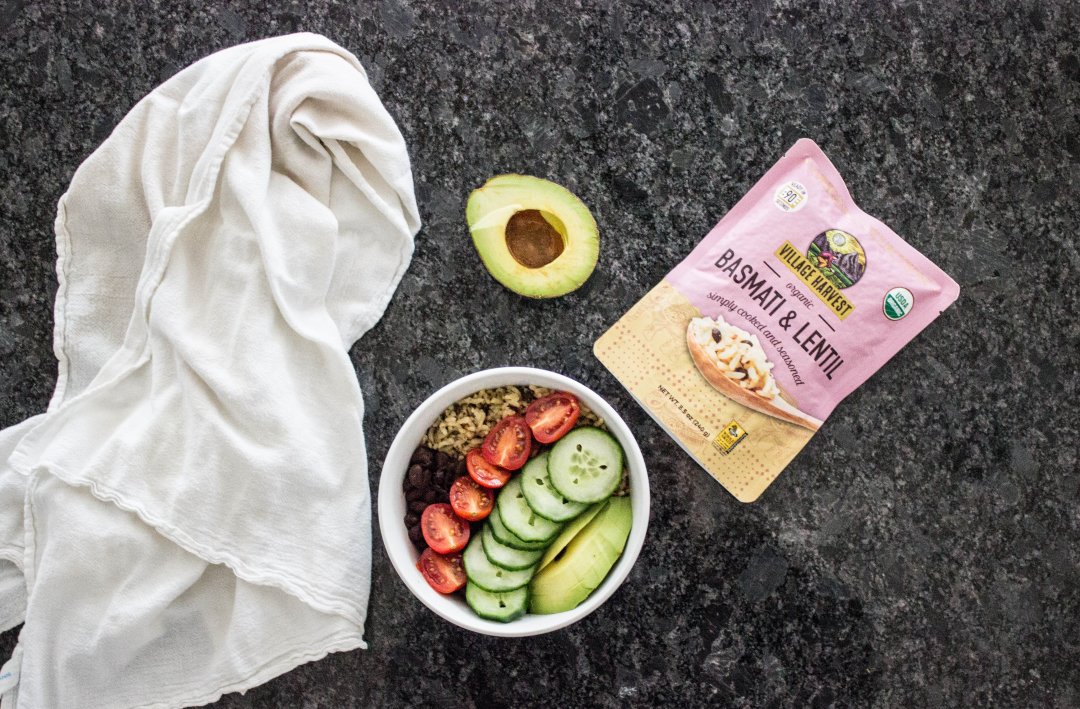 Click on the above image to shop Village Harvest products!
Steps for creating your own super quick, super healthy and super affordable power bowl:
Choose a grain
Choose a protein (bean, tofu, edamame, tempeh)
Choose a green vegetable or two
Add some toppings (avocado for me!)
Add sauce (sriracha usually for me)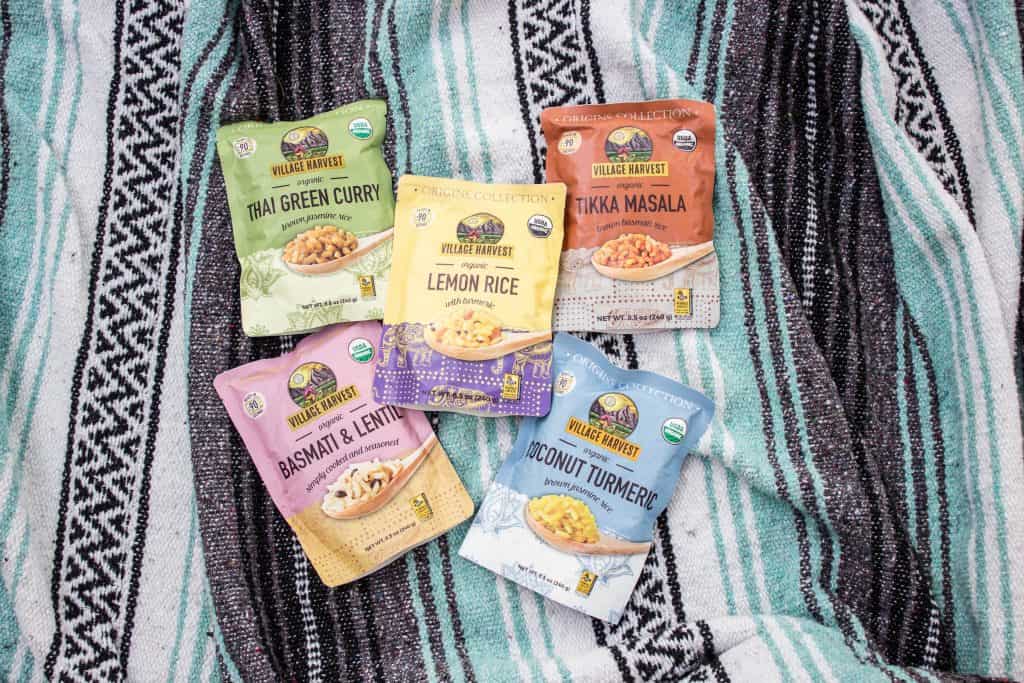 I was really excited to find these Village Harvest products which make this meal even faster and easier than ever. Instead of waiting for rice or lentils or quinoa to cook, you can have one of these babies ready to go in 90 seconds and they come in these five delicious flavors that are created by chefs in the country of their origin:
Basmati & Lentil (India)
Lemon Rice (India)
Tikka Masala (India)
Coconut Tumeric (Thailand)
Thai Green Curry (Thailand)
This collection of products features authentic recipes from India and Thailand and are made entirely from organic, non-GMO and 100% whole grain products which are kettle cooked in small batches.
The one I tried first was the Basmati and Lentil and it was incredibly tasty, especially mixing it with the above items. Sometimes, I find myself so busy (or lazy – I'll admit it) that I've just been eating this straight out of the package. It literally doesn't get any more convenient than that!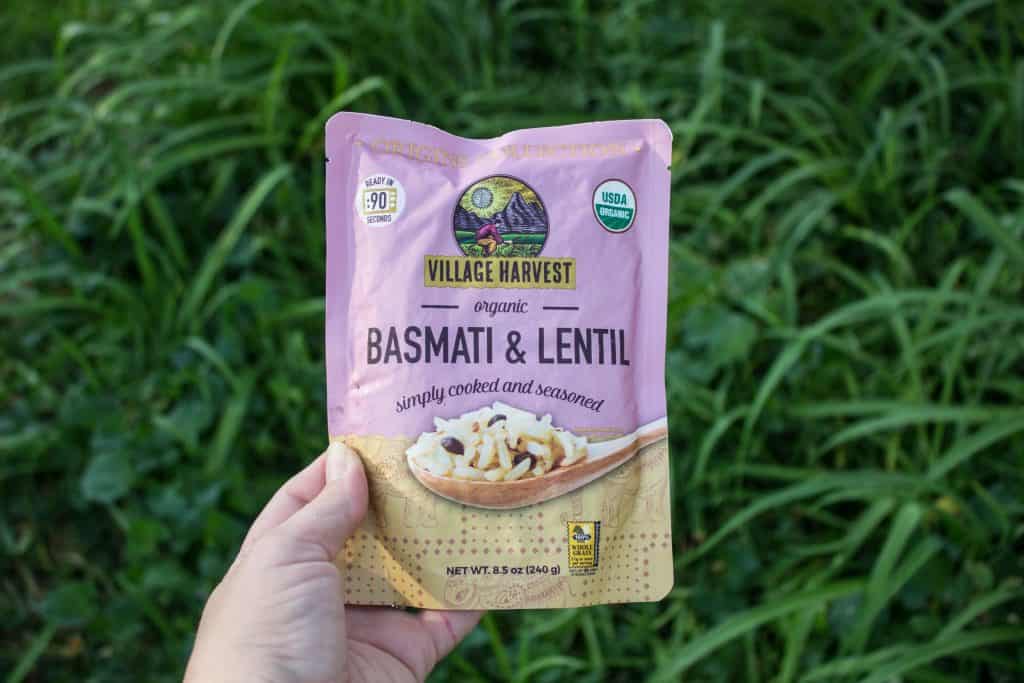 Interested in trying out Village Harvest products for yourself? Check them out here.
---

Other Tips for Eating Healthy
Always carry fruit with you. I literally always have cut up fruit or a piece of fruit in my bag at all times.
Carry your own condiments to dress up something simple. I commonly have stevia, hot sauce, etc in my bag.
Plan in advance. If I don't take the few minutes to put a few things in my bag for the day, I'll end up stopping. If I have time to stop and buy something unhealthy, then I have time to do a little prep.
Instead of stopping at a gas station, stop at a grocery store! When you're traveling, I know it can be easier to stop at a gas station and get a bag of chips and candy (that's about the only vegan things you'll find!). Stop at a grocery store instead though and grab a few things there – fruit, veggies, beans, grains. You can find a microwave at your hotel or even at a truck stop!
Carry your bamboo cutlery set with you everywhere so you always have a utensil to eat with but also to cut down on plastic use.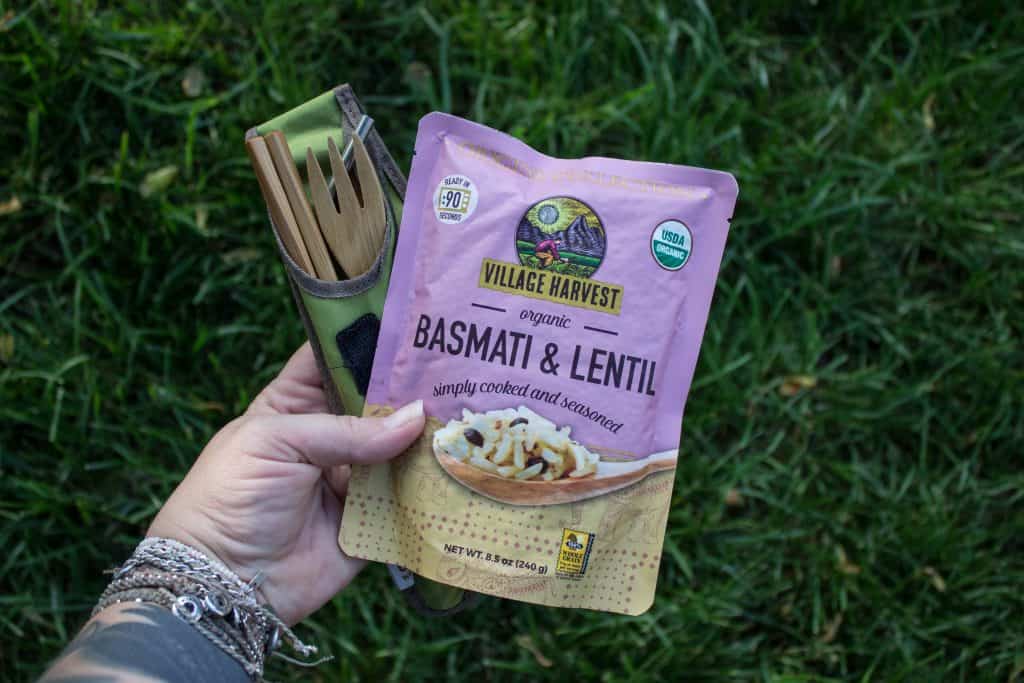 ---
What are your tips for eating healthy when you're always busy or on the road?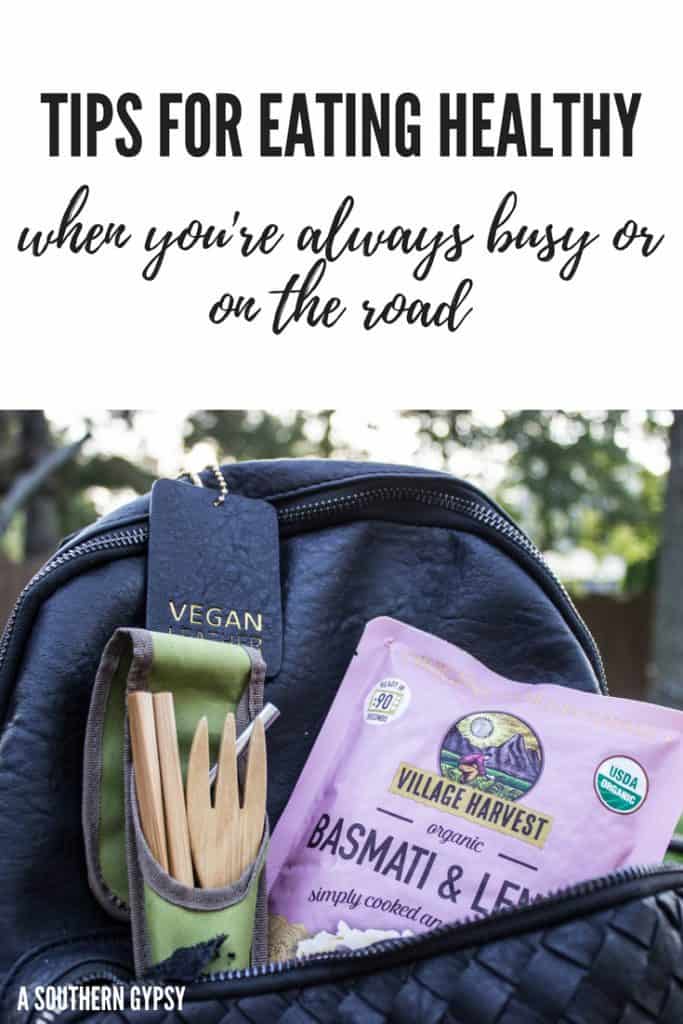 I was selected for this opportunity as a member of CLEVER and the content and opinions expressed here are all my own.
Latest posts by Ashley Hubbard
(see all)