This post may contain affiliate links, meaning if you book or buy something through one of these links, I may earn a small commission (at no extra cost to you!). Please see my disclosure.
Why should humans be the only ones having all the fun during vacation? The answer to this question is why dog parks are growing all over the country.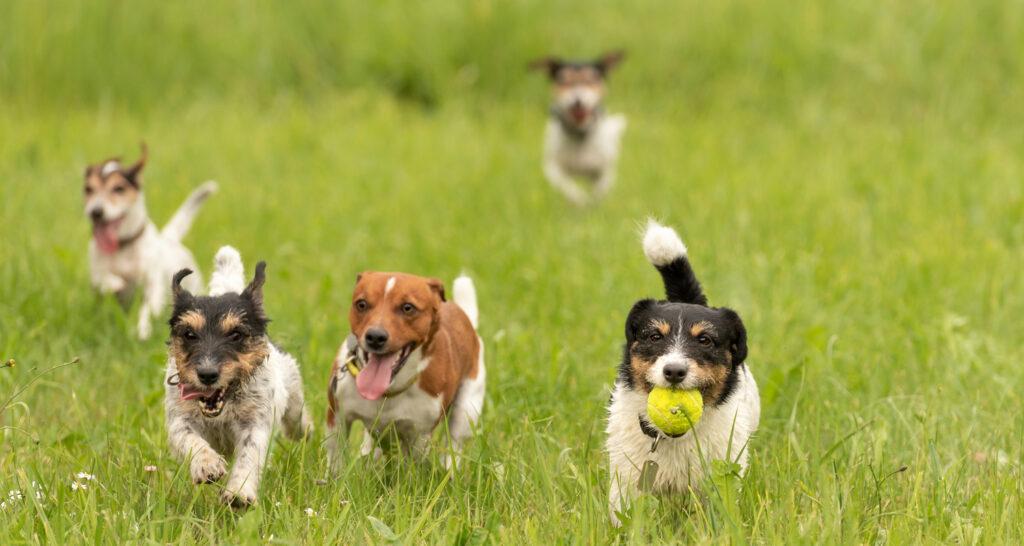 These parks openly welcome pet owners who bring their furry friends along during vacation. In addition to offering a fun time to the pets, these parks are great for travelers who have cooped up their dogs in the car for hours. The pet-friendly parks have become more sophisticated with fountains, toys, and off-leash trails.

We have compiled a list of the best pet-friendly parks in the USA to help you have fun with your pets. These are dog-specific parks, but also national parks that are dog-friendly.
Beau's Dream Dog Park
Beau's Dream Dog Park at Buchanan Park in Lancaster, PA, won a significant award in 2012 thanks to a contest sponsored by Purina. They spent half a million dollars to make the place extraordinary. Now, it has some cool stuff like splash pads for big and small dogs, special spray nozzles, a footbridge like a roller-coaster, and even a tree with tennis balls. 
This park has many pet vets nearby if you need a vet during your time there. Taking care of your pet when traveling is very difficult, and you may wonder how to find a pet vet near you when traveling. Some pet vets offer mobile services if your dog needs medical assistance on the road or vacationing away from home. You can call them and get your pup checked right away.
Fort Woof Dog Park
Fort Woof Dog Park is in Texas and has won top honors from Dog Fancy Magazine. The park has oversized fire hydrants and solid community support. Good lighting at evening hours makes Fort Woof a perfect spot for you and your dog to have a playful time.
Warren G. Magnuson Dog Park
The Warren G. Magnuson Dog Park is located in Seattle, Washington. Even though Seattle has many dog parks, Magnuson is the only one with access to water. Bring your dog to this 9-acre park and let them swim in Washington Lake. Remember to stop by a food truck near the entrance and get homemade treats for you and your dog, and also, make sure you take advantage of the washing area.
Thornberry Off-Leash Dog Park
Thornberry Off-Leash Dog Park is situated in Iowa City. This 11-acre dog park is like a doggy wonderland. It has four parts: one with a fenced pond, a playground, a spot for little dogs, and another area suitable for training or if your dog likes a bit more space. The park is fantastic because it takes care of the environment, too. They use unique bags and bins for doggie waste in underground tanks. The city also throws fun dog events, like health fairs and a Halloween party at the park every year.
Hawaii Kai Dog Park
Hawaii Kai Dog Park is in Honolulu, Hawaii, on the island's southern tip. The park is immaculate and spacious. You can have a spectacular view from the garden and meet various dog breeds, so your doggie can make as many friends as they want.
Bea Arthur Dog Park
The Bea Arthur Dog Park is in Norfolk, Virginia. This dog park is named after Bea Arthur from the Golden Girls show, and it is free and open 24/7. The coolest part about this park is the ramp to the Elizabeth River, where dogs can splash and swim all they want. Additionally, there is lots of space to run around, a bunch of pools, and tons of toys. It is right behind PETA's main place, and PETA has a live camera on its website to see if the road to the park is busy before you head out.
Beneful Dream Dog Park
Beneful Dream Dog Park is in Alabaster, Alabama. A native of Alabaster, Jenny Wilson, won this $500,000 dog park for the city by writing about her stray dog, Honey Belle, in the national essay contest. Now, the park includes fountains, splash pads, a mini football field, soft walking paths, and climbing rocks. You and your dog will have a great time here.
Acadia National Park
Acadia National Park is in Maine. The park has around 200 miles of trails and roads for hiking. Amazingly, about 75% of these trails (145 miles) are excellent for dogs to tag along. That's more than in many other national parks. You can even bring your furry friend for a sleepover at three campgrounds – Blackwoods, Seawall, and Schoodic Woods. Plus, they are welcome on a day trip to Isle au Haut to check out its cliffs and coves. However, dogs cannot dive into the lakes because those are for everyone to keep clean.
Olympic National Park
Olympic National Park is in Washington. Most trails in the Olympic National Park don't allow dogs, but a few exceptions exist. Your furry pals can join you on trails like Peabody Creek, Madison Falls, and the July Creek Loop. They are also welcome on the beaches between the Hoh and Quinault Reservations and in all drive-in campgrounds and picnic areas. Keep them away from interpretive paths, tidal rocks, and the backcountry. If you're south of the park, leashed pets can also tag along on the trails in the Olympic National Forest.
Shenandoah National Park
This park is located in Virginia. Shenandoah is fantastic because, besides its famous Skyline Drive, a 105-mile road in the Blue Ridge Mountains, it's super friendly to pets. Your furry buddies can join you on almost 500 miles of trails in this excellent Virginia park, including part of the famous Appalachian Trail.
Final Words
Every year, many visitors crowd parks in America with the hope of hiking with their favorite pets, but all their hopes are shattered because of a long list of rules. Therefore, a list of pet-friendly parks like the one we provide here, where you can have the best time with your pet, is in order.
Latest posts by Ashley Hubbard
(see all)