This post may contain affiliate links, meaning if you book or buy something through one of these links, I may earn a small commission (at no extra cost to you!). Please see my disclosure.
When you're visiting a large city, it can be difficult to decide where to put your head at night. I completely understand as I had the same issue when deciding where to stay in Dublin. I had looked at so many hotel options and for several different reasons, none of them worked out just right. That's when I had the idea of looking at Airbnb apartments. This was the first time I've used Airbnb actually despite wanting to use it for several years and I'm so glad this is the answer I came up with to "Where to Stay in Dublin?"
Over the years, I've started straying away from certain types of travel and started looking for a more authentic, local experience. Staying in an apartment rental gives you that local experience. You get to see what a typical Dublin apartment looks like by sleeping in one! Everywhere you stay is different in its own right and gives you that local bit you're craving.
During my recent three-week road trip, I stayed in Dublin the first night and the last night – making it two extremely different circumstances. The first day, I was arriving into Dublin – and Ireland – at 4:30 AM after 17 hours of travel, exhausted but also bright-eyed and excited to be in Ireland. The last night, I was arriving back into Dublin after almost three weeks of driving, hopping from city to village all the way from Belfast to Kilkenny – exhausted and not quite as bright-eyed. For both instances, an apartment rental was a warm welcome!
[clickToTweet tweet="Don't know where to stay in Dublin? Check out these two great apartment rentals!" quote="Let everyone know where to stay in Dublin! Tweet this article!"]
Where to Stay in Dublin
There are so many choices for Airbnb in Dublin and I get it, it can be overwhelming. I ended up going with two different rentals but through the same person, Celine. They were in different parts of the city so that I could experience different areas on limited time which turned out to be a great idea!
---
Botanic Road Apartment
---
The first apartment was located on Botanic Road which is perfect because it is very close to the Botanical Gardens and only about a 15-20 minute walk to city centre. This is a two bedroom apartment so it can easily sleep up to four people making it super affordable if two couples or four close friends travel together.
It is located on the second floor and I handled my 50lb (yes, 50lb) and carry-on up the staircase no problem.
It also felt very secure because you have to have a code to get into the building and then a key to get into the apartment and there are only a couple apartments in the building I believe.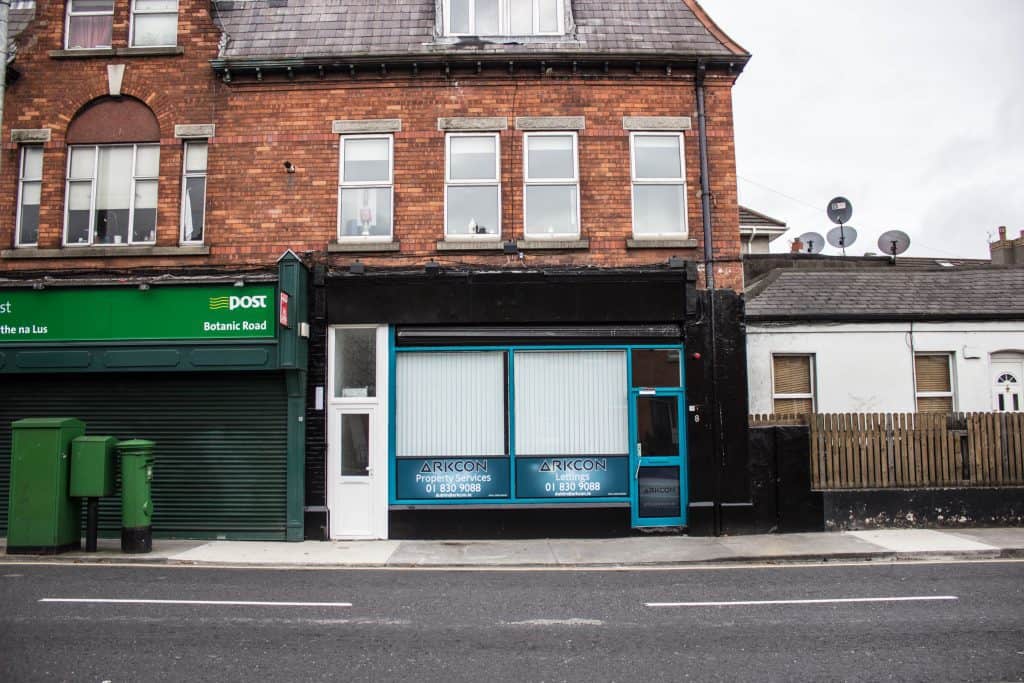 Living Area + Kitchen
This adorable apartment features everything you need to feel truly at home while staying in Dublin. If I had been staying in Dublin longer, I would have definitely made more use of the kitchen and cooked some meals to save money or to try out all the vegan grocery products I saw! There is a fridge, oven, stove, tea kettle, toaster, cutlery, dishes and much more all here for your use.
Additionally, there is free, reliable and fast wi-fi throughout the entire apartment which is important to me and I think to most people these days! I may or may not have caught up on Downton Abbey (it's not on US Netflix which is shameful).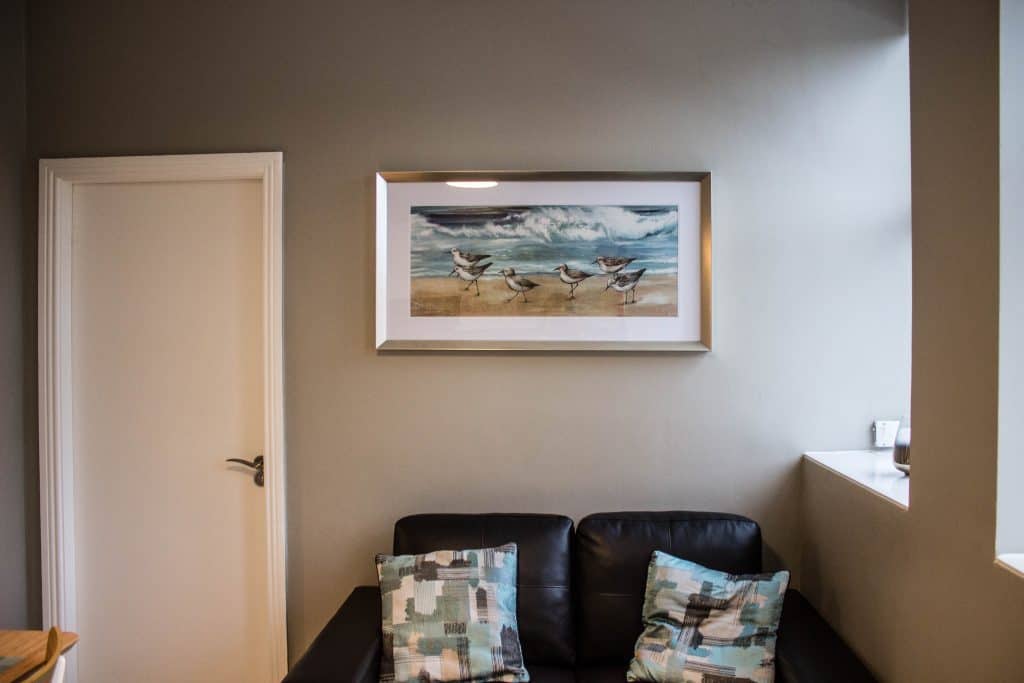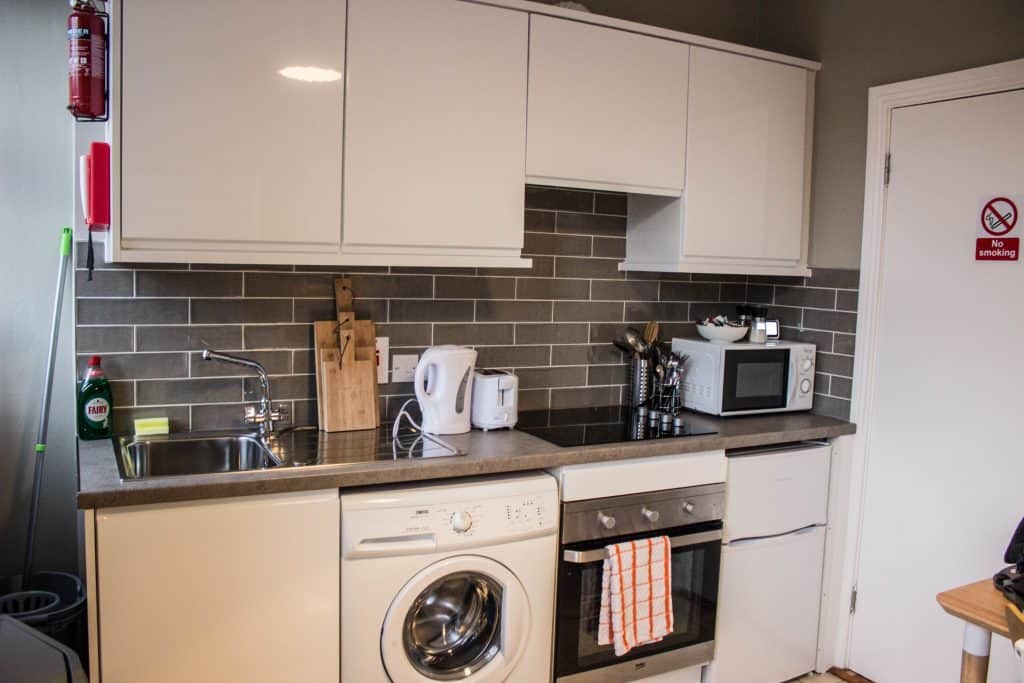 Bedrooms
The two bedrooms are pretty much identical aside from the view out of the window. They are plenty cozy for two people or spacious for one person with a small closet so you can completely unpack if you want. The owner also provides comfortable, clean sheets and towels. I also loved that my room had so much natural light in it. I much prefer natural light over fluorescent so that was a nice added bonus.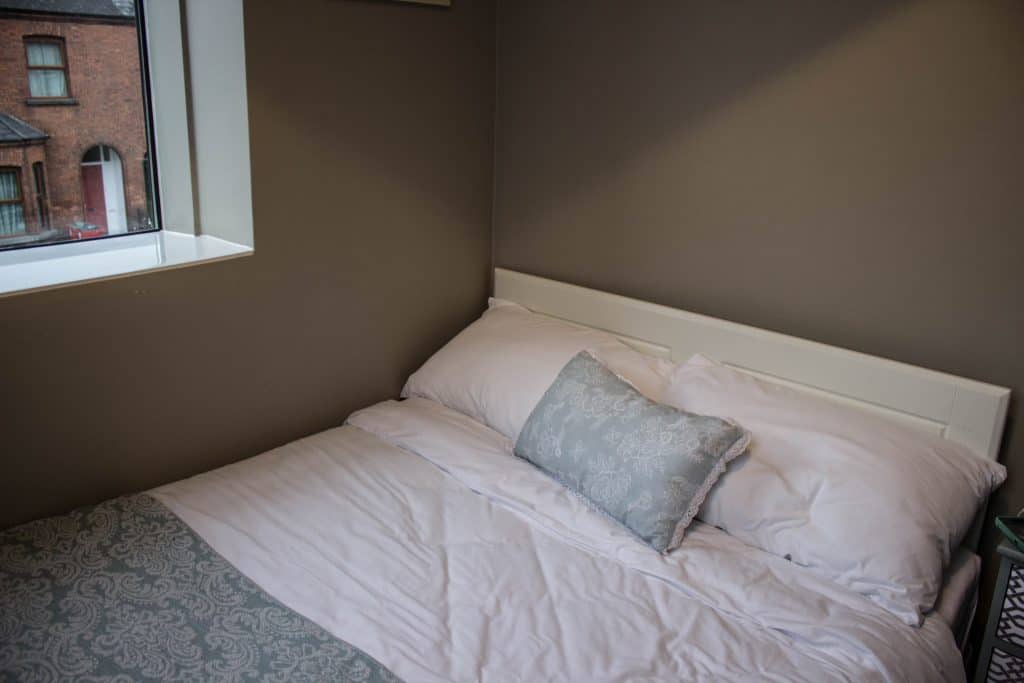 Bathroom
The shared bathroom provides just what one needs – a shower with great water pressure (plus!) and a small cupboard to put your toiletries. There are also directions in the welcome packet on how to use the shower. This was actually quite helpful as we were a bit lost at first.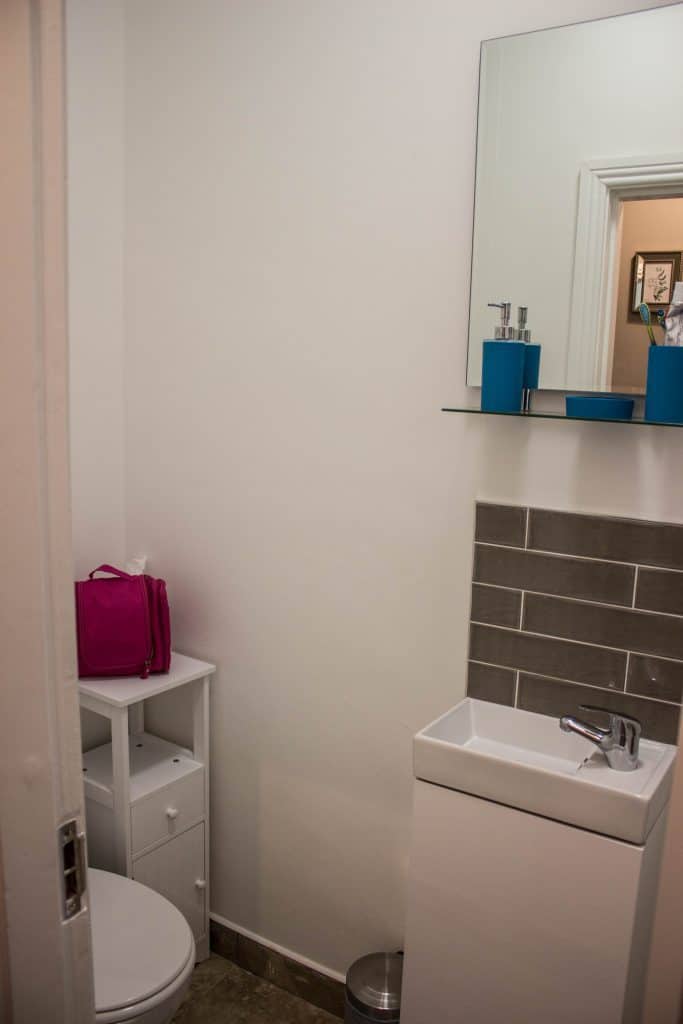 Car Parking
I purposely wanted to put a note about car parking because we found the best options for you! If you're traveling by car, which I highly recommend for seeing the best of Ireland, there is car parking on the street. Overnight, the parking is free on the side streets. However, if you, like us, want to leave your car parked while you explore Dublin during the day as opposed to driving it all over Dublin (don't suggest!) then you'll need to find day parking. The best and cheapest solution we found was a 24-hour, flat rate parking lot at a nearby hospital! It was €15 for 24 hours (way, way cheaper than any other option) and we had no doubt that the car was safe and secure for the whole time we left it there.
If what I've described here sounds like the right fit for you, definitely check out this Botanic Road apartment on your next trip to Dublin.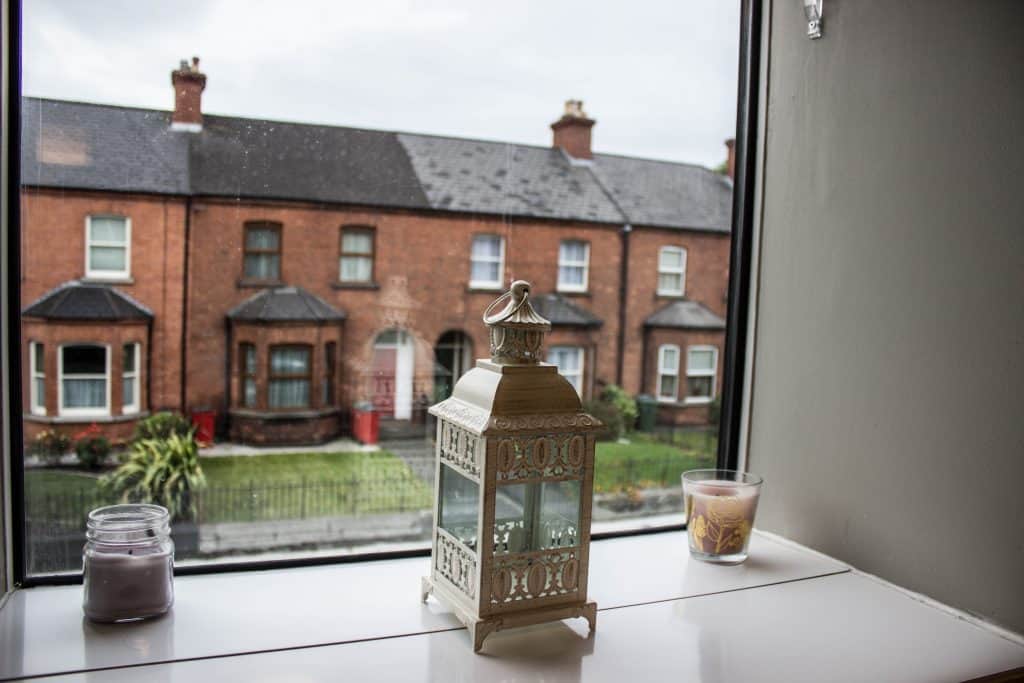 ---
MORE ON DUBLIN
Only have 24 hours in Dublin? Here's what to do in Dublin in one day!
Looking for vegan options? Check out my Dublin vegan guide here (coming soon) or take a Dublin Vegan Food Tour!
---
Croke Park City Centre Apartment
---
If you'd like something just a tab bit closer to the city centre, then check out 'the Hogan' near Croke Park. You'll feel a little more connected to the city life in this apartment and are close to Connolly Station.
Living Area
Similar to the other apartment, this one also has everything you would need to enjoy a short or longer stay in Dublin. A kitchen outfitted with a fridge, oven, stove, tea kettle, utensils and dishes as well as plenty of cupboard space. This apartment is a bit more spacious and open with a larger couch and living area.
It is located on the second floor and I handled my 50lb (yes, 50lb) and carry-on up the staircase with a bit more problem than the beginning of the trip – with no fault to the apartment though. This was all my sadistic doing.
It also felt very secure because you have to have a code to get into the building and then a key to get into the apartment and there is only one other apartment in the building which is also owned by the same owner.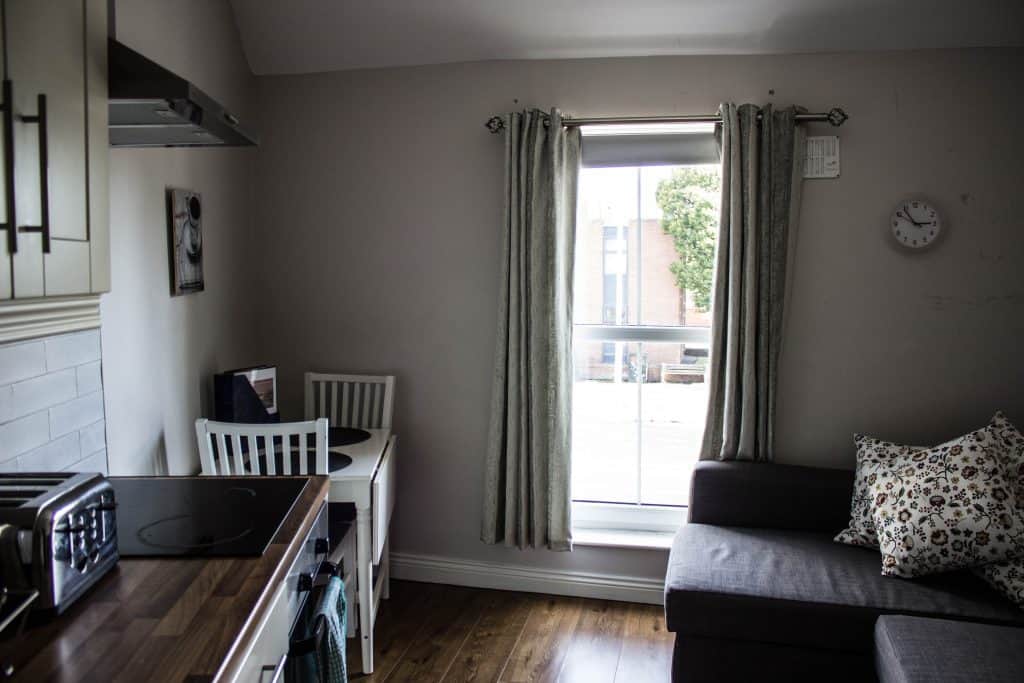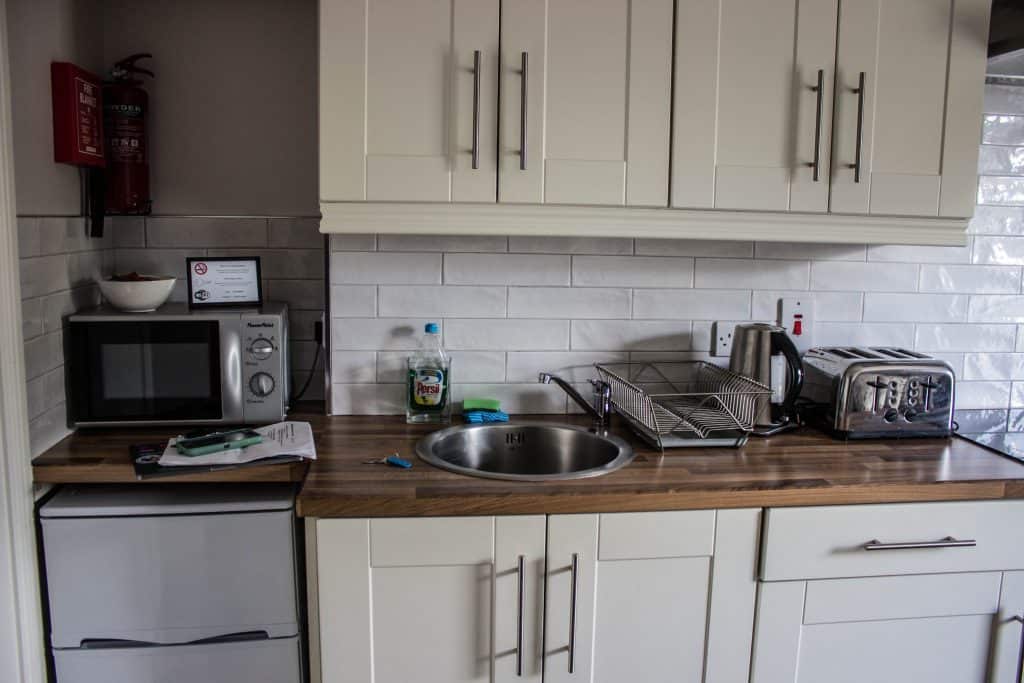 Bedrooms
There are also two bedrooms in this apartment, making it plenty of room for four people. Sheets and towels are provided along with a large cabinet to unpack should you wish.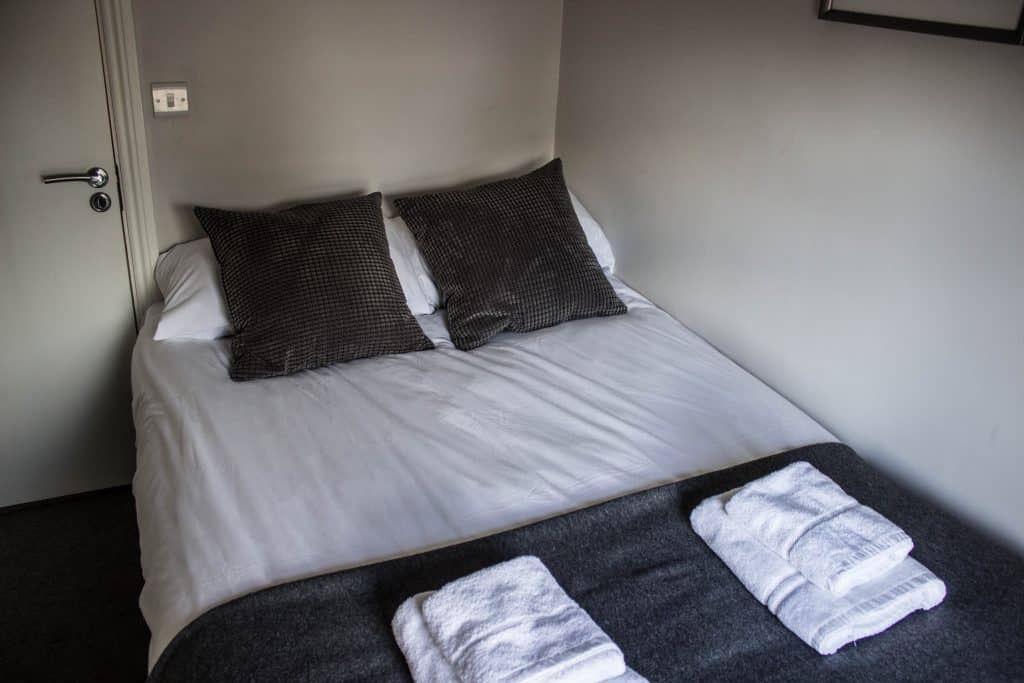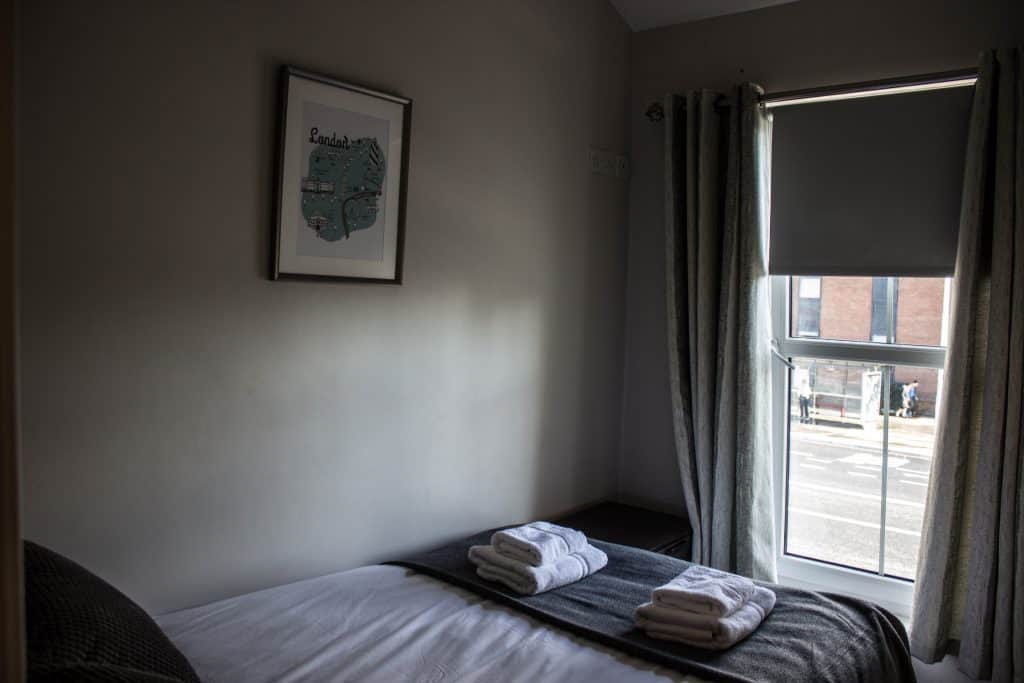 Bathroom
The shared bathroom is set up similar to the other one with, again, great water pressure, cupboard space for toiletries, a mirror and toilet.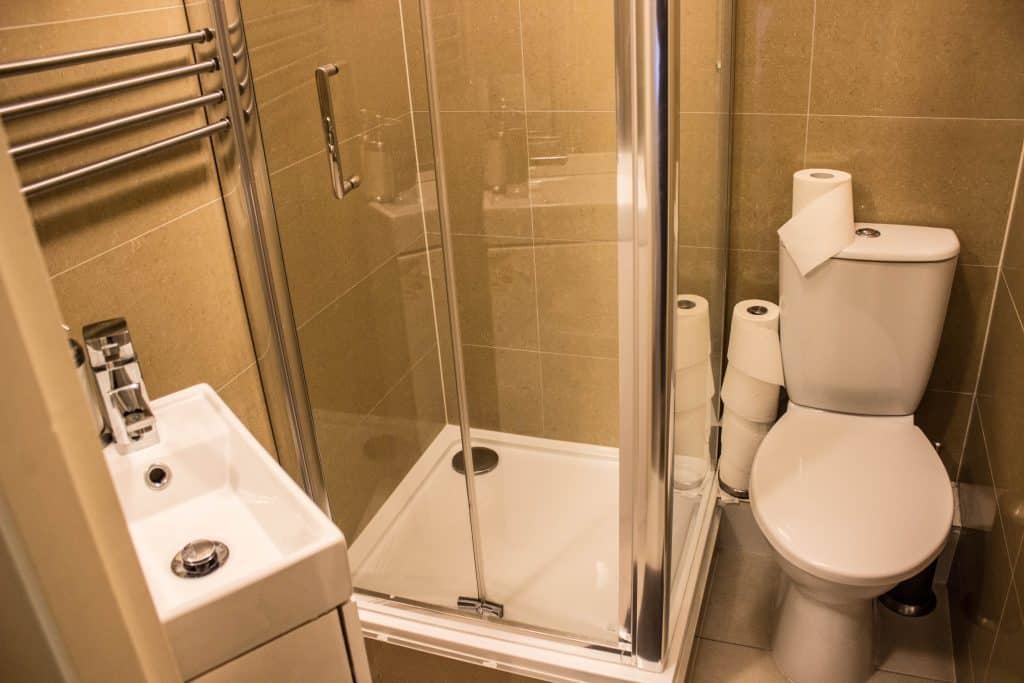 Car Parking
Car parking was a bit simpler this time around. We arrived at the normal check-in time (3 PM) and you do have to pay for parking until 7 PM on the street right out front. It is then free overnight (7 PM to 7 AM) and at night, you can prepay for two hours the following morning. So, we did that and were paid until 9 AM which is when we wanted to leave anyway so it worked out perfectly!
If you're looking for a Dublin apartment rental that's just slightly closer in distance to the city centre and just a tad bit more spacious, definitely check out this one!
---
Both apartment rentals were exactly what we needed for our short stay in Dublin and we felt right at home in them. Celine, the owner, was extremely helpful and quick to respond to all of our endless questions.
If you've never used Airbnb before and are interested, be sure to use my link to sign up to receive $40 off your first booking. Definitely a great deal!
---
What to Pack for Dublin
Raincoat (yep, it's not just something people say – it can rain at any moment!)
Travel Umbrella (while I didn't bring an umbrella and was too stubborn to buy one, I'd recommend it)
Pacsafe Cross Body Purse (I love my Pacsafe products and would highly recommend using them when traveling)
Comfortable Shoes (my feet tend to hurt pretty easily and these are the best shoes I've had in a while for walking a lot)
Have you ever used Airbnb? What did you think? Tell me in the comments below ↓↓↓
Want a guidebook? Here's a Dublin one and an Ireland one.
What else have I written? You can find more Dublin posts here and Ireland posts here.
Like this post? Have Questions? Hit me up on Facebook | Twitter | Instagram | Pinterest | Email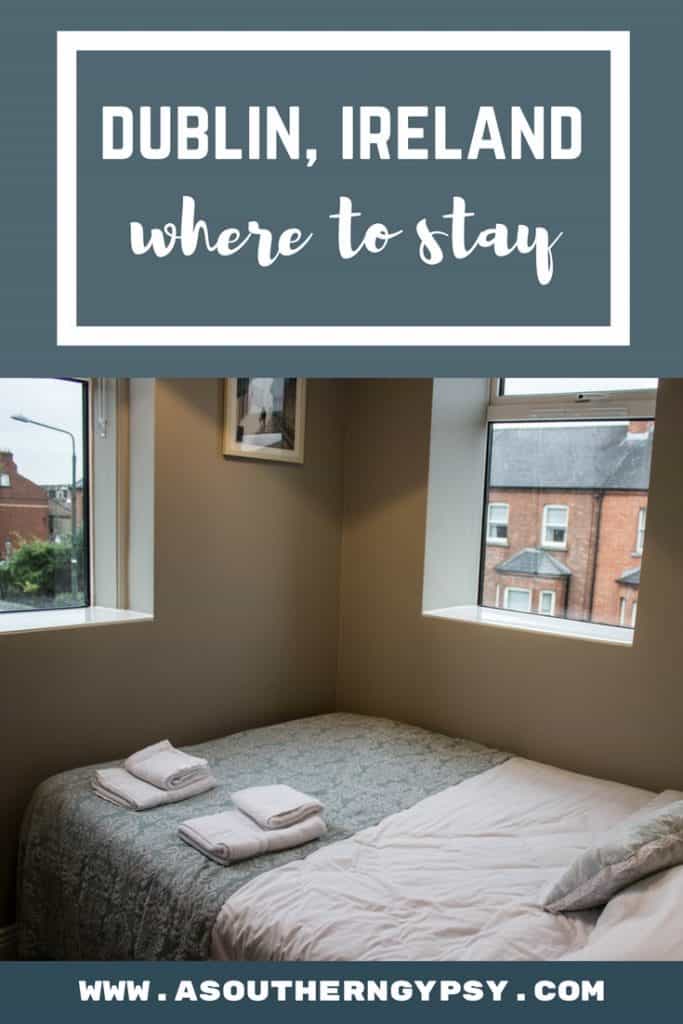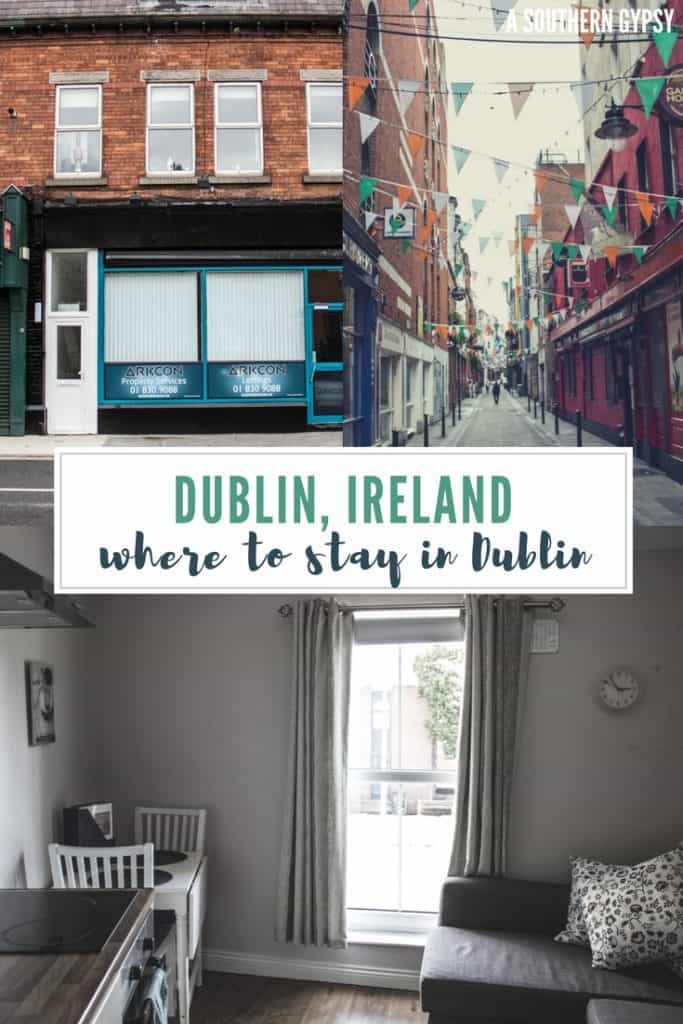 Thank you to Celine for hosting me during my stay in Dublin. As always, all opinions are my own and I will never promote something I don't personally use and believe in, regardless of who foots the bill.
Also, some of the above are affiliate links and I will earn a very small percentage of the sale if you purchase through them at no extra cost to you. Thanks for supporting A Southern Gypsy!
Latest posts by Ashley Hubbard
(see all)