This post may contain affiliate links, meaning if you book or buy something through one of these links, I may earn a small commission (at no extra cost to you!). Please see my disclosure.
Santorini, the jewel of the Aegean Sea, is perfect as a honeymoon destination or a solo trip, or anything in between.
There is no doubt that Santorini is beautiful and worth a visit, but no matter what, trips need a little planning in order to make sure everything goes smoothly. Before you get too far into your travel plans, check the travel visa requirements at Visa Express.
How to get to Santorini
Airplane: At present, the routes that can reach Santorini are Athens, Mignos, Rhodes, and Crete. Among them, Santorini Airport has several flights to and from Mignos every day, and the flight from Athens, Greece to Santorini only takes one hour. In addition, the peak tourist season of Santorini is summer. During this time, more connecting flights will open from Rhodes and Crete. Depending on where you're coming from, there may be some great flight deals like this Air France discount code.
Waterway: There are many boats in Greece that can go to Santorini, including one-day direct cruises or several-day sightseeing cruises.
If you want to arrive in one day, you can take a speedboat during the peak season. Generally, you can reach Santorini in four or five hours. Of course, you can also choose a cheaper option from Athens to Santorini, which takes about nine hours. Stop in Paros, Naxos, Mykonos, and other locations along the way. There are several flights a day in peak season, and there will be about one or two flights a day in the off-season.
You can also choose to include Santorini's multi-day sightseeing cruises. These cruises will shuttle between Mignos and Santorini and will go to other islands on the way, and each island will be given a certain travel time. Then continue the tour by boat.
Transportation on the island
Bus: The cheapest and most accessible means of transportation on Santorini is the Santorini bus, but the bus has a large number of passengers and has a fixed route, which is not suitable for people who like to stop and go.
Car rental: Renting a car in Santorini can be a great idea. Not only can you go to any place you want, but you can also stop and go. It is very suitable for people who like to travel in their own time and take lots of photos. However, the roads of Santorini are tortuous, so car rental on Santorini requires a higher level of familiarity with vehicle skills and road conditions.
Tour bus (reservation required): Tour bus can be said to be the easiest and most direct mode of transportation on Santorini. Generally, when the whole journey is half a day, it will take you to Santorini in this half-day. Enjoy sightseeing in major attractions, and there are also tour guides to explain.
Motorcycle: Renting a motorcycle in Santorini is also an option, but the motorcycle is not regulated, and there are a lot of vehicles on the street. Novices are prone to accidents, so it is recommended to choose other means of transportation.
Stay
Because Santorini is a tourist island, there is no need to worry about accommodation here, especially in the two small towns of Fira and Oia on Santorini.
Generally speaking, Fira makes it convenient to go on several day trips as it is located in the middle of the island. Fira is also famous for its night scenes, which draw many people come to Santorini.
The second is the small town of Oia in Santorini. People who choose to stay here are usually doing so for the beautiful views and relaxed setting.
The island of Santorini is not too big. It is worth mentioning that many lodging hotels or hotels in Santorini will provide some Greek folk music performances, some local Greek bands will sing here for a long time, and even some outstanding Greek performers can also be seen here.
Food
If you want to ask what is the most famous food in Santorini, it must be the wine and tomatoes of Santorini, because when you come to Santorini, no matter which restaurant you choose, remember to order one if you can. The specialties of the island's fried tomato balls and the island's wine, because these two foods are enough for you to taste and experience the taste buds of Santorini.
Of course, the food of Santorini is not limited to these two ingredients. You must know that there are many Michelin-level restaurants in Santorini, even some family restaurants opened near the beach or the community are very delicious. Among them, Greek kebabs, salads, etc. are local favorite foods.
Entertainment
Bar/coffee
There are many winding paths in Santorini, so the alleys on Santorini are also called labyrinths, but it is also because of all the little bars and cafes tucked away.
The bars here in Santorini are not impetuous, on the contrary, they have a unique atmosphere, especially if you have a glass of famous local Mediterranean wine or a glass of cocktail called Santorini.
Enjoy the sunset
Who would not watch the sunset when they come to Santorini?
The most recommended sunset viewing spot in Santorini should be in Oia, but in addition to Oia, in the small town of Fira, or in the lighthouse of Santorini, or on the sailing boat, you can see the beautiful scenery. The key to sunset lies in which angle you like and which feeling.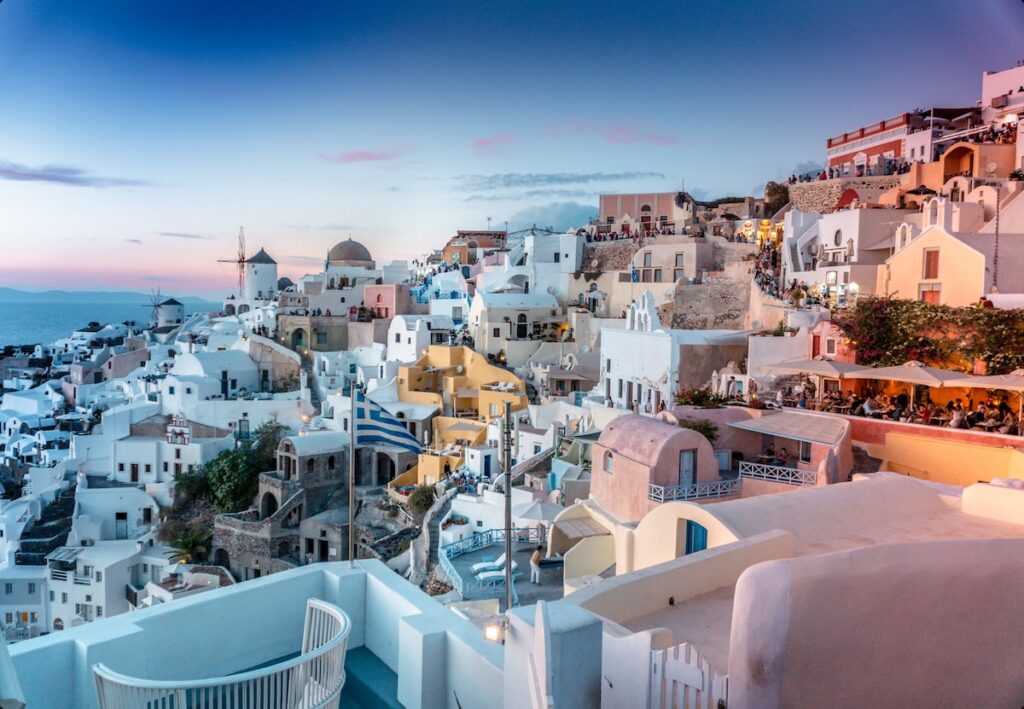 Generally speaking, the sunset in Oia is grander and more spectacular, and the sunset in Fira is softer and quieter, especially when Fira and the volcanic island are far away. It is also a good feeling to watch the sunset from this angle. Of course, the most romantic kind of sunset is to take a sailboat and hug your beloved one on the sea to enjoy the sunset quietly.
But no matter where you are watching the sunset, you must set off earlier than you think, and choose the best location in advance, otherwise, it would be a pity that you are late or blocked by the crowd.
Sailing out to sea
Santorini is an island, so sailing out to sea is one of the most popular things to do in Santorini. There are many luxury sailing boats in Santorini and they're relatively affordable.
Another advantage of sailing out to sea is that there are few people, generally no more than 20. When you go out on a sailing boat, you can not only visit the famous Thira Volcano in Santorini but also the famous white, red and black beaches.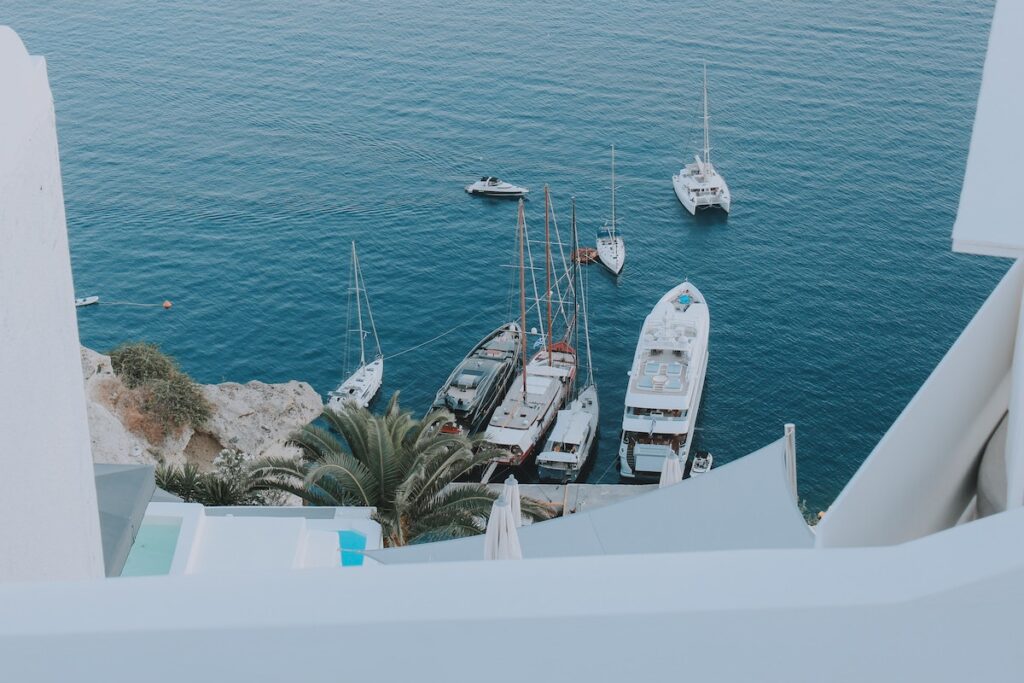 Volcanic hot springs
The hot springs in Santorini are natural volcanic hot springs, and the temperature is just right. With the addition of a special place like a volcano, the hot spring experience has been upgraded.
Latest posts by Ashley Hubbard
(see all)