This post may contain affiliate links, meaning if you book or buy something through one of these links, I may earn a small commission (at no extra cost to you!). Please see my disclosure.
When visiting Toronto last month, I really wanted to visit Happily Ever Esther in Southern Ontario but the visit dates didn't line up right. I was sad to miss it but then I found out about Wishing Well Sanctuary and was excited I would still get to visit a farm sanctuary near Toronto.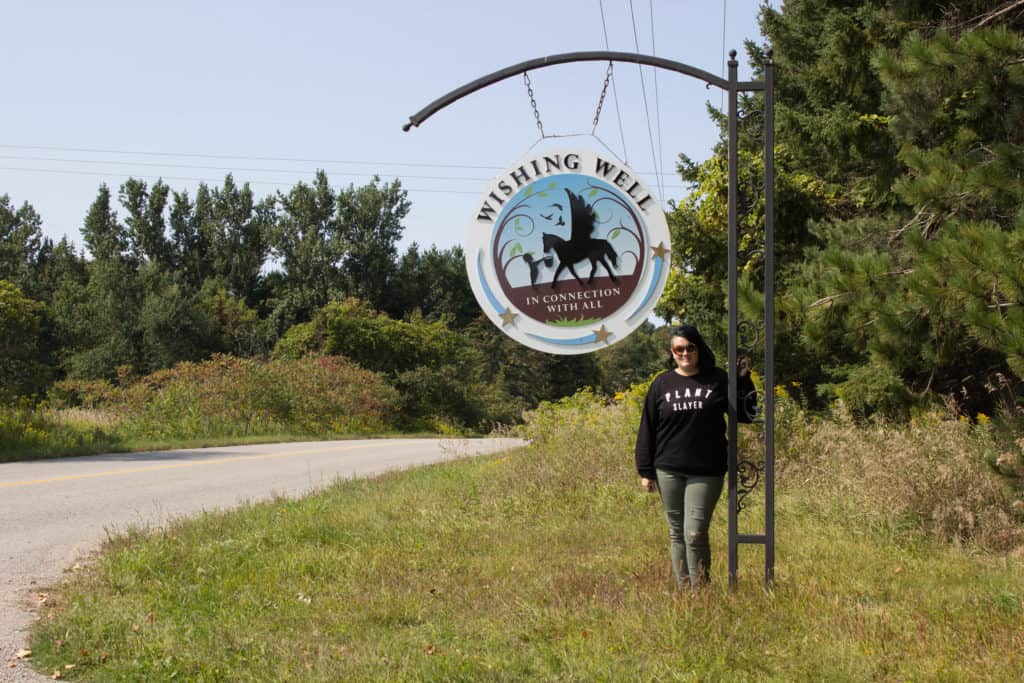 What is Wishing Well Sanctuary?
Wishing Well Sanctuary is a farm sanctuary near Toronto focused on saving and giving refuge to abused and neglected farm animals. Additionally, Wishing Well is a retreat center for personal growth, inner peace, healing, and joy.
Wishing Well Sanctuary was founded by Brenda Bronfman and she is the one who leads the tours. You can feel her passion for animals and humans in her speech at the beginning of the tour.
One of the coolest things about Wishing Well is the peace pole. On the pole, 'May Peace Prevail on Earth' is inscribed in English, French, Ojibway, Braille, Sanskrit, Hebrew and animal paw prints to show that we are all connected: humans and animals!
---
Where is Wishing Well Sanctuary?
Wishing Well Sanctuary is located in Bradford, Ontario – a mere 45 minutes North of Toronto.
Address: 2710 10th Line, Bradford, Ont. L3Z 3L3
---
Wishing Well Sanctuary Tours
Wishing Well holds guided tours twice every month from March to November. These are held on the second Sunday and the last Saturday of the month.
The tour starts with a short but passionate speech from Brenda about the sanctuary, what all goes on there, the animals and more. Afterwards, you head up to the cow field as a large group where you can feed the cows greens and fruit, give them love and maybe even get a cow selfie or two?
There are so many cows that I can't remember them all or their names but they are beautiful and possibly the biggest cows I've ever seen. I really loved Chakra (the second picture here) – he had the most soulful eyes. There are also two donkeys in with the cows – the one pictured here is Timmy. How sweet is that face?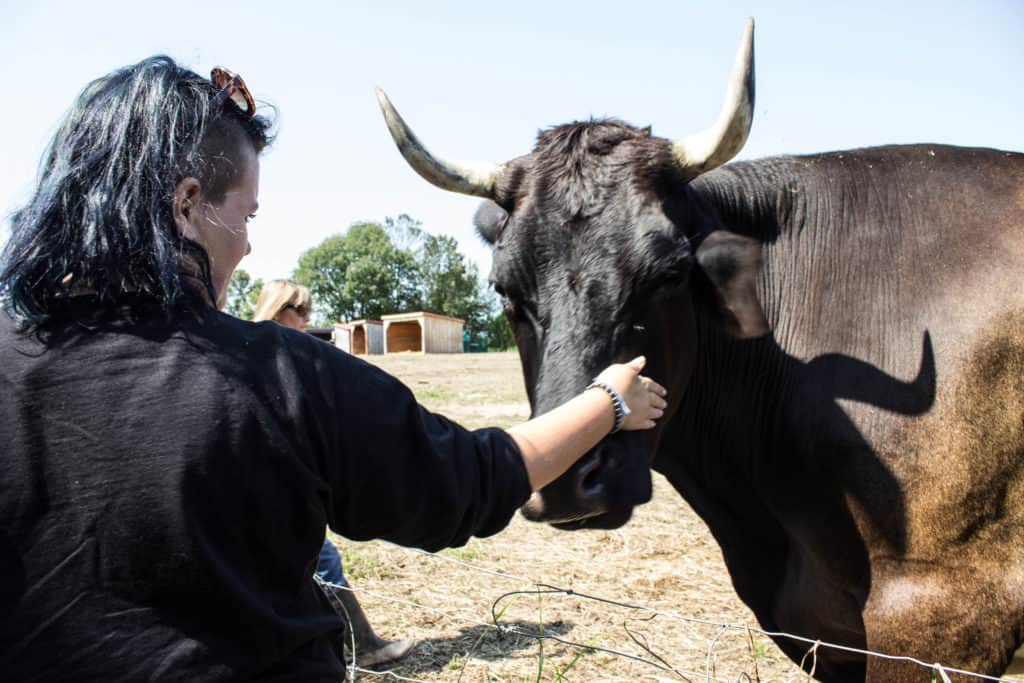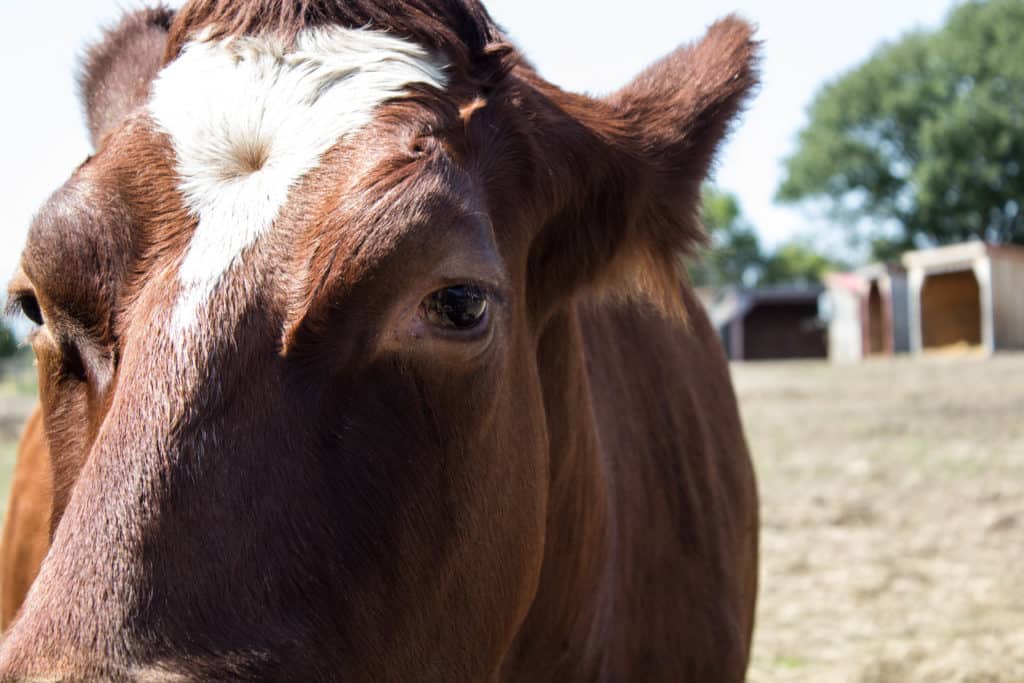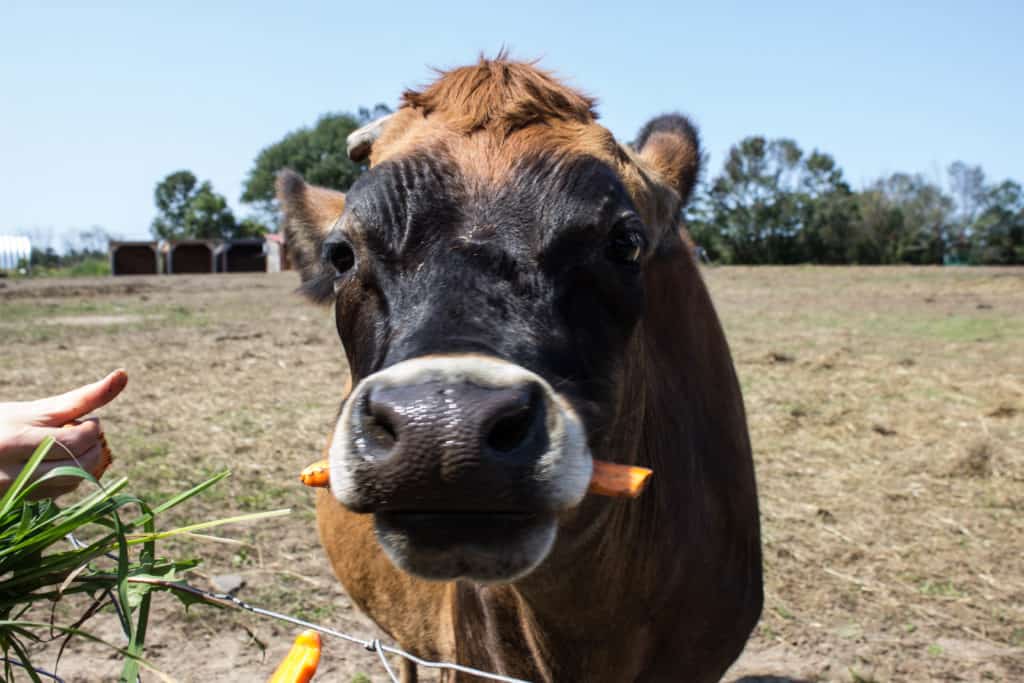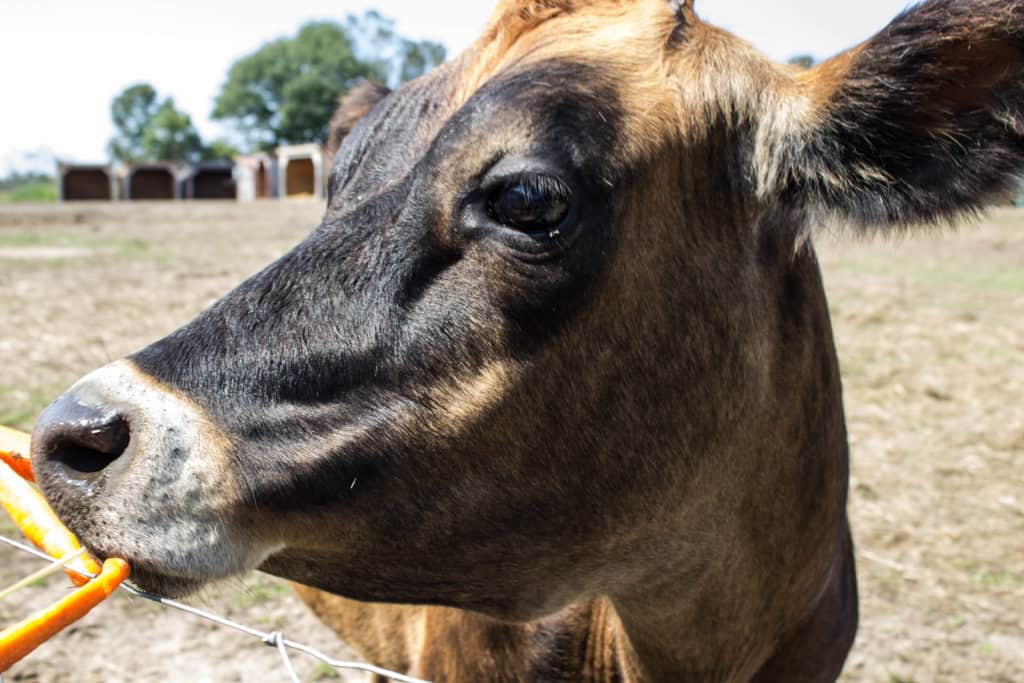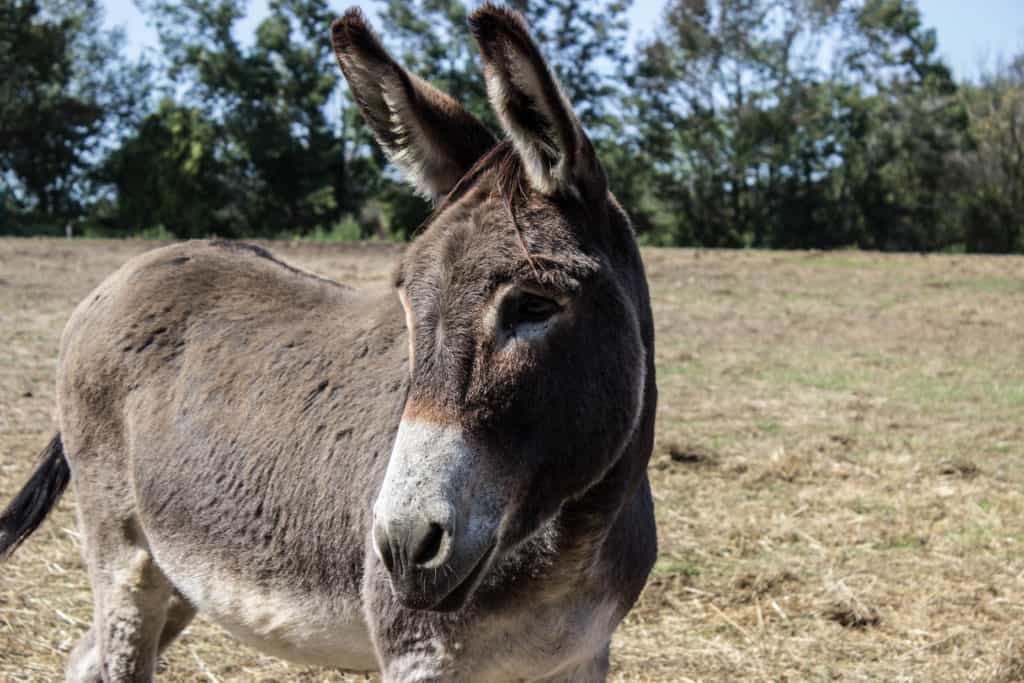 ---
After this, the group splits up into two smaller groups so that not so many people are going in with each animal group. Depending on which group you're with, you'll visit the animals in a different order but don't worry – you all get to see all the animals!
After the cows, I visited with the sheep. This was my first time loving on sheep and I had NO idea how wonderful they are. We don't have sheep at the Gentle Barn Tennessee and since that's the only sanctuary I had been to before this one, I had zero experience with them. They are seriously some of the most affectionate animals I've been around. They will lean into you and practically beg you to massage them.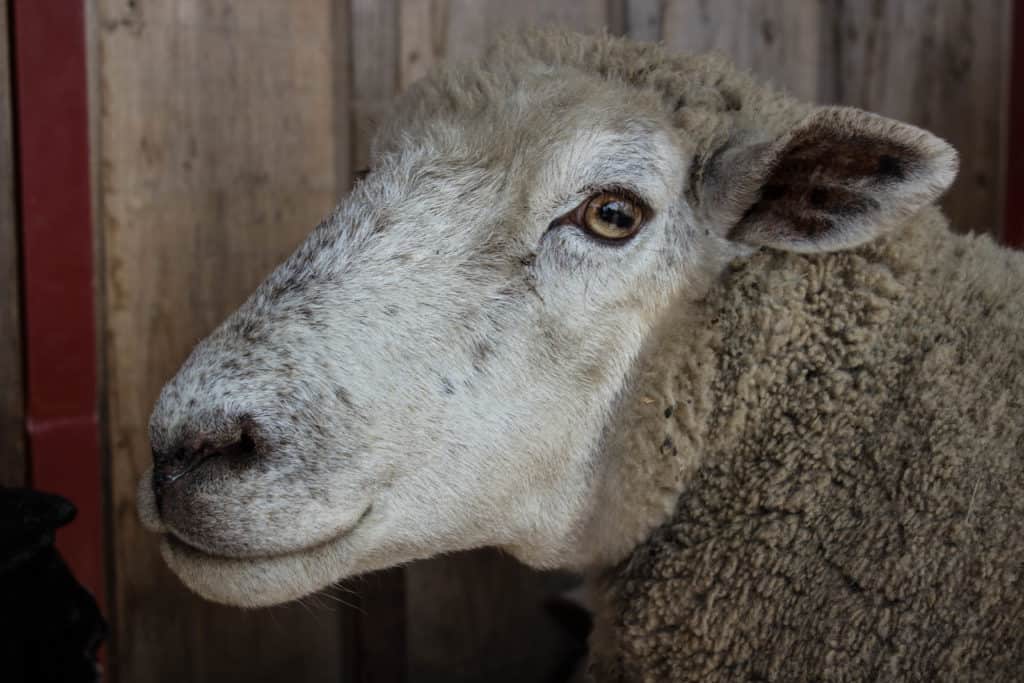 ---
Next, we headed to the pot-bellied pigs, goats, and pigs. We got to go in with the pot-bellied pigs and goats but only got to visit the pigs through the fence. They are super friendly but so large and like to run and play that it can be dangerous.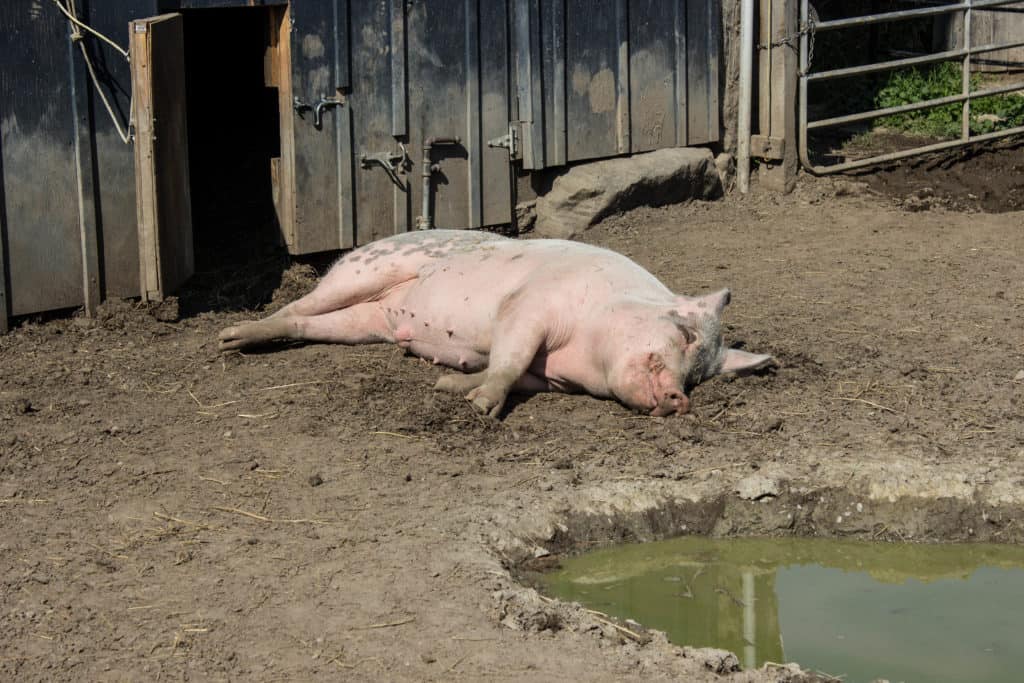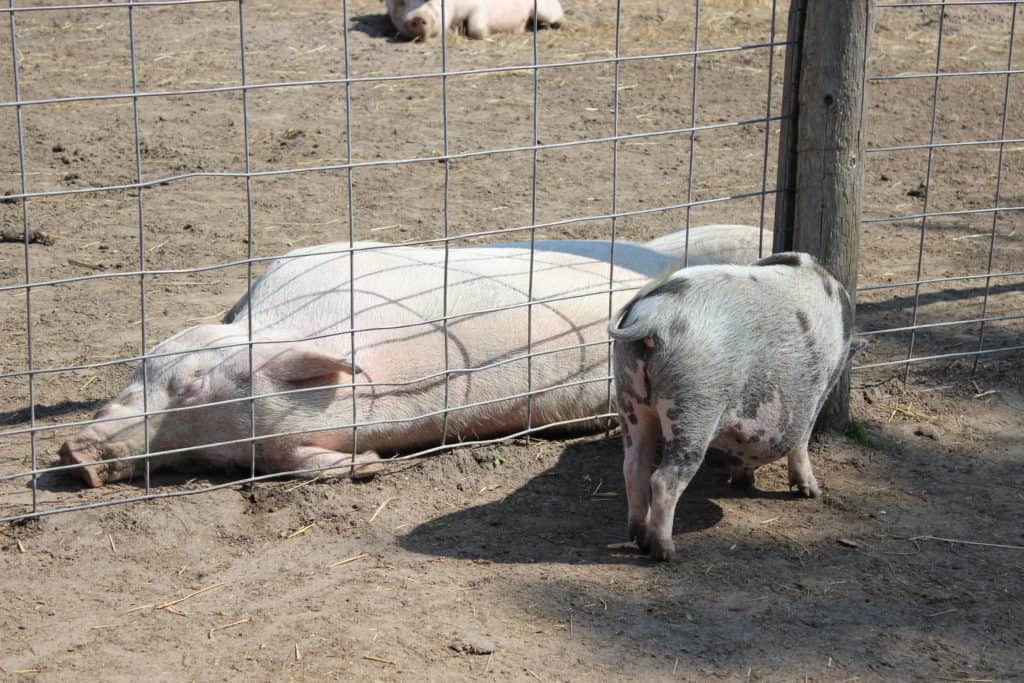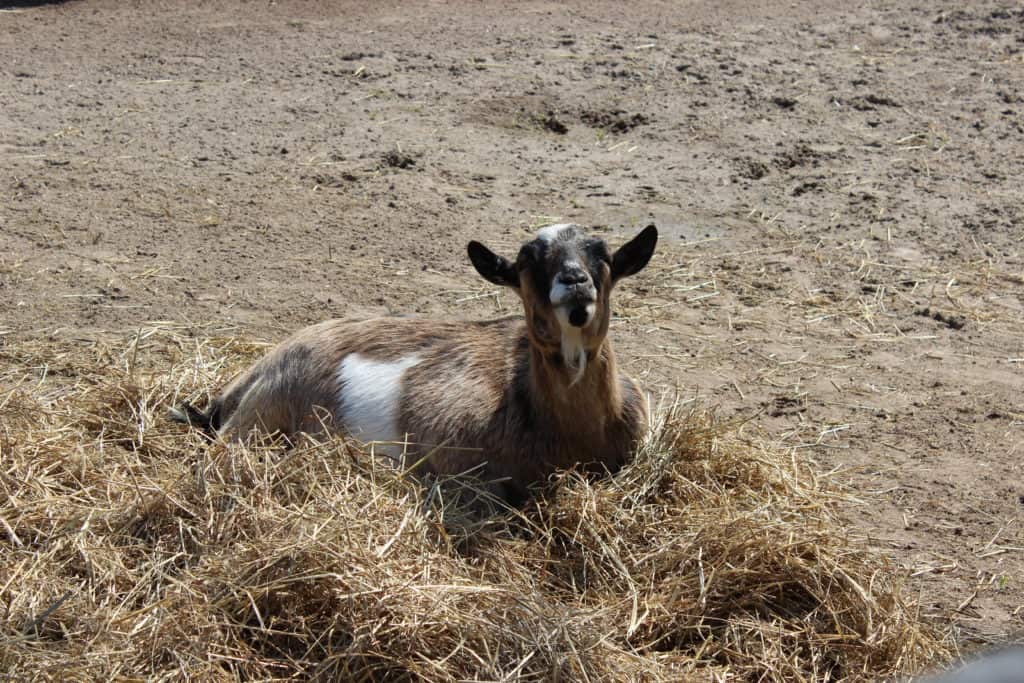 ---
The Wizards of Wishing Well are next. Yep, you read that right. The two resident roosters are named Dumbledore and Gandalf.
Continuing on with feathered friends are the ducks. Ducks are super adorable guys. Don't let anyone tell you differently.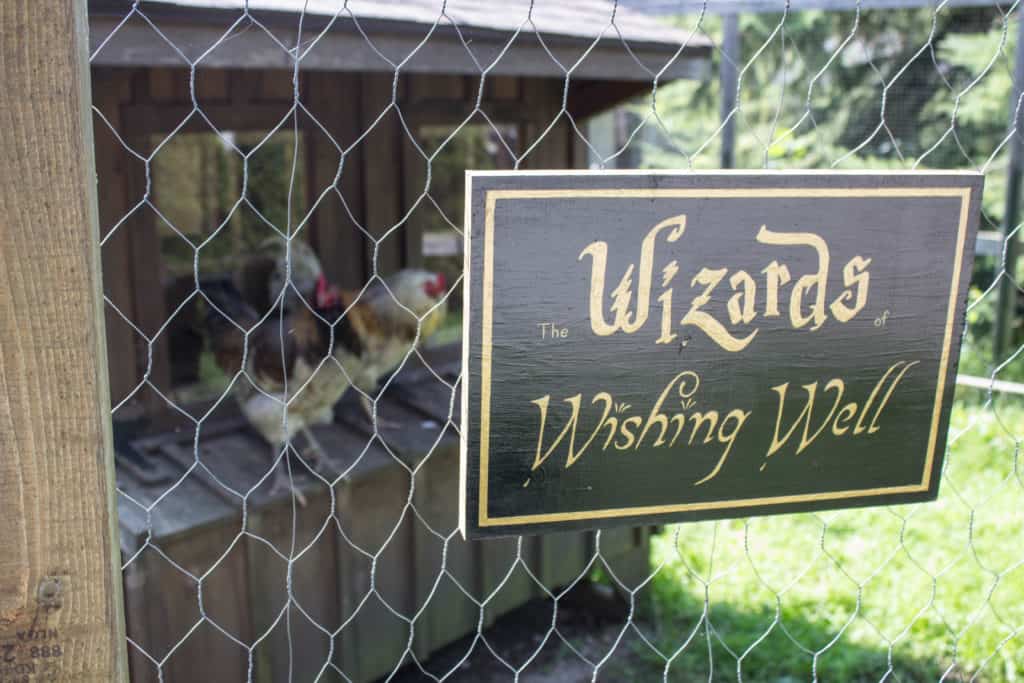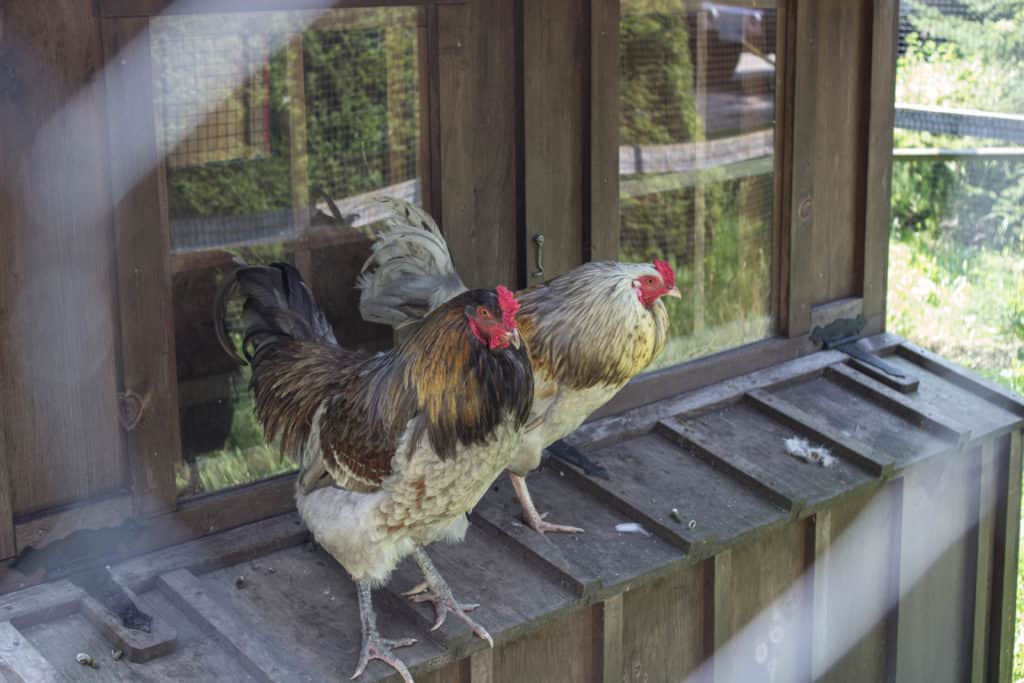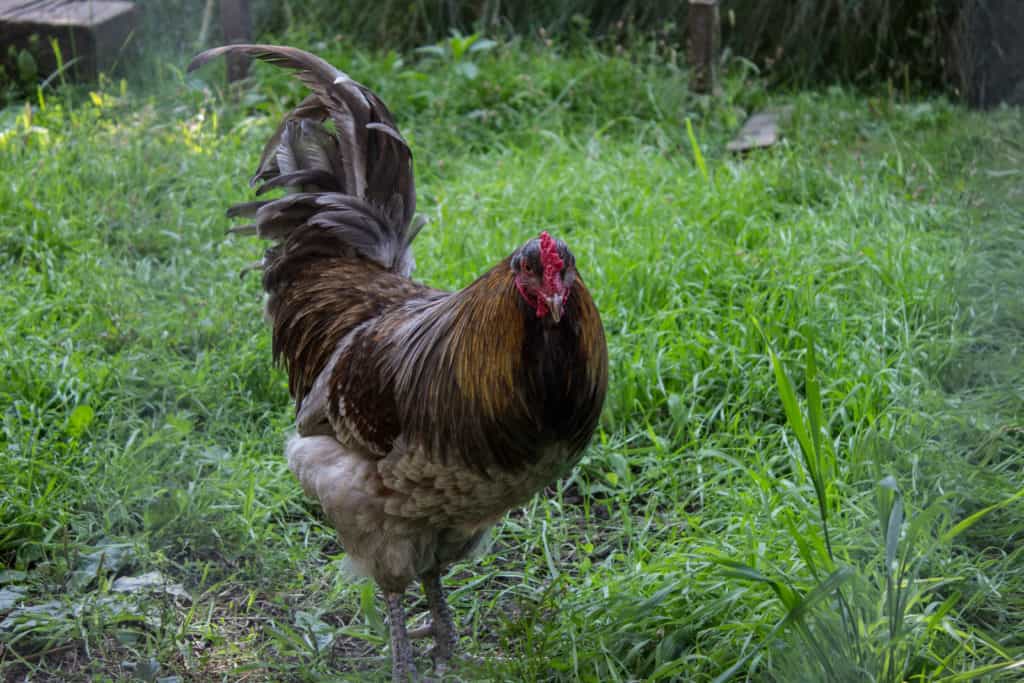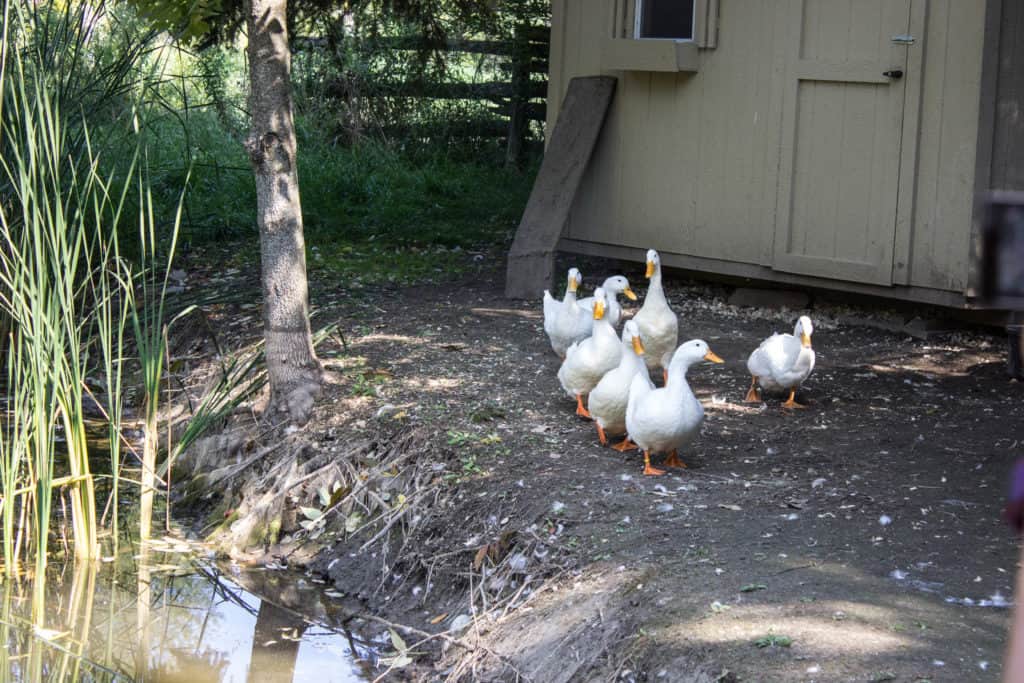 ---
There are also two horses here to visit the sanctuary: Penny and Sweet Pea.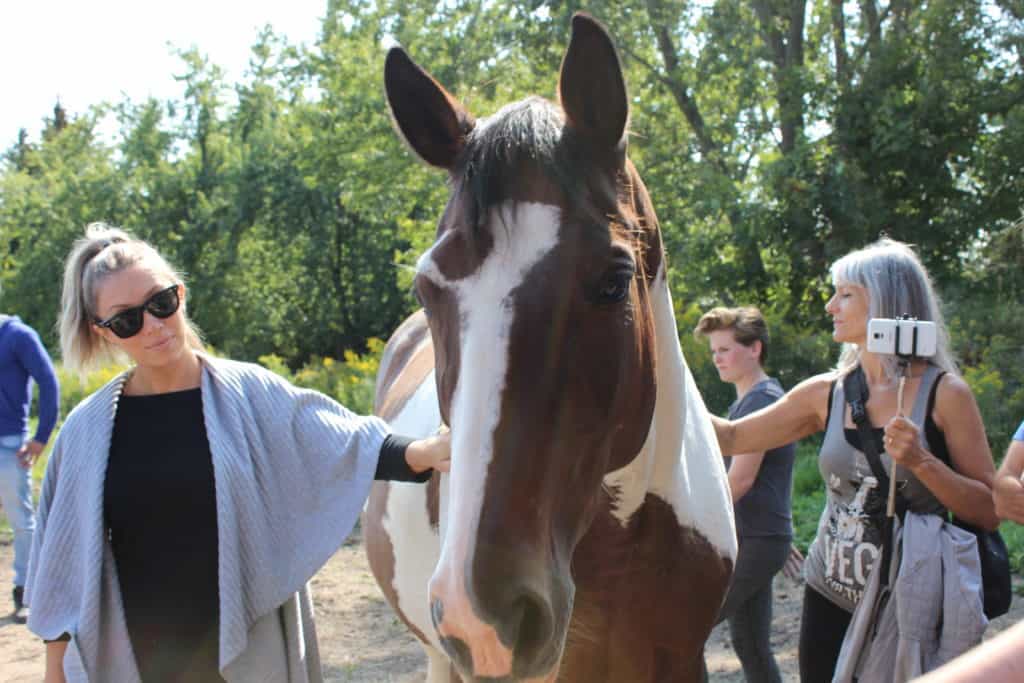 ---
Wishing Well Sanctuary Yoga
I didn't get to attend but I found it really cool that once a month, Wishing Well Sanctuary hosts yoga. I could not think of a better place to practice yoga than surrounded by loved and rescued animals and like-minded people. For more information, check out the event page.
---
Essential Info
Admission is $15 cash.
Tour duration approximately 2 – 21/2 hours.
Wear closed toe shoes.
Vegan burgers are available for purchase after the tour for $5.
No reservation or prepayment required.
While there are several options, I would definitely check out Wishing Well if you're looking for a farm sanctuary near Toronto! It's worth a visit – make sure to hug the cows for me!
HAVE YOU EVER BEEN TO A FARM SANCTUARY? TELL ME ALL ABOUT IT IN THE COMMENTS! ↓↓↓
Heading to Toronto? Read accommodation reviews here or book here.
What else have I written? You can find more Ontario posts here and Canada posts here.
Like this post? Have Questions? Hit me up on Facebook | Twitter | Instagram | Pinterest | Email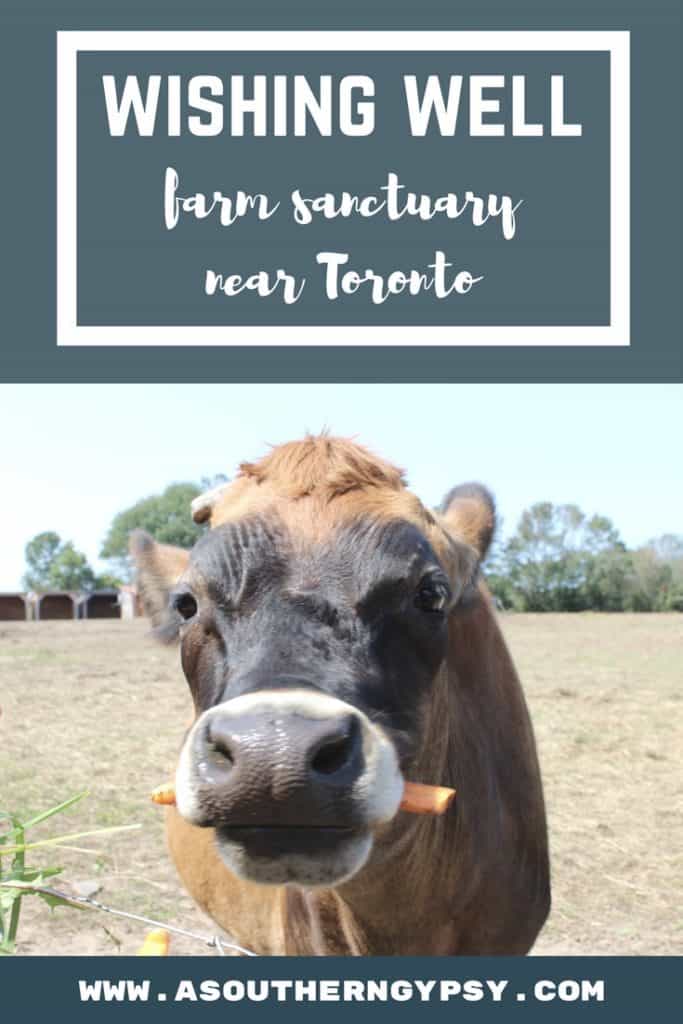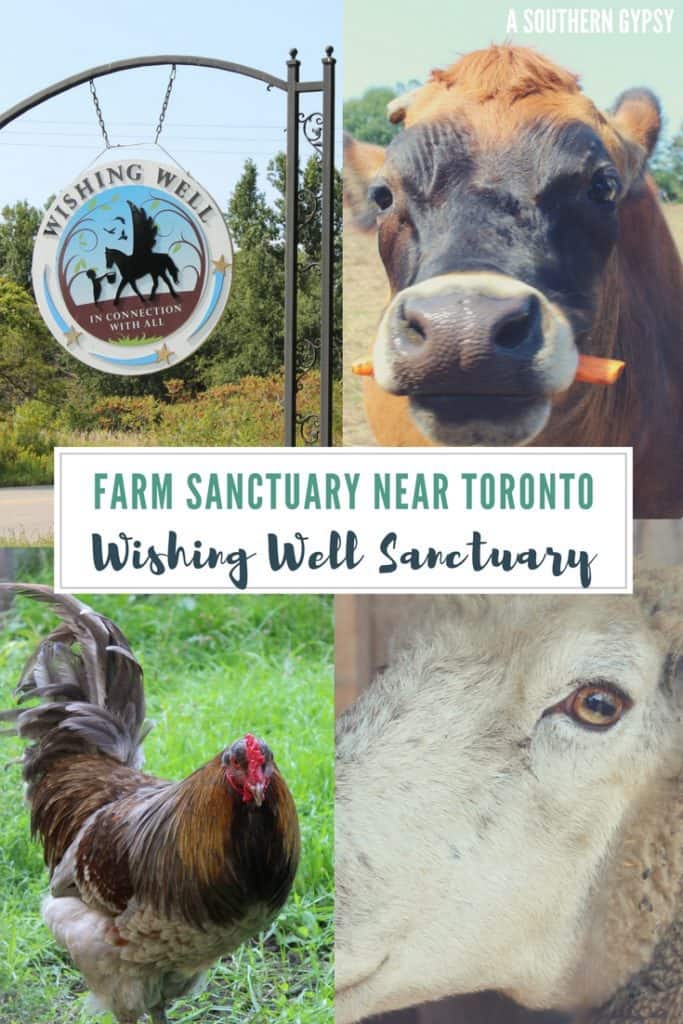 Latest posts by Ashley Hubbard
(see all)