This post may contain affiliate links, meaning if you book or buy something through one of these links, I may earn a small commission (at no extra cost to you!). Please see my disclosure.
Trying to find vegan restaurants in Gulf Shores and Orange Beach can feel a little daunting. One can always find the typical french fries, salads, and maybe even a cheese-less pizza, of course.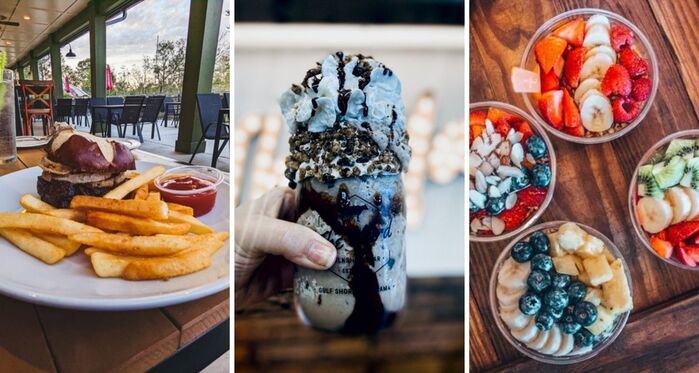 How many times have I lived off french fries alone when that was the only possible thing on the menu? Let's just say I'm starting to resemble the shape of a potato. It's not a good look.
Here are some of our favorite vegan options in Gulf Shores and Orange Beach.
Vegan Restaurants in Gulf Shores & Orange Beach
1. Safari Club
Safari Club is Alabama's first certified Green Restaurant and has become a leader in conservation, recycling, and reduced waste.
The restaurant strives to be as energy-efficient as possible, they do not use any Styrofoam, no plastic straws, and recycle as many products as possible. They also compost on-site in their own garden and any extra produce is given to the animals.
The menu has several, well-marked vegan items including Korean fried broccoli, brussel sprouts, three different sandwiches and burgers, pizza, and tacos.
Cost: $$
Safari Club is technically part of the zoo but not located inside the zoo. As many of you know, I do not support zoos; however, they had some of the most extensive vegan options in the area and definitely the most sustainable and eco-friendly restaurants.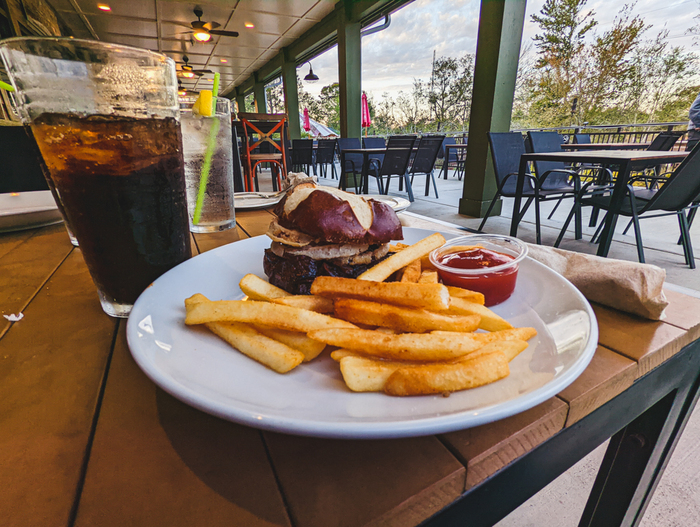 2. Bleus Burger
Bleus Burger was our hidden gem find on our latest trip to Gulf Shores. It was so good, we went back twice.
They have a burger option and cauliflower bites that were delicious. But the best part is the staff is very vegan knowledgable and super friendly.
Cost: $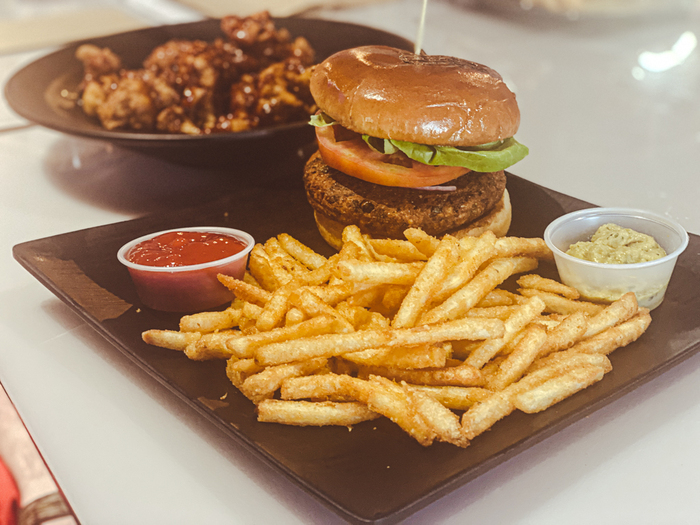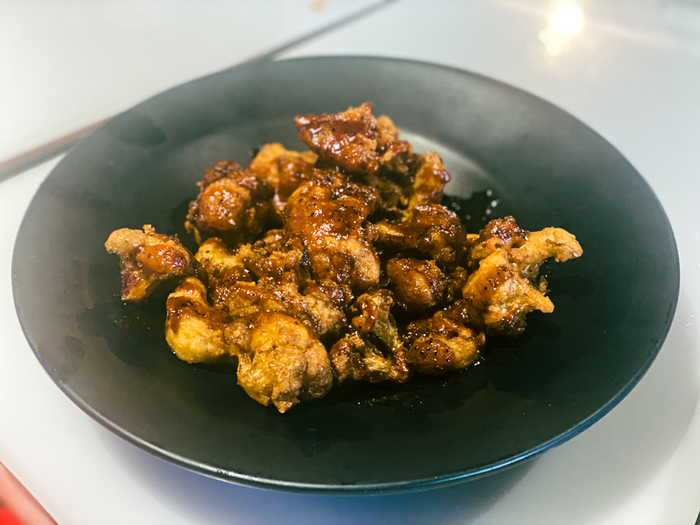 3. Lucy Buffett's Lulu's
Lulu's was created and started by Jimmy Buffet's sister, Lucy, and let me tell you – this place is popping. I'm not sure I've experienced a restaurant quite like this.
Despite being extremely popular and busy, the service and atmosphere were definitely great.
Lulu's has just launched its separate vegan menu (they also have allergen menus for just about everything else) that they hope to expand.
At the moment, it includes things like guacamole, salsa, nachos, and tacos.
Cost: $$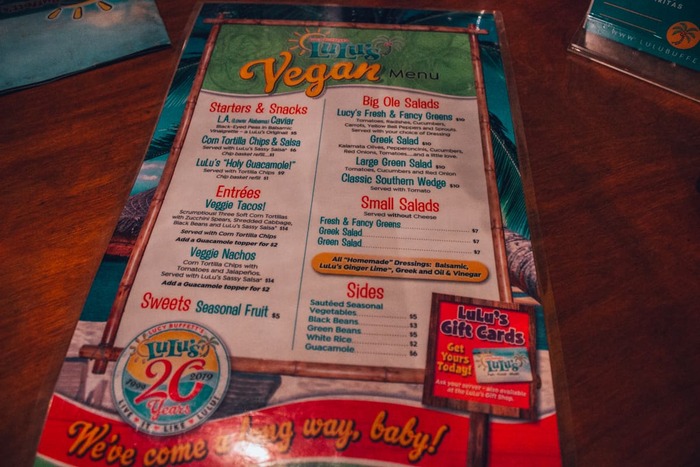 4. Picnic Beach
Picnic Beach is a casual picnic-themed restaurant in Gulf Shores. Previously, this was easily my favorite spot for vegan food.
After re-opening post-pandemic, they changed their menu drastically. They still have a decent amount of vegan options, but they have changed quite a bit.
They have a black bean burger, vegan bowls, sweet potato and regular fries, and a few other dishes.
Cost: $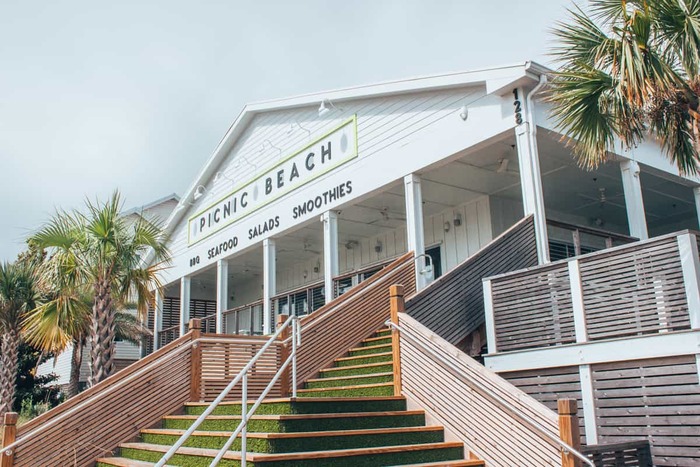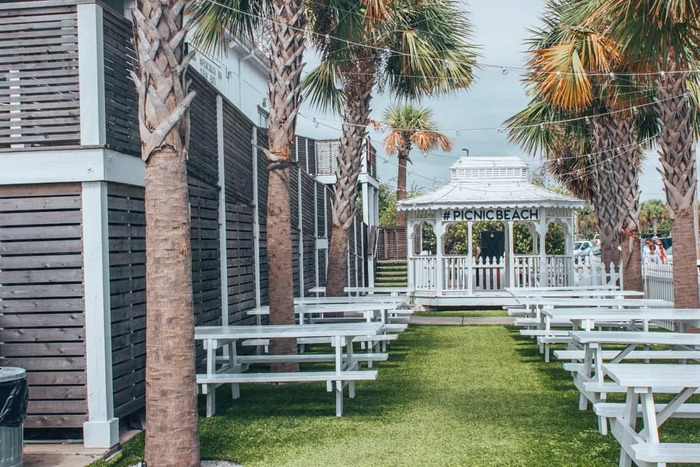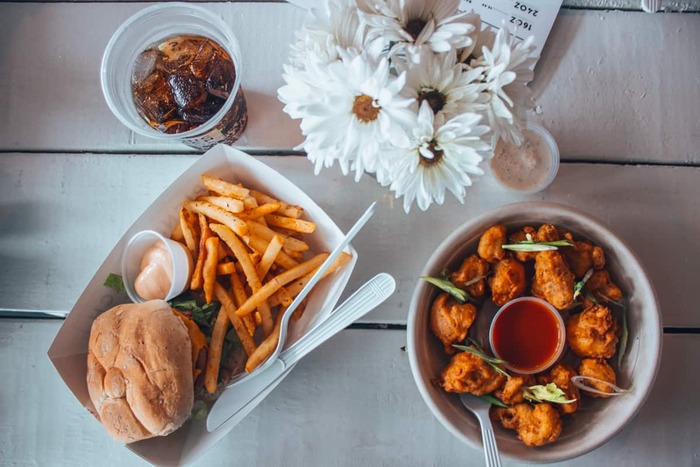 5. Soul Bowlz
Looking for a healthier option in Gulf Shores? Definitely give Soul Bowlz a try! It's the perfect way to start your day.
Make sure to say no honey and check other ingredients (i.e. white chocolate chips).
Cost: $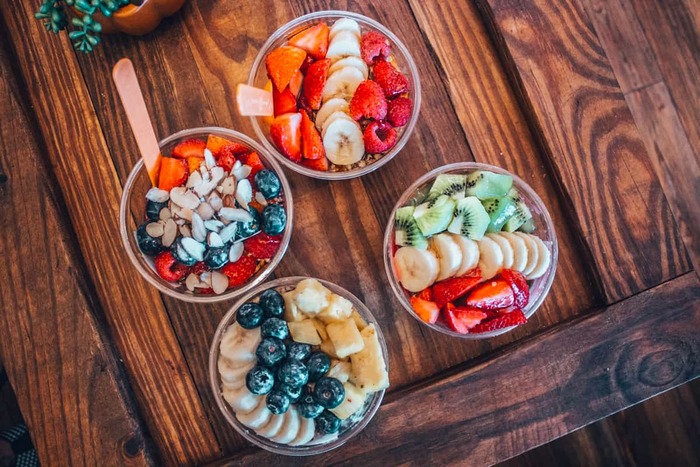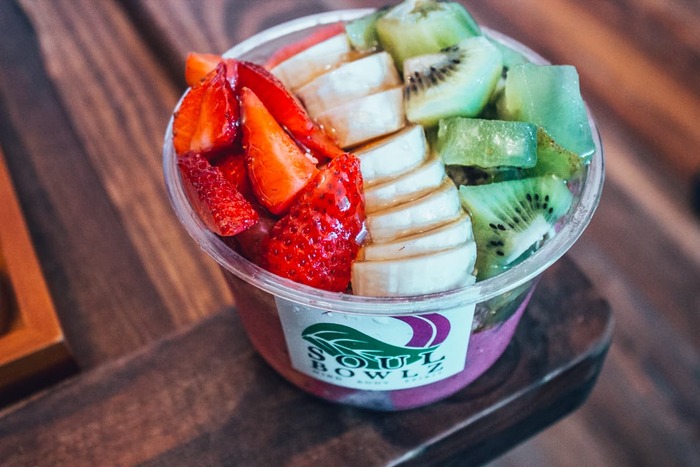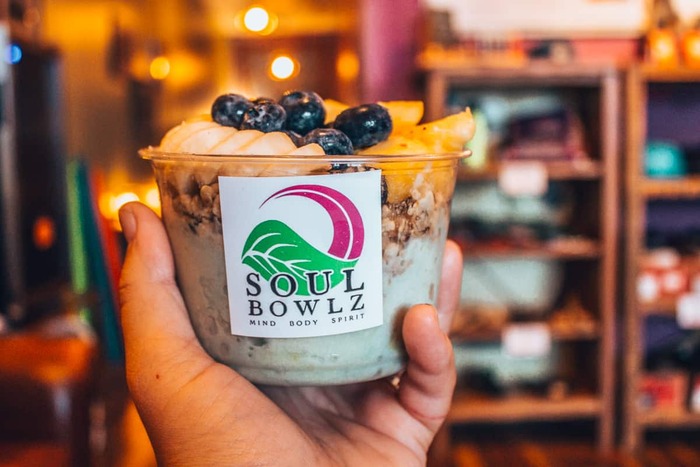 6. Woodside Restaurant
Woodside restaurant is located in Gulf State Park and we went for breakfast on our last day.
They have a few vegan options – the oatmeal (no cream) and quinoa. I got both – because I'm me – and while I preferred the oatmeal, they were both great!
Going to start putting raisins in my oatmeal after this.
Cost: $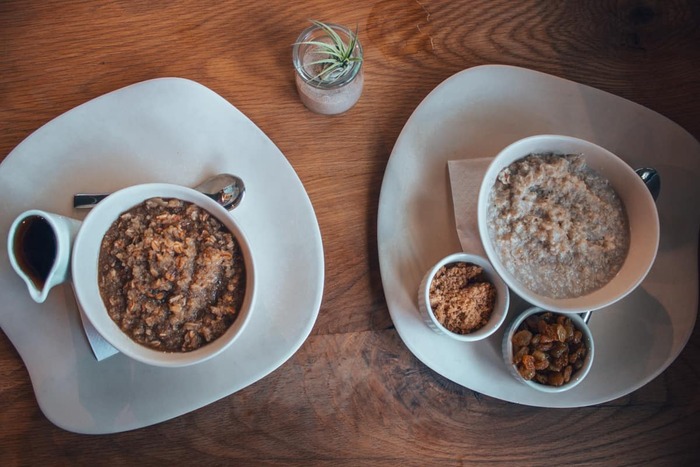 7. The Dragonfly
The Dragonfly is located poolside at the Gulf State Park Lodge – a very sustainable lodging accommodation in Gulf Shores.
They're open seasonally so make sure to check. They have a vegan black bean chipotle burger, fries, fruit, and frozen grapes (one of my favorite treats!)
Cost: $
8. The Yard Milkshake Bar
The Yard Milkshake Bar now has a vegan option called Not Milk?
It's made with chocolate chunk oatmilk vegan ice cream. Then, it's mixed with chocolate soy milk in a vanilla iced jar rolled in crushed vegan chocolate chip cookies.
Then, everything's topped with vegan whipped cream, chocolate drizzle, and a vegan chocolate chip cookie.
Cost: $$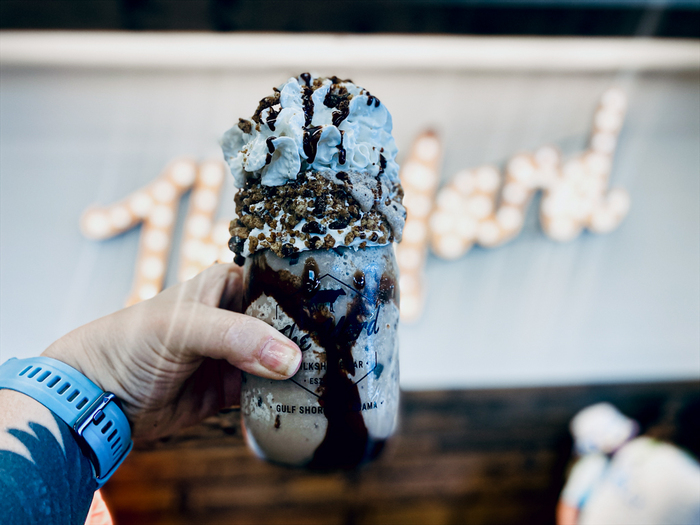 9. Rita's Italian Ice
All of the Italian ice at Rita's is vegan as far as I was able to find through my research but you may want to ask when you're there. They have plenty of flavors and it is super affordable!
Cost: $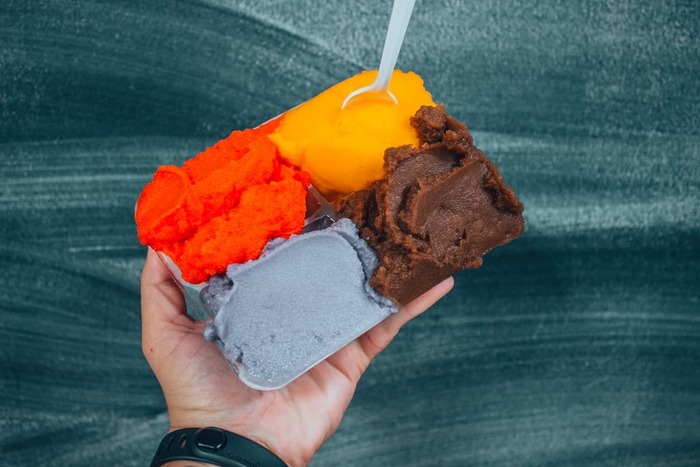 10. Our Coffee
I loved Our Coffee! They actually have two locations – one inside a skate shop and one at a brewery. I had a pumpkin spice latte with oat milk and it was one of the best coffees I've tasted.
Cost: $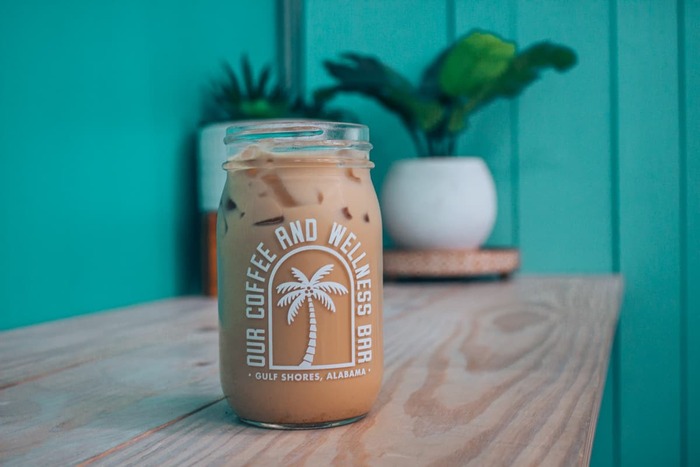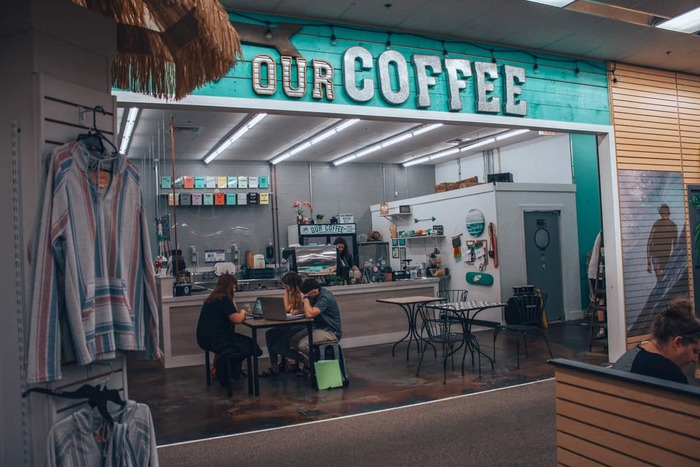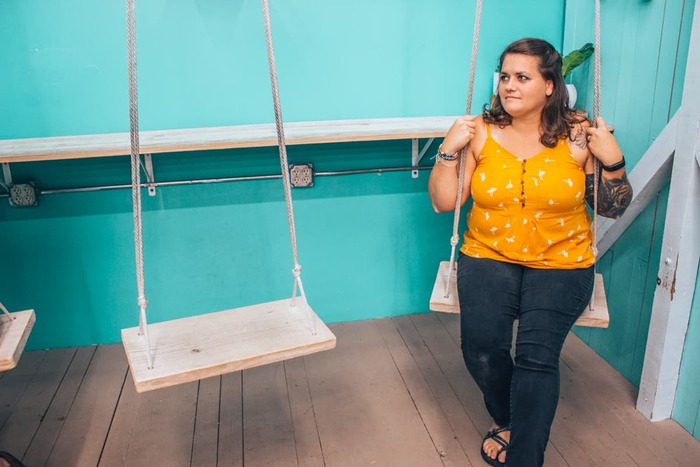 11. Beach Girl Coffee
Beach Girl Coffee is a drive-thru-only coffee spot with several non-dairy milk options.
Cost: $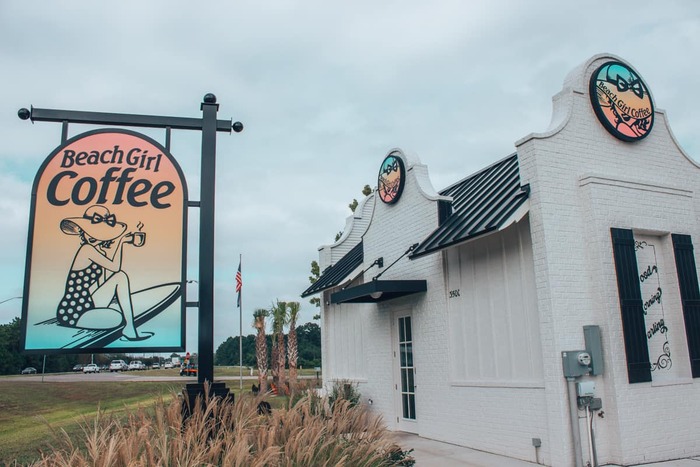 12. Foam Coffee
Foam Coffee has several non-dairy milk options, avocado toast, smoothies, and oatmeal. It's a super cute coffee shop with a welcoming and minimalistic vibe.
Cost: $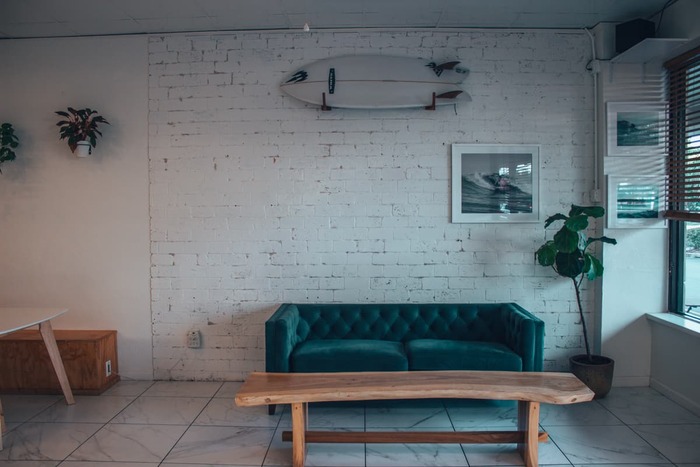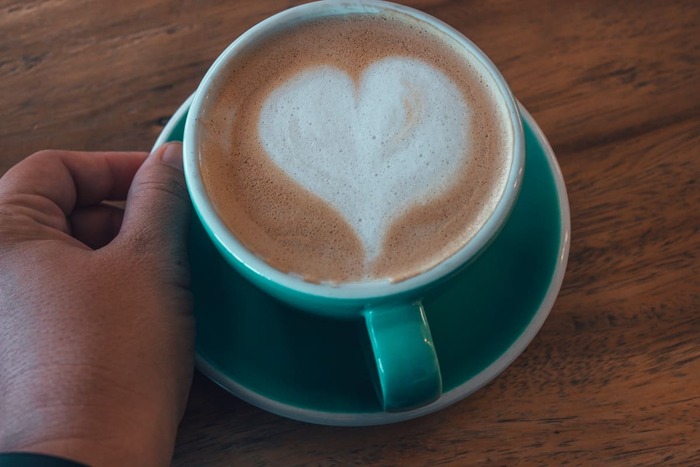 13. The Southern Grind
The Southern Grind has two locations (at the Wharf and at Hotel Indigo) and offers several vegan options at breakfast and lunch/dinner.
I was there at breakfast time and had oatmeal and breakfast potatoes – they were very good! You could also do avocado toast or bagels.
For lunch, they have Beyond products available.
Cost: $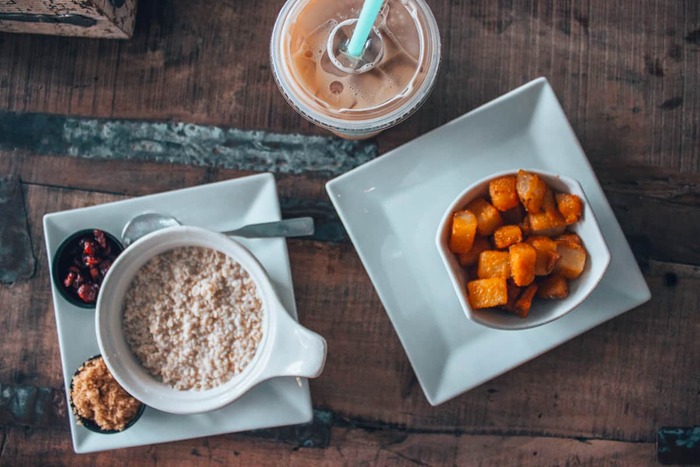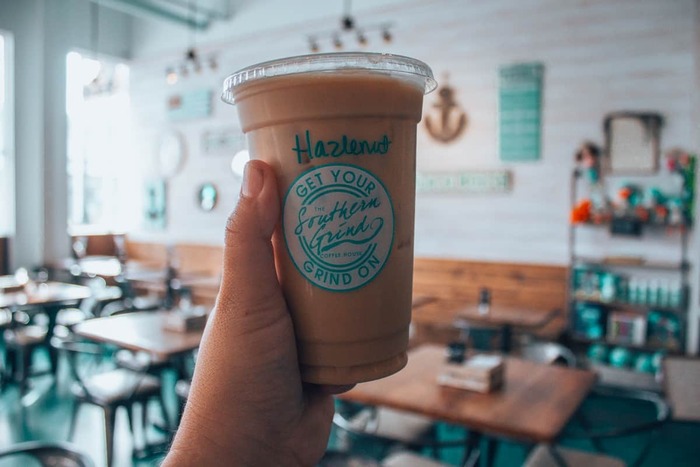 14. BuzzCatz Coffee & Sweets
Chef Kimberly, also the General Manager, is a real joy to be around and you can feel the passion in the air at Buzzcatz. I loved the eclectic feel at BuzzCatz and all of the amazing cat decor.
They even have drinks named after different cat breeds. While none of the food is naturally vegan, Kimberly has made it very clear that with a 24-hour notice, she is happy to make any special requests!
Cost: $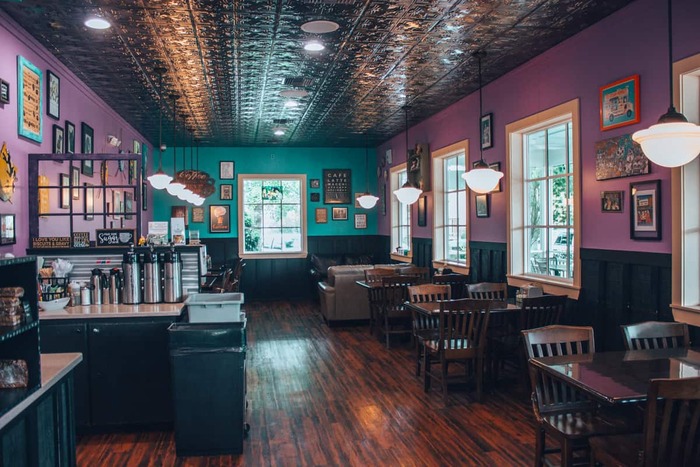 15. Island Wing Company
Island Wing Company offers many vegetarian options that can be made vegan. These include options like vegan tacos aptly named 'The Vegan,' and they also have Boca and Quorn products that can be substituted.
Cost: $
16. Foodcraft
Foodcraft is one of the other restaurants at the lodge. They serve breakfast, lunch, and dinner with a couple of options for each.
Cost: $$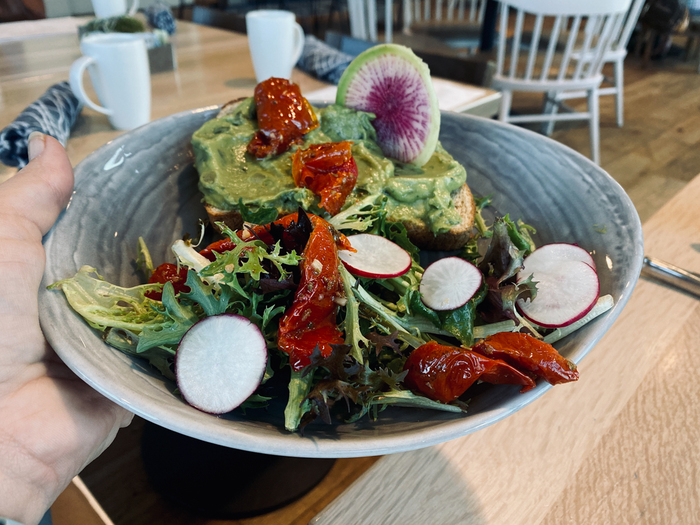 Vegan Options Nearby
Nearby in Foley, there is a Mellow Mushroom, a Kale Yeah! Juice Cafe, and a BB's Health Food Store.
↓↓↓ PIN FOR LATER ↓↓↓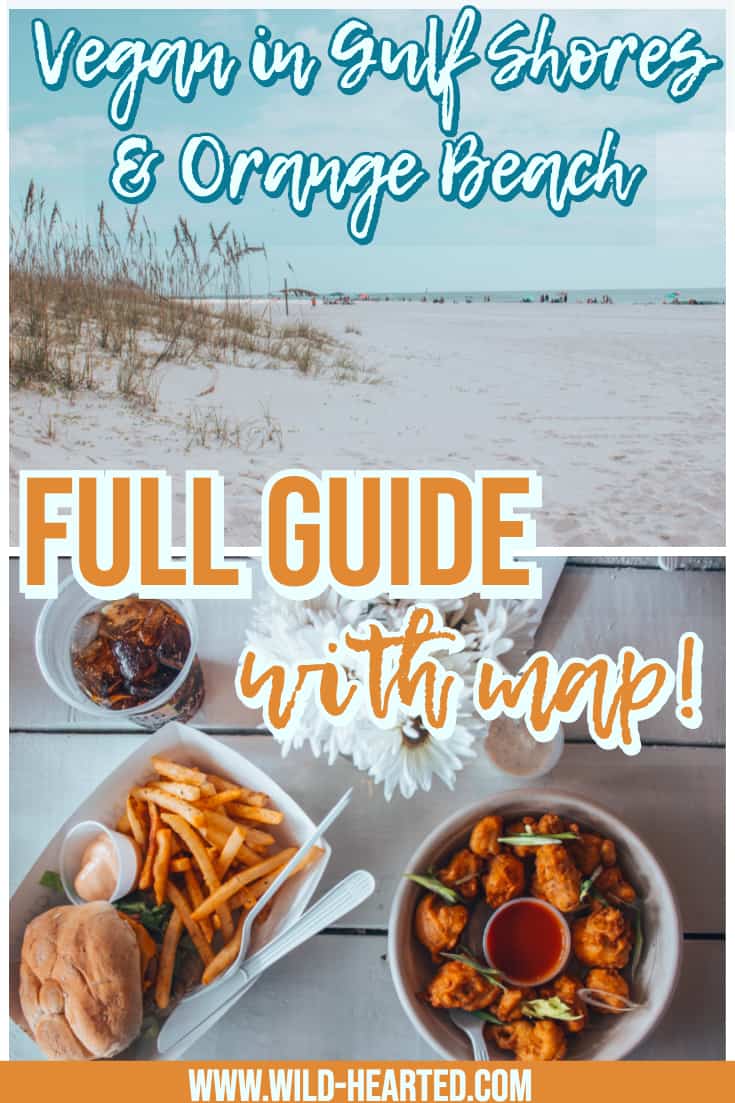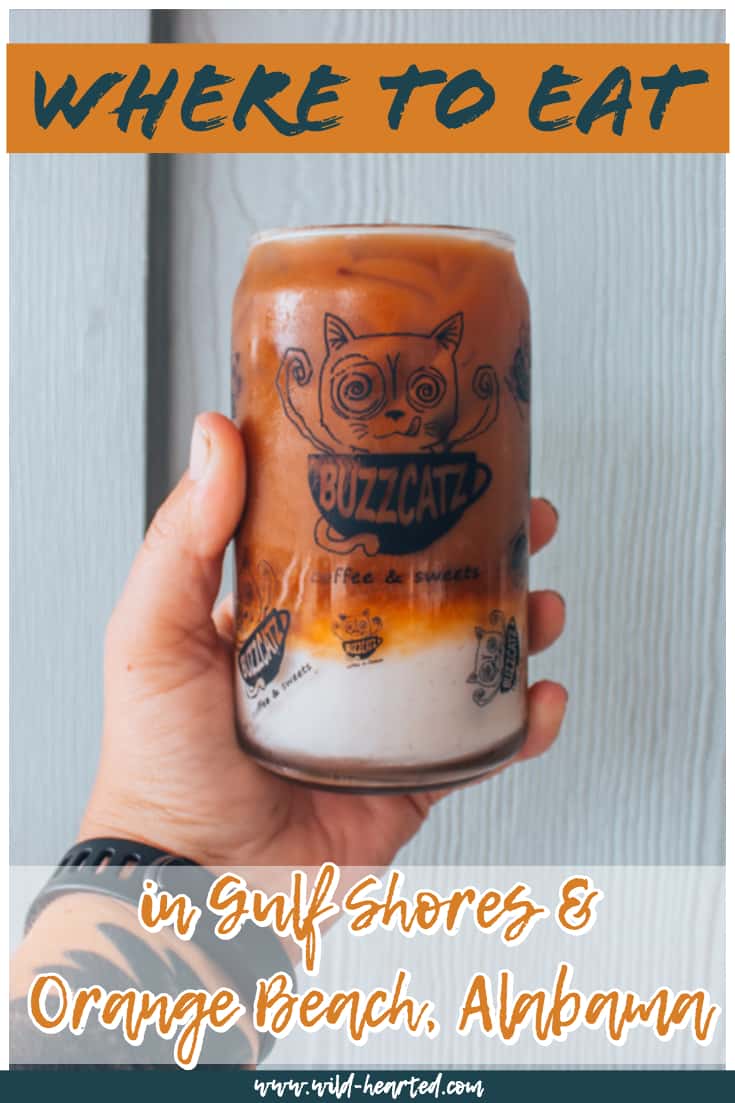 ***This trip was possible in collaboration with Visit AL Beaches. All of my accommodation, activities, and food were covered by Visit AL Beaches. Despite who may have footed the bill, all the opinions here are my own and I would never recommend something I didn't fully believe in and try myself.***
Latest posts by Ashley Hubbard
(see all)