This post may contain affiliate links, meaning if you book or buy something through one of these links, I may earn a small commission (at no extra cost to you!). Please see my disclosure.
Obviously, you wouldn't choose to be traveling when sick, but sometimes you have no choice. I had big plans for my trips to Orlando. I had all this food I wanted to eat, rides I wanted to ride, I wanted to go to the parks from 8AM until midnight. Things don't always go as planned though.
On New Year's Day this year, my mom and I left around 3AM and drove to Orlando, Florida. This is about a ten hour drive for us from Tennessee and we had to make it there to pick up my brother at the airport-he lives in Memphis and flew to meet us. Lucky him. We made it there, stopped by the store to get some essential things, went to the hotel and rested the rest of the night. I felt fine. Exhausted, but fine.
The first day we headed to Universal Studios and this being my second time to visit Wizarding World of Harry Potter, I was very excited. Almost from the beginning of the day, I just didn't feel myself. All day, I struggled with nausea, heartburn, and just everything on my entire body hurting. I was determined to have a great time though. I rode rides even though I felt like I was going to throw up and ate food even though I didn't really have an appetite. On our way back to the hotel, we decided to stop by Walmart for a few things to maybe help me feel better. I told my family I was staying in the car. I ended up getting sick in the parking lot and proceeded to throw up every hour all night. Not fun.
The next day we had planned to head to the Magic Kingdom. For those that don't know me, I hardly complain about pain or being sick and I tend to downplay my symptoms. I told my mom and brother we were getting up early to get to the park. Obviously, they didn't exactly let me do that. We finally got going about ten o'clock and decided to head to Epcot instead of Magic Kingdom since there aren't as many rides there. Probably the best decision we could have made. I didn't get sick, as far as throwing up goes, anymore, but I did continue to feel like I was going to for most of the trip. To add insult to injury, the second day I started getting one of the worst sinus infections I have ever had complete with an extremely bad cough, congestion, trouble breathing, headaches and so on. The coughing got so bad that I started throwing up just from the forcefulness of it. Needless to say, I was very sick. However, I was already there and had already bought all the tickets. I thought I'd make the most of it and give everyone some tips on traveling when sick. Tips I didn't exactly follow like I should, but I wish I had. So, when I say I learned some of these the hard way, I mean it.
Tips for Traveling when Sick
1. Don't push yourself.
I'm probably the guiltiest person when comes to pushing myself when I'm sick. I don't want to miss out on things or waste my money and so I just keep going. If I had rested more the first few days I was sick, I may have not gotten as sick or gotten over it quicker. At Disney World, they have the hopper option with tickets which means you can hop around from park to park each day. You could go to all 4 parks all 4 days if you wanted. This meant I could easily come back to the room and rest for a few hours during the day because I knew I could go back to that park another day. This was extremely helpful. If you have the option to travel slower, do so. If you don't have that option, at least take breaks throughout your day.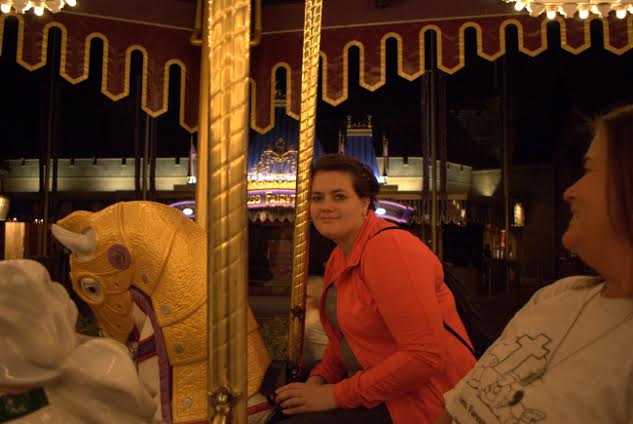 2. Get medicine in your system quickly.
Just like I'm horrible at not pushing myself, I am HORRIBLE at taking medicine. Just ask my mother. I hate medicine–I think in the long run it does worse things to you and so I hate taking it. However, if you are on the road and you are this sick, don't take the chance. There wasn't too much I could take for the sick stomach that was going to help, but there was for the sinuses. I was drugged up on mucinex, sudafed, an inhaler, zyrtec, and whatever else I could take. It didn't make me instantly better, but it made me functional.
3. Drink lots of water.
You should be drinking lots of water anyway. Shame on you, if you aren't. However, if you are sick then you are most likely dehydrated. Sick and dehydrated while traveling is just asking for trouble.
4. Fast.
If you are so sick that you're either throwing up or you can't taste anything anyway, why eat? Just stick to the clear fluids to help flush out all the toxins in your body.
5. Live vicariously through your travel partners.
Some of the things I was most excited about for my trip to Disney World was the food. I wanted my turkey leg from Tomorrowland. I wanted butterbeer from Harry Potter world. I wanted to test different foods from different countries in Epcot. I couldn't stomach any of that. So, just force your travel partners, whoever they may be, to eat and drink and describe in great detail how it tastes.
This post was written before I went vegan for the animals. Excuse the mention of eating turkey legs. For more information on veganism and why it's the best decision I ever made, head here.
6. Consider a walk-in clinic.
If your illness gets serious enough that over the counter medication isn't cutting it, seriously consider going to a clinic or doctor. I tried calling my regular doctor to call in a prescription for me, but they refused. I'm cheap and didn't want to go to a clinic. It was only on the drive back and knowing I had to work the next day that we stopped at a walk-in clinic and I got some antibiotics.
Ever gotten really sick while traveling? What are some tips you've learned to make the most of a trip?
Latest posts by Ashley Hubbard
(see all)