This post may contain affiliate links, meaning if you book or buy something through one of these links, I may earn a small commission (at no extra cost to you!). Please see my disclosure.
How I Got Scammed in Bangkok
(even when I was expecting it)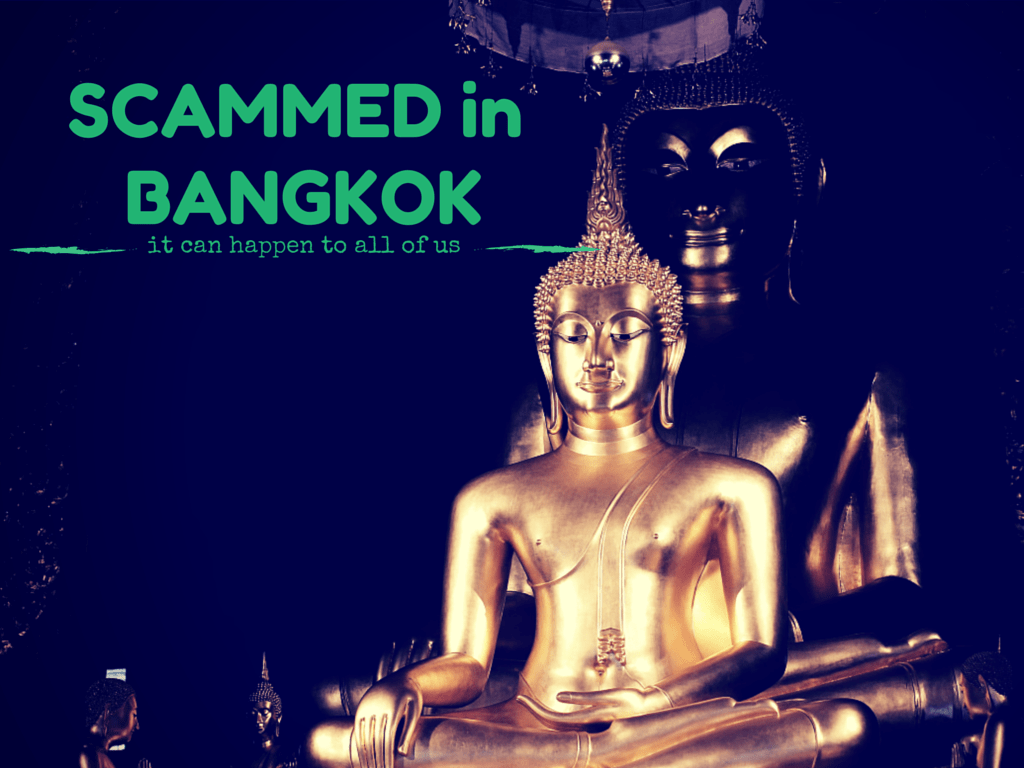 Do you ever have those moments when you think back and realized you saw ALL the signs that something was wrong and you feel like such an idiot?
I had one of those moments on my first full day in Bangkok. Luckily, I only came away with my pride being hurt – as opposed to myself or my wallet. I actually was very ashamed of this moment and wasn't going to write about it but, I wanted people to realize…
It is SO EASY to scammed in Bangkok even when you're expecting it.
I had done my research, I had read countless scam methods, other travel bloggers stories and warnings. I hadn't gone in ill-prepared but I fell for it nonetheless.
How it all started…
My new found friend and I set out on the day after we both had just arrived in Bangkok (her from Europe and myself from home) so we were both still very exhausted and jet-lagged. We decided we just wanted to get an idea of our surroundings, visit some temples and so on.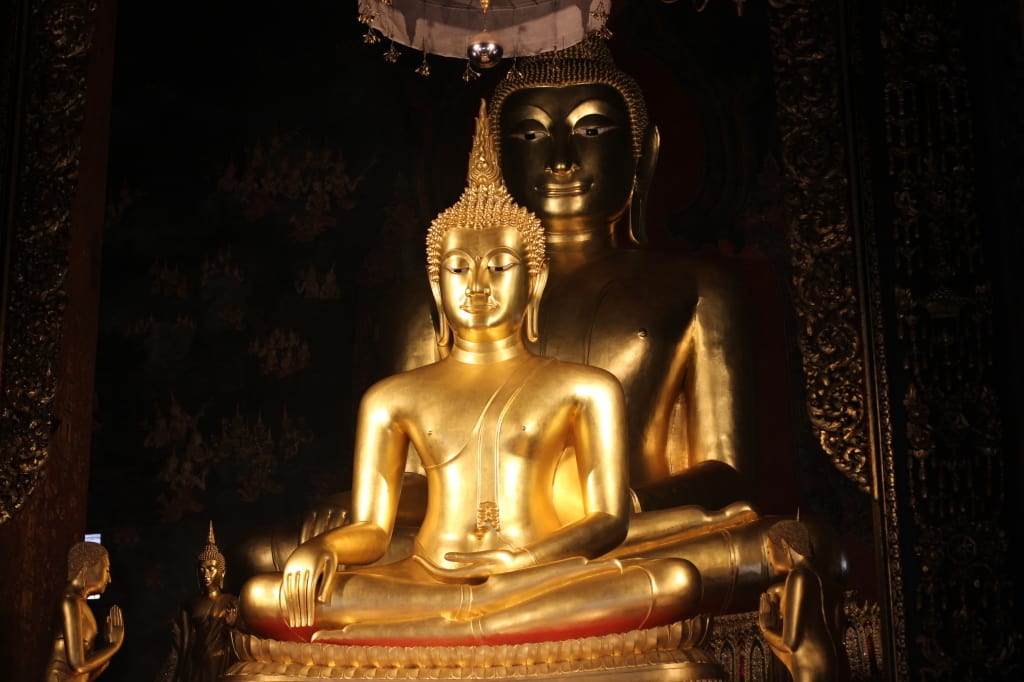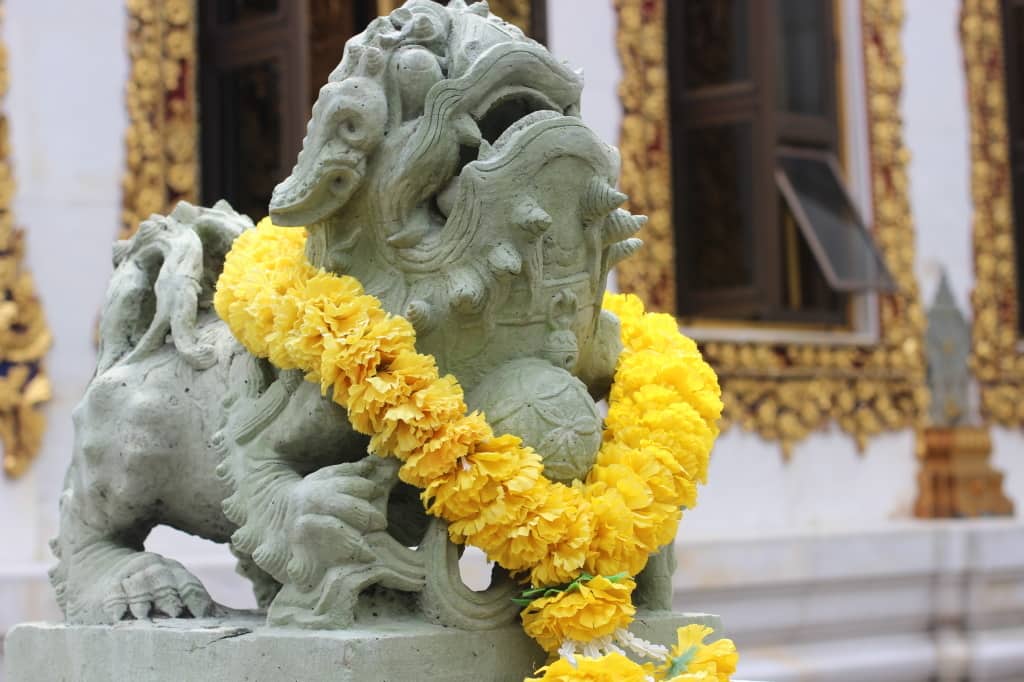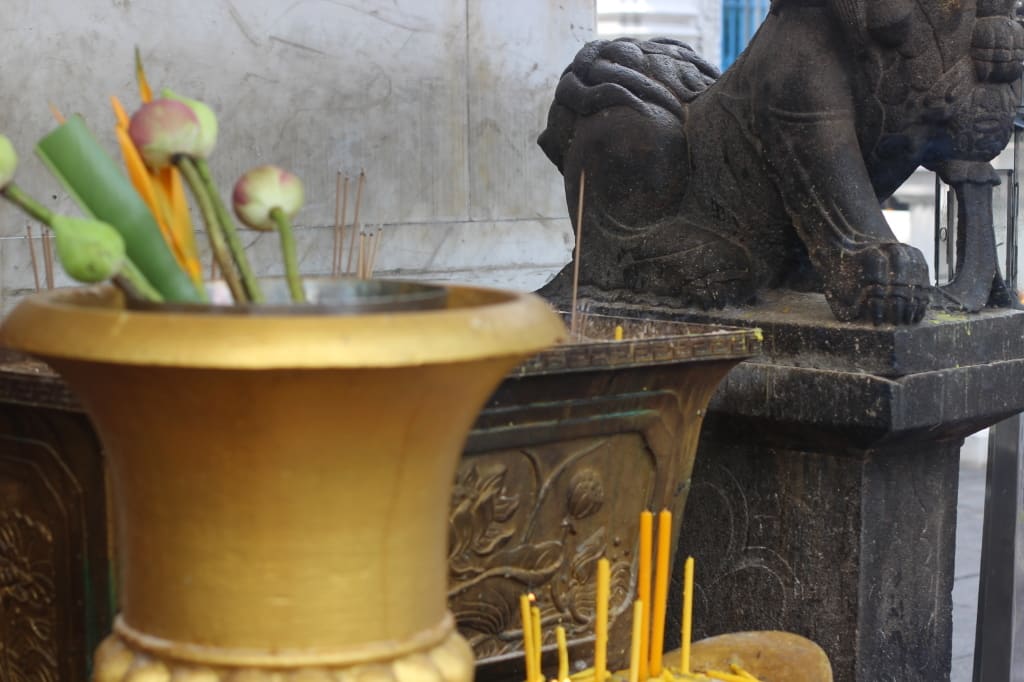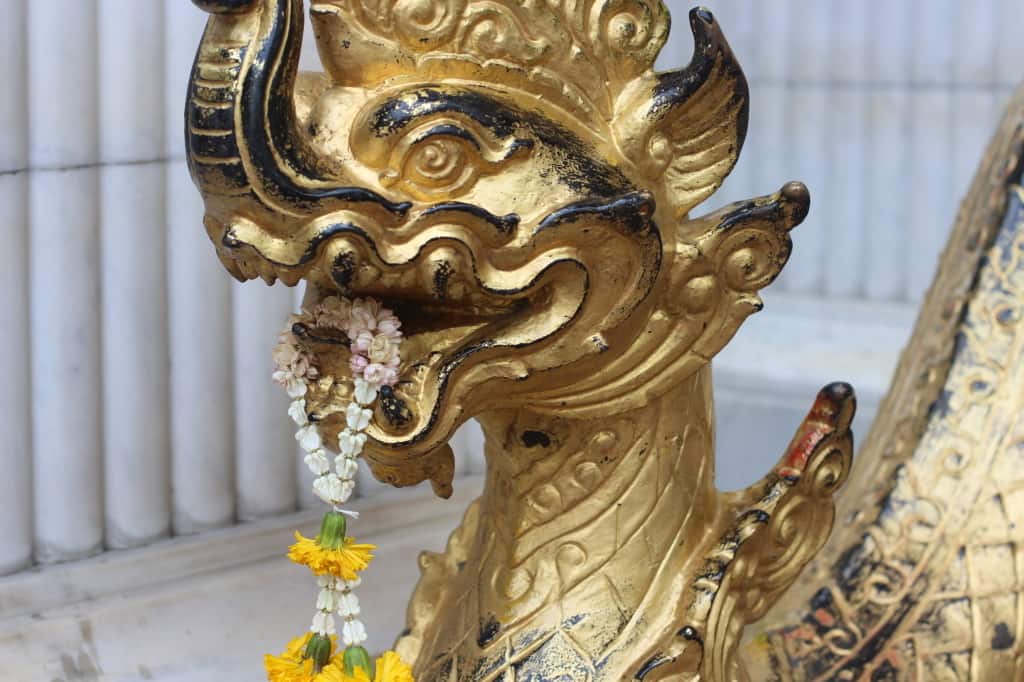 Very close to our hostel, was Wat Bowonniwet – a temple I had never heard of but regardless, it looked beautiful and I decided to go check it out real quick. When I came back outside, my friend was chatting with a Thai gentleman and I walked over. He spoke incredibly good English, was very friendly, and said he worked for the Police (even had a phone belt-clip case thingy that said Police on it).
Warning #1 : If a Thai person who speaks fluent English approaches you in a very public, touristy area and starts talking, asking questions, etc, be careful – while Thai people are generally very friendly, this is a good indicator.
He asked where we were from, how long we were here for and what we were planning on doing that day. All questions we eargerly answered.
Warning #2 : Never proclaim this is your first time in Thailand if asked. This only makes them realize you have no idea what to expect.
We told him we were planning on checking out several temples and the Grand Palace.
"Oh," he remarked "…the Grand Palace is closed to the public until 3pm, but today is a special Thai holiday and all the temples are free to the public and for 20 Baht, a tuk-tuk can drive you to all of them."
Warning #3 : The "Grand Palace is closed" is a MAJOR WARNING that you are in for a scam. Because, it is in fact, not closed.
We both looked at each other – damn, only 20 Baht (60 cents) for basically a driver to see 5 or 6 temples – that sounds like a damn good deal.
He then proceeded to write down the names of the temples on a slip of paper and give us a map of Bangkok. Then, he walked us out to the front of the temple and hailed down a tuk-tuk for us that JUST HAPPENED to be driving by the second we walked out there. He explained to the tuk-tuk where we wanted to go and assured the agreement of only 20 Baht for the ride.
We first head to Wat Intrawihan, and the home of the 45 foot tall Buddha. Our driver who also spoke fluent English and who's name was Joe, told us to take all the time we needed.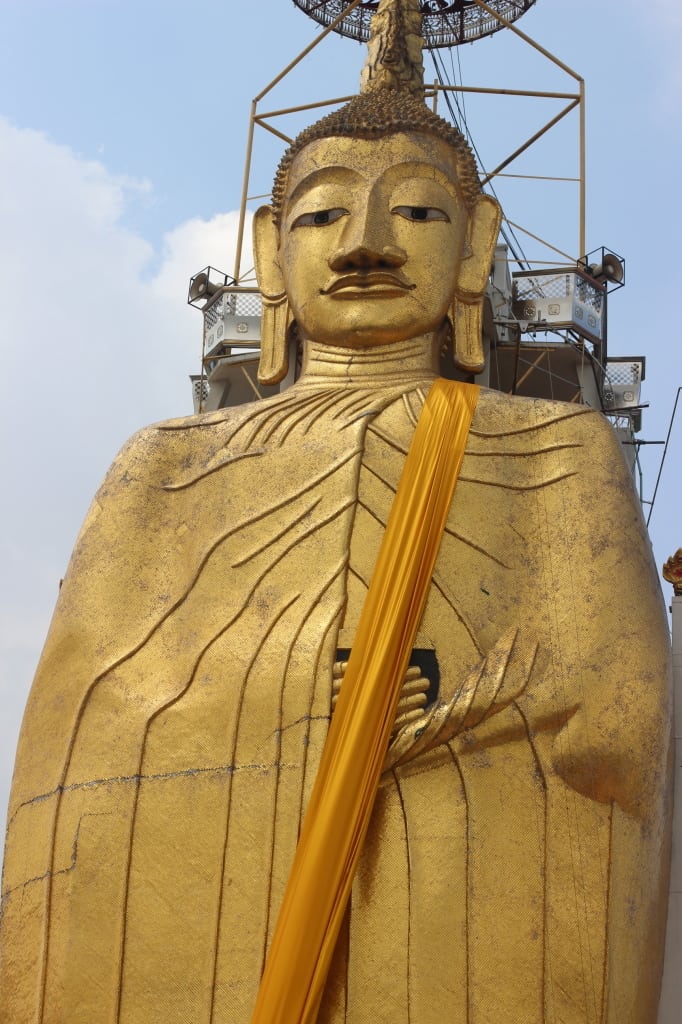 We headed in and this extremely tall Buddha was actually very impressive. We spent about 20 minutes in awe of the giant Buddha, snapping pictures and taking it all in before we headed back out to find Joe. There he was, patient as ever. We kept thinking and saying how great he was.
We were a little hungry so we decided to grab a small snack before getting back into our ride, Joe even helping us get our food and teaching us the words for chicken (Gai) and egg (Kai) and so on. So helpful, we thought again.
Then we head to the tourism office. We didn't need nor want to go here, but Joe says he has to go there to get a stamp for the government so they will pay for his gas and food – this is how the ride is so cheap, he explains. Plus, today is a special Thai holiday so everything is with a discount (apparently). Plus, my friend was interested in getting some details so it was okay.
We spent quite a long time in here and actually ended up planning out her entire itinerary for the whole month but the price they gave was too high and we left. We never felt pressured to buy anything and despite the obvious rip-off it would have been, she actually got lots of useful information and the best way to spend her time in Thailand.
When we get back outside, we actually confide in Joe that we felt like it was a rip-off. He then explains he will take us to the tourism office that all Thai people use because it's cheaper. (I'm really weeping over our niavety right now).
Next, we headed to Wat Lucky (not sure of the real name now) but it turns out there is no such thing as Wat Lucky it seems.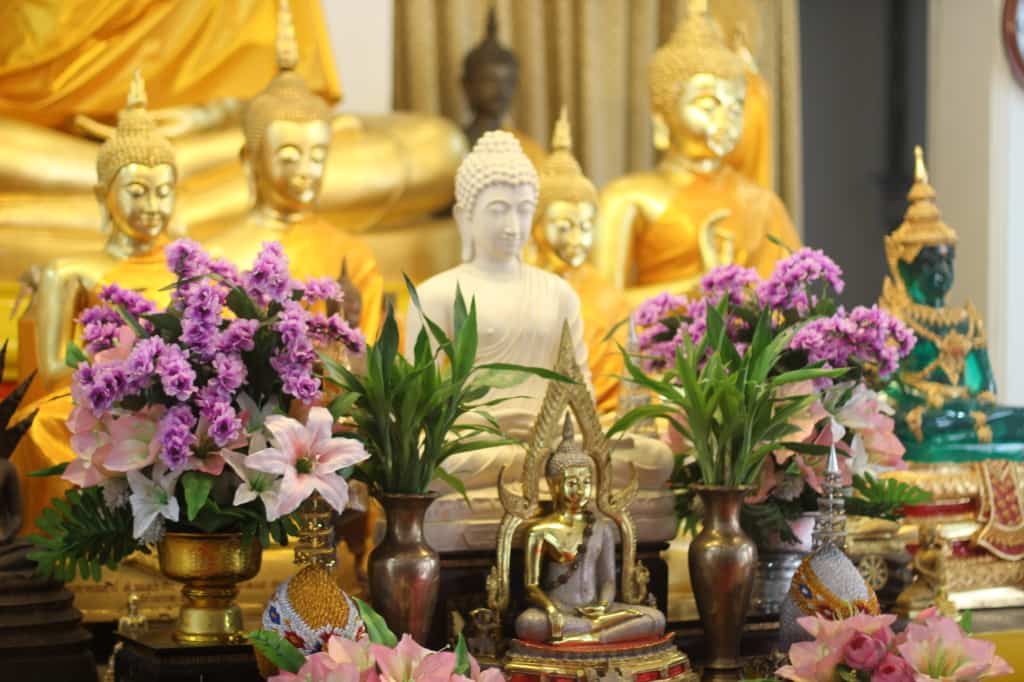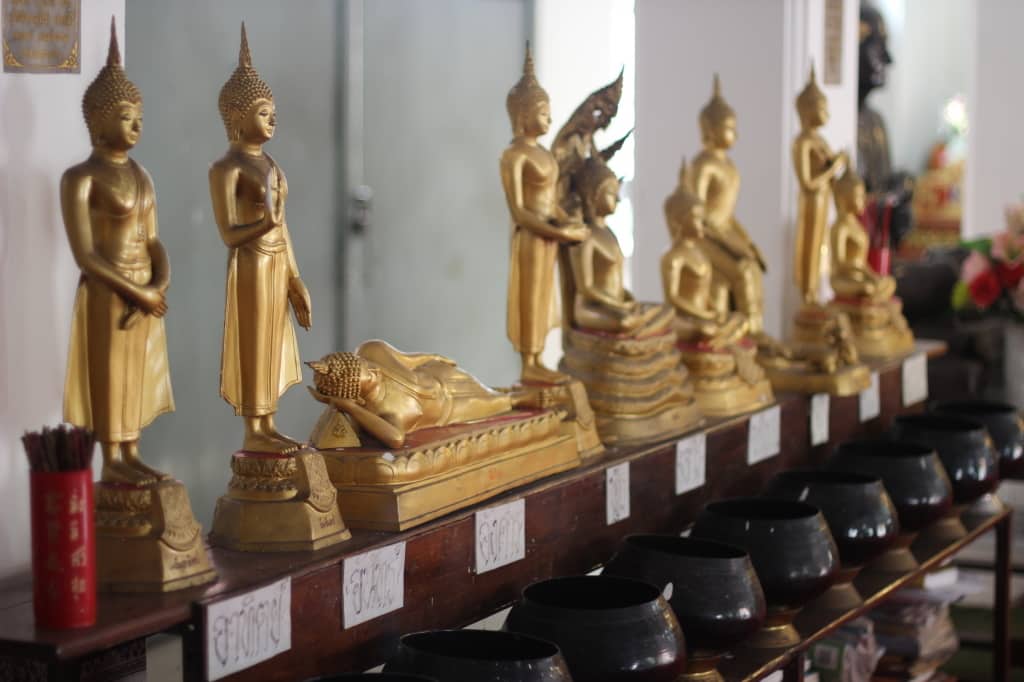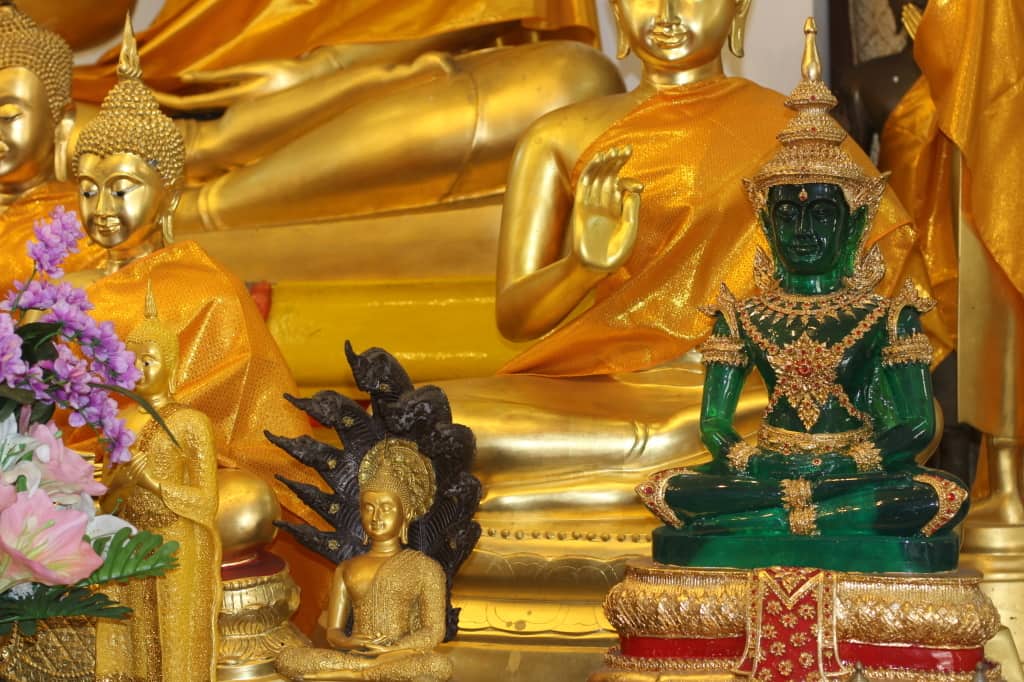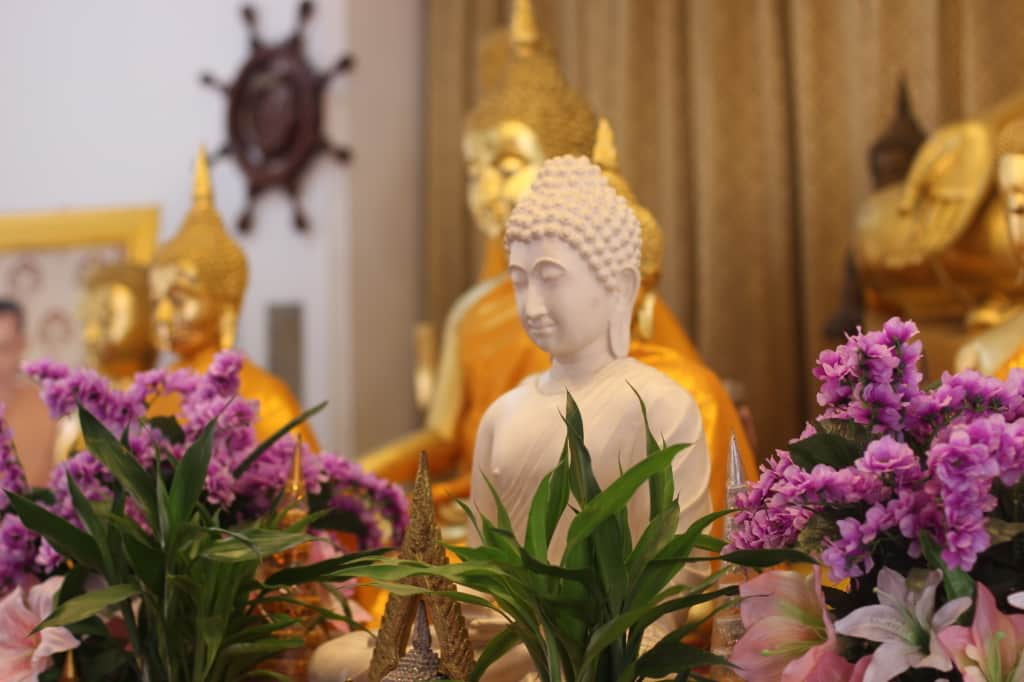 When we arrived, we were the only ones there and are greeted by an older Thai gentleman who is sweeping the stairs. Again, he speaks perfect English and is super friendly. He's chatting with us, explaining the different Buddha's for the different days of the week, and taking our photos. Then he ever so sneakily, asks us where we are going next and we pull out our slip of paper which says 'Factory' on it.
He says "Oh, yes the silk factory is AMAZING, you should definitely go there!" We obviously have no desire to go to the silk factory, but again Joe needs to for his stamp.
So, we head in, hear their little speech, say "No, thank you" and leave.
Then, on we go to Wat Black (again, I'm unsure of the real name now). We arrive as they are praying inside and we stay outside so as not to disturb and a very nice Thai gentleman starts chatting with us. It's not actually until I'm writing this that I realize he also slipped in a comment about going to the Gem factory.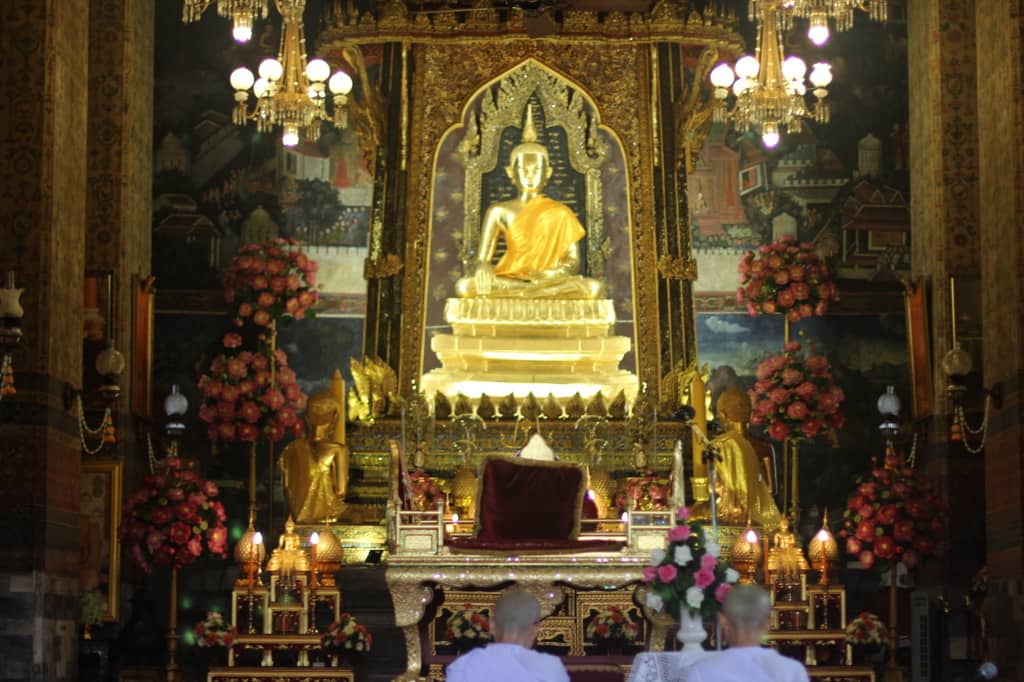 Wouldn't you know, that is exactly where we ended up next. Again, we walked in, looked around, said "No, thank you" and left. No pressure to buy anything.
Our next sales pitch wasn't even divided by another temple visit, it was right after the gem factory. Another silk tailor shop. At this point, we were so over the whole thing but we also wanted to get our ride back. So, we did the same ole song and dance. The silk stores are much more pushy about buying something but we resisted.
Next, we headed to the Thai tourist office as promised. We thought he was doing us a favor by taking us here. We showed the lady inside the type of package my friend wanted and they did in fact, give her a lower price but I helped her do the math as if she were to pay for everything herself and it wasn't a good deal. So, we went outside to leave.
One of the ladies then comes out and says her boss is going to give her a good discount and they did. They dropped the price down to match what it would have cost her to do it on her own so she went ahead and booked it.
After this, Joe took us to The Golden Mount which at that moment he told us was our last stop even though we had agreed that the Grand Palace was. But, he explained that there was no where at The Golden Mount for him to park and wait and us not knowing any better, believed him. So, we paid him his money and headed on in.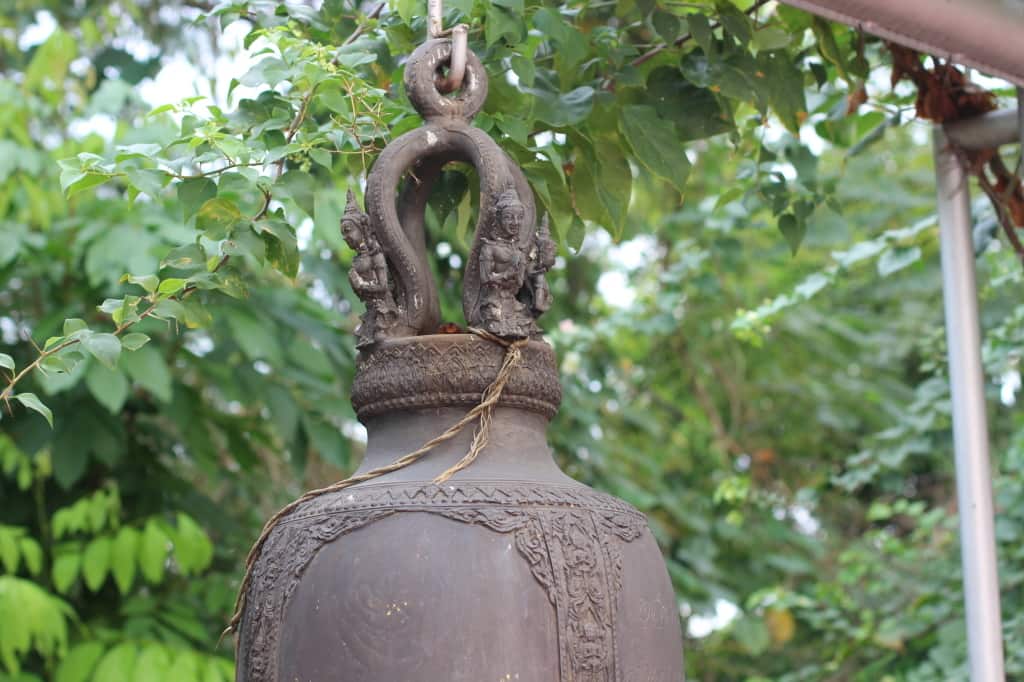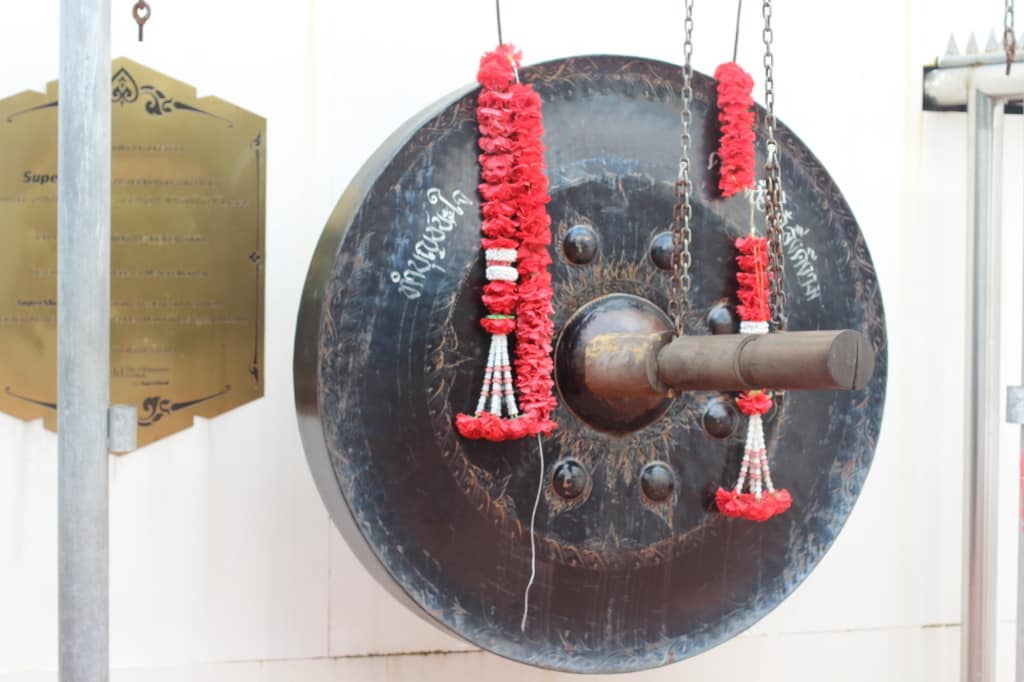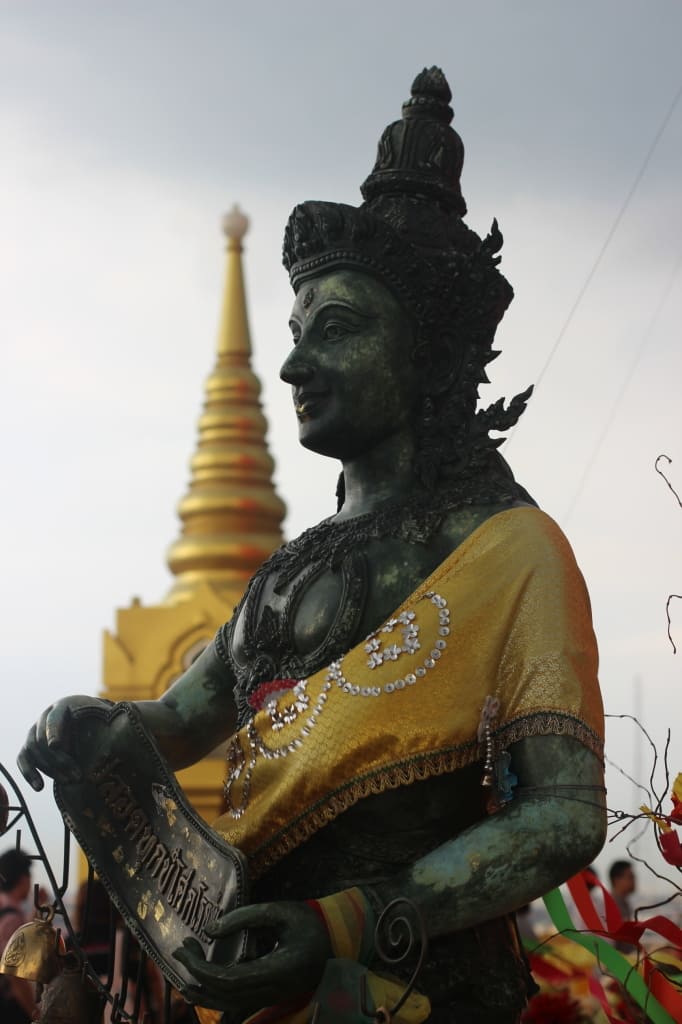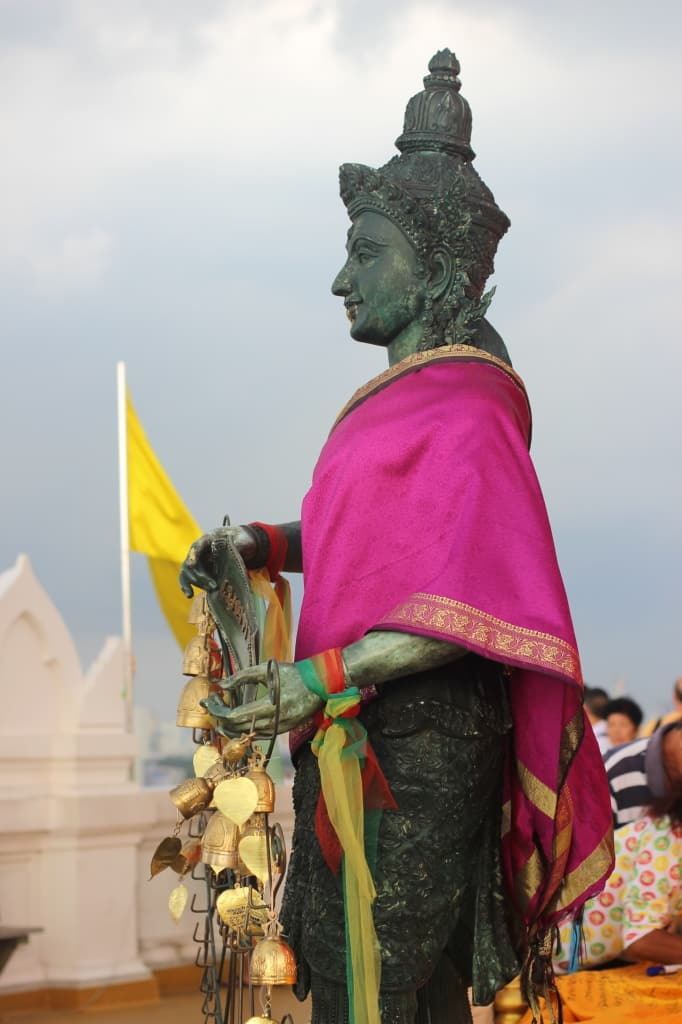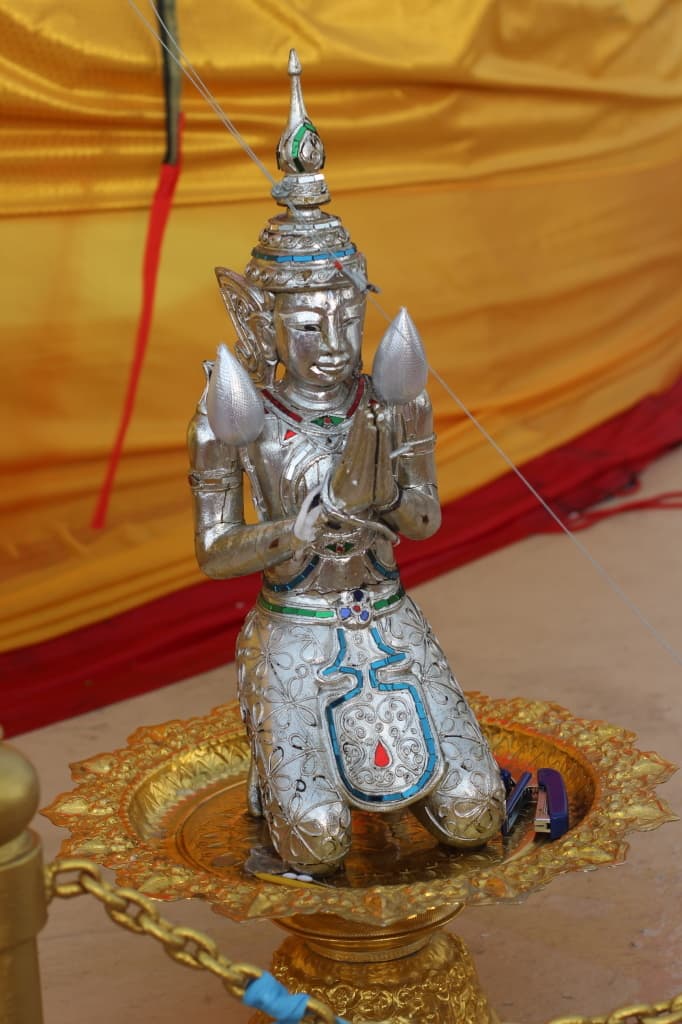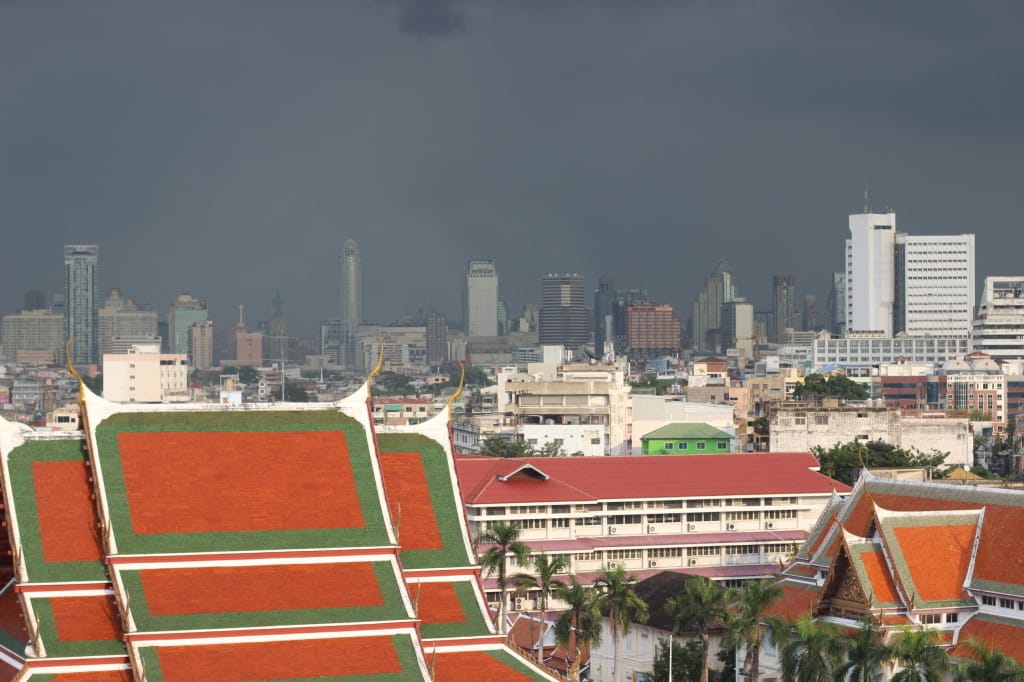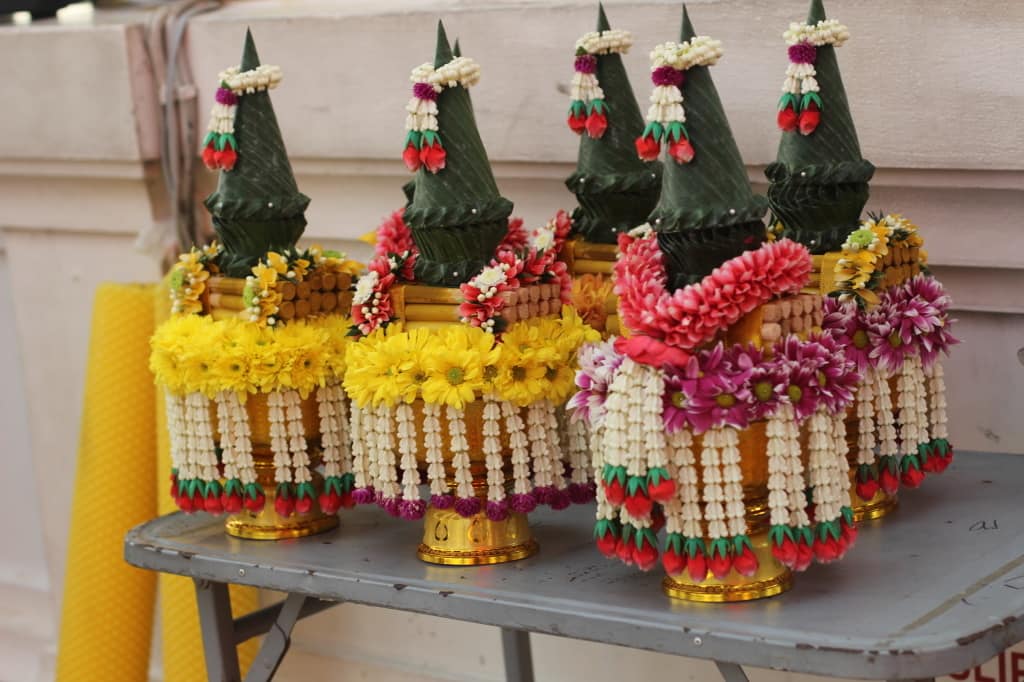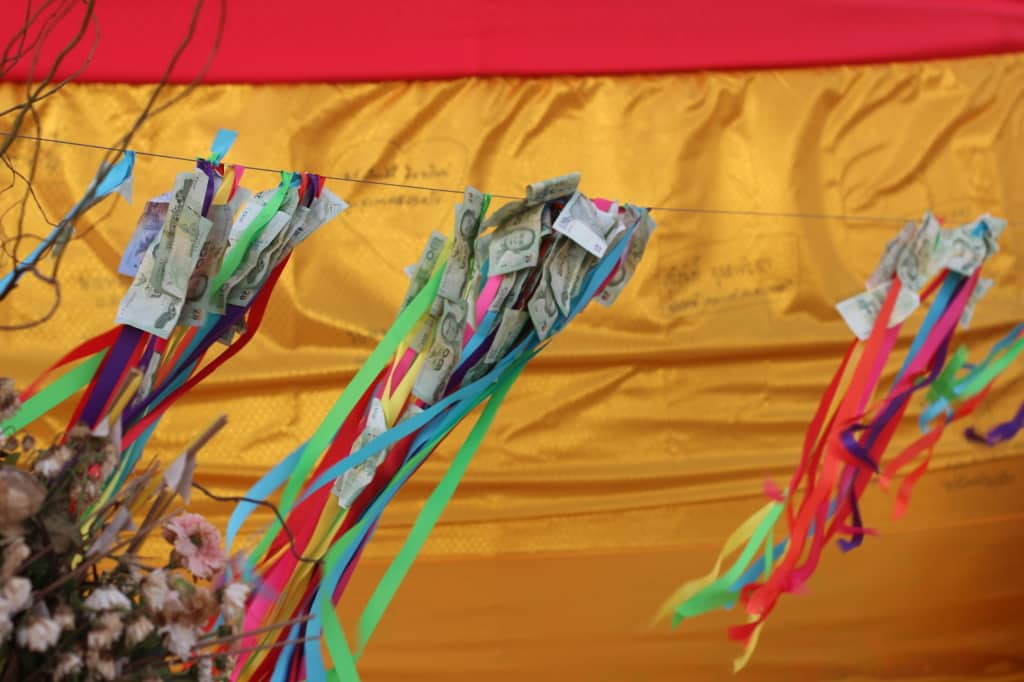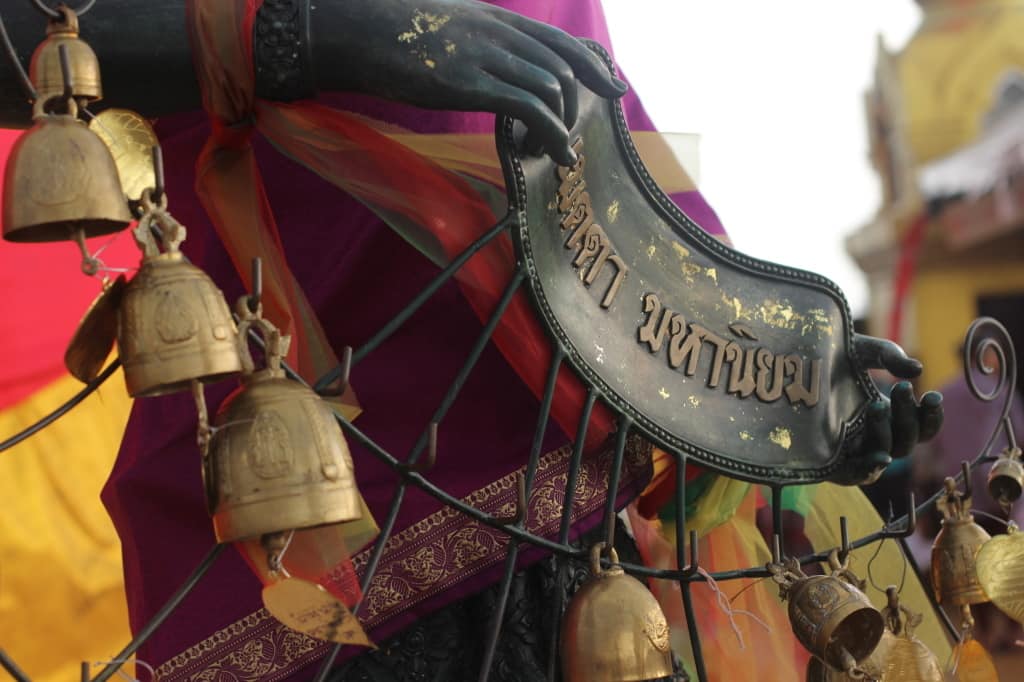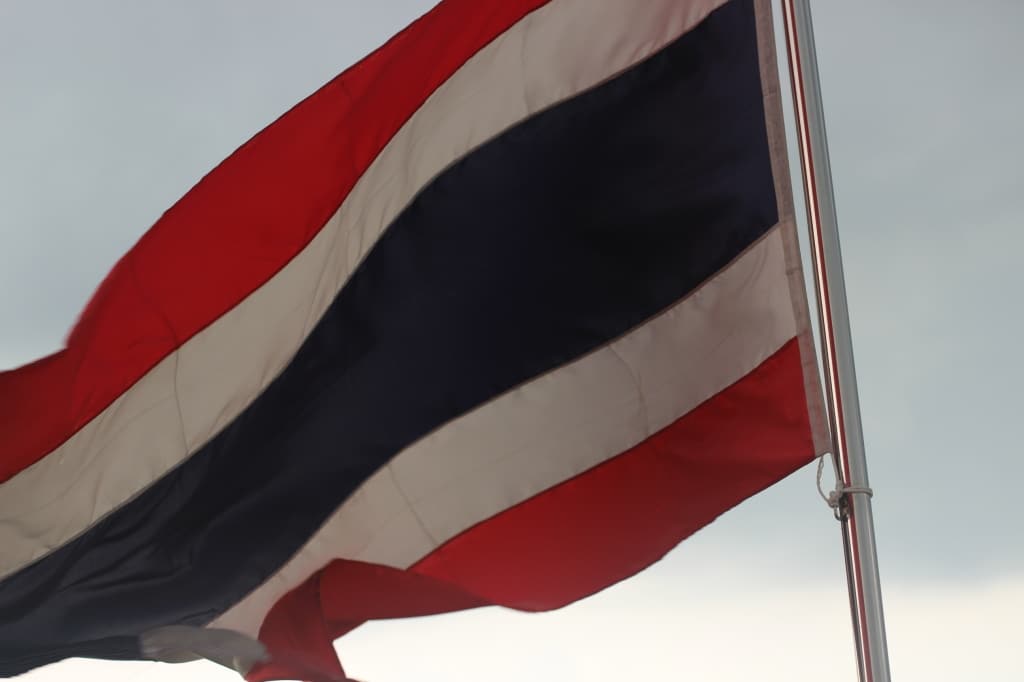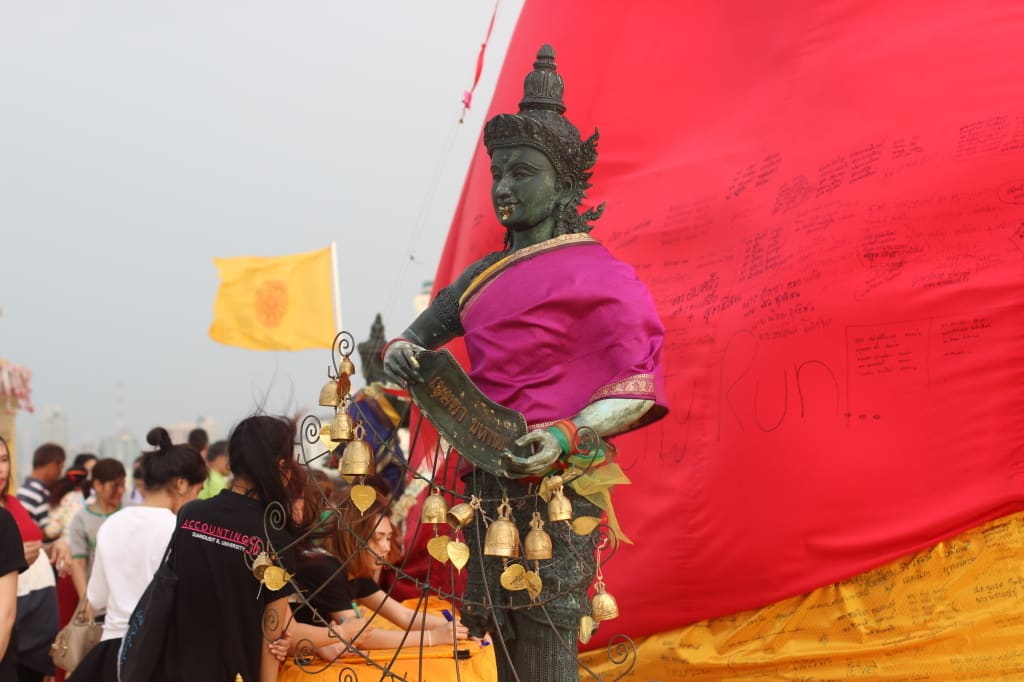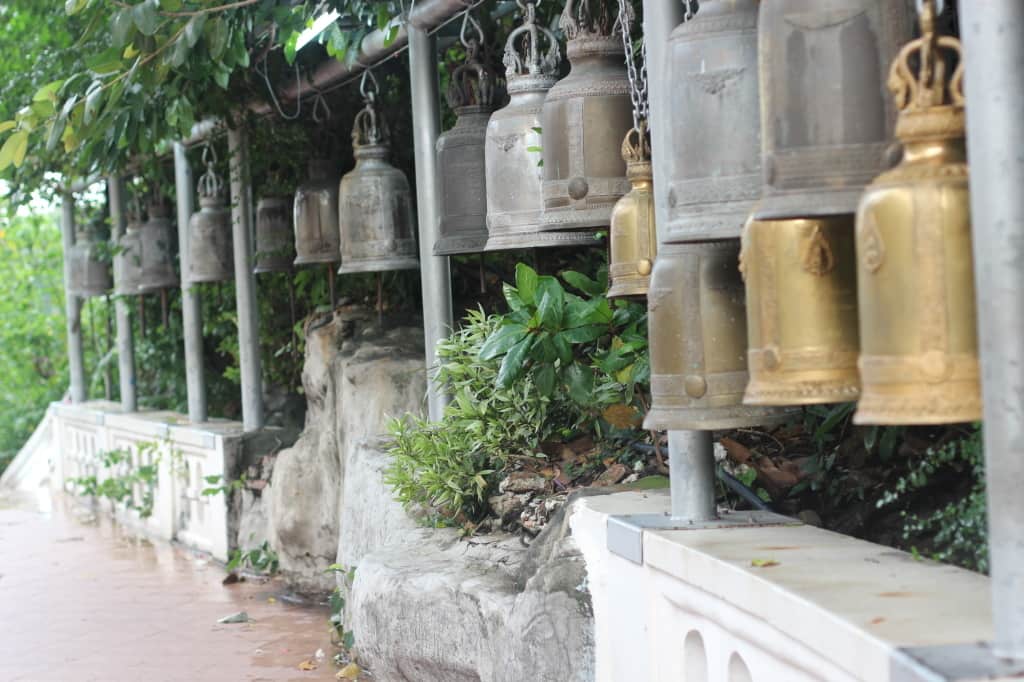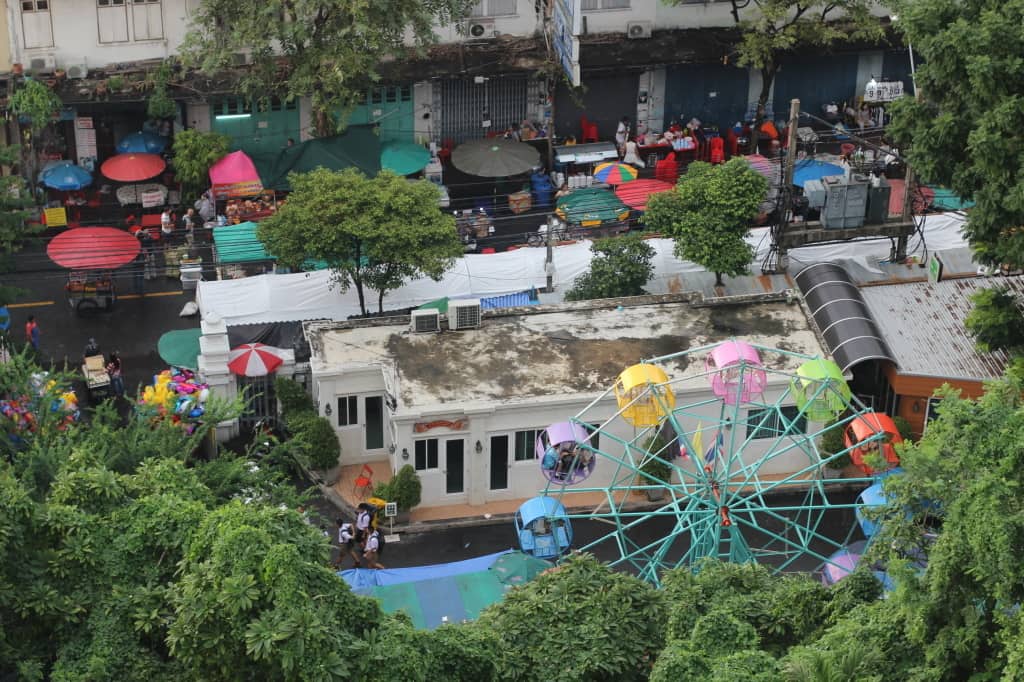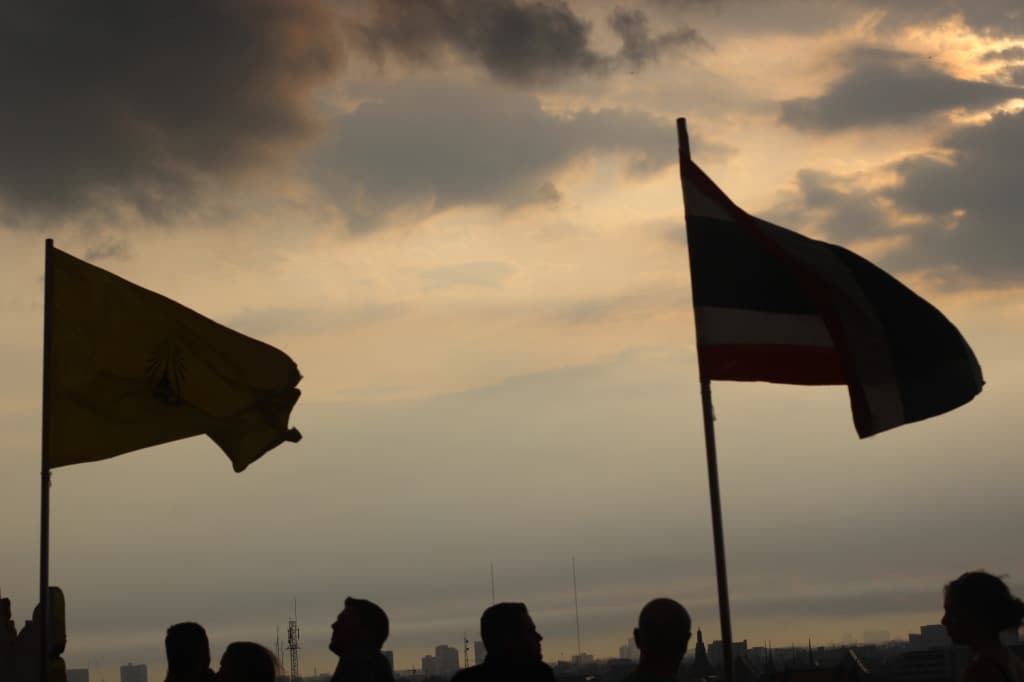 The Golden Mount is 400 steps to the top and the view of Bangkok is well worth it. We headed back down and it looked like some pretty heavy rain was heading in so we decided to head back to our hostel.
For some reason, it was when we got back to our hostel, that it all seemed to click so well. Everything we just did was a scam. The first guy, the tuk-tuk, the silk and gem stores, the guy sweeping the steps, the tourism offices and so on. It is one elaborate scam that is so well orchestrated you don't even know what's happening until it's too late.
We started searching on the internet and started reading stories that followed the EXACT same storyline and my friend started getting worried because there were instances where people bought things from the tourism offices and they never showed up to pick them up and so on.
I'd like to blame it on jet-lag, exhaustion, tuk-tuk fumes, the overwhelming traits of Bangkok, my belief that people really can be that kind and so on but in reality, it all comes down to the fact I had my guard completely down. I was in such shock when I realized it all because I had read these same scenarios BEFORE coming to Bangkok.
"Never take a tuk-tuk ride for 10 or 20 Baht"
"Never let someone tell you the Grand Palace is closed"
"Be wary of English speaking locals who approach you in touristy spots"
I had heard them all, but I suppose I was just caught up in everything too much.
In the end, I wouldn't even say it was a bad day actually. My friend's tour package ended up being legit. We got a ride around the city and did get to see all the temples for 20 Baht.
Also, in the end, we did still enjoy Joe's company and he, despite everything, was very kind. He taught us many words in Thai that have turned out to be quite helpful, he conversed with us over loads of things, he gave us umbrellas when it was raining and so on.
Sadly, it was just my pride and ego that suffered from this one.
On a more serious note, while we never felt in danger of any kind, I have heard of things getting quite heated in these stores if you buy nothing, having people having their rides leave if they refuse to go in the stores and so on. While 20 Baht for riding around all day in exchange for wasting your time at these places isn't THAT big of a deal, it is if your life, wallet or anything else is in danger. If you recognize it is a scam, do not EVER take the ride. If you recognize it is a scam after it's already started, get out as soon as possible and find a different ride.
Have you ever fallen for a scam even when you knew they happened where you were?
Latest posts by Ashley Hubbard
(see all)