This post may contain affiliate links, meaning if you book or buy something through one of these links, I may earn a small commission (at no extra cost to you!). Please see my disclosure.
Best Countries To Visit In Asia
I can't even begin to describe how many hours I've spent reading other travel blogs, perusing through pinterest looking at photos, marking pages in my Lonely Planet Southeast Asia on a Shoestring book, and jotting down all the places I want to go and things I want to see. I've done nothing but dream about Southeast Asia since deciding to go there.
In honor of my upcoming trip and first solo long term trip, I wanted to share my Southeast Asia bucket list. Not only because I'm excited, but because I want your input on my list and what are some of the other best countries to visit in Asia.
---
Thai Cooking Class, Chiang Mai, Thailand
I've never actually taken a cooking class-of any kind. I'm really excited about this. Everything I've read from other travel bloggers makes it seem as if this is well worth it. Who knows, maybe these skills will come in handy impressing someone some day.
---
Volunteer with Elephants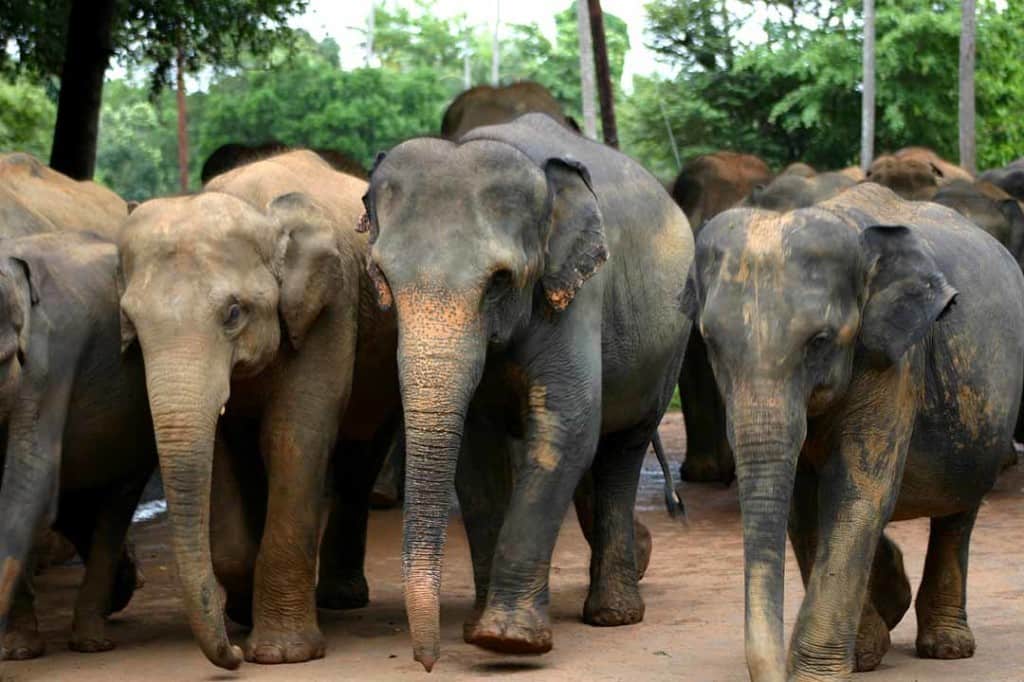 Most others volunteer at Elephant Nature Park, but I came across other options, The Surin Project and Journey to Freedom being some of them. These two are actually operated by ENP, but are in different locations. I'd love input from anyone on other options or feedback on The Surin Project or Journey to Freedom if you've been.
---
Scuba Diving Certification
Koh Tao is the place to get scuba certified in Thailand with great prices and a plethora of schools to choose from. Nomadic Matt does a great job of breaking down the difference between PADI and SSI, the different schools, and prices. The one that I've read about that intrigues me the most is Roctopus–one I just love the damn name and two, they are smaller and more adaptable to someone who might have a bit apprehension (I'm claustrophobic). Any suggestions?
---
Fight Muay Thai
I have absolutely no martial arts background whatsoever so it seems perfectly logical to attempt this, right? ….Right? The only thing I know is I want to so now I need suggestions of where to go and how to do it….and maybe some suggestions how not to get myself hurt.
---
Yi Peng Festival, Chiang Mai, Thailand
The trick to this one is figuring out the date as the local festival date is kept a secret while they have a separate festival for tourists. I definitely want to participate in the local one.
---
Songkran, Thailand
This festival is celebrated as the traditional New Year's Day from April 13-15 at the hottest time of the year the end of the dry season. It's basically one HUGE ASS water balloon and gunfight. Why?? Why I repeat, do we not have this in the US?
---
Halong Bay Cruise
While I'm very excited to see Halong Bay in Vietnam, everyone has insisted that I need to do an overnight cruise while I'm there. I have a feeling I won't regret taking advice on this one.
---
See Orangutans in Borneo
Who wouldn't want to see orangutans in the wild? Keyword: in the wild. There are sanctuaries you can also visit, but with a little more effort you can see them in the wild. This aids the conservation efforts-if more people show interest, the more their habitat is kept safe.
---
Kelimutu Lakes, Indonesia
The volcano, Kelimutu, contains three crater lakes that vary in color and change without notice. The three vary between blue to green to red to black. This is one of the things I'm most excited about. I really hope the lakes are three different colors while I'm there–it would be fascinating to see a red and black lake, but I'll take anything. Picture above are the two lakes that sit side by side, the Lake of Young Men and Maidens and Bewitched or Enchanted Lake. The Lake of Old People sits to the west of these two.
---
See Komodo Dragons on Komodo Island, Indonesia
Komodo Island is obviously home to the Komodo Dragon. It also offers a pink sand beach, one of few in the world, and apparently great diving.
---
Can you give advice on any of these best countries to visit in Asia? What are items and places should I add to my SEA bucket list?
Latest posts by Ashley Hubbard
(see all)