This post may contain affiliate links, meaning if you book or buy something through one of these links, I may earn a small commission (at no extra cost to you!). Please see my disclosure.
Are you looking to go from Belfast to Giants Causeway? Make sure to use this road trip itinerary to see these six other amazing spots along the way!
When planning my Ireland and Northern Ireland road trip itinerary, one day kept pulling me in more and more. I was seriously pumped about one specific day in particular and it was this day. The day we drove from Belfast to Giants Causeway. We had probably one of the most intense itinerary-filled days and it was exhausting but it was one of the most gorgeous sites I've ever seen…over and over again.
Belfast to Giants Causeway Tour
Lonely Planet announced that the best region to see in 2018 is Belfast and the Causeway Coast. As soon as I heard, I thought "well, how amazing is that that I just got home from there." My second thought was I'm not surprised at all. Everything about this route and region is amazing and a must-see.
Now, don't just go straight from Belfast to Giants Causeway though. While I know you're excited to see this magnificent UNESCO site (the only one in Northern Ireland), just realize that sometimes, just sometimes, it really is about the journey and not the destination.  I've got six great stops you should make along the way and then one just past Giant's Causeway for good measure.
There's also more to Northern Ireland than just Belfast and the Causeway Coast – check out these unique things to do in Northern Ireland.
How far is Belfast from Giants Causeway?
The distance between Belfast and Giant's Causeway is 61 miles.
How to Get from Belfast to Giants Causeway?
It's not necessary to take a Giants Causeway tour because it is very easy to visit independently no matter what your preferred method of transportation.
By Car
Traveling by rental car in Ireland and Northern Ireland is my favorite way to experience it. It allows for flexibility and the capability to change your schedule and see everything and anything you want.
By train and bus
Taking the train and bus from Belfast to Giants Causeway is a great option!
Take the train from Belfast's Victoria Street to Coleraine which runs every hour Monday-Saturdays and less on Sundays.
Upon arrival in Coleraine, turn left into the bus center.
Take bus 170 or 402 which run regularly from Coleraine to the Giants Causeway
---
Belfast to Giants Causeway Tour Map
---
Belfast to Giants Causeway Stop #1 – Dark Hedges, Ballymoney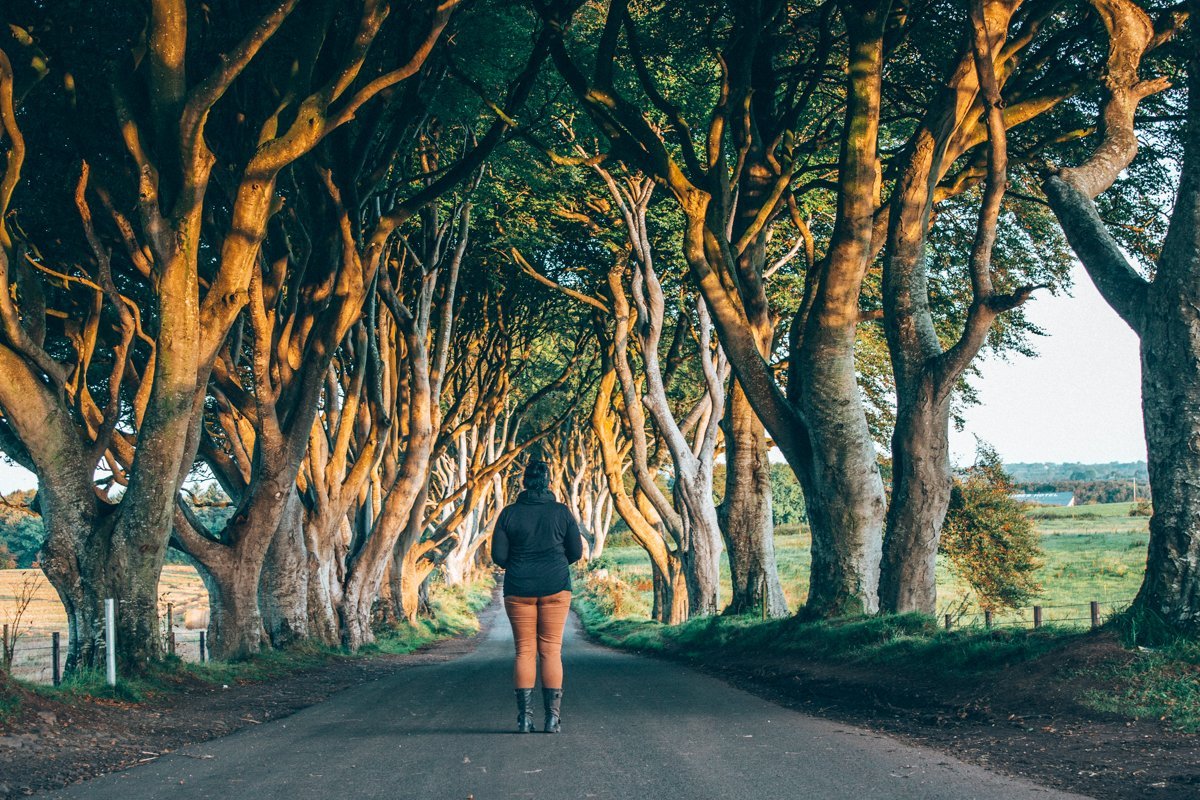 Every Game of Thrones fan will immediately recognize this location. However, even if you're not a fan of Game of Thrones, don't miss this spot. The Dark Hedges is comprised of a long avenue of beech trees that were planted by the Stuart family in the eighteenth century.
They are one of the most photographed spots in Northern Ireland and can you blame the people?!
Sustainability Note: Due to the ever-increasing interest in the Dark Hedges, more and more people are visiting every day. In order to protect these trees and their roots, please park in the designated pull off (right before you get to the lane).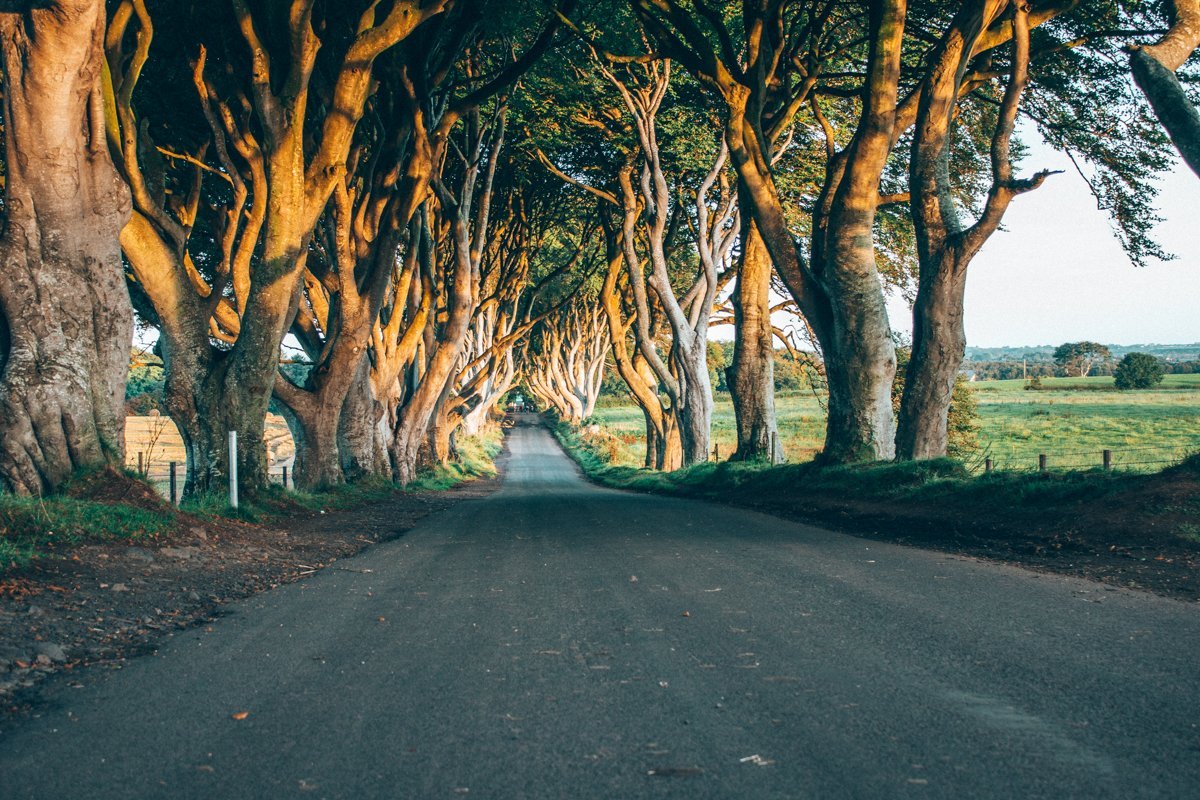 ESSENTIAL INFO
Address // Bregagh Rd, Stranocum, Ballymoney
Distance from Belfast // 1 hour
Tips // Arrive at sunrise for best photo lighting + avoid tour buses
Other // no set hours or entrance fee
---
Belfast to Giants Causeway Stop # 2 – Ballycastle, Northern Ireland
Not going to lie – this was a food stop. I found Ursa Minor when searching for vegan options in Northern Ireland. Since we didn't have many options along the Causeway Coast, we decided to make an extra stop here and I'm so glad we did. Not only is the food exceptional and the cafe super atmospheric, but the little town of Ballycastle is really adorable.
At Ursa Minor, I got the sourdough toast which comes with locally made jam and some kind of soup that was just the perfect amount of spicy. Ursa Minor is known for their sourdough bread which is what they started doing in the beginning – just make loaves of sourdough bread – so now everything comes with bread. And, I love bread.
The atmosphere of this place quickly landed it as one of my favorite coffee shops/cafes in Ireland.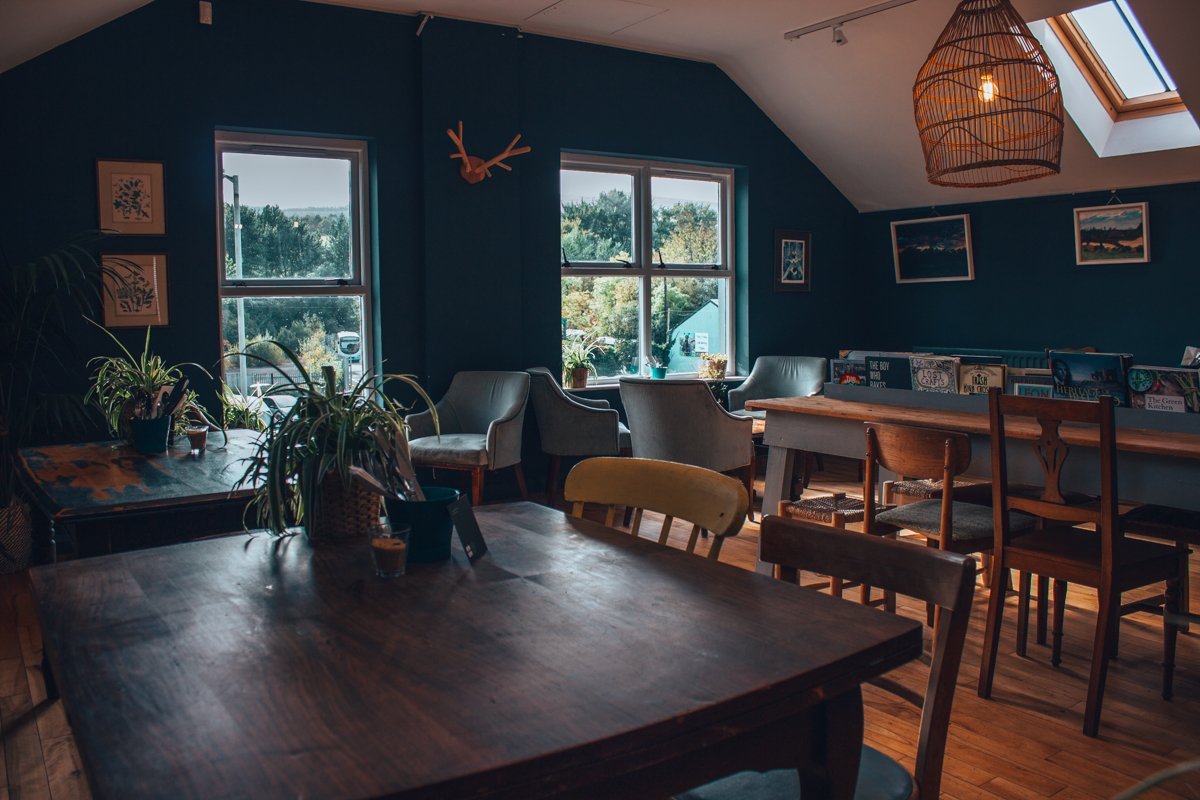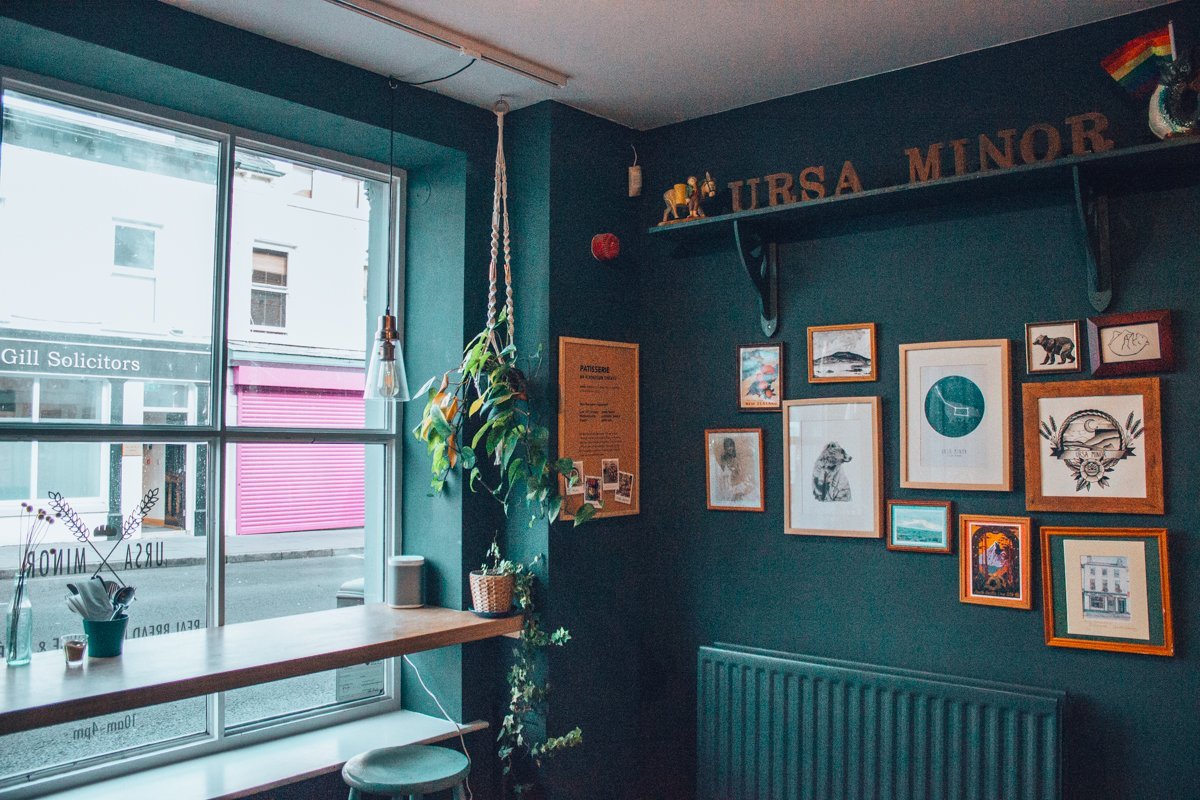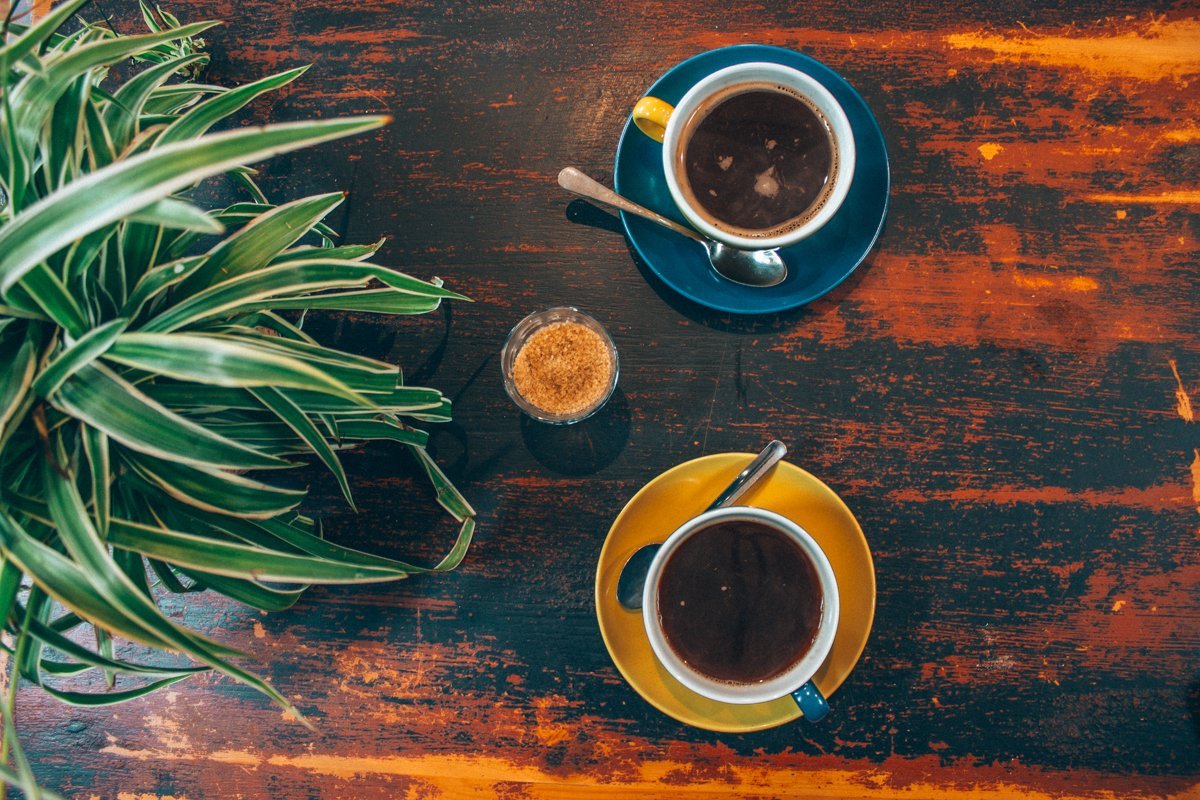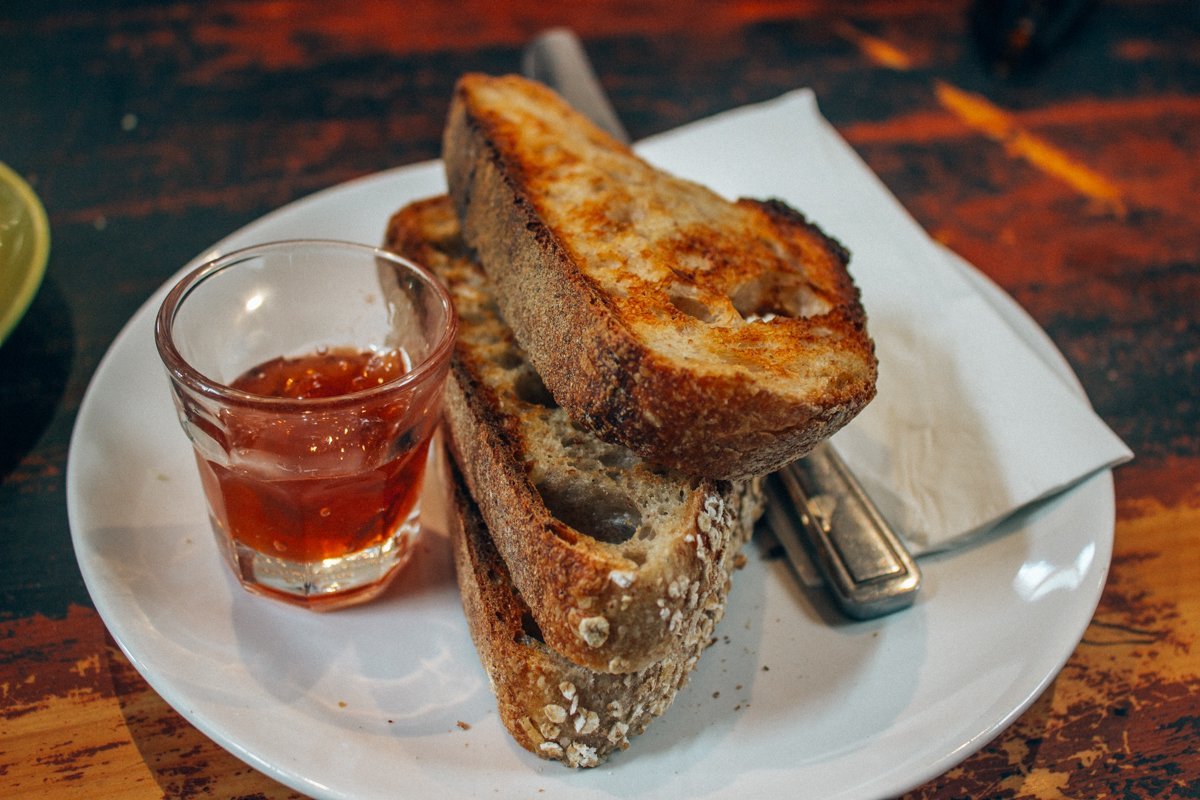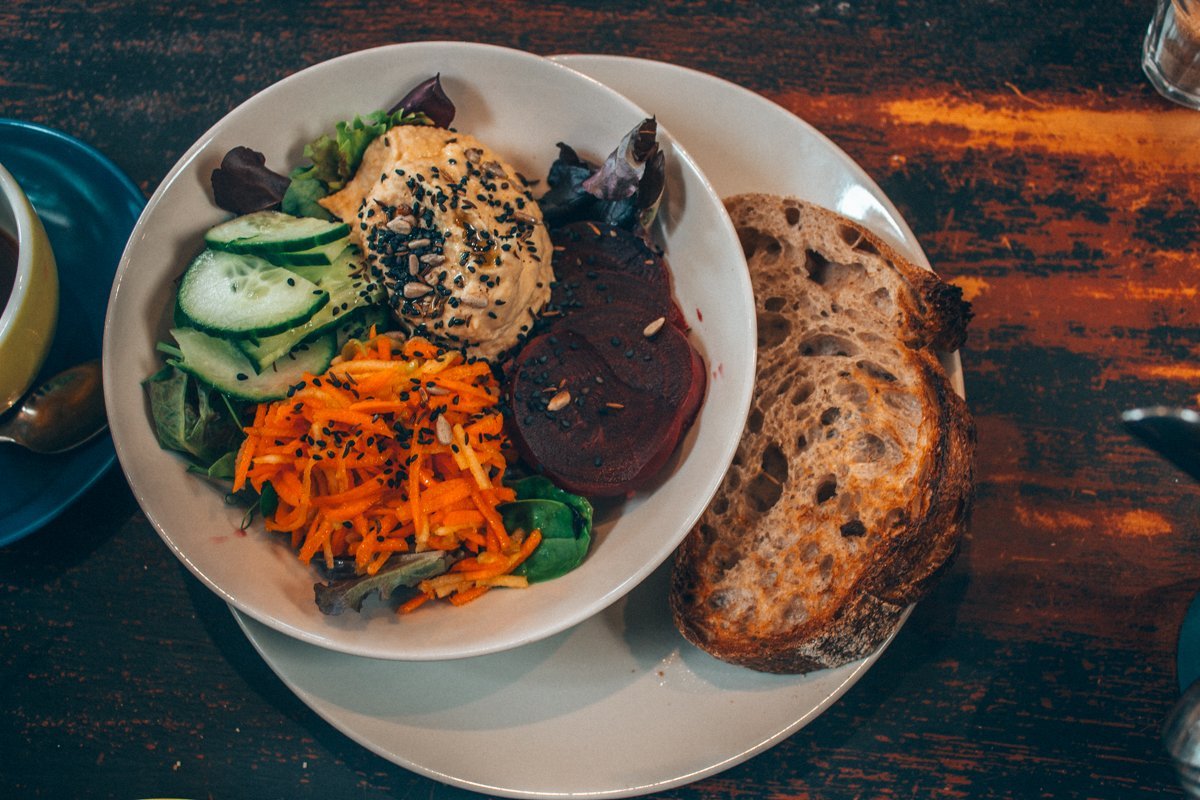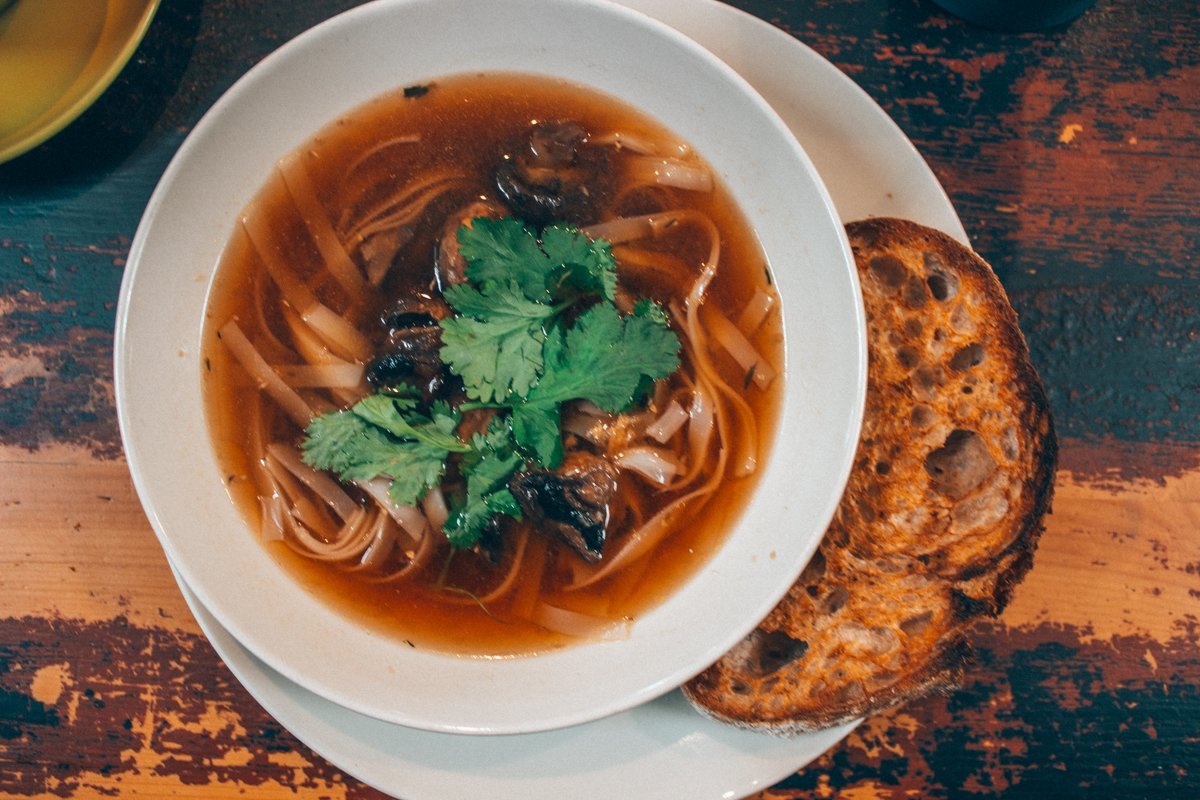 ESSENTIAL INFO
Hours // 10am-4pm; Tuesday-Saturday
Address // 45 Ann Street, Ballycastle
---
Belfast to Giants Causeway Stop #3 – Kinbane Castle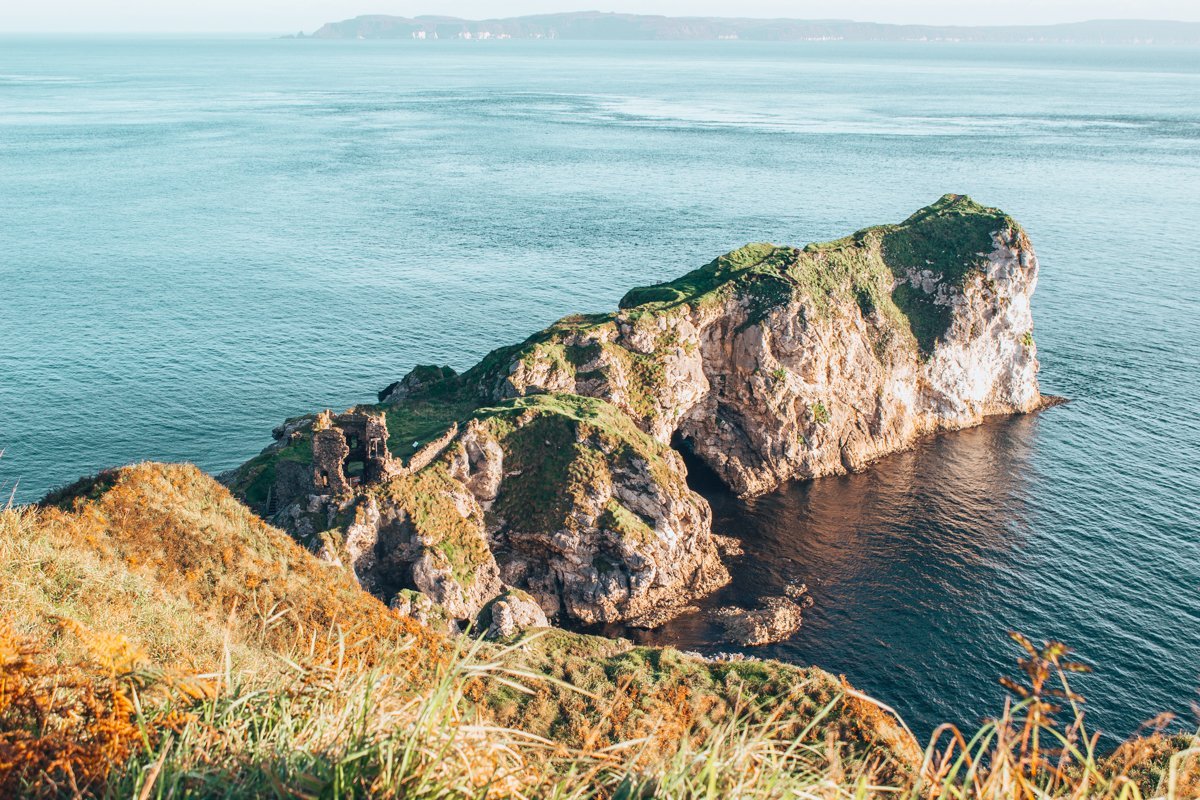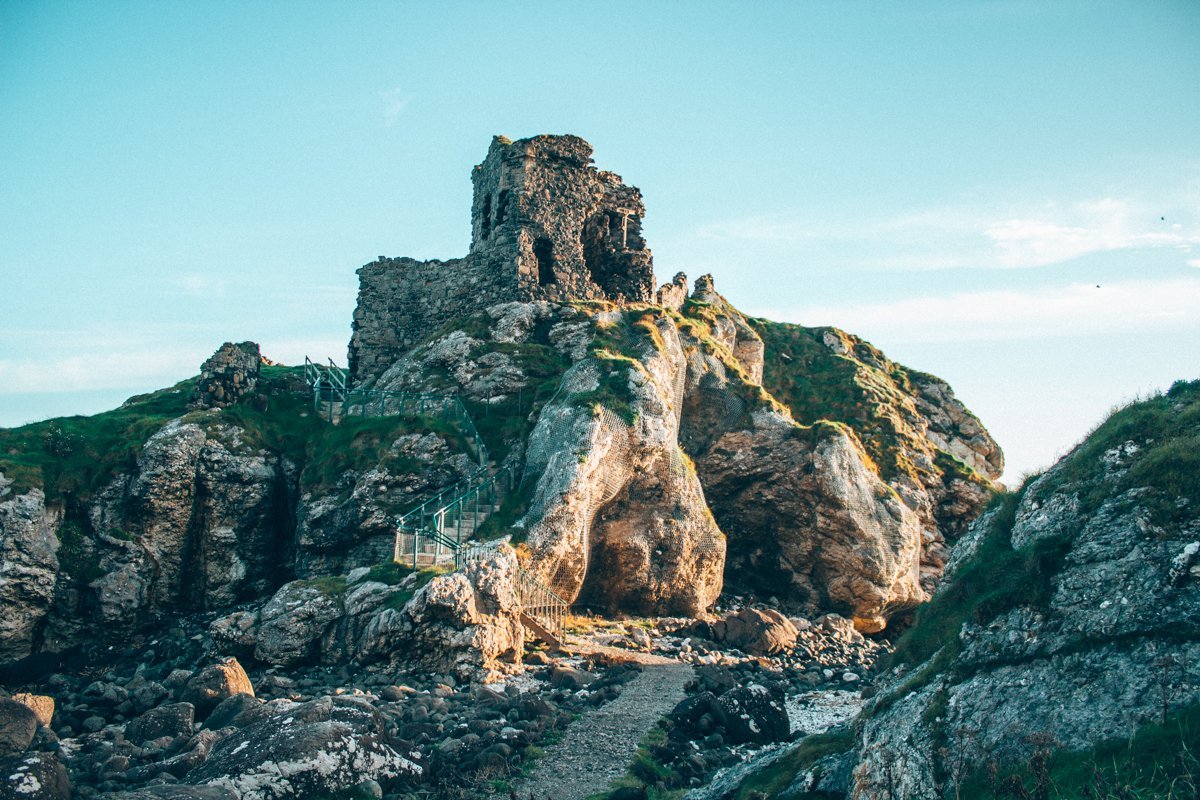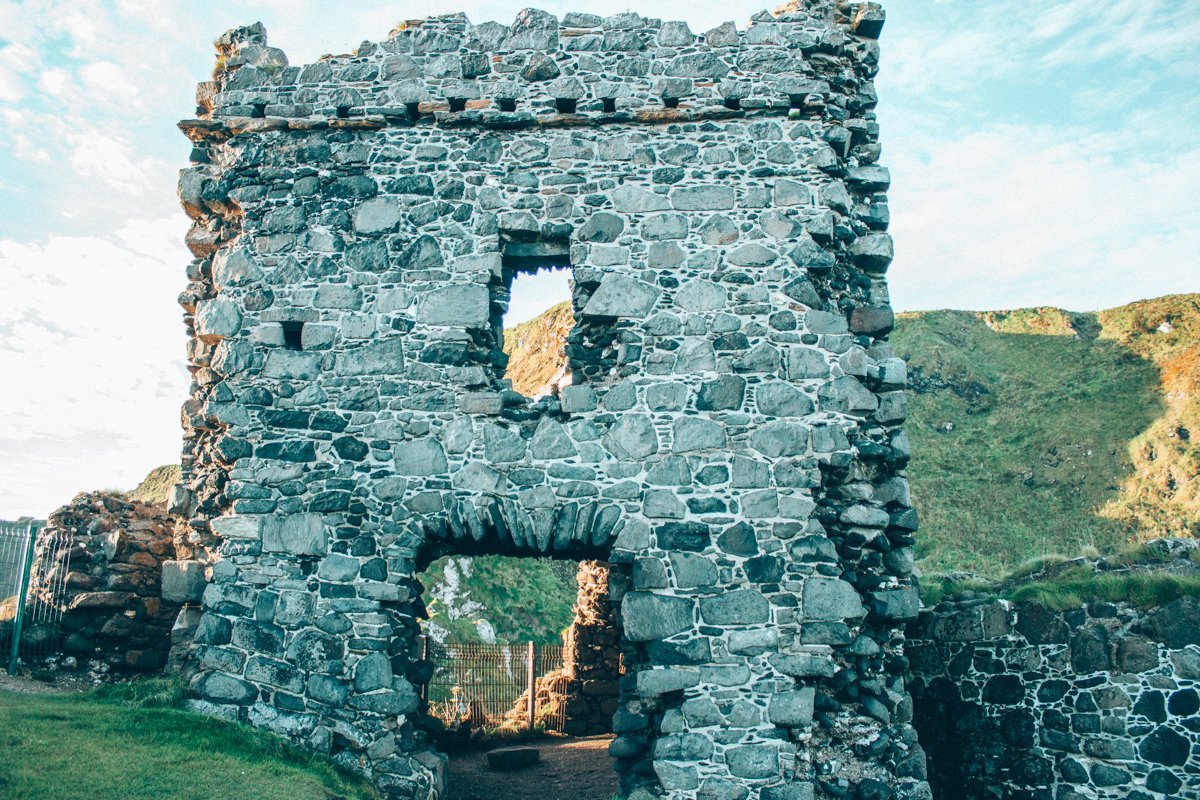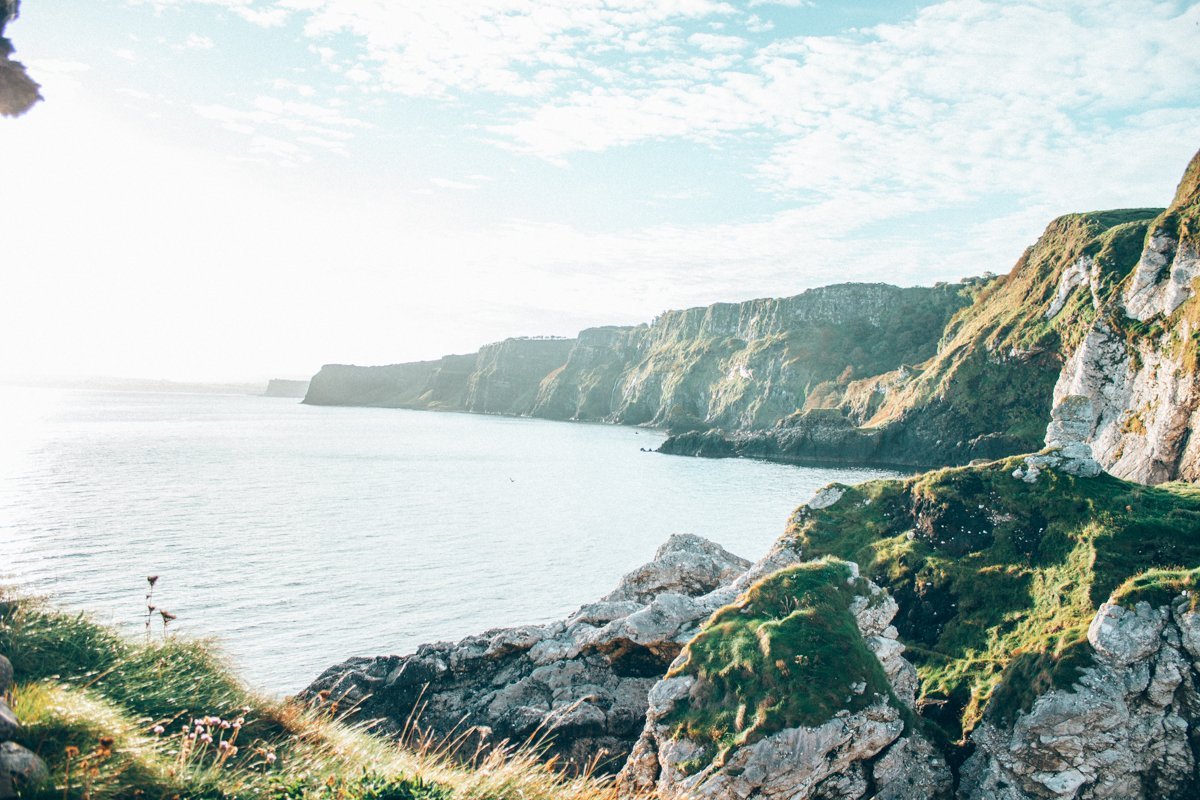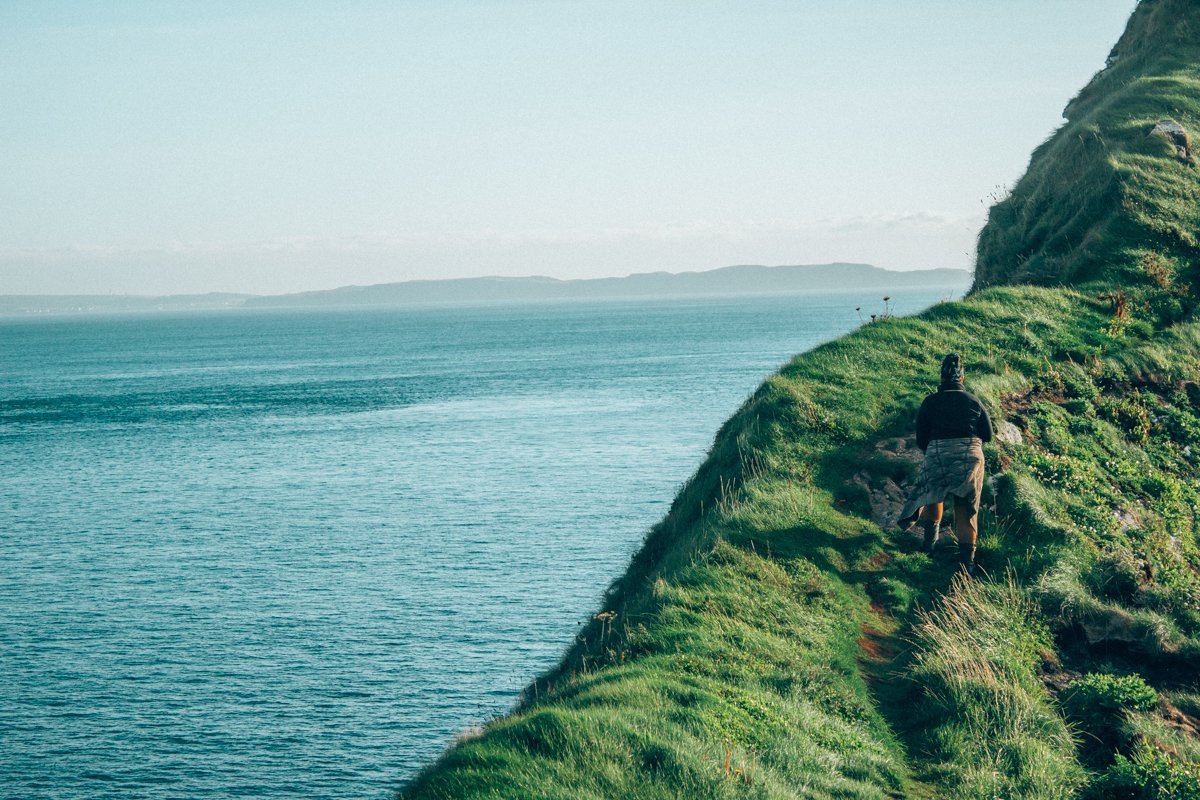 I'm going to let you in on a little secret. 
I think this was my favorite spot in all of Ireland and Northern Ireland.
Sure, there were other places that were just as beautiful but something about this place really resonated with me. Maybe it was because it was not planned. We were literally driving along towards the next stop when we saw a sign that said Kinbane Head and it led down a very small "two-lane" road. So, we turned around and decided to check it out. Maybe it was because it was the first day that I felt something deep inside that said: "Oh, you are definitely in Ireland." Maybe it's because I had never heard of it before, there were no other people, no entrance fees – so it felt like mine.
Regardless of the reason, this place is magical and I'm going to write a whole post about it. I decided that just now.
ESSENTIAL INFO
Address //Ballycastle BT54 6LP, UK
Tips // lots of steps and slippery; wear good trekking boots or shoes
Other // no set hours or entrance fee; restrooms on-site
---
Belfast to Giants Causeway Stop # 4 – Carrick-A-Rede Rope Bridge History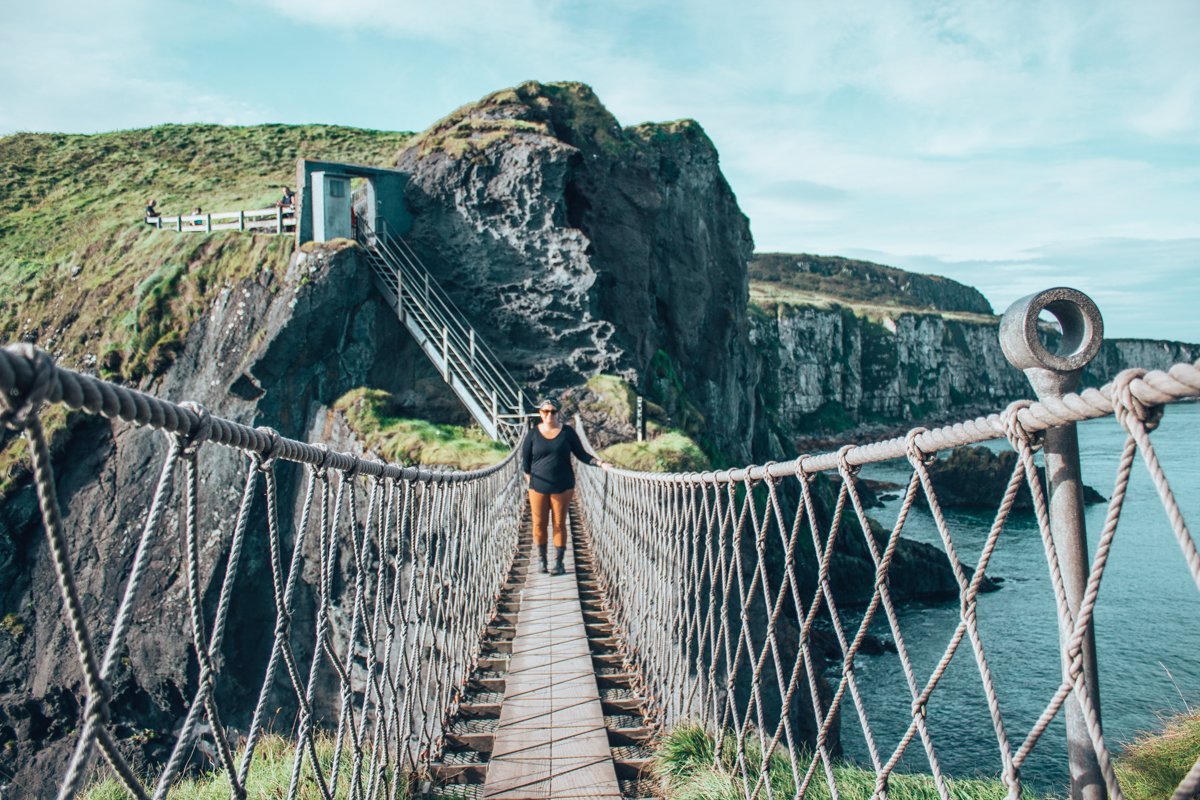 Definitely one of the most well known Northern Ireland locations, Carrick-A-Rede rope bridge is definitely worth a visit. The rope bridge connects the mainland to the tiny island of Carrickarede. The rope bridge has plenty of history and wasn't always just a tourist attraction but now it's one of the best pedestrian suspension bridges in the world. Salmon fishermen have been building bridges to the island for almost 400 years and over the years, the bridge has evolved. If you think crossing it now is daunting, imagine crossing it when there was only one handrail and large gaps in the steps.
On a good day, you can actually see Scotland from the island as well as three large caves below. For fun, you can purchase a certificate after you complete for £1!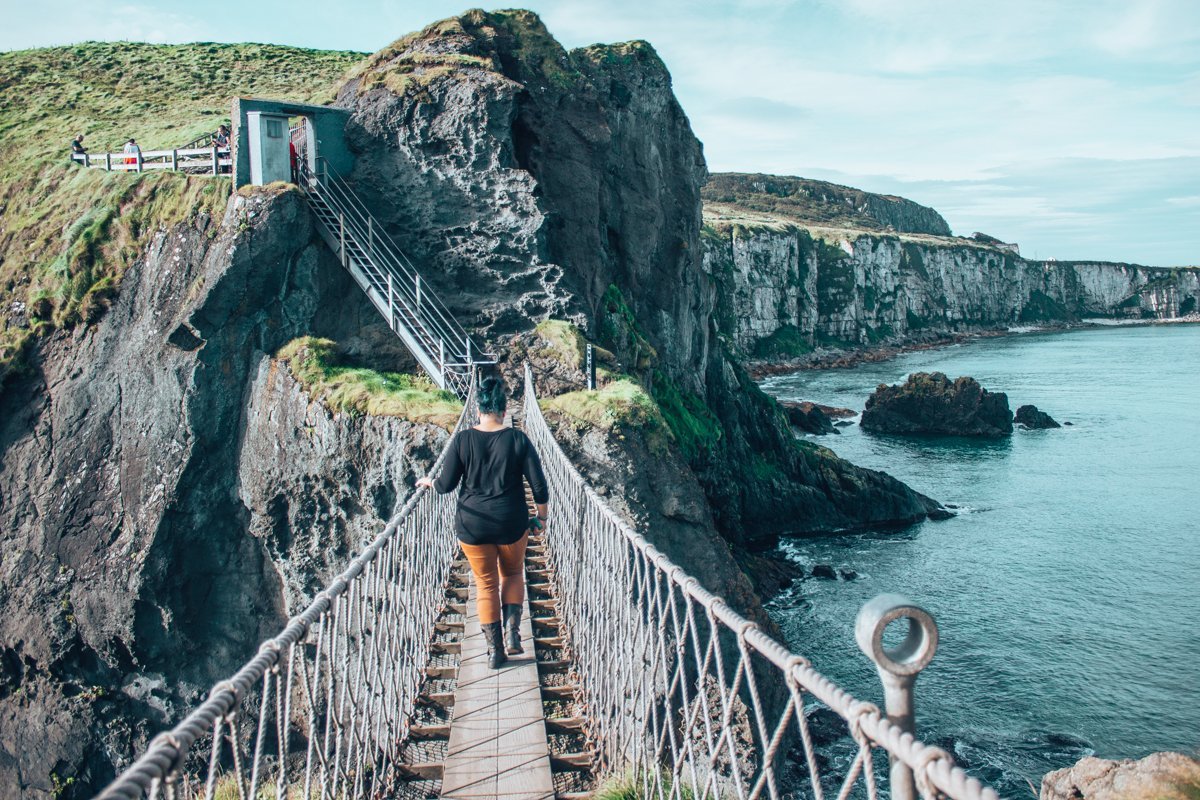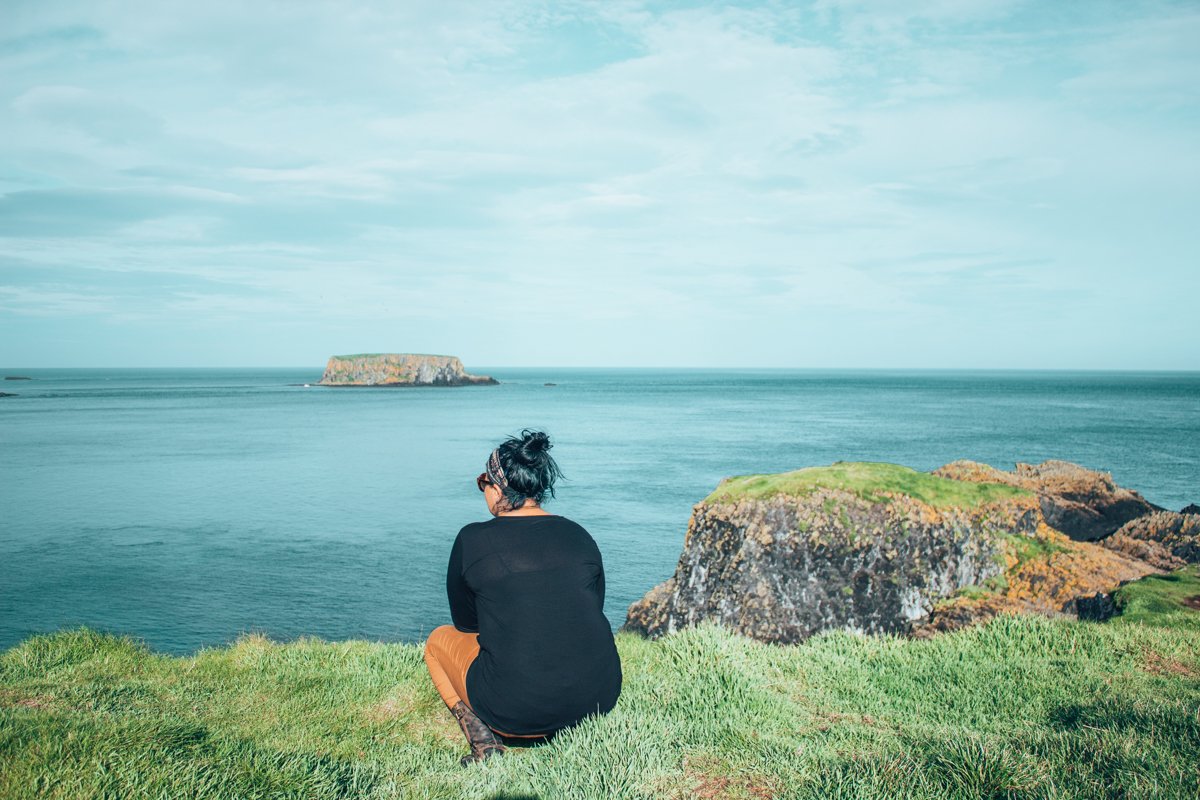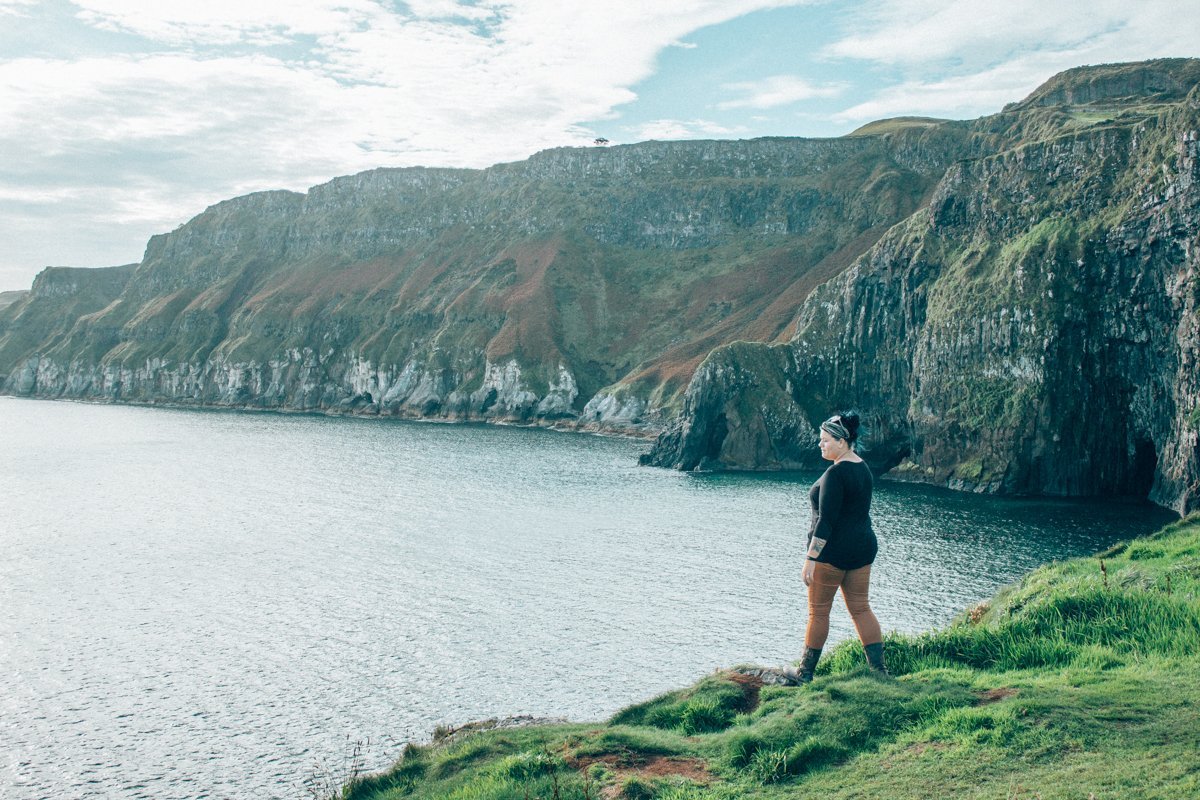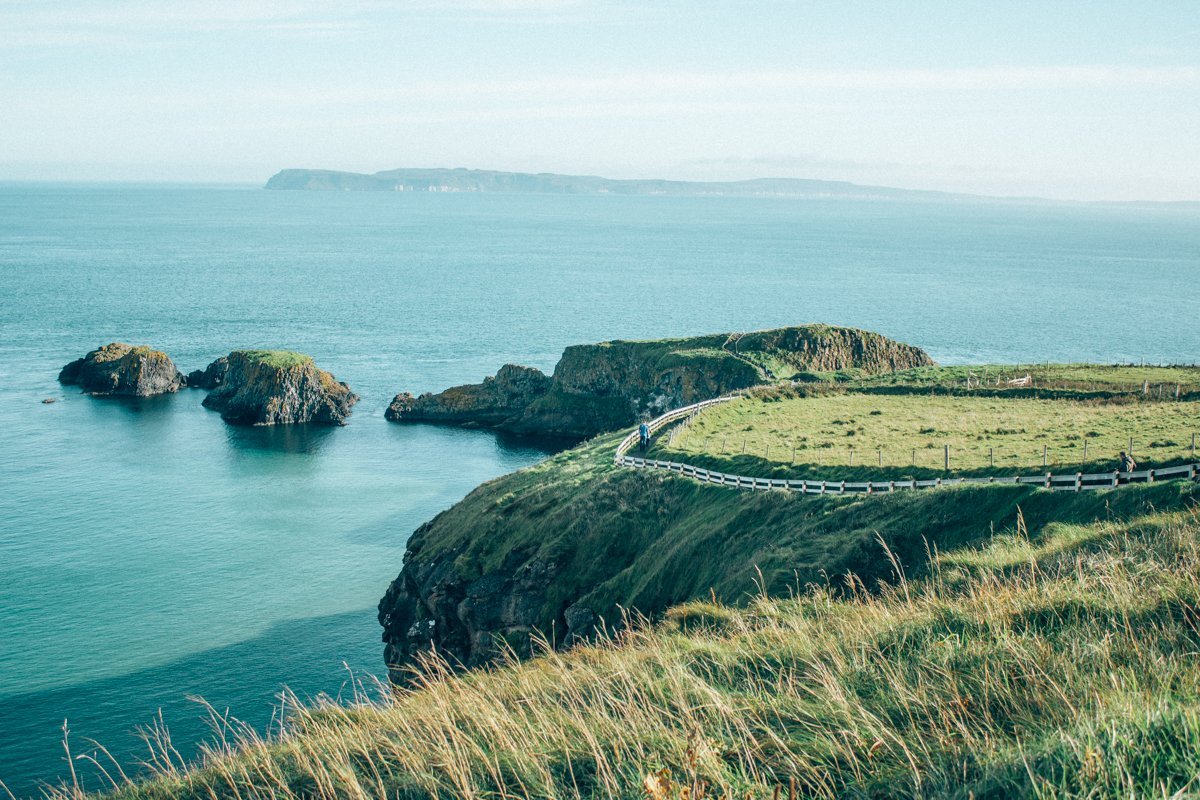 ESSENTIAL INFO
Hours // 09:30-6:00
Cost // £7 ($9.24) + £1 ($1.32) for completion certificate
Address // 119A Whitepark Rd, Ballycastle
Other // parking free
---
Belfast to Giants Causeway Stop #5 – Ballintoy Harbour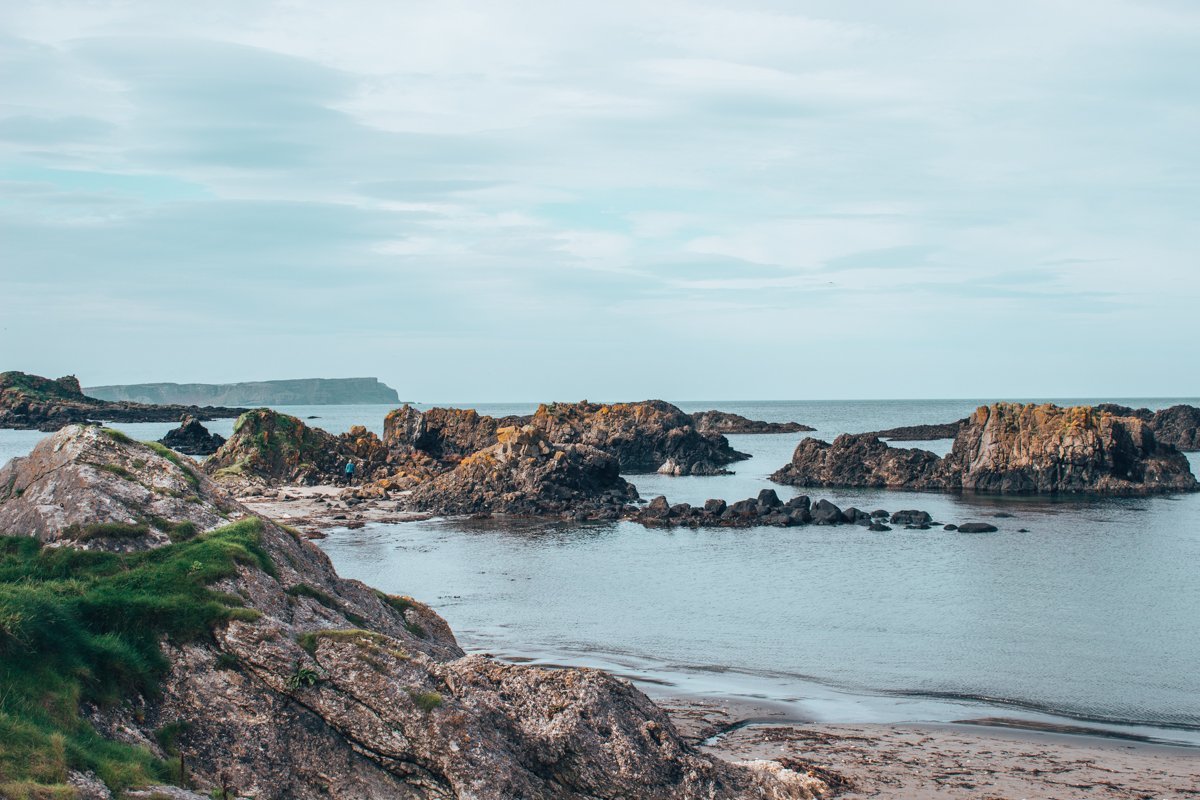 Located down a very steep and narrow road on the Causeway Coast, sits Ballintoy Harbour. This was another unexpected place I fell quickly in love with. I only knew that it was the Game of Thrones filming location for Pyke and the Iron Islands and that alone left me wanting to visit. However, the landscape left me stunned. You can immediately smell the ocean the moment you open the car door and have a view of lush sand, shells, seaweed and varying rock formations jutting out of the beach and harbour.
I've never seen a more unique beach or harbour in my life. If I lived here, I could definitely see myself coming here often to read, write or just stare off into the ocean.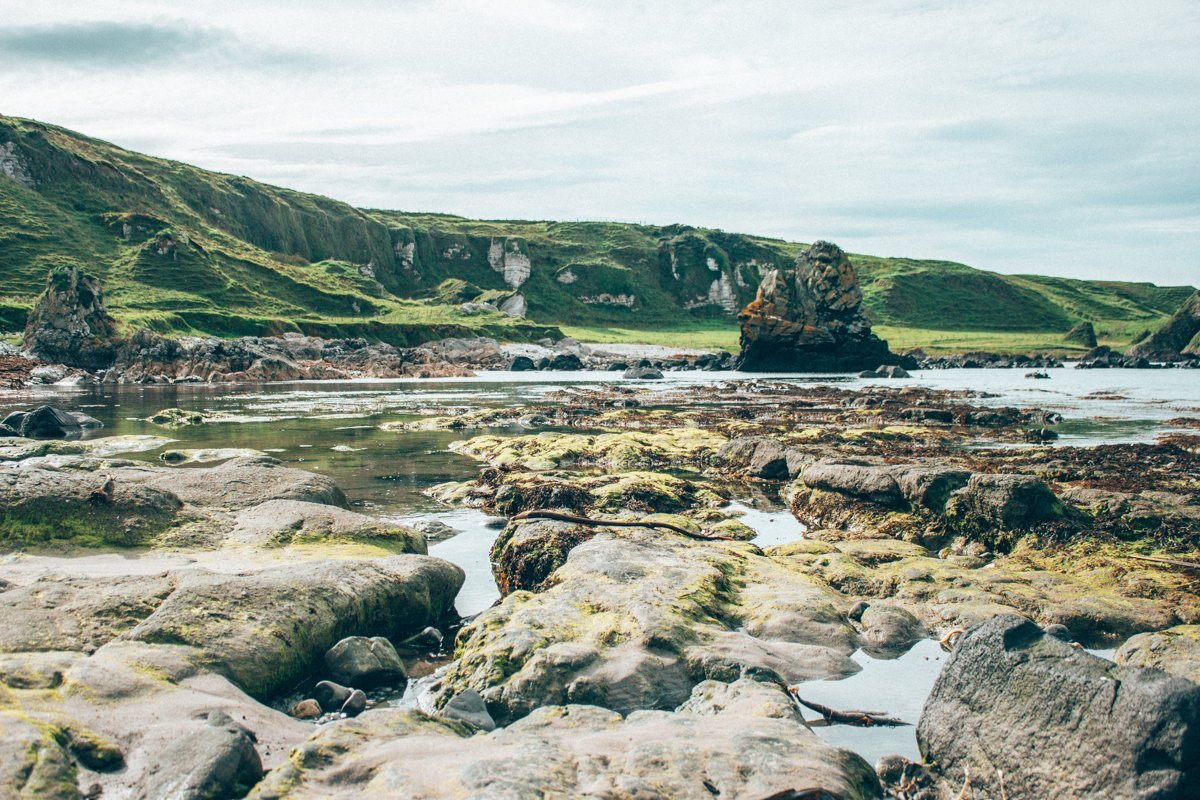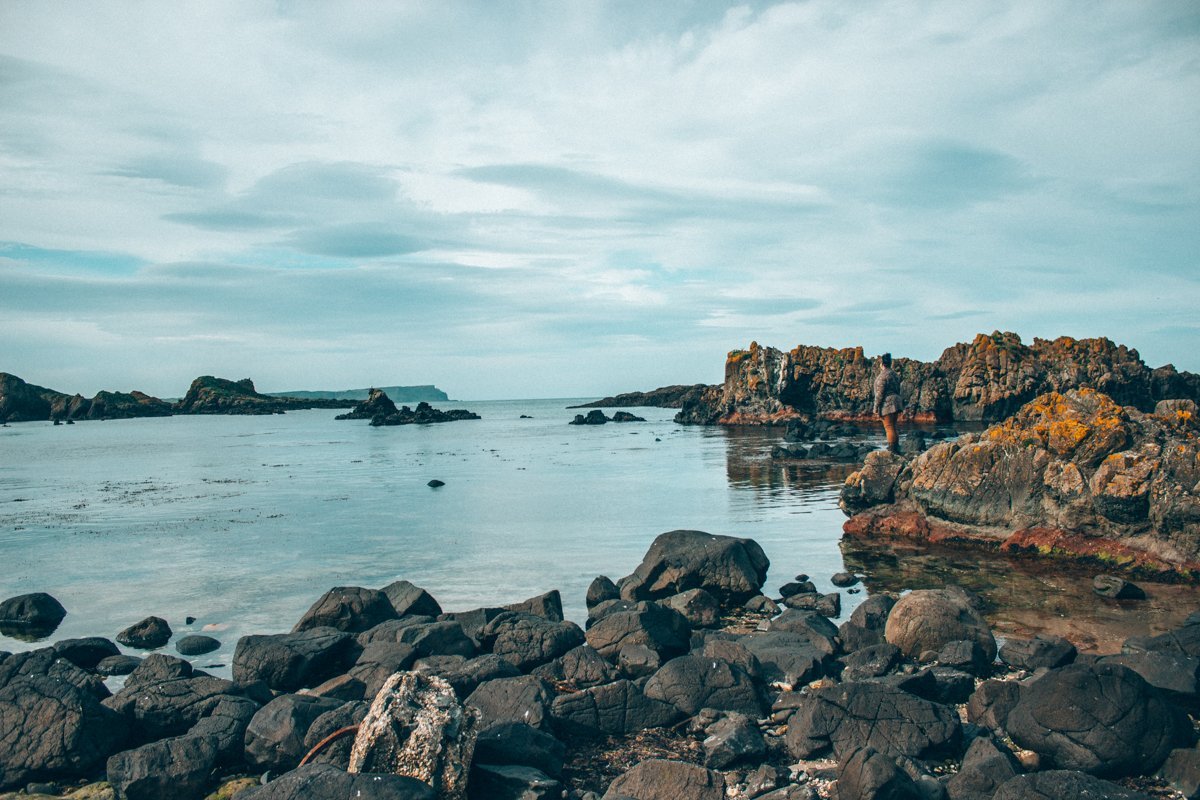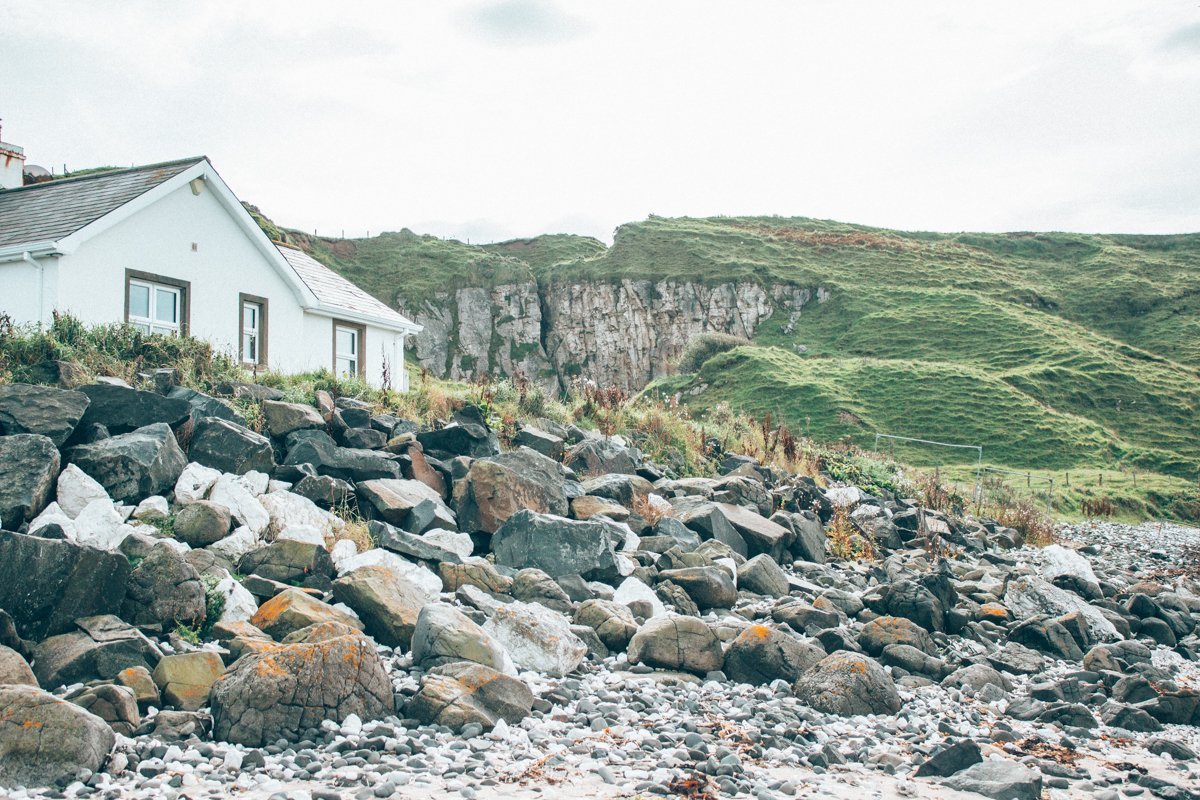 ESSENTIAL INFO
Address // Harbour Rd, Ballintoy, Ballycastle BT54 6NA, UK
Other // no set hours or entrance fee
---
Belfast to Giants Causeway Stop #6 – Giants Causeway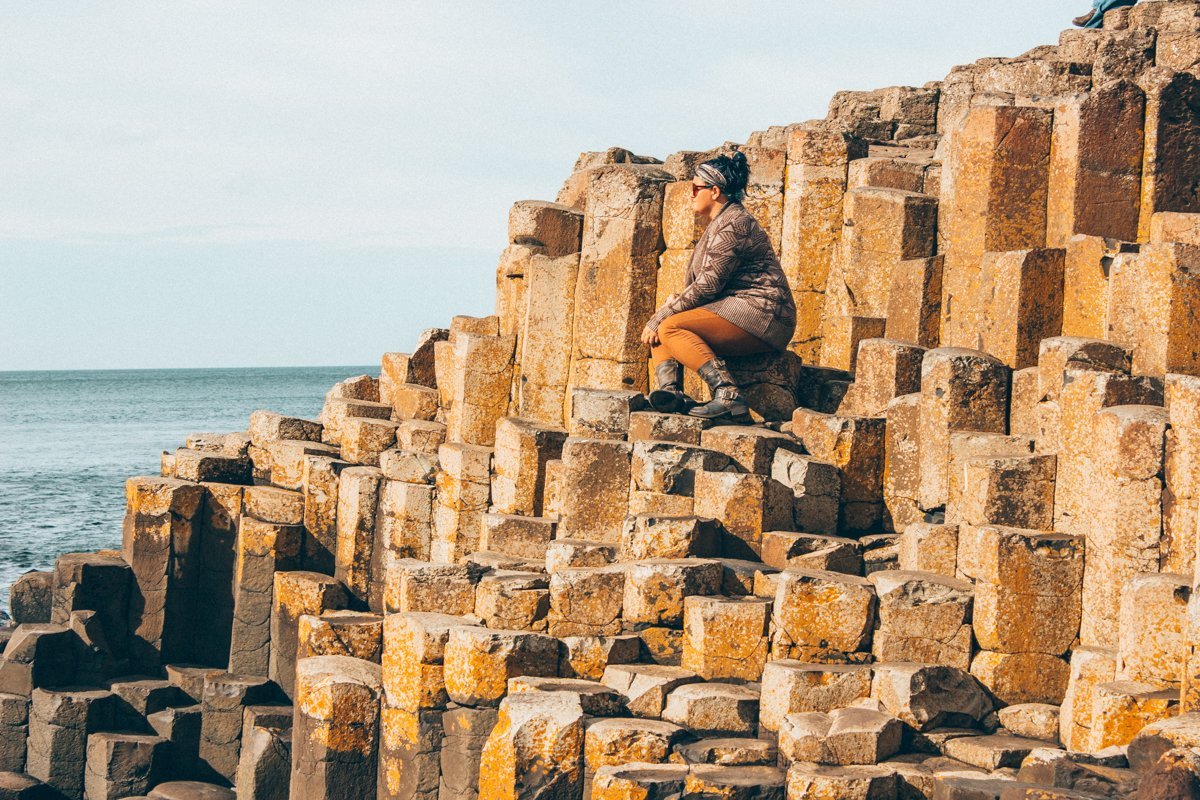 Probably the most anticipated stop on the Causeway Coast is the Giant's Causeway. I typically am not drawn to touristy attractions or overcrowded areas which is why Kinbane Castle and Ballintoy Harbour really connected with me. However, I completely get the draw and appeal of Giant's Causeway. It truly is a magical place and entirely unique.
Giant's Causeway is a UNESCO World Heritage Site and the only one in Northern Ireland. The interlocked basalt columns are a result of an ancient volcanic eruption. There is, however, a more fun explanation and it goes a little something like this…
The columns are what is remaining of a causeway built by Finn MacCool (Fionn mac Cumhaill) – an Irish giant from Gaelic mythology. Finn was challenged to fight a Scottish giant (as giants do) and Finn built the causeway so the two giants could meet. There are a few versions of how the story ends one being that Finn hides from the Scottish giant once he saw his size so Finn and his wife disuised him as a baby. When the Scottish giant saw the baby and figured that his father must be extremely giant considering the size of the baby, he fled back to Scotland. Along the way, he destroyed the causeway behind him.
Across the sea, you can find identical basalt columns at Fingal's Cave on the Scottish isle of Staffa which could be a part of the reason behind the legend. So, volcanic eruption from millions and millions years ago or giants fighting – you be the judge!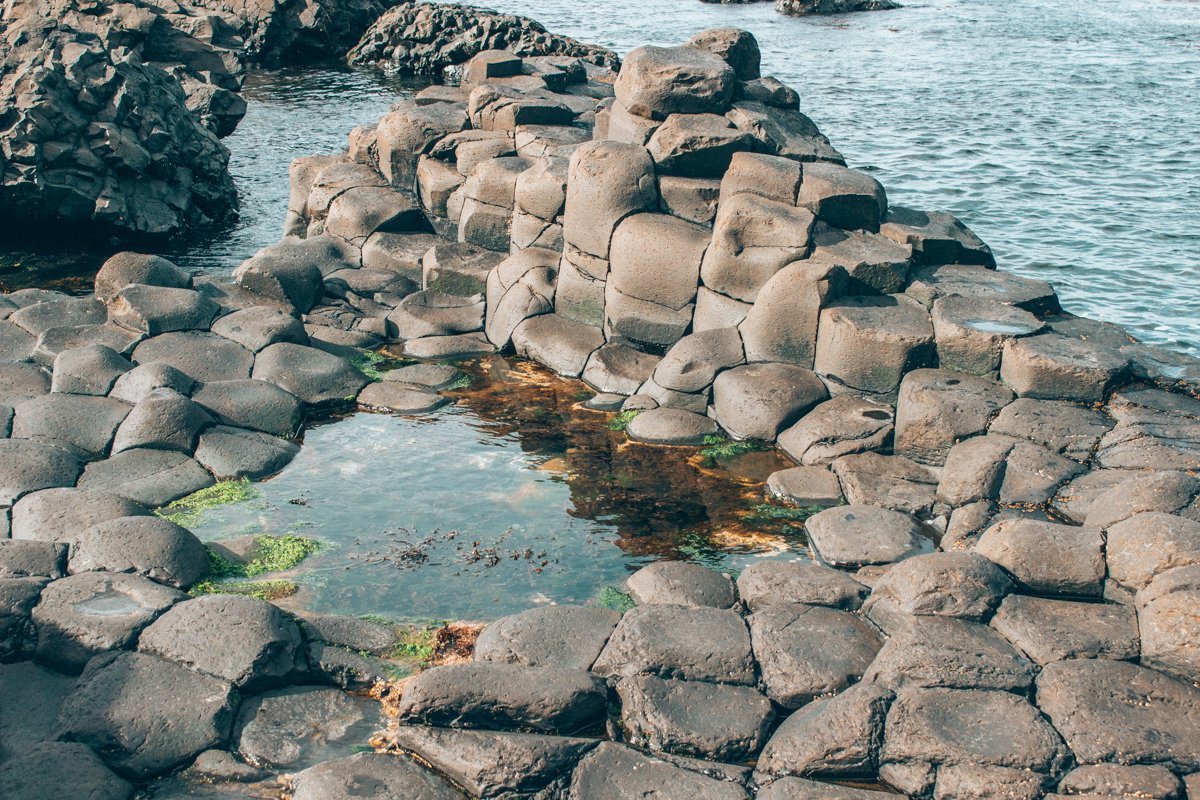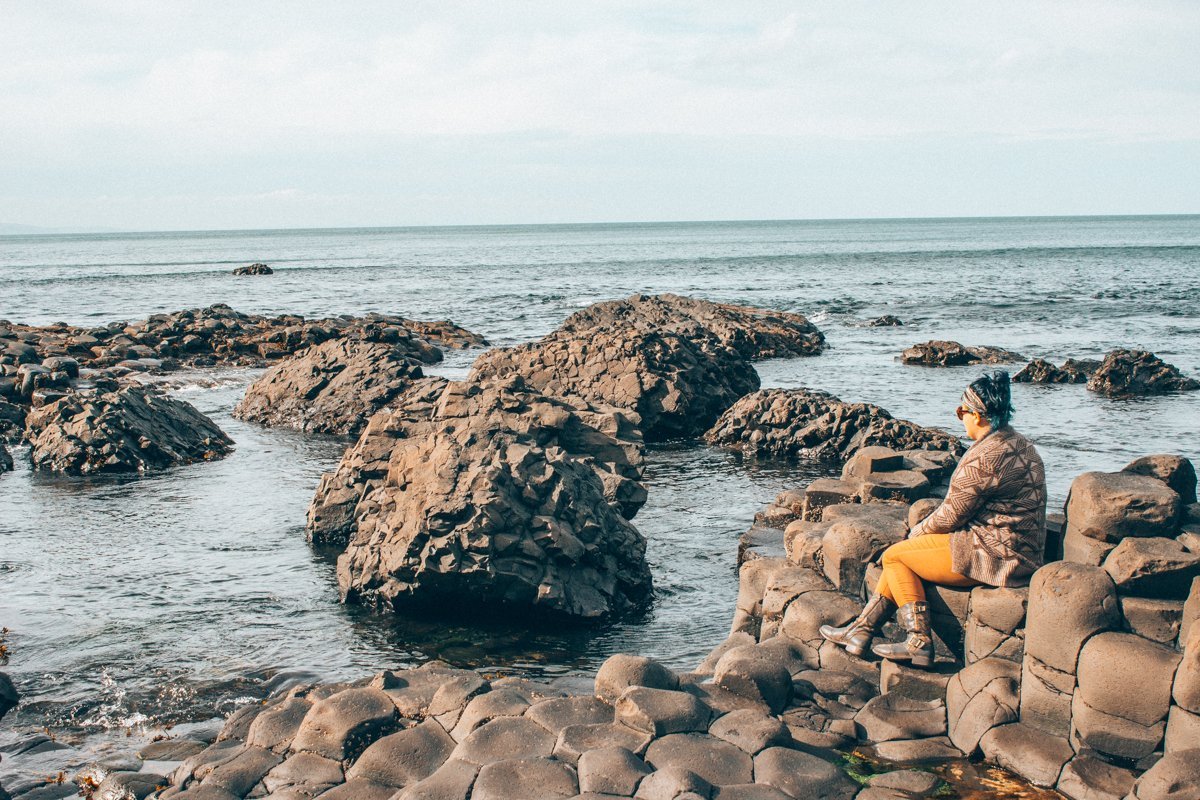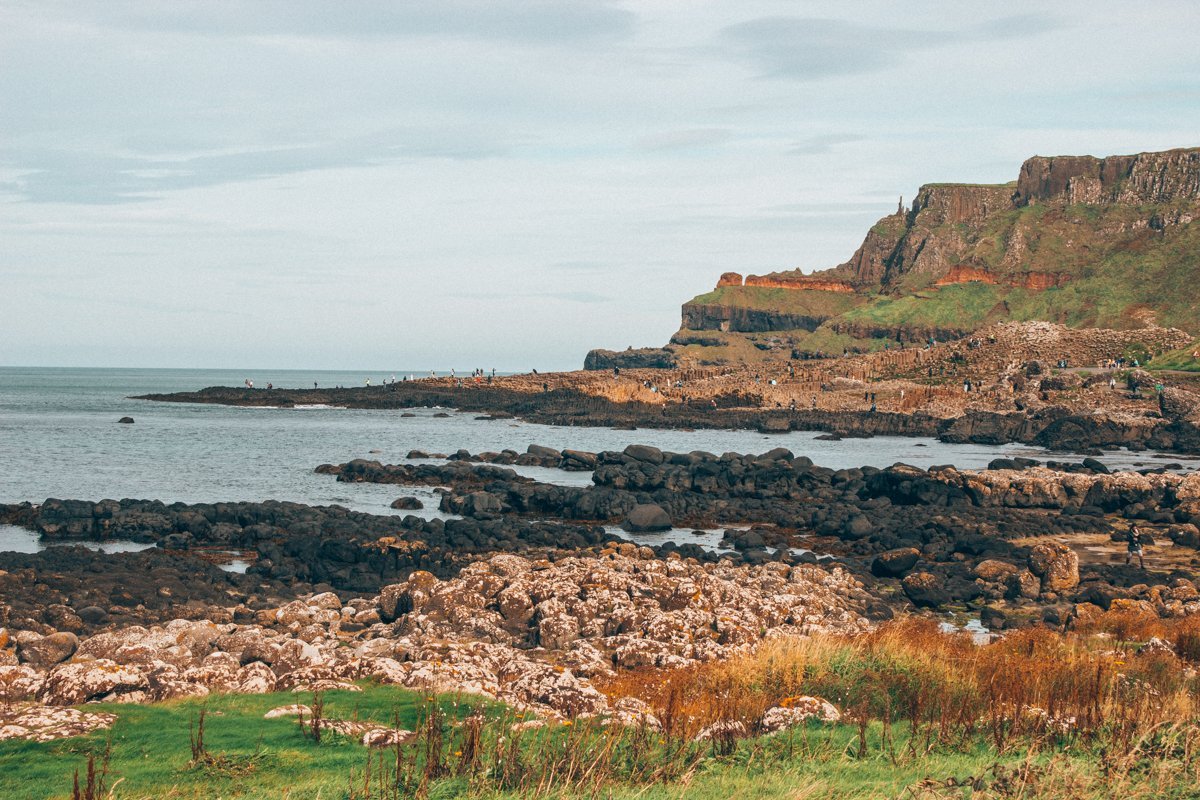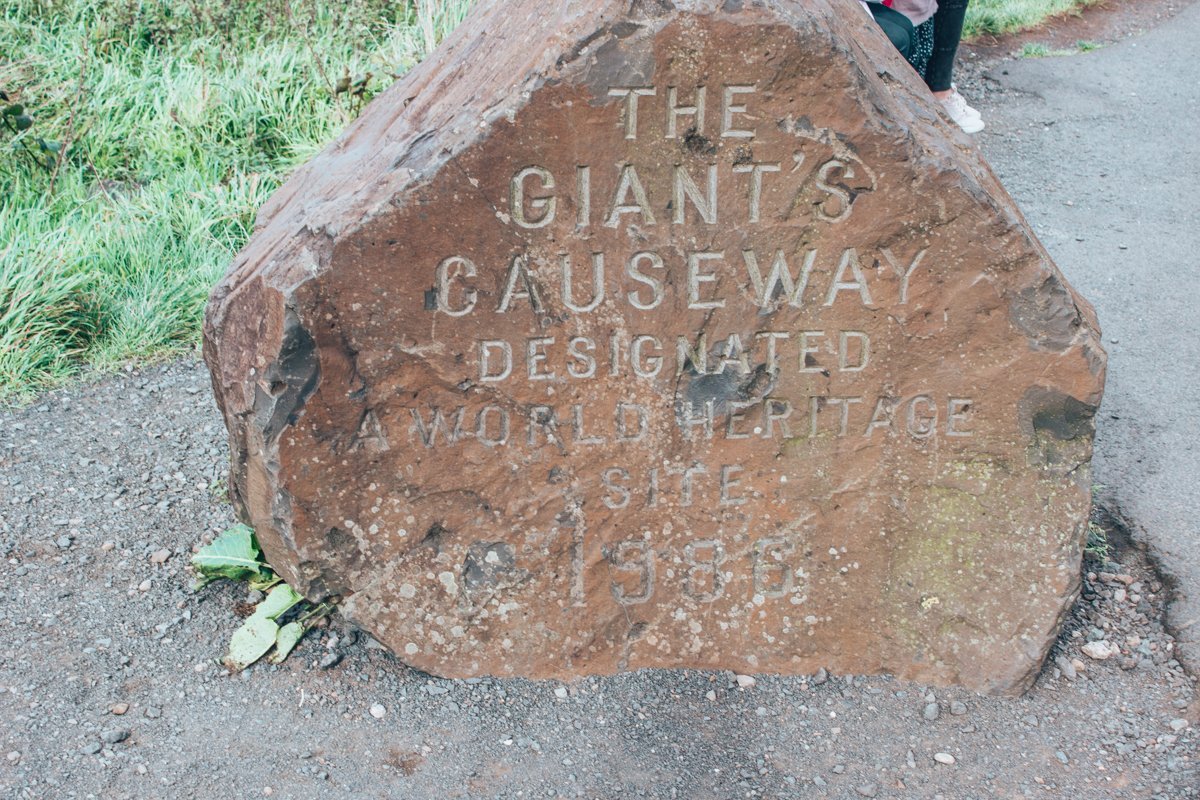 ESSENTIAL INFO
Hours // Dawn to Dusk
Cost // £15 ($19.80); free if you park offsite
Address // 44 Causeway Road, Bushmills
---
Belfast to Giants Causeway Bonus Stop – Dunluce Castle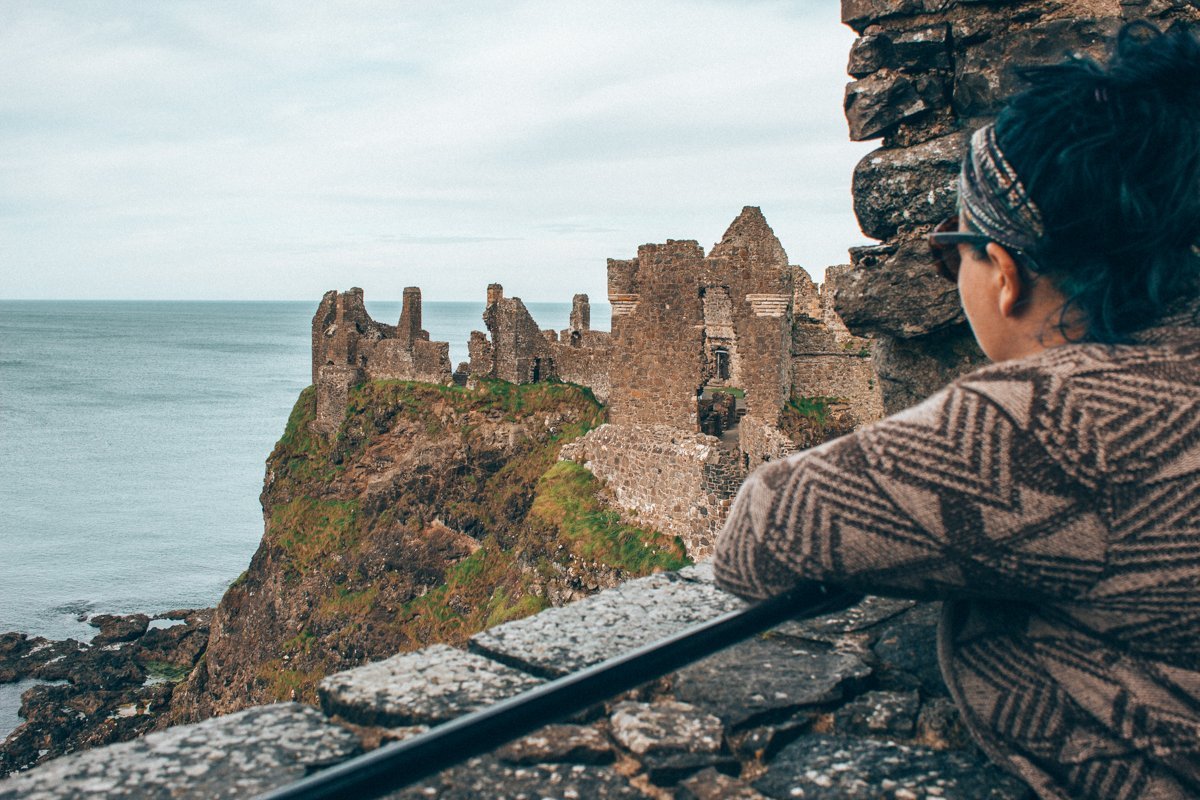 Now, technically this was supposed to be an itinerary from Belfast to Giant's Causeway but there are two more spots that, in my opinion, are definitely worth it. Dunluce Castle is only 9 minutes down the road and shouldn't be missed. Trust me, you can burn out on castles in Ireland but I truly enjoyed this one.
Dunluce Castle has a history all the way back to the 13th century. The castle itself is accessible via a bridge from the mainland and the castle is surrounded by extremely steep drops all the way around. The views from the castle were amazing and I could just imagine myself living here hundreds of years ago. I was seriously born in the wrong era.
Dunluce Castle is another GOT filming location.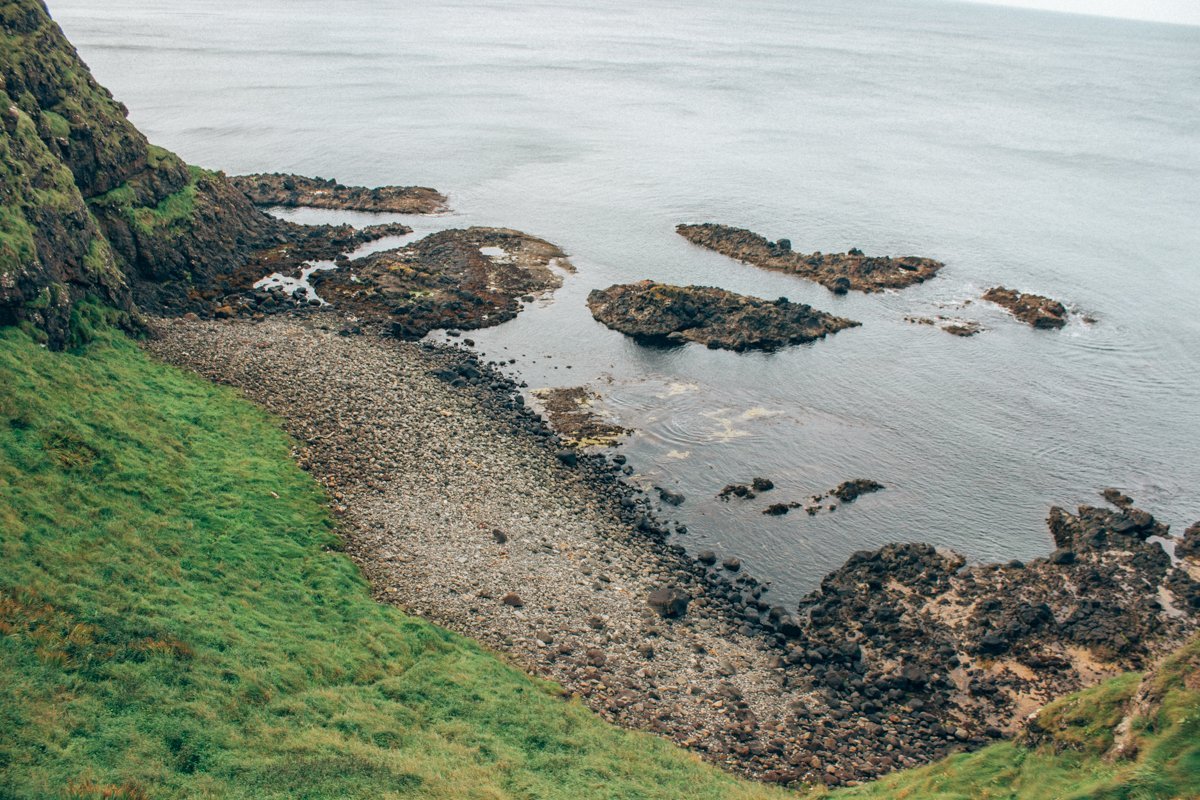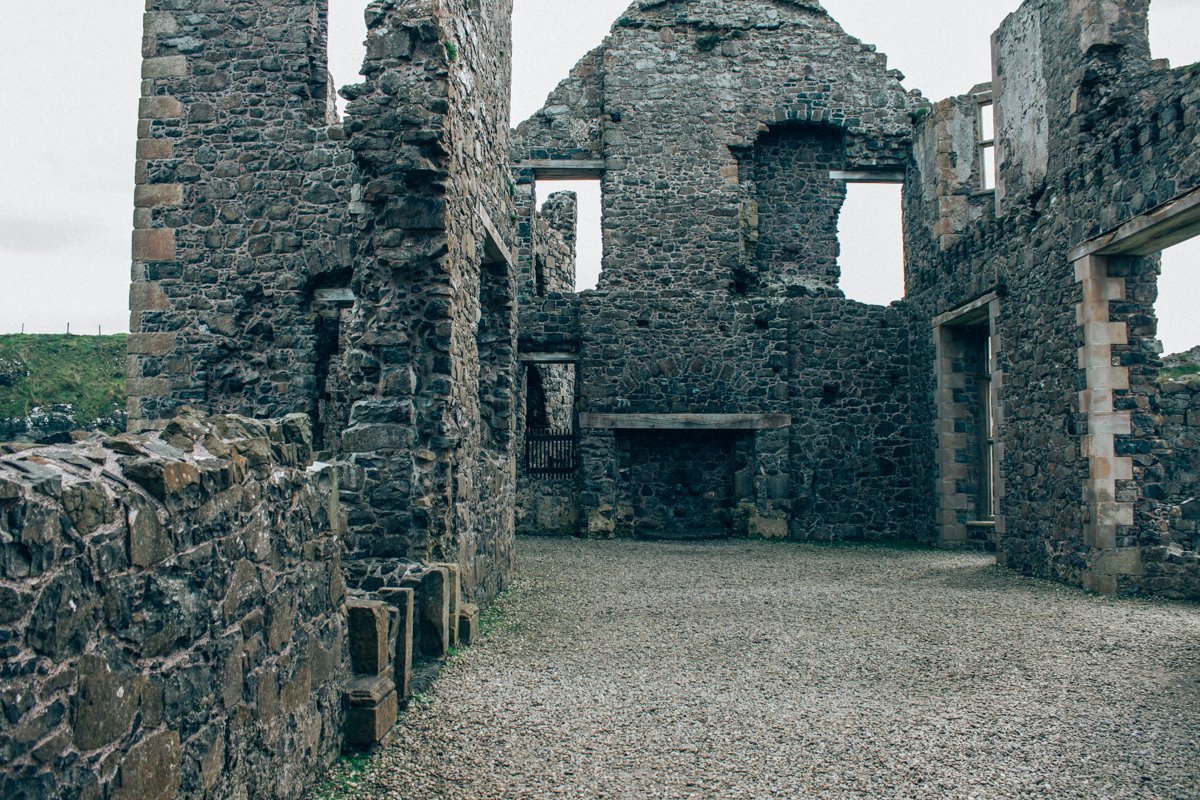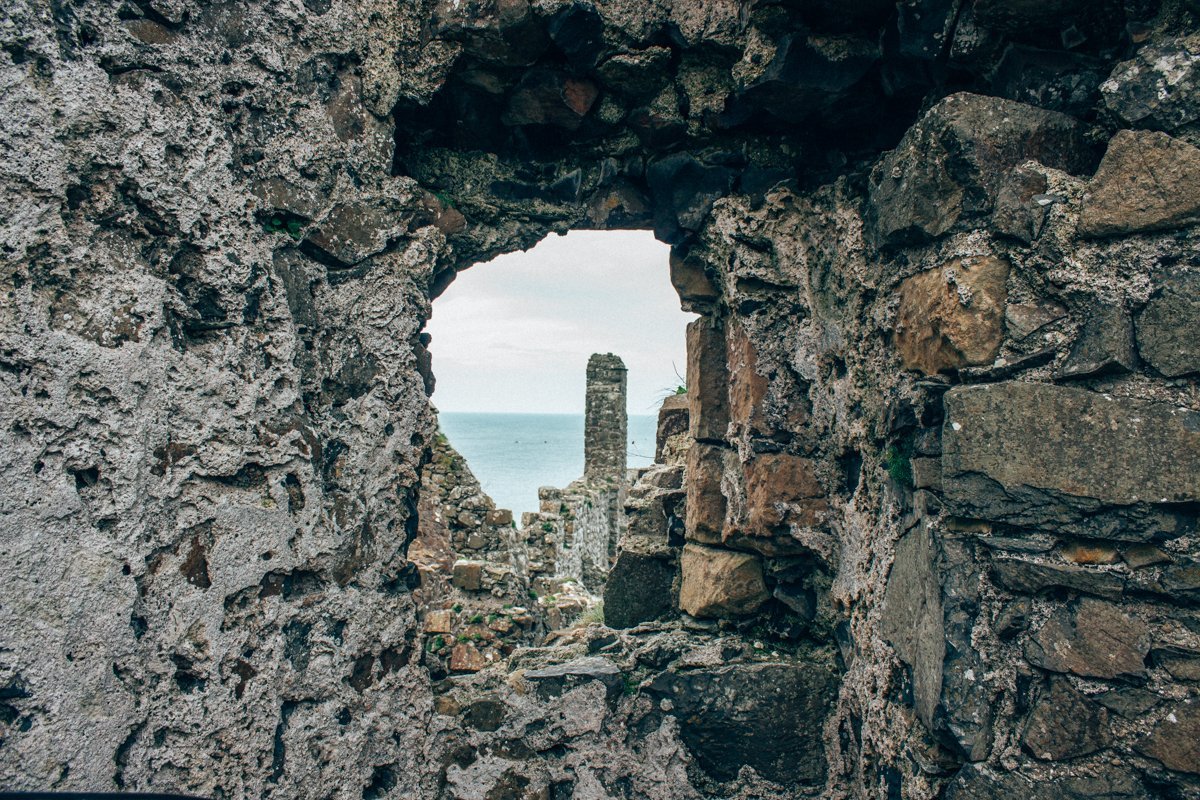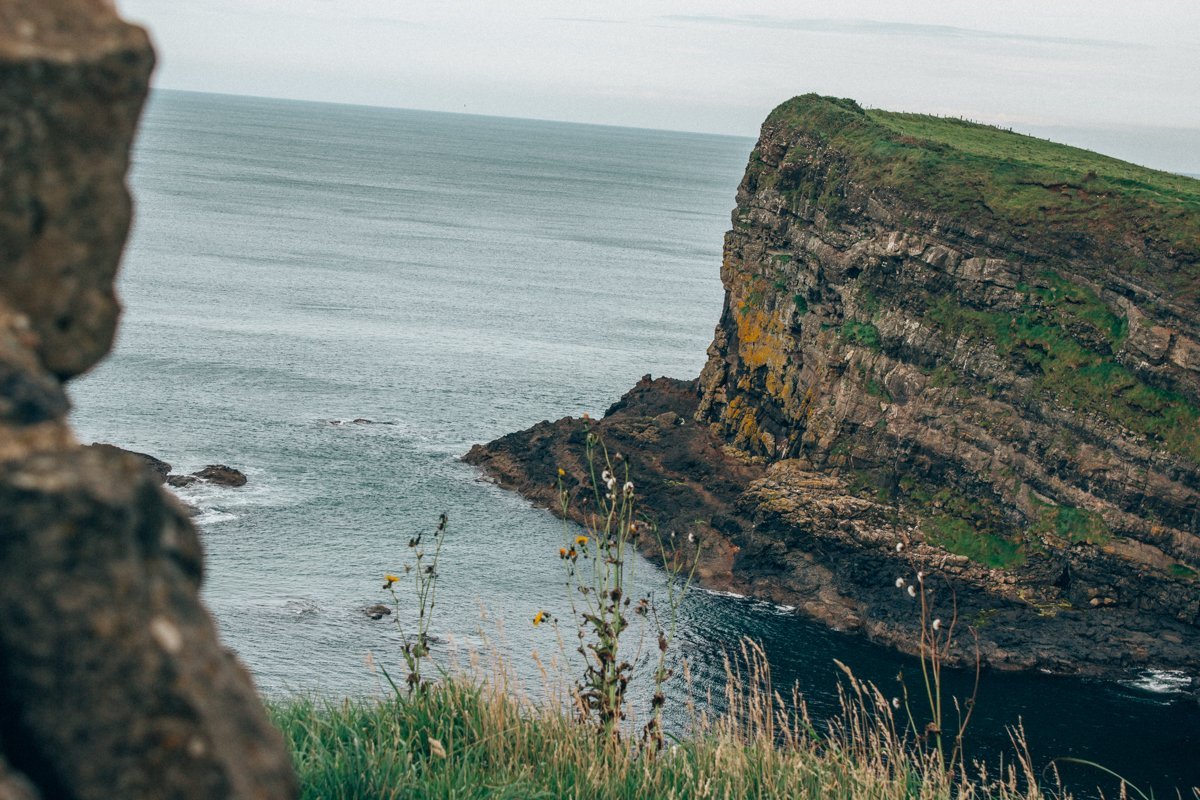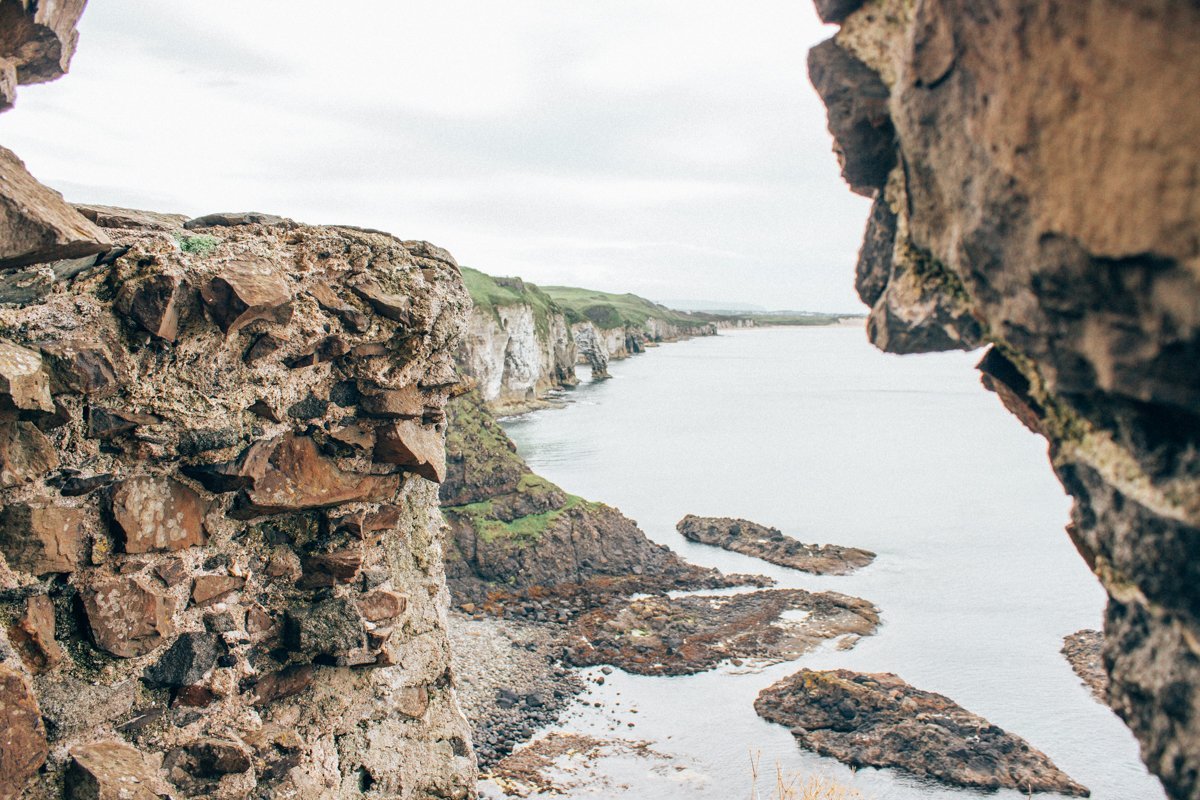 ESSENTIAL INFO
Hours // Dawn to Dusk
Cost // £5 ($6.60)
Address // 87 Dunluce Rd, Bushmills
Other // free parking
---
Belfast to Giants Causeway Bonus Stop #2 – Downhill Demesne + Mussenden Temple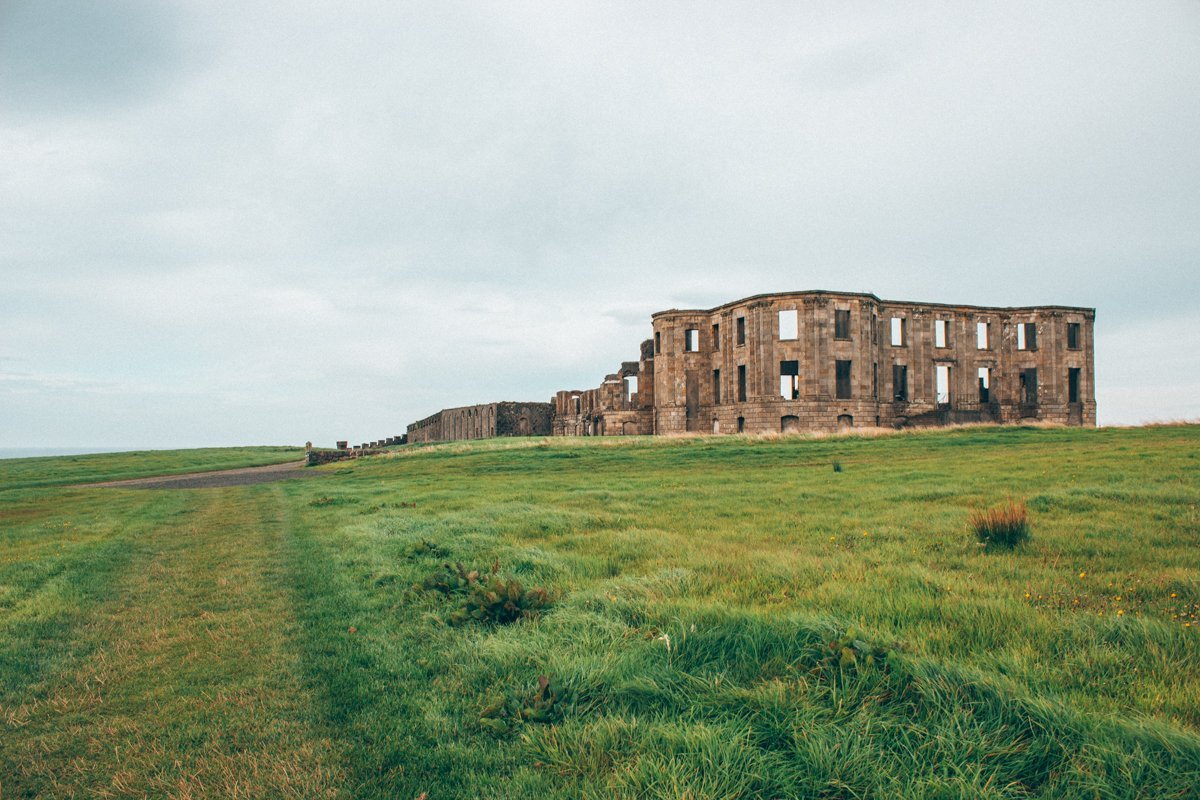 The other stop is about 45 minutes from Giant's Causeway and about 35 minutes from Dunluce Castle but I definitely recommend it as well! Downhill House is a mansion that was built in the 18th century but was mostly destroyed in 1851 due to a fire. The mansion was built for Frederick the 4th Early of Bristol and Lord Bishop of Derry (or more popularly known as 'the Earl Bishop').
The temple was not really a temple at all and was constructed as a library modeling the Temple of Vesta in Rome. It sits on the cliff's edge overlooking Demesne Beach.
Oh, and it's another Game of Thrones filming location.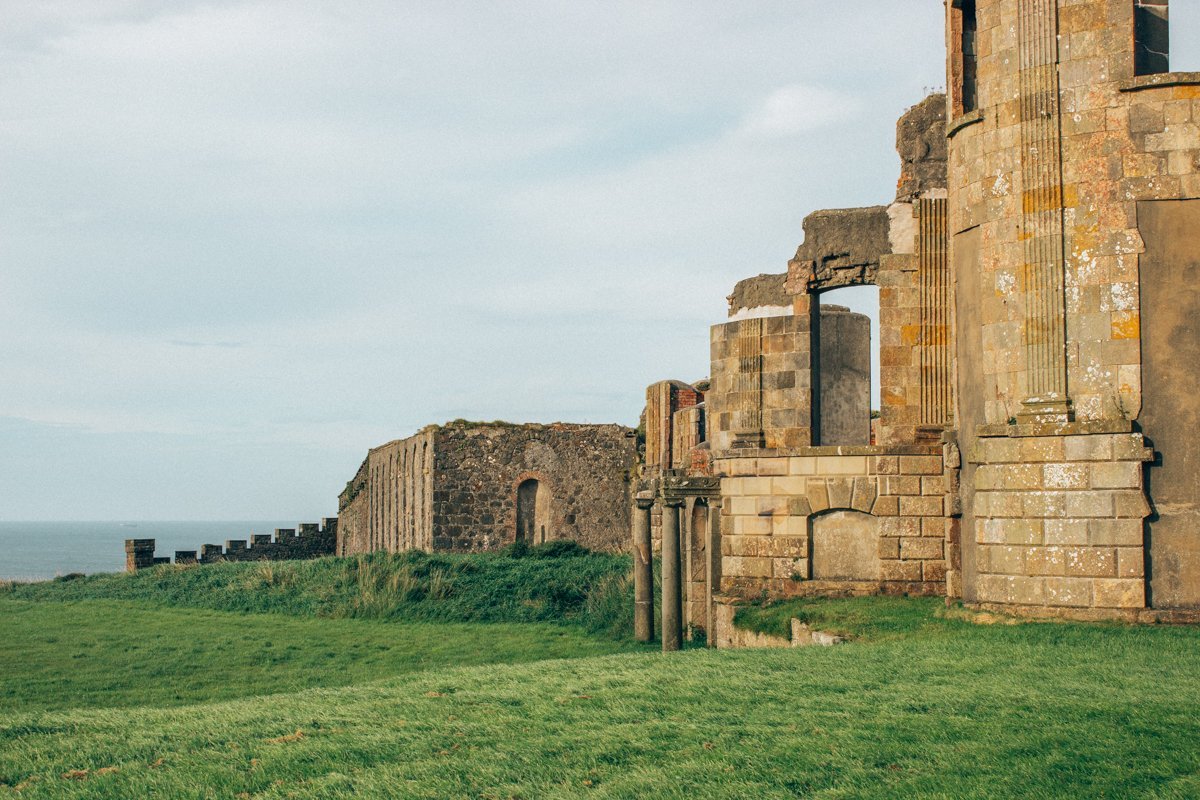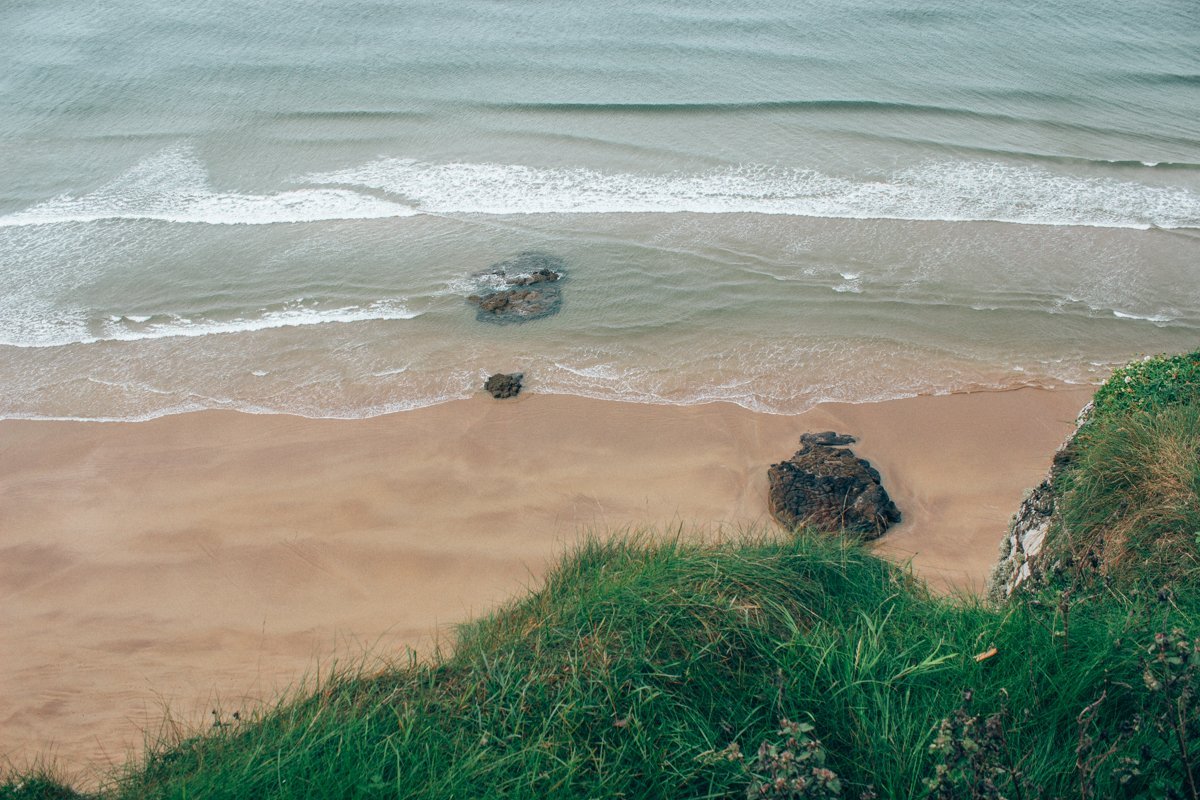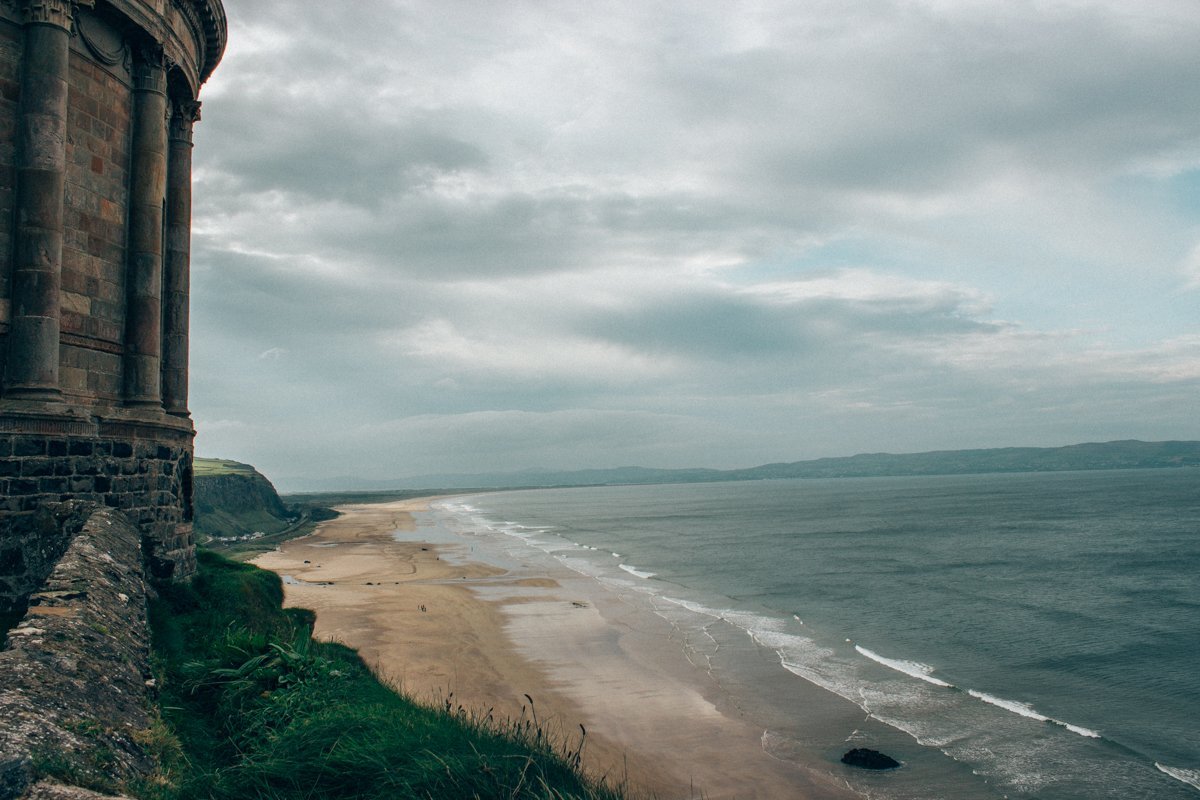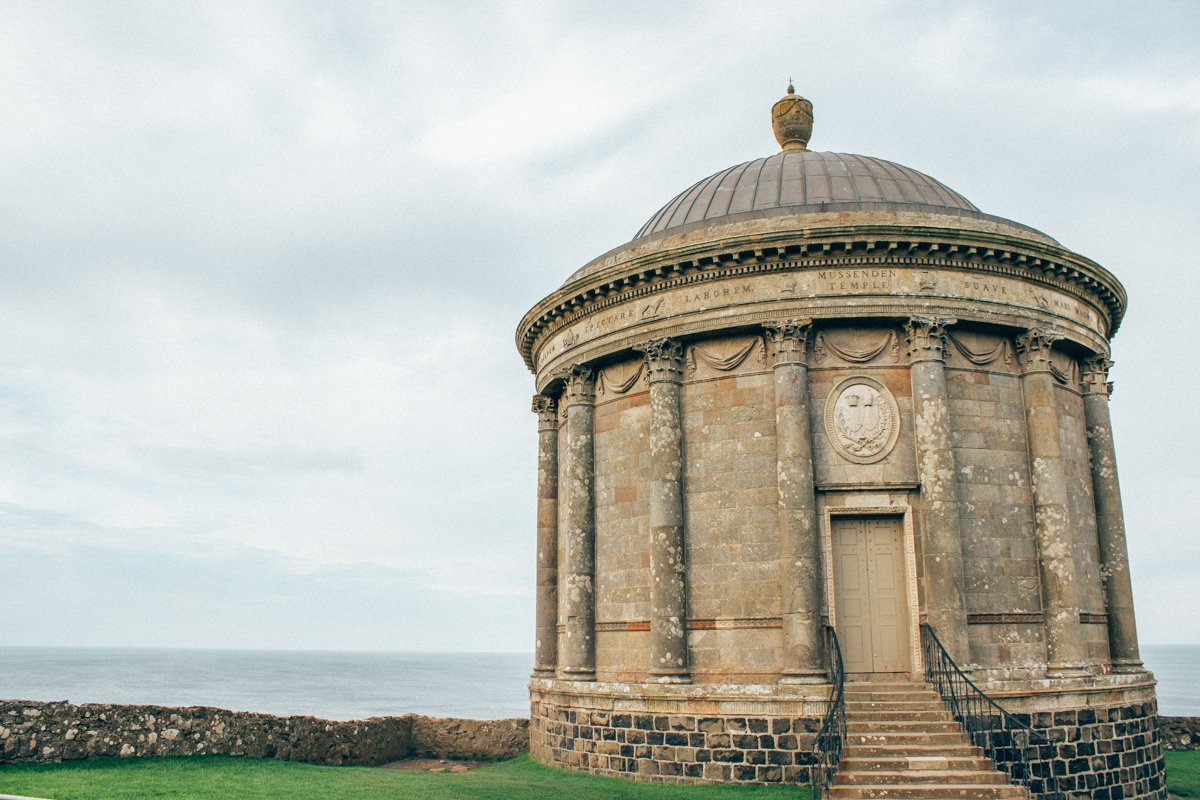 ESSENTIAL INFO
Address // 107 Sea Rd, Castlerock
Other // no set hours or entrance fee
---
Giants Causeway Accommodation
Looking for places to stay in the area? Check out these reviews before booking.
---
What to Pack for a Giants Causeway Tour
Raincoat (yep, it's not just something people say – it can rain at any moment!)
Travel Umbrella (while I didn't bring an umbrella and was too stubborn to buy one, I'd recommend it)
Pacsafe Cross Body Purse (I love my Pacsafe products and would highly recommend using them when traveling)
Waterproof, Vegan Hiking Boots
These beautiful journey sceneries are wonderful moments in our life. Customizing
special sights and natural beauties you encounter on your travels into unique badges is the perfect way to share your favorite pastimes. Custom badges are perfect for adorning a jacket or hat, and keeping track of all the places you've been to or your dream destinations.
Have you ever been to Northern Ireland or the Causeway Coast? What was your favorite spot? Tell me in the comments below ↓↓↓
↓↓↓ PIN FOR LATER ↓↓↓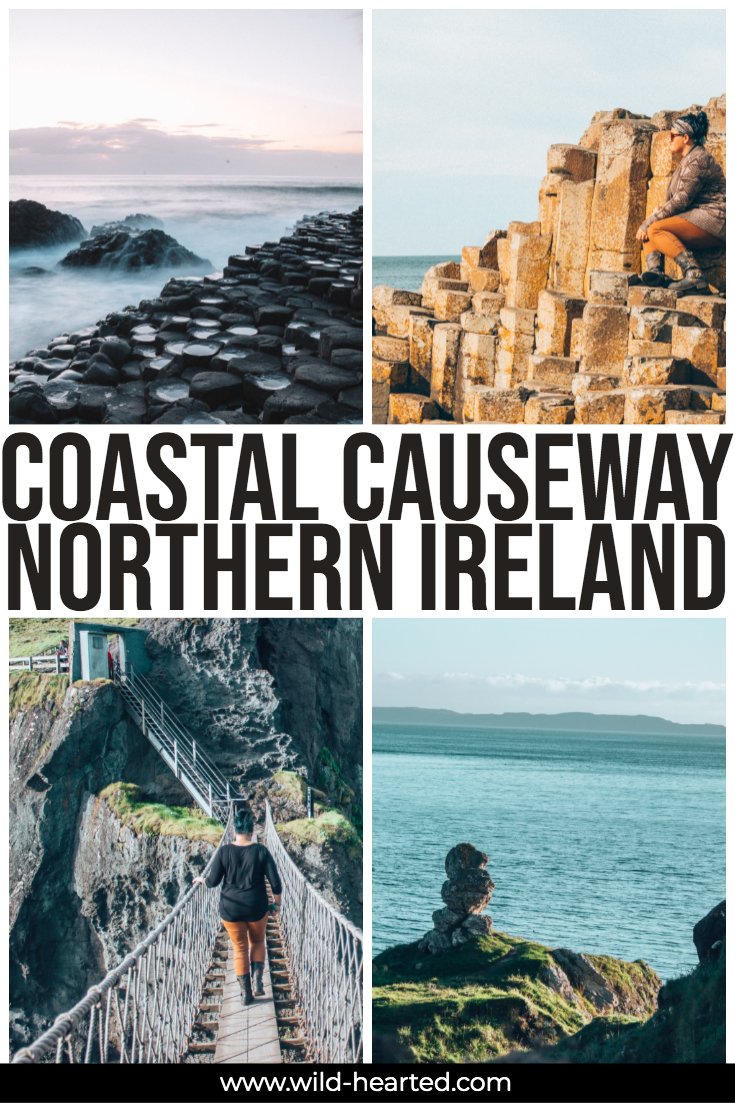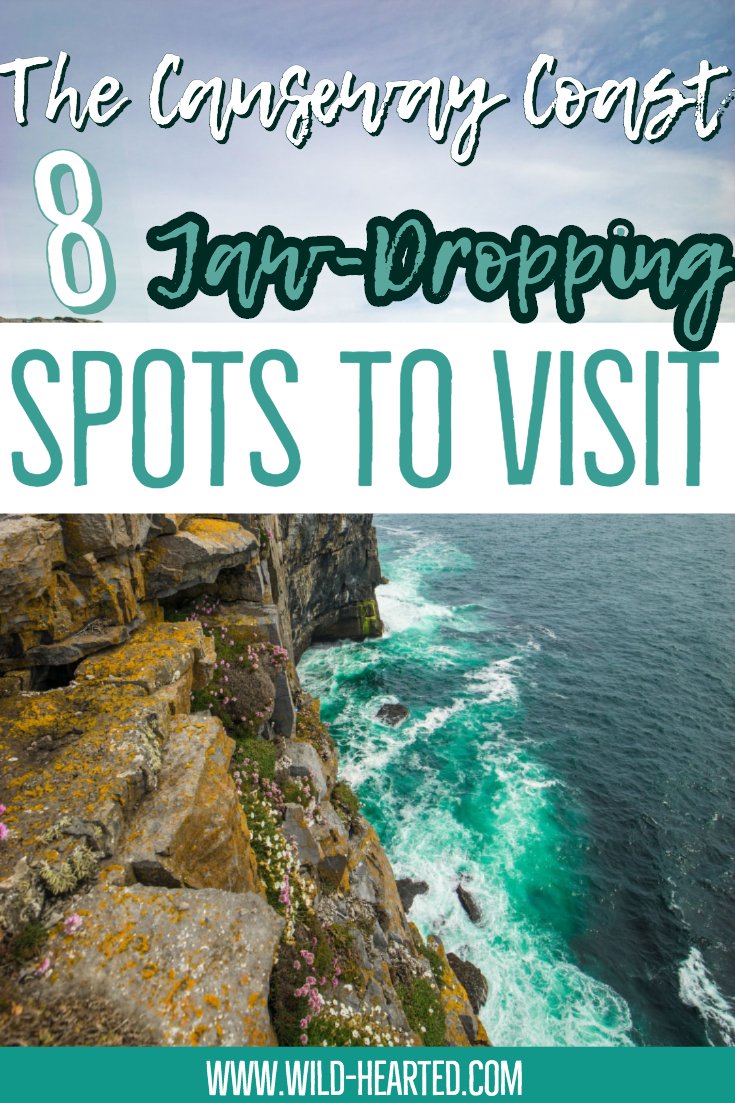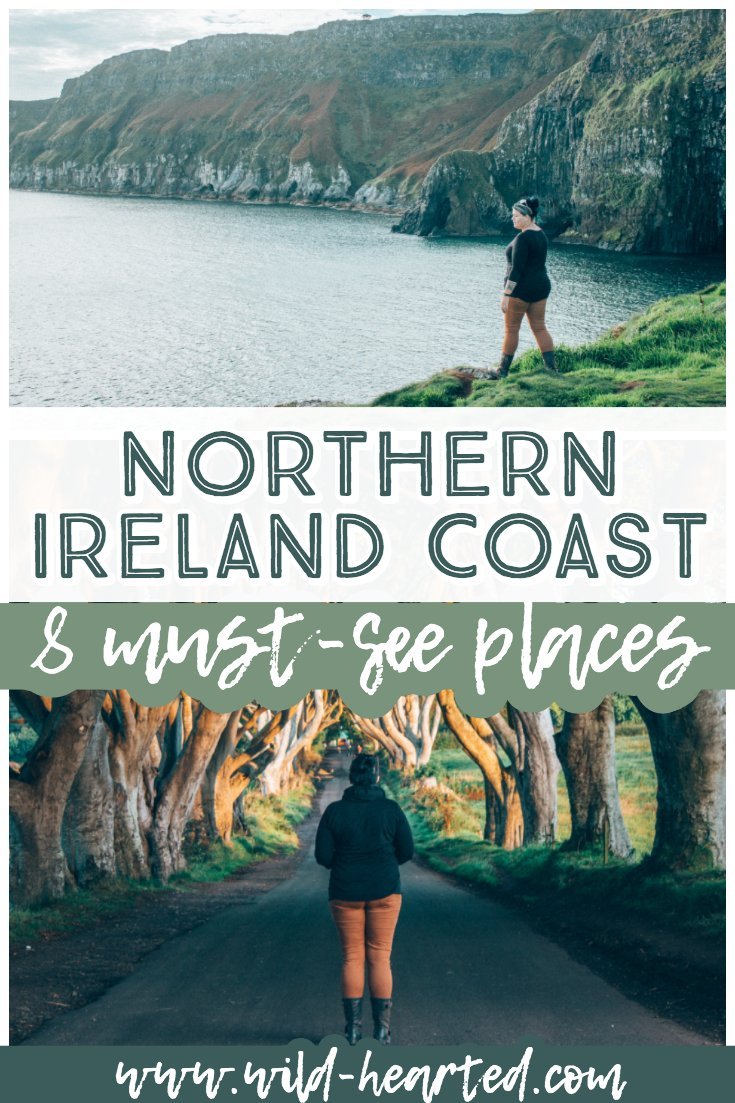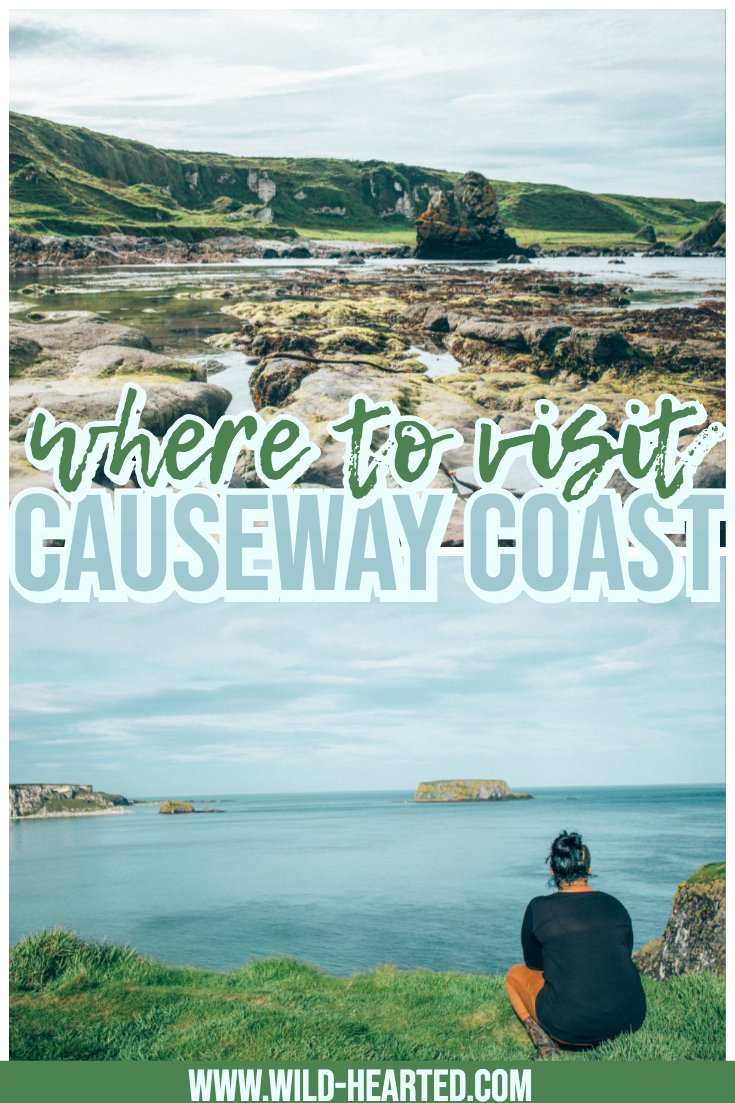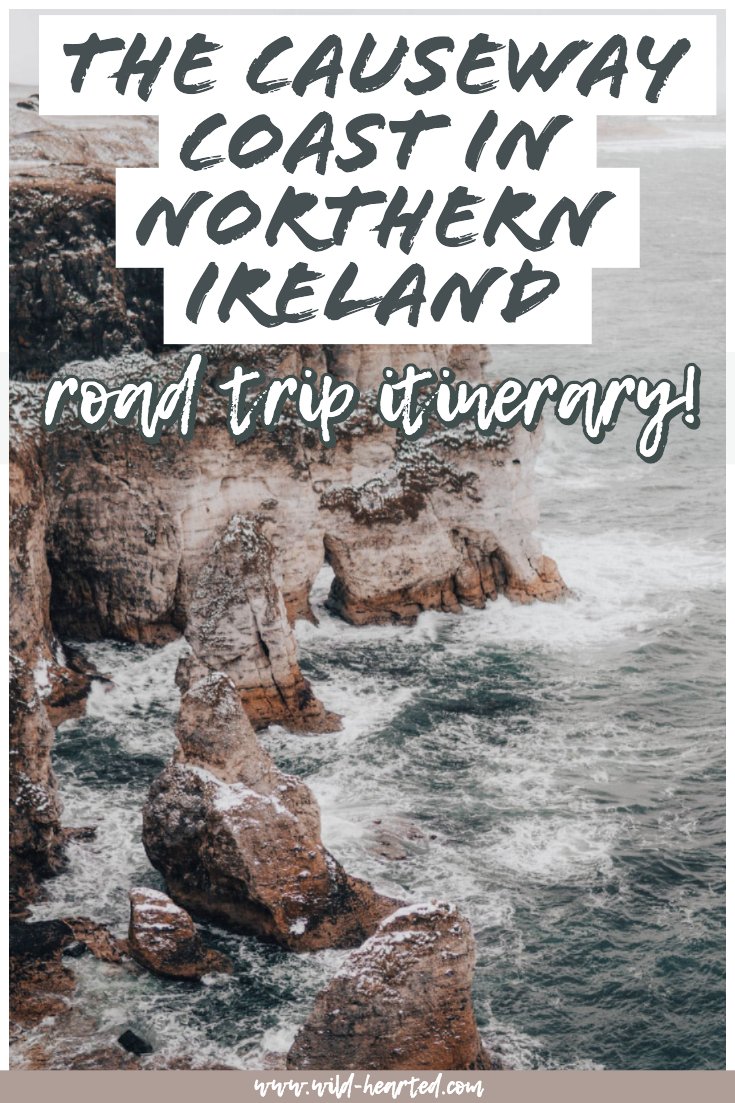 Some of the above activities were provided at a sponsored or discounted rate. As always, all opinions are my own and I will never promote something I don't personally use and believe in, regardless of who foots the bill.
Latest posts by Ashley Hubbard
(see all)