This post may contain affiliate links, meaning if you book or buy something through one of these links, I may earn a small commission (at no extra cost to you!). Please see my disclosure.
**The following is a guest post by Kathi of Watch Me See and Glasgow Vegan Guide**
Vegan Guide Glasgow
The vegan scene in Glasgow is booming. I can barely think of another city where veganism is embraced as strongly by the local community and restaurant scene, whether they serve plant-based fare or cater to omnis. When I moved to Glasgow, I had no idea that I would still be there four years later and as a vegan on top of that. Ever since I turned vegan though, I could not imagine an easier place to live, with plenty of restaurants and street food markets to choose from, great stores focusing on health foods and vegan products and great local resources that make it easier to transition to veganism.
This vegan guide for Glasgow will tell you everything you need to know for a vegan weekend trip to Scotland's largest city and how to prepare for it! Before you head to Glasgow, you'll need a place to stay and there are plenty of flats to rent in Glasgow!
---
Vegan Restaurants in Glasgow
There are numerous restaurants in Glasgow that offer vegan options or even boast complete vegan menus. It's almost expected these days that a restaurant should be able to cater to a variety of dietary requirements and so it's very easy to find a place to eat out in all over the city. There is, however, also a growing number of fully vegan cafes and restaurants – and wouldn't you agree that there is nothing better than being able to order anything off the menu without having to think about whether it is really vegan or not?
Soy Division
Soy Division was Glasgow's first vegan cafe and offers anything you would expect from a traditional Scottish breakfast cafe – sausage rolls, square sausage, bacon rolls and other Scottish classics like Scotch pie or Shepard's pie. My personal is the full Scottish breakfast with secret-recipe square sausage.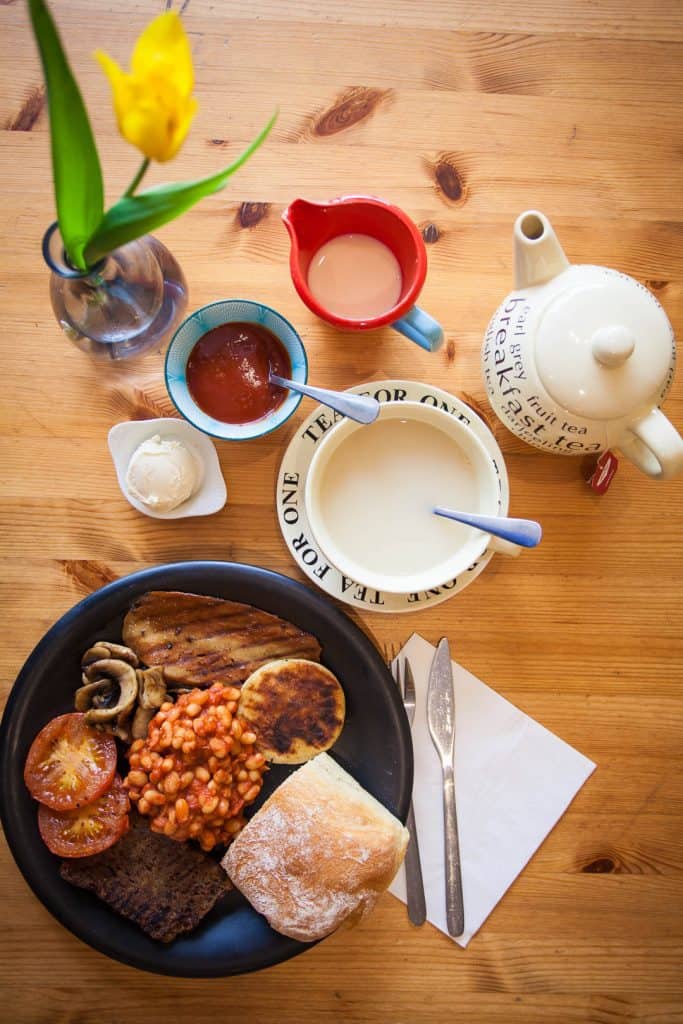 ESSENTIAL INFO
Address // 51 Kilmarnock Rd, Glasgow G41 3YN
Hours // Tuesday (11-5); W-F (11-7); S (9-5); S (11-5); closed Mondays
Website // Facebook
Lotus
Lotus is Glasgow's only plant-based Chinese restaurant and is operated by a lovely family from China who are serving the local vegan community with their favourite stir-fries and curries. The dishes can be a little heavy on the fake meat for my taste, so make sure you mix up your order with plenty of veg-based dishes.
ESSENTIAL INFO
Address // 67-71 Bridge St, Glasgow G5 9JB
Hours // W-Th (12-2;5-9); F-S (12-2;5-10); Sun (5-9)
Website // click here
In Bloom
In Bloom is a Nirvana-themed cafe near Charing Cross in Glasgow. It is located in a cosy space with little seating, but the generous sandwiches and toasties are worth the wait. On the menu you will find creative creations like a double-decker Big Cheese Steak sandwich, Polly's Ploughman or Doner Kebab wraps.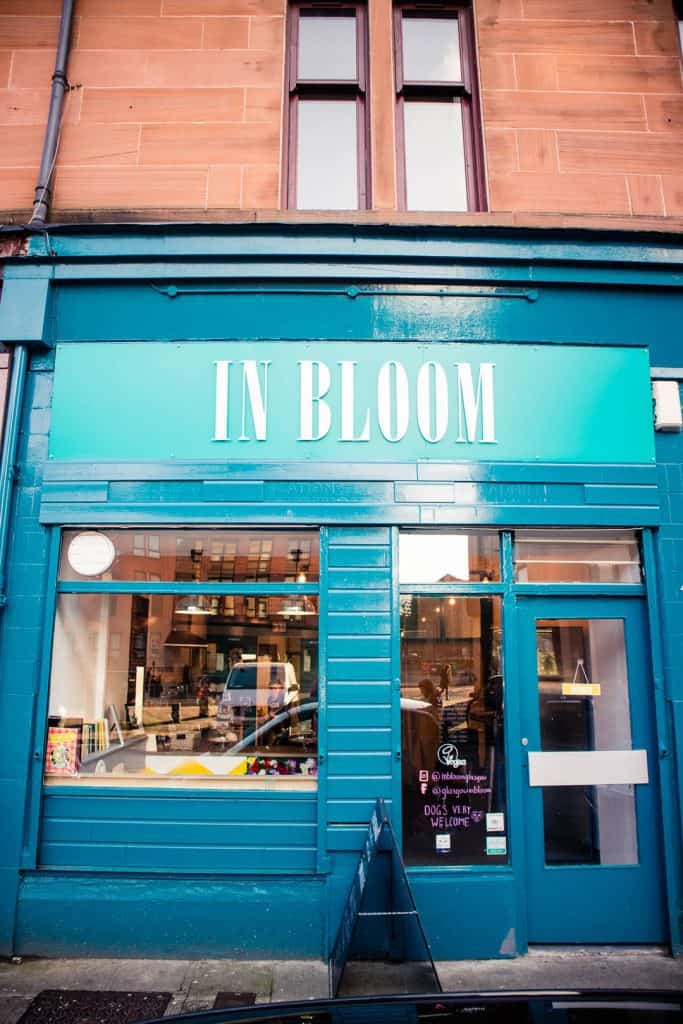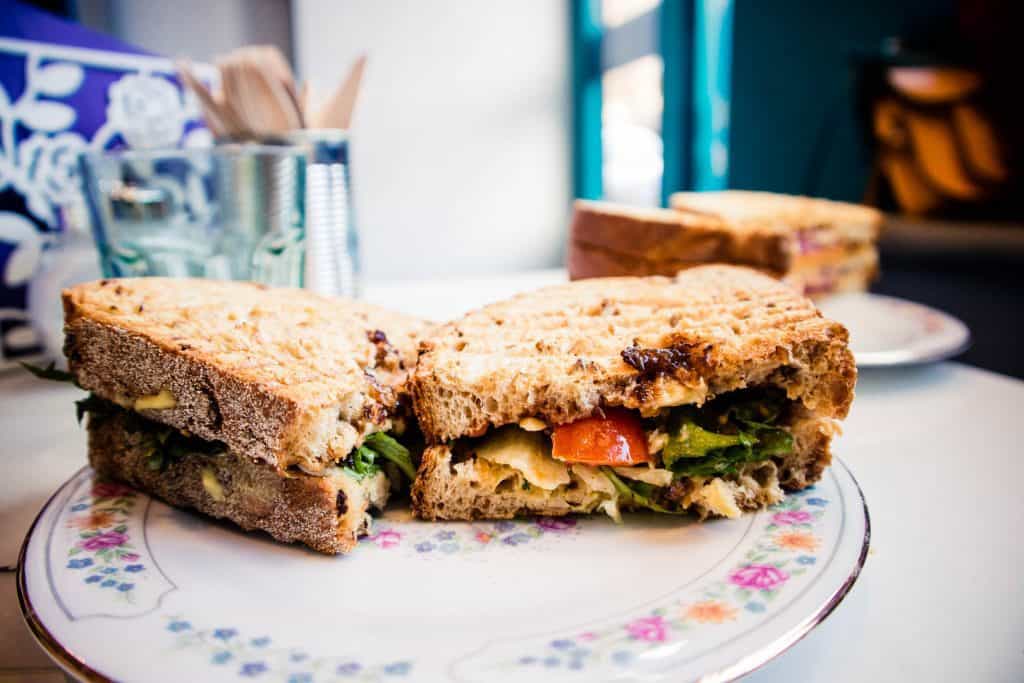 ESSENTIAL INFO
Address // 48 Clarendon Pl, Glasgow G20 7PZ
Hours // M, T, Th, F (8-4); S-S (10-4); closed Wednesdays
Website // click here
Serenity Now
Serenity Now is the latest addition to Glasgow's vegan cafe scene, and is named after an episode of the famous TV show Seinfeld. The menu changes weekly, but you will always find a variety of breakfast and brunch items, sweet treats and fresh juices.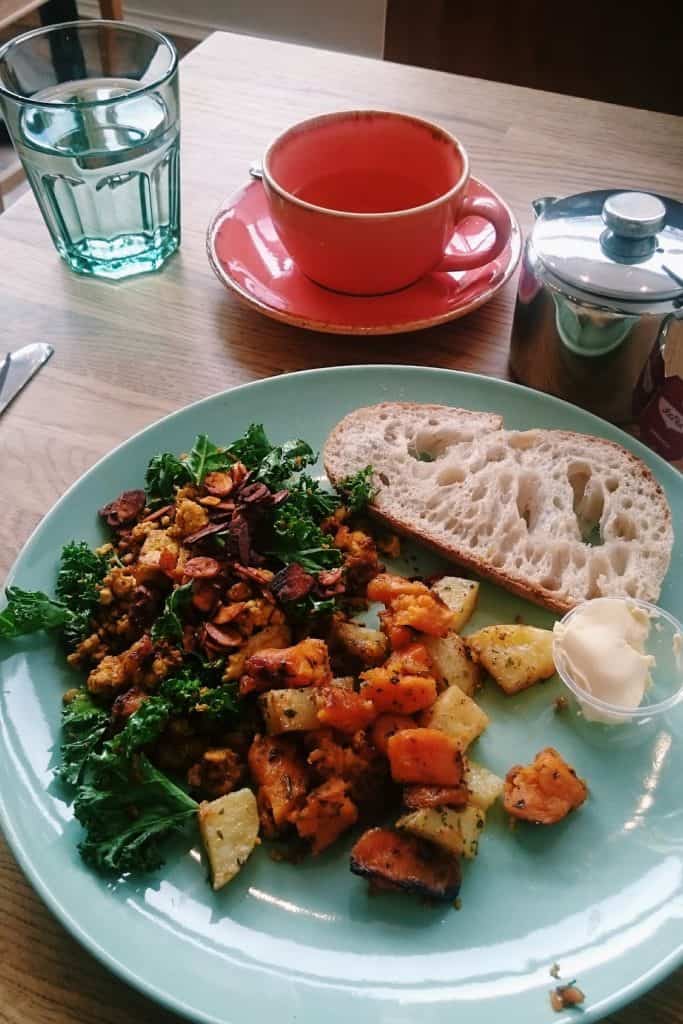 ESSENTIAL INFO
Address // 380 Great Western Rd, Glasgow G4 9HT
Hours // T-F (9-4); S-S (10-5); closed Mondays
Website // click here
The V&V Cafe
This cafe only recently turned fully vegan (after opening as a vegetarian cafe). It offers not only delicious Kashmir-inspired Scottish cuisine, but also has a retail section with vegan products, fresh bread, and cookbooks for inspiration. My favourite is the signature pakora toastie!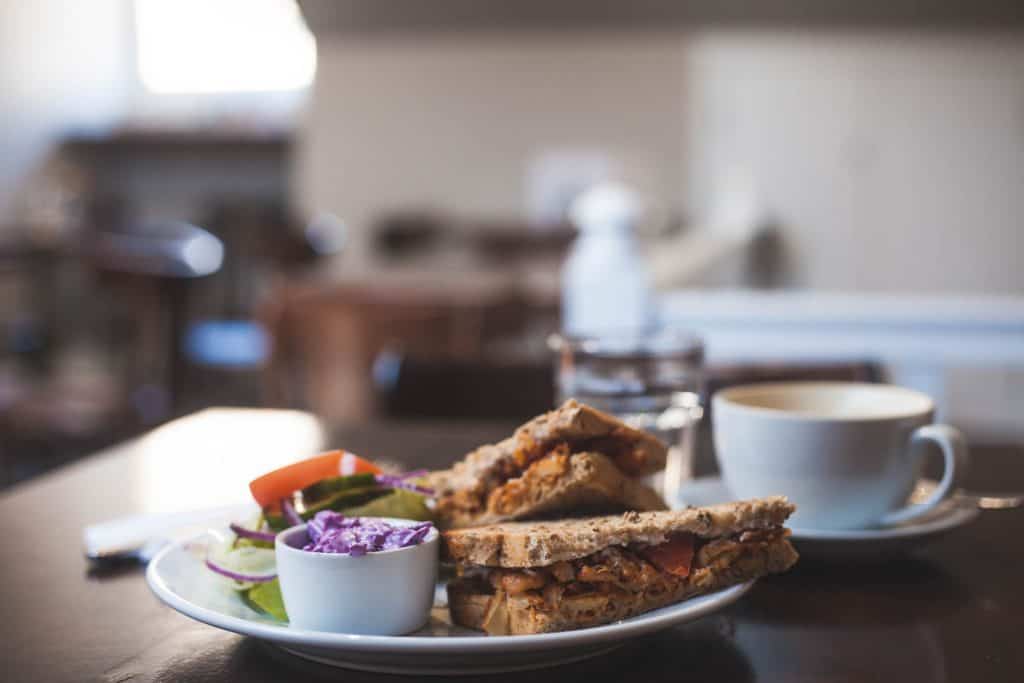 ESSENTIAL INFO
Address // 481 Great Western Rd, Glasgow G12 8HL
Hours // M-F (8-5); S-S (9-5)
Website // click here
The Hug & Pint
This place is a gastropub and music venue in the West End of Glasgow. The menu is changing constantly, as dishes are replaced with new ideas as they run out throughout the week. I recommend going for a taster menu, to taste a little bit of everything.
ESSENTIAL INFO
Address // 171 Great Western Rd, Glasgow G4 9AW
Hours // Monday-Sunday (12-12)
Website // click here
Kind Crusts
***Permanently closed***
Bagel and donut shop in the East End of Glasgow. Run by a woman with big dreams – one day she wants to turn it into a UK-wide chain with healthy lunch options – you can come here to stuff your face with deliciously filled bagels and weekly changing donuts.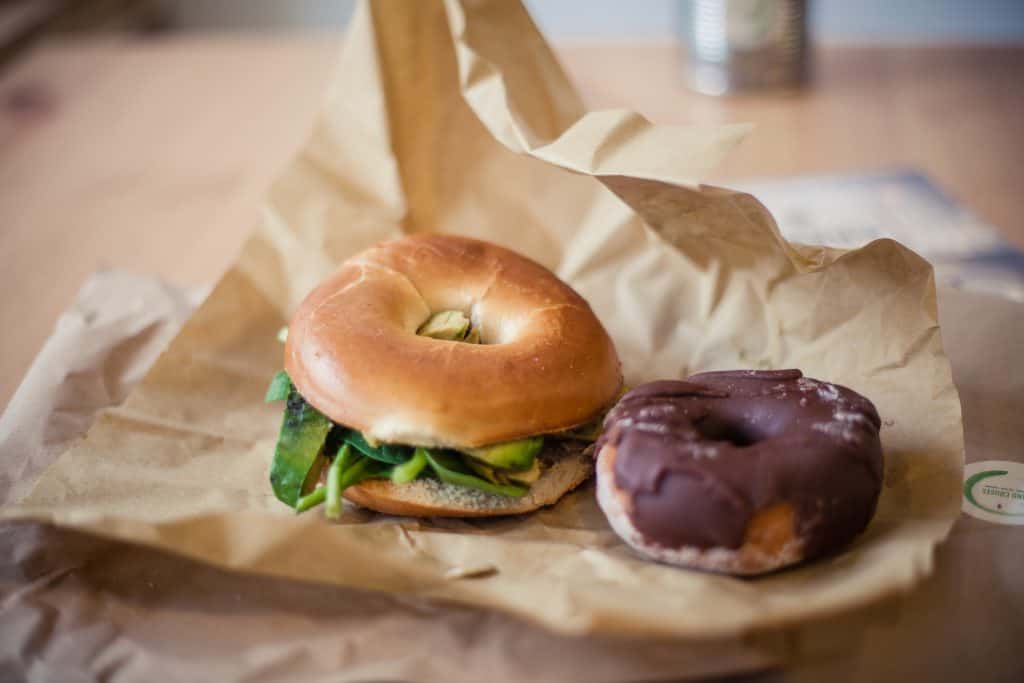 ESSENTIAL INFO
Address // 434 Duke St, Glasgow G31 1QL
Hours // M, Th (9-4); F-S (9-5); S (10-4); closed Tuesdays & Wednesdays
Website // click here
Mono
Mono is Glasgow's pioneering vegan gastropub, a music venue and shares the roof with a small music shop. The menu offers a mix between comfort food and Scottish classics, like tofu fish'n'chips or Mac and Cheese. My personal favourite is the spicy sausage and fennel pizza!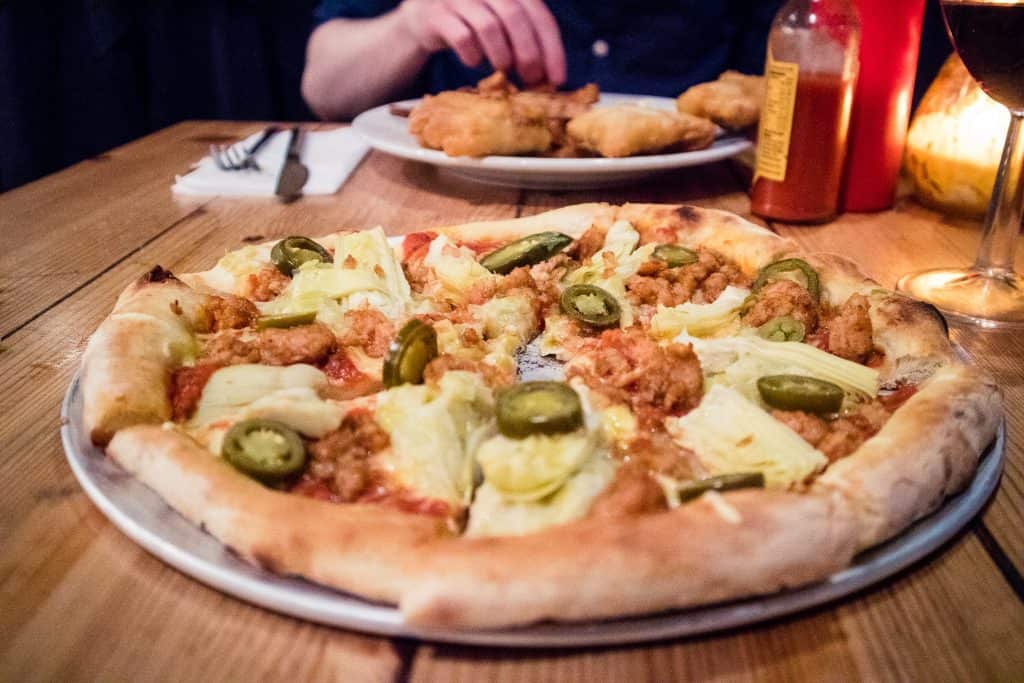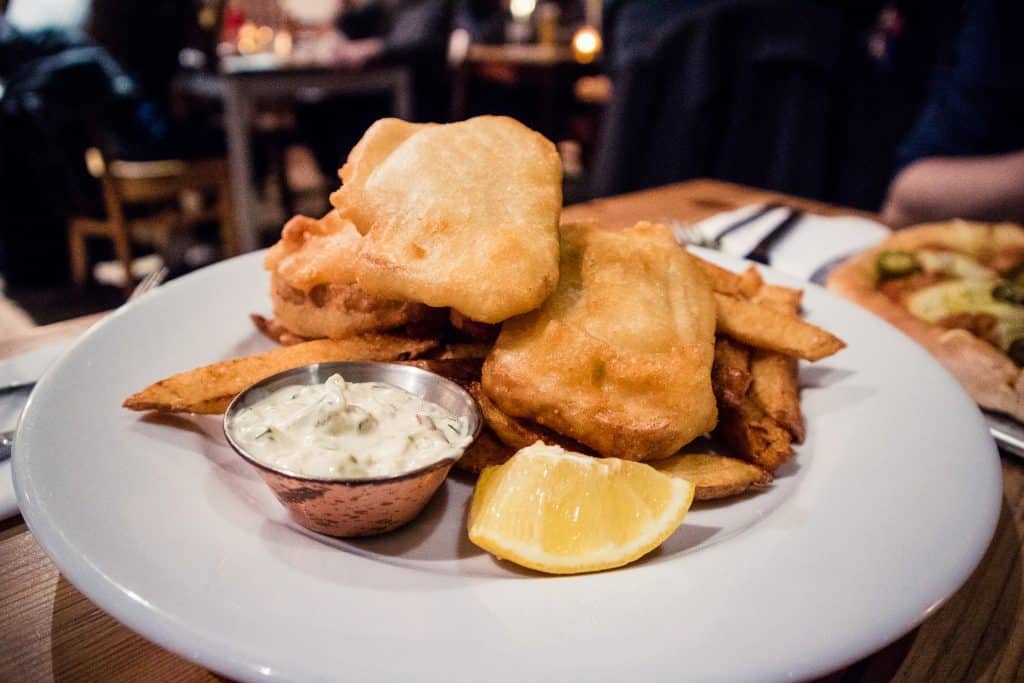 ESSENTIAL INFO
Address // 12 King St, Glasgow G1 5RB
Hours // S-Th (11-11); F-S (11-1)
Website // click here
Stereo
Stereo was established by the same owners as Mono, but has a wildly different menu and vibe. While also a music venue, the eatery has more of a bar vibe, shrinking the dining area considerably during the evenings to make more space for pre-gig drinking. I love coming here for a Reuben sandwich during the day!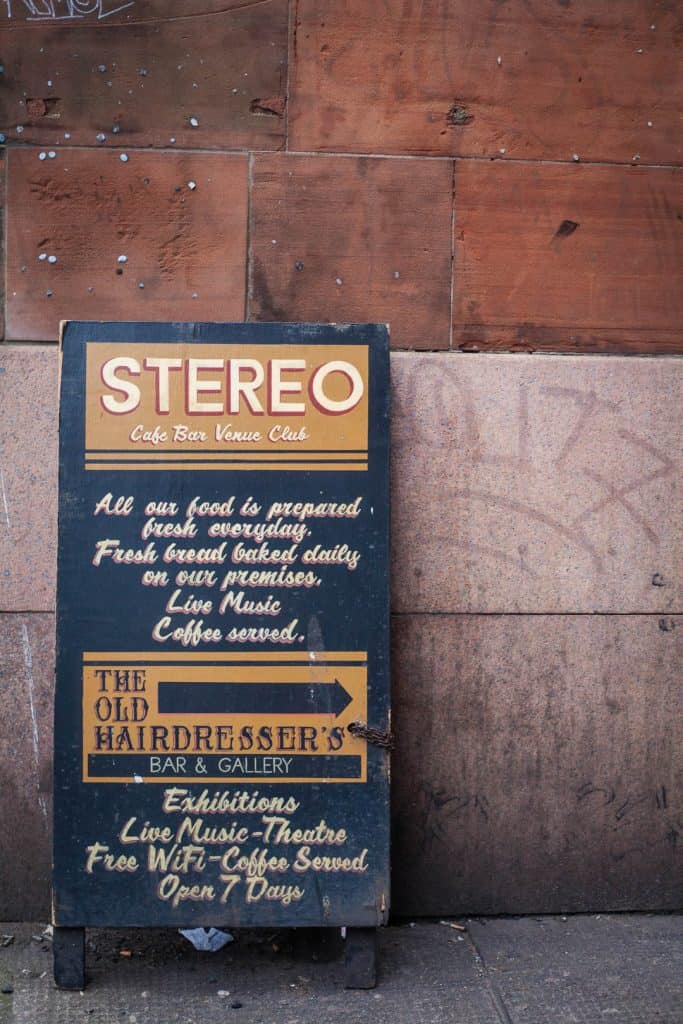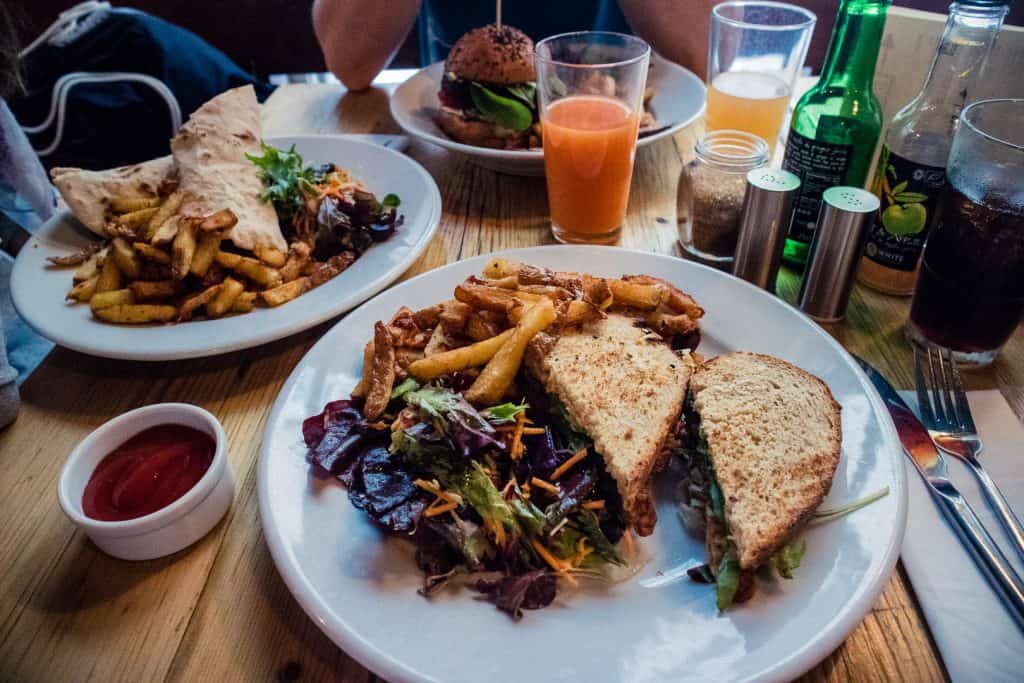 ESSENTIAL INFO
Address // 22-28 Renfield Ln, Glasgow G2 6PH
Hours // M-W (11-12); Th-S (11-3a); S (12-12)
Website // click here
The Flying Duck
This is the budget-friendly little sister of Mono and Stereo. While the former two aren't expensive either, the Flying Duck is frequented by students looking for affordable but delicious burgers and hot dogs. The pineapple burger is my go to!
ESSENTIAL INFO
Address // 142 Renfield St, Glasgow G2 3AU
Hours // M-Th (12-1a); F-S (12-3a); Sun (4p-1a)
Website // click here
The 78
The 78 is the fourth location in the Mono-Stereo family. The cosy gastropub lies in the West End of Glasgow and offers a small menu of classic pub grub – the likes of burger, nachos, mezze or quesadillas. I like coming here on a cold day to sit nearby the fire and drink a glass of vegan red wine.
ESSENTIAL INFO
Address // 10-14 Kelvinhaugh St, Glasgow G3 8NU
Hours // M-Th (12-12); F, S, S (12-1a)
Website // click here
Saramago
Saramago is located at the CCA, the Centre for Contemporary Art and is easily one of Glasgow's coolest venues. The food is great and a good mix of healthy salads, creative wraps, and delicious pizzas.
ESSENTIAL INFO
Address // 350 Sauchiehall St, Glasgow G2 3JD
Hours // S-Th (10a-12a); F-S (10a-1a)
Website // click here
Picnic
A cafe in the city centre of Glasgow that focuses on healthy lunch options for people who work or live locally. On the menu you find a variety of sandwiches and wraps, a soup and curry of the day, a great burger and different homemade cakes from the counter. My tip is to finish off your lunch with a freshly blended smoothie.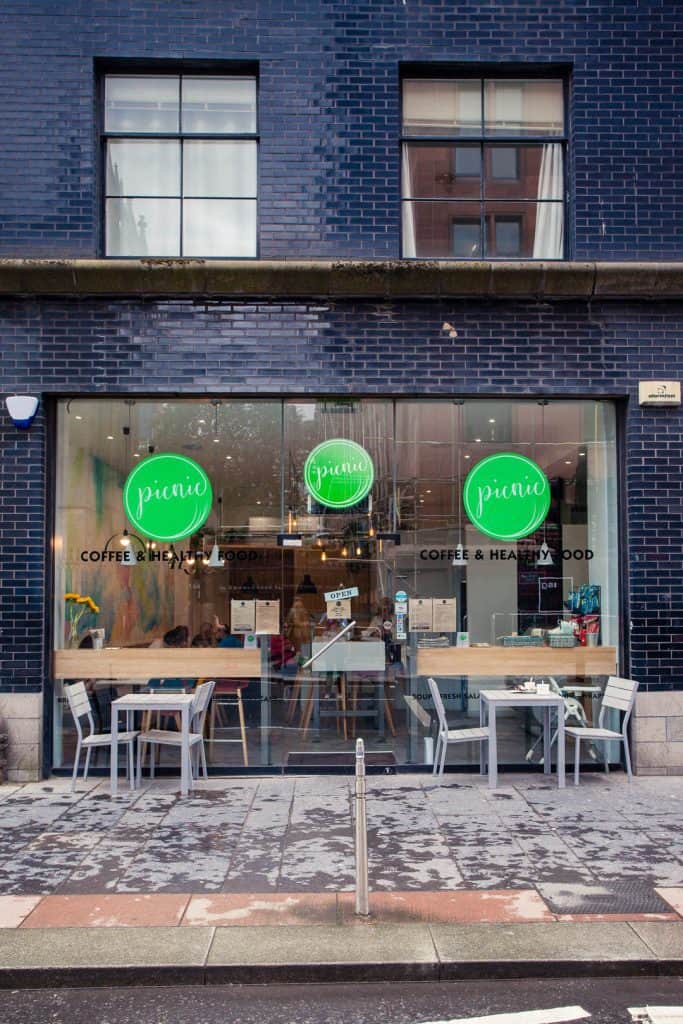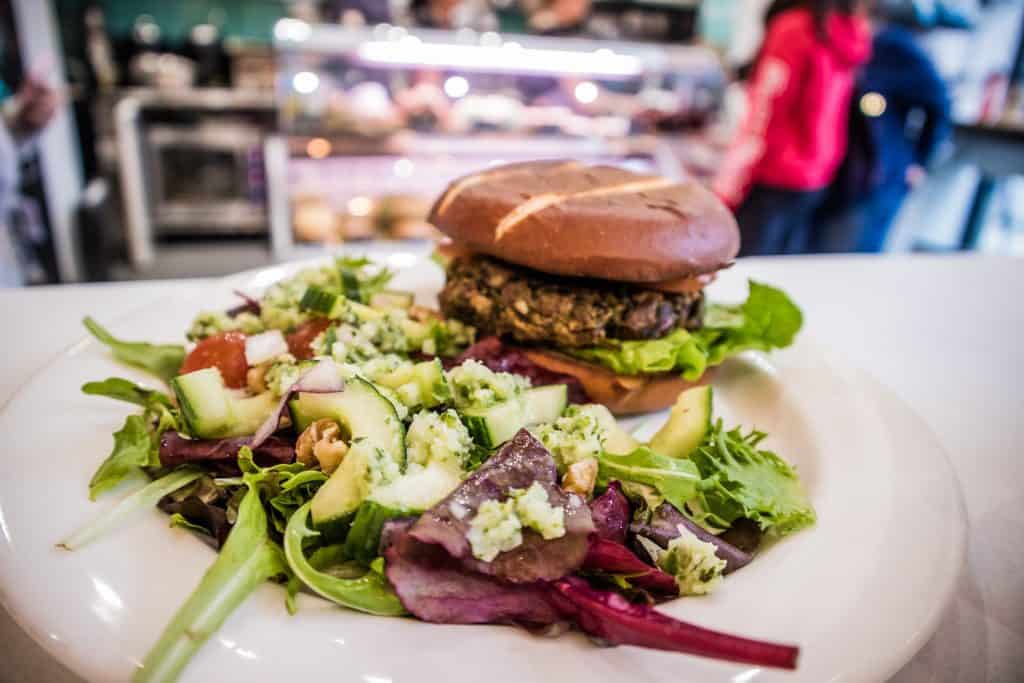 ESSENTIAL INFO
Address // 103 Ingram Street, Glasgow G1 1DX
Hours // M-S (8-4:30); S (10-4:30)
Website // click here
Tomillo
The latest vegan opening in Glasgow, so new in fact, that I've not tried it yet. It is a takeaway and delivery service offering exclusively plant-based dishes, filling the gap of much needed "safe" takeaway food in Glasgow.
ESSENTIAL INFO
Address // 8 Speirs Wharf, Glasgow G4 9TB
Hours // Th (6-11); F-S (5-11)
Website // click here
---
Vegan Food at Street Food Markets
Admittedly, Glasgow has been a little late to the party of food markets compared to London, Berlin or Vienna, but there are a few options in town that will make every vegan heart beat faster.
The Big Vegan Fete
This is Glasgow's only fully vegan food market and takes place once a month at the Flying Duck. The downstairs location inside a pub means though, that instead of food trucks serving up fresh grub, you should expect local producers selling their fare over little tables. It's great to meet local producers, grab some sweet cakes and stock up on vegan household products. It is free to enter.
ESSENTIAL INFO
Address // 142 Renfield Street, Glasgow
Hours // monthly; see details on link below
Cost // Free
Website // click here
Big Feed Street Food Market
This market takes place once a month in a large warehouse near the river Clyde. The food trucks change every month, but the organisers make an effort to always have a few hot options available for vegans too.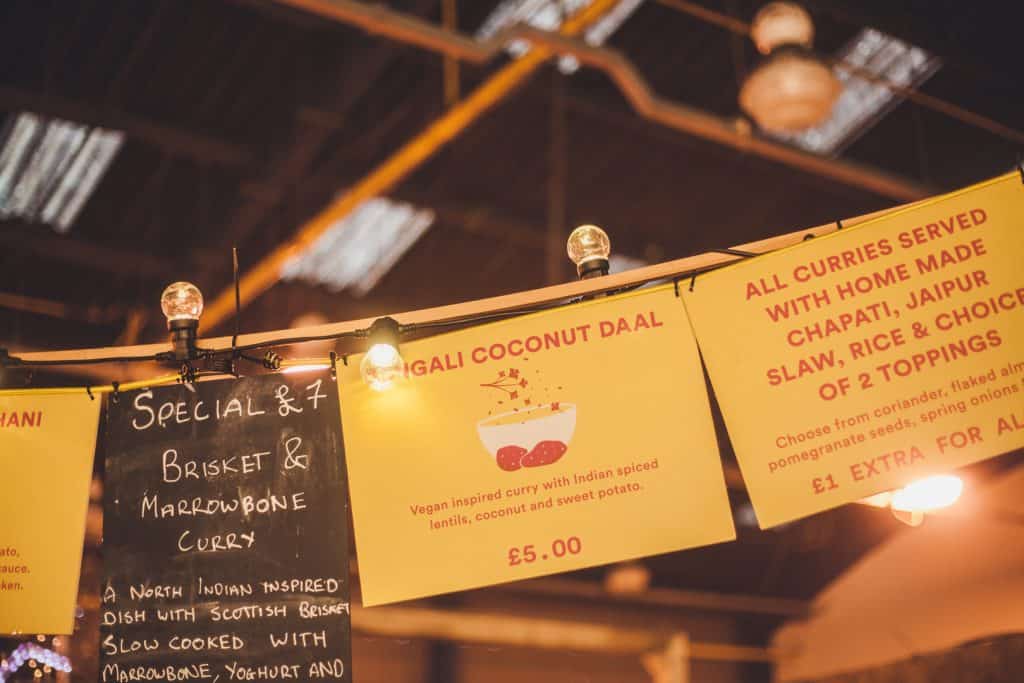 ESSENTIAL INFO
Address // 249-325 Govan Rd, Glasgow G51 2SE
Hours // Sat (12-10); Sun (12-7)
Cost //£2
Website // click here
Dockyard Social
This is a new street food market in the trendy Finnieston area happening once a month. You need to get tickets in advance (£5) but in return all dishes are sold at a set price of £5. There is always a variety of vegan and coeliac dishes available and you can see which vendors will be present on the website before you buy your ticket.
ESSENTIAL INFO
Address // 95 Haugh Rd, Glasgow G3
Hours // 12-10p
Cost //£5
Website // click here
---
Stores with Vegan Products
Shopping for a picnic or cooking at home in your holiday rental? These stores have got you covered:
Holland & Barrett – This is a health store chain selling wholefoods and dietary supplements. Some branches also have a fridge section with vegan cheeses and fake meats.
Quality Vitamins & Herbs, 123 Douglas Street, Glasgow G2 4HF
Independent grocers selling fresh produce from local producers and all sorts of vegan supplies:
Locavore, 66 Nithsdale Road, Glasgow G41 2AN
Stalks & Stems, 1045 Pollokshaws Road, Glasgow G41 3YF
Harvest Co-op, 1143 Pollokshaws Road, Glasgow G41 3YH
Roots & Fruits, 455 Great Western Road, Glasgow G12 8HH and 1137 Argyle Street, Glasgow G3 8ND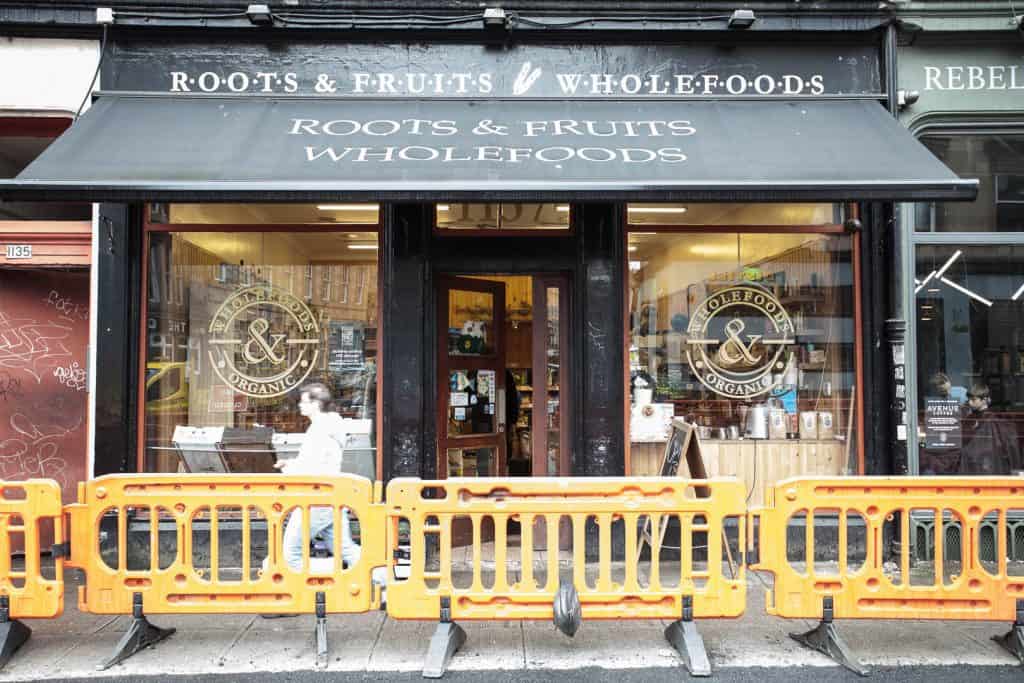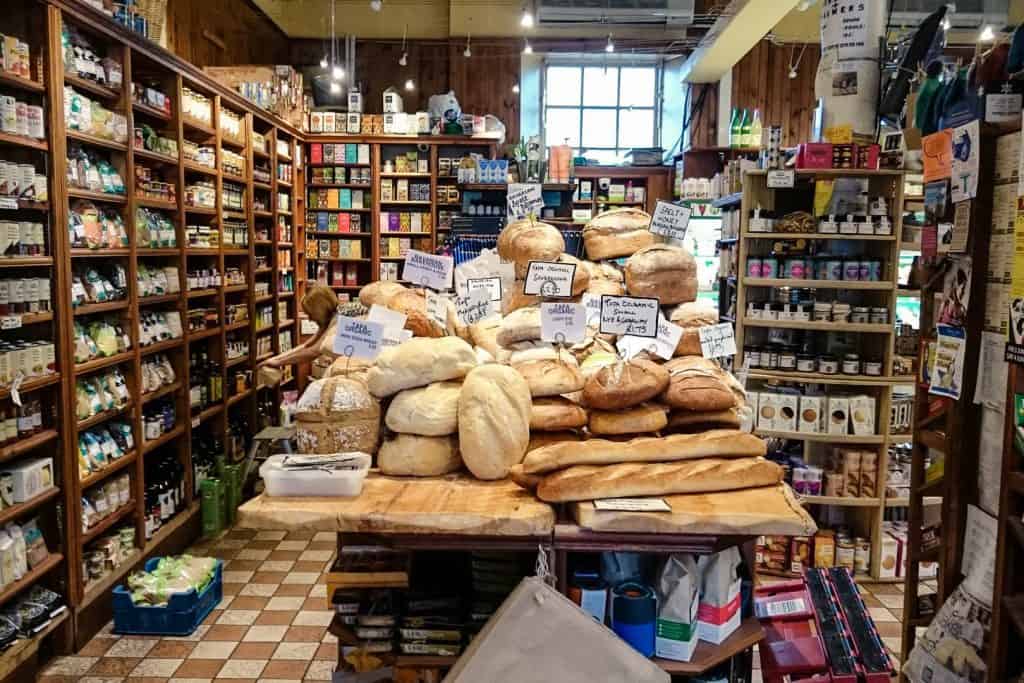 ---
Local Resources for Vegans
Of course, it's not all about addresses and food – sometimes it's nice to hear personal recommendations from locals with similar requirements. That's why I started Glasgow Vegan Guide, a website where I publish restaurant reviews, talk about current vegan events in Glasgow and also link to other vegan and vegan-friendly businesses, such as hair salons, catering services or clothing shops.
Another useful resource is the Facebook community Vegan Edinburgh & Glasgow, where locals exchange advice and share recommendations about all things plant-based and cruelty-free.
My top tip for navigating Glasgow as a vegan is to save places on your Google Maps so that you always know which vegan business is near you. This Glasgow city guide is a great start to get you going and will make sure you know about vegan restaurants in Glasgow to eat for days! If you'd like to read more – especially about my favourite vegan-friendly omni restaurants, follow along at @glasgowveganguide. Happy traveling!
---
Have you ever been to Glasgow?? Tell me about it in the comments below ↓↓↓
Looking for hotels in Glasgow? Check out reviews here and book here.
Want more information on being vegan in Glasgow? Check out Kathi's Glasgow Vegan Guide.
Looking for a guidebook on Scotland? Here ya go!
What else have I written?You can find more vegan guides here and Scotland posts here.
Like this post? Have Questions?Hit me up on Facebook | Twitter | Instagram | Pinterest | Email
↓↓↓ PIN IT ↓↓↓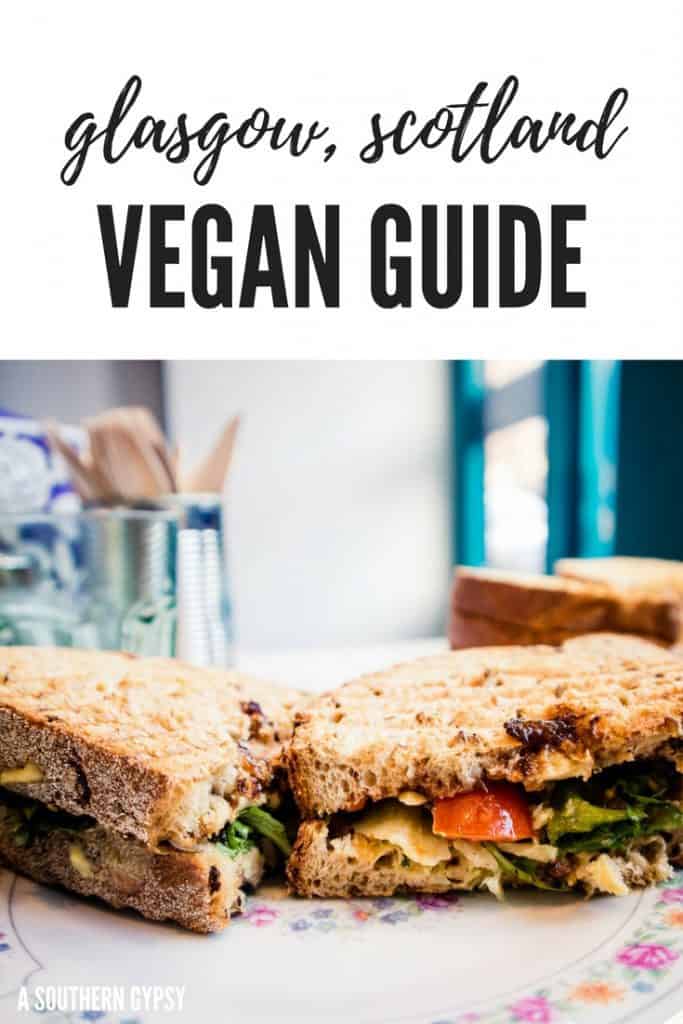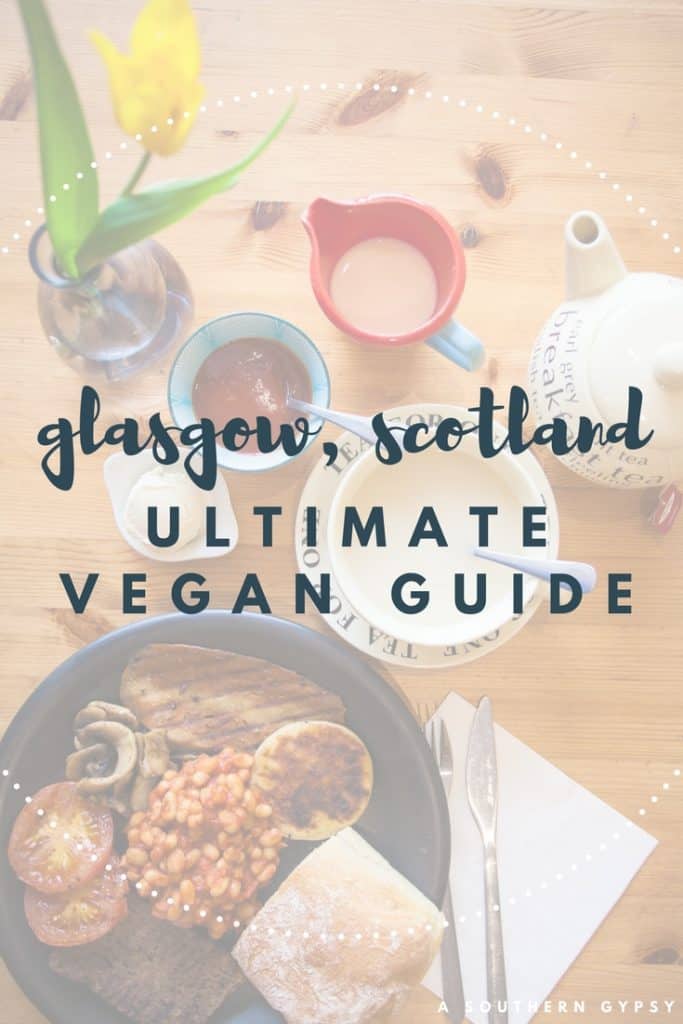 Also, some of the above are affiliate links and I will earn a very small percentage of the sale if you purchase through them at no extra cost to you. Thanks for supporting A Southern Gypsy!
Latest posts by Kathi Kamleitner
(see all)