This post may contain affiliate links, meaning if you book or buy something through one of these links, I may earn a small commission (at no extra cost to you!). Please see my disclosure.
A Night Hike in the Amazon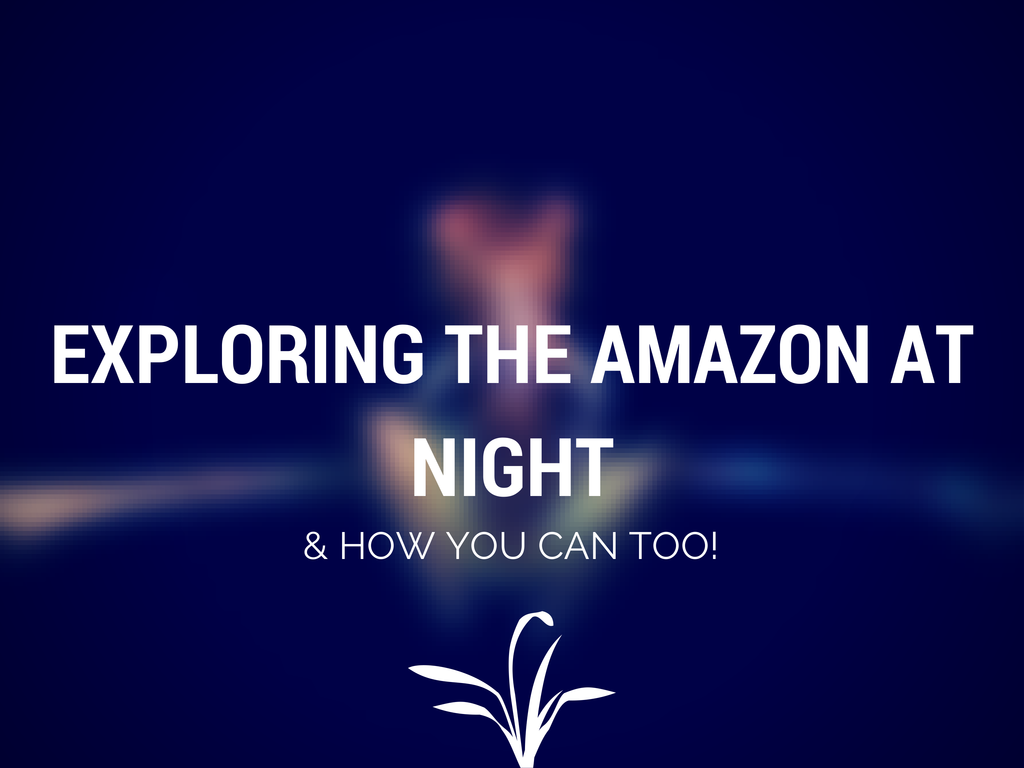 Ana and I arrived in Puerto Maldonado towards the end of our three-week adventure in Peru. We had helicoptered over the Nazca lines, trekked the Inca Trail to Macchu Picchu, and surfed sand dunes in Huacachina. Intrepid, the organizer that curated this experience for us, chose local operators that were responsible, eco-friendly and outdoor-adventure focused. We were proud of having traveled sustainably and couldn't believe that there was still more to experience.
As we stepped off the plan from the 30-minute ride from Cusco, I immediately felt the sweltering dampness that would linger throughout our time. We gathered our belongings and joined the group in a Jurassic Park – style jeep and began the trek into the jungle. Our ancient vehicle shook uncontrollably for the hours that we bumped around the unpaved, red clay roads, spotted with potholes, that really, were just holes that looked like miniature ponds.
The truck led us to a small, motorized boat, immediately beginning our tour of the area's myriad flora and fauna. I made a friend with a seven-year-old boy as we squinted our eyes to find alligators. The hum of the engine coupled with the view of the Tambopata River sent me right into a nature-induced trance.
Upon arrival at the Explorer's Inn, we were greeted by what I had thought was a parrot, but was actually a wildly loud, rainbow-painted macaw, a bird native to the area because of the clay licks, or feeding areas for macaws in the western Amazon. I've got some birders in my family, and while I've never been one myself, one of these beauties will make anyone a birder.
On our first night at the lodge, our guides told us that we'd have the fortune of going to explore nocturnal life in the area. Excited for the chance to see the flora and fauna that comes alive at night, but terrified of the animals/bugs/monsters eating me, I squeezed Ana's hand and flashbacked to walking through camp after dark.
I sprint to my bed – monster, burglar, and robber images flashing through my mind – after I turn the lights out at night. I turn on every light when I walk to the bathroom. Yes, at 25 years old, I am still scared of the dark.
I don't logically think there are monsters under my bed. Could someone break in? Sure, but with my boyfriend (and his bat) here, I've got some protection. I have had no traumatizing experiences in the dark and have spent much of my youth in woods, in the dark (with flashlights, but still). I do not know why. It is just scary to me. Needless to say, I was a little jumpy about the adventure on which we were about to embark.
We began our journey stomping through puddles in our muck boots. With a camera in one hand and my friend's grasp in the other, we followed the tips of our tour guides heels through the woods. A few steps in and my senses became overwhelmed by the blackness that clouded my vision. I had never experienced a darkness like this.
But, as adaptable as the human body is, my eyes began to adjust. As I listened to our guide point out insects larger than some small mammals and frogs tinier than a quarter, I began to let the fear dissipate. Nature's serenity took over and instead of feeling terrified that some creature would eat me alive, I began to absorb his facts while sensing a new level of pure relaxation.
We returned from the hike filled with new knowledge and for me, an achievement for having survived a hike, through the jungle, at night. And after snacking on the best banana of my life, I got settled in my new bed, mosquito netting and all.
Want to go?
There are many packages that you can book through eco-lodges in the Amazon, some are more budget-friendly than others. Book your flight to Puerto Maldonado from Cuzco. Most lodges will pick you up from the airport and transport you to their base. You can also book endless outdoor adventure activities through your lodges. We stayed at Explorer's Inn – a leader in conservation and ecotourism. I would highly recommend them! This wiki is also very helpful for other lodges and recommendations in the Puerto Maldonado area.
Latest posts by Emily Moyer
(see all)