This post may contain affiliate links, meaning if you book or buy something through one of these links, I may earn a small commission (at no extra cost to you!). Please see my disclosure.
Exploring the Red Rocks of Sedona, Arizona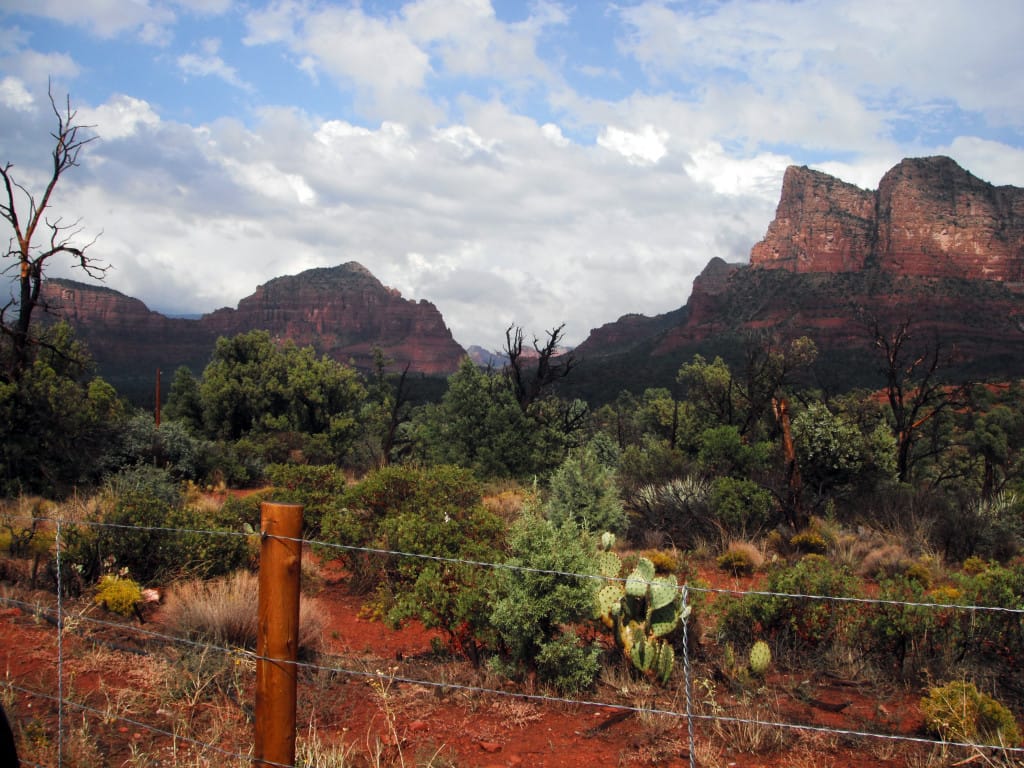 Once the decision was made to drive to the Grand Canyon from Phoenix, AZ all that was left was to find a few places that might make interesting stops along the way.
The first attention grabber turned out to be one of the absolute highlights of a 6 week vacation. Sedona appealed on many levels, it was not just a place of incredible beauty but the whole "spiritual vortex" thing was intriguing, and the fact that it had such a history as a backdrop for many famous, and infamous, Hollywood westerns added even more.
Arriving after dark made it a bit of a lottery when it came to finding a Hotel but, after a few failures, we were able to get a room at the Matterhorn Inn. We were assured at the front desk that we would be impressed with the view from the room.
A moonless night meant the view would have to wait until morning. Well, morning came and proved the desk staff right. One look across our balcony and Sedona had already lived up to expectation.
Sedona is a lovely city to walk around, a nice selection of shops along a sleepy main street, some wonderful restaurants that made dining decisions difficult, and scenery all around that will blow you away.
However, the real attractions of Sedona are the incredible Red Rocks. Our first stop before heading out to explore the region was the Tourist Information Centre is the middle of town. We were given some great advice and also offered a GPS loaded with interesting information on places we were likely to visit during our drive.
After almost rejecting the offer due to having our own GPS we decided to take the advice and spend the $30. It was worth every cent! Sure your regular GPS will guide you around the streets but this baby was packed with images, stories and suggestions. We were able to appreciate the experience far better than without it.
The rock formations have been given names over the years based mainly on similarities to people, places and other common objects. This makes the journey not only easier to find the places you are looking for but also fun for the kids, giving them a new take on the I-spy game.
Names like Cathedral Rock, Coffeepot Rock, Twin Nuns and my personal favorite, Snoopy Rock, help give some extra personality to what is already a magnificent and scenic drive.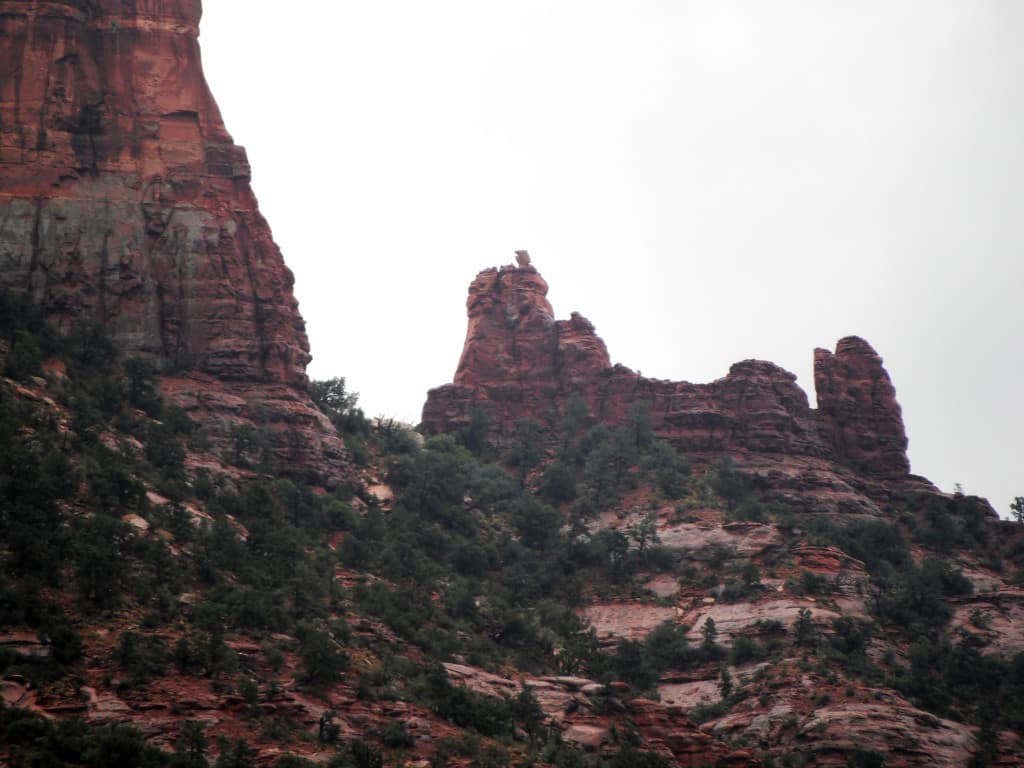 One word of advice before we go on, a lesson we almost learned the hard way. If you plan to travel some of the unsealed roads to get to the more out of the way formations, be very wary if you are not driving a 4WD vehicle. And even then you still still be cautious if there is any chance of rain.
I had heard of desert flash flooding but had no idea of how quickly it can occur or how powerful the flow of water can be. We were only just able to turn our rental Jeep and clear the stream as the water level rose from a meandering 6 inches to a rushing torrent more than twice the depth within a couple of minutes.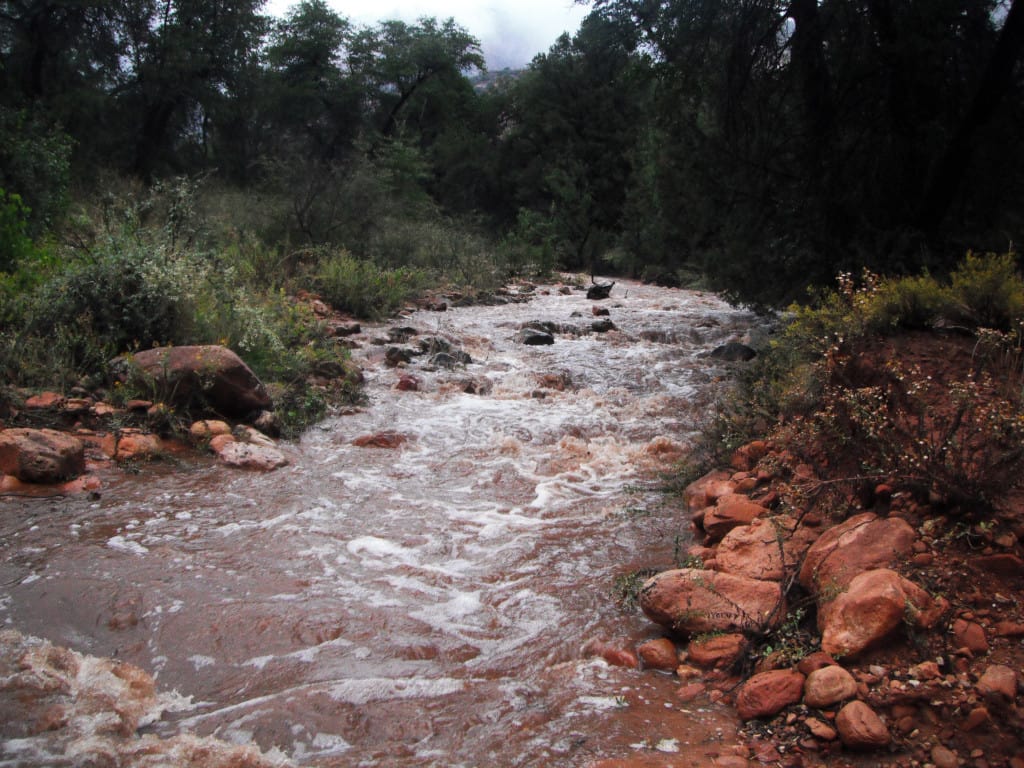 The mountains are not the only attraction around Sedona worth seeing. Some of the architecture is more than impressive. There are some magnificent homes in the hills and the adobe look throughout the main street all work to create a feeling of living with nature. However, the most notable building has to be Chapel of the Holy Cross.
The Chapel seems to have grown from the Mountains and somehow establishes itself as both imposing and part of the natural landscape. It is quite an architectural achievement.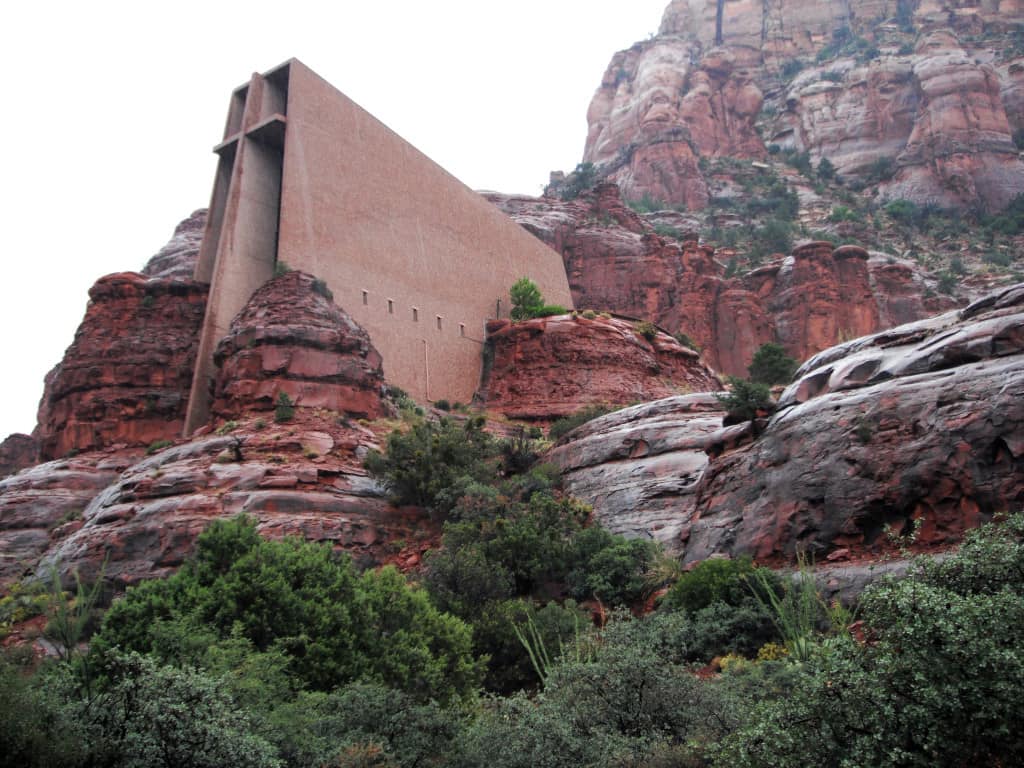 On that spiritual note, but not in the same religious vein, Sedona has an international reputation as the home of a major energy vortex. Supposedly a place where multiple streams of natural energy flow around the mountains, leaving visitors with enhanced feelings of happiness and well being. Others say the proof can be found in some of the trees which are strangely twisted as though they have been turning as they grow.
On leaving Sedona for the drive further north we had one more stunning view and engineering marvel for us to witness. The Midgley Bridge, while quite stunning to witness, it is also an extreme challenge to cross for those of us with a fear of heights, but worth the scare.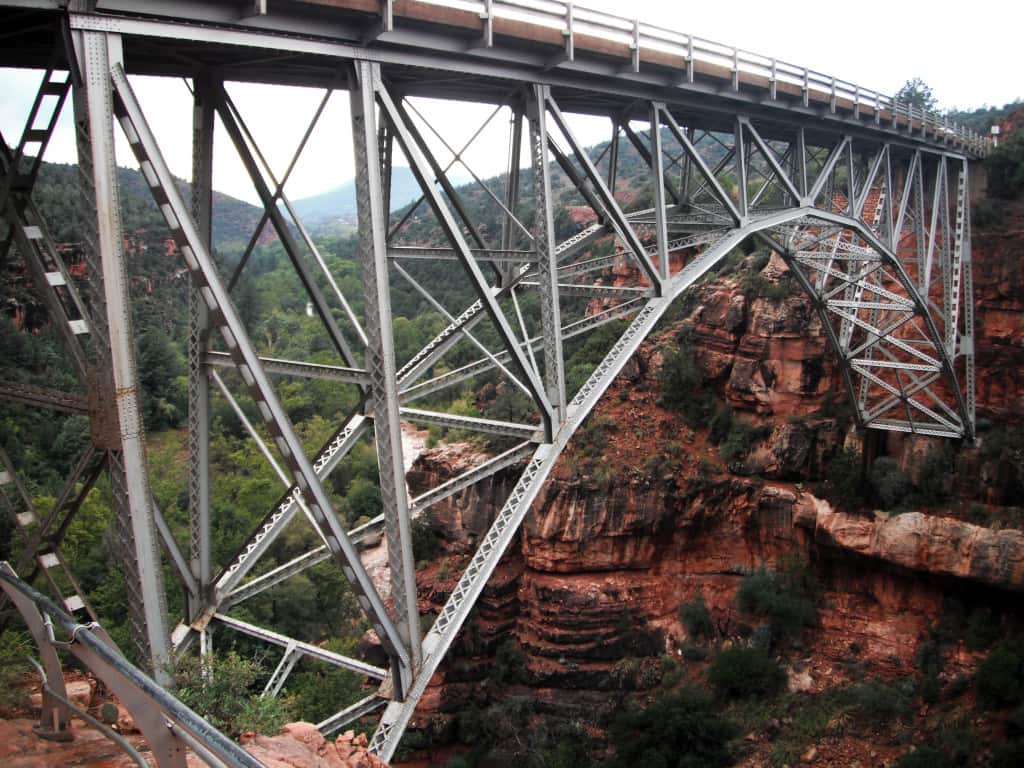 Sedona is a place that you could easily visit for days, wandering, biking, hiking, driving or relaxing in one of the many health spas that draw on the vortex energy. Whatever your outdoor passion Sedona has something for you.
Would you like to explore the Red Rocks of Sedona?
Latest posts by Dean Williamson
(see all)