This post may contain affiliate links, meaning if you book or buy something through one of these links, I may earn a small commission (at no extra cost to you!). Please see my disclosure.
Looking for a gift that keeps giving past the holidays? Consider subscription boxes for vegans, ranging from vegan makeup to vegan snacks that in price and length. And it doesn't stop at gift giving. These are perfect to treat yourself to something new too. There's nothing better than getting "good mail" is there?!
Most of these have been tested and approved by us!
Food Subscription Boxes
For vegan snacks delivered to your loved one's door, look no further than the Vegancuts Snack Box. Each themed box is filled with at least 10 sweet and savory plant-based snacks, meal items, and drinks curated by the Vegancuts snack master Britty.
For a taste of what each month can look like, November was themed Flavors of Fall and contained items like sugar-free hot chocolate mix, cranberry almond maple granola, and dried fuji apple snacks.
Vegancuts Snack Box plans vary by how many months you prepay
Month by month: $24.95
3 months prepaid: $74.85
6 months prepaid: $134.70
12 months prepaid: $288.60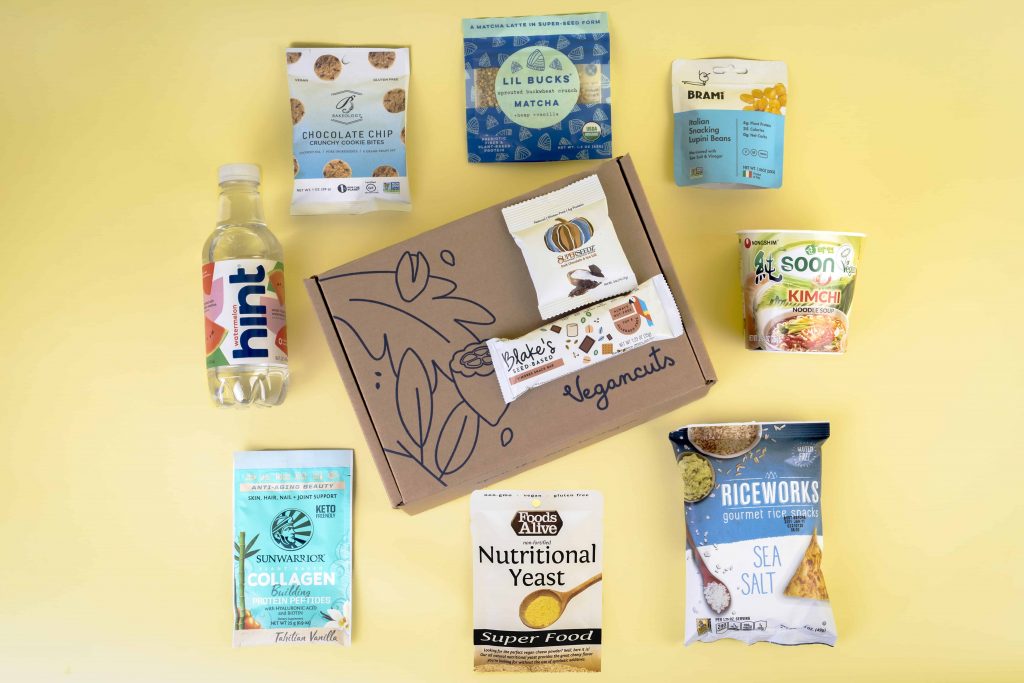 Have someone on your list that is looking to kick artificial junk to the curb? Gift them SnackSack, a monthly subscription box full of nutritious goodies. Each box is filled with 11-15 new snacks, and plans include classic, vegan and gluten-free. Subscription plans automatically renew, but gift purchases do not automatically renew.
SnackSack subscription boxes can be gifted for the same price as general subscriptions:
Month by month: $24.95
3 months prepaid: $73.50
6 months prepaid: $144.00
12 months prepaid: $282.00.
A monthly Urthbox subscription gets snacks for a vegan on your gift list 30 full-sized products for up to a $100 value. Each snack box is available in different sizes and different types including classic, gluten free, vegan and diet. Each box is non-GMO, organic and all natural.
Urthbox subscription boxes can be purchased in different sizes, and gift pricing is different from general subscription pricing:
Small (14+ snacks):
3 months: $89.97
6 months: $161.94
12 months: $299. 88
Medium (20+ snacks):
3 months: $119.97
6 months: $221.94
12 months: $414.88
Large (27+ snacks):
3 months: $149.97
6 months: $281.94
12 months: $539.88
Beauty Subscription Boxes
There are two ways to gift the vegan beauty lover on your list from Petit Vour, each a monthly curation of cherry-picked products that are clean, vegan and never tested on animals. The Beauty Box features 4-5 products valued at $50 from the best clean and vegan beauty companies on the market. The PV Plus Beauty Box features 5-7 travel and full size products valued at $100 plucked from subscriber favorites.
The Beauty Box can be gifted for $18/month, and the PV Plus Beauty Box can be gifted for $25/month.
Co-founded by Evanna Lynch (Harry Potter's Luna Lovegood) and Daniella Monet (Victorious' Trina Vega), Kinder Beauty is a vegan, cruelty-free and clean beauty subscription box with up to $165 in value each month. Each box has at least two full-sized products from top brands like 100% Pure, Andalon Naturals, INIKA Organics, and Franklin + Whitman.
The Kinder Beauty box can be purchased through various monthly plans:
Month to month: $25
3 months prepaid: $72
6 months prepaid: $138
A portion of all sales benefits some of Lynch and Monet's favorite animal rights and environmental causes.
Use the code KINDER10 and get 10% off your entire purchase.
In addition, all new users who sign up for the 6-Month Subscription Plan will automatically receive a FREE Welcome Gift ($75+ value)!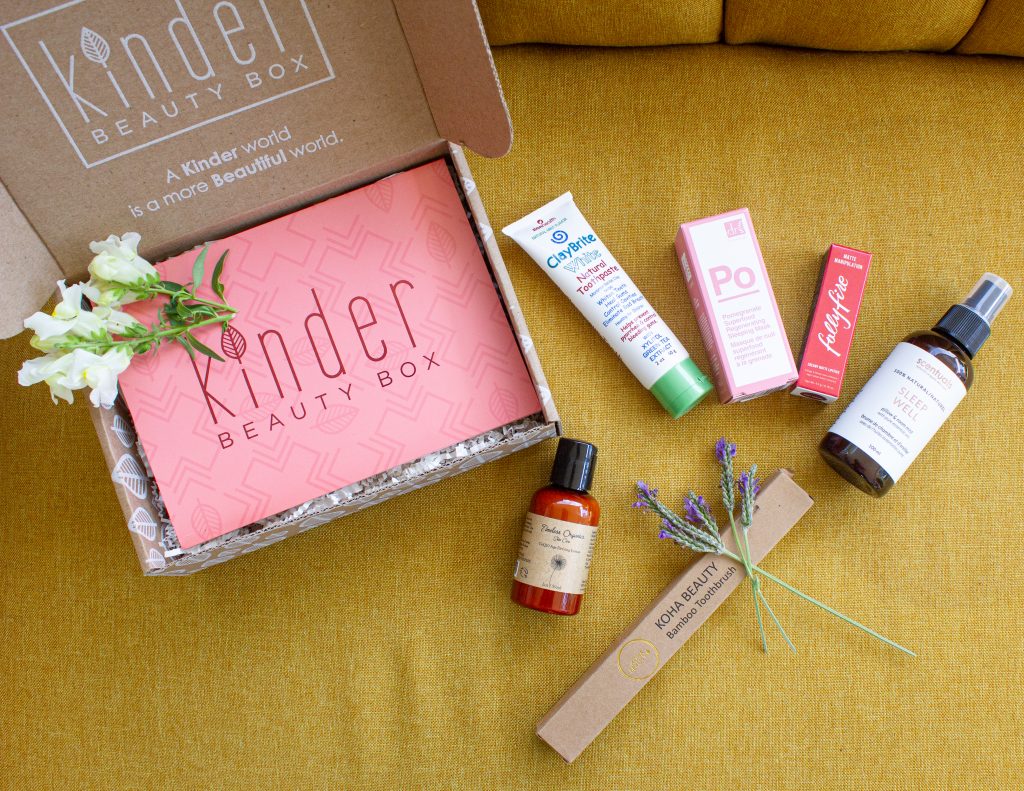 Four full-sized, earth activated, clean beauty products will arrive on your recipient's doorstep each month with the Nourish Beauty Box. Each product is 100% cruelty free, gluten free and vegan.
Purchase the Nourish Beauty Box in three different ways:
Month to month: $29.95
3 months prepaid: $89.95
6 months prepaid: $159.90
The Vegancuts Beauty Box offers four or more deluxe and full-sized vegan skincare products each month. Each product is 100% vegan and cruelty-free, and each box is themed; the November box was themed Gratitude and Joy.
You can purchase the Vegancuts Beauty Box through three different plans:
Month to month: $24.95
3 months prepaid: $74.85
6 months prepaid: $134.70
Makeup Boxes
The Vegancuts Makeup Box is one of the few non-monthly subscription boxes on this list, but it doesn't mean it's any less worthy of gifting. Each quarter, your recipient will receive at least four full-size vegan and cruelty-free cosmetics, and color customization is available for featured products.
Each box can be purchased for $39.95 each quarter: spring, summer, fall and winter.
Medusa's Makeup Box arrives at doorsteps with four full sized products each month that are cruelty free and vegan. A typical Medusa's Makeup Box includes one beauty product and three makeup products, and you can expect neutrals for everyday and one fun pop of color.
Subscription boxes can be purchased in four ways:
Month to month: $18.95
3 months prepaid: $55.35
6 months prepaid: $107.70
12 months prepaid: $203.40
For lash styles as unique as who you're gifting, look no further than Kinder Lashes. Four lashes valued at $55 arrives monthly or bi-monthly, and each lash lasts up to 25 wears. All lashes are hand-crafted, cruelty-free, and of premium quality.
Kinder Lashes subscription boxes can be purchased for $20, and purchases support the Brain & Behavior Research Foundation.
Finding vegan lashes is actually not super easy so this is definitely a great option when it comes to subscription boxes for vegans, especially the makeup lovers in your life.
Other Subscription Boxes for Vegans
Nourish the inner goddess of the special vegan on your list, and help them grow in their spiritual practice with the Goddess Provisions subscription box. Each box contains 5-7 full sized products including tea, apothecary beauty, superfood snacks, aromatherapy, spiritual growth tools and crystals.
Goddess Provisions subscription boxes can be purchased for as low as $33 a month and a tree is planted for every box sold in partnership with trees.org.
This is one of our favorite subscription boxes for vegans because it isn't your standard snack or beauty box. It's something unique that you never have to worry about whether or not the items are vegan or cruelty-free.
Do you have a wine lover in your life? The Vegan Wine Club offers three different shipments (spring, fall, and winter) and three different clubs to appeal to the different taste buds of wine lovers.
The signature club sends a sample of red, white rose, and sparkling wines; the light lovers club sends white, rose, and sparkling wines; and the red lovers club sends red wines from across the world.
Each shipment varies by season and range in price from $140-$200 a shipment. A $20 flat rate shipping is applied to all shipments.
Latest posts by Kylie Hubbard
(see all)