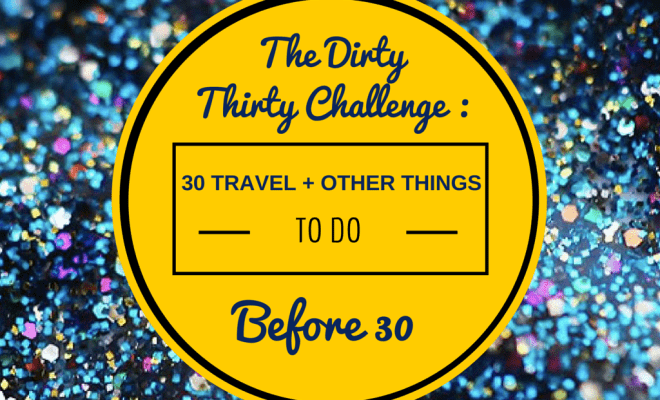 The Dirty Thirty Challenge | January Update!
|
*This post may contain affiliate links, meaning if you book or buy something through one of these links, I may earn a small commission (at no extra cost to you!). Please see my disclosure.
The Dirty Thirty Challenge | January Update!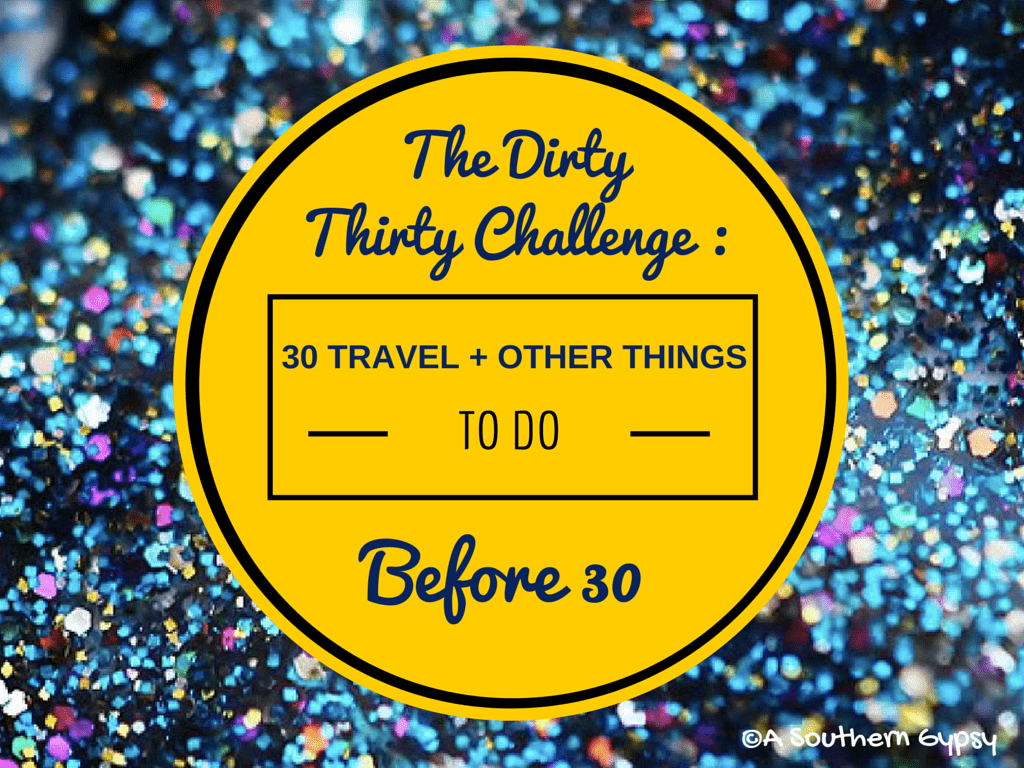 I've always thought 30 would be my really hard age to accept. I don't know why – it's not even that it seems old to me. Even 40 doesn't seem old to me anymore. It just seems like a really important decade of my life is going to be over. Maybe one of the most important decades. There are things I wish I would have done in my 20s, like study abroad, that I didn't do. In ways, I'm extremely grateful for what I've been able to see and do, but then in other ways, I'm always craving more.
As I get closer and closer to 30, it feels a bit surreal. Am I going to wake up on the morning of September 4th, 2016 and feel completely different? Are opportunities that were once available to me the day before going to be obsolete? Of course not. But, in my head, I feel that way for some reason.
Nevertheless, I want to go out with a bang in the last year of my 20s (or the last 15 months rather) and that is precisely what I intend to do. My Dirty Thirty Challenge is going to be epic. And, I'm writing about it here so that all of you can help me stick to my challenge. Anyone who has read my blog knows that I'm notorious for changing my plans so I need some accountability because I've carefully chosen each of these 30 things as they are all things I've long wanted to do.
There will be photos and/or video to prove each one and frequent blog posts to update.
I'm going to be giving monthly updates on my progress now that we are officially in my 30th Birthday year – YIKES!
1. SKYDIVING
Skydiving has been on my list for as long as I can remember.
I have decided on the location ( a pretty popular company about an hour outside of Nashville ). Now, just need to decide when.
2. LAS VEGAS
Can you believe I've never been to Vegas?! I feel like this should definitely be experienced once in my 20s and so I'm hoping to make it there sometime this year – waiting a great flight deal!
3. LEARN ICELANDIC
I've been wanting to learn a second language – really learn one. I took Spanish for three years in highschool and another year in college and can barely speak Spanish. I realized that's probably because I never really had a passion for learning Spanish – at least not then – I was just doing it to fulfill a class credit. So, I started which language had always intrigued me? And, of course, it has to be one of the hardest languages to learn in the world – Icelandic.
I know full well that the likelihood I can be fluent in 15 months (even if I was actually living around Icelandic speakers) is so incredibly slim but I'm still going to try.
Ordered and received my Beginner's Icelandic book. Now, to get started!
4. GET FIT//GET BACK INTO CROSSFIT
Once upon a time before I tore my ACL skiing, I loved Crossfit. After I tore my ACL, had surgery and went through excruciating physical therapy, I've been terrified to tear it again. But, it's been two years and I really need to get back into shape.
We have started this challenge off and I feel amazing! I'm following Christmas Abbott's Badass Body Diet and am about 10 days in and loving it so far! I've started a separate Instagram account to keep track of my fitness journey. If eating clean + being fit is something you're interested in, I'd love for you to follow along! There are also embarrassing before + after photos of myself on a weekly basis.
5. ROAD TRIP ICELAND
Iceland is Kaleb and I's dream country (at least for the moment) and we are still trying to decide on when to go. We have to space out our big trips due to our moving business. We were originally thinking the summer but it may be pushed back to September/October. We shall see!
Maybe I'll be able to speak, or at least read, some Icelandic!
6. MULTI-DAY HIKE WITH MY DOG
I want to start training myself and my dog to do longer and longer hikes – starting with day hikes and then moving to a 1-3 week long hikes.
7. VISIT ALL 55 TENNESSEE STATE PARKS
I've started and have visited a whopping ONE park thus far.
8. GO TO HALLOWEEN HORROR NIGHTS PAY OFF DEBT
I'm having to replace this one. We were going to Disney World + Universal Studios last fall, but we just couldn't swing it with Kaleb's work so it's not happening. I probably should have had pay off debt on here anyway. ha.
9. SEE THE SYNCHRONOUS FIREFLIES IN THE SMOKY MOUNTAINS
This only happens two places in the world and only two weeks out of the entire year. Already have my campsite reserved and super excited!
Early June 2016.
10. TRAVEL ROUTE 66
One of the most epic US Road Trips possible.
11. COMPLETE 30 RANDOM ACTS OF KINDNESS
12. GO 100% PALEO
Well, actually I'd like to live by the 80/20 rule because I still need some things in my life.
Finally back to it! I would call 10 days a success just yet, but it's a great start!
13. DIGITALLY DETOX FOR ONE WEEK
Not sure if I'll survive, but it'll be good for me. I'm sure my entire family would agree.
14. EXPLORE MY OWN CITY
I already feel like I'm a pretty decent expert on Nashville but even I find myself realizing I don't know what someone is talking about sometimes. Nashville is growing SO MUCH, it's hard to keep up.
Working on this daily. Always new blog posts on Nashville!
15. LEARN TO COOK FOOD FROM OTHER COUNTRIES
I'd love to do a challenge like this family did – one recipe from a different country every week. Obviously I can't do that many by the time I'm 30, but I'd love to say I can cook a several dishes from around the world.
I started this challenge and have completed Afghanistan, Albania, Canada, Australia, Norway and Indonesia.
Favorite so far has been Norway for sure, followed closely by Indonesia and Australia.
16. COMPLETE THE RORY GILMORE READING CHALLENGE
See full list here.
17. WATCH IMDB'S TOP 250 MOVIES
See the full list here.
18. TAKE A 'THROW A DART AT THE MAP' TRIP
Always wanted to do this.
This may be the most challenging one.
19. WRITE A NOVEL (OR, AT LEAST START ONE)
Always been one of my biggest goals.
Started! But, going very slowly. Time to carve out some writing time daily.
20. LEARN TO PLAY GUITAR
I've always claimed to be 'musically un-inclined,' but maybe this is because I've never believed in myself musically. Maybe it's time to find out?
21. TAKE A POLE DANCING CLASS
Hope my grandma(s) aren't reading this! If so, calm down – it's not what you think. It's actually a beautiful art form that is really great exercise.
Found a few local places – now to get to it!
22. BUNGEE-JUMPING
Anyone know of any places in the Southeast to do this? Otherwise, it'll have to wait until I get out West because that seems to be where they all are.
23. FINISH THE MATADORU WRITING + PHOTOGRAPHY CLASSES
Yep, I signed up for and started the classes years ago and never finished. Good thing there is no expiration date on those.
24. COMPLETE A 365 PHOTO CHALLENGE
Tried to start this on New Year's this year and made it about two months. Going to start it again on my 29th birthday this year.
Starting today! That way it will end on September 3, 2016.
I ALREADY BOMBED THIS ONE! I don't know how many times I've started this challenge and I never finish. Need to find something else to replace this with – ideas?
25. SPEND NEW YEAR'S EVE IN TIMES SQUARE
Only have one shot at this one.
This was not possible unfortunately this year. Need a new idea here.
26. TAKE UP A SPIRITUAL PRACTICE
Yoga, meditation, something…
27. LEARN THE THRILLER DANCE
Because, it would be awesome, duh.
28. SING KARAOKE (SOBRIETY OPTIONAL)
This is more of a fear thing for me. I don't do well in front of crowds at all – as in major panic attacks. And, I don't think I sing well.
29. INCREASE MY SUCCESS AS AN ARTIST
A daily struggle!
30. ATTEND BURNING MAN
My 30th Birthday just so happens to fall right in the middle of Burning Man 2016. What could be a more amazing end to my 20s and beginning to my 30s?! And no, I've never been!
Still waiting to find out when tickets are going to be available…
What do you think of my list? Am I insane or do you think it's possible? What would be on your list?