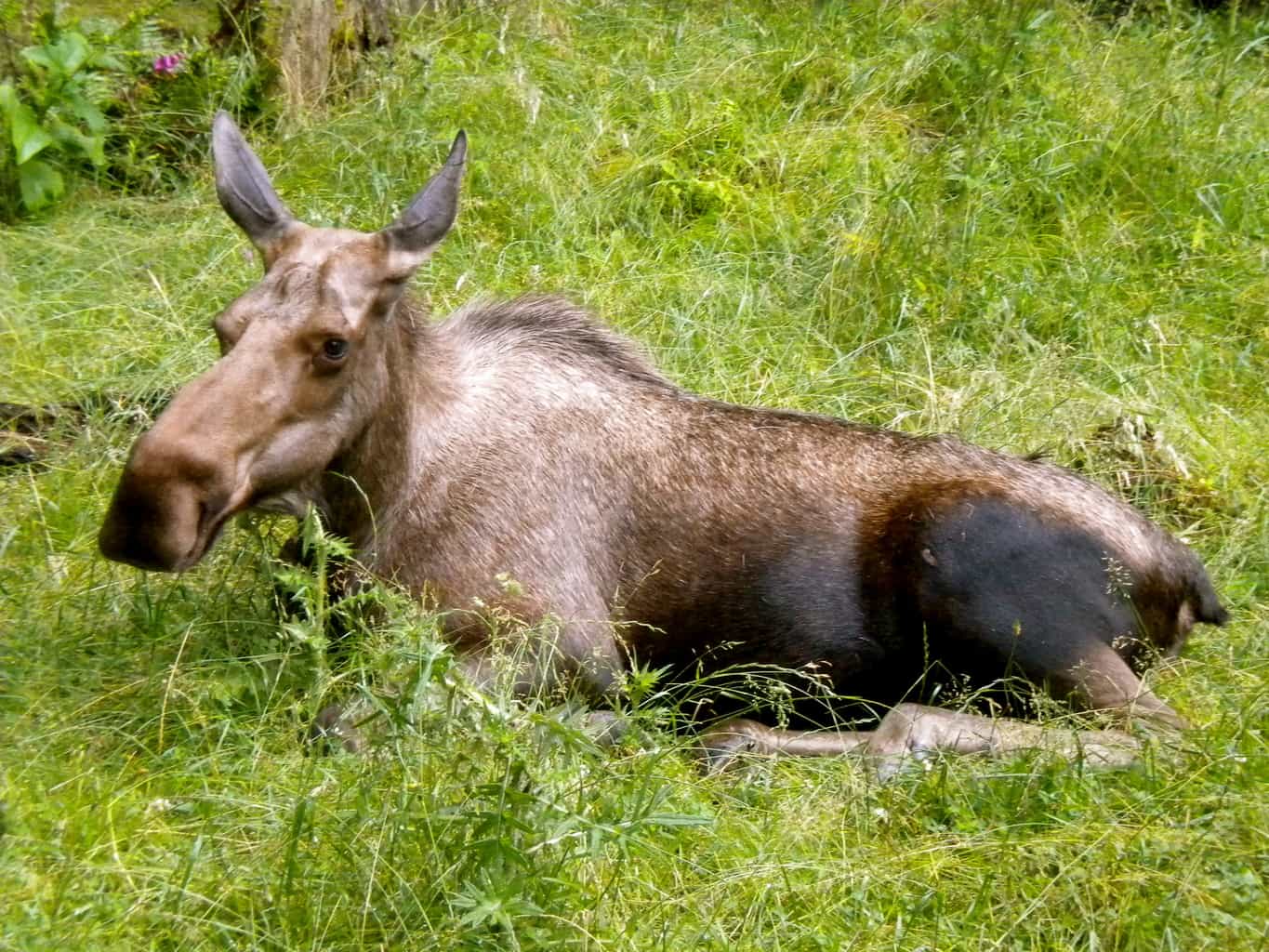 A Southern Gypsy
Pacific Northwest Wildlife Trek
|
*This post may contain affiliate links, meaning if you book or buy something through one of these links, I may earn a small commission (at no extra cost to you!). Please see my disclosure.

NorthwesTrek Wildlife Park
While living in Washington, I learned of the NorthwesTrek Wildlife Park – a 723-acre park located in Eatonville, Washington.  The park has been in place since 1975 after a couple donated their land to Metro Parks Tacoma.
The wildlife park consists of three parts : the tram tour, the walking tour, and the nature trails.
The Tram Tour
The tram tour lasts almost an hour and winds you through 435 acres of meadows, woods, and lakes all while seeing wildlife native to the Pacific Northwest up close and personal.  Some animals you may find on the tour are bison, elk, moose, bighorn sheep, caribou and mountain goats.
I didn't even use a zoom lens on these photos – that moose and bison were really that close to the tram.  Me being the animal lover I am, I was super excited when we got that close.

The gorgeous Pacific Northwest is still a spectacular view despite it's consistent drizzling weather.
The Walking Tour
The walking tour gives visitors a chance to see some more predatory animals that aren't able to be seen on the tram tour.  These include the grizzly bear, gray wolves, coyotes, red foxes, bobcats, cougars, and lynxes.  There also is a wetland and forest animal section that includes badgers, beavers, raccoons, river otters, wolverines, porcupines, and so on.  Raptor Road consists of bald eagles, barn owls, snowy owls, vultures and golden eagles.
The grizzlies and wolves were a highlight for me, but very difficult to take a decent photo of since they were hidden behind the bushes.
Nature Trails
I, unfortunately, didn't check out the nature trails while here, but they do have five miles of trails that all visitors have access to with admission to the park.
Thoughts?
While I'd much rather experience animals in the wild rather than in captivity, I felt fairly impressed with this wildlife park.  They have several conservation efforts in place and I think it's also a fantastic educational tool that's also fun for children especially on a local level.  I, of course, hate seeing animals locked up and so the animals that were part of the tram tour that had hundreds of acres to roam on seemed to have it way better.
While I love going to zoos, I felt like this wildlife park was even better than a zoo from the animals' perspective.
Do you like visiting places like this?  Ever been on a similar wildlife trek?
RULES:
Add The Sunday Traveler badge to your post, and a link back to one of the hosts.
Follow your co-hosts (you can find me on Twitter, Facebook, Google+, Instagram, and Pinterest).
Link up your travel related post (opens midnight GMT).
View, comment and share on fellow bloggers links during the week.
Use #SundayTraveler when sharing on social media.
Spread the word and come back next week!