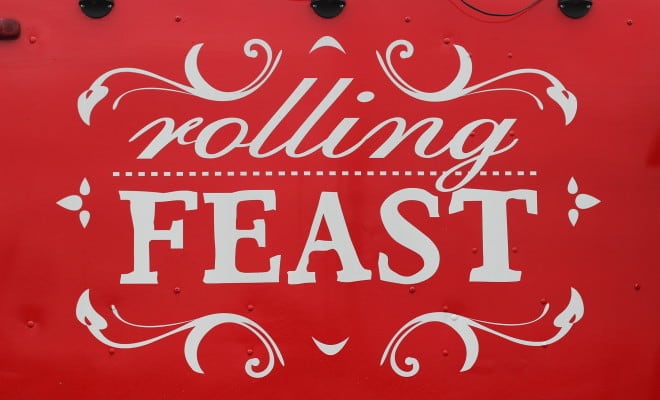 Nashville Food Truck Friday : The Rolling Feast @therollingfeast @FoodTrucksNash
|
*This post may contain affiliate links, meaning if you book or buy something through one of these links, I may earn a small commission (at no extra cost to you!). Please see my disclosure.
Nashville Food Truck Friday : The Rolling Feast
As I started my blog in September 2013 and only became vegan in May 2016, there are several non-vegan posts pre-vegan era.  As an example of how someone can change their path in life drastically, I have made the decision to leave the posts up even though I am ashamed of them.  I hope you will take this example and think on it.  Also, see my animal activism page or travel page on ideas for ethical animal tourism and vegan food around the world.  My inbox is always open should you have questions about changing your lifestyle to better serve animals, our planet, and your own health.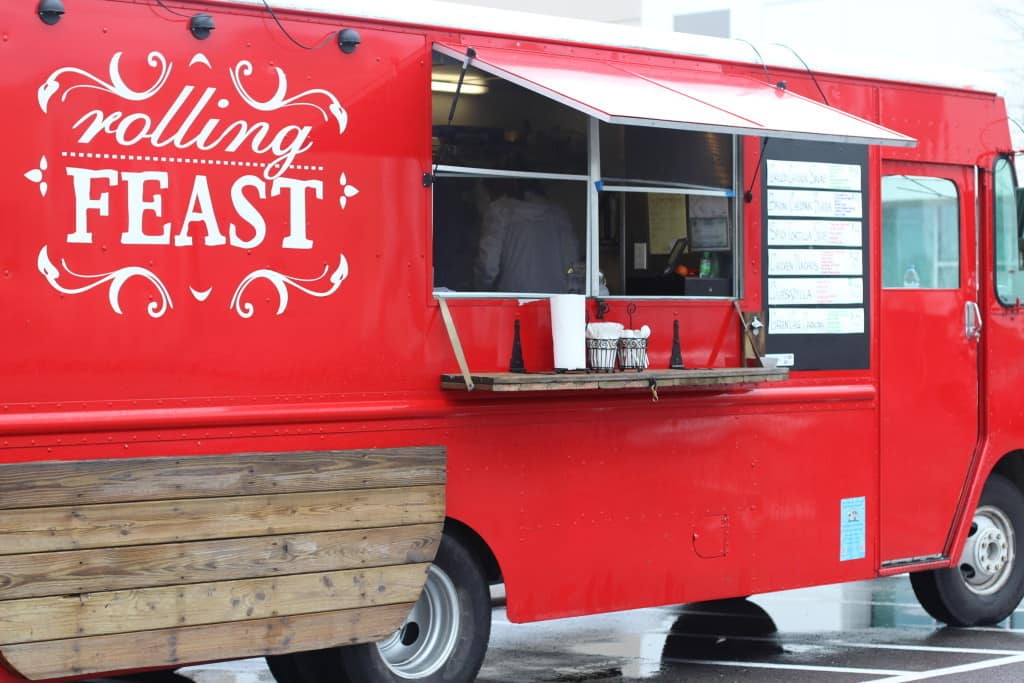 While Electric Sliders and Bare Naked Bagel both started up last year, The Rolling Feast has been in the game a little bit longer.  Since 2012 to be exact.  Tom Mead, the owner and chef, was born and raised in Arizona and wanted to bring that Southwestern and Latin flair to the items on The Rolling Feast menu.
Kaleb and I love us some good food with Southwestern flair so we were pretty excited to visit.  We headed out in the drizzling rain (why is it ALWAYS raining when we go to food trucks?!) to check out The Rolling Feast and are happy to say, the Nashville food trucks are still completely impressing us.
Like many trucks, The Rolling Feast changes its menu on a regular basis and generally keeps the same items for 2 weeks at a time.  If they are doing a wedding or are catering an event, they will adjust their menu according to what the bride (or other individual) wants to taste test.  This way they get a broader opinion on the food they will be serving.
One of their most popular items is the Chicken Nachos – hand-fried chips, layered with cheese, chicken, beans, pico and roasted poblano crema.  No wonder this is a favorite.  Kind of kicking myself for not trying it now.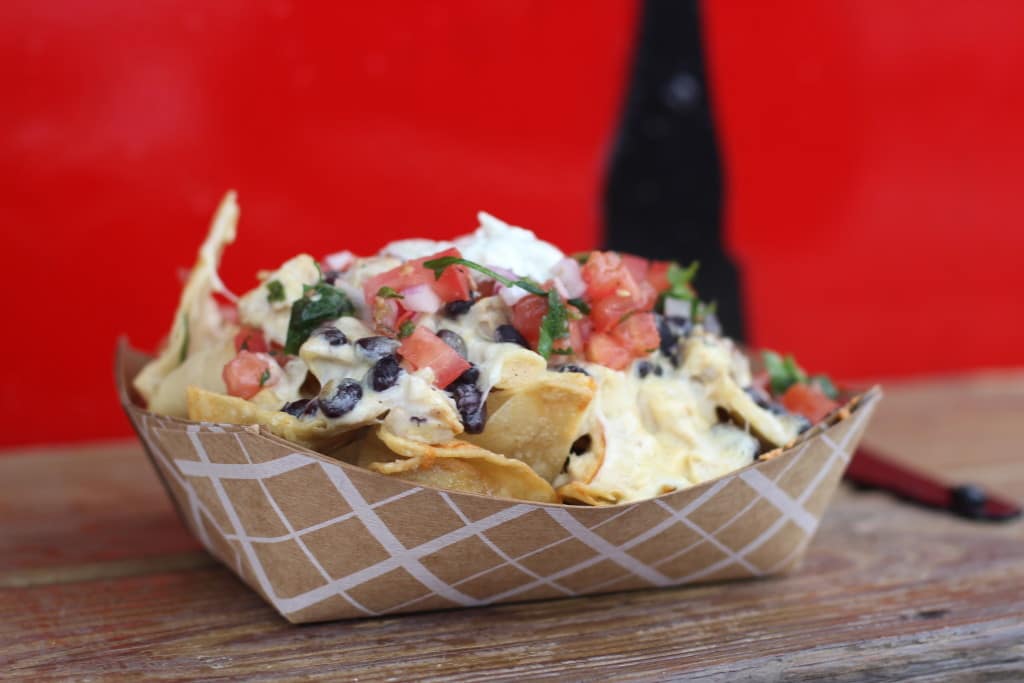 Their other menu items right now include : Grilled Chicken Salad, Bacon Cheddar Burger, Spicy Tortilla Soup, Quesadilla and Green Chile Carnitas.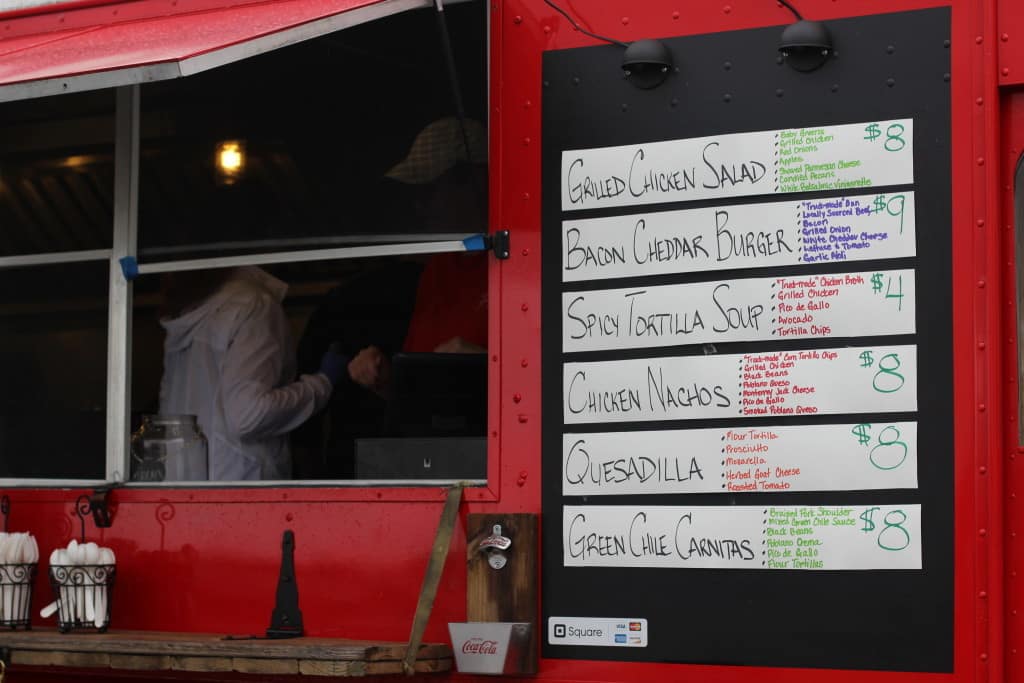 Kaleb's Choice:
Quesadilla : flour tortilla, prosciutto, mozzarella, herbed goat cheese, roasted tomato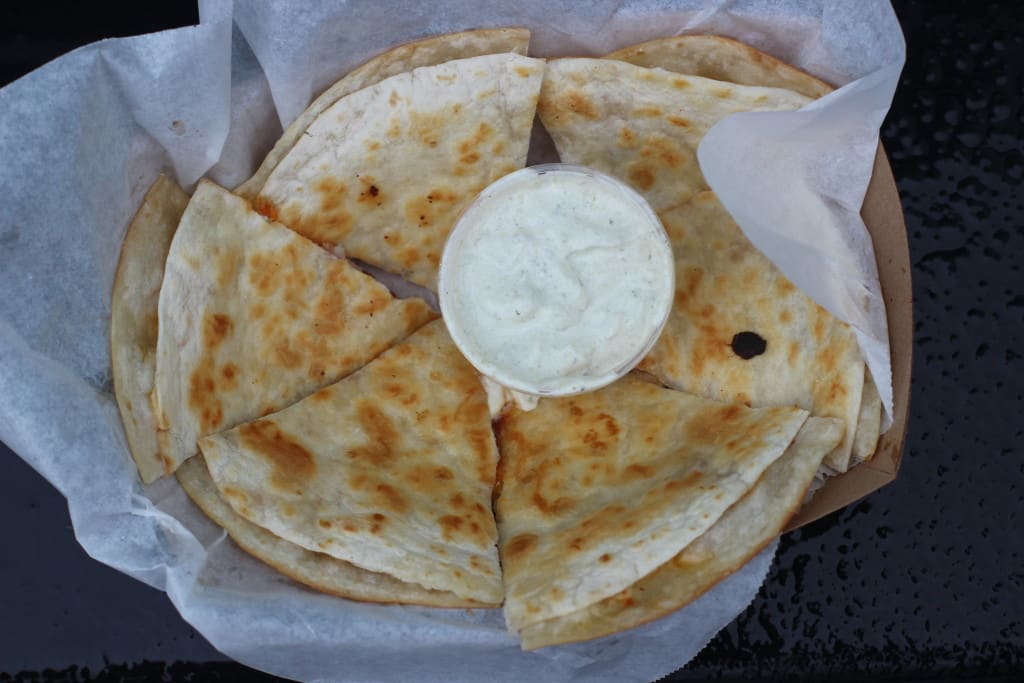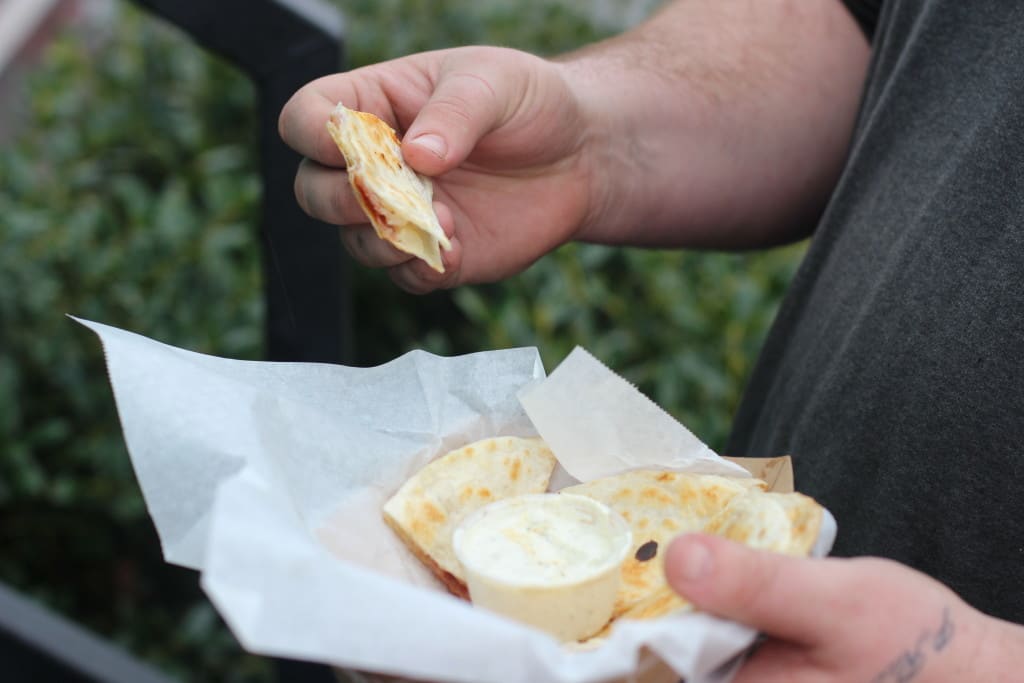 My Choice:
Bacon Cheddar Burger : "truckmade" bun, locally sourced beef, bacon, grilled onion, white cheddar cheese, lettuce, tomato, garlic aioli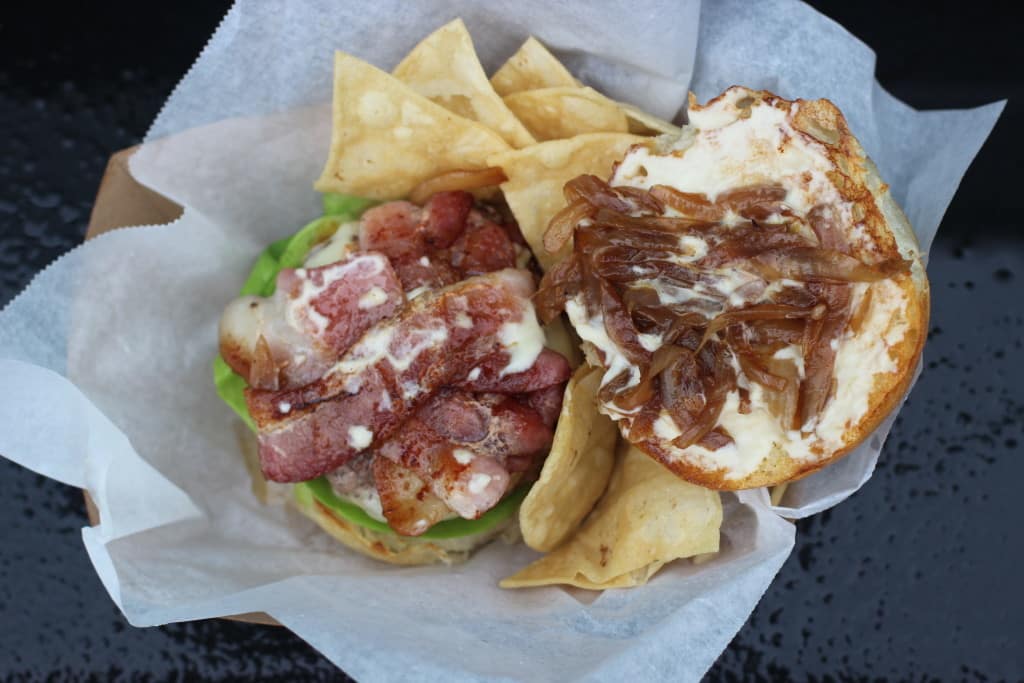 We both loved, and I mean loved, the quesadilla.  I would have never thought to put goat cheese (or prosciutto for that matter) in a quesadilla but it was such a brilliant idea.  Goat cheese is so incredibly creamy that the whole thing just kind of melts in your mouth.  I'm not going to lie, I completely stole this from Kaleb.
I don't think he was complaining though because he got to enjoy the bacon cheddar burger.  The onions and white cheddar (and of course, the bacon) were my favorite parts of this burger!  I love white cheddar so I think that was a great alternative for normal cheddar.  The bacon that Tom uses is amazing too.  While bacon is always good, I do feel like there is bacon that is far better than others and this bacon is in that category.
The Breakdown:
Cost: $17
Ordered: Quesadilla, Bacon Cheddar Burger
Favorite Thing: Quesadilla
Type of Food: Southwestern, Latin
Make sure to check out The Rolling Feast on their website, Facebook, and Twitter to find their schedule and locations.
*This post was made possible through my partnership with the Nashville Food Truck Association and The Rolling Feast.  All opinions, as always, are entirely my own.