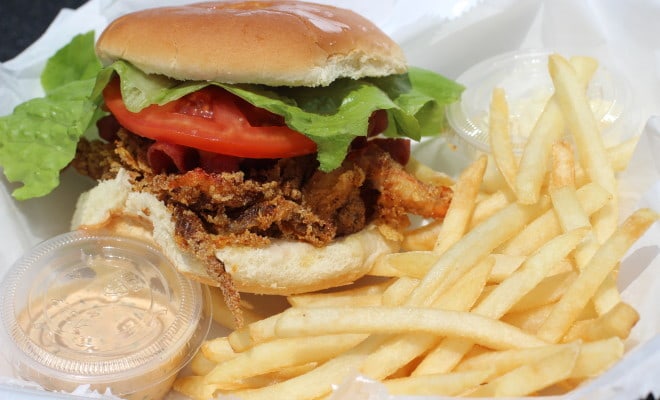 Nashville Food Truck Friday | Sehrt Seafood
|
*This post may contain affiliate links, meaning if you book or buy something through one of these links, I may earn a small commission (at no extra cost to you!). Please see my disclosure.
Nashville Food Truck Friday | Sehrt Seafood
As I started my blog in September 2013 and only became vegan in May 2016, there are several non-vegan posts pre-vegan era.  As an example of how someone can change their path in life drastically, I have made the decision to leave the posts up even though I am ashamed of them.  I hope you will take this example and think on it.  Also, see my animal activism page or travel page on ideas for ethical animal tourism and vegan food around the world.  My inbox is always open should you have questions about changing your lifestyle to better serve animals, our planet, and your own health.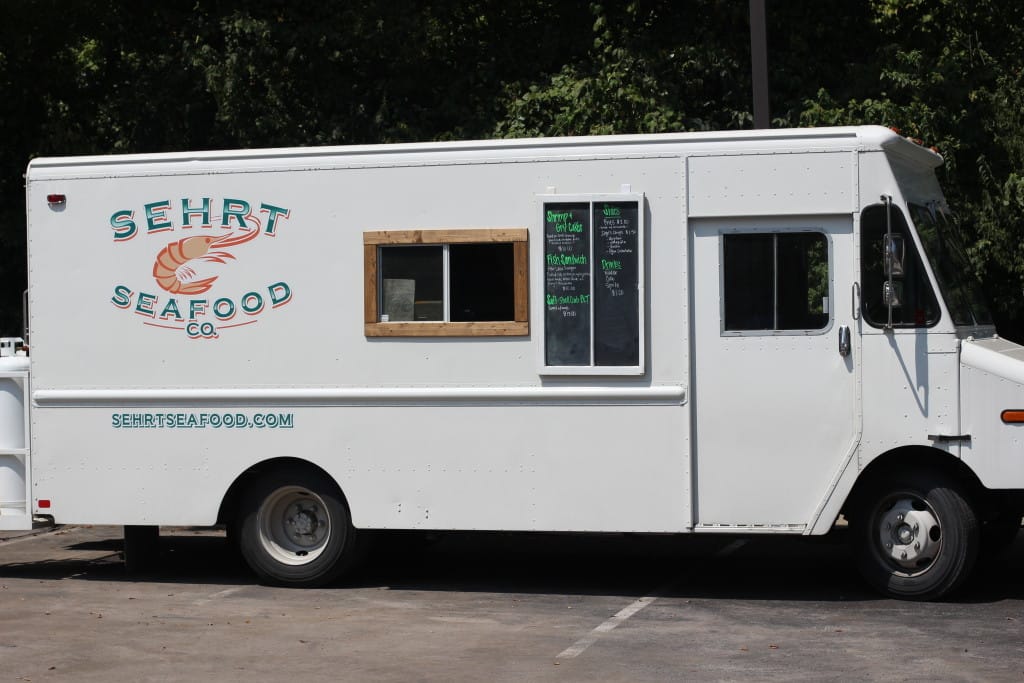 It had been a little while since our schedules worked right with the food truck schedules so when Kaleb finally got a day off work, I decided we need to check out a few new trucks.  We did the day a little backwards for geographical reasons and ate dessert first at S'more Love.  Then on the way home, we went and found Sehrt Seafood.
When we pulled up in the back parking lot of a pretty small office building in Brentwood, we were pleasantly surprised to see that they had a fairly decent amount of people waiting for food.  It's always a good sign when a food truck is in a less popular area but still killing it.
Owner-chef, James Sehrt, is a Nashville native who worked in the restaurant and catering industry while obtaining his business degree from Ole Miss.  He then went on to attend culinary school in Louisiana.  Realizing that Nashville needed some quality seafood and authentic Louisiana food and thus, Sehrt Seafood was born with his business partner, Blair.
In addition to trying Sehrt's amazing food creations, you can also buy seafood straight from their truck.  For large seafood orders, they will even deliver straight to your house!  The menu regularly changes based on season and catch.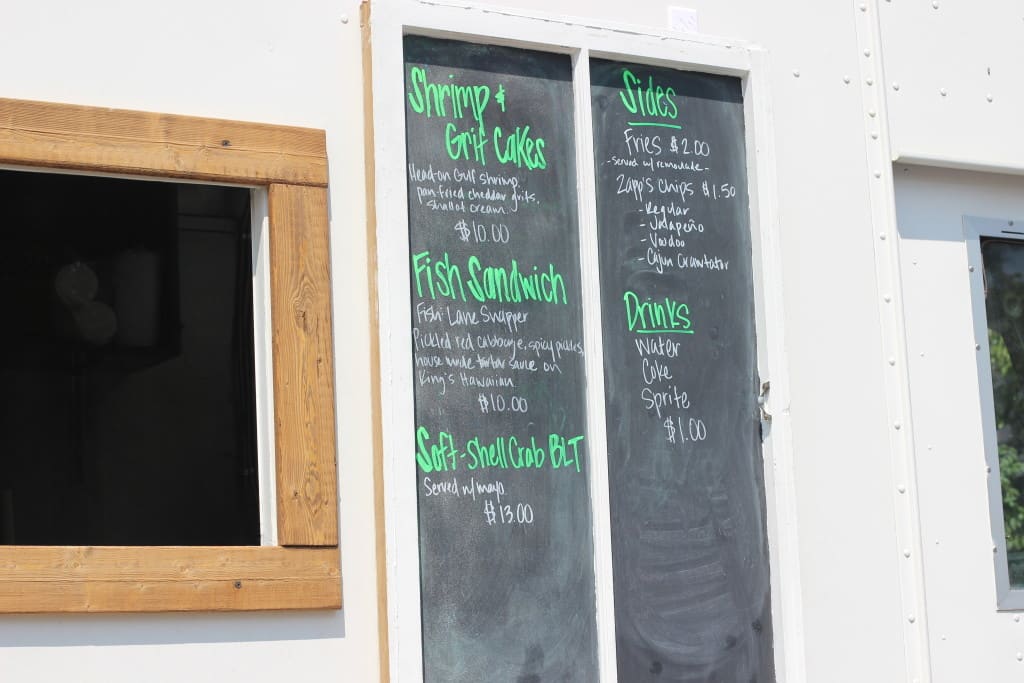 Kaleb's Choice : 
Fish Sandwich : Lane Snapper, pickled red cabbage, house made tartar sauce and spicy pickles on a King's Hawaiian roll.
I was surprised.  I figured Kaleb would get the shrimp + grit cakes, but he went with the fish sandwich and he said it was one of the best fish sandwiches he's ever had.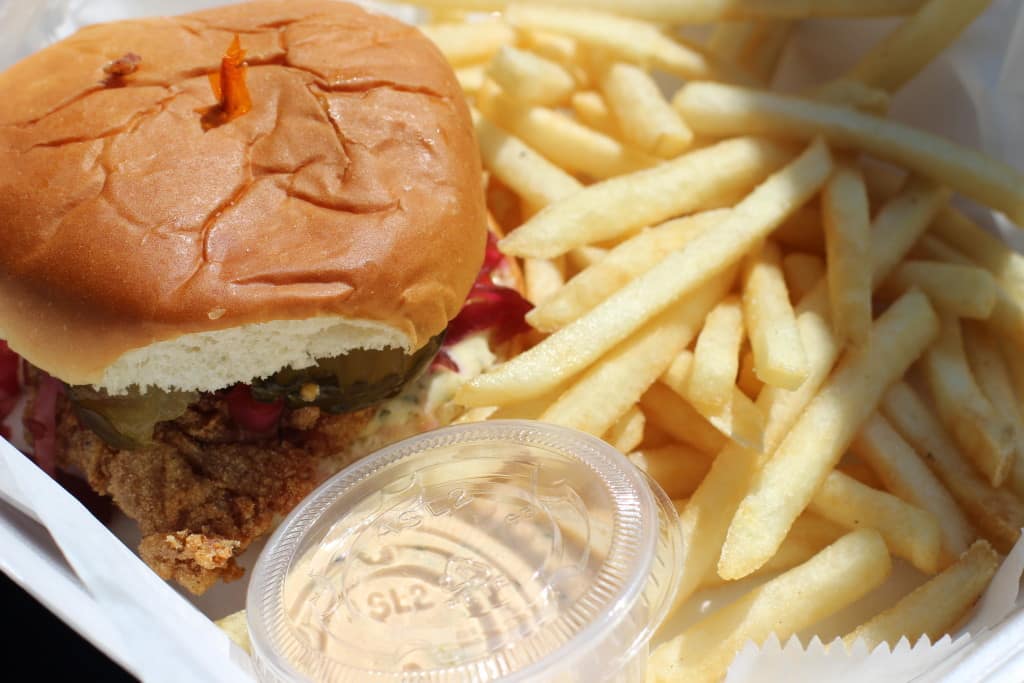 My Choice : 
Soft-Shell Crab BLT : soft-shell crab, bacon, lettuce, tomato and mayo.
I love BLTs so much that I knew I had try this when I saw it on the menu.  Crab is one of my favorite seafoods and even more so, when all the work of getting the meat is done for me!
Just look at this picture and tell me your mouth isn't watering.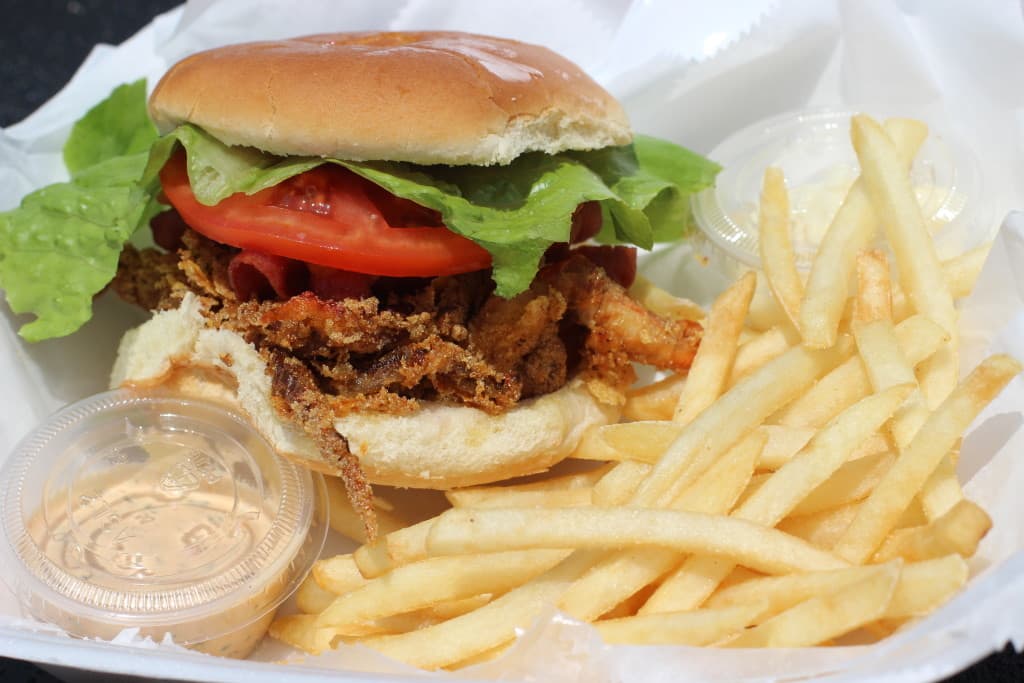 Everything was so amazing!  As seafood fans, we were prepared to go into this truck being possibly let down because how good can seafood off a truck really be?  Well, we were proven wrong!  What James and Blair are doing is such a fantastic idea and I think everyone should check it out!
And, those fries – that look like simple shoestring fries – don't let them fool you.  I don't know what they do to those fries but they were delicious without anything on them (I normally lather my fries in ketchup).
My only suggestion when visiting Sehrt Seafood is to have plenty of time to wait on your food. We did wait a little longer but we were told ahead of time and the food was well worth the wait.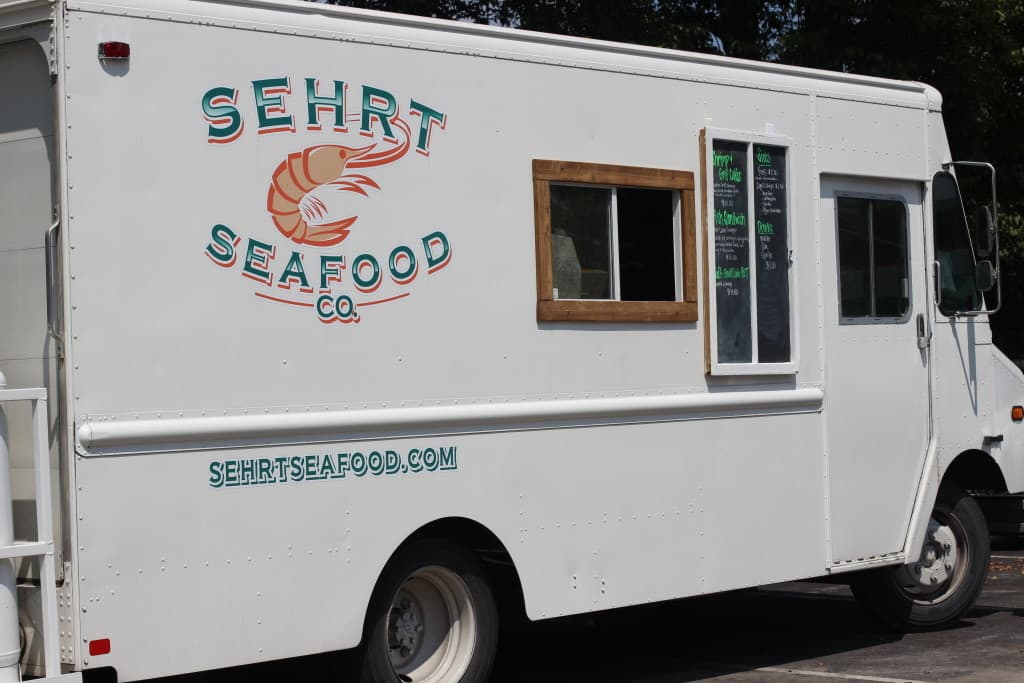 The Breakdown : 
Cost : $25
Ordered : soft-shelled crab BLT, fish sandwich, fries
Favorite Thing : BLT!
Type of Food : seafood!
Make sure to check out Sehrt Seafood on their Website, Facebook, Instagram and Twitter to find their schedule and locations.
*This post was made possible through my partnership with the Nashville Food Truck Association and Sehrt Seafood.  All opinions, as always, are entirely my own.