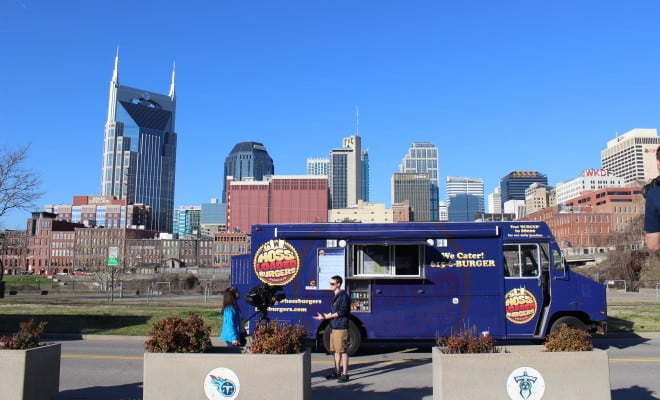 Nashville Food Truck Friday : Hoss' Loaded Burgers
|
*This post may contain affiliate links, meaning if you book or buy something through one of these links, I may earn a small commission (at no extra cost to you!). Please see my disclosure.
Nashville Food Truck Friday : Hoss' Loaded Burgers
As I started my blog in September 2013 and only became vegan in May 2016, there are several non-vegan posts pre-vegan era.  As an example of how someone can change their path in life drastically, I have made the decision to leave the posts up even though I am ashamed of them.  I hope you will take this example and think on it.  Also, see my animal activism page or travel page on ideas for ethical animal tourism and vegan food around the world.  My inbox is always open should you have questions about changing your lifestyle to better serve animals, our planet, and your own health.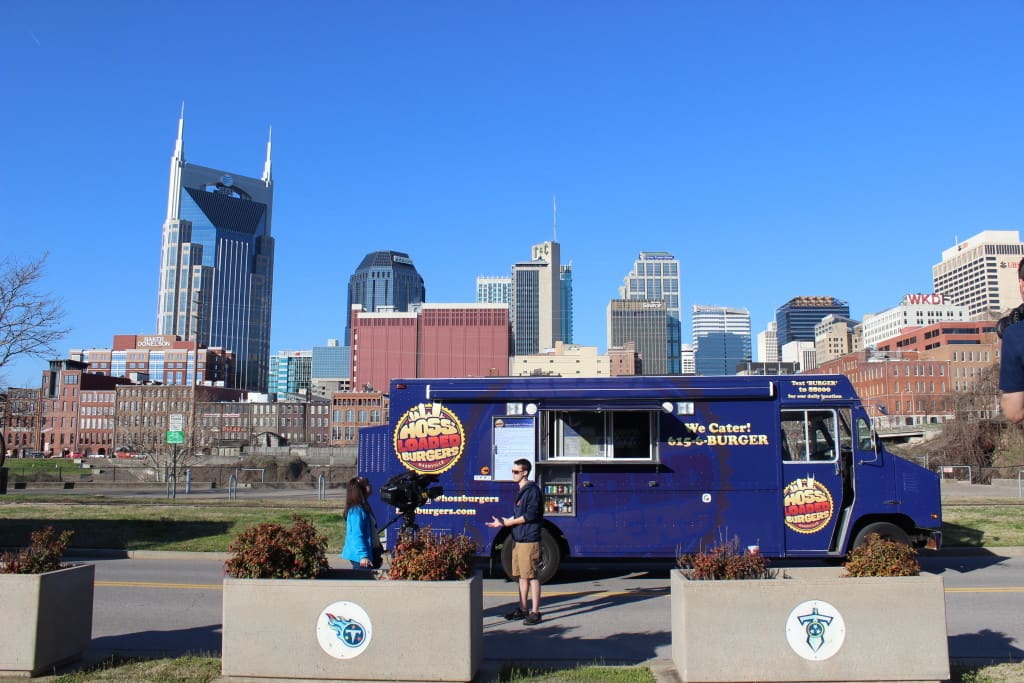 Hoss' Loaded Burgers is coming up on it's 4th anniversary in August, making it one of the first food trucks in Nashville, and that definitely shows in what they do.  You don't go here just to get a simple burger and fries – there's plenty of other places you can do that (I won't mention any names).  No, you go here to get gourmet, cheese-stuffed, juices dripping down your arms, yummy goodness.
I knew Hoss' Loaded Burgers was going to be good before I even had it.  That, or everyone in the city is crazy because they always have a line, I've heard nothing but good things and there is a reason that they've been here for almost four years.  But, I needed to taste it for myself.
Kaleb and I headed out to the Nashville Farmer's Market grounds one Friday evening – as the trucks were promoting the 1st home game for the Nashville Sounds in their new stadium nearby.
When Hoss' Burgers started, they had about 4 or 5 burgers perfected that they would serve.  Now, four years later, they have EIGHTEEN burgers that they put into rotation.  Typically, a burger is on the menu for two months at a time, with a new burger being on the menu each month.  With so many burgers available though, some are only getting a month to shine so make sure to try something if it sounds good – you may not see it again for several months!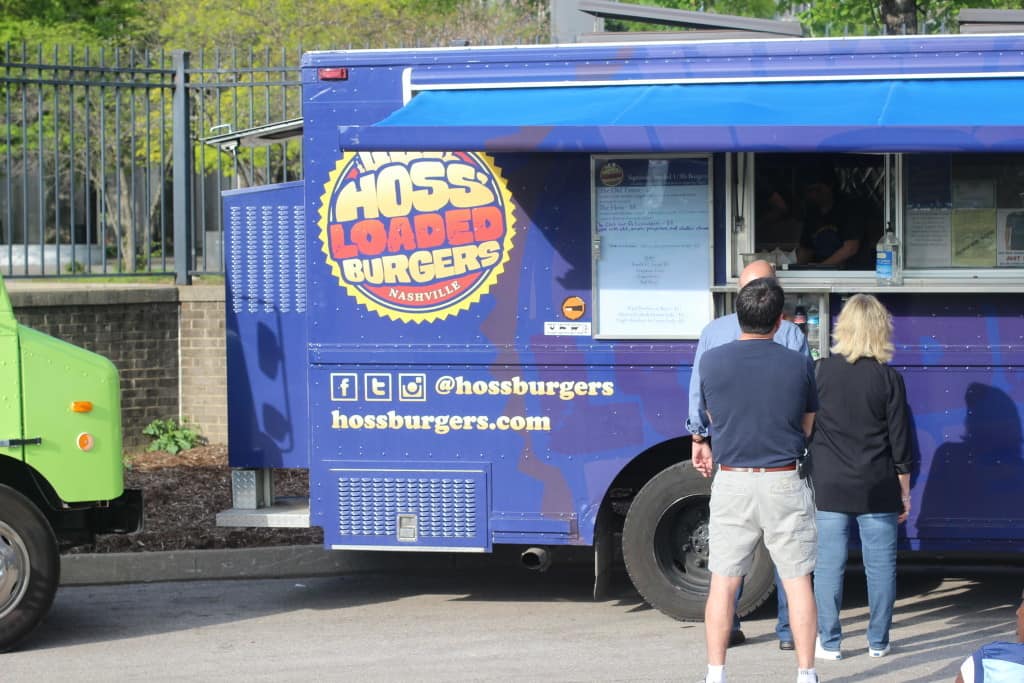 Kaleb's Choice:
Chili con Deliciousness : 1/3lb. grass-fed beef, covered with slow-cooked chili, shredded cheddar, pickled jalapeños, sour cream and chopped onions.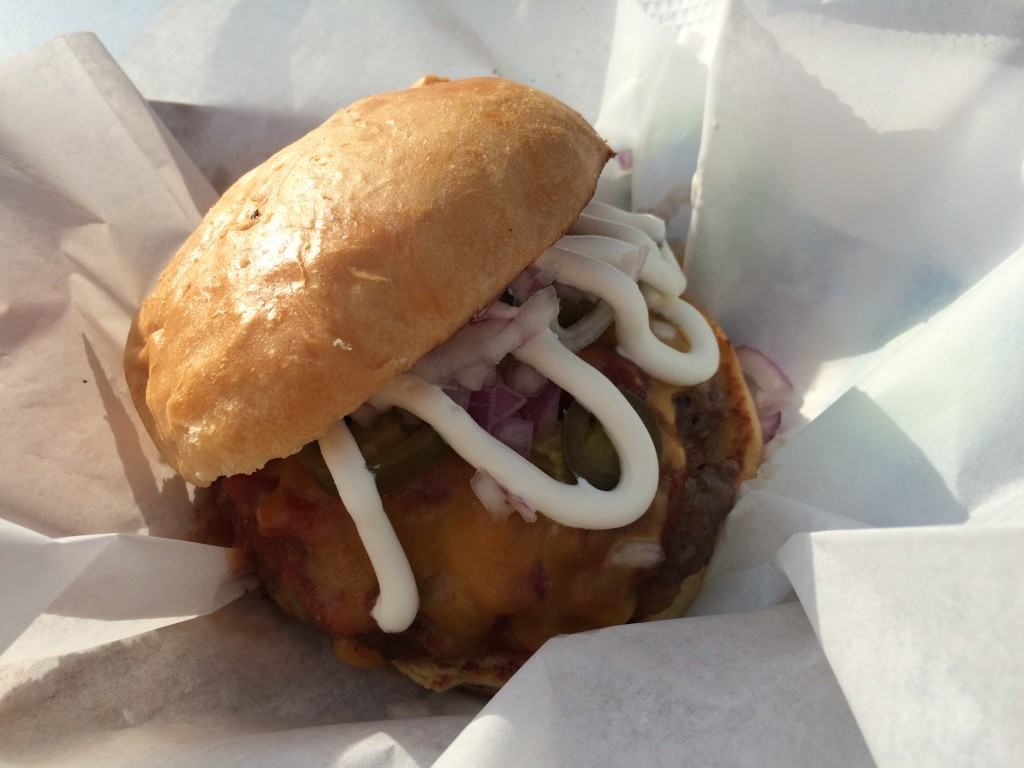 My Choice:
The Hoss : 1/3lb. grass-fed beef, stuffed with cheddar, topped with Benton's bacon, onion crispers, hickory smoked BBQ sauce, and cilantro.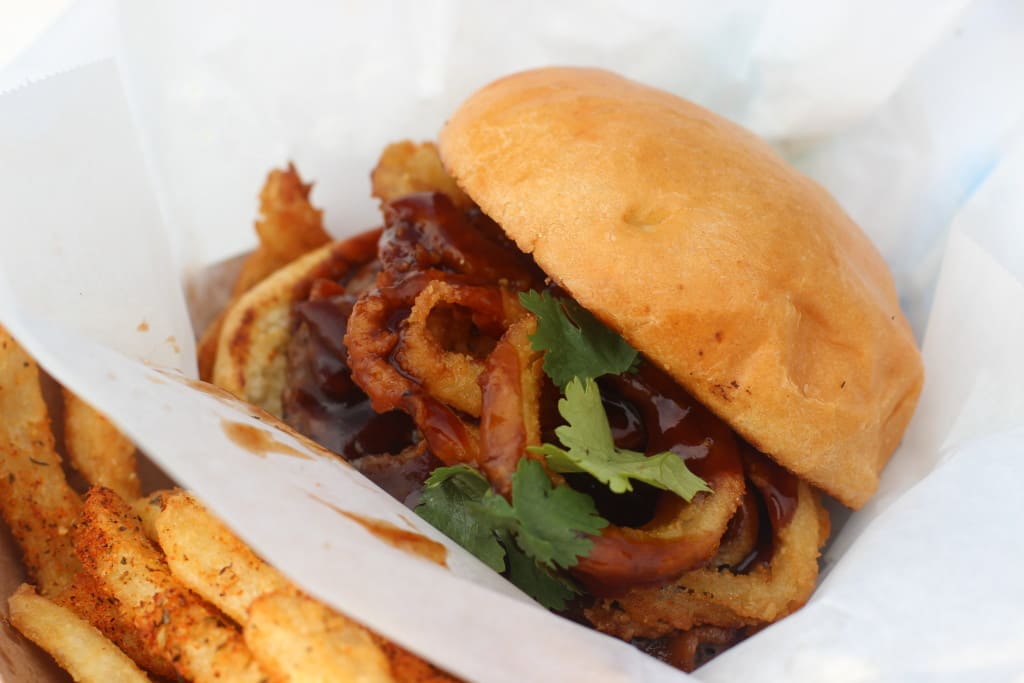 Our Choice:
Fries with Cajun seasoning.
Let's start first with Kaleb's choice.  I barely was able to snap a picture before he bit into it which he knows better, but apparently just couldn't wait.  I have to admit, it did look extremely tasty.  I'm a bit weird, but I think the sour cream looks so pretty on this burger.  Then, I proceeded to hear nothing but "oh-my-gosh' and "hmmm" for the next five minutes as he ate it – I don't pretend to mind-read, but I think that means he approves.  I was then confirmed of my suspicion when he proceeded to yell across the parking lot at Dallas (the owner and chef of Hoss') to tell him how amazing the burger was.
Next, I went with 'The Hoss,' and I was not disappointed.  I'm a huge cilantro and crispy onions fan and despite not being the biggest BBQ sauce fan on anything besides actual BBQ, the aforementioned items won me over.  I'm glad I tried it because I can now officially say I like BBQ sauce on a burger.  The combination of the gooey cheddar oozing out of the burger, the onions, cilantro and BBQ sauce was just perfection.  Lucky you, this burger is still on their current menu and I believe regularly so – go try it!
We can't forget the fries.  Get them with the cajun seasoning!  Granted, I haven't had them with the parmesan which I'm sure is equally amazing, but now I can't imagine not having them with the cajun.  I could eat a bucket of these fries.
The Breakdown:
Cost : $20
Ordered : The Hoss, Chili con Deliciousness, Large Cajun Fries
Favorite Thing : The Hoss
Type of Food : Burgers stuffed with CHEESE! YUM!
Make sure to check out Hoss' Loaded Burgers on their website, Facebook, Instagram and Twitter to find their schedule and locations.
You can also text 'burger' to 88000 to find out their daily location!
Hoss' Burgers will also be at the 90's inspired SuperCool FunFest next month!
*This post was made possible through my partnership with the Nashville Food Truck Association and Hoss' Loaded Burgers.  All opinions, as always, are entirely my own.