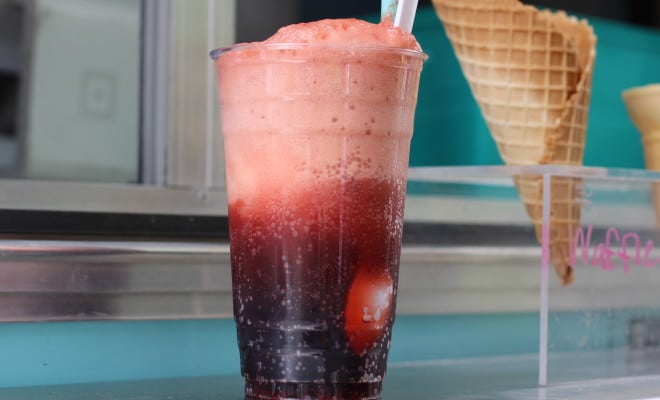 Nashville Food Truck Friday : Bradley's Curbside Creamery
|
*This post may contain affiliate links, meaning if you book or buy something through one of these links, I may earn a small commission (at no extra cost to you!). Please see my disclosure.
Nashville Food Truck Friday : Bradley's Curbside Creamery
As I started my blog in September 2013 and only became vegan in May 2016, there are several non-vegan posts pre-vegan era.  As an example of how someone can change their path in life drastically, I have made the decision to leave the posts up even though I am ashamed of them.  I hope you will take this example and think on it.  Also, see my animal activism page or travel page on ideas for ethical animal tourism and vegan food around the world.  My inbox is always open should you have questions about changing your lifestyle to better serve animals, our planet, and your own health.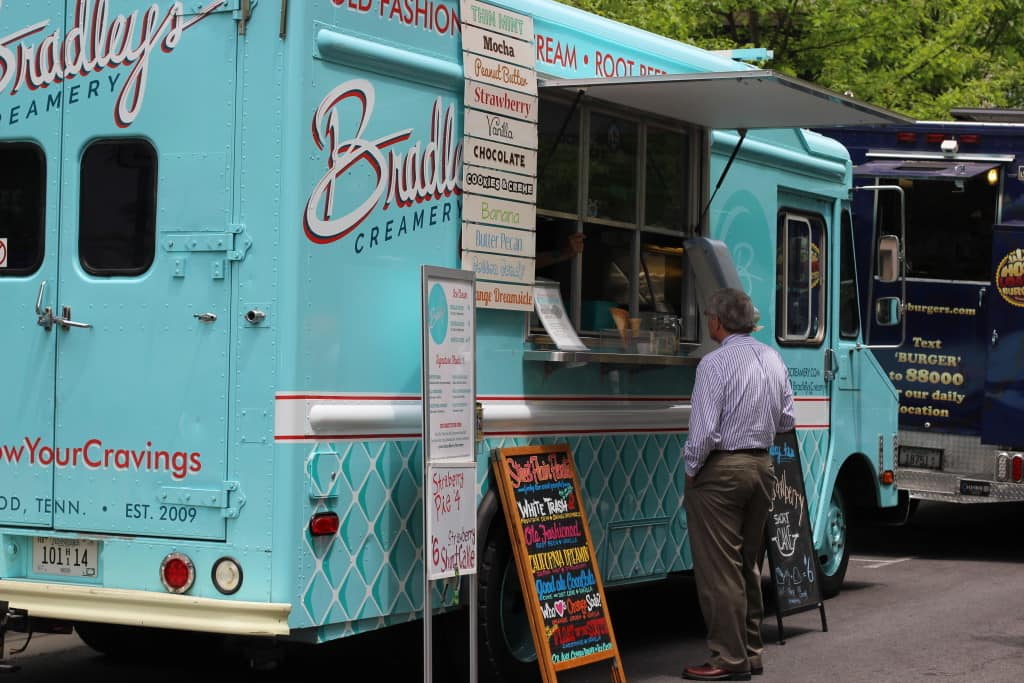 Ice cream is one of those things in life that just gets me excited no matter what time of day or year.  I'll eat it in the freezing cold and be happy.  Shivering, but happy.  But, it's even better in the Nashville humidity and heat during the middle of summer.  So, if you're in Nashville and craving some ice cream, make sure to check out Bradley's Creamery – a dessert only food truck.
Kaleb and I set out to Street Food Thursdays a couple weeks ago – Street Food Thursdays takes place every Thursday in Nashville at Fourth and Deaderick Street.  Eighteen food trucks get together within one block for two hours.  Hello, can you say heaven?!  So, we set out to try Riff's Fine Street Food (Korean food – review coming soon!) and Bradley's Creamery.  We like to pair a dessert truck with our entree truck every chance we can get, because…dessert.
I'd heard some great things about Bradley's so I was excited to try it out even after stuffing my self with some amazing Korean food.  Kaleb isn't a dessert guy but he enjoys a good float.
Bradley's has old-fashioned ice cream, ice cream floats, milkshakes and limited specials.  So many choices!
My Choice :
Strawberry Shortcake : May's monthly special was Strawberry Shortcake and of course, I had to try it!

Kaleb's Choice:
Float of the South : Cheerwine + Vanilla Ice Cream

Kaleb is from east Tennessee and Cheerwine is a BIG deal in east Tennessee so as soon as he saw this option, he jumped all over it.  For those of you wondering what Cheerwine is, it's kind of a mixture between Cherry Coke and Big Red if I had to compare it to something else.  Big Red is admittedly one of my favorite childhood drinks.
For my choice, I had a hard time.  There were a few floats that I really wanted to try but ultimately, I went with something that isn't always on the menu : the strawberry shortcake.  A classic that is always a good idea.  Bradley's does it justice – May is a great month to get some tasty strawberries and they are perfect with Bradley's vanilla ice cream.
THE BREAKDOWN:
Cost : $10 (I mistakenly didn't jot down the price but this is a good estimate)
Ordered :  Float of the South, Strawberry Shortcake
Favorite Thing : Float of the South!
Type of Food : Ice Cream, Ice Cream Floats, Shakes
Make sure to check out Bradley's Creamery on their website, Facebook, and Twitter to find their schedule and locations.
*This post was made possible through my partnership with the Nashville Food Truck Association and Bradley's Creamery.  All opinions, as always, are entirely my own.