Nashville Eats: 400 Degrees
|
*This post may contain affiliate links, meaning if you book or buy something through one of these links, I may earn a small commission (at no extra cost to you!). Please see my disclosure.
As I started my blog in September 2013 and only became vegan in May 2016, there are several non-vegan posts pre-vegan era. As an example of how someone can change their path in life drastically, I have made the decision to leave the posts up even though I am ashamed of them. I hope you will take this example and think on it. Also, see my animal activism page or travel page on ideas for ethical animal tourism and vegan food around the world. My inbox is always open should you have questions about changing your lifestyle to better serve animals, our planet, and your own health.
I know it's Valentine's Day and I should be writing about something love related…alas, I am not. Unless, of course, you consider my love of food appropriate. In my attempt to show off all the great things that Nashville – and the surrounding areas – has to offer, I'll be showcasing a lot more local restaurants, places to be, and things to do.
Nashville isn't in shortage of hot chicken. In fact, we even have the Music City Hot Chicken Festival every 4th of July. My family and I have become hot chicken connoisseurs over the years after going to the annual festival and trying the different varities that Nashville has to offer.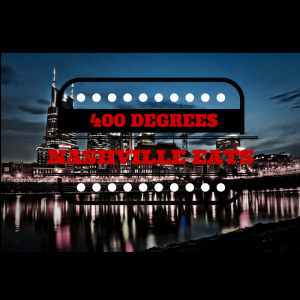 One of the more famous hot chicken joints is 400 degrees. While owner Aqui Simpson is looking at franchise options, there is only one location at the moment.
What I love about this place is the no frills, just good chicken atmosphere behind it.
Aqui does all of the cooking and usually has a couple people helping customers and getting orders ready. Don't be fooled though, it's not that they aren't busy. We've gotten it down to a science-order ahead. Always order ahead. If you place your order there, don't be surprised if you have to wait 30-45 minutes for your order. Some may get angry about this, but this is precisely how you know that you found a good place to eat. And, I've found it is pretty common practice for hot chicken establishments.
Aside from doing all the cooking, Aqui is one of the friendliest, down-to-earth owners I've ever come across. Let's just say she knows my dad so well that when he calls he doesn't even have to say who he is or what his order is.
The menu is pretty basic. Different heat levels available in breasts, wings, legs, pork chops and chicken tenders, a few sides and drinks. I always get the breast and vary between 200 & 400 degrees. I suggest getting the 200 unless you're going to be eating it at home and then brave the 400! The fries are the only side I've had and they are pretty good too as she puts a paprika mix over them.
Tips for eating hot chicken:
Go for the water, not tea or coke. (Some say milk is even better for it)
Don't touch your eyes or any other part of your body for that matter.
Wash your hands thoroughly immediately after.
Cost: $7 for one breast (includes bread and pickles). Cash only.
Degrees: 0 (no heat), 100 (mild), 200 (hot), 400 (hottest).
My usual: 2 breasts of the 200 variety.
Hours: Closed Sunday & Monday. Tuesday-Friday 11-7. Saturday 12-5.
Cons: Parking & Wait Time. If you call ahead, then the only con is parking.
Pros: Absolutely amazing hot chicken.
Location: 319 Peabody St – corner of 4th and Peabdoy. Inside building with Quiznos and several other food establishments.