This post may contain affiliate links, meaning if you book or buy something through one of these links, I may earn a small commission (at no extra cost to you!). Please see my disclosure.
Meet the Gypsies : Will of The Broke Backpacker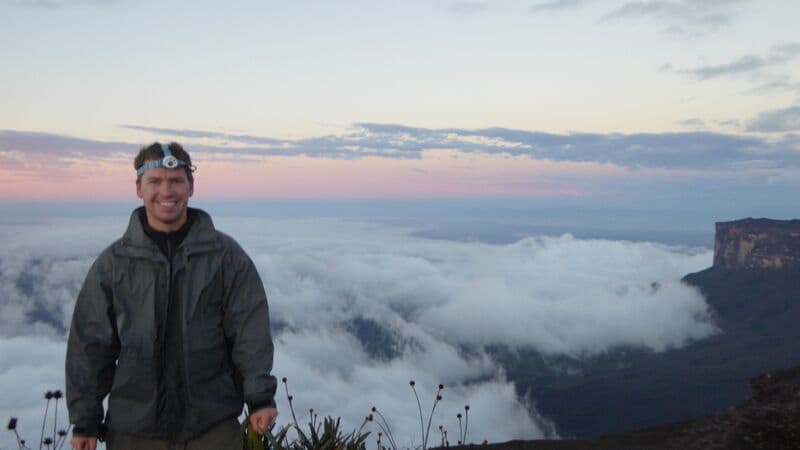 1.  Who are you?  Where are you from?  Where are you now?
Hey there! I'm Will Hatton, amateur adventurer and professional (well, almost!) explorer! I'm currently in Venezuela, preparing to climb Mount Roraima, the highest table top mountain in the world – I've wanted to go ever since I first saw Pixar's 'Up' and now I finally have the chance!
2. What's your packing strategy?  Heavy or light packer?  Backpack or suitcase?
I've gotta be honest, I wouldn't be seen dead with a suitcase; it's simply not practical! I pack relatively light unless I'm hitching – then I tend to take a tent and camping gear since I have no idea where I am going to end up – and take a backpack. More recently, my pack has become somewhat heavier with all my blogging gear – namely a laptop and various GoPro accessories!!
3.  How do you afford your travels?  Budget traveler or lean more towards luxury?
I'm a budget backpacker. I first started travelling around seven years ago with hardly any money to my name; I simply borrowed a tent, hit the road and stuck out my thumb… I've become a bit of an expert at travelling on an extreme budget but in general I try to travel to cheap countries; I explored India for 14 months and spent just $3000 including flights. I love travelling but, often, simply cannot afford to travel conventionally – hotels, flights, all that jazz – that's why I hitch, pick up random jobs, sleep rough or couch surf whenever I get the chance, some of the best adventures I have had would not have been possible if I actually had cash; for example, the random time I spent over a week living in a cave with a Rastafarian Bedouin overlooking the ruins of Petra… I ran into him on the road and we got on well so I hitched a ride, it was awesome.
4.  If you could go anywhere tomorrow, where would you go?
Hmmm, if it was all-expenses paid? I guess Papau New Guinea or Canada; They are both high up on my list but out of my price-range.
5.  Is there anywhere you won't travel to and why?
I'll pretty much go anywhere – there's a lot of places I would love to go to, some appeal more than others. I prefer to go to places nobody else wants to visit; Myanmar, Venezuela, Iran, Afghanistan – these are the kind of places that get me buzzing!
6.  What's the most adventurous thing you've eaten?
Piranhas which I had caught a few hours earlier… I've also eaten plenty of insects, locusts are my favourite, whilst in South East Asia.
7.  Any tips for others on traveling cheap?  Do you find yourself skipping things you regret missing?
Simply learn how to cut your costs; hitch, couchsurf, make bracelets to sell on the beach – there's plenty of ways to earn abroad and to help you spend less.
8.  How did you end up living in India for a year?  What did you love the most?
It was simply so cheap and there was so much to do, how could I leave? In over a year there I think I only managed to explore half of the country; there is so much to do. If you want mountains, jungles, deserts, beaches, adventure activities – all for just a few rupees – India is the place to go!
9.  Is there anything at all you do splurge on?
Equipment – I always make sure I have good gear. I have a really decent Osprey pack, a great hunting knife which I use for everything and great trekking shoes (much repaired!)… shoes and a bag are ultimately the most important things for any long-term traveller!
10.  What's the #1 experience on your bucket list?
I would absolutely love to go trekking in Tibet… I would also love to cross Papau New Guinea by kayak, hopefully avoiding all the crocs!! – I kind of have a fear of crocodiles.
11. Most importantly, where to next?
The Philippines! In just two weeks I'm headed over to Asia again, looking forward to it. I've been round South East Asia multiple times but never to the Philippines; super stoked to explore this very special part of the world!
Find Will…
Latest posts by Ashley Hubbard
(see all)