This post may contain affiliate links, meaning if you book or buy something through one of these links, I may earn a small commission (at no extra cost to you!). Please see my disclosure.
Meet the Gypsies : Natalie of Cosmos Mariners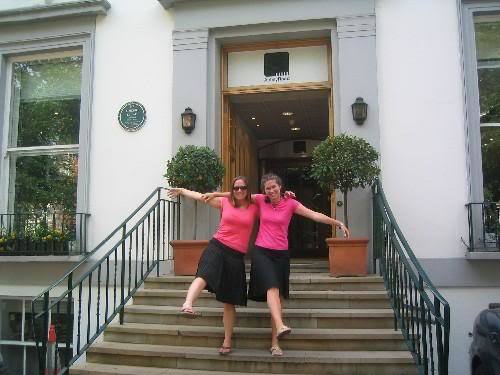 1.  Who are you?  Where are you from?  Where are you now?
I'm Natalie, a 30-year-old former college literature professor turned full-time freelance writer and travel blogger. I am a huge book nerd and Anglophile. I was born and raised in Charleston, South Carolina, and, after seven years of being away for college, law, and graduate school, I now reside here again!
2. What's your packing strategy?  Heavy or light packer?  Backpack or suitcase?
I am a light packer through and through after a particularly embarrassing moment in Gatwick airport– I had to purchase a new suitcase and transfer a portion of my clothes when I was told my original case was too heavy. You haven't lived until you have to shuffle your underwear around in front of complete strangers!
I'd rather wear the same sweater three times than have to haul around another suitcase. Usually, when I travel, I have a carry-on sized suitcase for clothes and a backpack for my camera, laptop, and essentials (like my glasses, extra contacts, and reading material).
3.  How do you afford your travels?  Budget traveler or lean more towards luxury?
Traveling more than the average family was a conscious decision that my husband and I made together. Through a combination of frugal living and my freelance writing and blogging, we've managed to make room in our budget for multiple trips each year. It's not always easy—we've got a toddler, a mortgage, student loans, and the like—but we sacrifice a lot to make our travels happen. I'm a budget traveler, and I love finding ways to make my trip money go further!
4.  If you could go anywhere tomorrow, where would you go?
For some reason, I have been all about French Polynesia lately. It's probably because it's cold, and I'm very tired of winter, but I cannot imagine anything better than laying on a beach in Tahiti or Bora Bora right now.
5.  Is there anywhere you won't travel to and why?
I'm a firm believer in safety first, especially now that I have my daughter to factor into my travels. For that reason, I'm not looking to tempt fate by going into areas that are unstable. I'm also not interested in visiting places that don't place value in the female half of the population, and I have no desire to be harassed on my travels simply because I'm a woman. Sure, that could happen in my own town, but there are places where cultures are more hostile to women, and I'm not looking for that type of experience.
6.  What's the most adventurous thing you've eaten?
Alligator's probably up there at the top.  And, surprise! It tasted like chicken—chewy chicken, but chicken nonetheless. I've got a hideously bad shellfish allergy, so that takes some of the fun out of trying these crazy things you hear people eating. I don't want to end up in a foreign hospital getting my stomach pumped, so I usually stick to the tried and true cuisine.
7.  How did y'all come up with the name of your blog?
I've been blogging since 2010, but it started out as a way to keep our family and friends informed of our newlywed life—and it had the world's most boring name ("The Adventures of Our Family"—what a snoozefest!).
In late 2012, when I decided to get more serious with blogging, I started looking for a name that reflected my love of literature, my Southern heritage, and my desire to see the world. I wasn't having much success until I visited Bonaventure Cemetery just outside of Savannah, Georgia. There, I saw the epitaph on author Conrad Aiken's grave: Cosmos Mariner: Destination Unknown.
He'd seen a ship coming into the Savannah harbor with the name "Cosmos Mariner" and went to find more about it. All he discovered was an line in the shipping logs that said "Destination Unknown," and it spoke to him on a poetic level.
I loved it for the same reasons: we're all wandering around the cosmos without a clue how our lives will end.  And buried in the name were references to the South (though Conrad Aiken), literature (since he was an author) and traveling. Plus, it was different than anything I'd ever heard and perfect for a travel blog. I changed my blog's name the day I got home to "Cosmos Mariners: Destination Unknown," and I haven't looked back since.
8.  You're from and based in Charleston, SC.  Where would you tell people to go who want to get off the beaten path?
Get away from downtown! The peninsula area is very walkable, so most visitors stick to the historic district. They don't venture over to the beaches on Isle of Palms or Sullivans Island, nor do they explore the funky restaurants along Folly Beach. The Old Village in Mount Pleasant is just adorable (part of The Notebook was filmed there!), and Hampton Plantation in McClellanville is worth the half hour drive.
9.  Do y'all travel as a family much or do you do more solo travel?
It really depends on everyone's schedule. My husband, Landon, works in finance, so he's got three weeks of vacation in which to cram as much as he can. Even with that, he's still not able to go on all of the trips I plan due to timing or his clients' needs. I do like to travel with others, so my mom, dad, and younger sister are often my stand-ins when Landon can't go with me. My one constant travel buddy is my toddler daughter, Britton.
10.  What's the #1 item on your bucket list?
I want to visit all seven continents! This is a goal that will likely take me the rest of my life, but I would love to say that I experienced life across the globe.
A more mangeable #1 item would be to take my daughter to the UK. I'm a huge Anglophile and got two degrees in British Literature, so it's little wonder that I named my child Britton. I've visited the UK 5 times in just over 10 years, and it's a place that my husband and I both love. To show my daughter my favorite place in the world will be phenomenal!
11. Most importantly, where to next?
I'm going to be busy for the rest of the year! Between now and November, I have trips planned for Charlotte, NC, St. Simons Island, GA, St. Augustine, FL, Jamaica/ Mexico, Cape Canaveral, FL, and Germany/ Austria. It's going to be hectic, but I'm looking forward to learning more about all of these places!
Find Natalie…
Latest posts by Ashley Hubbard
(see all)