This post may contain affiliate links, meaning if you book or buy something through one of these links, I may earn a small commission (at no extra cost to you!). Please see my disclosure.
Meet the Gypsies : Gábor and Rachele of Surfing the Planet
1. Who are you?  Where are you from?  Where are you now?
We are Gábor from Hungary, and Rachele from Italy. Both of us have been living in Barcelona for some time now, and this is where we met almost 4 years ago, hence we speak in Spanish between each other. When we met, we immediately found out that both of us are fond of travelling, spending time in the nature, learning languages and meeting people from different countries. In 2012-2013, we traveled around the world for a year and a half, and now we are back in Barcelona again.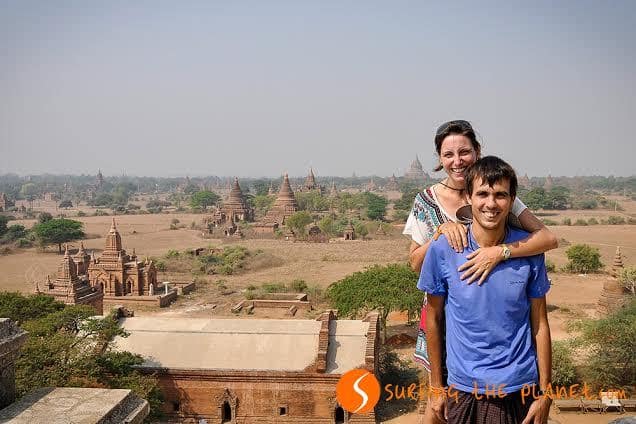 2. What's your packing strategy?  Heavy or light packer?  Suitcase or backpacker?
When spending a weekend in a big city, we might bring a suitcase, but normally we are fanatic backpackers. When we left for our round the world trip in 2012, we started with two large and two small backpacks, and we found out quite early that we were carrying too much weight. We realized that we were holding to things we can do without, and threw away much of our stuff.
3. How do you afford your travels?  Budget traveler or lean more towards luxury?
We saved for many years in order to afford a long trip like the one we did, and as we are not rich, we learnt to be real budget travelers. We always looked for the cheap hostels, the local transport, in South East Asia we almost always took a fan room and not a room with air-con, and most of the time we ate at the food stalls on the street. We really believe that for us travelling like this in the end turned out to be not only cheaper, but much more fun.
4. If you could go anywhere tomorrow, where would you go?
It is such a difficult question. So many places we haven't been to and we would like to see. We would love to do a road trip in the US to visit the amazing national parks there or we would just go back to the Philippines which we adored in our round the trip.
5. Is there anywhere you won't travel to and why?
We genuinely think that all places deserve to be known in this planet. Of course we are not looking for trouble, and would never travel to a warzone.
6. What's the most adventurous thing you have eaten?
We wouldn't know to give you one concrete example. In Asia many times we went to one of the food stalls and pointed on the thing that looked appealing for us. Often we didn't have any idea about what actually it was, but in almost all of the cases we made a good decision. We don't know if this is recommendable for everyone, we almost haven't got any diarrhea, but other backpackers might tell you different stories about hawker food.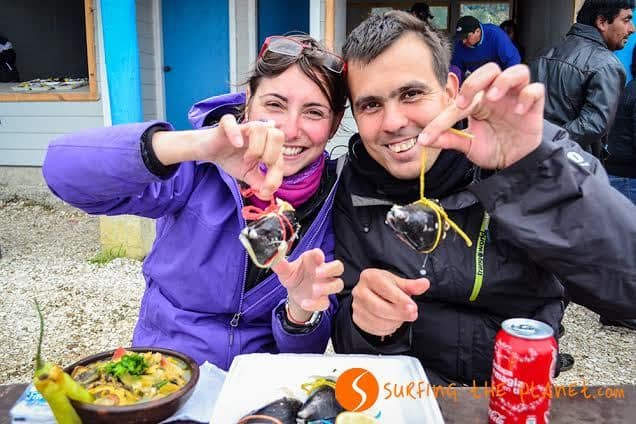 7. With a passion for photography, what would you say are must have camera items for travelers? 
It really depends on the length of your trip. We would say that for a long journey it is important to take a zoom lens (like the 18-200 mm lens we used), hence you can do without changing lenses. It is absolutely necessary to have two batteries, several memory cards and a cleaning kit.
8. What are the most rewarding things and the most frustrating things about traveling as a couple?
Travelling with the person you love gives extra satisfaction to every amazing moment you live. Sometimes in those wonderful instants, seeing the happiness on your loved one's face gives you more pleasure than the actual experience. At the same time, when you travel as a couple, there is hard to have your open space, especially in few square meter hostel rooms. However, after a while, this is something you manage to adapt to, and you find the ways of being some time on your own.
9. You just recently got back from a long trip?  What were some of the highlights?
We came back a few months ago from a one and a half year long trip. It had three main chapters, each of them with something really special for us. In South America, we loved that we could use "our own language" (after so many years in Spain we think and dream in Spanish) in even the most hidden little corners. We had special experiences really far off the beaten path and made really good friends with local people. In New Zealand and Australia we traveled for the first time in a campervan (actually it was more like a normal van), and we had so much joy from the freedom given by traveling this way. About Southeast Asia, what can we say? There, everything was so different, so intense, so colorful and so inspiring. Indonesia or the Philippines were our favorites, but we loved all the countries there.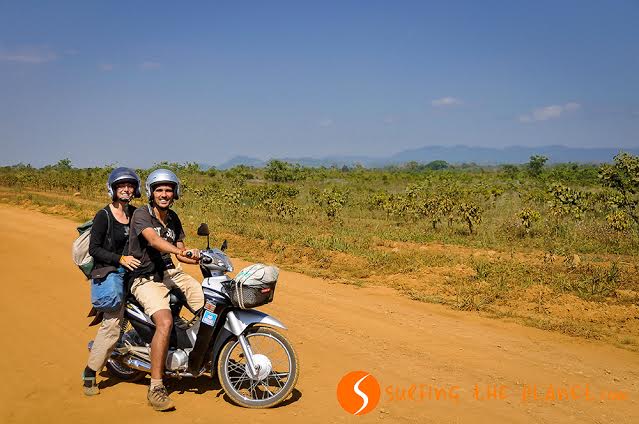 10. You both obviously love Barcelona given you're not from there but keep coming back.  What's your favorite thing about Barcelona?
Barcelona is a city that offers almost everything we could ask for. Nice climate, beaches, good local cuisine, etc. Nevertheless, what we like the most is the cosmopolitan feeling you can breathe in everywhere. Without even making an effort we can always meet new people from all around the world.
11. Most importantly, where to next?
After such a long trip, both our bodies and souls need some resting. In addition, we have used an important part of our savings, so it's time for working and putting away money for the next adventure. In the meantime we do excursions in the mountains, do week-end trips in Europe to discover places we have not been to yet, and while we are dreaming about our next epic journey, we travel via following the blogs of other fellow travelers.
Follow Surfing the Planet for more travel inspiration:  Blog, Facebook ,Twitter, Google+, Instagram, and Pinterest.
Latest posts by Ashley Hubbard
(see all)