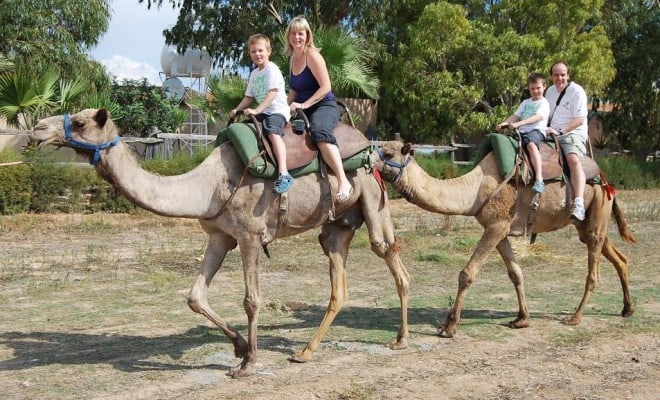 Meet the Gypsies : Paul of A Luxury Travel Blog
|
*This post may contain affiliate links, meaning if you book or buy something through one of these links, I may earn a small commission (at no extra cost to you!). Please see my disclosure.
Meet the Gypsies – Paul of A Luxury Travel Blog
1.  Who are you?  Where are you from?  Where are you now?
My name is Paul Johnson and I'm originally from Manchester (UK), but currently living an hour and half to the north, on the edge of the Lake District National Park. Right now though I'm on a trip to the Lizard peninsula in Cornwall in the south-west corner of England.
2.  What's your packing strategy?  Heavy or light packer?  
I prefer to travel light but invariably end up taking more that I would like. Gadgets, camera equipment, chargers and family gear usually puts paid to any aspirations to travel really lightly.
3.  Your blog differs from other travel blogs in that it is focused on luxury travel.  What made you decide to go this route?
When I started A Luxury Travel Blog, my students days were behind me and I'd done my fair share of budget travel (interrailing around Europe, camping in Greenland, youth hostelling in Italy and Norway, etc.). I'd always had an interest in the luxury travel industry and noticed that travel blogs at the time were largely run by backpackers documenting their travels, and the luxury niche wasn't really being catered for.
4.  If you could go anywhere tomorrow, where would you go?
There are a few places I would like to visit but haven't yet… New Zealand and Iceland would be among those top of the list.
5.  Is there anywhere you won't travel to and why?
I won't travel anywhere that's considered particularly unsafe.
6.  Are you an adventurous or a relaxed traveler?
I don't see the two as mutually exclusive. A relaxed adventure would suit me perfectly! 🙂
7.  What's the most adventurous thing you've eaten?
I'm not sure if you'd consider it as adventurous but I recently tried
bear in Finland
. I also have a tin of zebra paté sitting in my cupboard from a recent trip to South Africa which I really must try some time soon…
8.  Luxury can be such a relative term.  What does it mean to you?
You're right – I always say that "luxury is different things for different people". For me, it's not about gold taps or fancy chandeliers, but instead it's about the people and service. It's about people going that extra mile to make your experience extra special.
9.  Name five things that always go with you on your travels.
iPhone, camera, laptop, mophie charger and a pair of running shoes.
10.  Do you travel with your family mostly or solo?
Most of my travels are with family but increasingly I'm being asked to go on various solo trips or trips where it's just me joining a larger party. For example, I recently joined Land Rover for a trip across Nepal, went to Helsinki as an ambassador for American Express and joined Virgin Atlantic on a press trip to Cape Town.
11.  Most importantly, where to next?
I am currently on a trip as it happens.  I'm spending the week at a luxury family hotel in Cornwall… more about that on the site soon.
As for the next trip after that, I'm not quite sure yet, but it's looking like it may be to Shanghai.
Where to find Paul…
Paul Johnson has worked in travel for more than 25 years and is a Director of
The Dedicated Partnership Ltd
. which specialises in internet marketing for the tourist industry, as well as being a Director of
Kendal Holiday Cottages Ltd
., a holiday rental business he runs with his wife between the Lake District and the Yorkshire Dales.  Paul has been running
A Luxury Travel Blog
, voted one of the best travel blogs in the world and 'best for luxury' by The Daily Telegraph, for about 10 of those years.